Have you ever slept under an open sky? In my childhood days, we used to sleep on the terrace & I would keep my eyes open for a long time counting the zillions of twinkling stars in the pitch dark sky. When tired, I would stop counting marking the hypothetical spot, thinking to restart back from the same point tomorrow. In between sometimes could spot a shooting star which in the morning we would claim ourselves lucky to see "Tutta Tara" (breaking star). The innocent thought was that one day I will be able to count all of these stars. Crazy! Right! I am still crazy about stargazing. Indeed, now we both are. We love the vastness and grandeur of night sky & have multiple apps like Night Sky lite in our phones for stargazing in India! But why we city dwellers are crazy & can't see them every day just like before? Where have those days gone now?
The pollution, light spill, clouds, city noise have changed the nature of the skies in cities. Now to have that insignificant feeling of standing or lying under the starry shimmery night i.e. for stargazing in India, we need to get away from our dreary life, we need to travel to the remote places where there are no concrete jungles, where nature is still protected, where there is no pollution, where dark spaces still exist and where the materialism is still far away.
Gyalwang Drukpa once said "Each of us is connected through the heart to the entire universe – and so if you get into the mind, you will see the universe".
In this post, we have clubbed some of the best stargazing sites of India as suggested by some of India's top Travel Bloggers & Photographers.
Best StarGazing sites in India
Starry Nights at Meghalaya
Kongthong
By – Agni & Amrita from Tale of 2 Backpackers
Kongthong in Meghalaya is located about 60km from Shillong in the pristine east Khasi Hills. It is a small village consisting of merely 700 people. The place is extremely peaceful and pleasing to the eyes and is all about nature and gorgeous vistas. Interestingly, the village is also known as the whistling village as each people have a tune to call them apart from their names.
The day ends early for the villagers and they dwell inside their homes, leaving the place dark against the lush landscapes. The skies are just like a canvas here as it opens up to the vistas of shining stars and constellations at their best.
How to reach: From Shillong, hire sumo to Kongthong. But remember only one sumo runs during the day and it is better to book it in advance. Otherwise, you can hire a car from Shillong or Cherrapunjee to reach Kongthong.
Best Time to visit: From October to April
Places to stay: The only place to stay at Kongthong as of now is Kongthong Travellers Nest.
Galaxy at Karnataka
Stargazing at Kabini
– By Abhishek & Neha from A Revolving Compass.
Kabini, a small village is located by the banks of the River Kabini, just 60 km from Mysore, Karnataka. The place is a forest reserve area and is abundantly rich in wildlife, flora & fauna. It is famous among tourists and travelers not only for wildlife sighting and relaxing holiday but for stargazing too. When the lights are turned off you can see absolutely sky filled with millions of stars, twinkling and smiling at you.
How to reach: Kabini can be best reached through self-drive cars or hired taxis from Bangalore, Mysore and other nearby towns.
Best Time to visit: Kabini can be visited throughout the year. For stargazing, summer and winter months are idle, as the sky is clear. For wildlife, observation summer is considered as the best time as due to the low level of waters, animals tend to flock to the river bank for satisfying their thirst.
Places to stay: There are several eco-lodges and resorts around the river bank to stay. We recommend staying with the Peepal Tree Boutique Homestay, which too is located by the banks of the river backwaters. Its vast farmlands are the best places to observe, the beautiful night sky filled with stars.
Shooting Stars at Maharashtra
Lonar Crater Lake
–By Tanushree and Yaswanth from UnboundOutbond
Lonar Crater Lake, a National Geo Heritage Monument, is located in the Buldhana district of Maharashtra. Around 52,000 years ago, a hyper-velocity meteor struck the land here, creating a 150 meters deep and nearly 2 kilometers wide crater. And over centuries, a lake (both saline and alkaline) too, is formed here which by itself is a mystery. The dense forest surrounds the crater and is dotted with temples that have a mention in the Ramayana too.
The place has left both the scientists of NASA and Geographical Survey of India intrigued. Also, the Earth's Magnetic Field seems to be nonfunctional here. Such is the mystery of the Lonar Crater. Lonar Lake sits on a white facade of land. During the day Lake is filled with geologists who wish to study the surface of Mars and at night the stars, the reflection of the moon in the lake is pure bliss and leaves the stargazers completely amazed.
How to reach: Lonar Lake can be reached by private cars and hired taxis or by buses from Aurangabad (4 hours' drive) via Jalna. Aurangabad is also the nearest airport and has daily flights flying from Delhi and Mumbai. Overnight buses also ply from Mumbai and Pune to Aurangabad. Another option is via rail with plenty of trains plying to Aurangabad from different parts of Maharashtra.
Best Time to visit: Lonar is extremely hot from March to May, which is the summer season in Maharashtra. Rains begin from June on and last till September, which would not be the best time for stargazing as the skies are likely to be filled with clouds. We'd recommend sometime between October to February when the weather is pleasant and the skies are clear.
Places to stay: The MTDC (Maharashtra Tourism Development Corporation) Holiday Resort is the best choice for stay as it is budget-friendly, is located near to the crater serves decent meals, and has pleasant service.
Stargazing at Thar Desert Rajasthan
Jaisalmer
By Tanayesh form Shoestringtravel & Soujanya Rai from TheSpicyJourney
Jaisalmer, popularly known as the "Golden City" of Rajasthan, is crowned by the ancient Jaisalmer Fort, also known as Sonar Quila. The town is a heart of Thar desert and is the most accessible spot for desert camping, jeep safari, camel safari, and stargazing.
Just imagine, lying down on the mattress in the world's 17 largest deserts, with eyes pointing towards the sky and suddenly spotting multiple shooting stars. Wow! Interestingly, the vast alluring sand dunes around Jaisalmer, are an ideal spot for Astrophotography and gives the ultimate pictures too.
How to reach: The place is well connected by rail, road, and air. There are trains directly from Delhi and other prime places in India. Bus and car facility is also available from Jaipur, Bikaner, Jodhpur directly. However, there is no direct flight to Jaisalmer so the nearest airport is Jodhpur.
Best Time to visit: Ideal time for stargazing is during winters i.e. from October to March, when the temperature lies between 7-8 degrees. We recommending spending at least 2 days in Jaisalmer.
Places to stay: Jaisalmer has beautiful economic hostels, hotels & homestays. My recommendation is Zostel Jaisalmer, located just a kilometer walk from the Jaisalmer Railway station which has a relaxed rooftop café showing the panoramic city view. Another one is Moustache Jaisalmer, a wonderful hostel with all modern facilities available. The Hotel Tokyo Palace Jaisalmer is quite famous for its rooftop restaurant as you get the views of the fort too.
Astrophotography at Jodhpur
-By Mainak Biswas from Places in Pixel
Jodhpur, too set in the stark landscapes of Thar desert is known as the Blue City of India because of the blue-painted houses around Mehrangarh. The city is a cultural treat and has unending charms. It is one of the best places to savor the colors & flavors of Rajasthan and experience camel's safari .
The nights at Jodhpur are no less than those in Jaisalmer. When you look up, you can see a silver-white sky and if you are lucky you too can capture a star trail with the Mehrangarh Fort as a background.
How to Reach: Jodhpur is well connected by road and rail to all the major cities of India. The city has its own railway station & domestic airport with flights from Delhi, Mumbai, and a few other cities.
Best Time to visit: The best time to visit Jodhpur is from October to March when the state enjoys pleasant weather and also you get a clear sky for stargazing and astrophotography. In fact, you should plan your Rajasthan trip in a way that you can get the best of the state while keeping the heat aside -the winters.
Sariska
–By Kunjal from Unpluggedmoments
Sariska or Sariska Tiger Reserve being a restricted area too falls in the category of best-stargazing sites. Indeed, the reserve zone has India's first astronomy and adventure camp – Astoport Sariska. This astronomy & camping site is surrounded by Aravalli hills and welcomes stargazers for an incredible experience.
Astroport Sariska is situated barely 5km from Sariska National Park is one of the darkest regions of India far from the bustling city lights. Every night the trained educators along with their telescopes, sky charts, and other special equipment help you navigate the gazillion stars. Sessions on astrophotography are also part of the experience. The place is popular amongst astronomy lovers especially kids as there are other adventure activities like trekking, cycling, sun gazing too available in the day time.

How to Reach: Sarika lies 11o Kilometres from Jaipur city & 220 km from Delhi. It can be reached via train, bus, flight till Jaipur, and from there hire a vehicle to reach Sariska.
Best Time to visit: The best time to visit is Winter months i.e. September to March)as the sky is clear and the weather is cold/pleasant.
Stargazing in Ladakh
Ladakh is considered as the most incredible place for stargazing due to its high altitude & pollution-free skies, especially when all the mindless, loud music playing tourists goes off to sleep.
Hanle
–By Divyakshi Gupta from Quirkywanderer
Hanle, a tiny village at 4500-meter altitude in the Changthang region of Ladakh, close to the Indo-China border is well known for an Indian Astronomical Observatory. It is the world's highest observatory & is operated by the Indian Institute of Astrophysics, Bengaluru. The observatory has an installed telescope of about 2.01 meters (6.5 feet) diameter.
After what seemed like an endless drive from Pangong Lake, we reached Hanle. We were surprised to see how tiny the village was. A few of my friends even wondered if it was worth spending the night here after that bumpy ride. But the homestay owner told us how epic Hanle is for stargazing and I was all ready to stay up at night. It was freezing cold when we climbed up a ladder to go up to the terrace and then, in the silence of the night, all of us were left spellbound. There were shooting stars every five minutes in the sky and we could see the Milky way from our eyes, without any equipment.
How to reach: Hanle can be reached from Leh as well as Pangong in almost 9 hours by shared cabs or personal vehicle
Best Time to visit: May to September

Places to stay: Multiple Homestays but my recommendation is Padma Homestay
Stok Kangri
-By Umang Trivedi from Travelmax
Stok Kangri, located near the village of Stok can be reached only by trekking. The trek is extremely beautiful, challenging making one really appreciate the beauty of the region. The expedition to the Stok Kangri peak takes you to a height of 20,000 feet if the peak is scaled successfully.
At night, while camping in the open, the sky becomes clear sailcloth with the twinkling stars and enchanting galaxies. Of course, not as clear as the camera can capture! I wish our eyes also had flexible settings of exposure and shutter speed to see this just like a shot.
How to reach: The Stok Kangri trek starts from village Stok. Trek is for 5-7 days depending on how well the trekkers are acclimatizing. In our case, it went on for 6 days. The entire trek is not really around permanent establishments and during winters, nobody treks this route.
Best Time to visit: The best time to go is around June-August. Due to the altitude, the snow accumulates throughout winters and takes a couple of more months to melt. So, by May mid the trek opens up for trekkers to embark on an enthralling journey to Stok Kangri peak.
Places to stay: Throughout the trek, one needs to stay in tents at various campsites.
Shooting Stars at Zanskar Valley
– By Shubham from travelshoebum
Zanskar, a little kingdom in Ladakh lies at an altitude above 3500 meters. It is an extremely remote valley, where the road leading to it is closed for more than 7 months in a year. Along with the natural beauty, dark nights and minimal pollution makes the place ideal for stargazing.
How to reach: Padum is the district headquarters of Zanskar and can be reached by shared taxis or personal vehicles. The alternate way is via trekking through Lahaul or Ladakh.
Best Time to visit: July to October is considered as the best time to go, when Pensi La road is open and one can travel via Srinagar to Kargil to Padum.
Places to stay: Homestays are available in almost every village in Zanskar. Padum has few guesthouses and hotels too.
Starry Nights in West Bengal
Mousuni Island
-By Ruma Dey from Theholidaystory
Mousuni is a small island near Bakkhali and GangaSagar Island in West Bengal. The beauty of the place lies in the confluence of the Bay of Bengal with the River Bhagirathi and its white beach. The golden sunshine on the sands makes it glisten extremely during the day and on full moon night.
Electricity has not reached the Island yet. So, one can enjoy a stay in the tents just beside the sea beach, laze and do stargazing in the pitch dark sky for hours.
How to reach: For Mousuni island you have to first reach Namkhana railway station from Sealdah. It is 3 hours of a local train journey. After getting down to the Sashmol bus stop only 7 km from Namkhana station. From there cross the Chinai river and take a Toto car to reach Mousuni island. The bus service is available from Dharmatala / Espnalade Kolkata area.
Best Time to visit: October to March is the best time to visit Mousuni island.
Places to stay: There are multiple Eco tourism camps and mud houses on the Island
Buxa-Jayanti
–By Trijit Mallick from BudgetTravelBuff
Buxa Jayanti is located in the eastern part of Dooars in West Bengal. Buxa is famous for the Buxa Tiger Reserve where Jayanti is a forest village inside the reserve, blessed with a lush green tea garden, beautiful hills, and mountain rivers. It is located along the Jayanti River, forming a natural border with the Bhutan hills. So, being a completely reserved area, it is pollution-free and makes up for an ideal destination for stargazing in India.
How to reach: Alipurduar Junction railway station is the closest station to Jayanti. Kanchankanya Express is the best option to reach Alipurduar if you come from Kolkata, else you have to board on a train that goes to New Jalpaiguri (NJP). NJP is well connected with Jayanti by road.
Best Time to visit: November to March is the best time to visit Buxa-Jayanti. Especially in December month, this place is perfect for wildlife photography and jungle safari. The average temperature remains between 10 to 22 degrees centigrade during this time.
Places to stay: There are several private and government-run lodges in the area. I will recommend you to stay in Jayanti River View Homestay which is situated just beside the Jayanti river. It is quite reasonable (INR 1100/-) & also offers stunning views of the Jayanti river bed with Jayanti hills in the background.
Shooting Stars & Meteor Show in Himachal
Chail
–By Sundeep Bedabrata from Delhifundos
Chail, an offbeat spot in Himachal Pradesh is known for its salubrious beauty and virgin Pine Deodar forests. It is an ideal place to relax, engulf in nature, take long walks, and enjoy slow travel.
At night, the sky here can leave one spellbound. It just looks like a dark blue sequined fabric in which one could identify a couple of popular constellations. The place is perfect for night walks, camping & stargazing in India. Along with it one can also witness, thousands of fireflies in the night when all the lights are turned off.
How to reach: Chail lies 106 Kilometers from Chandigarh and 336 Kilometres from Delhi. It can be reached via public bus, shared cabs or personal cars from Chandigarh.
Best Time to visit: Chail can be visited throughout the year but for best stargazing experience visit it during summers or winters, when the sky is clear.
Places to stay: The HPTDC hotel is the most sought after accommodation here but because one needs prior booking. Another option is Sunrise Homestay which too is quite cozy and affordable. Apart from all this, for a wonderful stargazing experience in India, one can opt for camping too.
Stargazing at Spiti Valley
-By Samantha from Intentionaldetours
Just like Ladakh, Spiti Valley too is known as one of the best places for stargazing in India. The high-altitude, desert-scape of Spiti, Himachal Pradesh has very little pollution and plenty of elevation, making its skies light up with stars on clear nights. Though stars are visible in all of Spiti, the villages of Dhankar, Nako, Tabo, Langza, Hikkim, Chicham Khas, Komic, Tashi Gang tend to offer exceptional views.
How to reach: To get to the Valley, one can take a self-drive Spiti valley road trip (beware of narrow scary mountain roads!) or take public transport, the latter of which gets crowded during peak season. Though the valley can be entered from either the Manali side or the Reckong Peo side, it's easier to acclimate to the altitude if you enter from Reckong Peo. Buses are very easy to catch from either New Delhi or Chandigarh.
Best Time to visit: If you want to be somewhat comfortable, plan your Spiti Valley itinerary in either May-June or September. July and August tend to see more rain and the rest of the year is way too cold to even enjoy what you're seeing!
Places to stay: In Dhankar, the Bendurya Hotel is a super comfy yet affordable stay with an epic view of both the sky and the village. Dhankar is also home to a beautiful lake with a great camping spot- perfect for stargazing. For Langza & Tashigang, you can stay at homestays in the villages itself or in Kaza.
Stargazing at Andamans and Nicobar Island
Neil Island
-By Debjani Lahiri from thevagabong
Many of us like to count on the famous mountainous regions of Ladakh, Spiti, or somewhere isolated regions of Uttarakhand for stargazing because of high altitude & the idea of pollution-free clearer skies. But, the idea of stargazing by a peaceful beach beside the vast ocean could be one of the most exhilarating experiences too. And, for it there is no other place better than Neil Island in Andamans and Nicobar regions.
Andaman and Nicobar are blessed with pristine beaches, azure blue waters, and unadulterated clear skies, which gives a brilliant opportunity to stargaze at night. Neil Island is one of the famous and the most popular ones and has got three beaches mainly Bharatpur Beach, Sitapur Beach, and Lakshmanpur Beach. Out of which, Lakshmanpur beach is the most secluded one and has a long secluded shoreline. Hence, on a clear night, imagine a scene of countless stars shimmering in the sky with dozens of hermit crabs crawling underneath with sounds of waves crashing on the shores. The view and the feeling both are beyond mystical.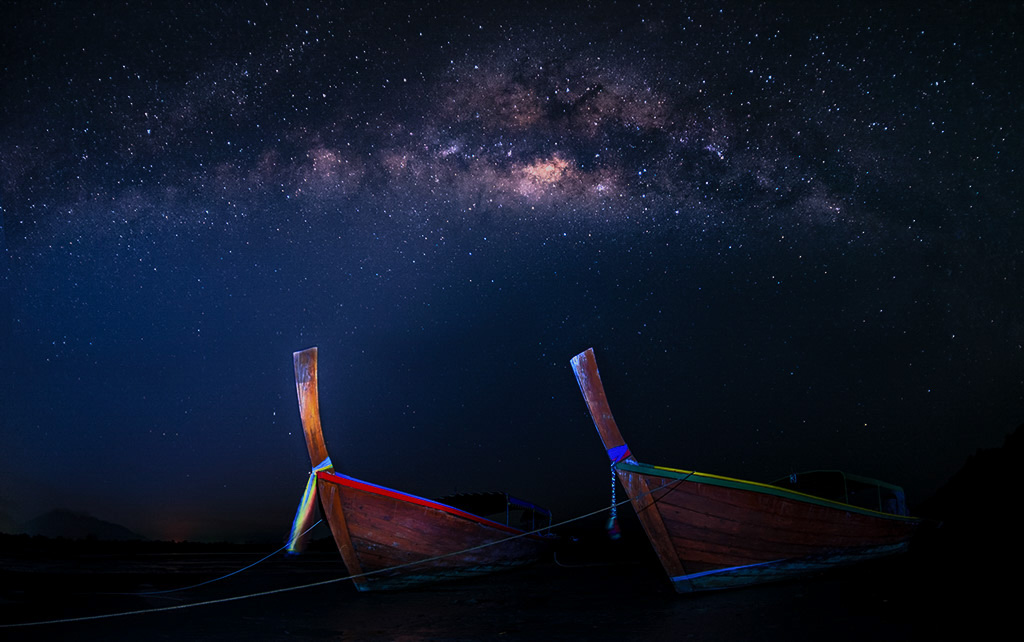 How to Reach: Port Blair (capital of Andaman and Nicobar Island) is well connected with major airports of India. From Port Blair, daily private and government ferries run between the islands. Just one has to check the exact timings.
Best Time to visit: Between Nov-Feb (Winter season have clearer sky)
Places to stay: There are a couple of luxury and as well as budget stay options in the Neil Islands. Sea Shell Samsara (Luxury) hotel, Coconhuts Beach Resort (Budget category)
Starry Nights at Gujarat
Rann of Kutch
-By Bhushavali from TravelBhushavali
Dholavira, located on the Tropic of Cancer in Kutch District of Gujarat is locally known as Kotada Timba. The site contains the ruins of an ancient Indus Valley Civilization. It is one of the five largest Harappan sites and most prominent archaeological sites in India belonging to the Indus Valley Civilization. Just 40km from Dholavira, on the other side of the Rann of Kutch is Pakistan.
While the whole of Rann of Kutch itself is an amazing place to stargaze but Dholavira is just the perfect destination. The night sky is just excellent here. It is the sky, I saw years back when I was a little kid, along with my grandfather; when The Hindu, newspaper had the monthly Night Sky section which we would cut out and figure-out the constellations using it! We could see the gazillion stars of the night sky
How to reach: Dholavira is well connected to the rest of India by roadways. Regular bus services ply to and fro the city of Dholavira. From Radhanpur the distance to Dholavira is about 200km, which goes across the incredible white sands of the Rann of Kutch. There is no direct flight or rail connectivity to Dholavira. Nearest airport and railway station at Bhuj.
Best Time to Visit: Winter season is the ideal season i.e. from October – March. Monsoon is not an ideal time for stargazing. Summers are hot and are the least advisable time for a visit.
Places to stay: The best place to stay in Dholavira is the Govt guesthouses of either the tourism department or the forest department. In either case it is in the middle of nowhere, with absolutely no light or air or sound pollution which makes the sky crystal clear. In fact, Dholavira is a tiny island surrounded by the Rann of Kutch.
Shooting Stars in Uttarakhand
Binsar
Binsar, a small scenic valley, sits on the top of Jhandi Dhar Hills, at an altitude 2412 meters in the Kumaon region of the Himalayas. In 1988 Binsar became a Binsar wildlife sanctuary, to conserve and preserve the shrinking broad oak leaf forests of the Himalayan region. Today, it is spread over 46km2 and is highly rich in flora and fauna. From here, the complete 300 km stretch of famous peaks like Kedarnath, Chaukhamba, Trishul, Nanda Devi, Nanda Kot, and Panchchuli are visible on clear days and nights are dark, clear and make up an ideal destination for stargazing.
Being a reserved area, lights are turned off by 9:00 pm and the pitch dark sky is just illuminated with the shimmering stars. After adjusting your eyes, you get to witness some of the shooting stars and constellations too. The sky amidst the tall conifer and oak trees is a sight to admire for.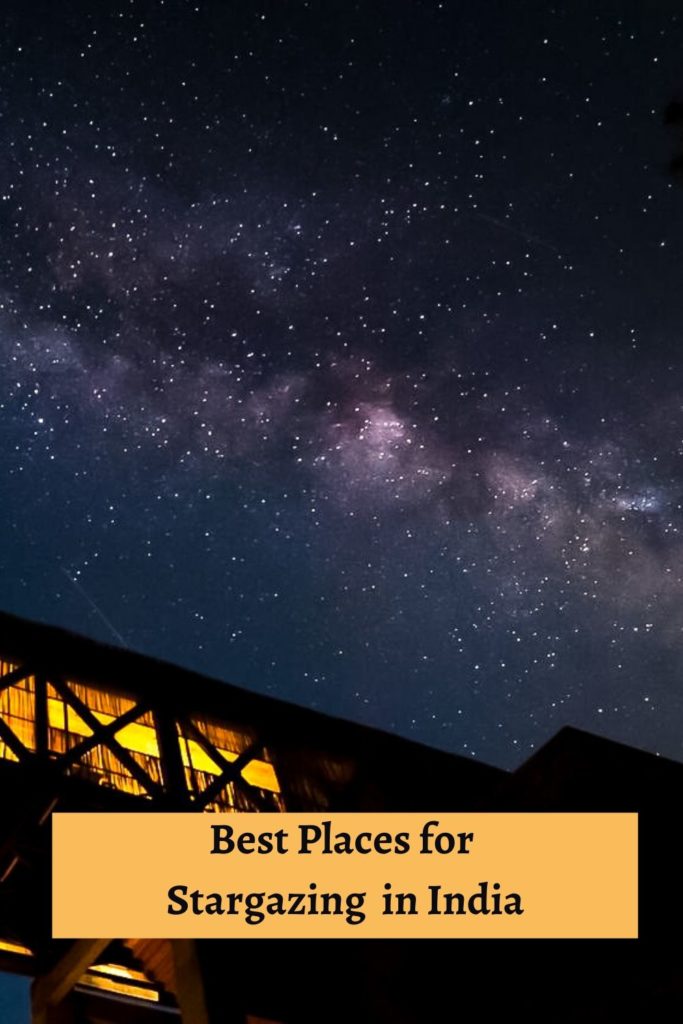 How to reach: Binsar lies 23 Kilometers from Almora, 88 kilometers from Nainital in Uttarakhand. It is well connected by road, rail or by air. The nearest airport to Binsar is at Pantnagar (140 km from Binsar) whereas the nearest railway station is at Kathgodam (105 km from Binsar). The further journey from both Pantnagar and Kathgodam stations can be covered by bus or cabs.
Best Time to visit: Summer & winter is an ideal time to enjoy stargazing. In monsoons it's mostly cloudy.
Places to stay: There are plenty of resorts, hotels, and guest houses in Almora, Kasar Devi, and outside the Binsar wildlife sanctuary. But within the sanctuary, there are limited options, which varies from heritage luxury homestays to resorts to Government guest house i.e. KMVN (Kumaon Mandal Vikas Nigam). Our recommendation is KMVN, which has a huge terrace and is a perfect spot for stargazing in India.