Some bonds are built by chance and cannot be explained in words. They just happen and leave a direct mark on your soul. Such is the bond we have formed with Gangtok Sikkim in India.
On the first look, Gangtok City located in Northeast India looked like another uber hill town of Himachal or Uttarakhand but after spending a few days there, we realized how unique and advance it is. Locals absolutely love their city, like to keep it CLEAN and also abide by every single rule and regulations set up by the government. The Tangible Goals to end Tuberculosis by 2020, to make state completely organic and plastic-free clearly shows the high vision of state Sikkim. Just imagine, if the whole of India follows this, where we can head to. The Gangtok Town is flanked by the Himalayas on all side and has traditional monasteries hidden in between them, just like the Hemis Monastery in Ladakh.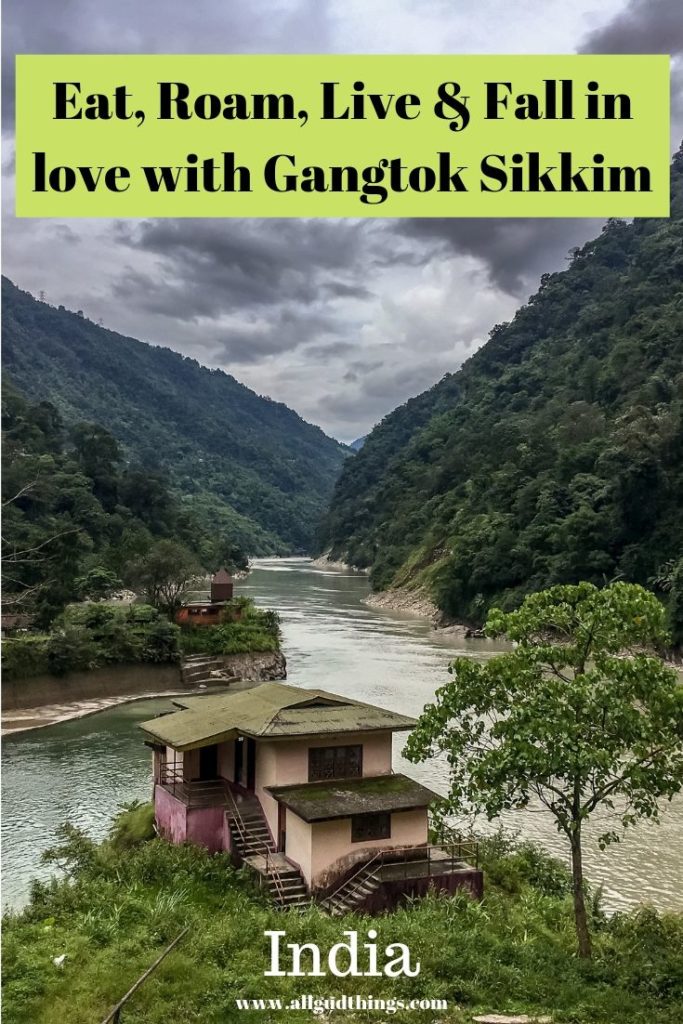 During our Darjeeling Sikkim Trip, the plan was to spend 2 days in Gangtok, Sikkim whereas we ended up spending up 4 days here. Gangtok acts as a base for trips to East, West, South or North Sikkim. So, even we made it our base and explored all zones from here itself. Also, we got surplus time to imbibe its culture and aura into our souls.
So, here is a brief travel guide from our experience on Gangtok City.
Eat- Places to enjoy food in Gangtok Sikkim, India
Gangtok, the capital of Sikkim, is a city of Nepalese, Tibetans', and Sikkimese. So, on MG Marg (Mahatma Gandhi Marg) the heart of Gangtok; one can find plenty of cafes and restaurants serving all the specialties to satiate your taste buds. Here are the recommendations of cafes and restaurants from the ones we tried.
Osm Restro & Lounge- Let's Get Social
The Osm Restro & Lounge located on the first floor has great interiors and gives a feel of fine dining. The seating is comfortable and the corner seats offer the direct view of MG Marg. Their motto to "Let's Get Social" – SMILE, ENJOY, LAUGH, EAT, DRINK, SHOUT is what this place truly lives too. After a long hectic walk, we relaxed, enjoyed some cocktails and munched on thin-crust pizza here. And the experience was great enough to make us hit back the streets .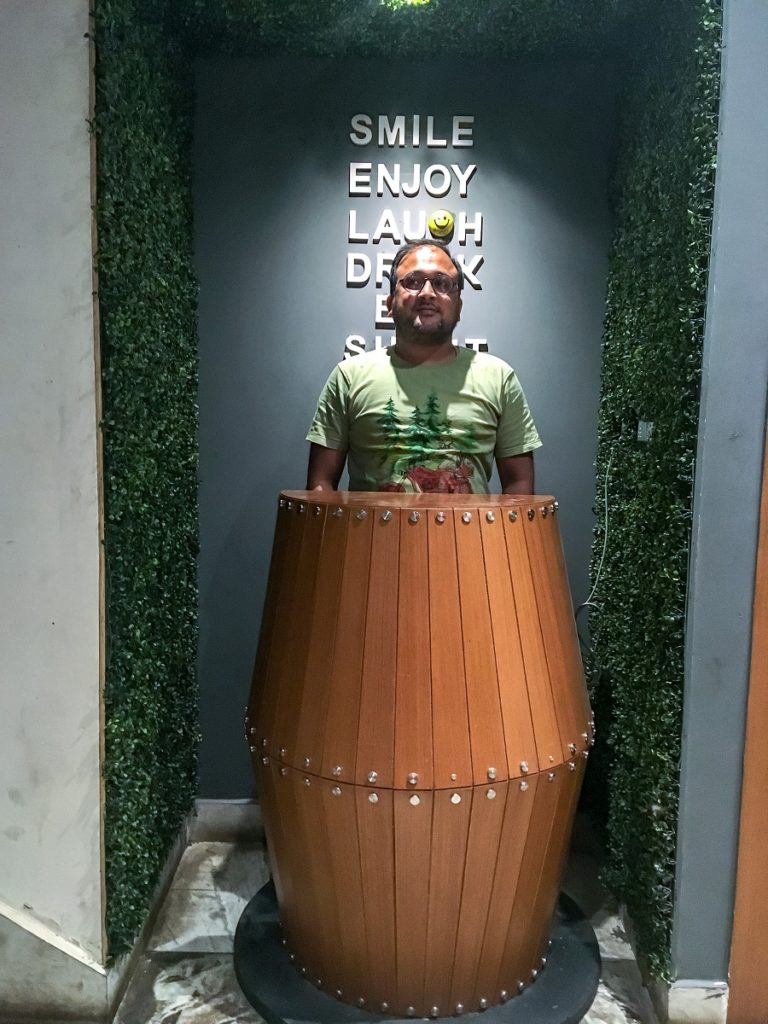 Nimtho- Authentic Local Cuisines of Himalayas
Nimtho, located on the first floor in the middle of MG Marg is known for authentic local cuisines of Himalayas. They serve Sikkimese, Nepali and Tibetan food, cooked in the old style with aromatic herb and spices.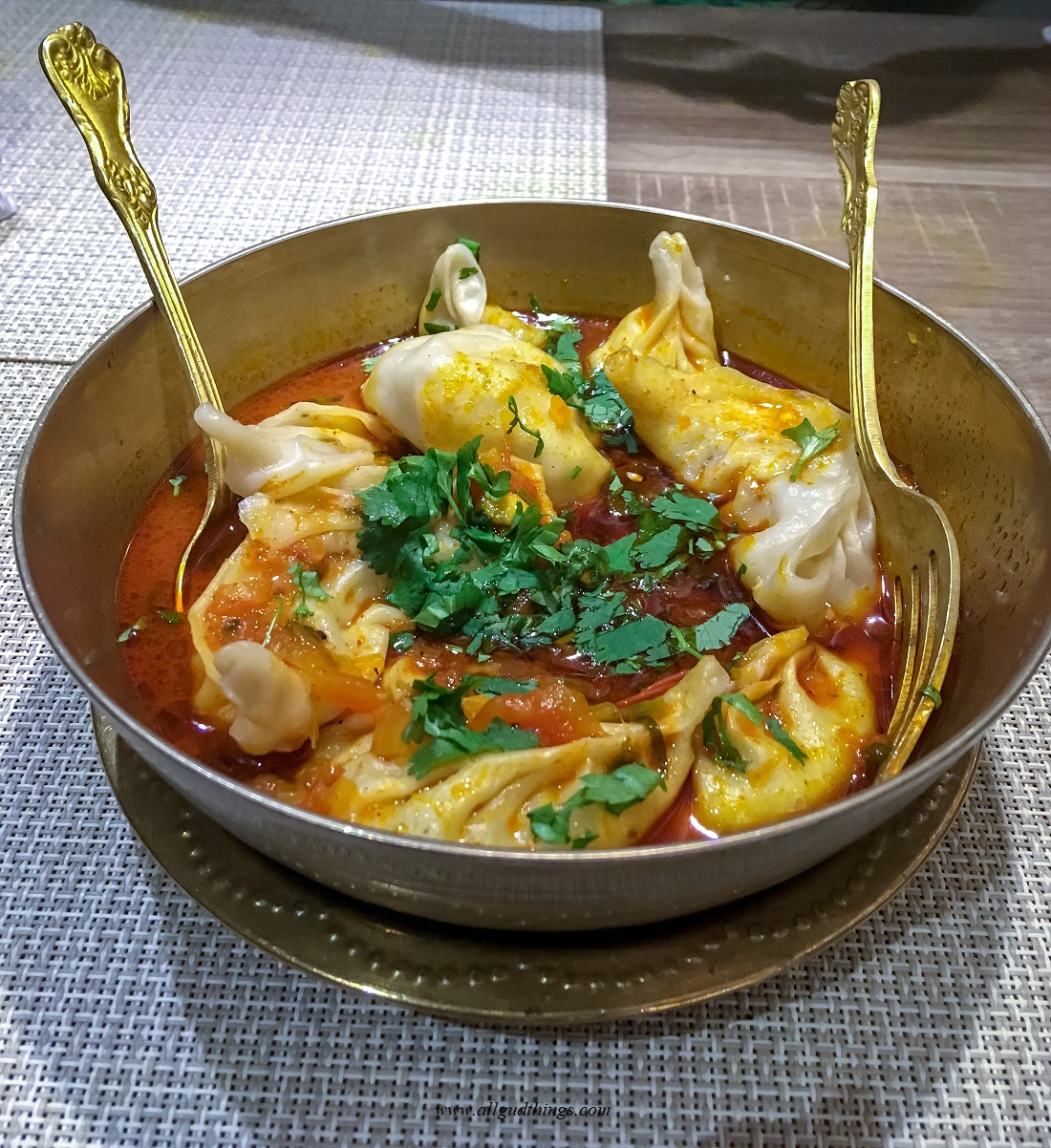 The place has a cozy warmth and a rustic feel of the traditions with a display of traditional cooking styles throughout the sitting area. We tried Mula Chursi Salad (Raddish spunned with herbs and Sikkim Cheese) and Chicken Achar Momos. The salad was average because we didn't like the Cheese taste much but Momos were to die for. They were absolutely soupy, juicy and spicy. Although we ordered a plain bread after that to pacify the chilliness.
Golden Dragon Bar & Restaurant
The Golden Dragon Bar and restaurant located near the Tourist Information Center on the first floor is a center of attraction of MG Marg. The loud music and two huge dragons on its exteriors make the place easily recognizable and quite distinct from others. But honestly, we didn't like it much. The place interiors were gloomy and dingy. We wanted to rush out immediately but after the backache from the North Sikkim trip, we had no energy. So, took a chance and seated ourselves. We ordered here pizza, salad, and HIT, the local beer of Sikkim.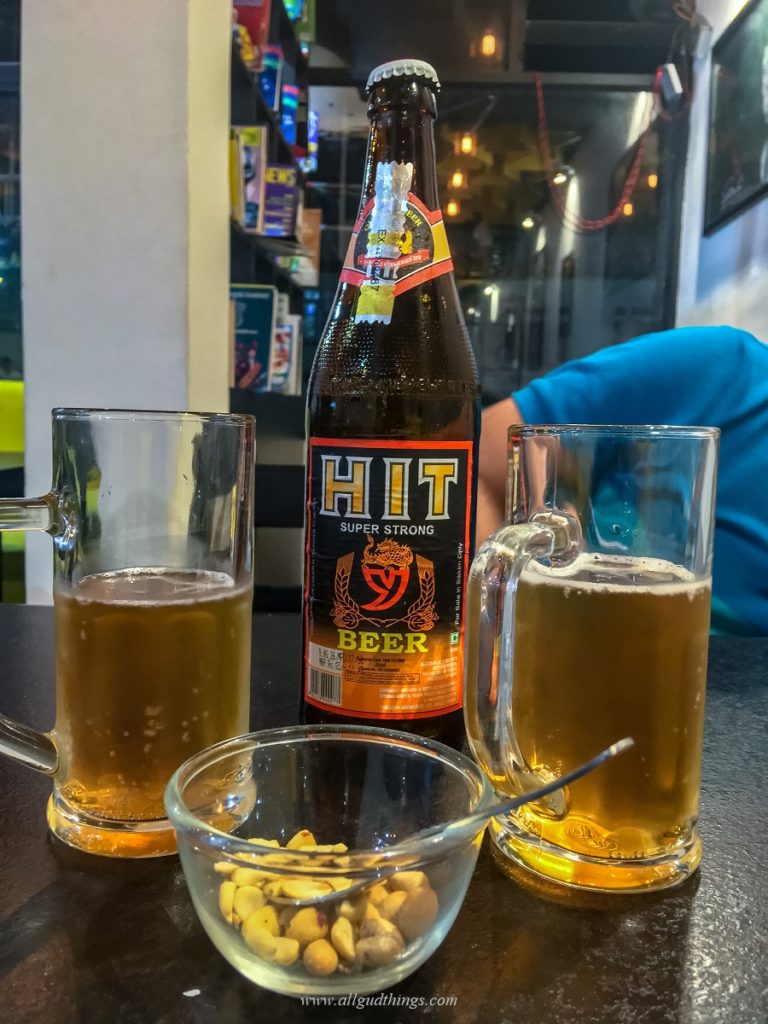 Pizza and Salad both were good but the best was chilled HIT, and it really took away all our pain. They also have an open terrace opening towards, MG Marg.
Bakers Café
Good breakfast is what helps us to start our day well. So, we directly headed to the Bakers Café, located on MG Marg.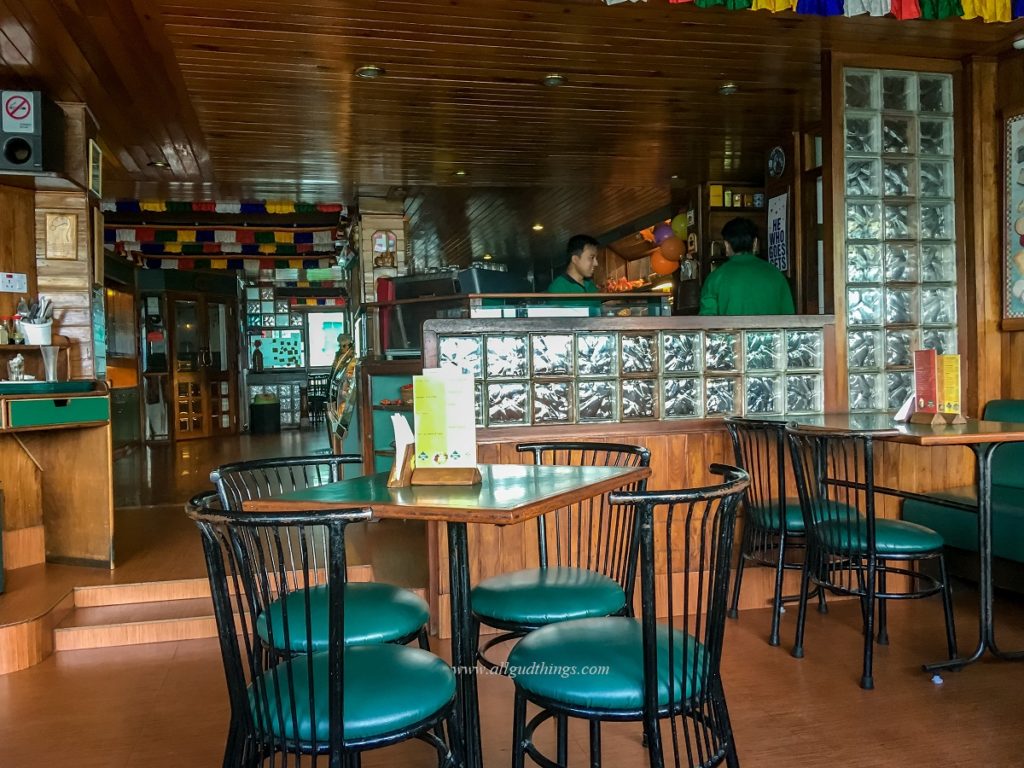 The first look of Bakers Cafe was WoW! The place has a cool ambiance and it looked like heaven for Bakery lovers. We choose a place next to the window opening up to the Himalayas and ordered a quick breakfast with cappuccino and ginger drink. The food taste and presentation were a treat to eyes. Overall, we loved this cafe and will recommend it to every traveler.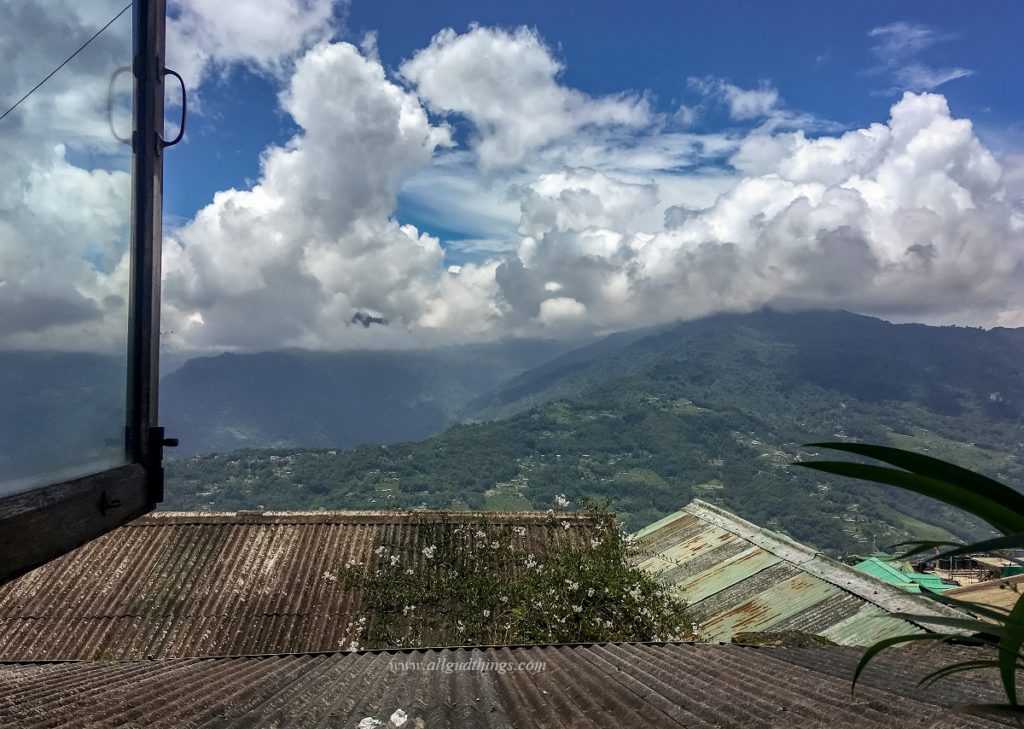 Our stomach was full after the scrumptious breakfast but taste buds still had the cravings of sweet so before leaving, we got some cakes, muffins, and munchies packed for ourselves.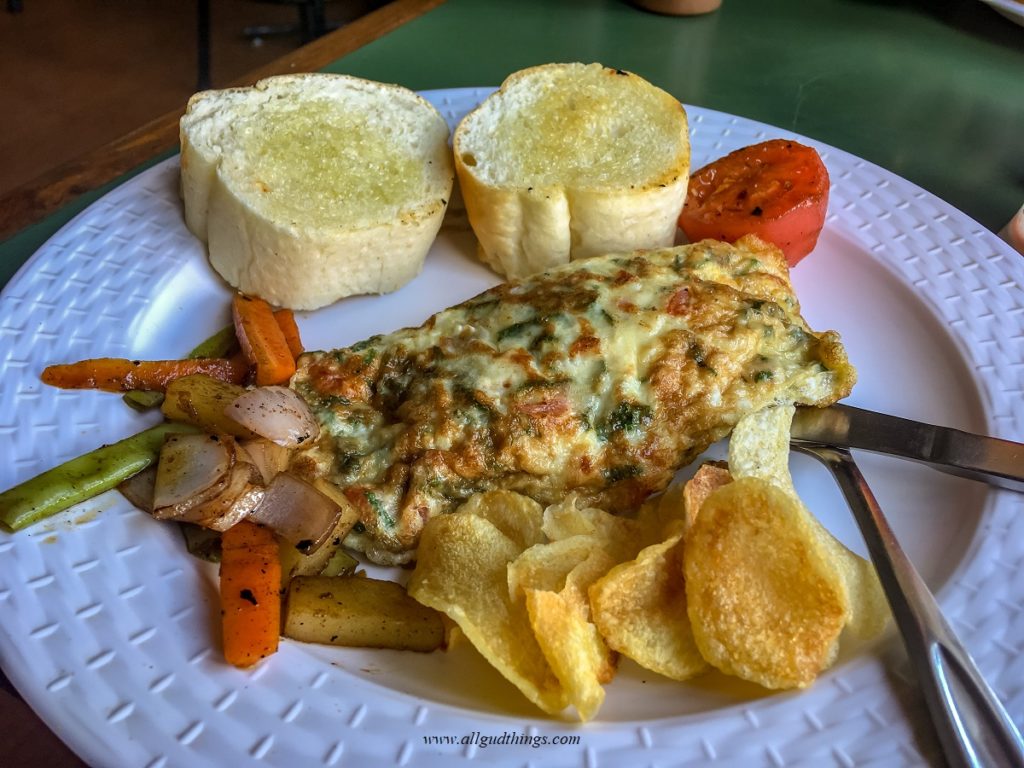 Hotel Tashi Delek – Rooftop Restaurant
The Hotel Tashi Delek, hidden in one of the lanes of MG Marg is another favorite of all the places. The place has a blend of traditional and modern design and its classy rooftop with an open bar is what makes this place super special. We loved spending our evenings here, admiring the landscapes and densely spread Gangtok. The advise is to occupy a corner seat in the open for the perfect view.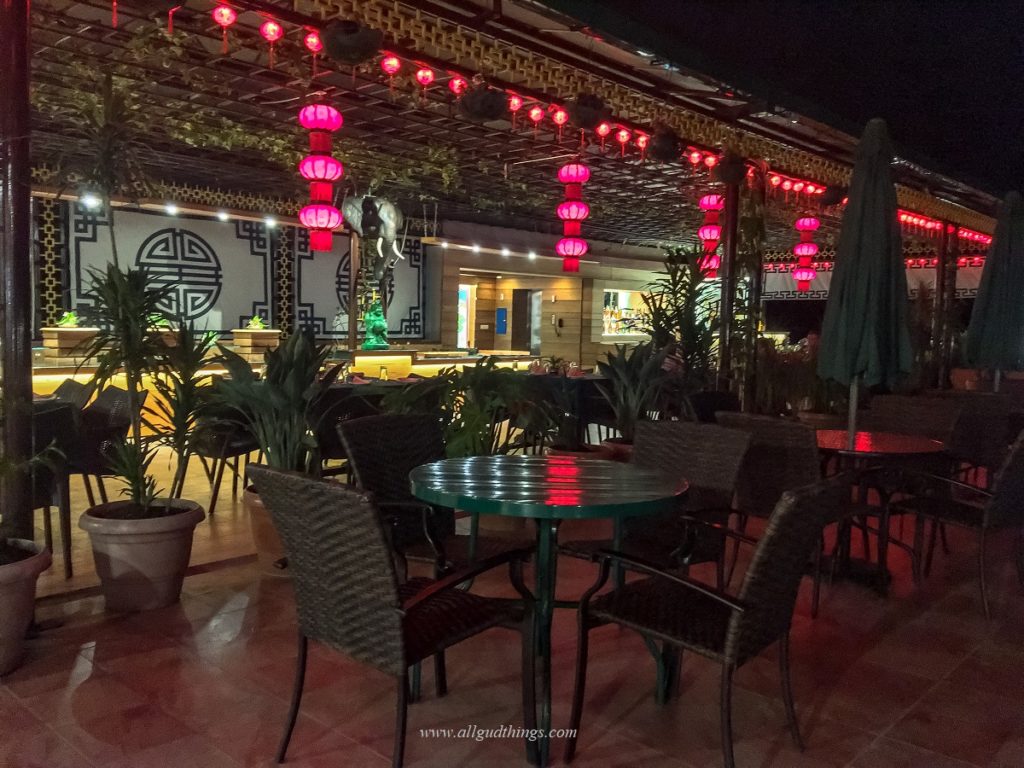 The service at Tashi Delek is good but their menu has very limited food options. In food, we ate fish and egg fried rice with Local Beer "Dansberg" repeatedly and it was absolutely worth the price.
The Tangerine in Chumbi Residency
The Tangerine, restaurant in the Chumbi residency is another hyped place in Gangtok town. We were staying at Chumbi residency, so didn't pay much attention to its restaurant but definitely, the food we ordered for breakfast and Dinner was yum and value for money.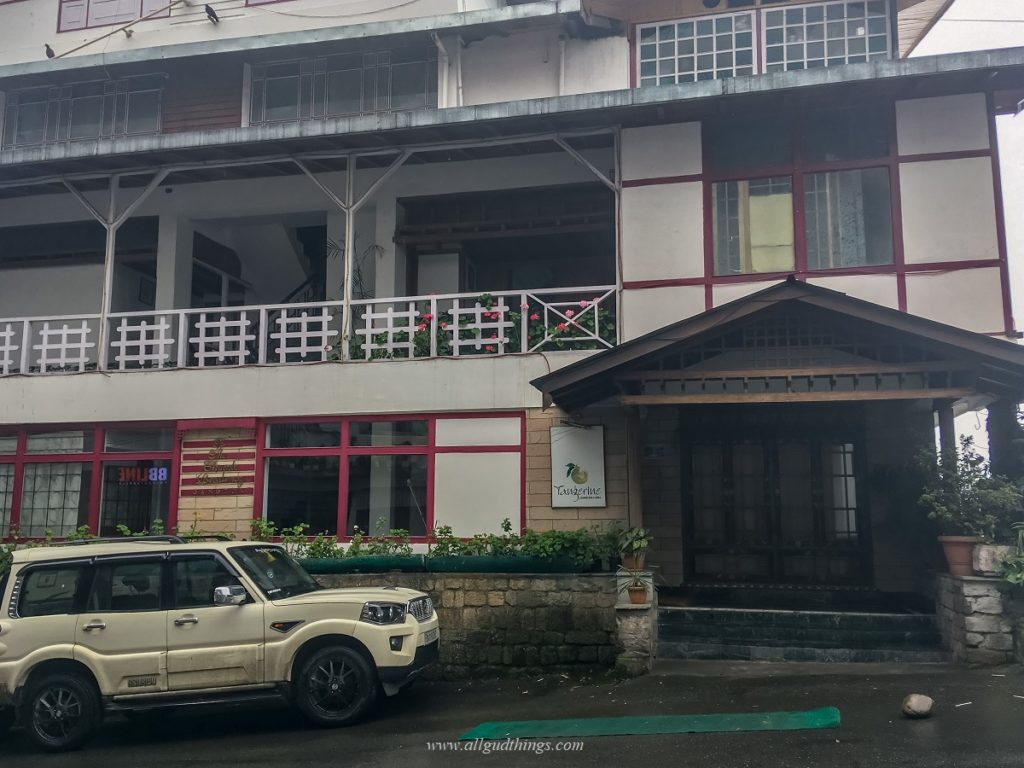 Note: The restaurants and café in Gangtok are not overly expensive. Two people's meal on average costs around Rs. 1000- Rs.1500/-.
Roam – Attractions in Gangtok Sikkim
Gangtok the capital of Sikkim; proves big things come in small packages. The place is a wonderland and there is some or other place of interest for every tourist or traveler. Gangtok is soaked in the beauty of Himalayas, has unlimited waterfalls, nature trails, monasteries, temples and also boasts one of the highest peaks of the world i.e. Kanchenjunga. Indeed, Gangtok is known as a "Land of Monasteries" and has some of the oldest and largest monasteries. So, here are the places of interest we would like to recommend you.
MG Marg (Mahatma Gandhi Marg)
Mahatma Gandhi Marg, the heart and most happening place of Gangtok is famous among tourists as well as locals. The marg is well paved, maintained, clean, green, and litter-free. It is absolutely full of colors and positive vibes. Also, it houses all the beautiful cafes, lounges, and traditional eateries.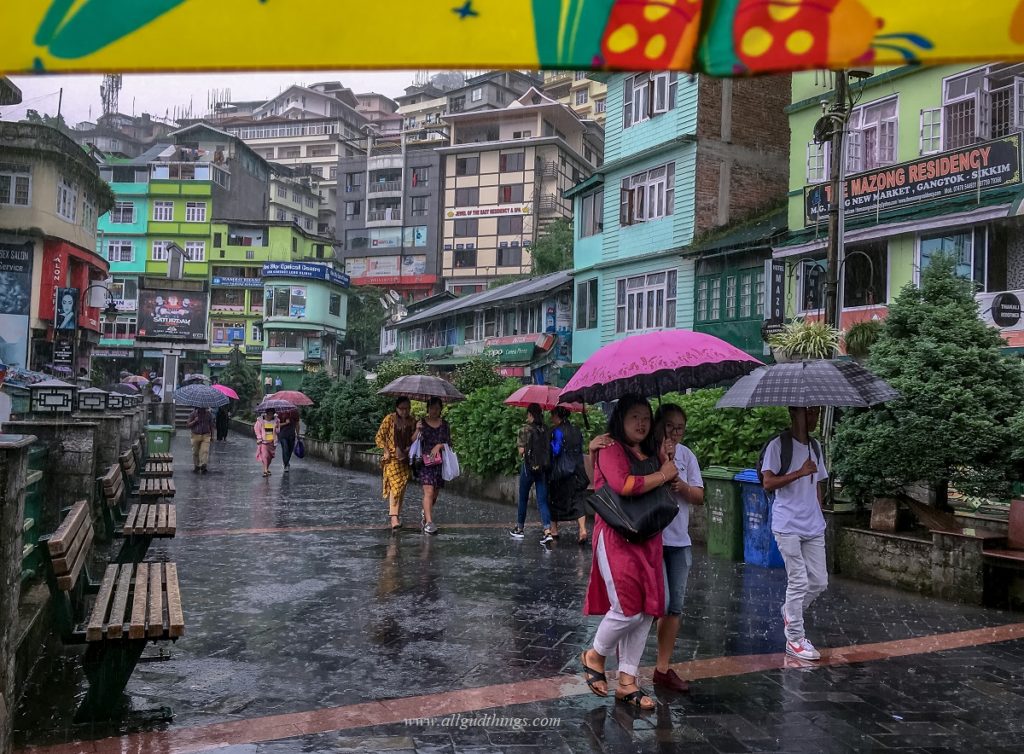 Monasteries
Gangtok has around 100 small monasteries in and around its vicinity -like Enchey Monastery, Tusklakhang Palace Monastery, Lingdum monastery, Rumtek monastery, etc. But if you want to visit only one then do visit Rumtek Monastery.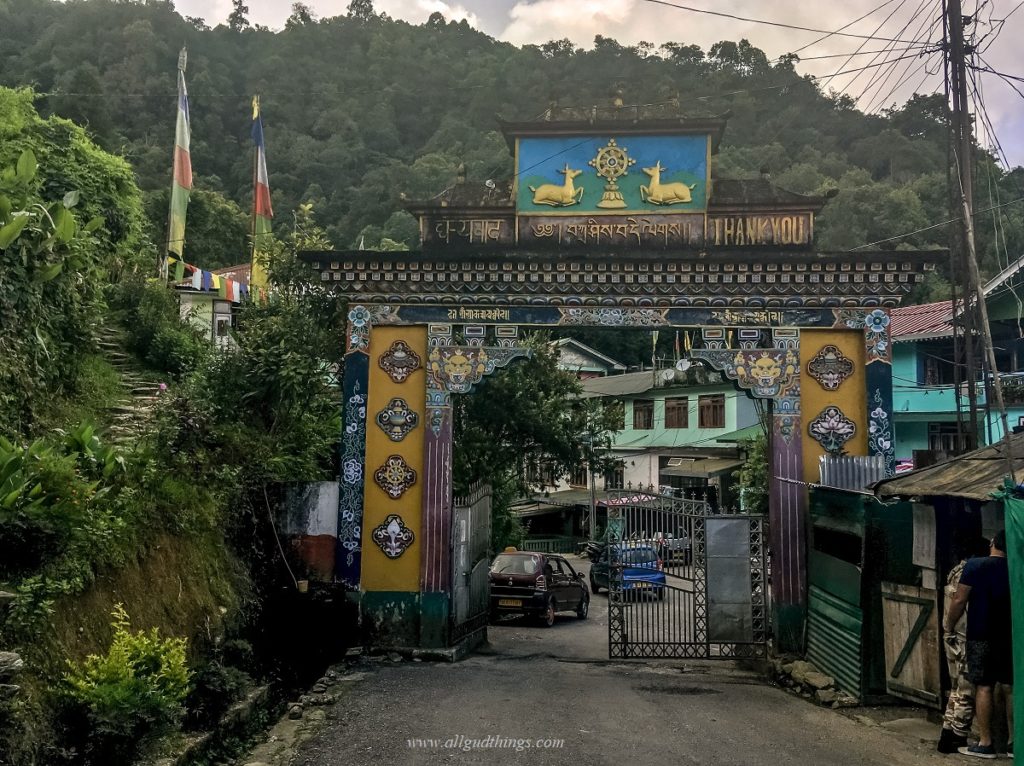 The Rumtek Monastery, largest in Sikkim and mother of all monasteries, lies on an opposite hill in the Rumtek town, 23 kilometers away from the Gangtok city. At the main gate, there is a check post and from here one needs to walk for a Kilometer to reach Monastery. The path is lined with trees, colorful shops and rows of prayer wheels. The grind of prayer wheels and chirping of birds throughout the walk keep the atmosphere quite lively.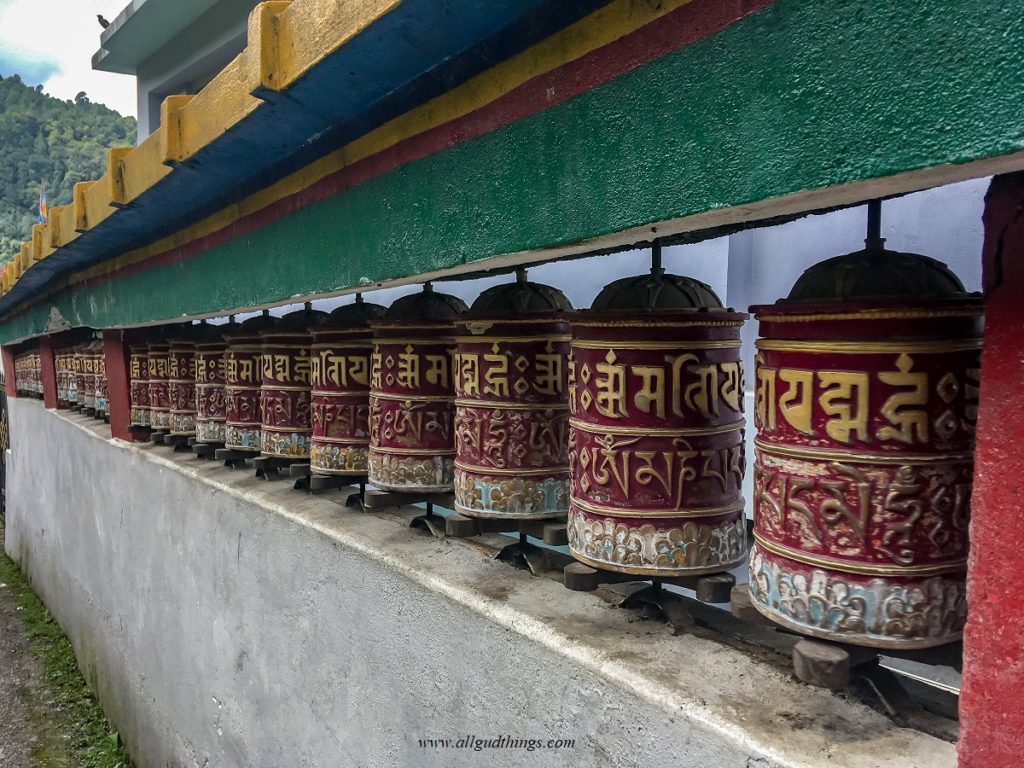 As you enter the main Monastery gate, 4 storied colorful building stands in front against a calm, green, beautiful mountainous backdrop. The colors and the aura of this place automatically pull you towards it.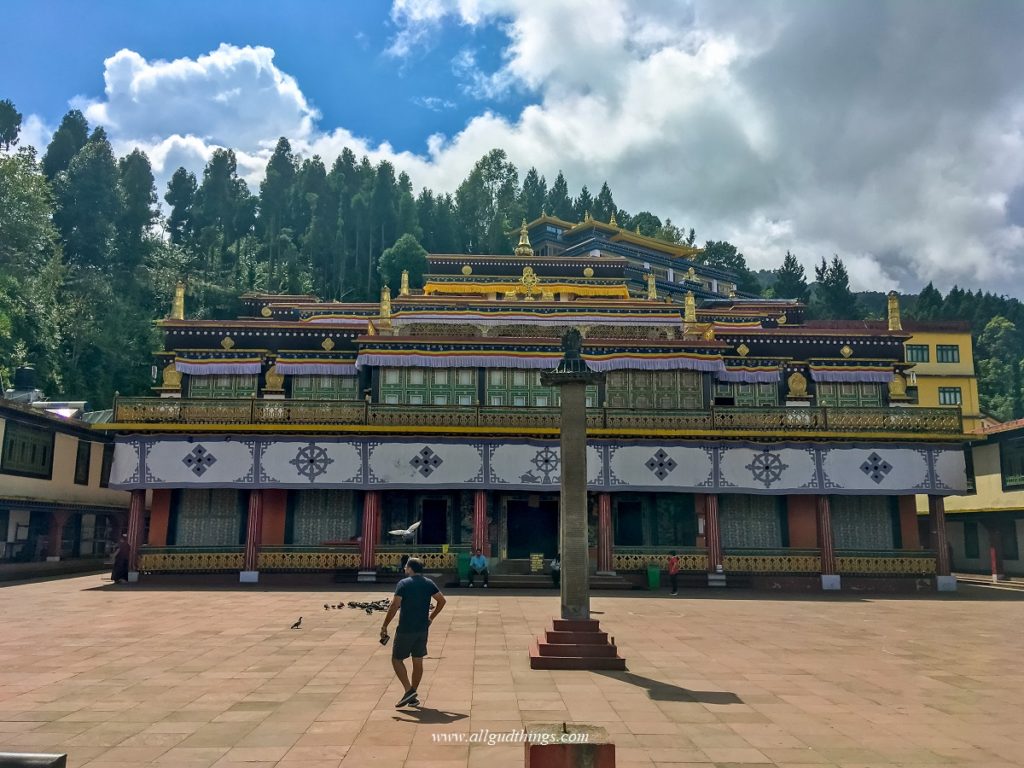 Its beautiful architecture, Thangka, and the years-old artifacts clearly state its importance in Sikkim. Also, there are several vantage points around Monastery, from where you get the entire sprawling view of Gangtok city.
Timings: 8:00 am -5:00 pm
Entry Ticket– Rs. 10/-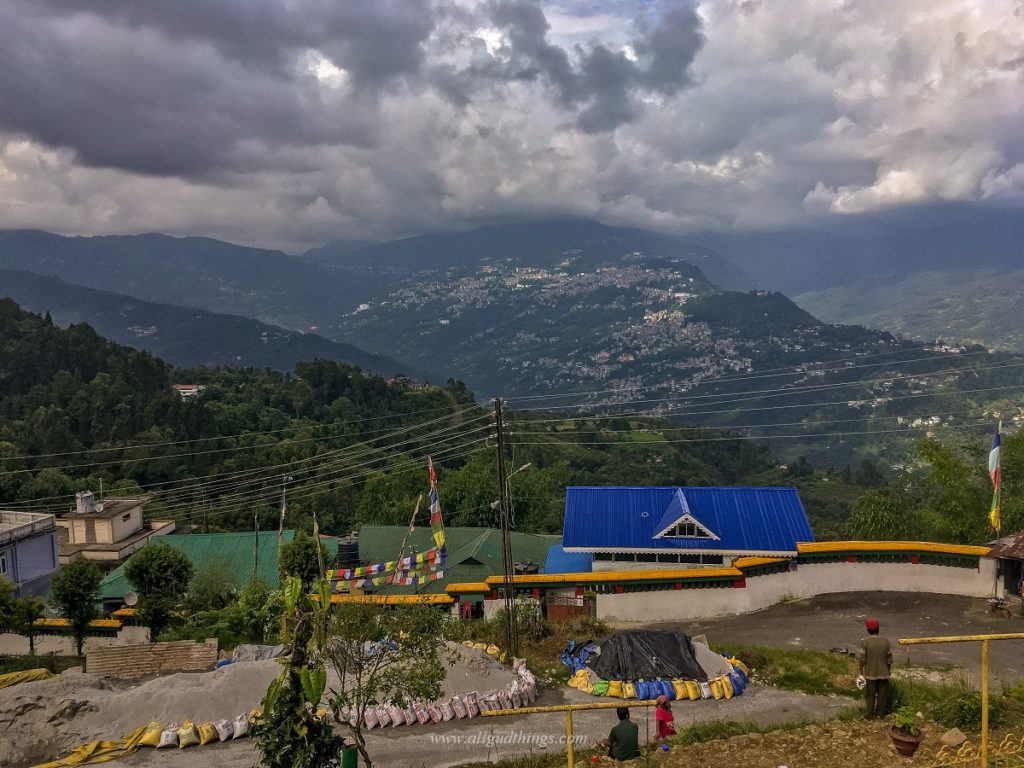 Karma Shri Nalanda Institute / Rumtek Dharma Chakra Center
Keep circumambulating around the Rumtek Monastery and from behind climb the steps to reach Karma Shri Nalanda Institute, an institute for higher Buddhist studies.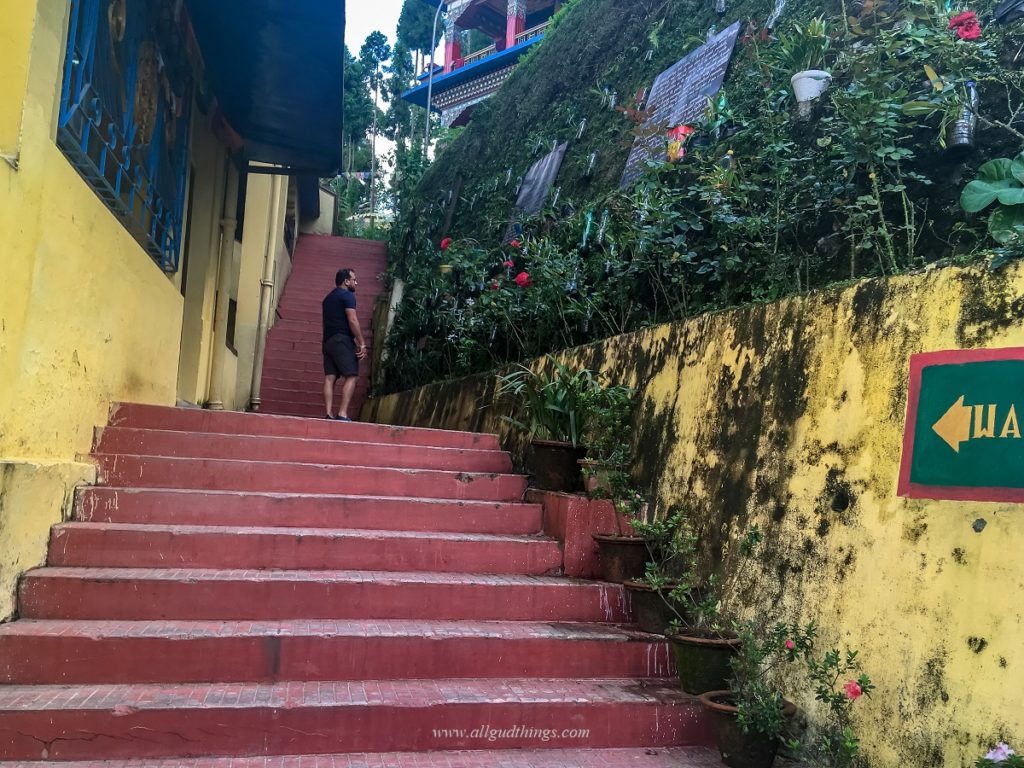 The main shrine of the institute houses the 13-foot-high Golden Stupa (also known as Lhabab Chodteen) made of Gold and copper, bejeweled with ancient stones and corals. Inside the Stupa are the precious relics and holy remains of His Holiness the Sixteenth Gyalwa Karmapa Rangjung Rigpe Dorje. Photography is strictly prohibited inside the shrine.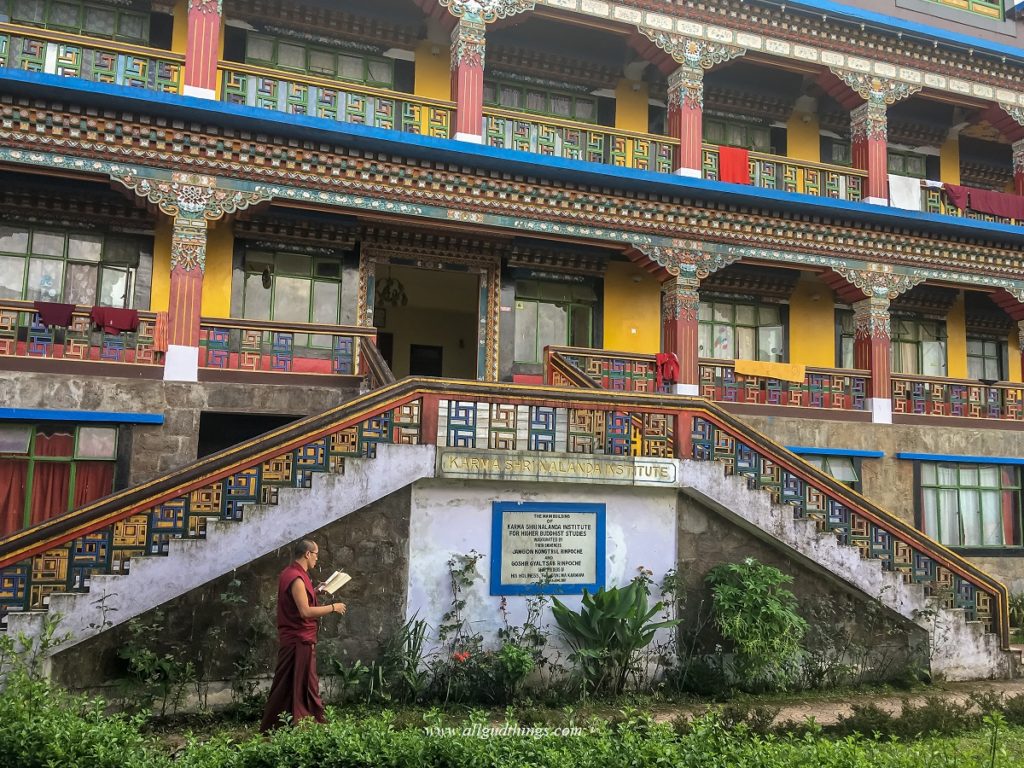 Temples
Gangtok has plenty of grandeur Temples and each one is known for its peaceful environment and divine atmosphere. If you have ample time then do visit one or two of them. We checked out Hanuman Tok and Ganesha Tok, both located on the Hilltop offering an amazing view of Himalayas and Kanchenjunga Peak. But during our visit, it was monsoon time and clouds had completely engulfed the ranges, so we didn't even get a glimpse of them.
Hanuman Tok, located at 7200 feet is dedicated to Lord Hanuman and is one of the main shrines in Gangtok. It lies 11 Kilometers from Gangtok city, on the branch road of Gangtok Nathula Highway. The drive to the temple is breathtaking especially during monsoons when every inch looks green and serene. But be carefully with the Leeches, if you are walking down.
The Hanuman Temple has a mythical story- it is believed that Lord Hanuman rested here for a while, during his return trip from Sri Lanka, while carrying Sanjeevani Bhuti (Herbs) from the Himalayas to cure Lord Laxman. And today this temple is known as wish-fulfilling Temple by locals.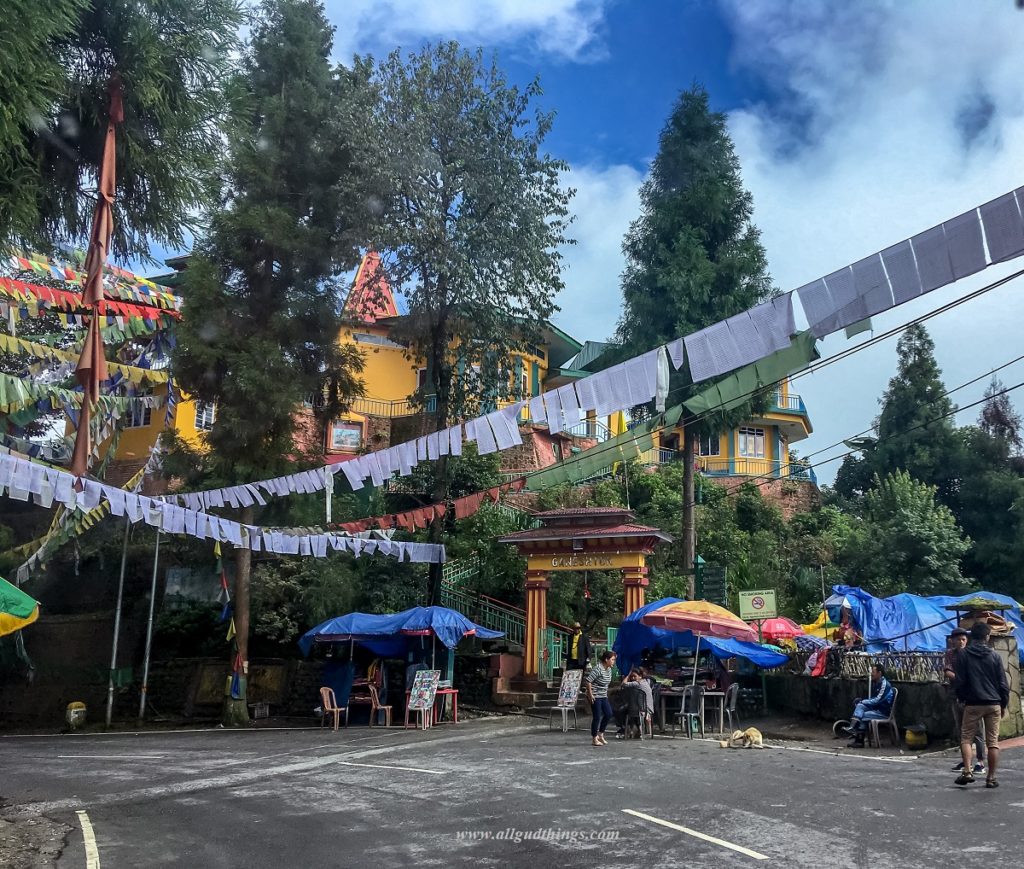 Ganesha Tok, the shrine dedicated to Lord Ganesha lies on the way to Hanuman Tok. The temple can be identified easily from a distance because of its vibrant colors and the colorful flags decorating the pathway. The entrance to the Temple is quite narrow and only one person can enter at a time.
Kanchenjunga View Point /Tashi View Point
The Kanchenjunga viewpoint, also known as Tashi viewpoint lies 8 Kilometers from the Gangtok city. The place is known for the panoramic views it offers of Gangtok city, and of Mount Kanchenjunga and Mount Sinolchu.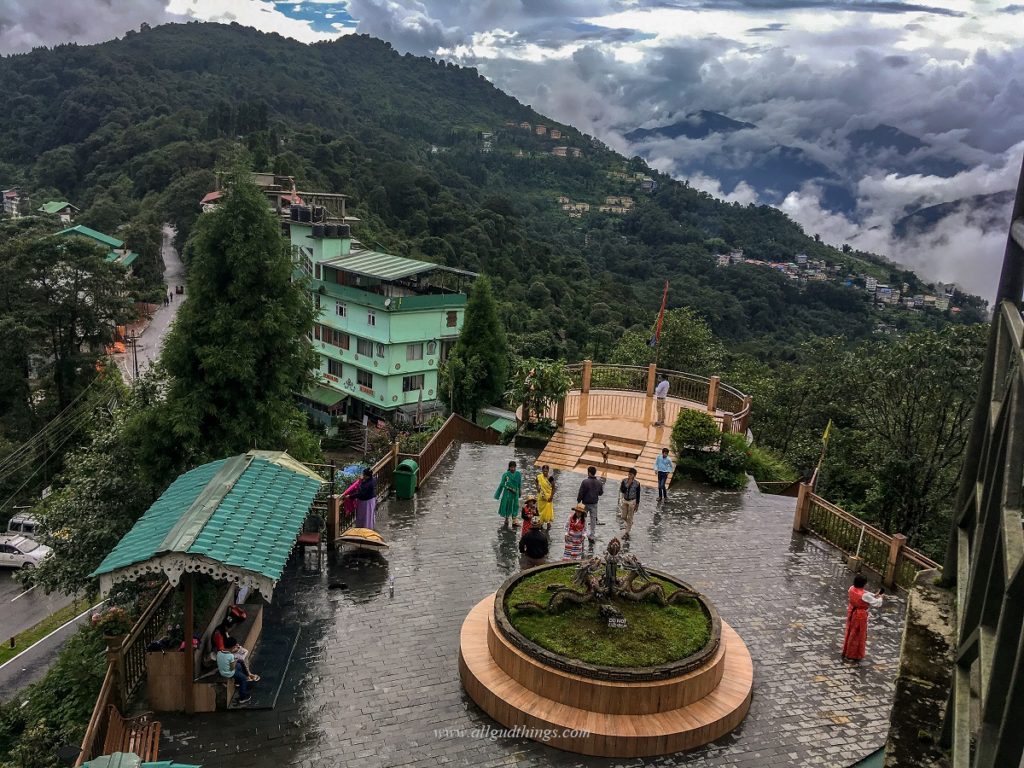 Tashi View Point is an irregular structure built on the hilltop and can be reached only via a climbing few steps. In the center of this structure is installed a beautiful dragon art, at the front are the viewpoints built with railing to get the clear panoramic views whereas at back stands the multi-floor hexagonal building. For reaching this building's top, climb more stairs and pay a nominal fee. And it is all worth after seeing the views from the top. Clouds were floating among the mountains and we could see the specs of Gangtok city in between. The whole scene looked imaginary and completely out of the world.
Here you will also see the tourists getting themselves draped and clicked in traditional Sikkimese dresses.
Bakthang waterfall – Gangtok Sikkim
Bakthang waterfall lies 3 kilometers from Gangtok city on the North Sikkim Highway. The fall looks absolutely magnificent because of its spread and the way it falls on the green canopy of creepers.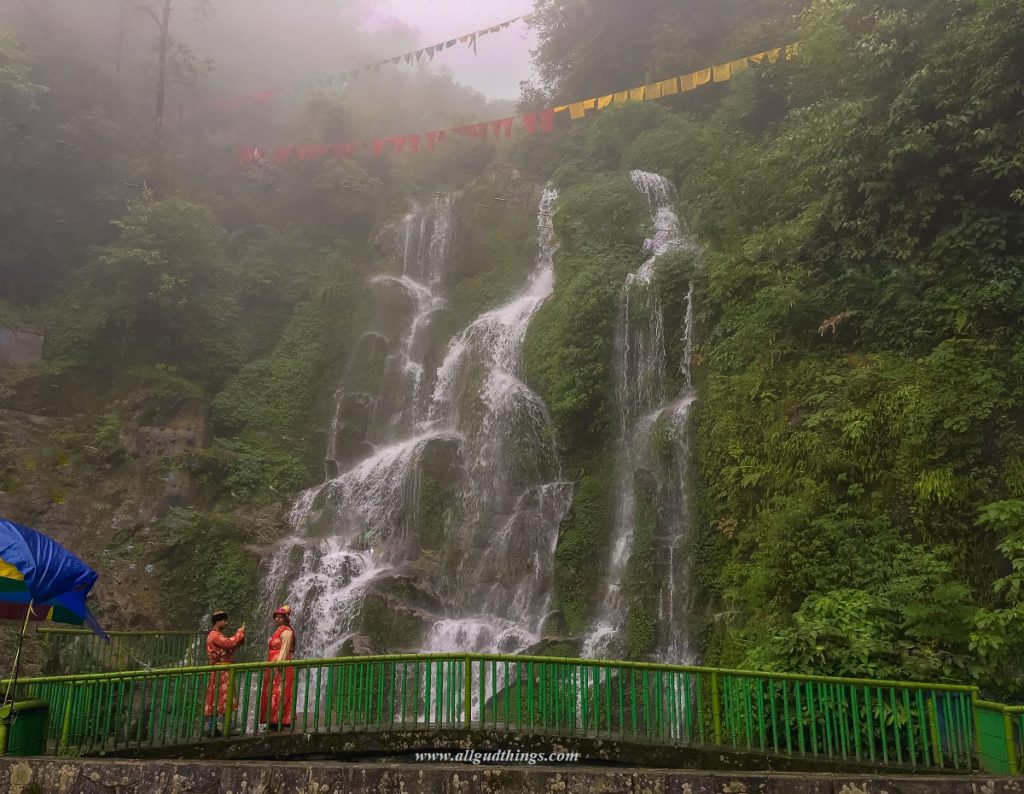 In front of the Bakthang waterfall is a green bridge where one can climb up for better views and pictures. Also, do enjoy juicy and delicious momos from a local vendor standing in the car parking lot.
Lal Market
The Lal Bazaar very close to MG Marg truly represents the vibrant colors of Sikkim. The local farmers congregate here to sell their local produce and interestingly the majority of vendors are women. On Sunday, the market is super full and it looks like a melody of colors.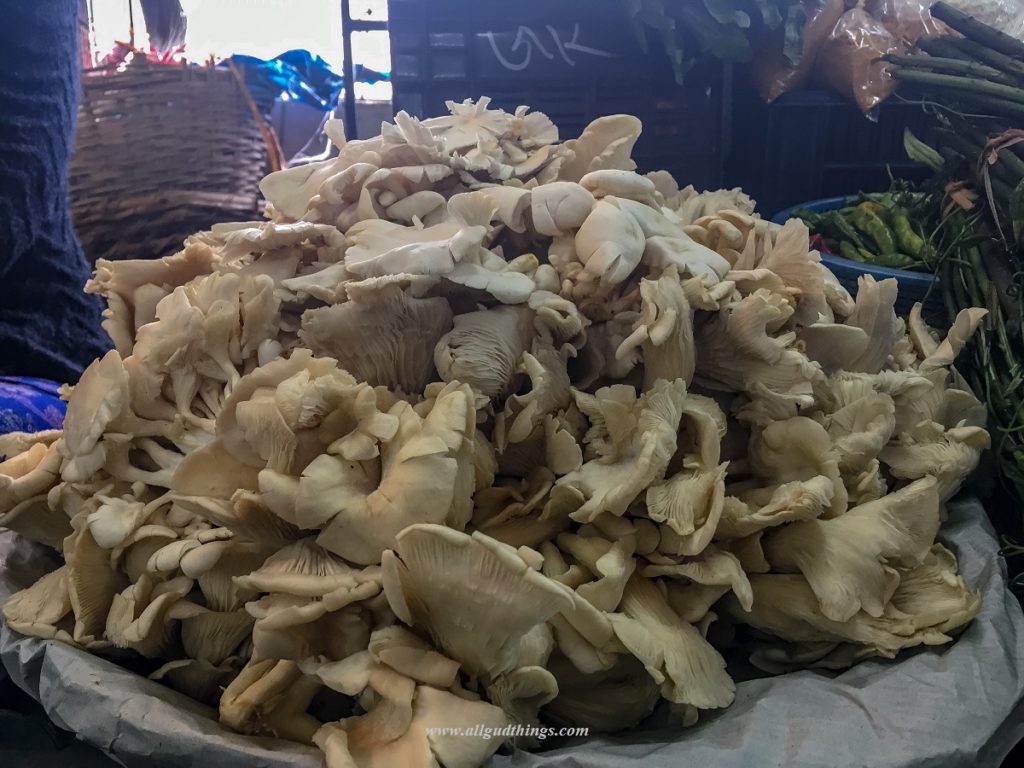 Lal Market has 3 floors, where the 1st and 2nd floors are dedicated to vegetable and fruit vendors and part of the 2nd and complete 3rd floor, are for purchasing clothes of every variety and range. We went here to purchase Dalle – the spiciest Chilli in the world and some local mushrooms.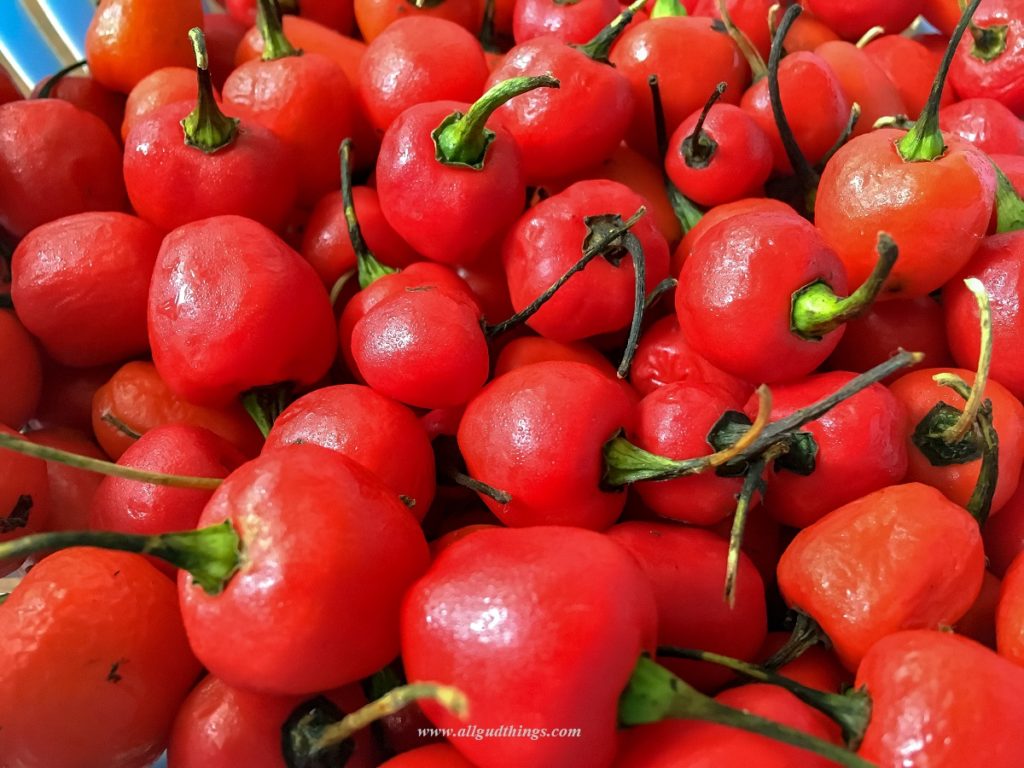 Dalle, the chili of a cherry size was a rare commodity in the market and was available in red and green. We brought 500 grams each to prepare Dalle Khursani.
Ropeway Ride for bird's eye view of Gangtok Sikkim
The ropeway cable car ride is one of the topmost tourist attraction of Gangtok. It is a kilometer-long ride, which starts from Deorali near the Institute of Tibetology and goes up to Tashiling. The Cable car operates daily between 9:30 am to 4:30 pm continuously and the ticket price is Rs. 110/- per adult and Rs. 70/- for child below 6 years. Also, video camera charges are additional Rs. 100/-.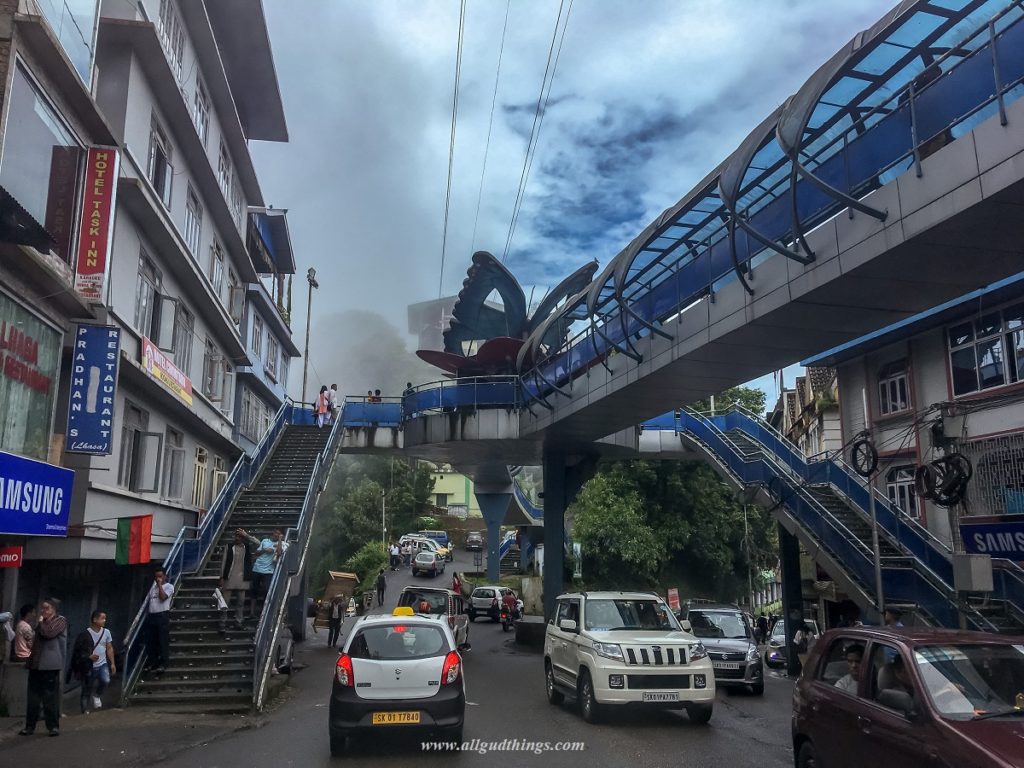 Attractions Nearby Gangtok
Nathula Pass
The Nathula Pass located at 14,140 feet lies 56 kilometers from Gangtok town and can be visited as a day trip. The route was once the main silk trade route between India and China but today only limited trade takes place here. For more details on Nathula Pass and permit check here.
Tsomgo/ Changu Lake
The Tsomgo or Changu Lake is a glacial oval-shaped lake at 12,310 feet. It lies 40 Kilometers from Gangtok and can also be visited as a day trip destination. The Changu Lake Lake too is considered as one of the highest glacial lakes of India like Gurudongmar Lake and Chandratal Lake.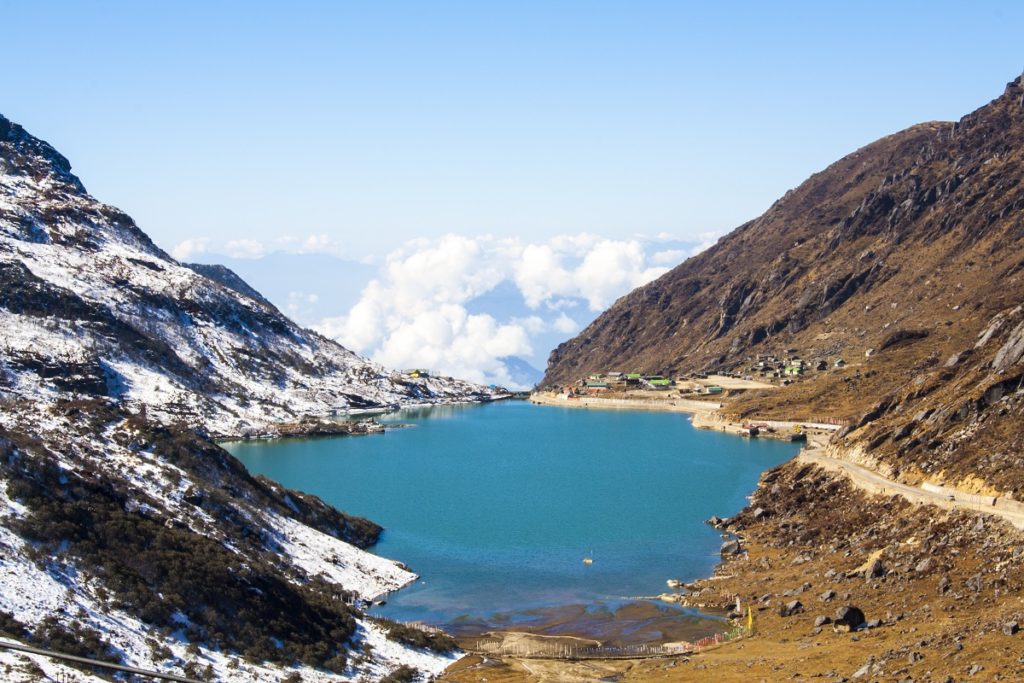 Note: Nathula Pass and Tsomgo Lake both need an inner line permit for a visit and can be visited via local cabs only. We skipped visiting both these places for two reasons. First, as we already visited another high altitude Lake i.e. Gurudongmar Lake in North Sikkim and second we never wanted to travel anymore in the cabs.
Live – Accomodation in Gangtok Sikkim India
There are plenty of accommodation options in Gangtok from guest houses to budget hotels to luxurious hotels. The only criteria we had set up for choosing a hotel for ourselves was to find a good place near to the MG Marg. So, we choose to stay at Hotel Chumbi Residency, located on the Tibet Road, at just 5 minutes' walk away from the main market M.G. Marg.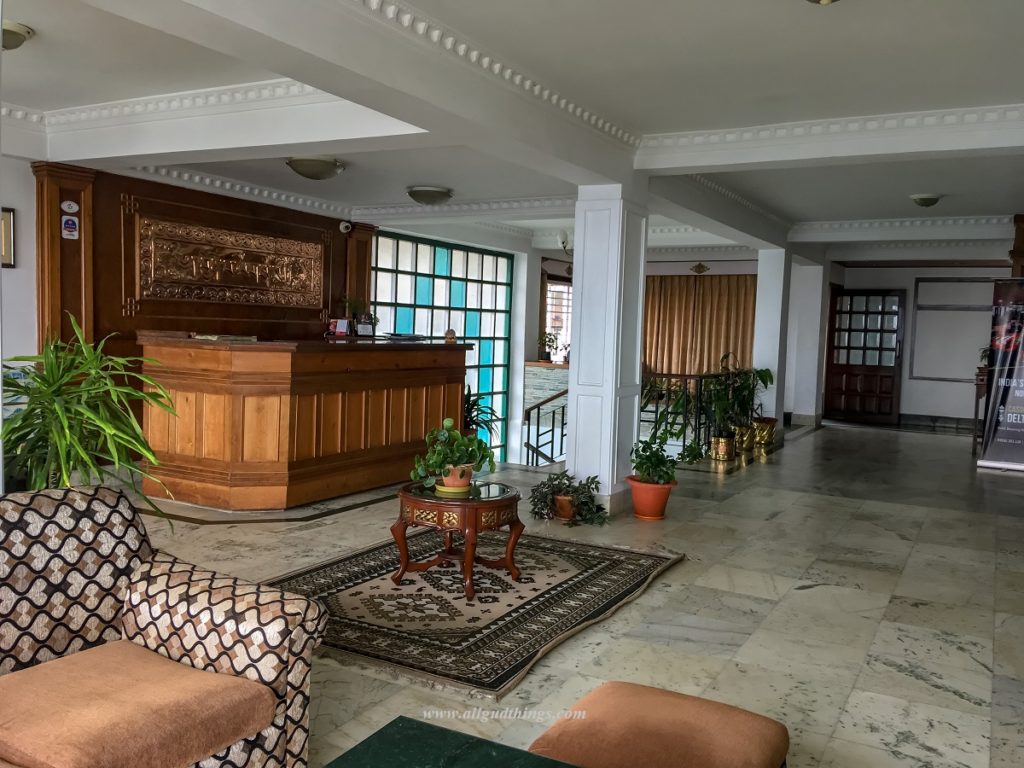 The first look of the hotel lobby was impressive. It was well decorated with artifacts reflecting the Sikkim culture and the huge glass on one end gave the complete view of landscapes around Gangtok.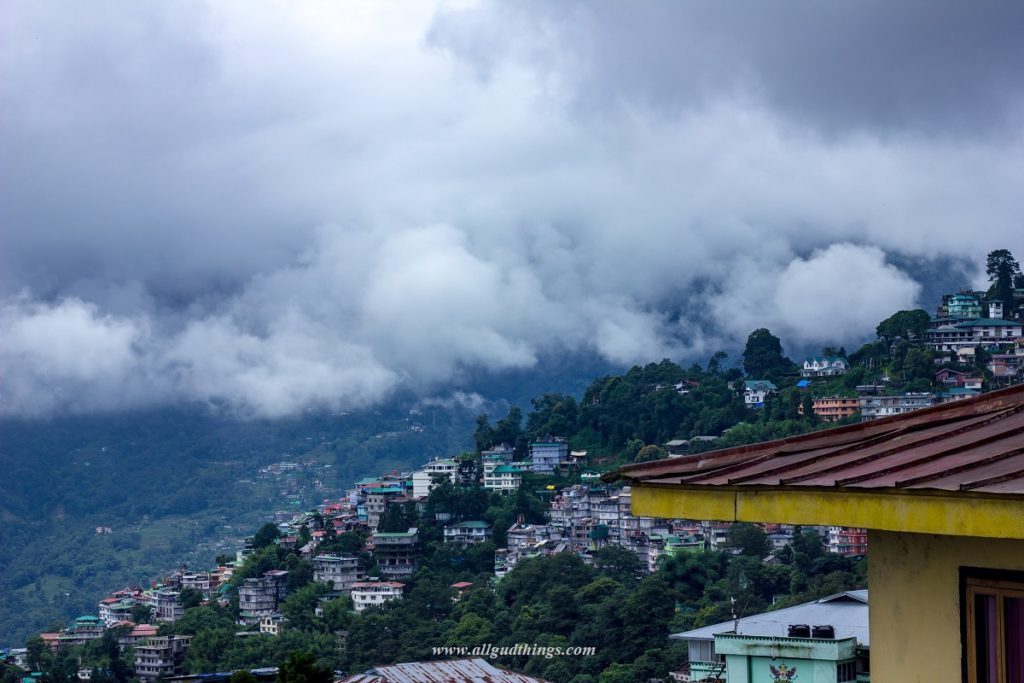 We opted for the Jade room at Rs. 2500 per night. The room was super comfortable, cozy, well furnished and had the feel of the bedroom, which we needed for the coming 4-5 days. Moreover, the huge window on one end was enough to have Gangtok feel.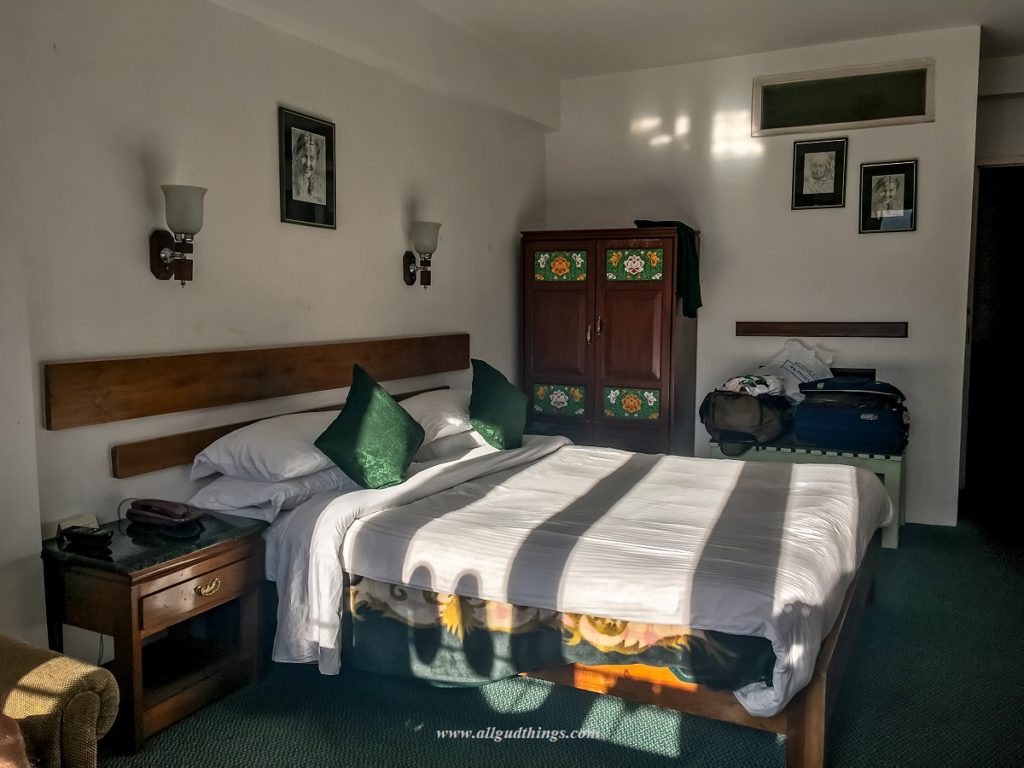 The hotel Chumbi Residency has its own parking space and a wonderful restaurant Tangerine, which serves Continental, Oriental, Indian and Sikkimese cuisine. The other plus of the place is that they let you leave your vehicle while going for a North Sikkim tour.
Fall in Love with Gangtok Sikkim
Gangtok truly represents the beauty and serenity. It is a place which takes you through rolling hills, lush green misty valleys, beautiful monasteries and makes you fall in love. Here are some reasons why we say that
Gangtok is the friendliest walking city with proper pathways
Is absolutely pollution and dirt free
The "N" number of cafeterias, serve the yummiest cuisines without robbing your pockets. So, the city is a gastronomical delight
Has well-aligned policies for the safety and growth of state & Citizens
Weather is excellent throughout the year
And there are multiple options of day trips from the city
How to reach Gangtok
The closest airport to Gangtok was Bagdogra airport near Siliguri in West Bengal. From there one could opt for shared cabs, private taxis, local bus or Zoomcar. We took Zoomcar from Siliguri to Gangtok and it took us around 5 hours to reach there. However, on 4 October 2019, the new airport has opened up at Pakyong in Sikkim which is about 33 km from Gangtok and this will cut downtime to reach Gangtok to 1-hour form 5 hours.
Weather at Gangtok Sikkim, India
Gangtok has mild comfortable temperature weather throughout the year and it never crosses 25 degrees Celsius. Here, Summers are from April end to June and the temperature ranges between 22° to 14 degrees Celsius. Monsoon starts in June and continues till September. During this time Gangtok receives heavy downpour and one can witness multiple landslides too. Autumn lasts in September and October. Winter starts in November and continues until March. The temperature ranges between 7° to 4 degrees Celsius and sometimes even dip to 1 degree Celsius. Spring lasts in April and the weather starts getting warm.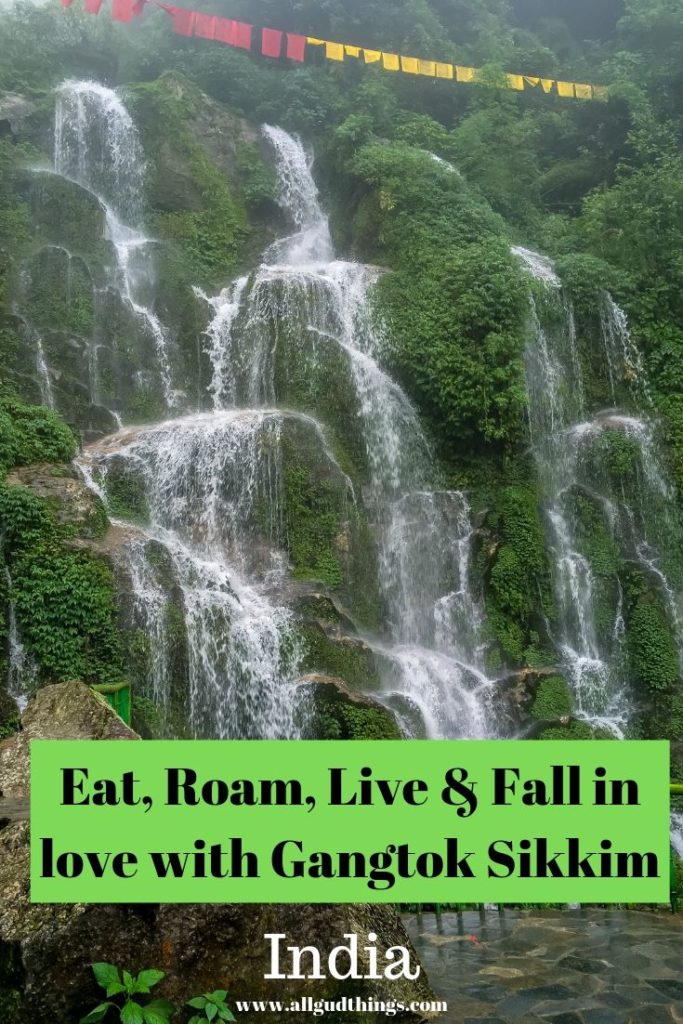 We visited Gangtok in Monsoons and it is a trip to remember forever. The valley was beautifully covered in clouds. The rain continued for days but we didn't mind getting wet anywhere. Landscapes too looked lush green and misty. So, if you are a rain lover and sucker of natural beauty than visit Gangtok during monsoon i.e. in off season.