Around 970 AD, there was a hidden, unknown mountain face in Lahaul -Spiti district of Himachal Pradesh, India. This mountain face at 10,760 feet was traced and occupied by few imperial souls – "Lamas" who wanted to practice Buddhism away from the materialistic life in the absolute peace. The simple men with the simple needs in life carved down their dwelling and meditation halls in this mountain face. Not only that; they further decorated their walls with murals and carvings. So, that's how the mountain face got established and named as village of Cavemen, Caves or Tabo. Just beneath the foot of this cave mountains stand 1000 years old, holy monastery known as the Tabo Monastery or the "Ajanta of the Himalayas".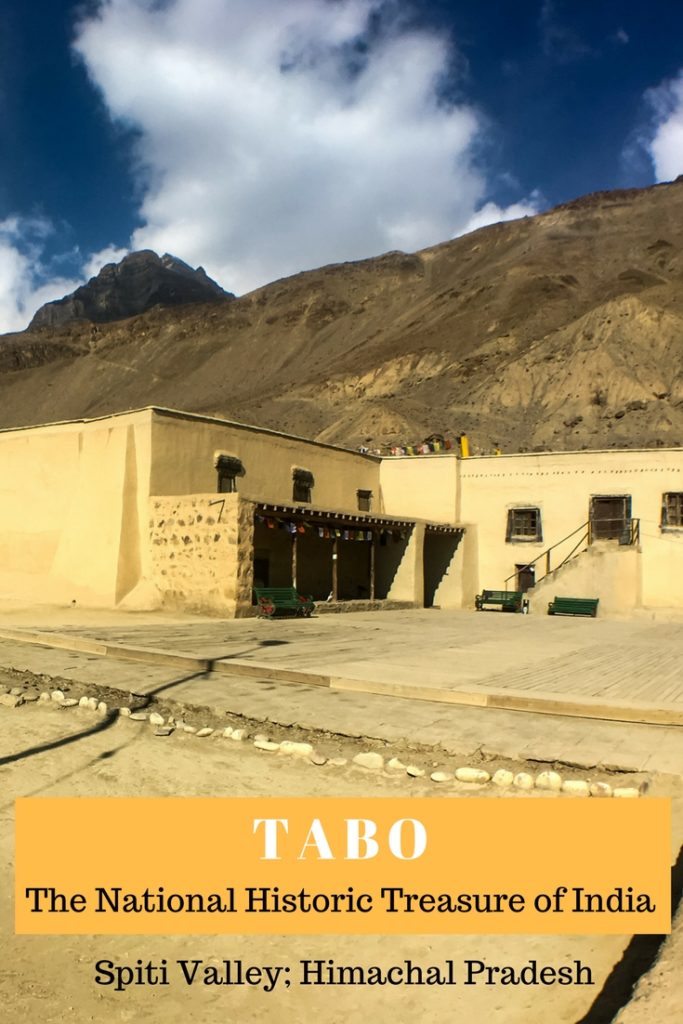 About Village Tabo
Tabo, a well-known Buddhist Pilgrimage today; is a green oasis in the middle land Spiti, just like village Nako. It lies 155 kilometers from Rekong Peo and can be reached in 5-6 hours. The village is a flat bowl shaped green valley enclosed by arid mountains from all sides. The fluttering Tibetan prayer flags, chortens and mani stones around the village are a mark of the Buddhism vibes and establishment. The greenery around the village marks they are agriculturalist and have good produce of pea, cabbage, apples etc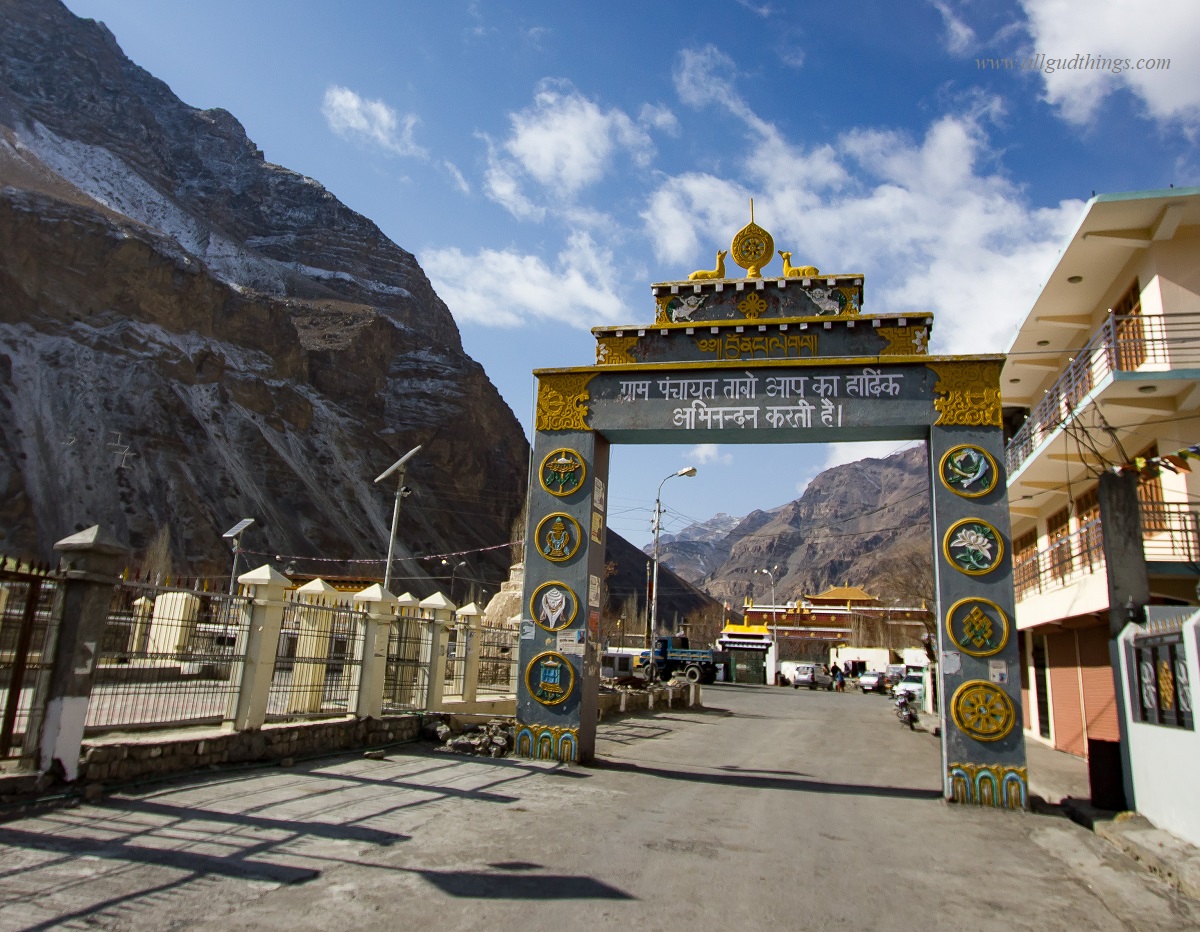 The village Tabo has a total population of 500 and few houses. It is another Himalayan glory with lanes and by lanes. These lanes are lined by typical Spitian houses made of mud and stones with orchids around whereas others few have turned their homes to multi storied home stays and guest house. Actually, we were shocked to see how the things have changed here in 3-4 years. It seemed, that the village had been a part of time capsule advancement.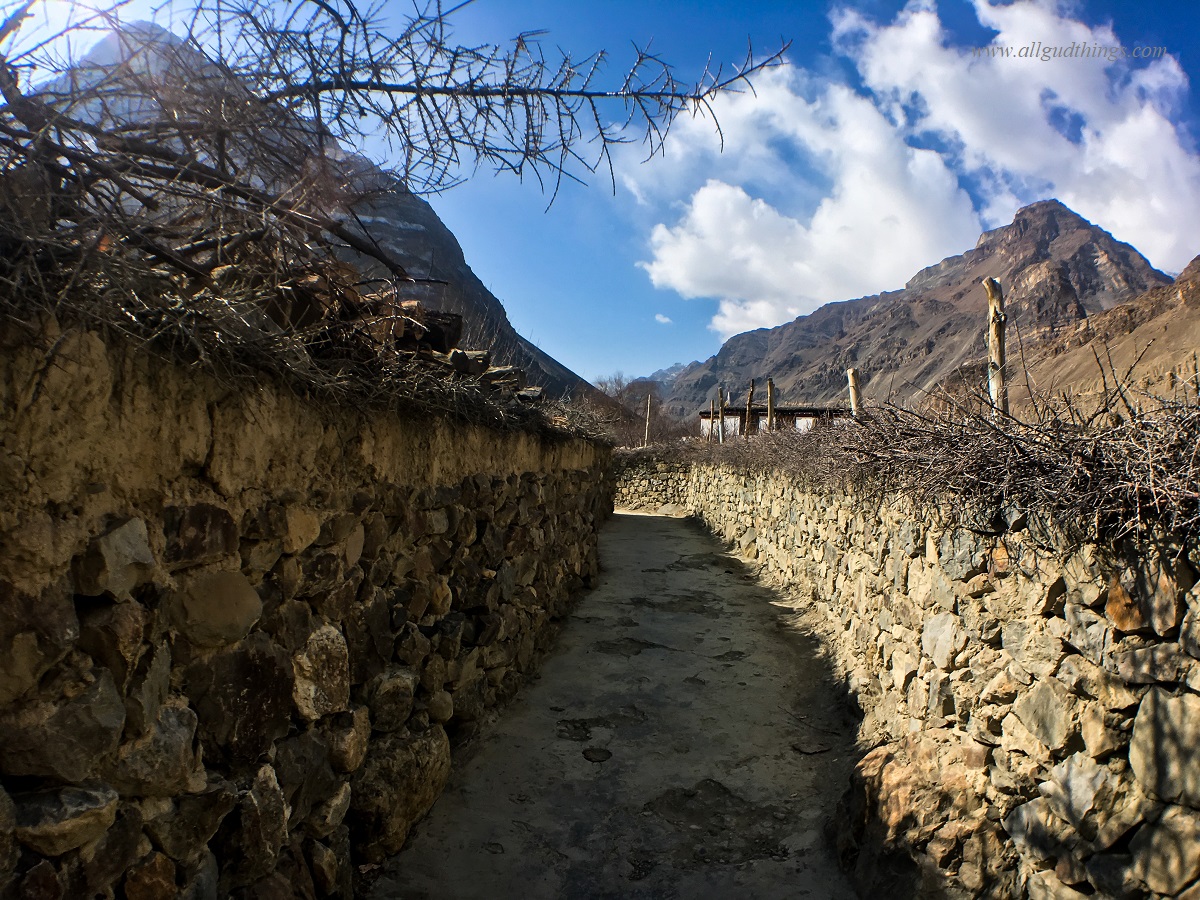 Anyways, we reached Tabo late evening from Rekong Peo which lies in Kinnaur, when the temperatures had already dipped. So, without wasting much time, we opted for a short walk to breathe the fresh air of beautiful village Tabo. Around 6:00 pm, most of the village seemed slept, market was shut, except few tea, coffee shops where 3-4 wrinkled, sunburn men were chatting. Then suddenly one of them asked -why are you here in winters, very few people travel this time and only few places are open. We smiled and conveyed him that we wanted to see the white Spiti Valley. We are prepared for the weather and have arranged a place to stay.
https://www.instagram.com/p/BhgEMiPnUh9/?taken-by=suruchimittal
Further, we continued walking for 15 more minutes. Then saw some unfriendly dogs following us, which scared us out and we turned back to our Homestay. After chatting for hours with owners and having scrumptious local meal, we retired off to bed.
Sightseeing at Tabo
Next day was set to explore the attractions of Tabo. The small village has not many attractions. But is is well known for 1000-year-old monastery and the Caves. We felt the place itself is a attraction.
Tabo Monastery (Timings: 6am to 5pm)
The Tabo Monastery also known as Tabo Chos –Khor monastery is one of the fascinating archeological complex and is proposed to be under world UNESCO heritage site list. It too is one of the oldest and pious Monasteries in the Trans Himalayan range. The monastery was initially set as advanced Buddhist learning center and until day it has maintained the Buddhist legacy with utter purity.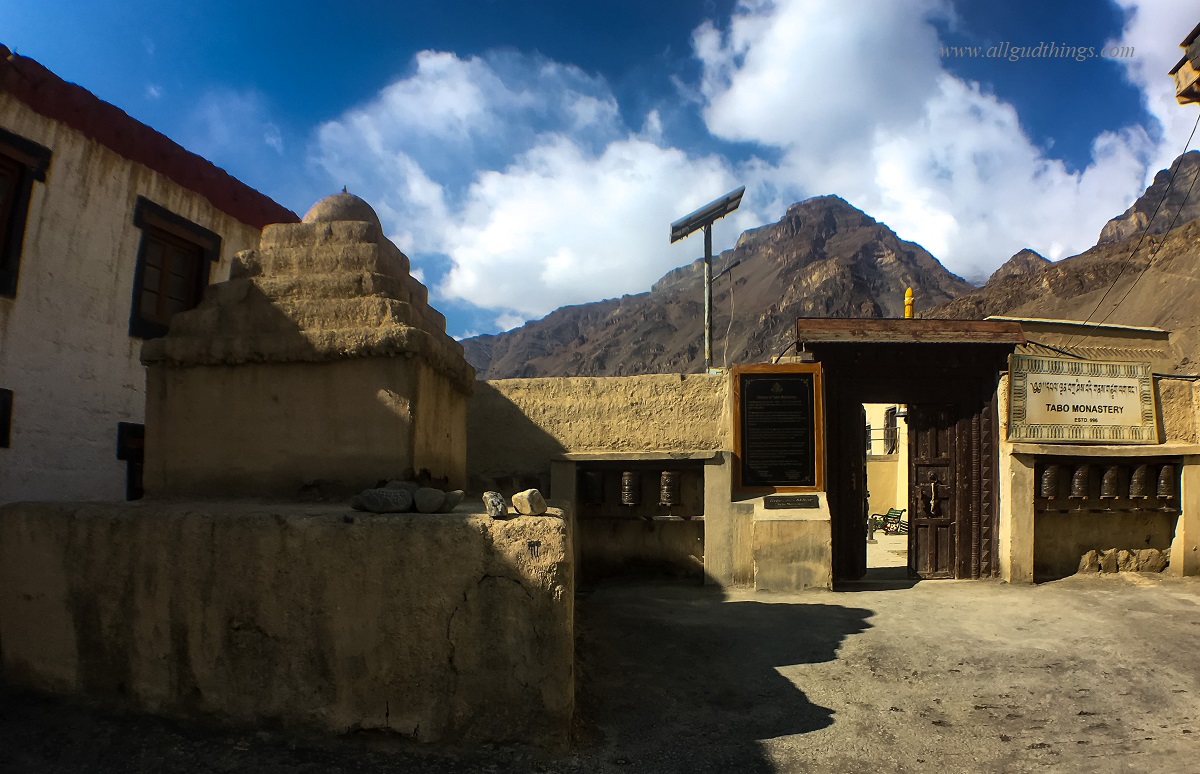 The holy monastery complex is a perfect example of Indo–Tibetan art. It is walled from all sides by the tall mud walls and have arid mountain in backdrop, making it look the part of mountain itself. The complex houses 9 temples, 23 chortens (without adornments), a monk's chamber and the nuns chamber inside. The temples inside the complex are adorned with intricate murals, frescoes, paintings and Thangkas depicting the life story of Buddha, which we really failed to understand.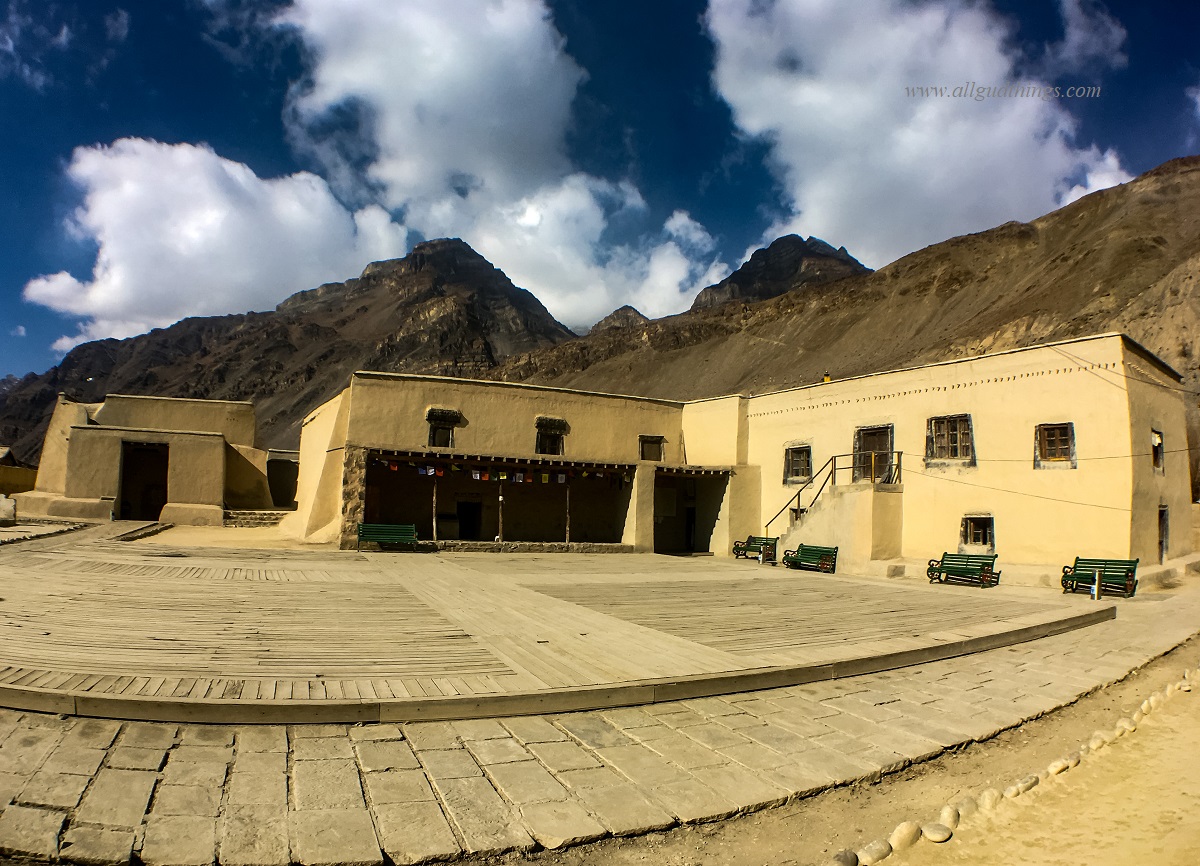 In 1975, the Kinnaur earthquake severely damaged the old monastery. Today, Monastery stands erect but in despair state and the paintings are fading. The ongoing restoration work is under ASI (Archaeological sites of India), to preserve it as a National Treasure of India.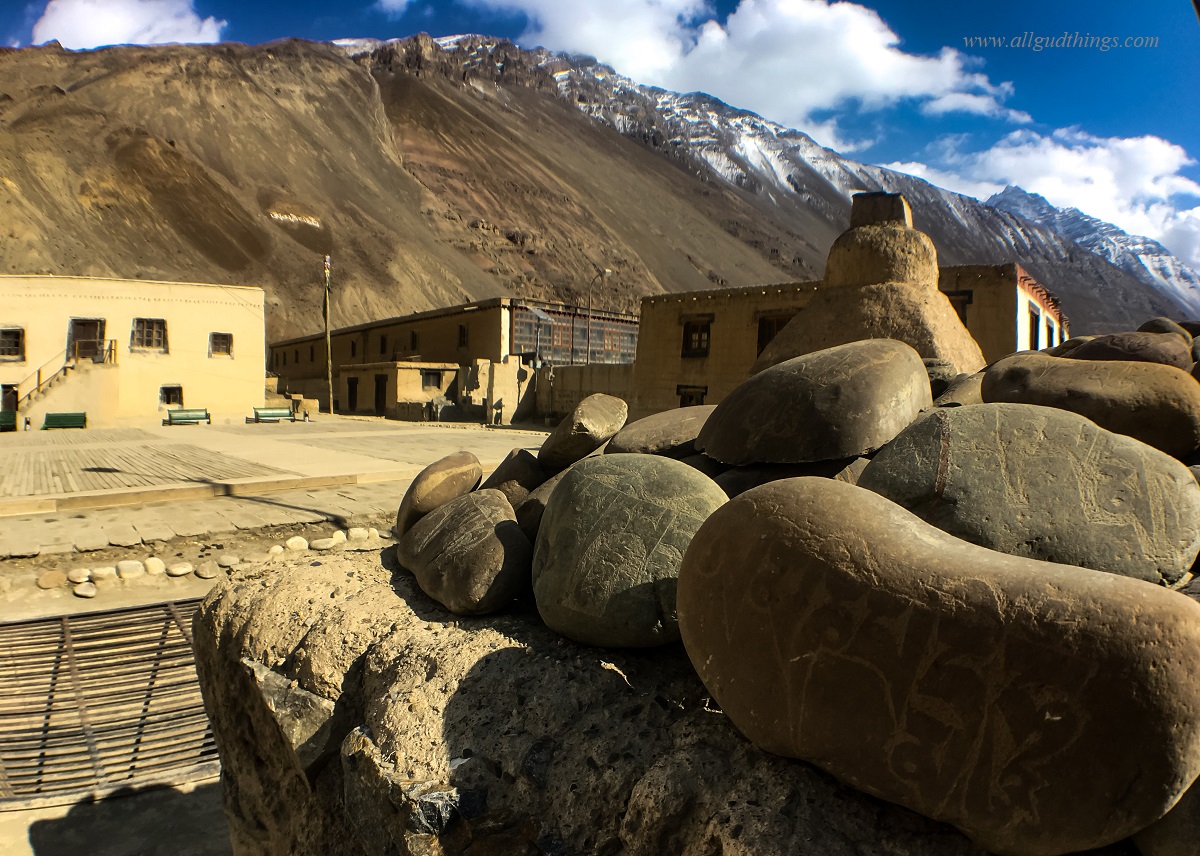 Just adjacent to the old stands a new Monastery and huge Tabo Gompa, which resembles exactly the Gompa's of other monasteries of Spiti Valley.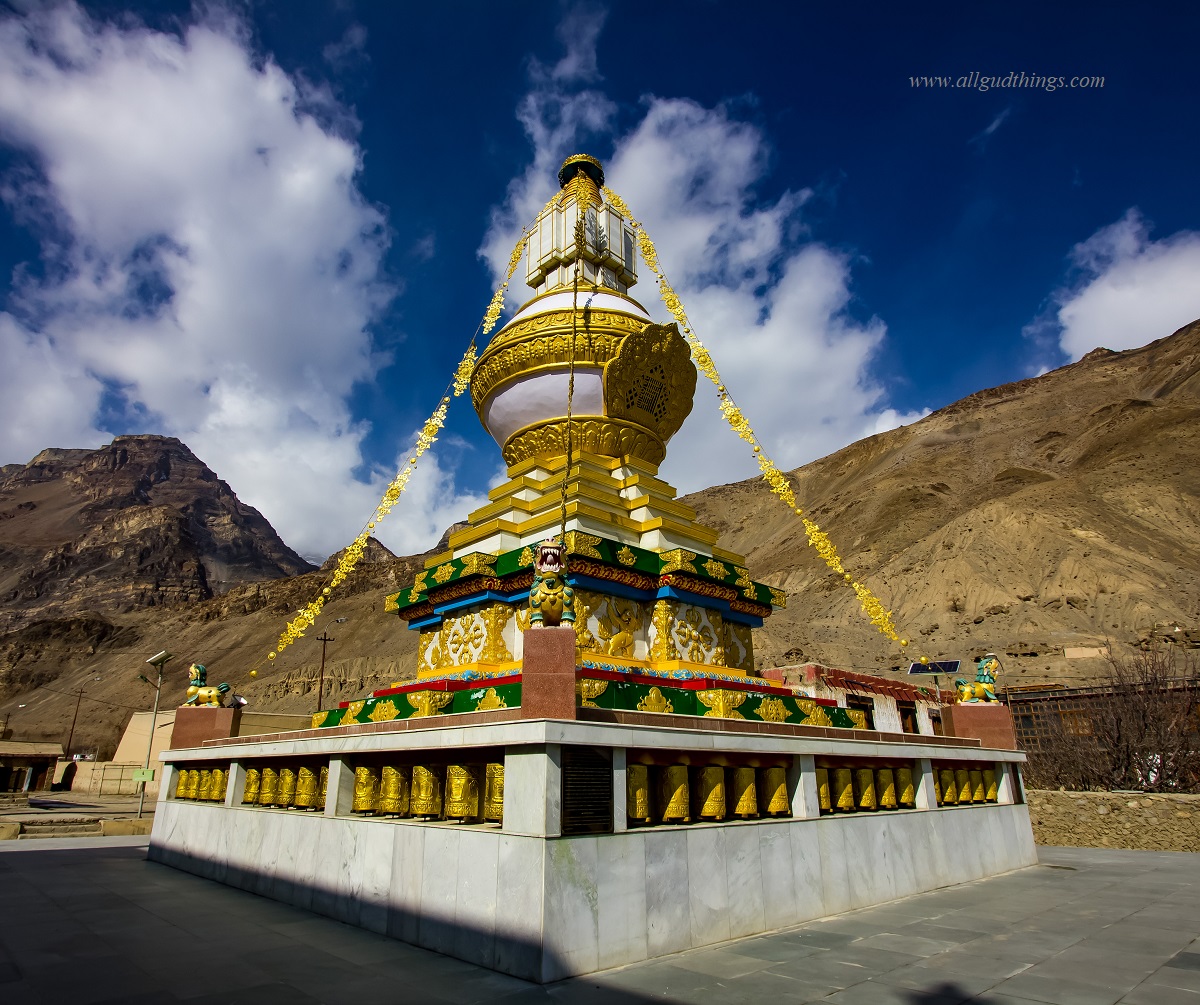 Tabo Caves
The other fascinating attraction is the Tabo caves which can be reached after a good steep hike. The caves overlook the green village and flowing Spiti River. Not one, but several in number, these caves have narrow small openings to enter and there are rooms with in the rooms. The caves were in severe dilapidated state and some of these looked almost rudimentary.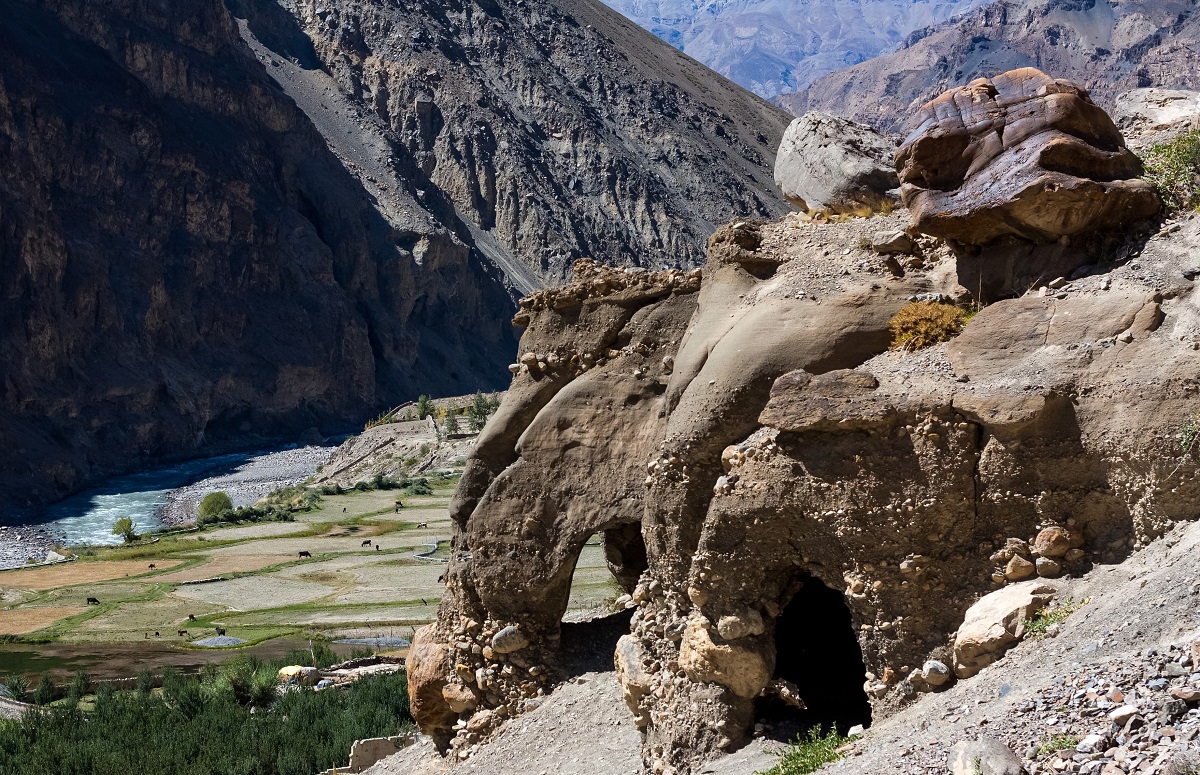 These are believed to be the mediation chambers of Monks and some are still used till day. We found one of them had a door too, which according to our guide was put recently by some villager, quoting the respective cave to be his ancestral place. Interesting!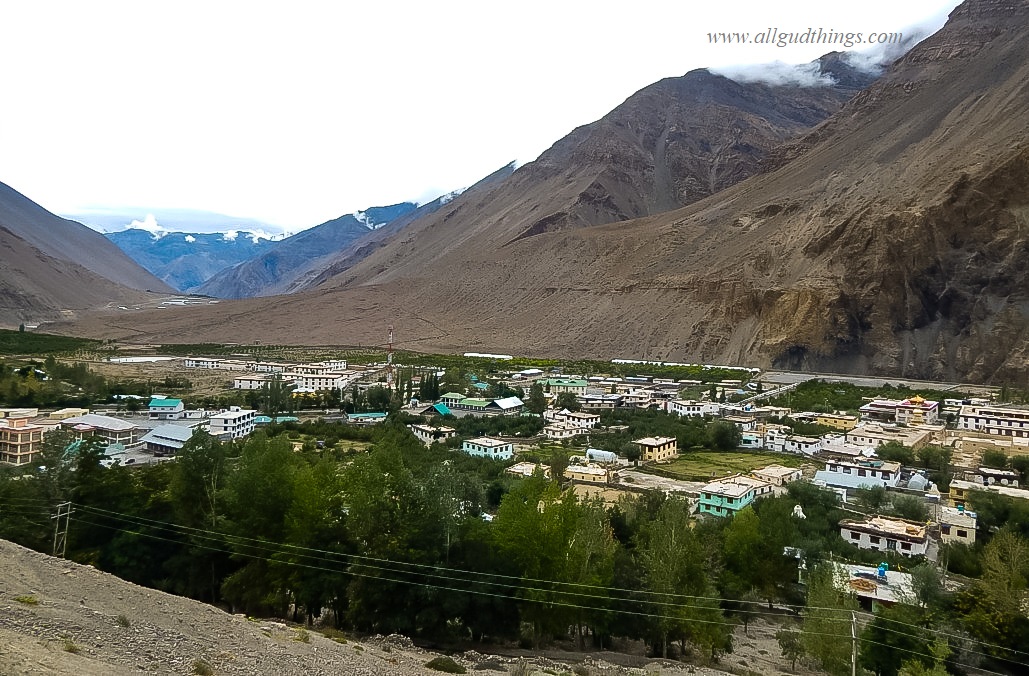 Tabo Helipad
Tabo Helipad lies exactly on one end of the village in between the mountains. Occasionally Helipad is used as a helipad whereas at rest times it is a playground for cricket and other adventure activities.
Walkthrough the narrow lanes of village and to the river
We feel there is something in the air of Tabo – the good vibes, the positive energy and happiness. It has to be, as we are in the land of Gods. So, walk through the narrow lanes, talk to locals, say Julley and fill yourself with the positivism. Indeed, we feel the village itself is quite picturesque.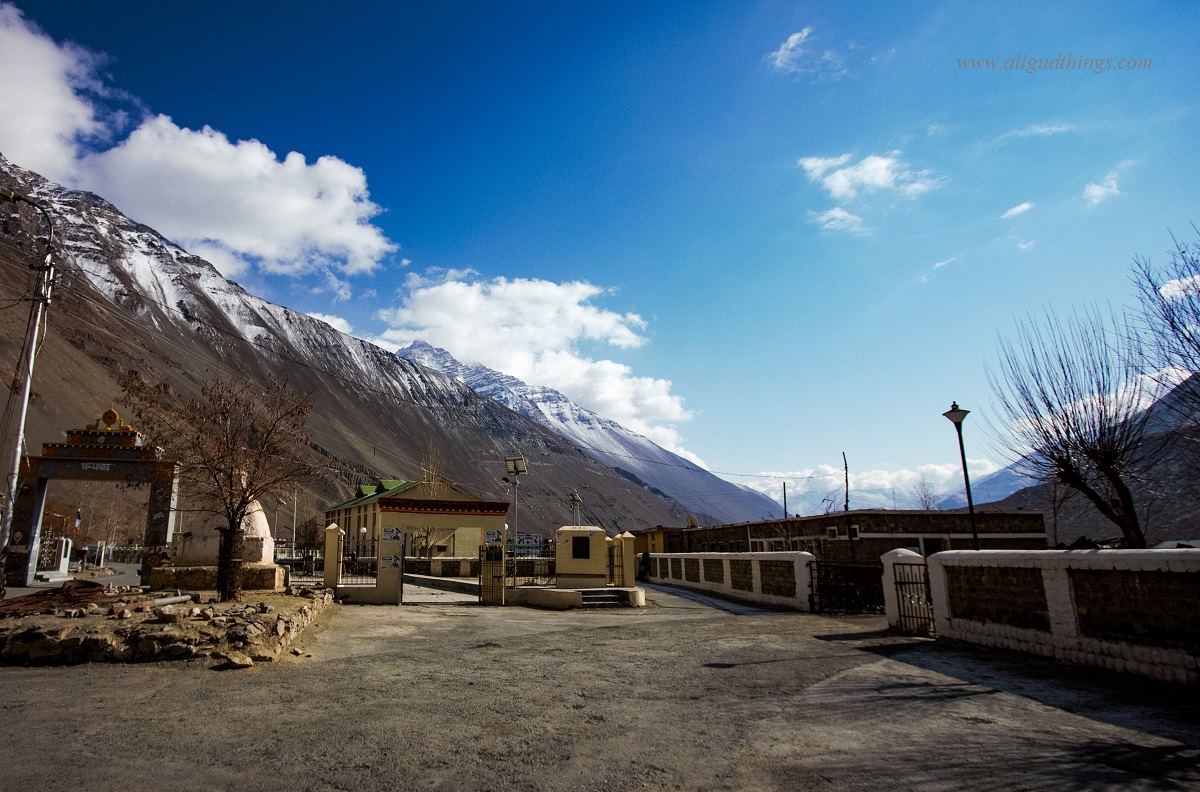 Star Gazing and Night Photography
Tabo and the whole Spiti Valley is a wonderful place for night photography, only if the sky is clear. So, go for it if the sky is starry. You will surely get some wonderful shots. We couldn't try our hands because it was cloudy and snowing.
Apart this, Tabo is a base to several treks and opt for them only with the guides.
Places to Stay
The Village boosts about several lodges, guest houses and home stays. We have been to Tabo thrice and have stayed at some of these. The best one's we recommend are Phuntsok's /Baba's Homestay and the Tabo Monastery guest house.
Phuntsok's Homestay lives perfectly to the name of homestay. The family treats one like a family member and will provide the utmost comfort. Homestay is operational both during summers and winters. The rooms are well furnished and have attached washrooms. Just in winters, be prepared to use the common dry pit toilets, which probably one has to use everywhere in Spiti during winters. (Charges per person per day – around Rs.1500/-).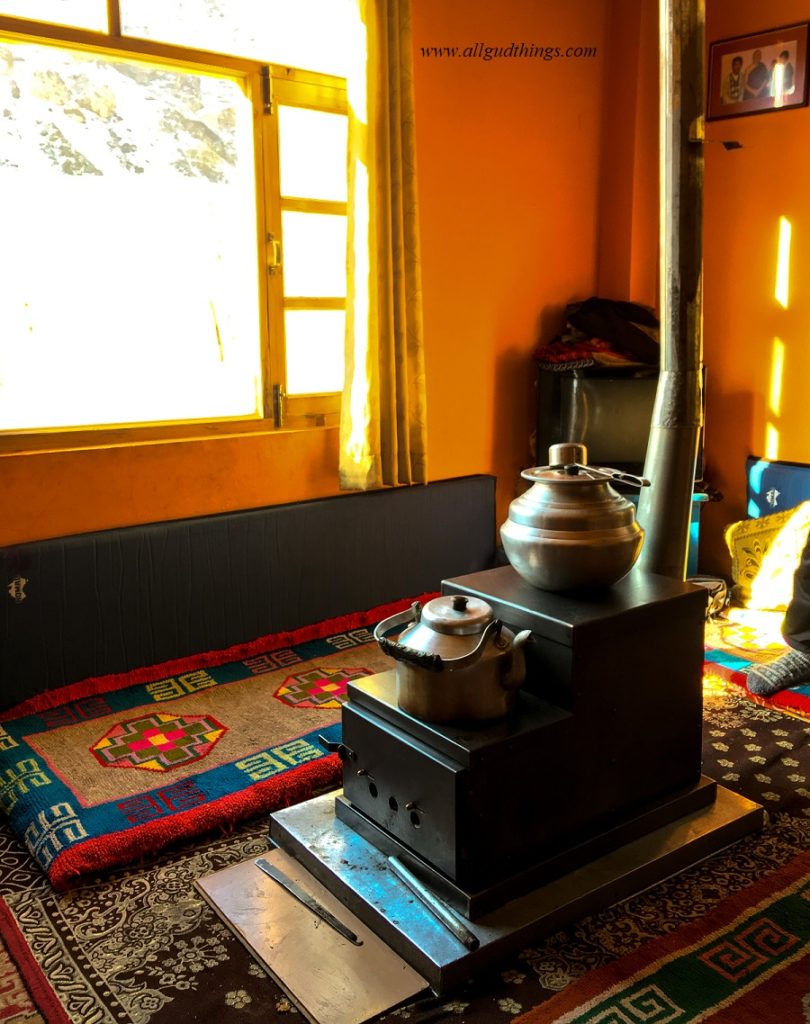 Tabo Monastery's guest house rooms is an apt choice for summers. These mud rooms come with attached washroom and are super warm and cozy. In winters, the guest house is usually closed. Also, while staying with them do try their delicious Tibetan and Chinese food. (Double Bed room – Charges per day – Rs.500/-).
Food at Tabo
There are several cafés and bakeries in Tabo serving various types of cuisines. Our recommendation is try one meal at Monastery's café. Munch on their Thupka and freshly cooked Momos.
How to reach Tabo
Tabo can be reached only via road from Shimla (365 kilometers) or Manali (150 kilometers). In summers, its accessible from both sides. So, we always recommend to do a circuit trip whereas in winter, the too and fro journey can be done only from Shimla side, because of the closure of Kunzum La and Rohtang La.
Read about: Ladakh – The Land of Passes
Advised route for summers (Circuit trip) – Delhi – Chandigarh – Manali – Kaza – Tabo – Nako – Rekong Peo – Rampur – Shimla – Zirakpur – Delhi or vice versa
Route for winters– Delhi – Chandigarh – Shimla – Rampur – Rekong Peo – Nako – Tabo-kaza
Expected temperature
Weather is highly unpredictable in Tabo. If at one time its sunny, other time it will be cloudy accompanied by rains and even snowfall.
Summers: lasts from May to August or maximum mid-September. The temperature ranges from -5 degree Celsius at night to 20 degrees Celsius during day.
Winters: lasts from September to April and the temperature ranges from 4 degrees Celsius during day to -45 degree Celsius during night. Winters are extremely harsh.
Best Time to Go: The best time to travel is from May to September. If you want to see white land, then go in winters between December to march.
Points to Remember
Tabo lies in rain shadow bearing zone but the temperature changes here, unexpectedly. So do carry some woolens.
Do spend one night in Tabo
Respect the local culture and religion
Buy a souvenir from monastery, if possible. The collected money is used for the maintenance of monastery.
Photography inside the monastery is prohibited to prevent damage to the artwork. Please do respect that,
If you are planning to travel during winters, remember the options for food and lodging are very limited and fix your stay before leaving.
Multiple ATM's have opened up in Tabo, but don't expect all of them to be in working state.
Till day, only BSNL connections work in Tabo
There is no fuel station at Tabo. The nearest one is either at Rekong Peo or Kaza.
At Tabo, Earlier electricity used to be there for limited hours but during our recent visit in January 2018, electricity was there for whole day as well night.
Most important do not litter the Himalayas. Keep them clean.
So, overall the travel to this Holy land is a bliss and it leaves you with the intriguing thoughts and questions.
If you need any more info, to plan you summer as well winter trip, please do leave a comment in the comment box. We will be happy to answer them.