For us, Traveling and Road Trips are synonyms. We love exploring each place by driving through it and think that's what makes up the real Travel Experience. If roads are a fantasy land then road trip are an injection of adrenaline. Honestly, they make us go high. It is like one moment you are passing through the lush green forests; other time you will be holding your car's steering tight to cross a waterfall or snailing through the continuous ascent/ descent among the barren landscapes. They let us make pit stops to enjoy the drizzle, click various landscapes and take the off roads. The dream was to drive through Sikkim and this came true because of the cool Self Drive concept by Zoomcar.
After exploring  Spiti Valley, Leh Ladakh, Himachal, Uttarakhand, Rajasthan from Delhi by road trips, we have become habitual of  the real thrill. But Sikkim was really far and we had limited days. So, we broke the journey into two i.e.– By Air and Road. The first leg; i.e. Delhi to Siliguri (By air) was covered early morning to have the real fun later.
So, before we take you on to the journey of Sikkim, in this post we will describe our Experience with Zoomcar from booking to drop up.
Booking Zoomcar
The Booking process for Zoomcar is quite simple and just 4 step away
Download the app and sign up
Choose the start and end time
Select Pick up and drop location
Choose a vehicle and the kilometer plan
Zoomcar app, will calculate the fare depending upon the number of days, chosen car and kilometers. Further, there are additional filters like with or without fuel. For example, we choose Scorpio Zoomcar with fuel for 9 days and paid around 20,000 for first 965 Kilometers, and 5,000 Rs. refundable security. Above this the additional Kilometers will be charged at Rs. 15 per kilometer.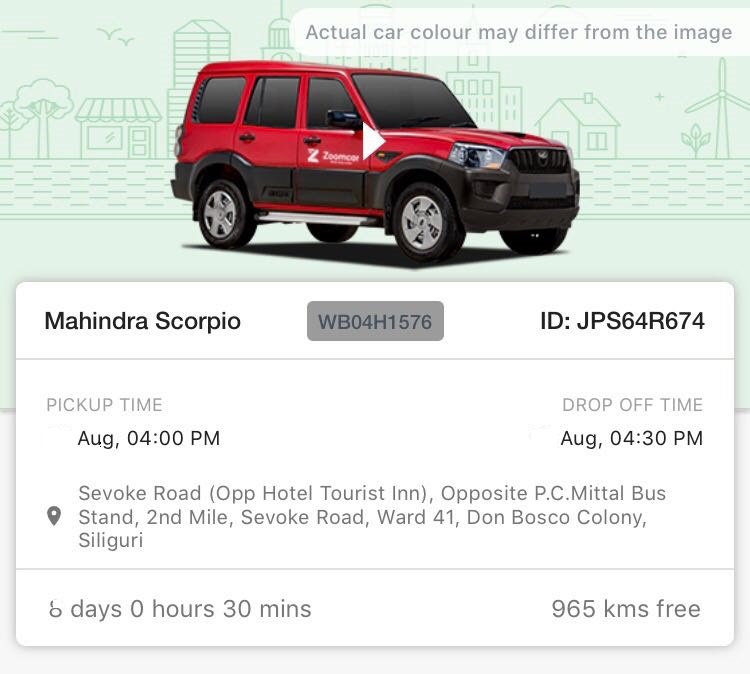 After all the selection process and chosen package, proceed to pay and also upload a picture of your driving license. Within next 5 minutes, you will receive a confirmation mail and message, stating that your car has been booked. If in any case, your driving license is rejected, try clicking and uploading again, focusing on your picture.
Important Points
We booked the Zoomcar same day we had our flight and got our favorite Scorpio. But luck always doesn't favor. So, if you have any preference for car do book yours in advance. Otherwise you will get whichever is available that time in the fleet.
Also, look for the discount coupons or offers. We realized after booking that there were certain offers on Couponzguru and Coupondunia.
Pick up & Drop up of Zoomcar
Pickup
Till day, Zoomcar service is not available in Gangtok. So, we were asked to pick up our car directly from Siliguri Zoomcar Parking lot, which lies 15 kilometers from the Bagdogra airport.
As we reached the Parking lot, our Red Scorpio and the customer care executive was waiting for us. He checked our license on arrival and handed us the documents bag, which had car RC, insurance and other important documents in it. Further he asked us to make a quick inspection of the car and make a note of the scratches, dents or issues car had.  To be on the safer side, we made a quick short video and took pictures of the car .
Further the customer representative logged into the app, showed us the checklist explaining all the modules, made us sign, handed us the keys and we were all set to go.
Zoomcar, gave us one tank full diesel. Rest we had to add on our own which could be claimed back on producing the bills while drop off.
Drop up
We were explained while pickup to bring back the vehicle at designated time and spot. Rest the app and messages kept on alerting us about the time left to deposit the vehicle.
Drop up was quite quick. We reached exactly 10 minutes before the time. Their customer representative made a quick inspection of the vehicle to check the car condition. He noted the kilometers driven, and took the car papers and fuel bills from us. Upon finding everything in the good condition he signed off in the app. As soon as he signed off, the car got locked automatically and the process was over.
Our Experience with Zoomcar
Zoomcar proved to be the perfect companion during our Sikkim road trip. We were extremely comfortable, without our own Black Scorpio. The car was absolutely clean and had everything (stereo, charger etc) in functional state. There was full privacy as well as freedom. The company's policies and procedures were clear and their pickup and drop facility too was quite prompt.
We got our security and fuel charges refunded within 5 days, after all adjustments. The best thing is there was no cribbing or hustle from pickup to drop. So, if you are like us who like doing things at your own pace, then Zoomcar is a great option for you too.
Additional Information
They have late fee charges, so try to reach back at the designated time
Make a proper note of dents or other issues in the car. If there are any additional damages or dents, the charges can go high till Rs. 10,000
Zoomcar app is quite helpful and have all comprehensive checklists. It provides you all the minute detail from registration to insurance papers, spares and tools.
Their all cars are GPS enabled. So, there is no need to worry as they can track down your vehicle in case of emergency or breakdown. They too keep a check on the vehicle speed. In case of over speeding i.e. more than 125 kmph, you get a quick alert. Zoomcar may add fine for the same in your bill
Zoomcar also give you a quick update on the interstate road tax by message. Pay it to be on the safer side and remember these charges are not reimbursable. We got one message while entering Sikkim state from West Bengal and we paid around 700 Rs for 9 days.
Make a note that you cannot drive in Zoomcar to North/East Sikkim because the permits for same are given to the Travel agents only
Note: We paid complete amount for this trip and the views are our own. You too can experience the same by booking here.