"Mai ni meriye, Shimle Di Raahe, Chamba Kitni door"

"O Shimle ni vasna, Kasauli ni vasna, Chambe jaana zarur"

Oh Mother! How far is Chamba from Shimla Side,
I don't want to settle in Shimla or Kasauli,
Have to go to Chamba only!
Have you heard this Himachali folk song? The first time, we heard it, we were absolutely in awe of it and since then; had made up our mind to visit Chamba. On little research, we further found that a trip to Chamba can be clubbed with Dalhousie and Khajjiar. So, on my birthday it was the perfect time to make a winter trip to Dalhousie Chamba Khajjiar.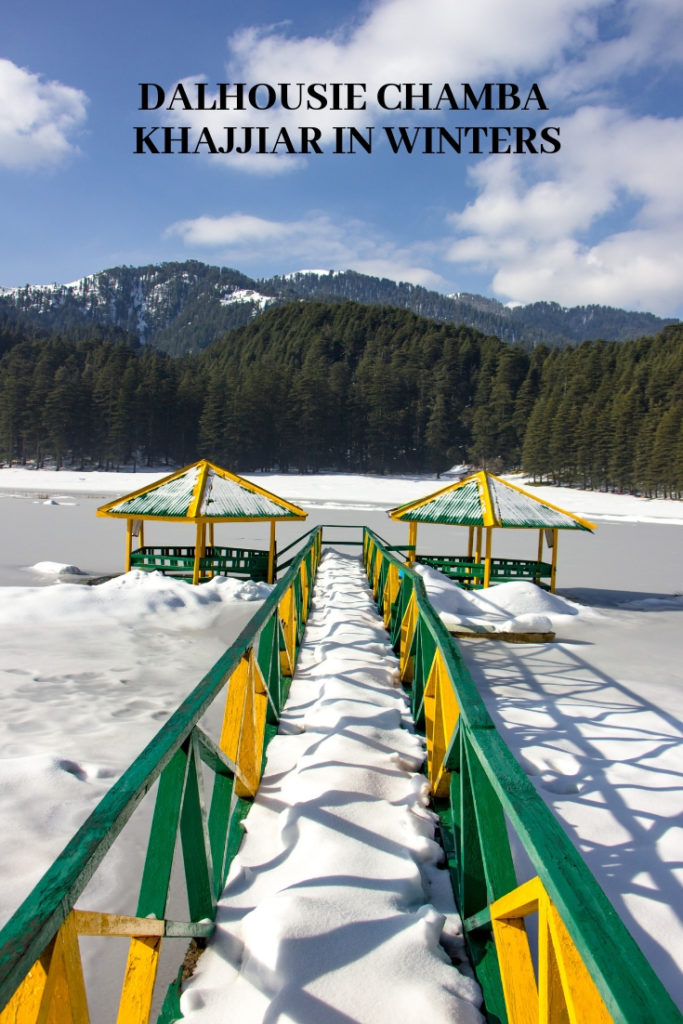 Dalhousie, a colonial hill station in Northern Himachal Pradesh lies at an altitude 6500 feet above sea level and is a famous tourist spot whereas Chamba lies on the banks of River Ravi at 3300 feet and is an ignored tourist destination. With the similar notions in our head, even we left with a thought of first visiting Dalhousie, then Khajjiar and Chamba. But at times things don't work according to your plans and you have to choose the paths directed by nature and that is what happened with us.
Winter Trip to Dalhousie Chamba Khajjiar
How to Reach Dalhousie & Khajjiar?
Dalhousie lies 560 Kilometers from Delhi and 313 Kilometers from Chandigarh. Further, Khajjiar lies 22 km from Dalhousie via Dalhousie Chamba road and 23 km from Chamba. From Delhi we took a halt at Chandigarh and started the next day early at 9:00 am to reach Dalhousie on time.
Route from Delhi Delhi – Panipat- Karnal – kurukshetra – Ambala – Rajpura- Sirhind- Ludhiana – Phagwara – Dasuya- Pathankot – Dalhuoise – Khajjiar
Route from Chandigarh – Chandigarh – Roopnagar – Garshankar – Dasuya –Pathankot – Dalhousie – Khajjiar
We reached Dalhousie around 4 pm. Roads were covered with slush and had walls of snow on sides whereas some trails were completely laid in white. Trees had specks of snow on them and few cars were covered by 2-3 feet of snow. It clearly seemed the area had received an adequate amount of snowfall this year. We went straight to our hotel JK Clarks Exotica, Dalhousie and after relaxing, left for a quick stroll. It was freaking cold, Sun was playing hide and seek behind the clouds. And as it started getting dark, the wind speed and chilliness increased. In minutes, the rain too joined the drama, and people started running to find the shelter wherever it was possible. We too joined the league and without much delay rushed back to our hotel. The whole night it continued raining and the temperature had fallen drastically (Probably -5 or even lesser than that).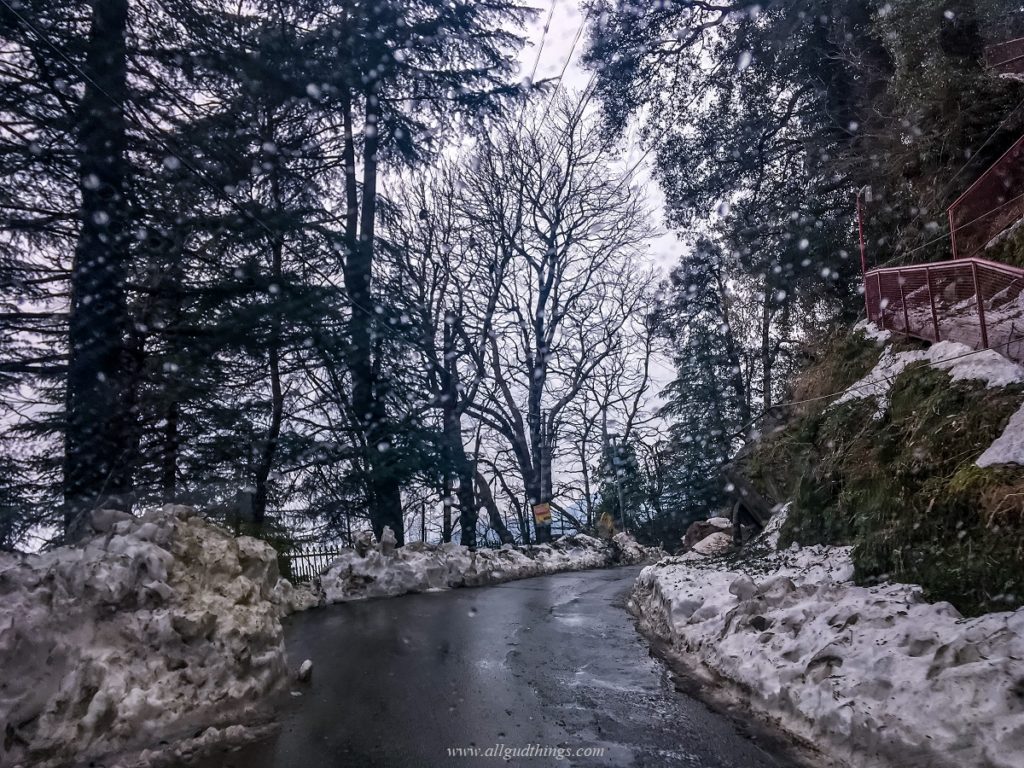 The next morning, the sky was clear but had some hovering clouds. And within an hour, the weather took a drastic turn from sunny to cloudy. It started raining and locals predicted snowing in Khajjiar. Hearing this, we immediately packed and left for Khajjiar, which lies 23 kilometers ahead. But as soon we reached near Gandhi Chownk Market in Dalhousie, there was a big Que of vehicles apart snow and slush. Traffic was halted and was not allowed ahead to Khajjiar because of the roadblock due to snow. On further inquiry, we learned that it will probably take months or more to open this route.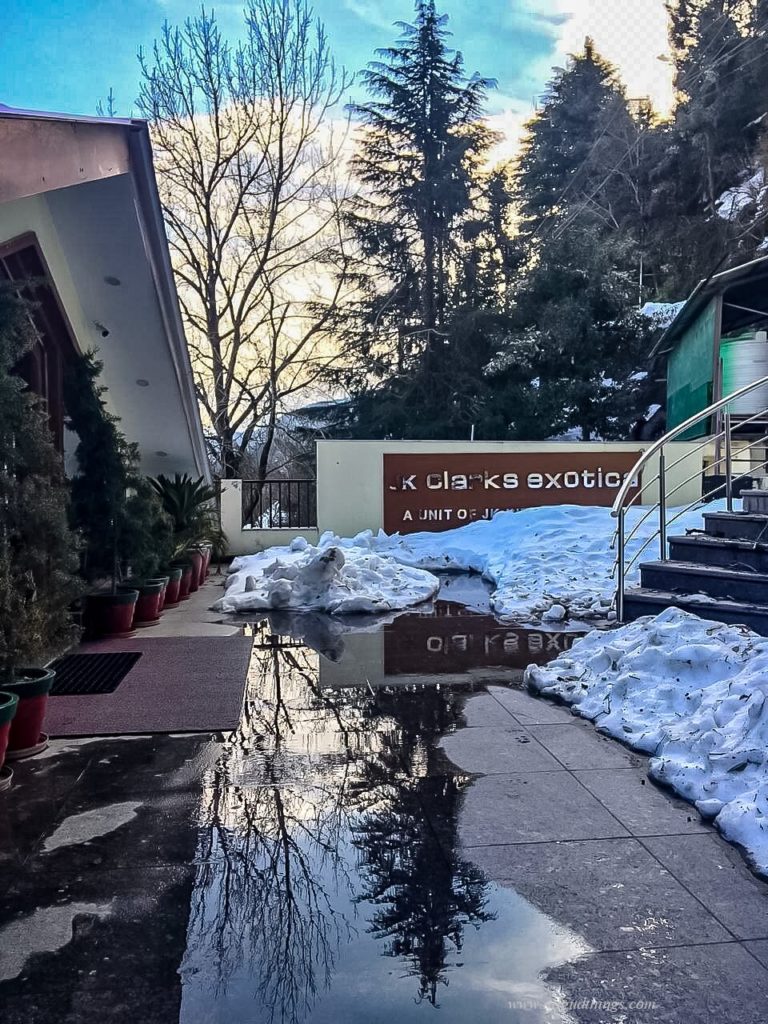 Also Read: Chanshal Pass- The road less traveled in Himachal Pradesh
We started looking for another route option in GPS and the only way was to go Khajjiar from Dalhousie was via Chamba. It too looked completely luck dependent, as the Chamba to Khajjiar road was also closed due to snow till yesterday.
Bit disappointed, we took a U-turn to Banikhet (6 Kilometers from Dalhousie) to refuel our car, and there we saw a diversion for Chamba, stating 44 kilometers ahead.
Note: There is no fuel station in Dalhousie. The last one is available only at Banikhet
Also Read: Walk to the Nako Village in Himachal Pradesh
Dalhuoise to Chamba
From Banikhet itself, we took the Dalhousie Chamba road. Landscapes changed immediately. Roads got wider as compared to the Dalhousie road, and we were driving at lesser altitude. There was greenery all around and the towns on the way looked thickly populated.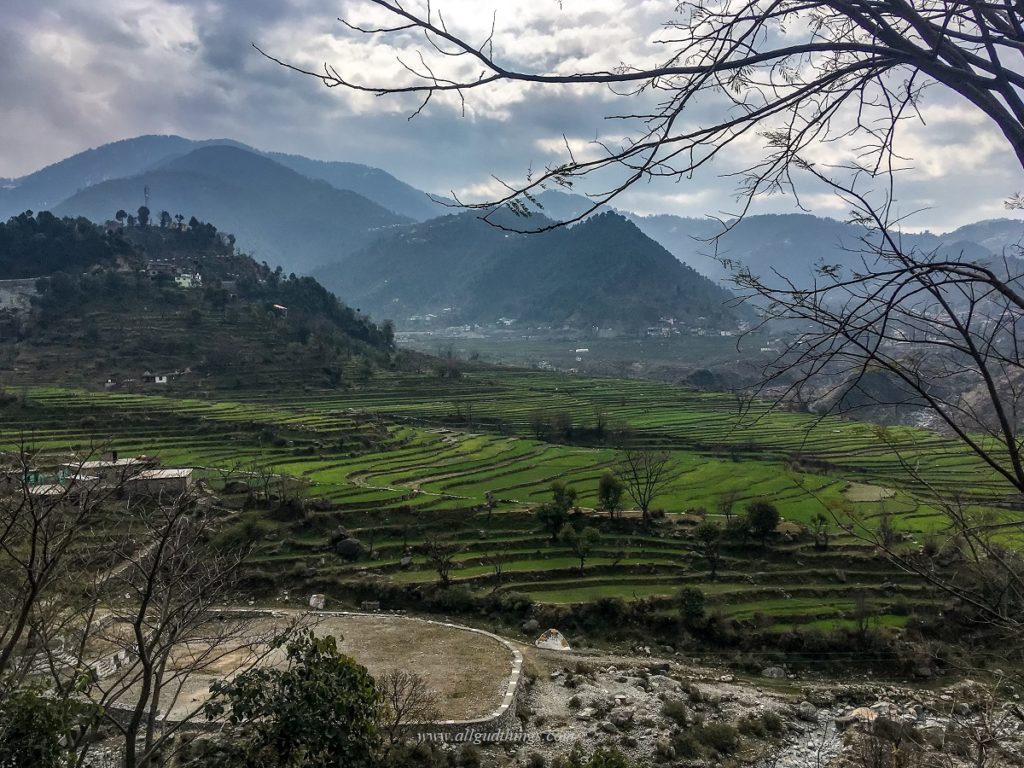 On the way, comes the turquoise green color Chamera Lake. It looks grand and was perfectly gelling with the surrounding. Indeed, with the backdrop of Himalayas, it made the perfect picture.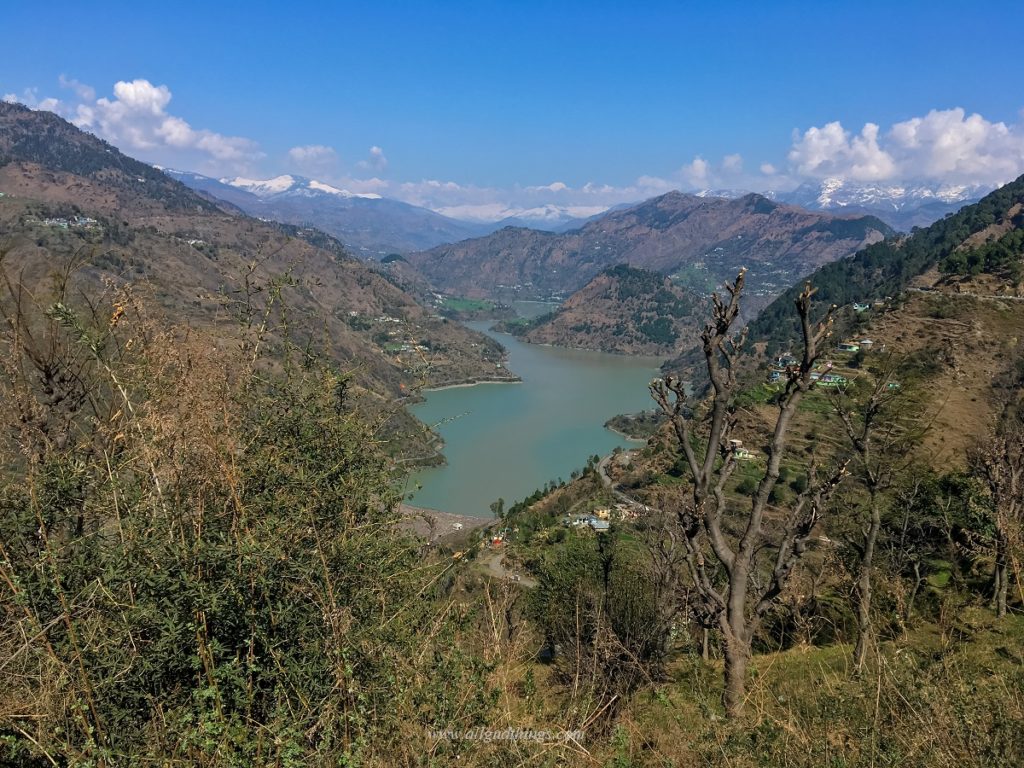 The weather was worsening, so we thought of booking the room at earliest before we don't get a place to hide. The majority of the hotels were not operating. It looked people had gone to the hibernation zone and they will only come out once the sun warms up the place and summers come back.
Also Read: 5 Winter destinations to see snowfall in Himachal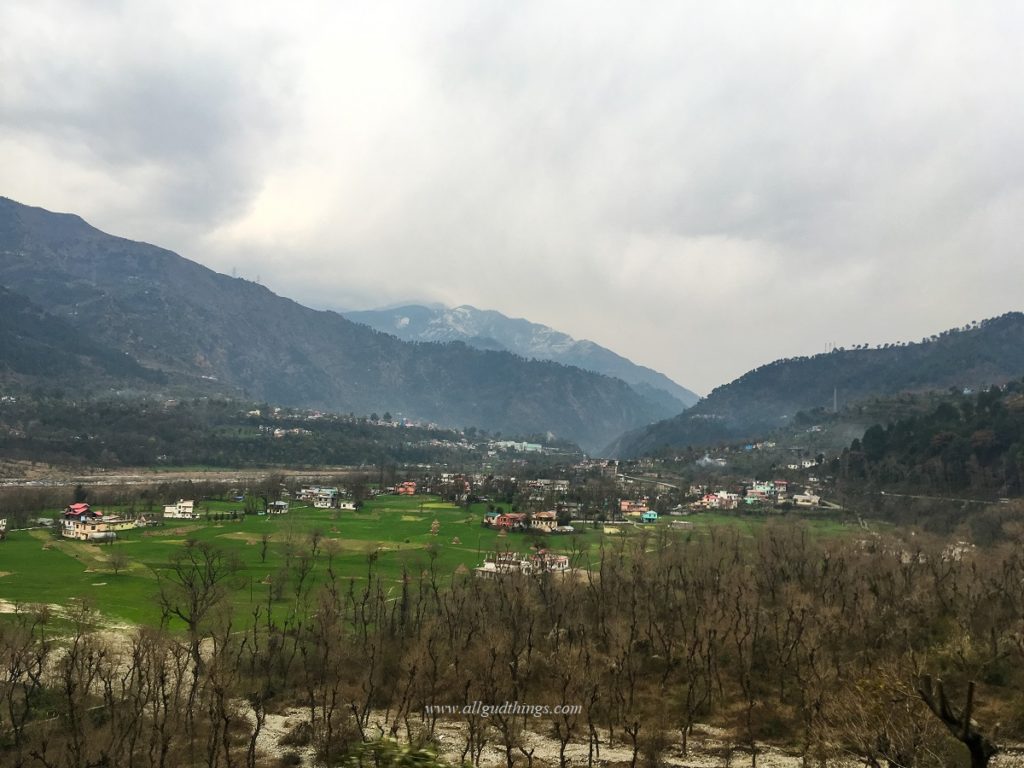 Somehow Goibibo came into help and we got a place to stay at Anantson resort in Chamba. Reaching the resort was another task, but once we reached and saw the views from the cottage, our whole day pain vanished away.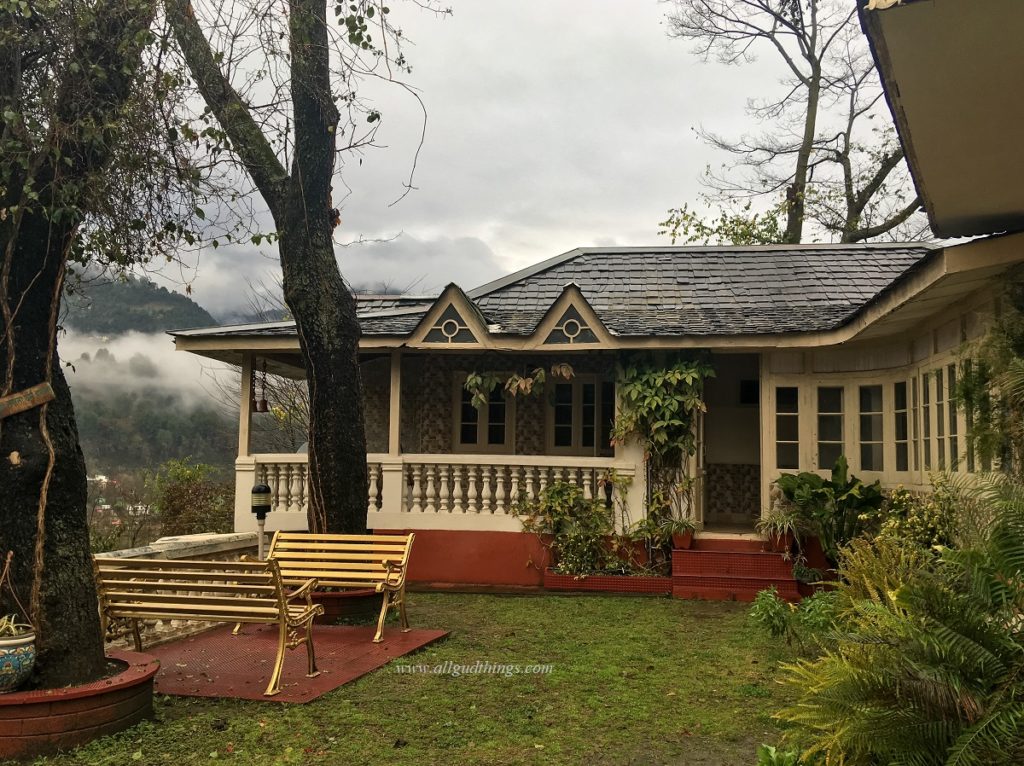 Rains had washed away the dust, everything looked crystal clear and now we knew why the above Himachali Song quotes "Chamba Jana Zarur" (Must visit Chamba).
The town looked heavenly on the banks of River Ravi. There were shades of green everywhere, clouds were floating among the Himalayas and extreme winters looked like monsoons. The ancient town still looked unadulterated although modernity has begun to sneak into the lives of town people.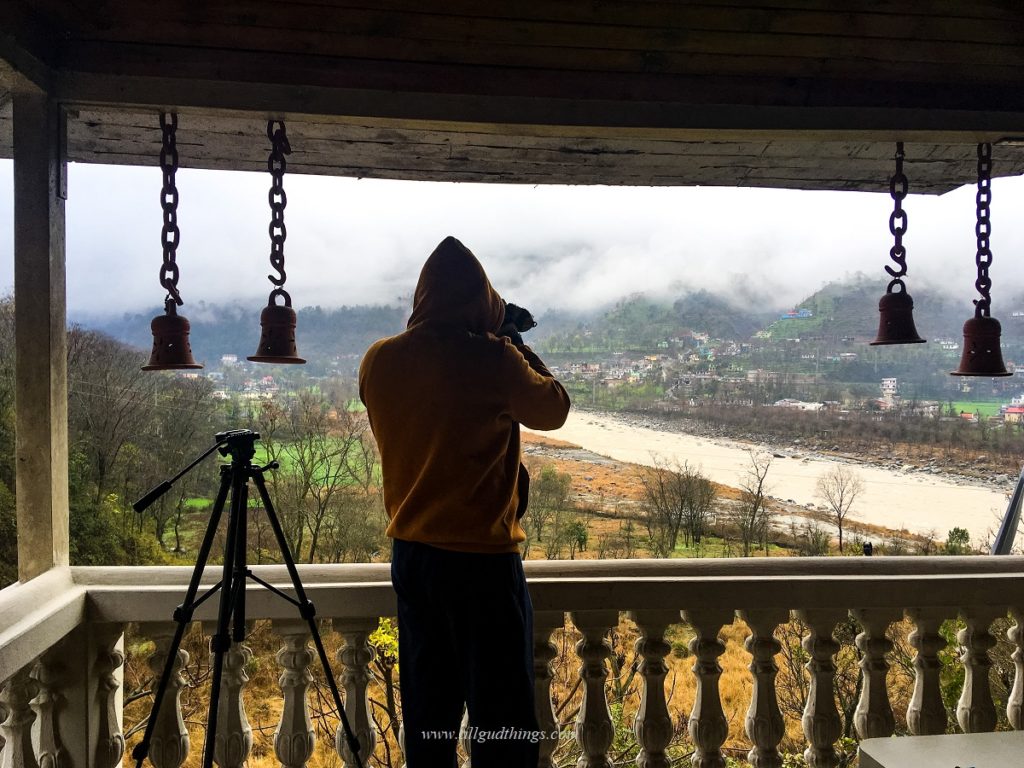 The beautiful Chambalis were happy to greet and meet us. We inquired about the Chamba – Khajjiar road from the manager and were happy to know that road had just been opened yesterday. For us the perfect day was still ahead; so, we spent rest day gazing and clicking the landscapes from various angles.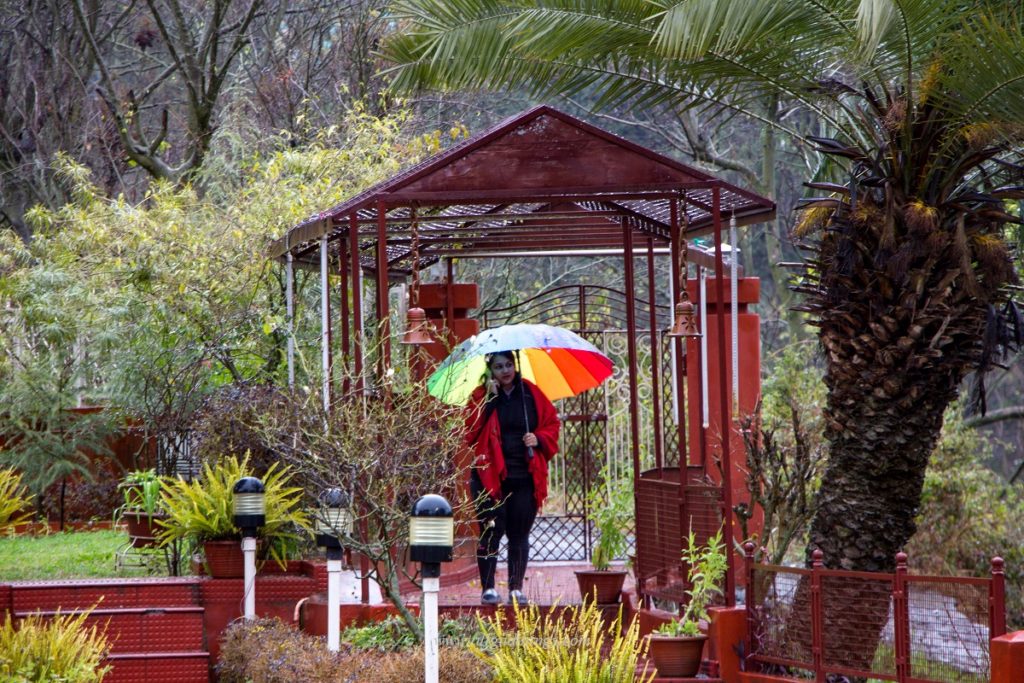 Chamba to Khajjiar
The next day, after a good scrumptious local Chamba breakfast (Aloo cooked in Dahi and Puri), we left for the trip to a winter wonderland – Khajjiar, also known as Switzerland of India. It lies only 22 kilometers form Chamba. But just a kilometer ahead from the resort, there was a big landslide. Disappointment started building up again in our mind, but our heart was fighting back with positive thoughts. After an hour the road got cleared and we took a turn to Khajjiar.
The single-lane road looked narrow, steep. We had to climb another 3300 feet in 22 Kms. Landscapes looked breathtaking. The great Himalayas in between were decorated with patches of terrace gardens, colorful houses and had adorned a beautiful white crown. Clouds were floating along with the scalps and it looked like rain on the mountain tops. We inquired from another crossing car about the way and were super delighted to hear Yes!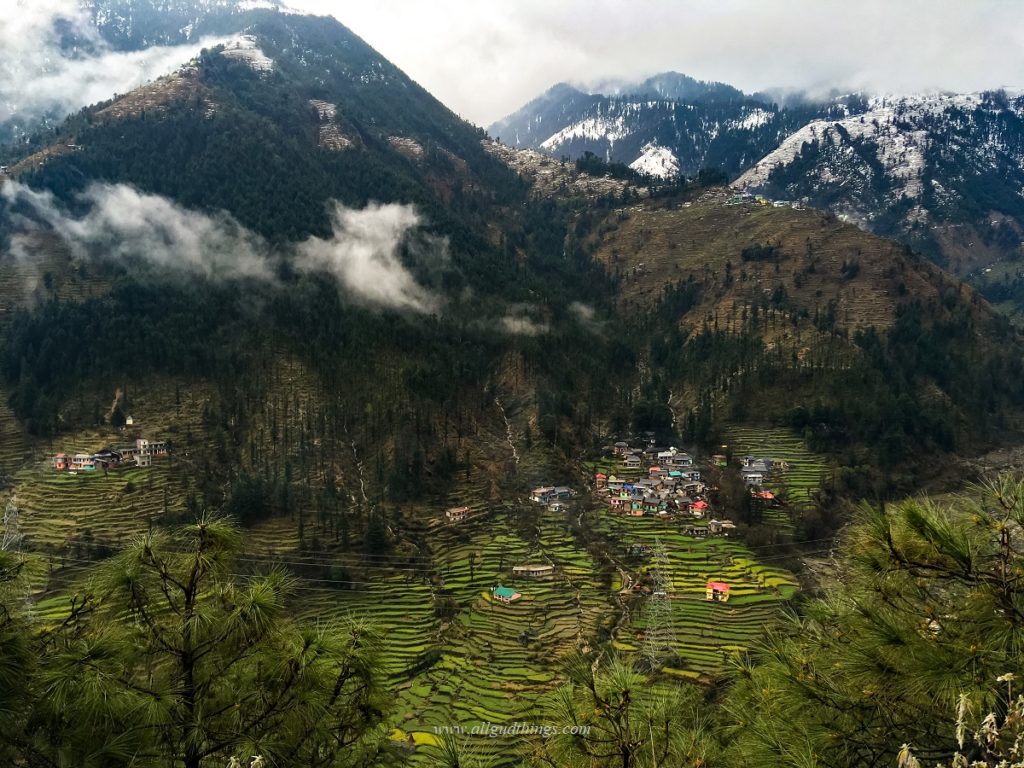 Also Read: Hike to Kheerganga
From there we took a deep ascent and the specks of snow increased to mounds and trails. The Dauladhar range of Himalayas started resembling black forest cake and there came the board of view of ManiMahesh Kailash Peak, also known as Chamba Kailash (One of the five abodes of Lord Shiva according to Hindu mythology). It was engulfed by the clouds while going but we got a crystal view while returning back.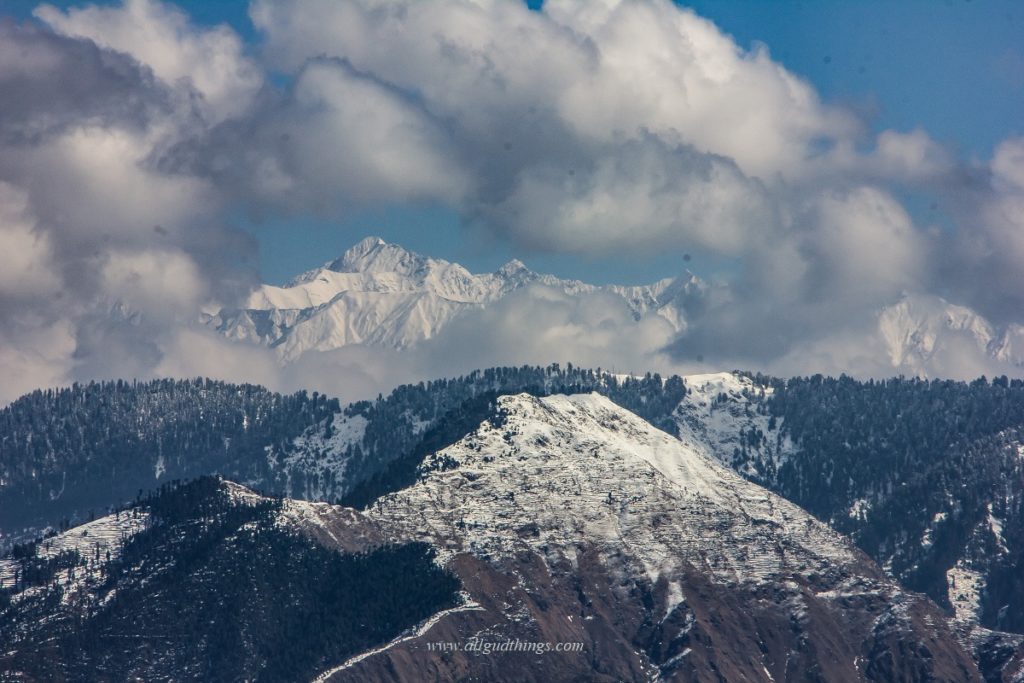 We reached the entrance of the Kalatop – Khajjiar reserve. It was snowing inside and was dark. Roads were completely covered in white except the tire marks. There were no vehicles and people. The whole scene looked scary for driving but Tashi wanted to drive. 5 Kilometers distance felt like 50 kilometers here, as we were driving at speed of 10. The car was slipping, and there was no parapet. Literally my heart was pounding and in the next few minutes' taxi crossed us giving assurance to go ahead. We followed them, kept moving, and there we saw the first view of meadows.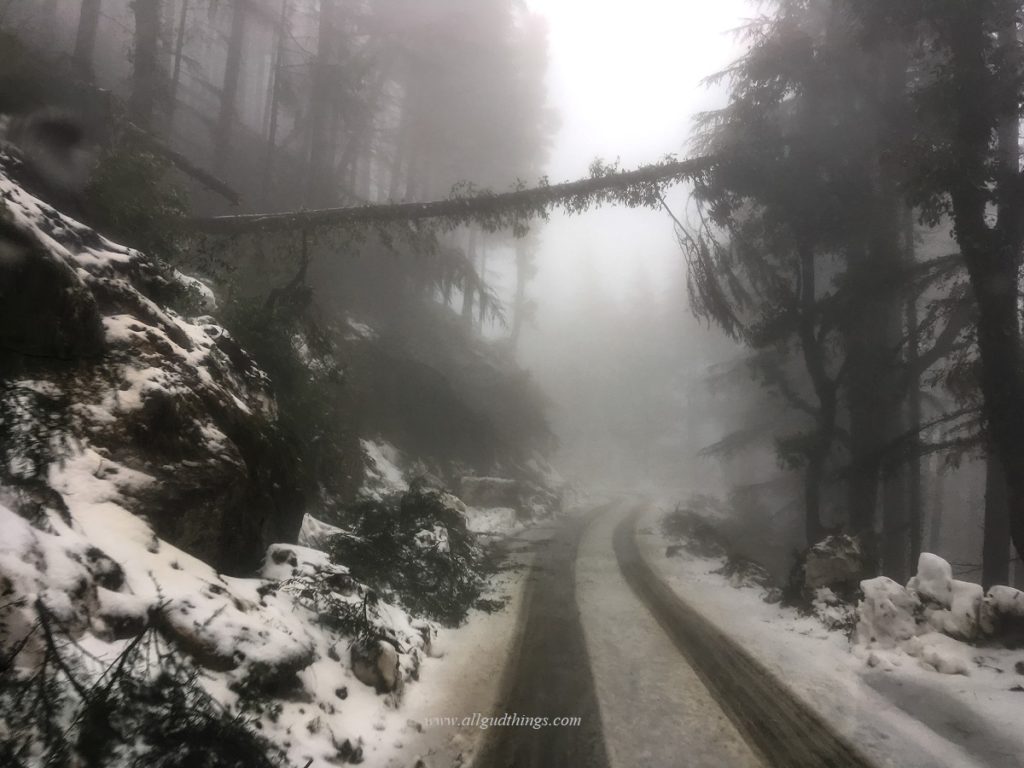 Note: Khajjiar is a part of Kalatop – Khajjiar wildlife sanctuary
OMG! Is this for real? It was a dreamy winter wonderland, with Dhauladhars on one side and pine forests on other. The road was not visible except the Tyre marks. Clouds were floating in the snowy meadows. There was silence all around, and looked shops, restaurants all were closed due to bad weather.
Without stoppage, we directly moved to HPTDC (Himachal Pradesh Tourism Development Corporation) Hotel Devdar Khajjiar. What a perfect location they have? The resort directly opens to meadows and our balcony room had a Khajjiar Lake view. It was still snowing and raining, looked 2 feet snow will soon turn to 3 feet.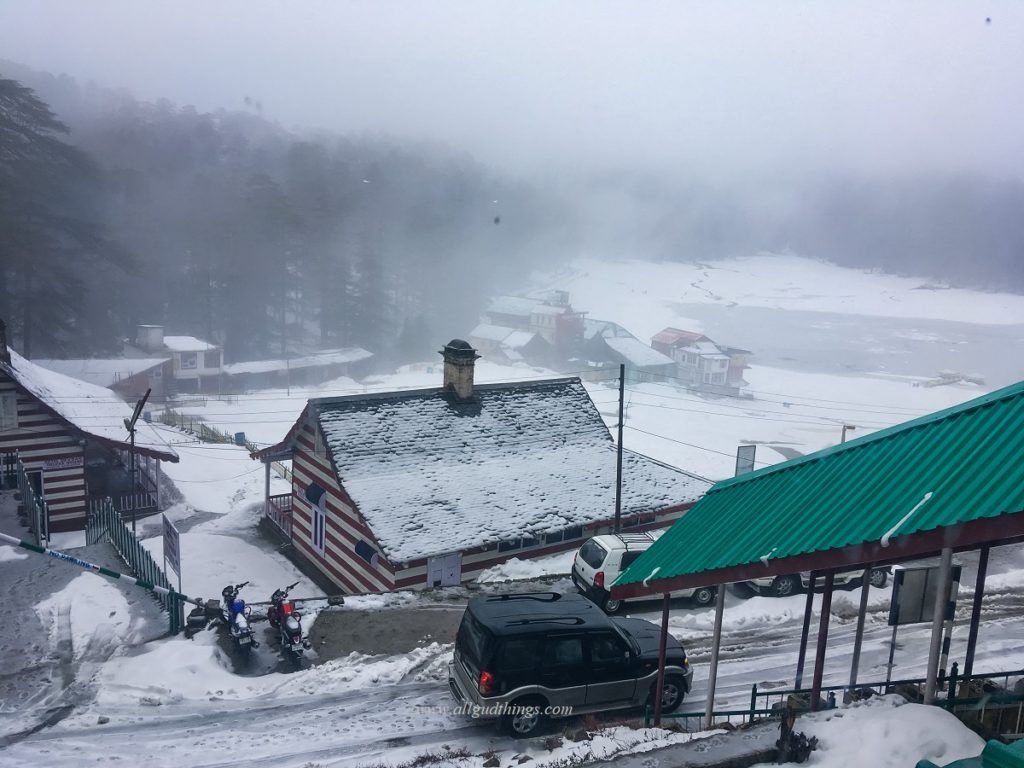 Hotel Devdar, Khajjiar
We left our vehicle in between the road and climbed the stairs to check whether the hotel is operational or not. The manager came out and our fear came true. There was No water, No electricity from the past 7 days and it was too cold. Met Department had forecasted overnight snow and the roads might get closed for several days. Hotel Manager narrated this and asked us to stroll and play in the snow for an hour and go back to their Chamba guest house in the evening.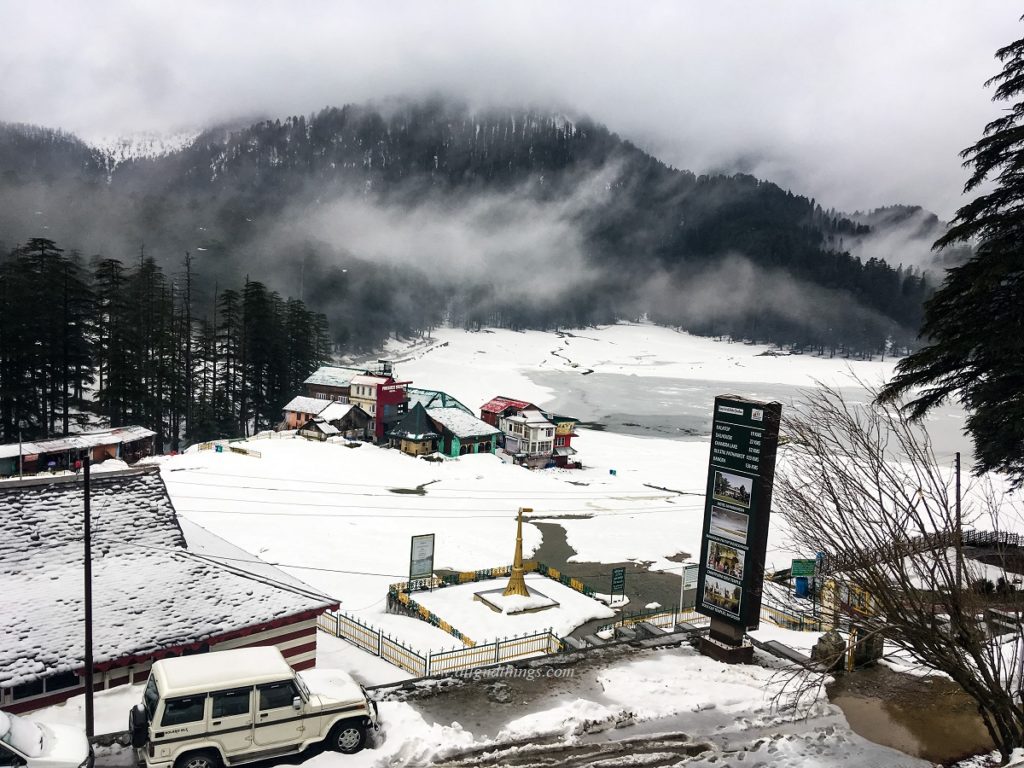 But "we were we". We reversed the talks by saying that, we don't need electricity, we just need a bucket of hot water and give us the same food you will cook for yourself. We will be more than happy. He got convinced and allowed us to stay.
Also Read: Must know Challenges before taking a winter Spiti Trip
Honestly, it was one of the best decisions we took. If one moment the snow meadows were covered with moving clouds, another moment we could see the saucer-shaped Khajjair lake in between the Devdar forest with a backdrop of white Himalayas.
Note: Other good locations to stay are Forest and PWD Guest House, but you need to have a prior booking with them.
Khajjiar Meadows
After having tea at hotel, we left for a quick walk. It was serene and magical beyond words. White powder was all we could see around. There we saw leading stairs to reach the Khajjiar meadows and we took them at once.
Our feet were sinking in the snow and looked only a few tourists had set their foot on it. Lake was completely frozen from one end and the other side looked semi-frozen. We wanted to walk along the circular meadow and visit the Khajjinag temple but it didn't look like a perfect time. So, we retired back to our hotel early.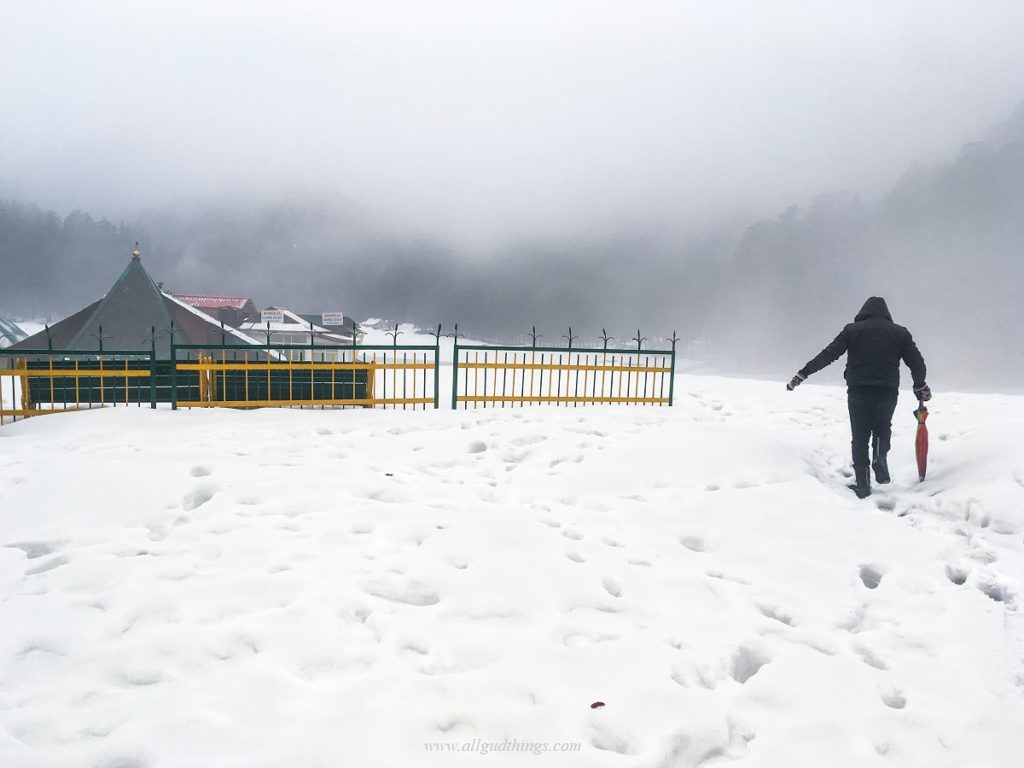 At night, the moon was playing hide and seek with clouds and the snow in the meadows was glowing like a silver sheath. We wanted to take some good night shots but gave up in the freaking cold and started waiting for the next morning.
Also Read: Our love for Old Manali over New Manali
The next morning was a promising sunny morning. We got ready as active birds to roam in the circular meadows. The entire Dhauladhar range was clearly visible and it was painted in the shades of white and green.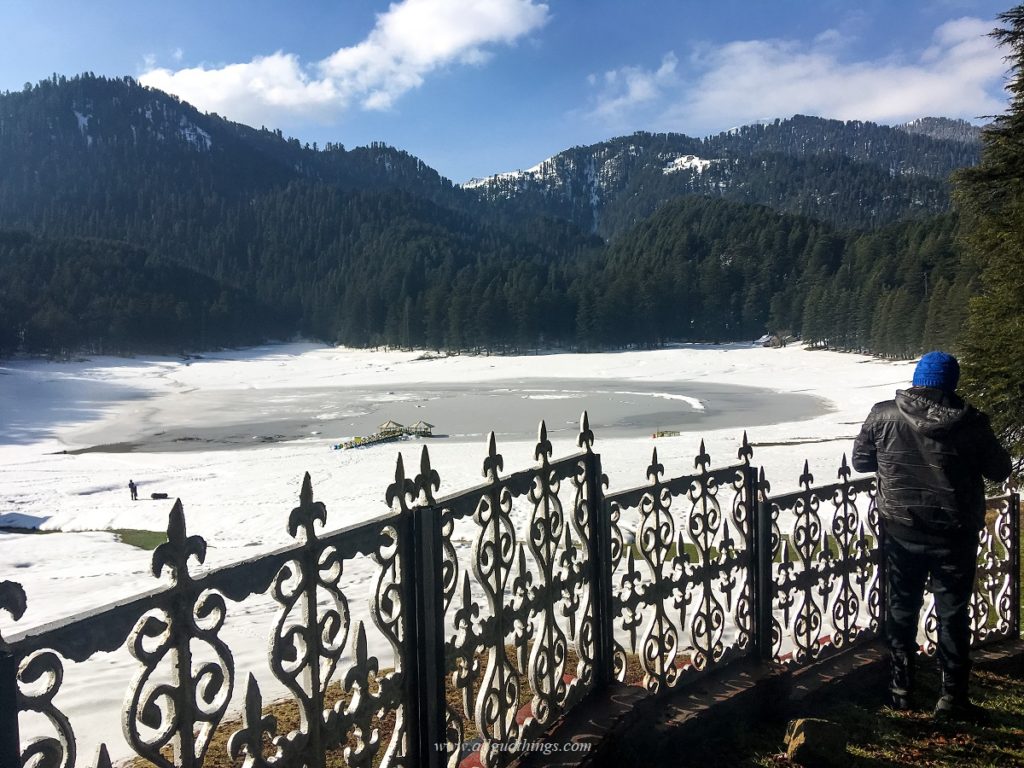 The Khajjiar meadows which looked all-white yesterday, now looked entirely different, colors were jutting out from white. Locals were out in the sun to bask their bodies whereas adventure organizers were hunting tourists for paragliding, tube Skiing, river crossing, snow skating, etc but all we wanted to do was see, feel, and click every inch of the circular meadows.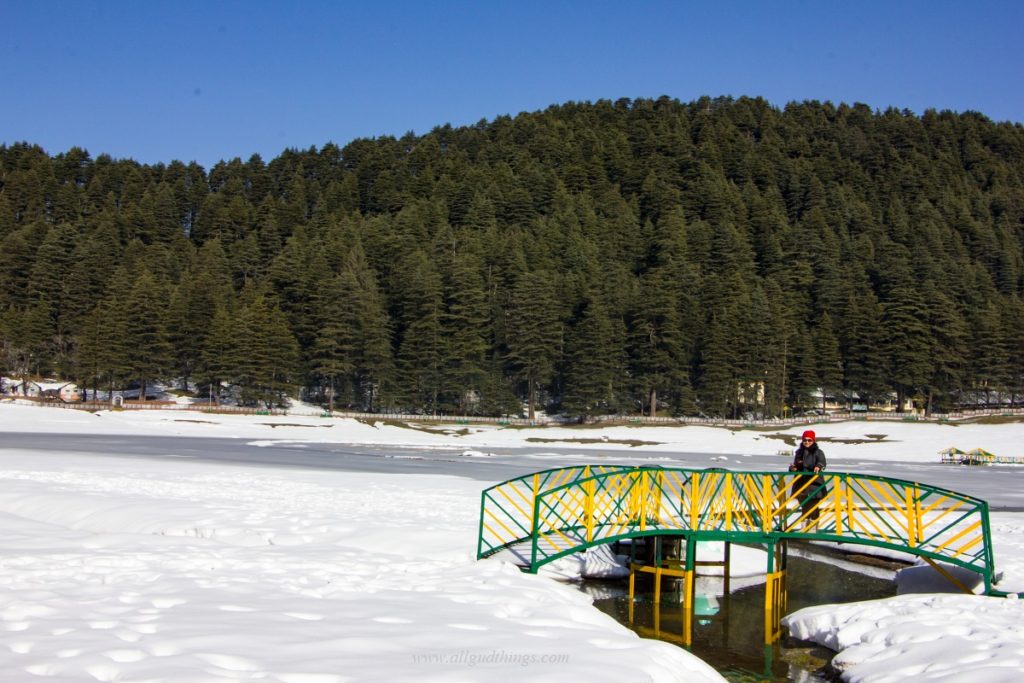 Khajjinag Temple, Khajjiar
In between the Khajjiar meadows stood an ancient, golden dome Khajjinag Temple, dedicated to Naga- the lord of serpents. The temple is also known as Golden Devi Temple. It was built by King of Chamba in 12th century and was renovated in 16th century. The temple has a lot of wooden work, which looks a perfect blend of Mughal and Indian architecture. The Temple is believed to have a mythological significance too. The circumambulatory path of the temple has the images of Pandavas defeating the Kauravas in the epic battle of Mahabharata.
Also Read: Tabo – National Historic Treasure of India
From the temple keep moving toward the Khajjair lake. There were water streams in between and spongy earth around the banks of the lake, due to the dense growth of weed called vacha.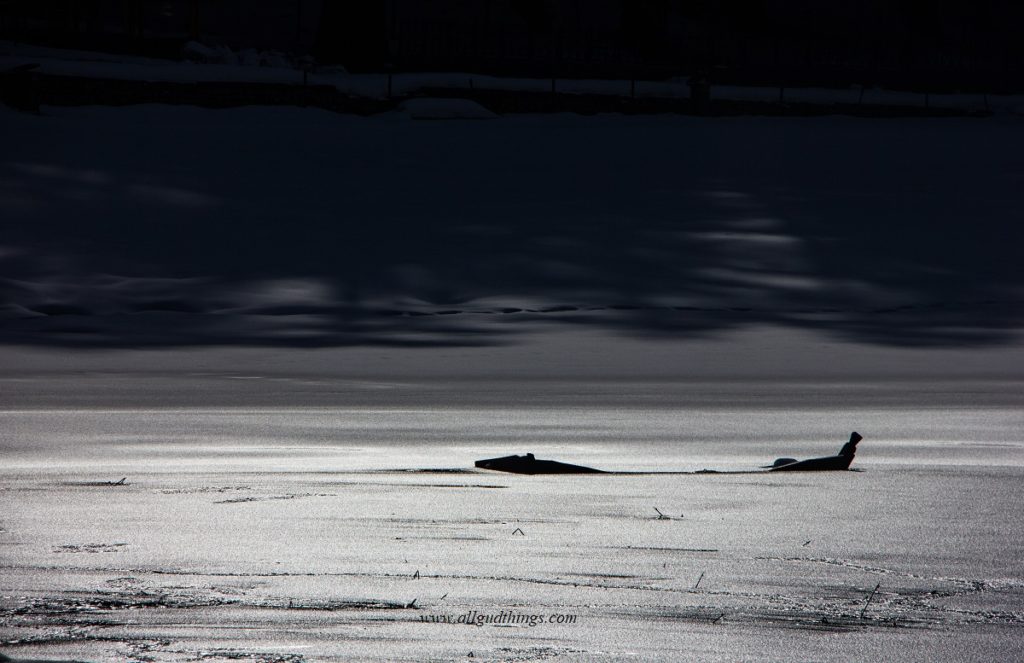 From there walk towards the fairytale HPTDC cottage, smushed between green and white. We couldn't stay here this time, but for sure during the next visit.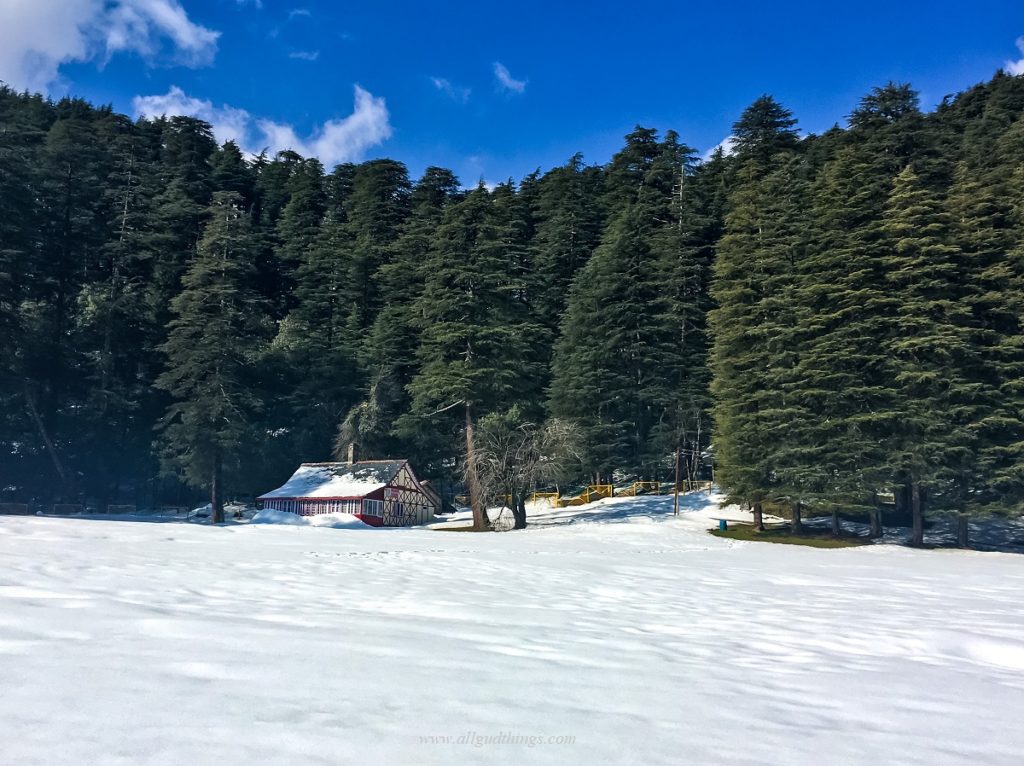 After the complete round, it was time to head back to the civilization but our heart and mind were not ready to leave. We were still looking back at the mesmerizing scenery at each step. Khajjiar is a perfect combination of lakes, meadows, and mountains which resembles a fairyland of the stories.
Also Read: Padam Palace – The royal Palace in Rampur Bushahr
Why Khajjiar is known as Mini Switzerland?
Khajjiar is among the 160 locations in the world that bear topographical resemblance to Switzerland. On 7 July 1992, Mr. Willy T. Blazer, the Vice Counselor and Head of Chancery of Switzerland in India brought it on the world tourism map by calling it "Mini Switzerland". He also installed a signboard showing Khajjiar's distance from the Swiss capital Berne -6194 km.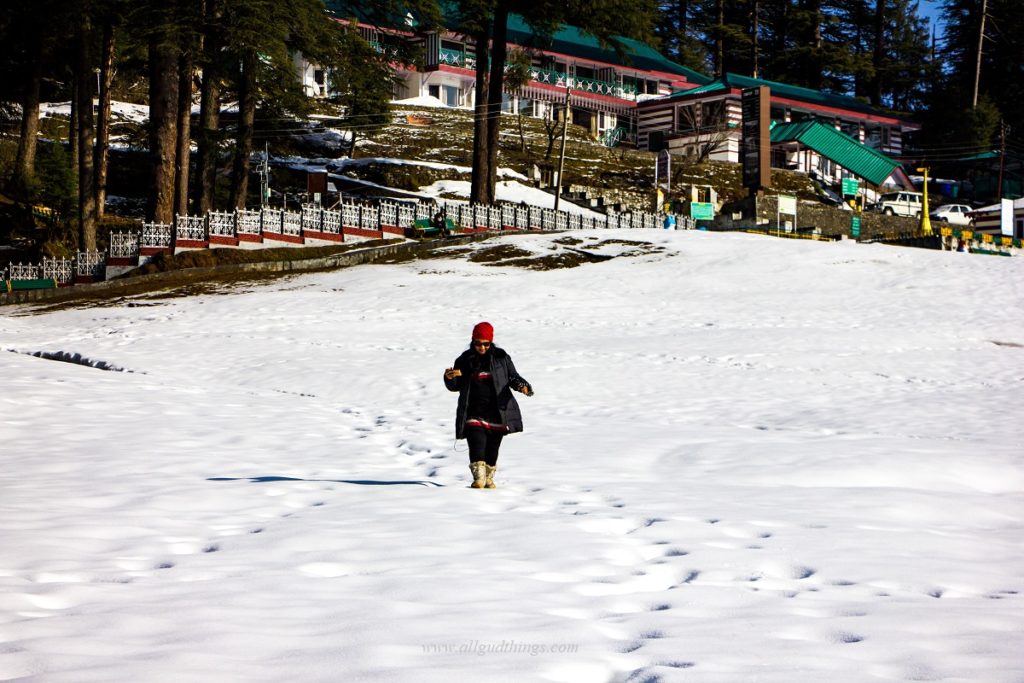 The counselor also took a stone from Khajjiar, which will form part of a stone collage around the Swiss Parliament to remind the visitors of Khajjiar as a Mini Switzerland of India.
Also Read: View of Chau Chau Kang Nilda from Langza
Points to Remember for Dalhousie Chamba Khajjiar winter trip
Snow looks very fascinating but driving on it is really tough and risky. Don't try to be a stunt man and drive as slow and cautiously as possible
There are high chances of vehicle slipping on applying brakes, so be really careful
Try driving 4* 4 and if you don't have one, use snow chains to increase the traction
Do cover your bonnet at night to avoid freezing of fuel
Don't drive in extreme snowfall as you can get struck too. Listen to the local's instructions
Walk very carefully in the snow; as a severe fall can lead to fractures too
Fuel station is available at Chamba and Banikhet
Be prepared for NO electricity and No water at Kahjjiar in winters
There are plenty of ATM in Dalhousie as well Chamba
Also Read: Shimla After Snowfall
Must carry
Do carry multiple layers of clothes from warmers to fleece to feather jackets, wind cheaters, cap and gloves
Also keep rain coat, umbrella, sun glasses
Snow and water proof boots are must. If you don't have one, you can get them on rent at Khajjiar meadows
Also Read: Spiti Valley in winters
Other Nearby Attractions
Kalatop Sanctuary
Chamera Dam
Dainkund Trek
Best Season to visit Dalhousie Khajjiar & Temperature
Dalhousie Khajjiar can be visited throughout the year. Summers lasts from March – July (temperature lies between 32 – 44 degrees Celsius), Monsoon is in July – August (Temperature 22 – 35 degrees Celsius) and winters step from November till February (Temperature 7 to -4 degree Celsius).
For snow lovers, the best time is January- February, and remember it is an off-season too.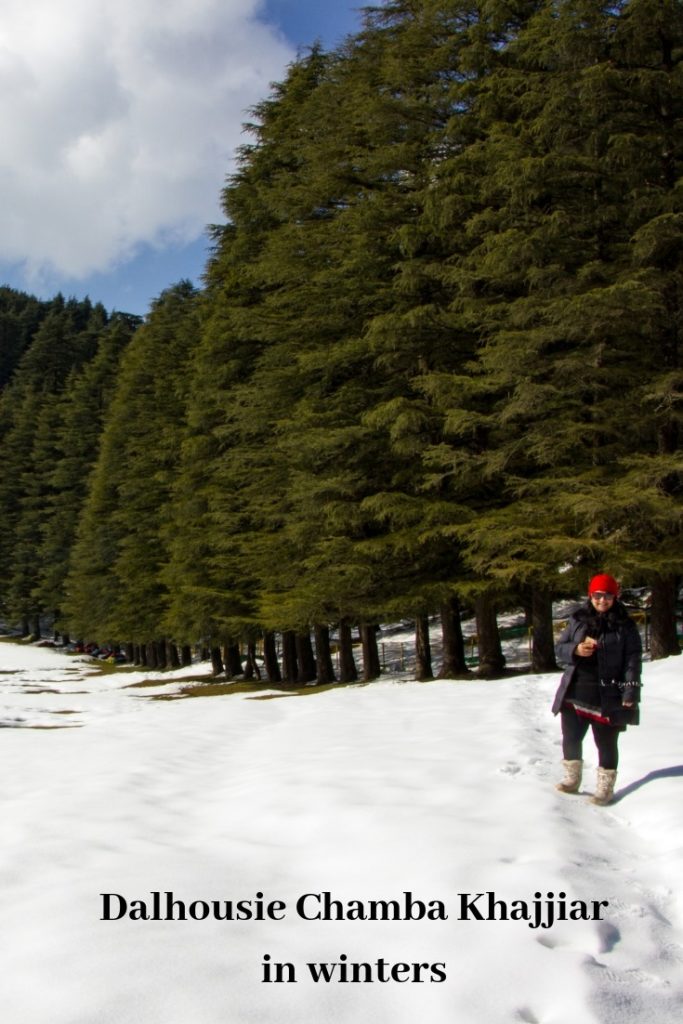 You can find more pictures of Dalhousie Chamba Khajjiar winter trip on our Facebook and Instagram accounts or find us by using #allgudthings.