Ah, Tea! It is the world's most acceptable beverage and second most popular drink. Tea works in every situation – be it cold, sitting down to work, to cheer someone up or as a medicinal remedy. Tea too has strong social and cultural connotations and is a sign of hospitality, worldwide. China is the largest producer as well as consumer of Tea and Sri Lanka ranks fourth in the production as well as export and its consumption is far less. We all know about the different varieties of tea – black tea, green tea, herbal tea but have you heard about Virgin White Tea. It came as something new to us and now exploring the Virgin White tea estate and tasting virgin white tea was high on our list.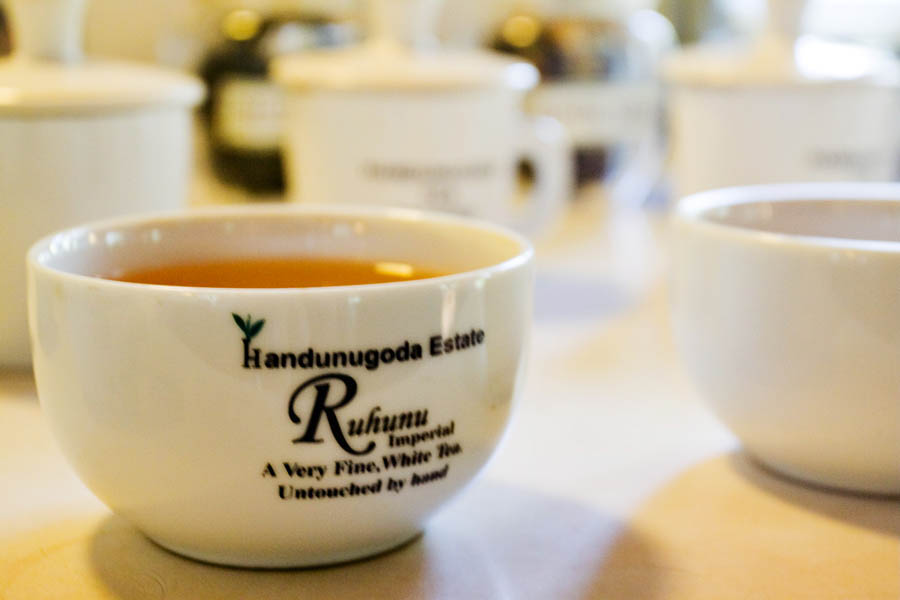 One fine day, after breakfast at Apa Villa Illuketia in Sri Lanka, we took our bike and rode to the south coast of Sri Lanka to explore more dormant villages and the virgin white tea estate, Handunugoda at Ahangama.
The Virgin White Tea Estate, Sri Lanka
The Virgin White Tea estate, Handunugoda is a family owned plantation of planter Malinga Herman in Tittagalla, Ahangama. In fact, this is the only tea estate that is so close to the sea in the whole world. It lies 160 km from Colombo; 24 km from Galle Fort; and 6 Km inland from the main highway nestled between the evergreen forest and the vast Indian Ocean.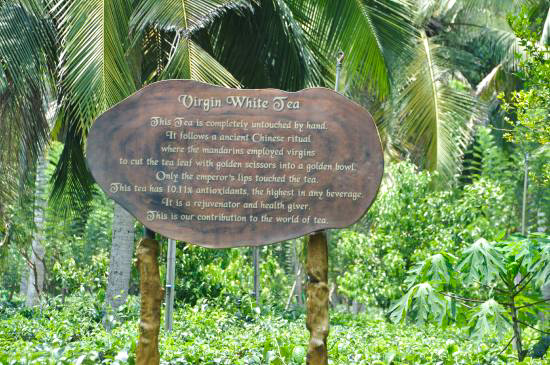 As we arrived at the estate, we could see women dressed in coats and plucking the tea leaves and there was a continuous music by birds in the plantation. The briefing about the estate began by plantation guide in minutes and this is how he went about the property. The total Handunugoda estate is spread over 150 acres, out of which 75 acres is only of tea and the balance 75 acres is of rubber, cinnamon, and coconut. The estate is not a mass producer of Tea but produces the only choicest collection of tea that matches International Standards.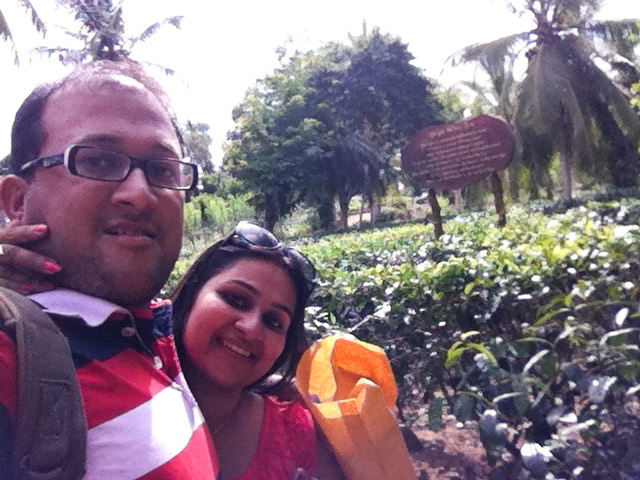 The Handunugoda estate manufactures 5 categories of tea: Black Tea, Oolong tea, green tea, white tea and Herbal infusions. To us, the most attractive were Virgin White Tea, so let's start with it.
Total Duration for Tour: 1-5 -2 hrs
Best time to visit: Any day of the week, between 8:00 am- 4:30 pm
Story behind Virgin White Tea
The Virgin white tea estate produces Virgin white tea, completely untouched by hands. The white tea leaves here are harvested, following the Chinese rituals.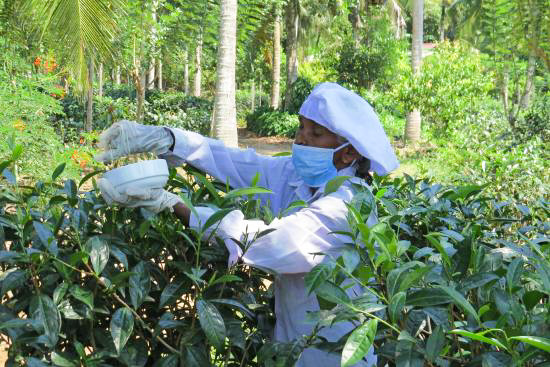 In the ancient era, the Chinese emperor Tsong and Tsang used to deploy the virgins to pick the leaves wearing white silk gloves, with a golden scissor into a golden bowl. The virgin white tea never touched the bare skin until it touched the lips of an Emperor. This high tea was only for the emperor and served to the rulers and dignitaries.
The Handunugoda estate still mimics this tradition except that the virgin concept now applies only to the tea and not to the pluckers. After explaining this; he kept on walking ahead and we were still lost in the leaves and his confident words.
%CODE1%
Processing of White tea
Virgin White Tea is unique and it requires minimal processing. Each step while processing is done with special attention and care.
At dawn, as the first sunlight hits the tea estate, the unopened buds are carefully picked by tea pluckers in the bowls and placed in silk pouches. After plucking, the buds are spread over black flannel trays and are dried only using the filtered sunlight. When the bud dries completely, it is packed delicately in air tight containers using the soft gloves. Isn't that interesting process for royal tea?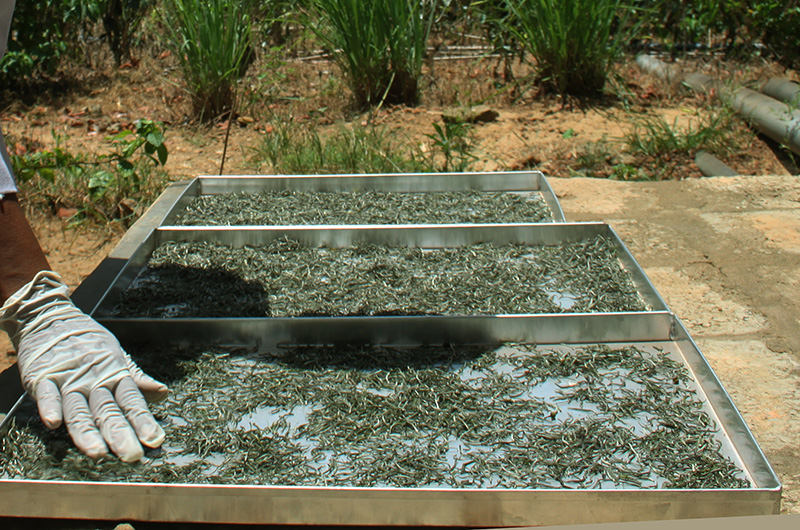 Manufacturing of other Ceylon Tea (Black Tea)
The Black tea is manufactured after series of eight steps and the equipment used in the estate is more than 150 years old. So, Handunugoda estate is also referred as a Living and Working Museum.
The process starts by plucking bud and tender leaves by hand and this is termed as Fine Plucking.  Then, the leaves are sorted to remove the coarse mature leaves, as they can affect the quality of tea. After sorting, leaves are withered by cool air to reduce moisture content. Withering make them more pliable and also activates certain elements in the leaf which are essential for quality tea. Next, the leaves are rolled. Rolling is performed at fixed room temperature to bring out the flavors of tea. It also gives the curved appearance of tea. After rolling the leaves turn golden brown and are further put to fermentation. The fermented leaves are called Dhools. Next, the leaves are Dried by conditioned air to reduce moisture content and deactivate fermenting enzymes.  From here, the tea is further moved for grading. The last step Packaging at Handunugoda is still done by hands in air tight containers.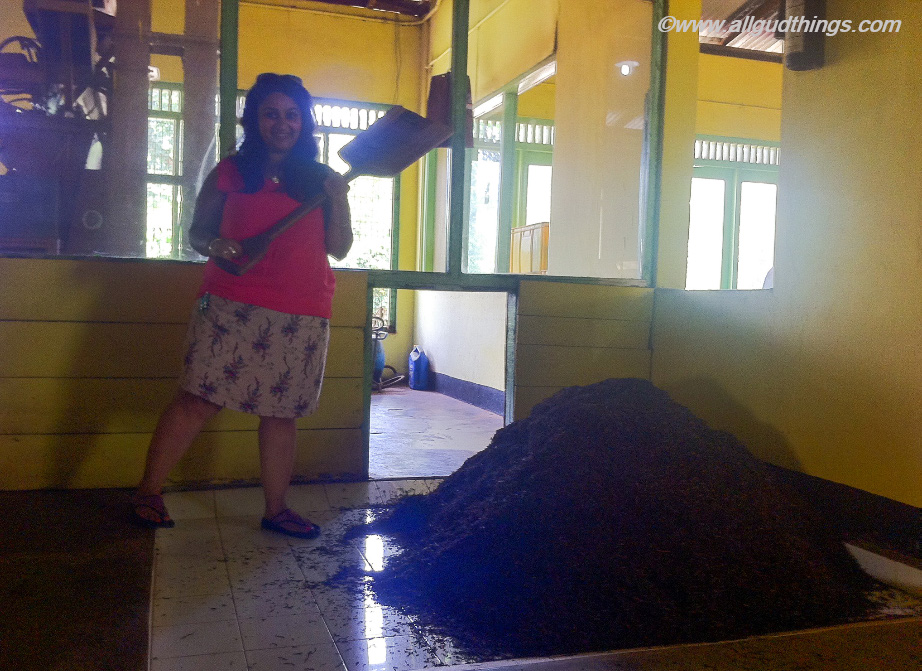 Interesting Facts about Virgin White Tea
The average plantation worker picks 25 -30 kg of Black tea leaves in a day whereas, at Handunugoda estate, a damsel only picks 150 -160 grams of virgin white leaves in a day. That means 3.5 -4 kg in a month and 48 kg in a year.
White tea is delicate in flavors and aroma.
White tea has 10.11% antioxidants, highest of all the teas and other beverages. So, it is the healthiest tea in the world. Apart from this, white tea has many medical benefits. It is rich in vitamin A; reduces inflammation; prevent eye dryness and night blindness.
Virgin white tea is also one of the most expensive teas is the world. Usually, it is sold at a price of $1500 per kg.
Mariage Freres International situated at Faubourg Saint –Honore in central Paris is the only Tea Salon to stock this Herman Virgin White Tea.
The one teaspoon of exquisite white tea can make 3-4 cups of tea.
%CODE1%
Visiting tea plantations and getting lost in the lush terraced landscapes is what we had dreamt of. But we never knew we will have step back into the colonial times along the coastal belt. We had one of a kind experience visiting Virgin White Tea estate, Handunugoda, and factory. The session was followed by a tea tasting along with chocolate cake,  in the owner's bungalow verandah and it was good enough to seduce our senses.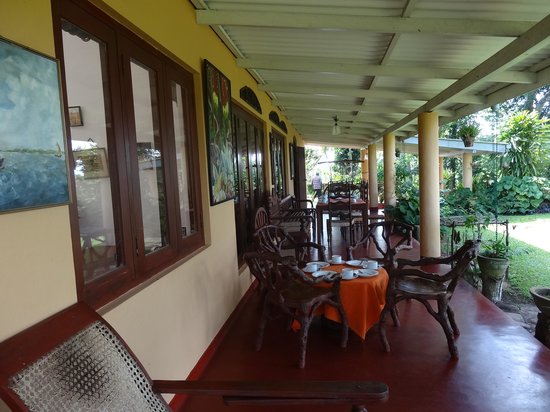 Apart from this, there is a tea museum within the estate where one can taste almost 50 varieties of tea including virgin white tea and shop them from the tea shop. We highly recommend Virgin White Tea, Pure Lemongrass, and Rainforest tea, if you are willing to purchase. Climb upstairs from here to have a peek into old pictures and paintings on the walls and to have a panoramic view of a plantation.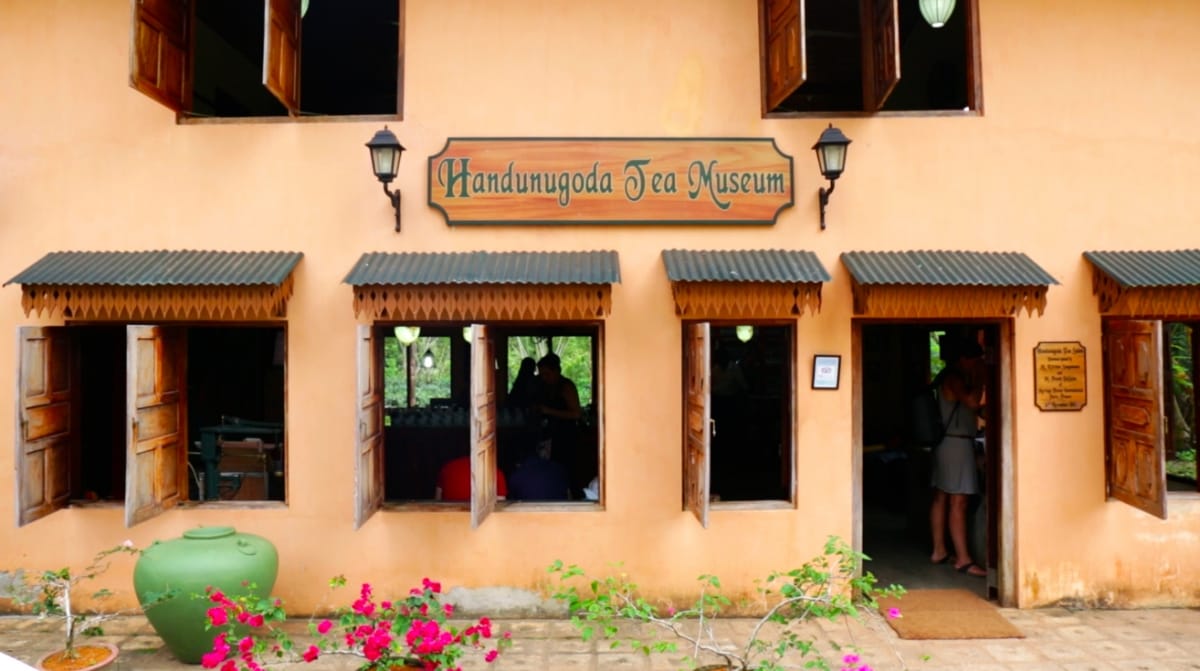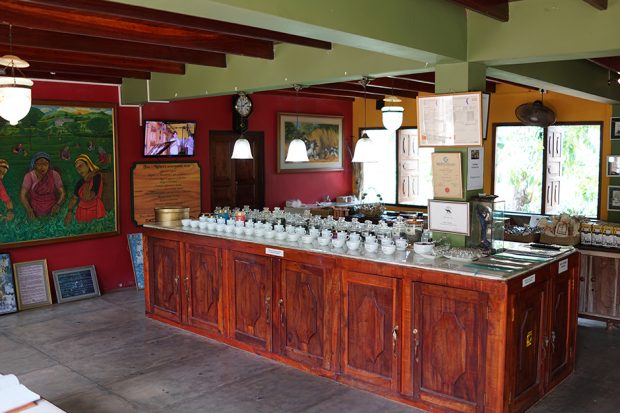 Contact Details: Handunugoda Tea Factory, Tittagalla, Ahangama, Sri Lanka.
Phone No:  (+94) 772065555/ 777713999/ 91 2286364
Email Id:  [email protected]
Website: www.hermanteas.com
Note: The Handunugoda or Virgin White  Tea estate at Sri Lanka, offers a free guided tour of the plantation and factory, along with tea at the end of a session.
And if you are a book lover, then do buy Herman autobiography- The Suicide Club: A Virgin Tea Planter's Journey, which is highly entertaining and has great insights about his life, tea, and Sri Lanka, from the waning days of the British Raj to today.
We feel the visit to Virgin White Tea Estate was quite interesting if you too feel so please share it with your friends.
Also Read the complete Sri Lanka Itinerary