Usually, while traveling to Spiti Valley from Delhi, everyone makes their first stop at Shimla, and then head forward to Kalpa or Sangla Valley skipping Rampur Bushahr. But somehow the things were planned differently for us during our Spiti Valley winter trip. We got late while finishing our work assignment with Aamod Resort Shoghi, so planned a halt midway at Rampur Bushahr, Himachal Pradesh. The unknown destinations and unplanned halts always take you to explore the hidden gems i.e. what proved true for us and we found the hidden architectural marvel Padam Palace, also known as Rampur Palace at Rampur Bushahr.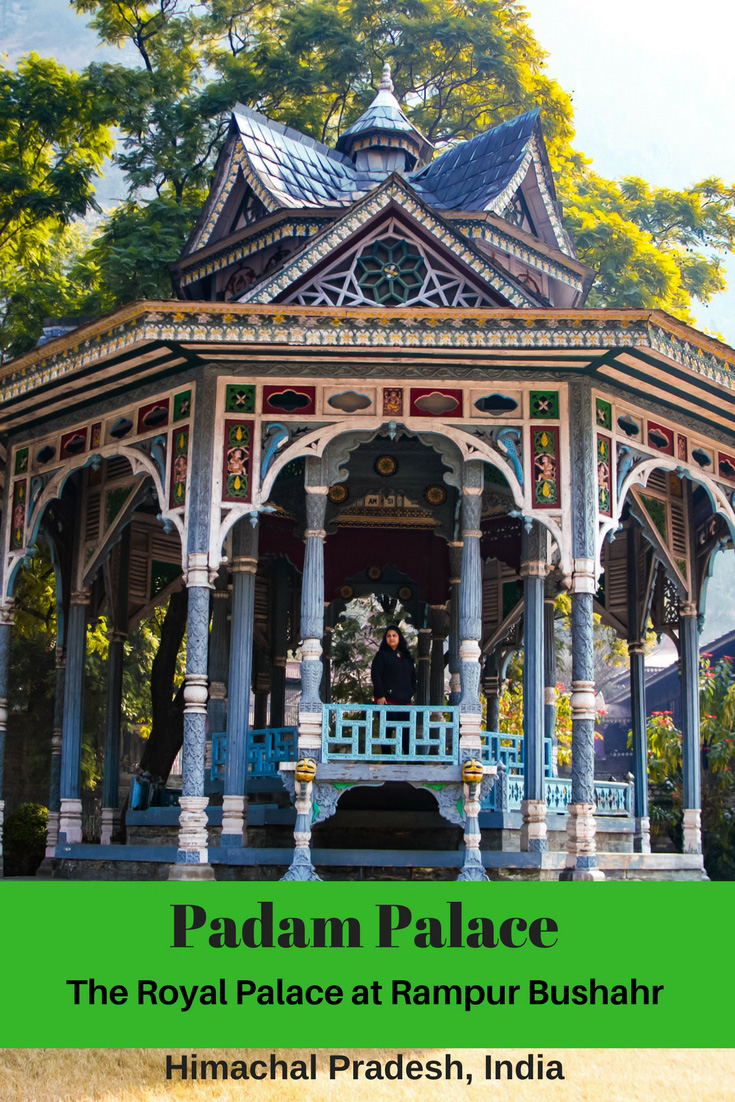 About Rampur Bushahr
The town Rampur Bushahr lies 128 Kilometres from Shimla and is the last capital of Bushahr dynasty. The Bashahr dynasty originally used to rule from Kamru Fort near Sangla in Kinnaur and Shimla region. Later they moved their base to Sarahan and some 100 years back to Rampur Bushahr, along the beautiful River Sutlej. Interestingly, if you go by mythology and legends, the dynasty trace their roots back to Lord Krishna's family. And this belief comes true when you can see lots of temples in the region.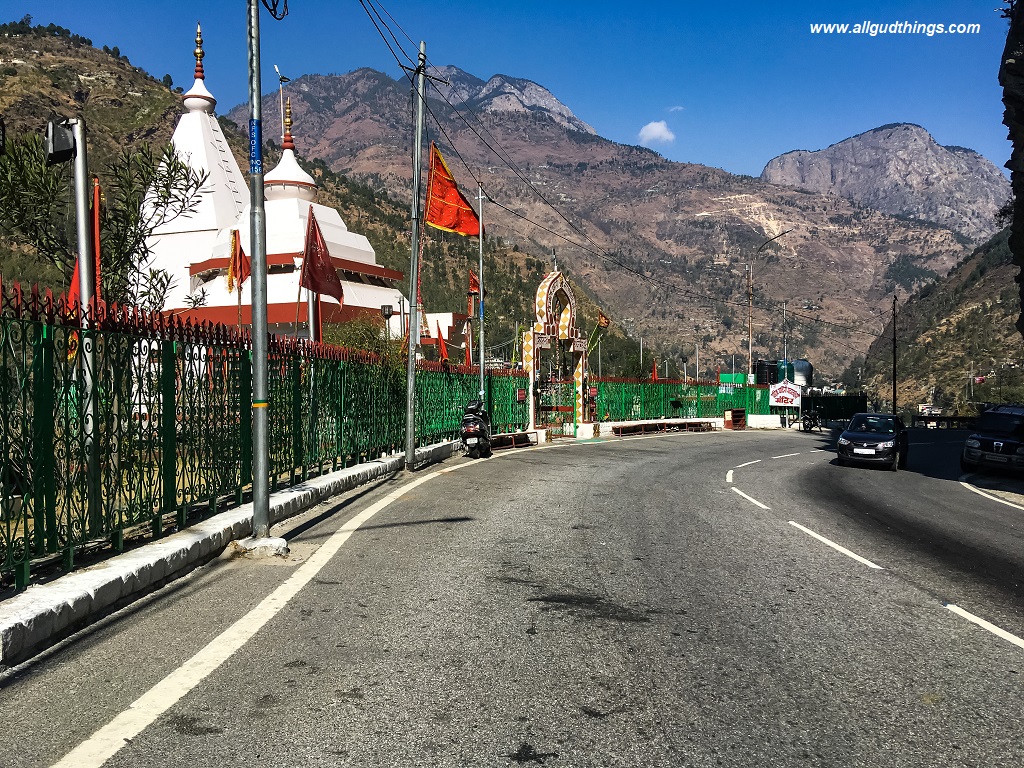 Rampur Bushahr spreads longitudinally covering the mountain slopes. It is guarded by Lord Hanuman's Idol at the entrance, from Shimla side and below flows the gushing River Sutlej. The town seems to be blessed and quite prosperous.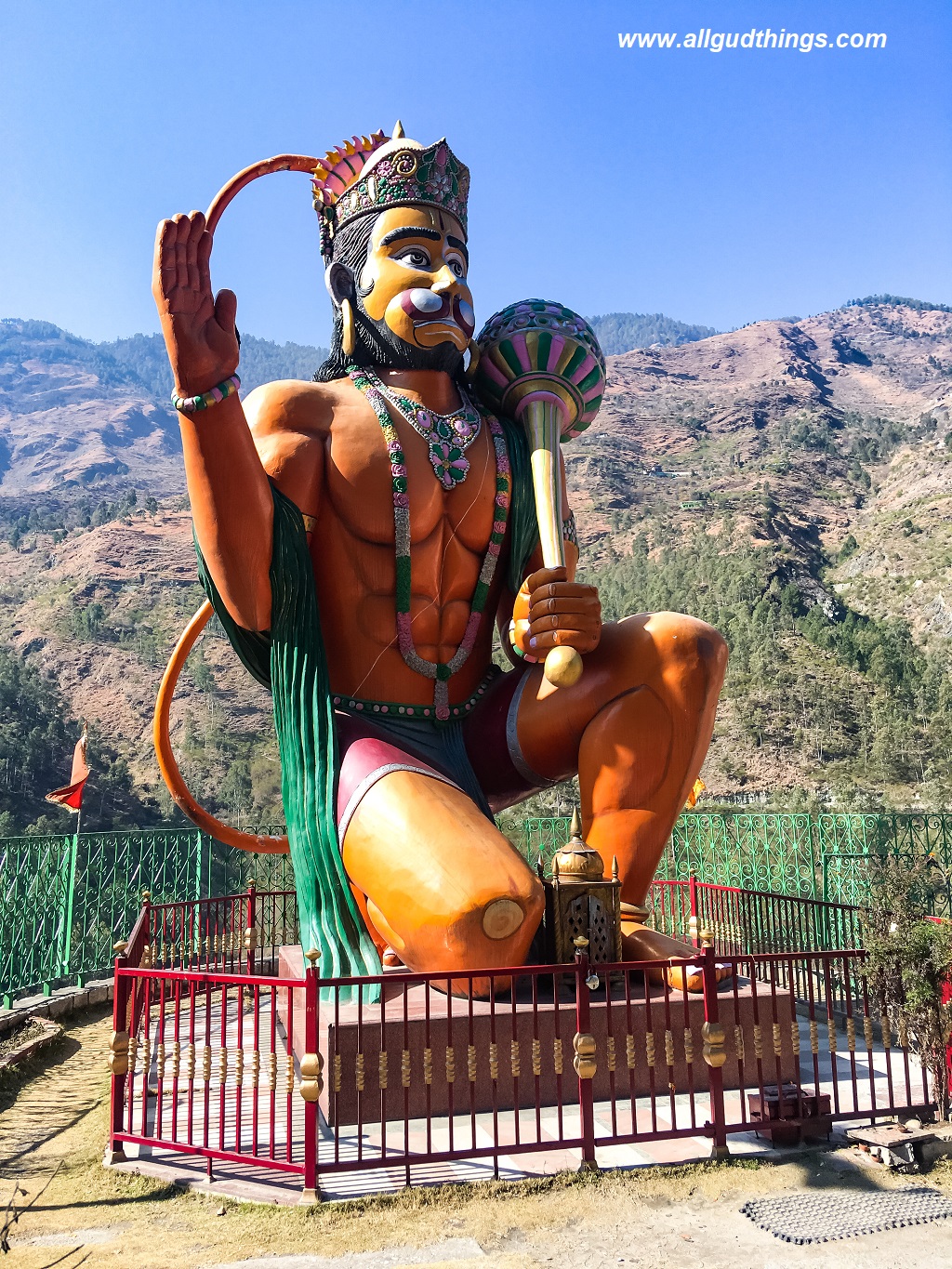 History of Padam Palace
In the middle of the city, near bus stand, just adjacent to the Nau Nabh heritage hotel stands the walled, exalted Padam Palace. The Palace and town once served as the winter capital of Princely state Bushair but today it is just a private residence of the royal family and Chief Minister Virbhadra Singh.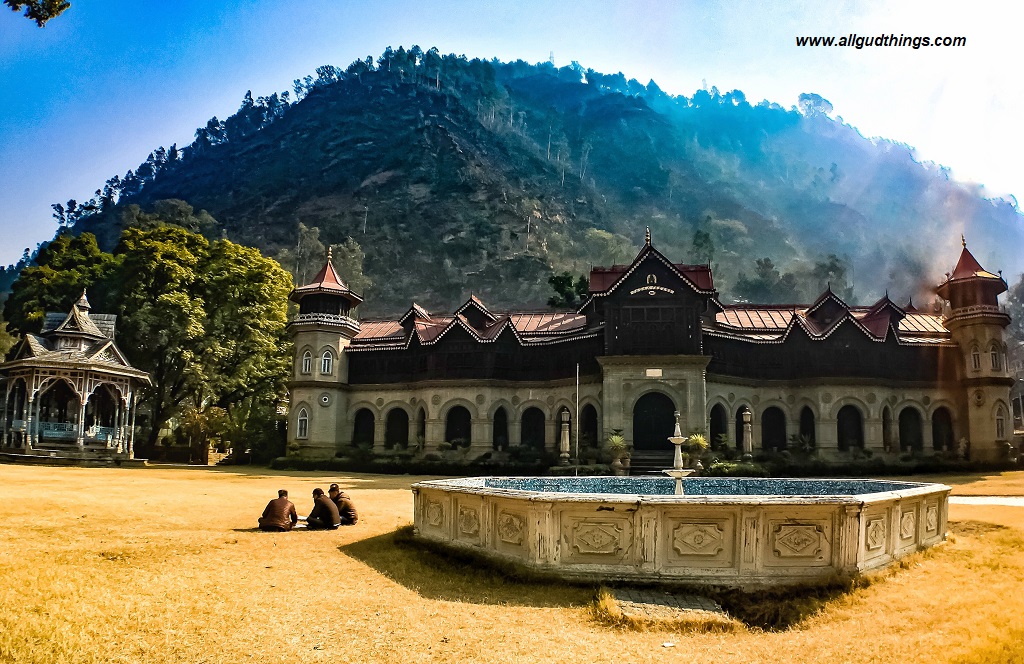 The foundation stone of Padam Palace was laid down in 1919 by Raja Padam Singh, who was 122nd King in the league of Bushahr dynasty and the father of Virbhadra Singh. The construction spanned over 6 years and got completed in 1925.
Padam Palace Complex
Just as we stepped inside the huge Iron Gate from Hotel Nau Nabh, there was a huge sprawling complex with a lot of green lawns. At one end of the lawn, there is a colorful glass and wood building known as Sheesh Mahal, in the center stood octagonal dome-shaped structure in a turquoise blue color known as Machhkandi. Whereas on the other end, stretched a building in ash grey color with huge vertical pillars, known as Padam Palace. The dark shades against the green background and blue sky truly represented that the building has grown more elegant with time.
https://www.instagram.com/p/Bg0jKj8H5iv/?hl=en&taken-by=suruchimittal
The eight-sided dome-shaped wooden structure in the lawn, Machhkandi was the place from where King interacted with his public. The structure is painted in blue, has a lot of carvings and figurines and four entrances. We totally fell in love with its architecture and couldn't resist climbing it. From all the eight angles, the views were different but equally enchanting.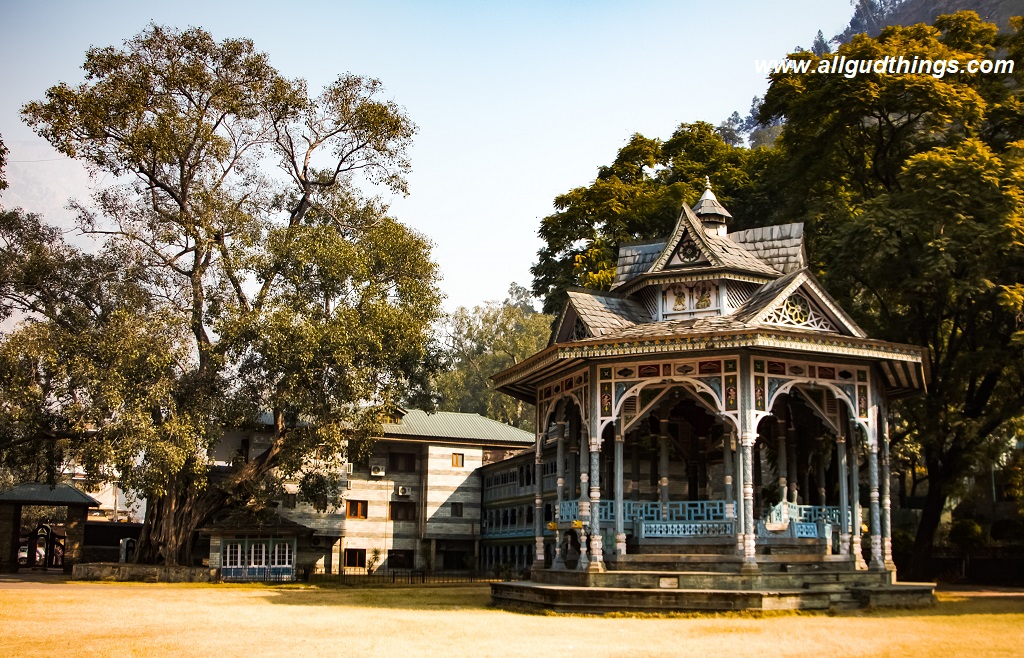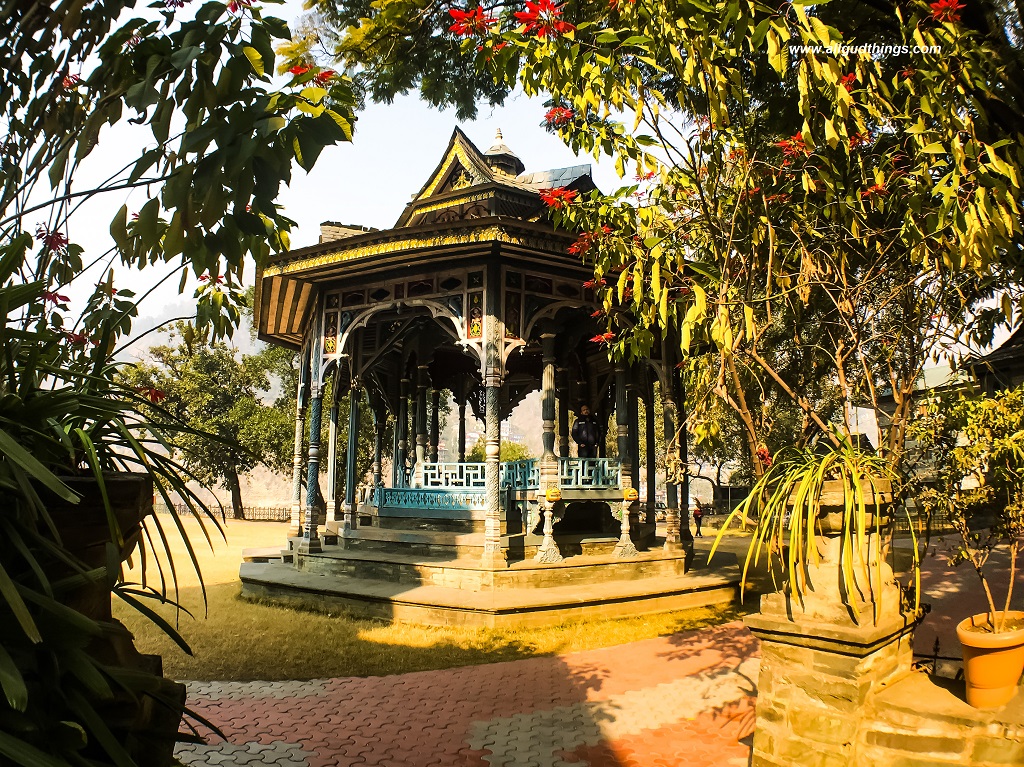 After entering I looked up at the dome and was astonished to see the colors, symbols, and figurines on it. The engraved symbols and figures were Om, Ram, Name of the king, state, fish, flowers etc.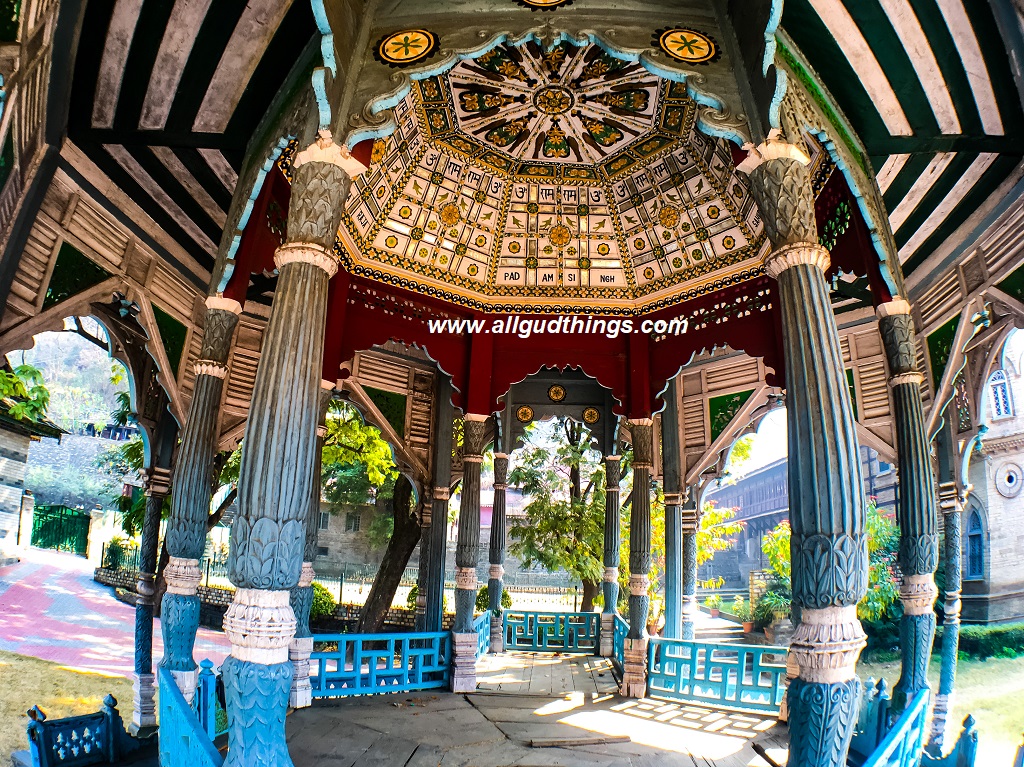 Exact logic of having them in the dome is still not clear to us but what we could relate is that Machhkandi was treated like a temple and the King or decision maker sitting there was like a God. So these positive symbols might be imparting him the wisdom to make the fair decision.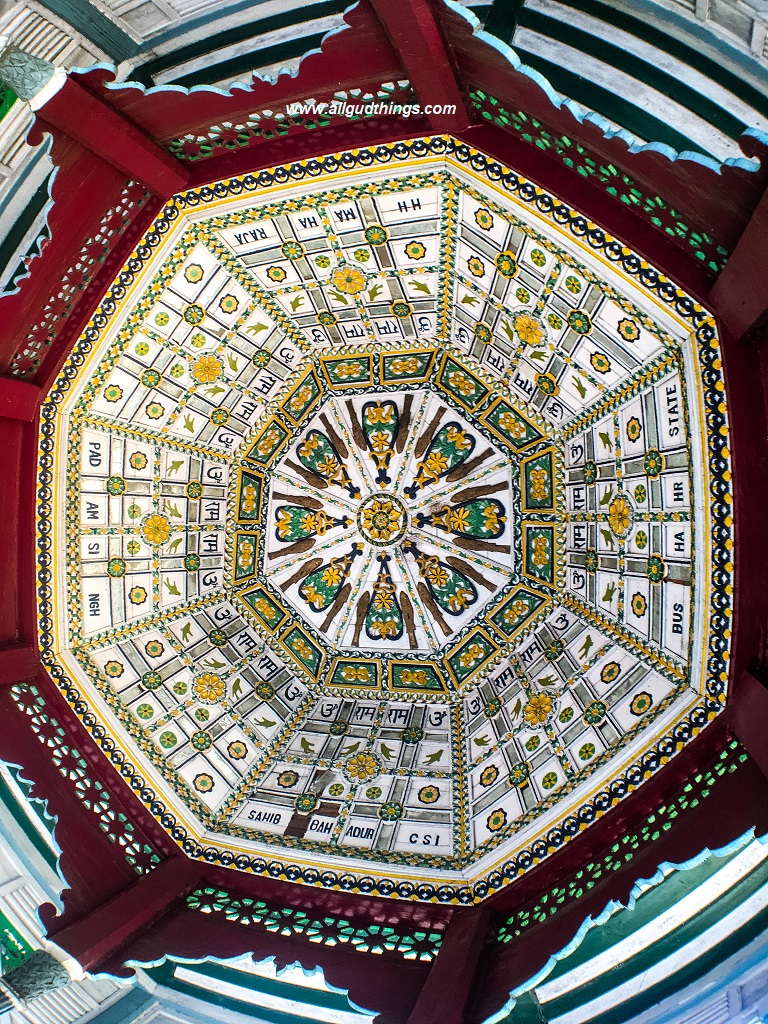 The Palace
As we stepped down the stairs of Machkkandi, there started the horizon of horizontally spread elegant Palace. The Palace has a huge facade with symmetric arches and geometrically designed ceiling with green and red glass patches in between. The chocolate brown colored wooden carvings on the first floor, crowned by reddish brown gables and multi-gabled bandstands clearly depicted the architecture skills of craftsmen. The tapered wooden screen on the first floor has floral designs and figures to partially admit light without exposing inside.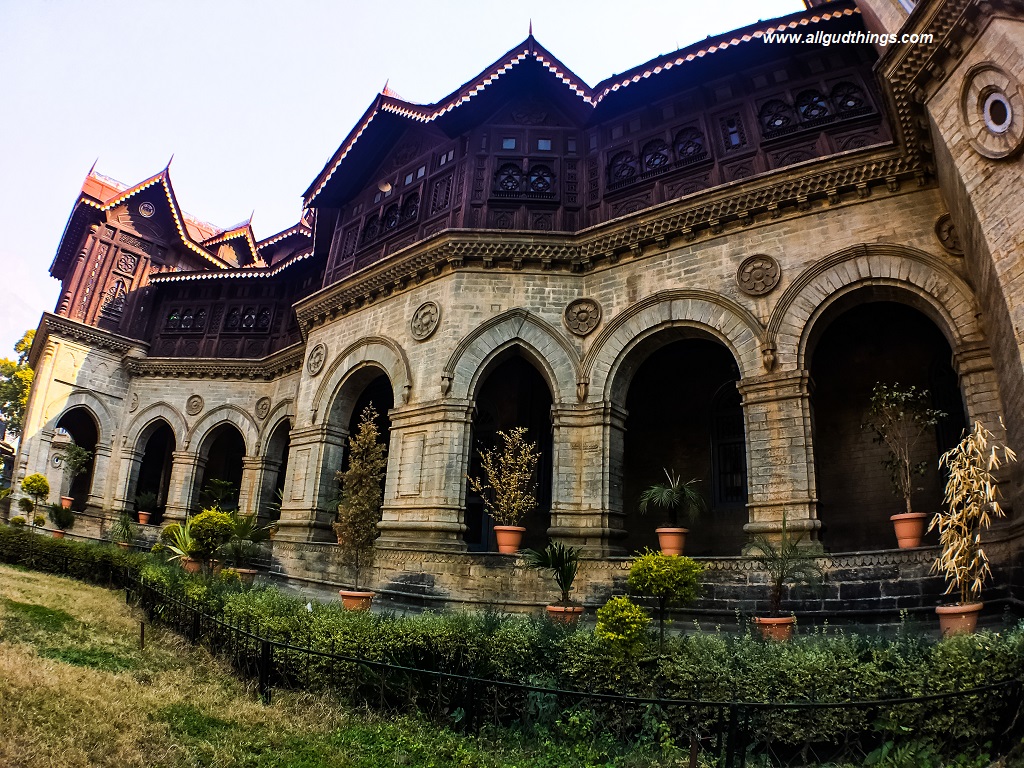 In the whole structure, the major attraction was the alluring blue front door with a lot of glass work on it. Few glasses in center of the door were colored and tinted. We couldn't enter inside as it was closed but still it left us completely stunned from outside. I peeped inside through the glass and could see a huge hall with minimum furniture and colored windows/ doors on all sides. The sun rays through these tinted glasses were making wonderful geometrical impressions. On each side of the door, was placed a statue of Hindu idols -Lord Ganesha and Lord Balaji.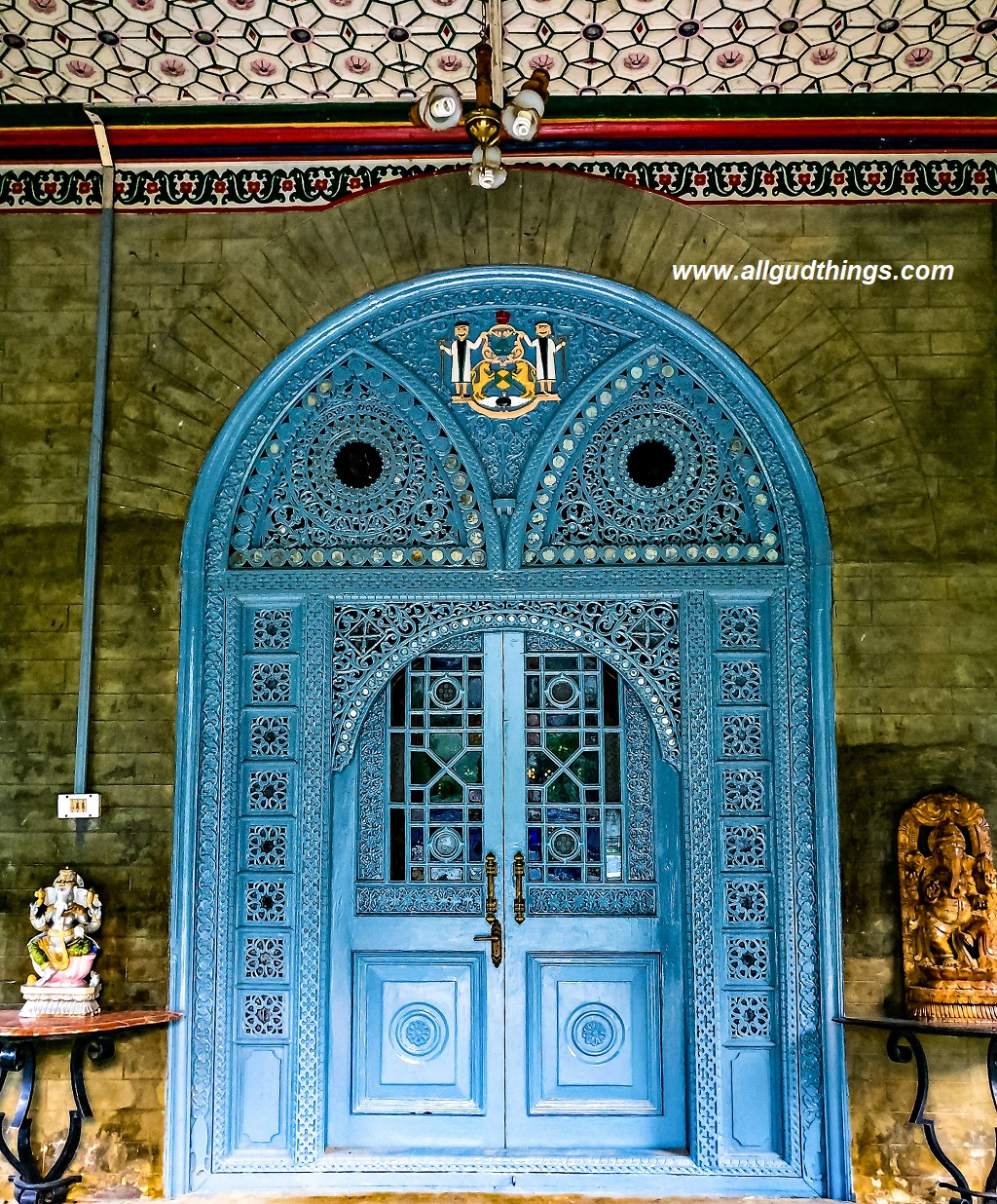 Another, striking feature of the palace is completely No use of cement anywhere. Instead, the black gram paste was used for cementing the stone blocks together.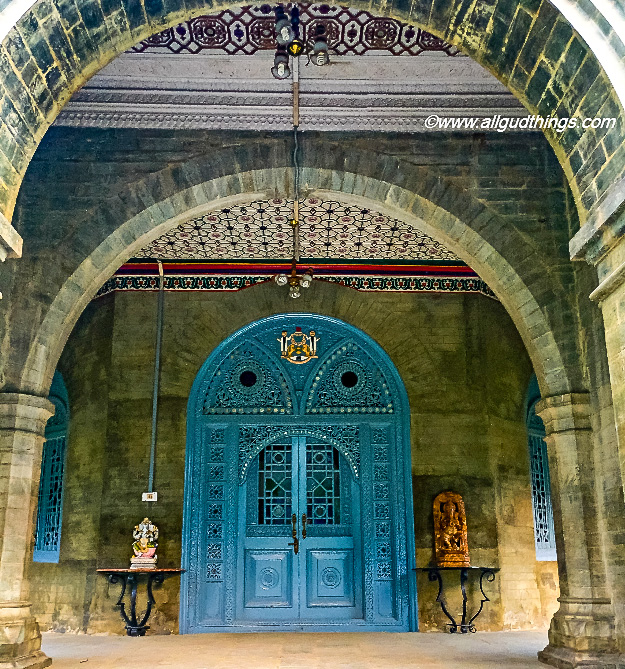 Just in front of the Palace main door is a huge octagonal shaped fountain, which was empty and filled with dirt. But we are sure when in the run; the fountain might be adding the charm to the whole complex.
How to reach Padam Palace
Padam Palace lies 128 Kilometres from Shimla and can be reached by bus, cab or private car in 3 hours. If commuting by bus, get down at bus stand and walk meters0 meters right and you will be at Padam Palace.
Entry Fees – There is no entry fee to see the Palace. You need prior permissions to visit inside.
Total Time to see Palace– Half -hour to 2 hrs
Where to stay in Rampur Bushahr
There are several accommodation options in the town from budget, luxury to heritage hotels. But, if you want to live like Royals, then stay at Nau Nabh Heritage Hotel for a day. We will be writing a complete post on it, soon.
Best time to Visit Rampur Bushahr
Rampur Bushahr can be visited throughout the year. Summers are pleasant and they last from March to June. Monsoon starts from June and continues till September. September to November too is a good time to explore the place but is cold. Expect cold and snowy winters from December to March in Rampur. Sometimes even roads get closed, so check the status before planning your trip.
However, the best time to visit town is during Lavi festival; which is held every year between 11th to 14th November. Lavi Fair is one of the biggest fairs in North India. It adds life to the town and is a major talk of the area.
Other Attractions in Rampur Bushahr
Apart Padam Palace, one can visit Raghunath Temple, Ayodhya Temple, Narsingh temple, Dumgir Budh Temple, Dutt Nagar, Nirath, Nirmand and Asia's largest Hydro project Nathpa Jhakri power plant.
For us, the visit to the Padam Palace was like a time warp to the era of the Kings and Queens, where they lived the royal lives and were the decision makers. Imagine, still, the people of Rampur Bushahr, greet Cheif minister, Virbhadra Singh as Rajaji (King).