Mahabalipuram, once known as Mamallapuram is a historical beach town which lies 60 km ahead from Chennai on the east coast in TamilNadu. The town is popular among the locals as a famous weekend getaway and is equally known among the UNESCO heritage lovers. Mahabalipuram has several monuments dating back to 7th and 8th century when the Pallavas returned from Sri Lanka to rule here and made this beach town as their thriving seaport. So, here in this Mahabalipuram travel guide, we will be briefing and opening up all the histories which you must know once visiting the monuments of this small historical town.
%CODE1%
History of Mahabalipuram Town
According to the legends, the name Mahabalipuram is derived from two words "Mahabali" and "Puram". The word Mahabali comes from the King name Bali or Mahabali who once ruled this place and "Puram" in Sanskrit means a city or urban dwelling. So, together it makes Mahabalipuram. Whereas there is another legend theory thought that the Pallava King Narasimhavarman I, was a great wrestler and to honor him he was dedicated to the great title Mamalla. So, together the historical town got its name as Mamallapuram.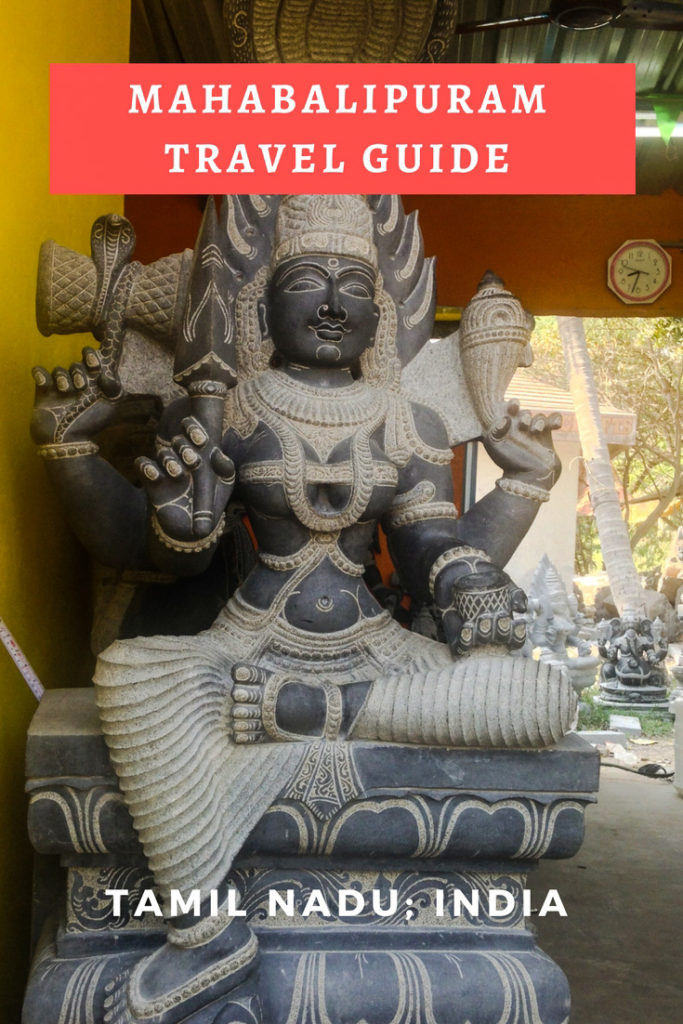 Heritage walk through a Historical town: Mahabalipuram Travel guide
Mahabalipuram town might be the first love of UNESCO world heritage site lovers but it too is a great place to admire sculptures, dwell into the caves, soak in the beaches and smell the fresh coastal air.
We did the early morning, heritage walk of historical town Mahabalipuram, during our visit to Chariot Beach Resort for #chariotbloggersretreat #ctbr #funatcbr. Also, read the activities at Chariot Beach Resort Mahabalipuram.
1.Shore Temple
The Shore temple, as the name says looks on to the shore of Bay of Bengal and is a part of UNESCO monuments listing. It is also one of the oldest temples in South India.
Ticket: Rs 30/- for Indians and Rs 500/- for Non-Indian; extra charges for videography.
Timings: 6:00am – 6:00 pm
The time required for exploring: 30 minutes to several hours, depending on your eye detailing.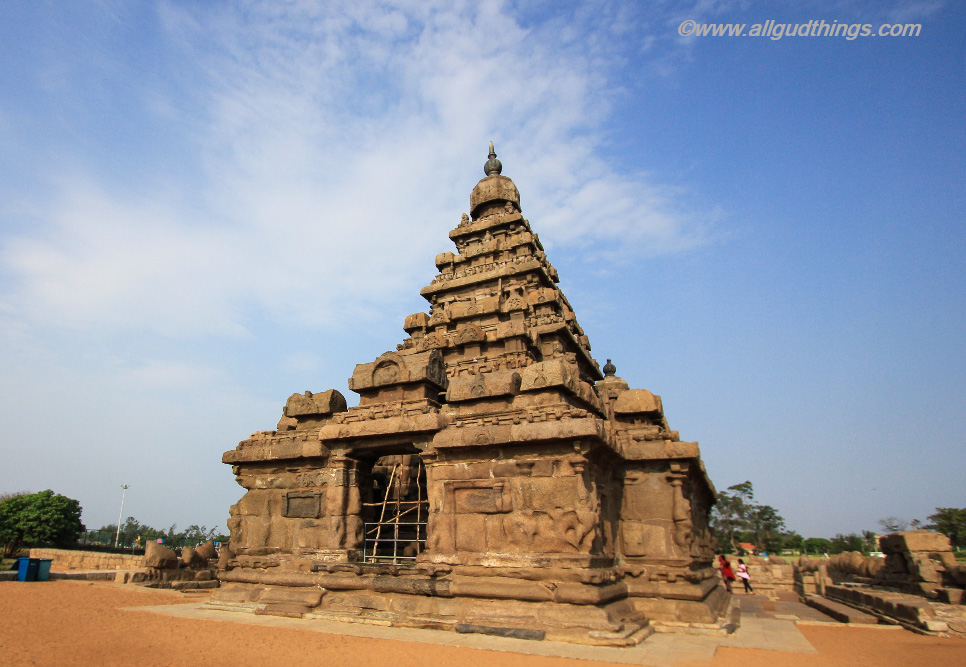 The Shore temple is believed to be the only surviving temple of a set of 7 temples, whereas the rest temples are submerged under the ocean. Interestingly, during a briefing session about the temple, our guide too explained that a part of these submerged temples was visible during 2004 Tsunami when the water receded back by a kilometer or more. Indeed, we were taken to the ocean middle by the organized Catamaran, to witness the part of rock emerging above in the center. The locals believe this emerging rock to be one among the rest six submerged temples.
The complex has two similar pyramid shaped, 60 feet high temples inside which houses the idols of Hindu God Lord Shiva with his family and Lord Vishnu. Along with it, there are multiple small shrines, open halls and compound wall with statues of Shiva's Vahana Nandi surrounding it. The sculptures are disfigured but the scaffolding around show the continuous restoration work carried out by ASI.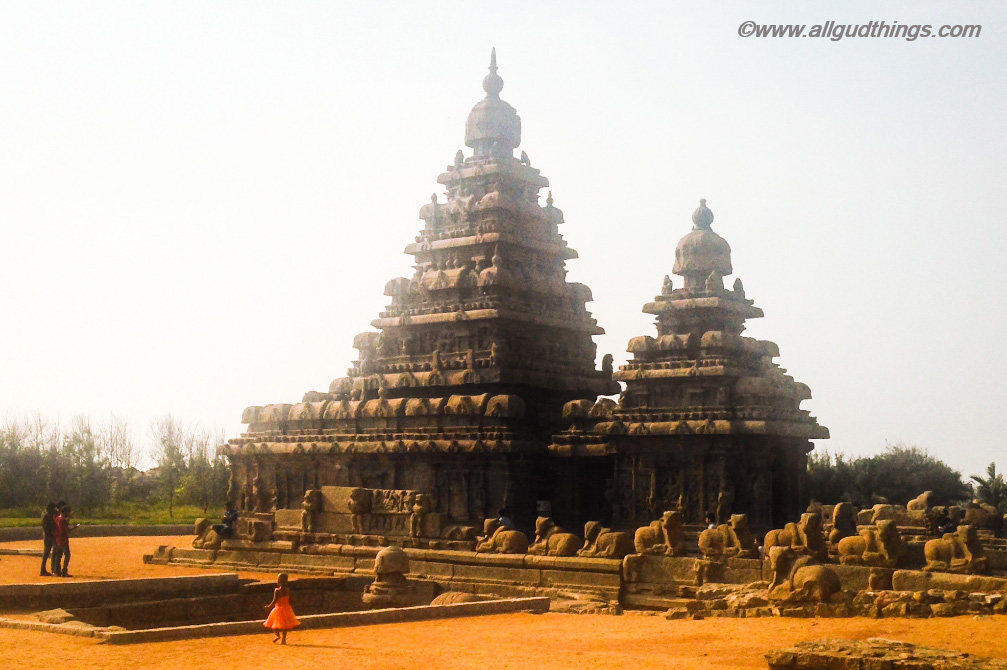 The intricate carvings stepped architecture and compound designs, clearly depict the architectural bent of mind these guys had. Shore Temple looks like a masterpiece when the sun rays fall on it during sunrise and sunset. Another worth mentioning point is that this temple was monolithic i.e. carved from a single stone, which is simply worth praises.
2.Arjuns Penance / Descent of Ganges
Ticket: Rs 10/- for Indian citizens and Rs 250/- for Non-Indians
Timings: 6:00am – 6:00 pm
Time required for exploring: 30 minutes to an hour
The Arjun's Penance or Descent of Ganges is one of the largest sculptural art & perfect example of low relief work in the world. The carvings depict the Jungle scene with mythological Hindu God's on the 27-meter long boulder.
There are two-three legend tales linked to this artwork. The first being – It is a Mahabharata scene where Arjun one of the Pandavas is praying in yoga posture in the jungle, to Lord Shiva for gaining powerful weapon to defeat the evil. The second tale is Goddess Bhagirathi along with Lord Shiva, receives River Ganga (depicted by a cleft in the sculpture along with snakes) on earth from Heaven. And all the animals rush together to quench their thirst, forgetting their predatory relations.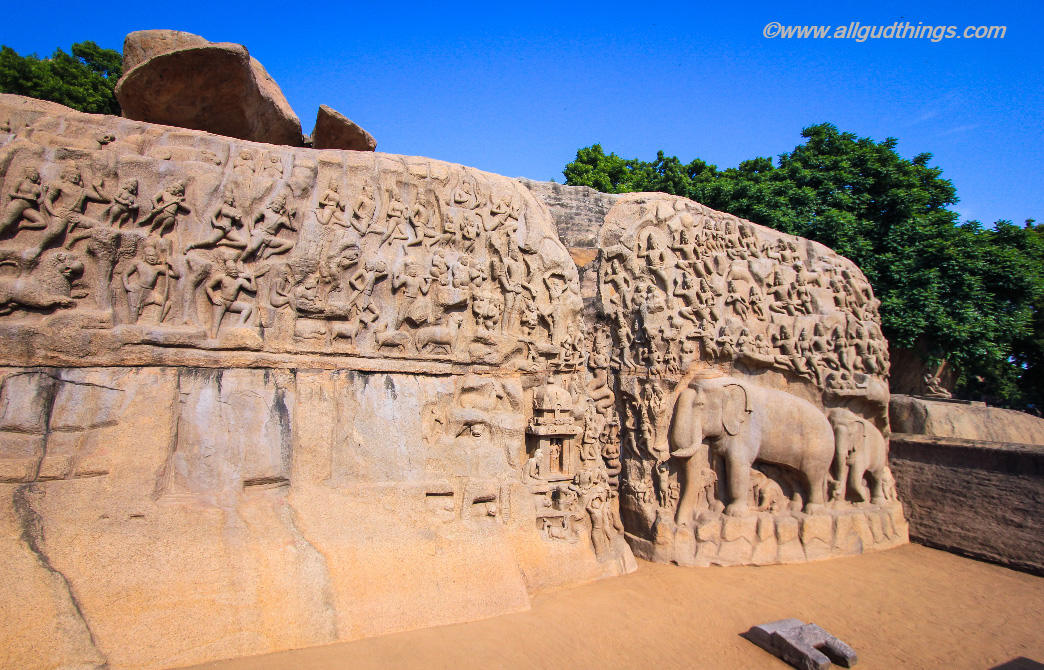 Interestingly, the sculpture too has a shadow of Charlatans. The cat is seen depicting Arjun and mice praying to her. When the cat finishes the prayers, she devours over the mice as a prey.
If we leave the history apart, the whole artwork is to be relished and it is a great masterpiece made by Pallavas in the 7th century, despite the lack of high-end tools.
3.Pancha Pandava Cave Temple
Ticket: Free
Timings: 6:00am – 6:00 pm
Time required for exploring: 30 minutes to an hour
Just next to the Arjun's Penance, stands the other 7th century UNESCO monument Pancha Pandava cave temple, which is also known as the Mandapa of five Pandavas. It is the largest cave temple and one of finest cut out architecture in Mahabalipuram.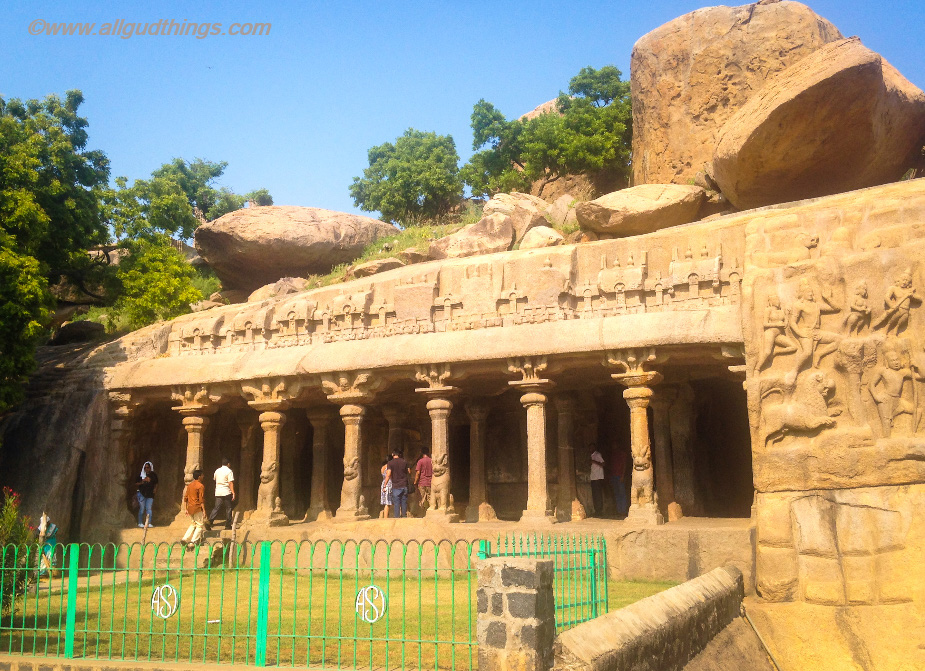 In the complex, there are six columns in the veranda, with the carved lion base on five. The columns with lion base are a typical architectural style of Pallavas. Behind these five pillars lies another four pillars which divide the cave further into sections. The temple and some pillars are incomplete. Around the shrine is a long dark gallery to enter the main shrine.
4. Krishnas Butter Ball
Ticket: Free
Timings: 6:00am – 6:00 pm
Time required for exploring: Maximum 30 minutes
Walk 200 meter from Arjun's penance on right, there stands miraculous 6 meter high, 5-meter wide boulder, inclined on a rock base. God only knows how it is stable there from past 1200 years? It not only left us wondering but centuries ago it left the Pallava dynasty King Narasimhavarn too amazed. To move it, Britishers even used 7 elephants but they were too unsuccessful.
The Krishna's gigantic Butter Ball is a famous attraction. People climb the huge rock to go near and move it. But till day nobody could. Look at us, even we are trying our muscle power on it.
5. Lighthouse
Ticket: Rs 10/- for Indians
Timings: 6:00am – 6:00 pm
Time required for exploring: 1 hr for both the lighthouses
From the Butter Ball, keep walking for almost 2 kilometers climbing the rocks, admiring complete incomplete temples and caves in between. Just ahead of the Lighthouse museum follow the narrow passage. It will take you to a huge gigantic rock which has Olankeeswara temple on top of it. The top of the temple was used as a lighthouse for some period. Pallavas used to light the oil lamp here from sunset to sunrise, for ships to follow the port.
https://www.instagram.com/p/BarR1UdH8Z4/?taken-by=suruchimittal
Opposite to this temple stands the circular masonry tower made up of natural stone which is said to be a new lighthouse. It got opened to the public only in 2011. Adjacent to it lays the oldest lighthouse of India, built by Pallava King Mahendra in 640AD, which is now a protected monument.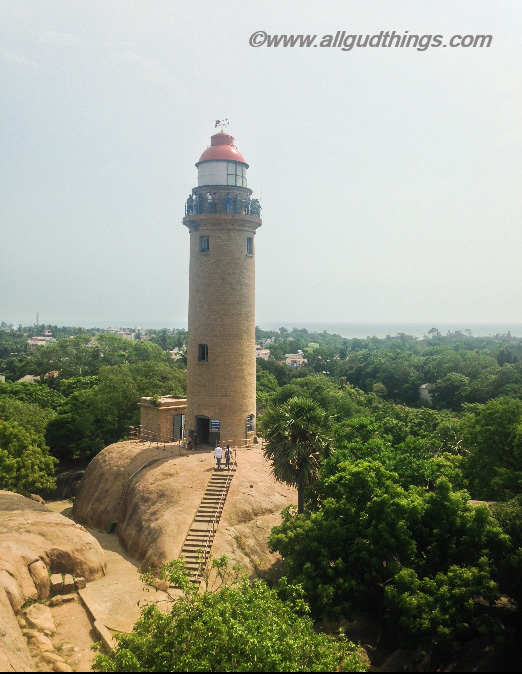 One must climb both the lighthouses to get the panoramic city views.
6. Panch Rathas
Ticket: Rs 30/- for Indians & Rs 500/- for Non-Indians
Timings: 6:00am – 6:00 pm
Time required for exploring: 1 -2 Hrs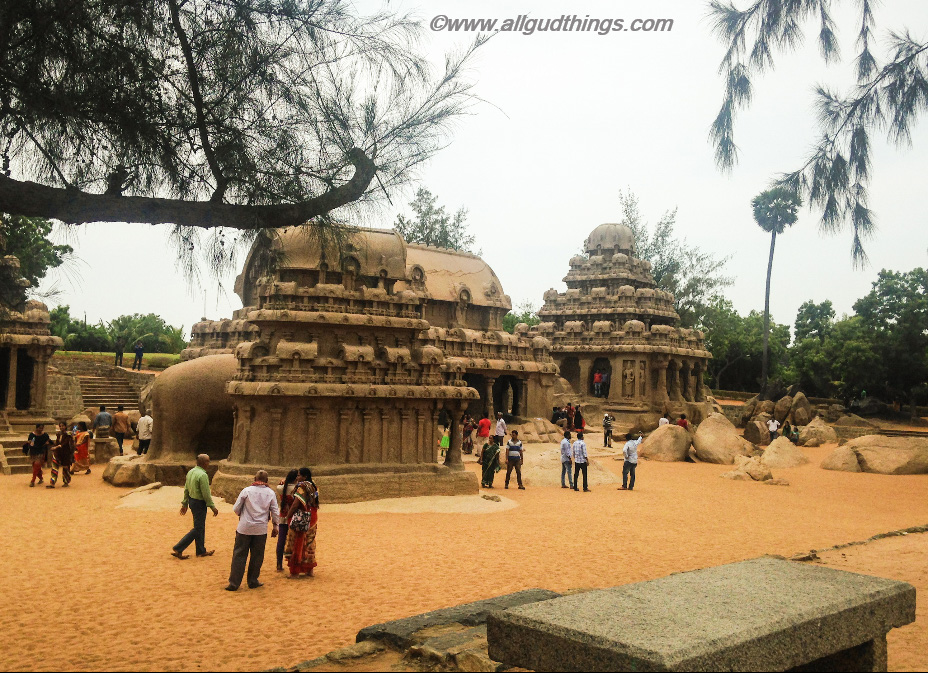 The term Panch Rathas again is derived from two words – "Panch" meaning five and "Rathas" means Chariot. There is a theory that it was built to imitate the 5 Pandavas (Yudhistra, Bhim, Arjun, Nakul, Sahadev) and their wife Draupadi. Thematically and structurally all the chariots differ from each other and are carved out from a single monolithic stone. They too are pyramid shaped like Shore temple and have murals all over on their walls.
For details on the Ranch Rathas, you can check here.
Tips for Heritage Walk: Mahabalipuram travel guide
The weather in Chennai is hot and humid, so do carry a water bottle and hand towel with you.
Wear cotton clothes and flats to be comfortable and you really need to walk a lot.
Take an authorized guide to know the history of these monuments better.
Follow the rules and buy a ticket for watching these monuments.
Still, photography is free but videography is paid inside these 7th-century old monuments.
There are lots of vendor selling seashell and stone carvings around these tourist attractions. If you have to buy, then check the piece before buying and make sure to bargain.
P.S:  We did the heritage walk of historical town Mahabalipuram during the Chariot Bloggers Retreat organized by Chariot Beach Resort. and also read the activities at chariot beach resort mahabalipuram, we enjoyed.