Vrindavan, once a thick forest area, is today considered as the most spiritual land and a abode of God. The place was once a playground of Lord Krishna and has it's mention in epics like Mahabharata. Thousands of Pilgrims visit the place every day and some even stay back here forever. There is a temple in every lane and indeed in every house of Vrindavan. Some of these are architectural marvels (like Iskcon temple) whereas others have mysterious stories linked to them just like the Nidhivan in Vrindavan. So, one weekend we planned to visit Vrindavan with our parents.
The first impression of Vrindavan told us there were narrow lanes all over and further by lanes. So, instead of roaming by car, we hired an auto-rickshaw and there began our journey.
Driver– Which temple you want to go. There are 5500 temples
Me– With a jaw dropped, you said 5500, Really!
Driver – Yes, it is a God's house. Tell soon which side should I take you first, as it is already 5:00 pm and some of them closes by 7:00pm.
Me – Take us to the Temple which is different and has some interesting story.
Driver – Okay! I will first take you to the Temple which gets locked at 7:00 pm. Lord Krishna visit this place and perform Ras Leela (Type of Dance) with Gopis every night.
Me– What are you talking. Stop telling me this fake story. Let's go and see the place!
After this conversation, with in next 20 minutes, we were at our destination. A small narrow cobbled street, decked up with sweets and local handicraft shops; and hundreds of Sadhus sitting on each sides took us straight to the yellow stone temple; known as Nidhivan in Vrindavan. The street scene here exactly resembled the scenes at Badrinath Temple except the beautiful Himalayas at backdrop there in Uttarakhand.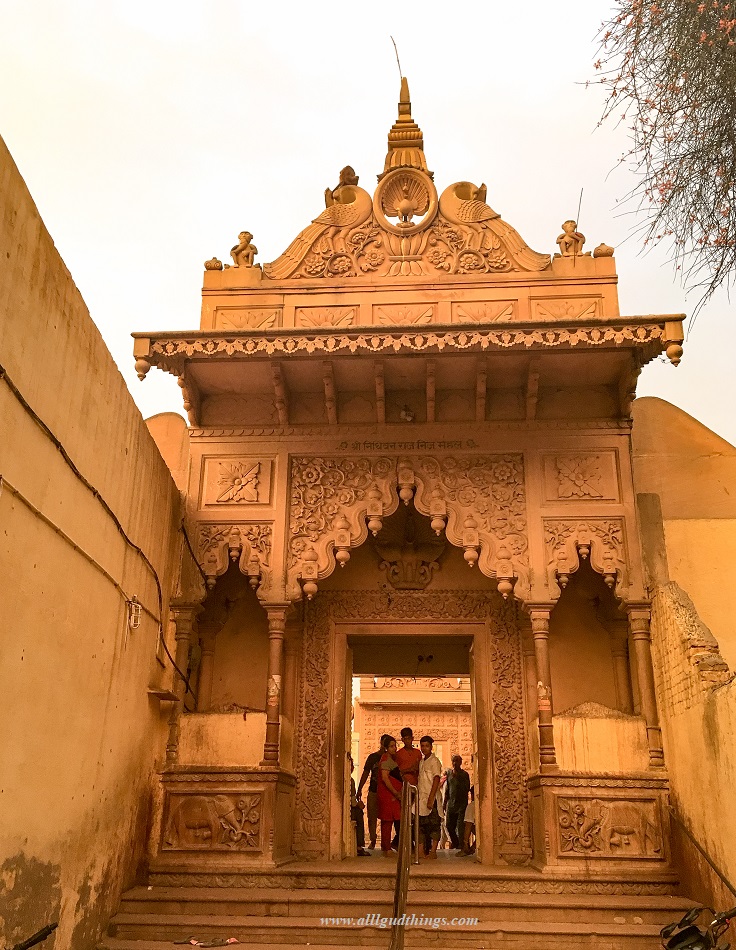 Nidhivan in Vrindavan
The word Nidhivan is formed from two words; where Nidhi meaning "Sleep" and Van means "Forest". So, the forest is immured with the night talks and love stories of Lord Krishna and Radha. And we will say a green forest with hundreds of entangled twisted trees.
From the time we stepped inside, the guides were continuously behind us. They were convincing us to show the temple as well warning us to keep our phones, cameras, spectacles protected from Monkeys. Honestly, to us Nidhivan seemed to be a land of Monkey's.
Entry Gate of Nidhivan
The two huge yellow stone gates, with carvings of peacocks, monkeys and flowers, mark the entry and exit to the forest. Monkeys were sitting on the top and in between the doors, scaring every passer. Our guide assured to take care and made us cross the passage.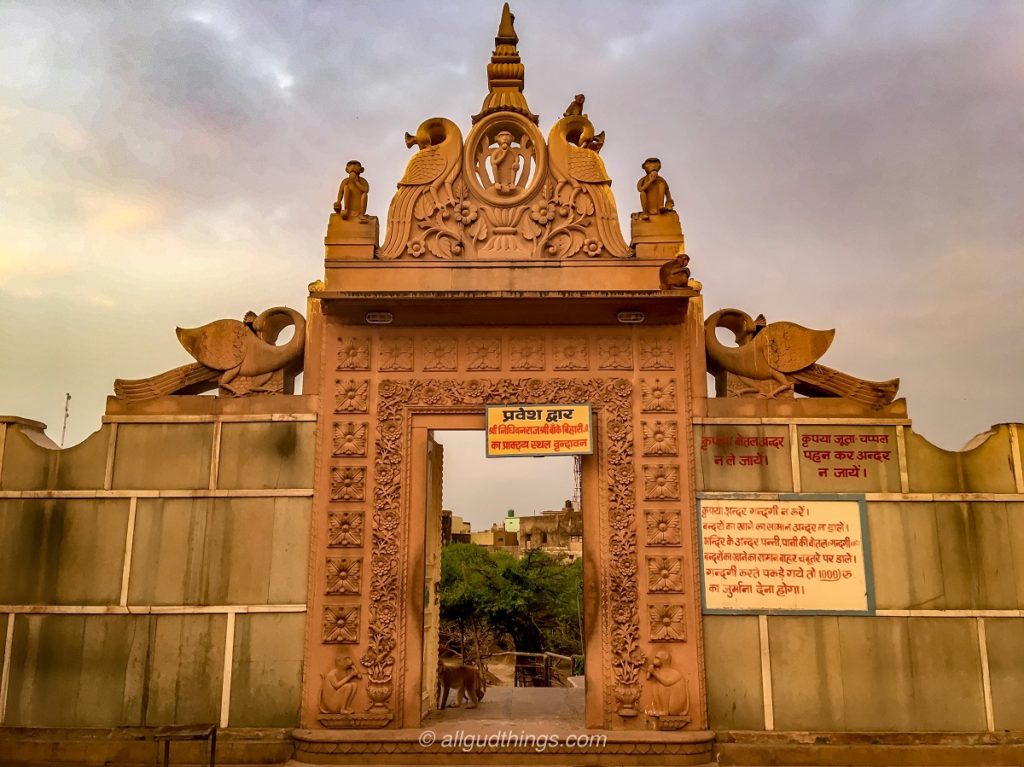 Inside Nidhivan in Vrindavan
As we entered the gate, we were still standing on the continuing plinth. From there the stairs were going down, leading to the forest and nothing much was visible from there, except the short heightened dense trees. There the guide started: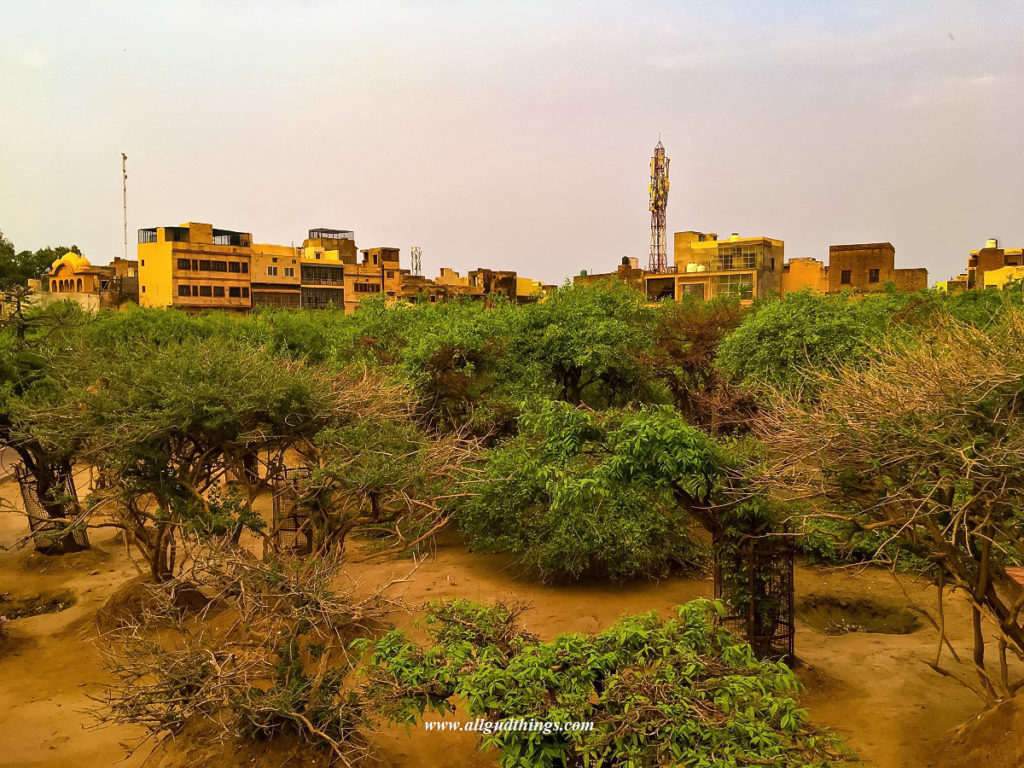 This is a Tulsi (VanaTulsi)/ Holy Basil forest. These trees are completely hollow from inside and have roots 5 mm above the ground. No water is given to them ever, but their leaves remain green throughout the year. The ones you see brown also turn green at Night.
At night the whole forest lits up. The trees turn to Gopis at night, when Lord Krishna comes here for Ras Leela and as soon as dawn breaks, the Gopis turn back to Basil trees. The trees shift their positions every day. Several People have tied threads to check this fact but they could never find the tied thread, If you see on the ground, there are more than 1600 holes, which are the clear indicator that trees have shifted their position. The leaves of these Basil trees are never broken and the ones which fell themselves are also collected in these holes. And these Basil trees are always found in pairs.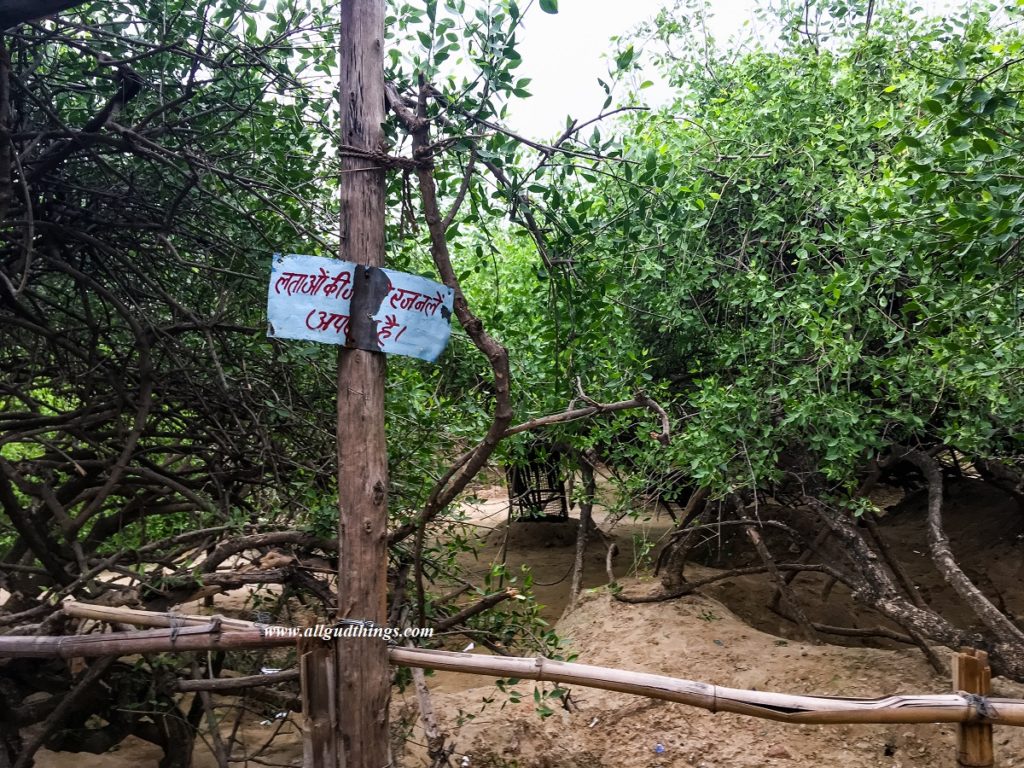 There are no nests or insects on these trees. The part of these Tulsi trees cannot be taken home and those have attempted to do so, have faced severe consequences. All this sounds interesting but it was equally mysterious too. Listening all this, our mind had started wobbling! We were in total confusion that whether we are in a land of mystery or it is a miracle.
Saint Haridas Temple
From there we continued our walk in between the fenced forest of Nidhivan in Vrindavan to Saint Haridas Temple. The interesting Legend behind this temple is that a divine Saint Haridas; during 15th century made Nidhivan his base. To impress Lord Krishna (also known as Banke Bihari) he used to play flute. One day the Lord blessed him in his dreams by appearing at the same place in Nidhivan in Vrindavan. So, this place is also known as Prakatya Sathal, which itself means the appearance of Lord Krishna.
The Samadhi or grave of Sanit Haridas is also located on the extreme right end of Nidhivan in Vrindavan.
Lalita Kund/ Well in Nidhivan
Cross the Temple and you will see a small well inside the premises. The story for this is– Once while performing Ras Leela, Lalita the close friend of Shree Radha became thirsty and to quench her thirst, Lord Krishna built a well there with his flute. So, this well is known as Lalita Kund. To us, it looked like a harvesting well to us and was not maintained.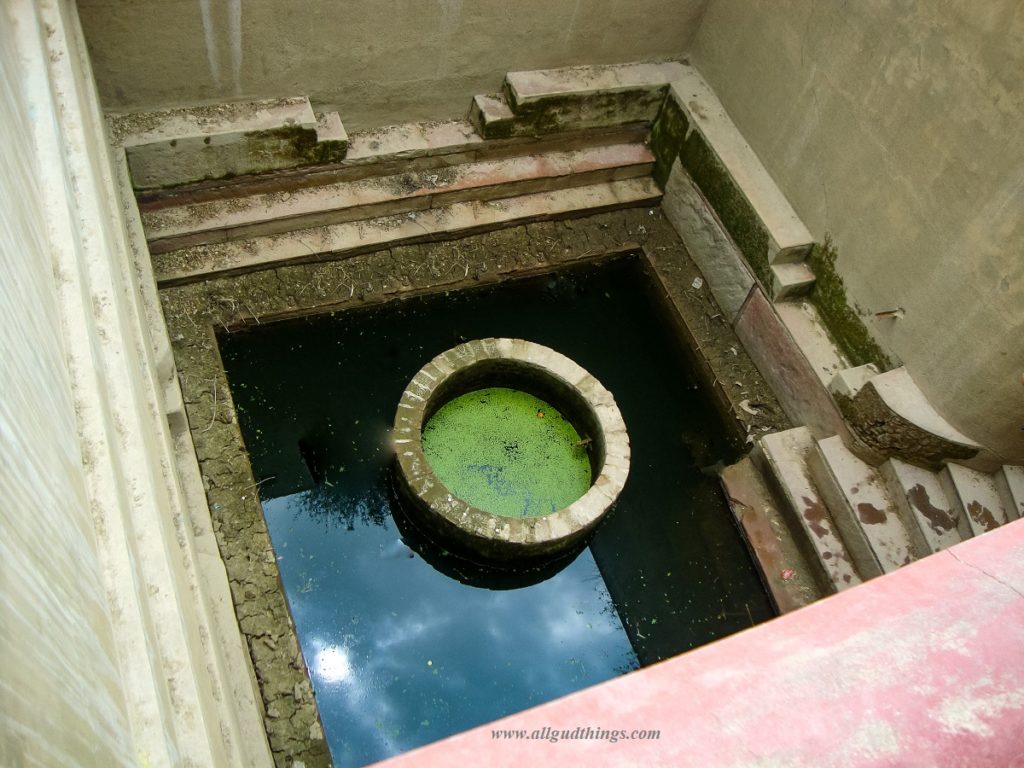 Are you guys also in some different world? But this is not the end, still the other mysteries or miracles have to open up their veil.
Rang Mahal
From there we continued our walk to Rang Mahal or the Shingar (dressing) room of Radha. It is a single room with a bed, silver lining dressing table loaded with ornaments and beauty products. The ritual here is that every day after 7:00 pm i.e. after Aarti, priests puts toothbrushes, sarees, bangles, paan (Betel) leaves, holy water in jug, sweets and a ready bed. Next morning, everything is found scattered as if someone has used it.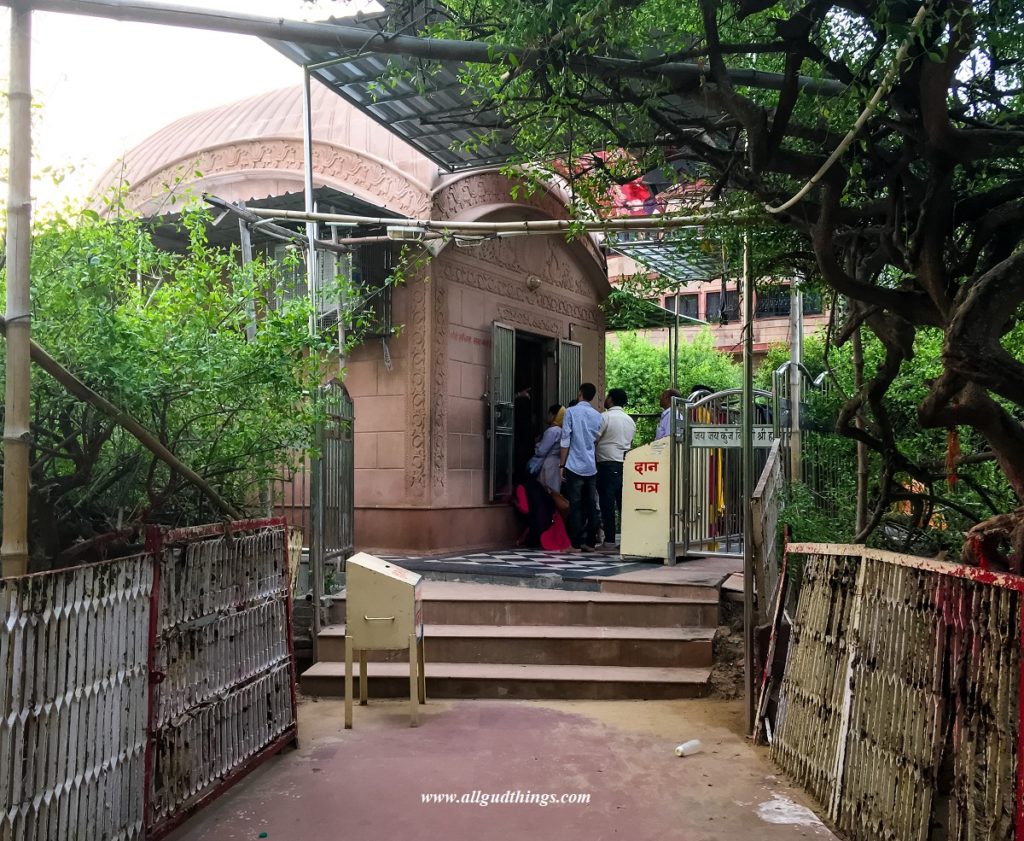 So, it is believed that Lord Krishna comes here every night. Gopis and Radha dresses up in Rang Mahal and plays Ras Leela. Till day, no one has seen this happening and the one who has attempted so has either lost his eyesight, voice, mental balance or have died. So, to avoid entries, the gates of temple are closed after Aarti and no one is allowed to stay inside the premises. The locals say that even monkeys leave the premises after Aarti.
Shree Radha Temple
The geometric design floor where Lord plays Ras Leela with Radha comes before the Radha Rani Temple at Nidhivan in Vrindavan. In the temple, there is a diety of Shree Radha playing a flute. It is built in the memory, when Radha stole the flute of Krishna along with her sakhis (girlfriends) Lalita and Vishakha and started playing it. The tree outside this temple had differently entangled branches which resembled the shape of Lord Krishna. People around claimed they could see it, but I think our senses were corrupted by now. We were completely lost in the dilemma of mystery or miracle or is it a money making game.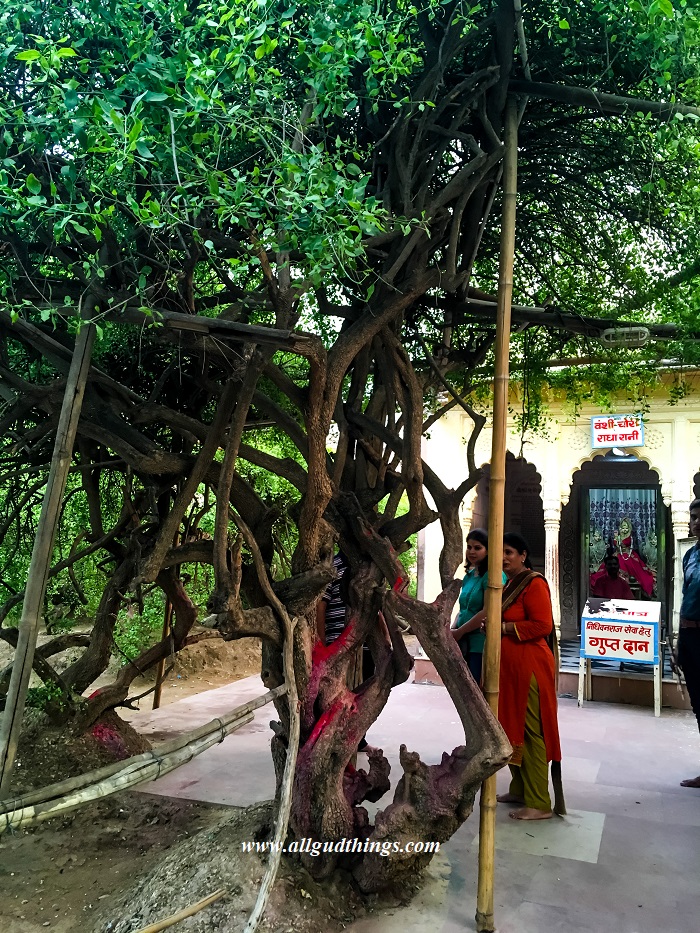 And there we were almost at the exit gate and the circuit has completed. The entire forest or the land of mystery was visible from here.
Around the Nidhivan Temple there are hundreds of houses, which have their windows opening up to the views of forest. But the people living in it, don't dare to look or open up their windows after 7:00 pm, because of the fear or belief. Indeed, some of the locals have closed their house windows permanently with bricks. Some also claim to have heard the Ghungroos/ anklets voice at night.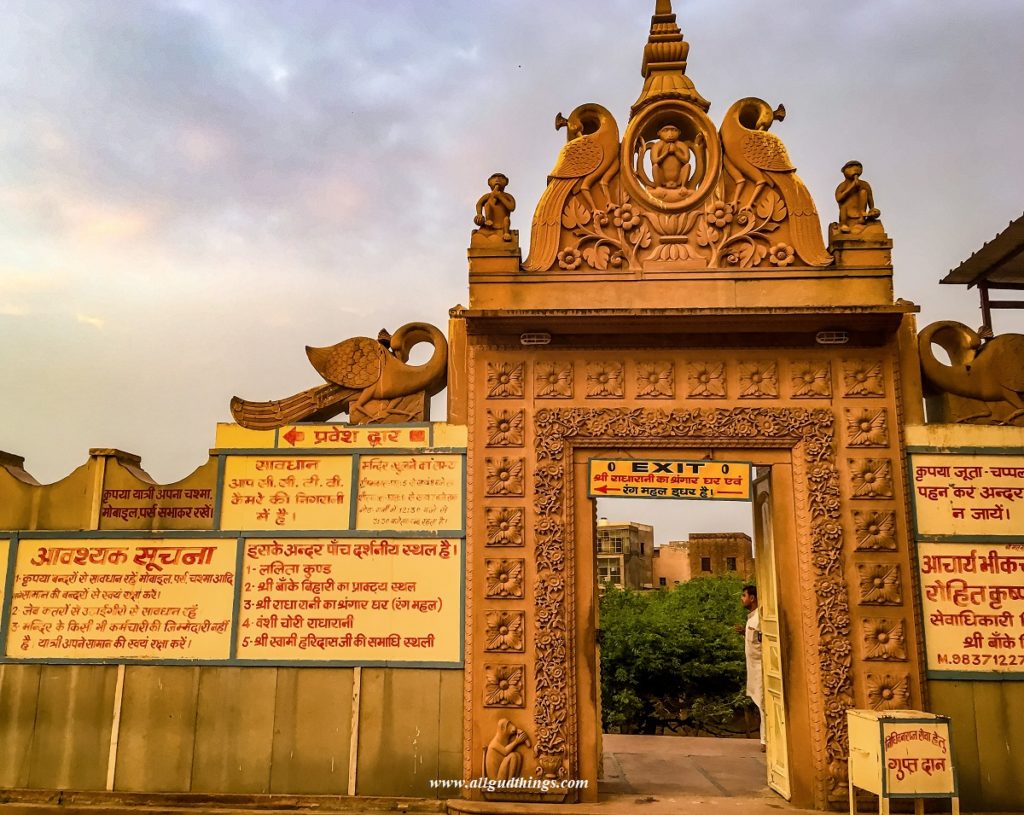 Our Experience at Nidhivan in Vrindavan
Nidhivan in Vrindavan is truly a mysterious land or the miracle of God. Everything seems possible here. The place attracts not only devotes but also the scientists, tourist or travelers. Devotees from all over the world comes here to worship and priest or guide tries to show them God in their own way.
How to Reach Vrindavan
Vrindavan can be reached from Delhi by rail or road.
Rail – The Nearest Railway station is at Mathura i.e. 14 kilometers from Vrindavan and from there hire a cab/ bus or auto to reach Vrindavan. Every 15 minutes an auto or bus runs to Vrindavan.
Road – Vrindavan lies 193 kilometers from Delhi and can be reached in 2.5 hrs via Yamuna Expressway
Best time to go Vrindavan
The best time to go Vrindavan is in winters i.e. from October to March or monsoons. In Summers (April – June), the temperatures are soaring.
Note: Photography inside the Temple was not allowed and we respected that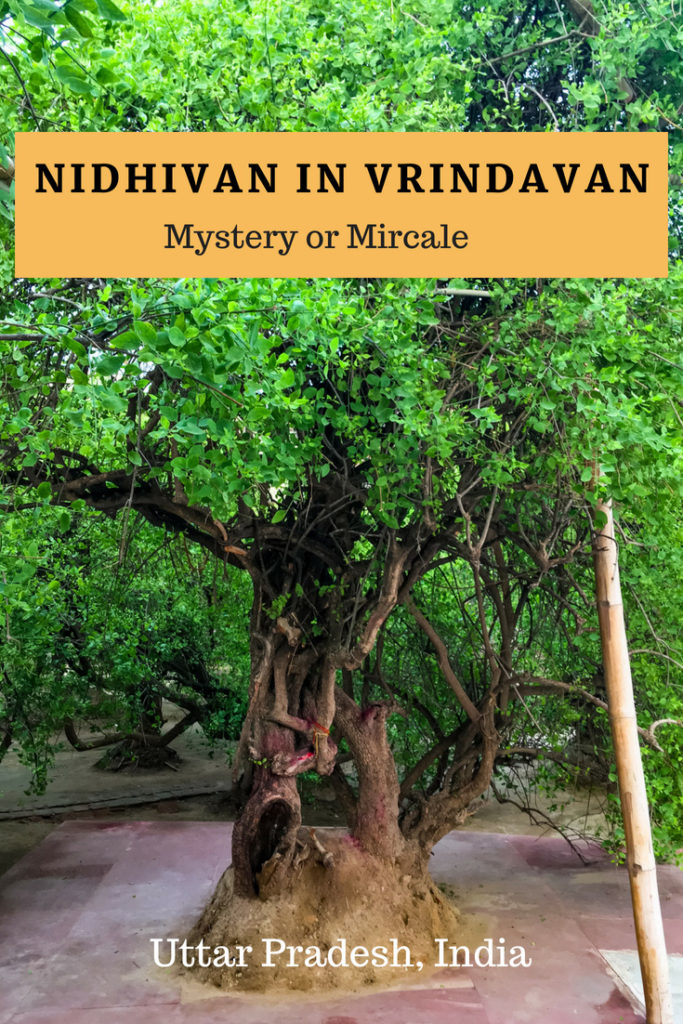 If you like it, please share it with your friends and family. And do share your experience of Nidhivan with us, we will be happy to know your views on the same.