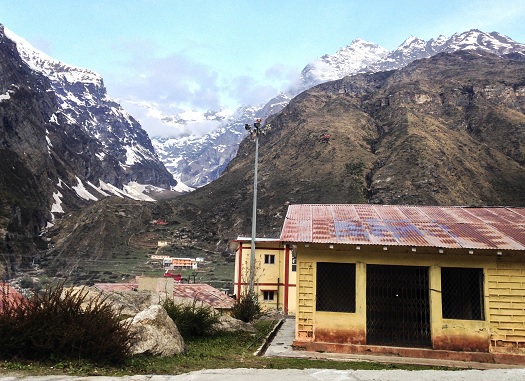 Since childhood, I was hearing from my parents about the four Dhams of Hindus and the perception for the same was Ok! I will travel to these places, once I am old. But there are some things or trips in life which are bound to happen and you can't change them. In fact, such things and trips change your mindset and you feel why you didn't do this earlier. Last week, my parents were here and they wanted to travel to Badrinath. And we being the quick planners; planned and packed everything in an hour and took off for another long Road trip to Badrinath Dham.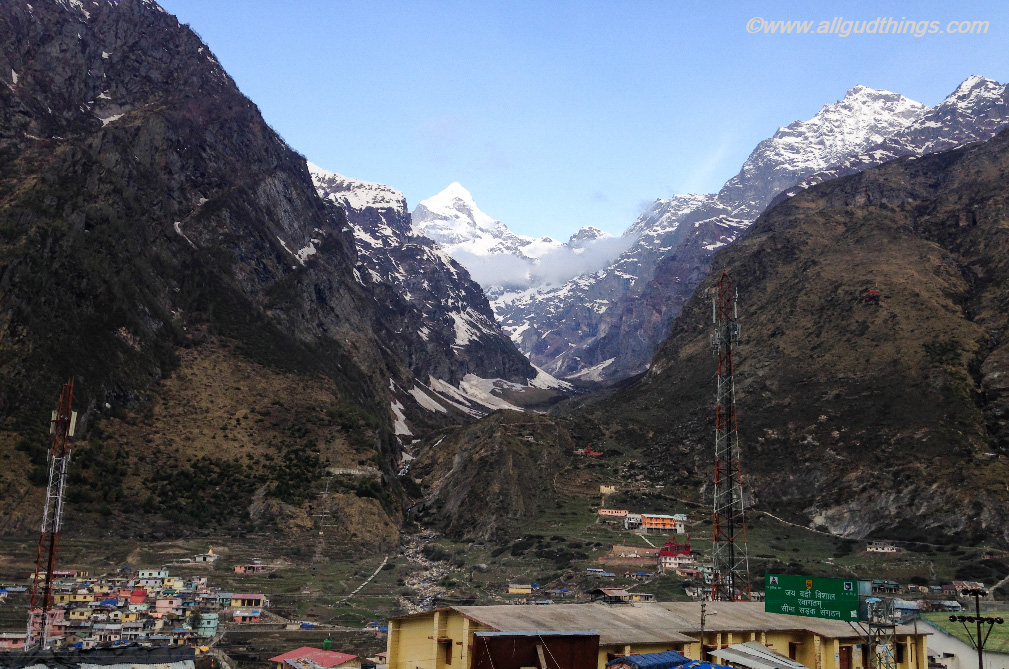 Distance to Badrinath from Delhi: 538 Kms via Haridwar and 576 Kms via Lansdowne
Route from Delhi to Badrinath Dham: We went from the route:  Delhi – Noida – Najibabad – Kotdwara – Lansdowne – Srinagar – Chamoli – Joshimath – Badrinath; And came back from Badrinath – Joshimath – Chamoli – Srinagar – Rishikesh – Haridwar – Muzaffarnagar – Meerut – Delhi
Total Time to reach Badrinath Dham: Almost 16 -17 hrs
%CODE1%
Stoppages on the way: We halted at Lansdowne that covers almost 1/3rd of the total journey Or one can opt to stay at Srinagar.
Best time to visit: Between May – October; as the temple is open only during this period for 6 months.
Road Conditions: Excellent except 4-5 broken patches.
The Badrinath Dham
The Badrinath Dham is located in between the folds of Garhwal hills of Uttarakhand along with the banks of river Alaknanda; at an elevation of 10,000 feet. In fact, the whole of the Badrinath town is encircled around the Badrinath or Badrinarayan temple; dedicated to Lord Vishnu. Badrinath temple is also known as Vishal Badri.

History behind Badrinath Temple
The temple is believed to have Buddhist origin and later in the 8th century was converted to Hindu temple by Adi Shankara. I somehow too felt its colorful facade and architecture resembles Buddhist temple. Look at the image isn't it resembling the Buddhist Vihara (Temple).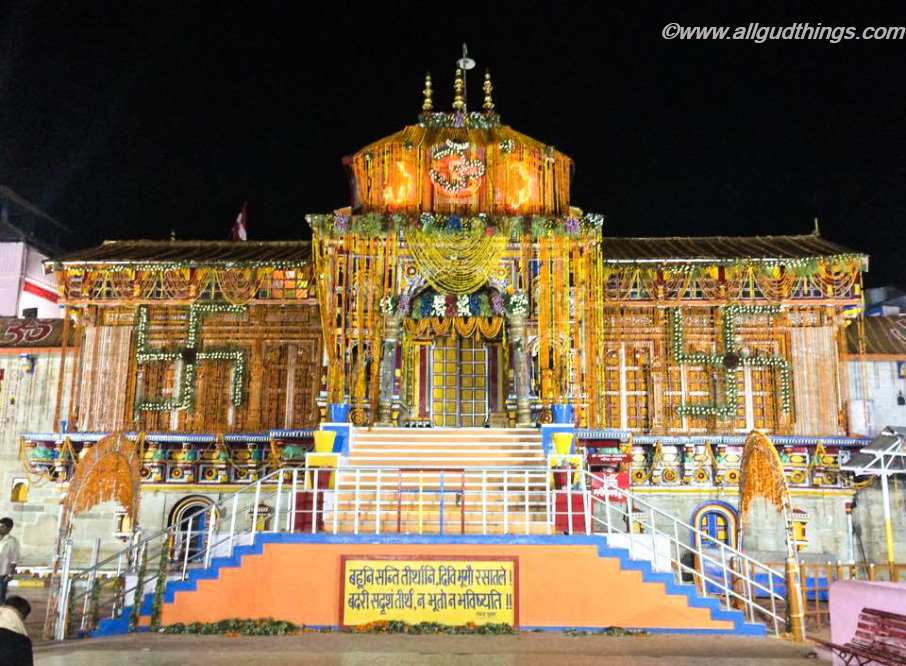 According to the Hindu Legends, Lord Vishnu sat here in the midst of Himalayas for meditation (Mudra position); being completely unaware of the harsh weather conditions. His consort Goddess Lakshmi couldn't stop herself seeing this and she protected him by forming Badri tree. The Badrinath town used to be rich in Badri till 1979  which bear Jujube or Indian Dates. Seeing the devoutness, Lord Vishnu got pleased and named this place as Badrika Ashram.
My impression seeing the Badrinath Temple
The Badrinath temple architecture and convention of bright colors completely captivated me and left me awestruck. I was literally staring at the decorations of the temple for almost half an hour; without even winking my eyes. In fact, the pristine temple enclosed between the series of Himalayas, do all justice for the long drive. One actually forgets everything and get lost in the aura of this place. The only word I could utter out was WOW!!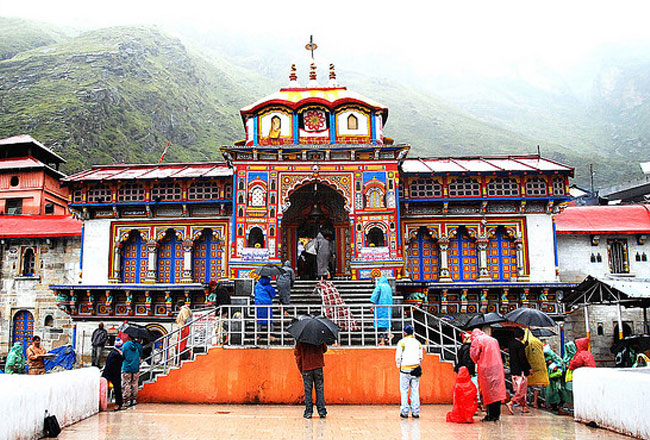 The temple stands proudly on the plinth; between the two mountains Nar & Narayan, overlooking River Alaknanda. The arched windows and doors, facade and the intricately designed carvings around the pillars each speak for themselves.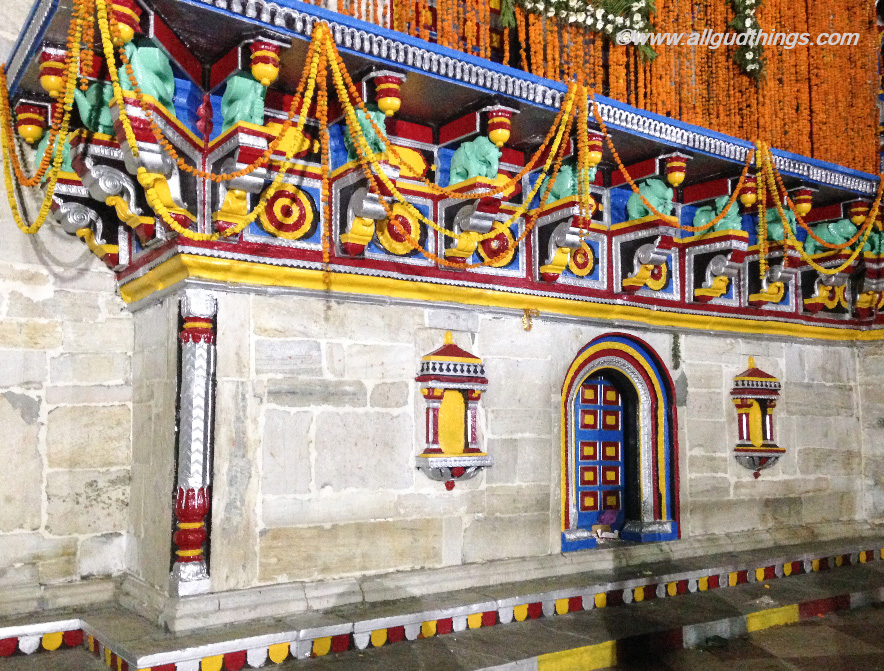 Every year almost 12 -13 Lakh pilgrims pay a visit to this temple, but still, there is calmness and serenity in the air. This place is a perfect example that how nature replenishes the valley itself during the winters.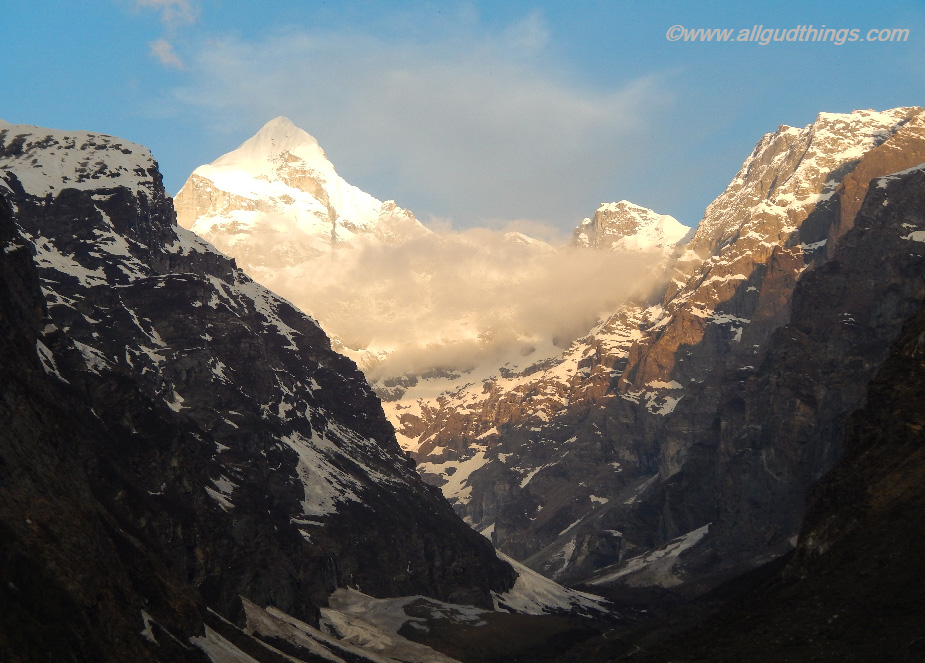 Just outside and below the temple, there is a Tapt Kund (hot water sulfur spring); separate for both men and women. The water of this Kund is believed to have medicinal properties and pilgrims prefer to take bath in it before visiting the temple. Interesting is the temperature of the spring is around 55 degree Celsius throughout the year whereas outside temperature in Badrinath is around 17-18 degree Celsius.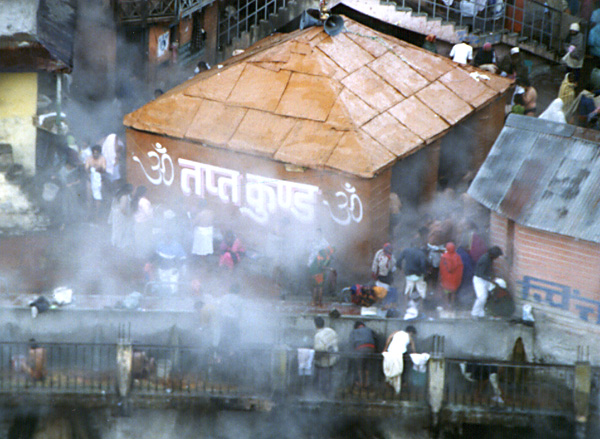 Inside the temple, the main shrine houses 1 meter tall Black stoned image of Badri Vishal, housed in a gold canopy under the Badri tree. While circumambulation around the main shrine; we too observed certain more idols of Goddess Lakshmi, Garuda, Lord Hanuman etc. There are two more ponds in the temple known as Narad Kund and Surya Kund.
Temple Timings
The Badrinath temple opens from 4:00 am to12 noon and 3:00 pm -10 p.m.
Badrinath Temple during winters
The temple opens only for a period of 6 months, during summers and for the rest 6 months; the deity of Lord Badrinarayan is taken to Narasimha temple at Joshimath. Amazing is before closing the temple doors, priest lightens up an Akhand Jyot (Diya) filled with ghee to last for 6 months and locals told that when the door are reopened the Diya/lamp is seen flickering.  Isn't that Interesting!
%CODE3%
Important points while visiting Badrinath Dham
Photography is prohibited inside the temple, so don't try to attempt it.
There are fixed timings for opening and closing of the temple, do make a note of it for convenience.
One is allowed inside the shrine only for 10-20 seconds.
Avoid taking Prasad inside the temple, as half of it is thrown on the floor and it really irritates your feet while walking. And I too believe it is an insult to the Prasad and God.
Always keep woolens handy with you, because the temperature here dips anytime during the day.
On an average, Badrinath temple receives 8000- 10,000 pilgrims per day, so be prepared for the queue and the rush you have to face.
There are more devotees on Saturdays and Sundays as compared to the weekdays.
Nothing is free inside the temple. I mean for Prasad too, you need to shed some money from your pocket.
Take bath inside the Tapt Kund, it really soothes out your body. Initially, I too was skeptical and felt the water smelly and never wanted to go inside the Kund for the bath. But after my mother's decision, I felt my body was feeling relaxed.
Make a visit to the temple at night after it closes down, to capture good bright shots.
You will find too many Sadhus and Saints sitting on the roads. Don't try to encounter or get into their talks with them.
Bargain while buying souvenirs outside the Temple.
Interesting facts about Badrinath Temple
Badrinath and Kedarnath Temple are run by the Government body and there is a special act for these temples known as Shri Badrinath and Shri Kedarnath Temple act.
The head priest of the temple is a Nambudiri Brahman and he is always chosen from the Kerala state. There are strict norms for him while servicing.
On an average 20 crore, rupees are donated to the temple which literally goes in the maintenance and salaries of the priests.
%CODE2%
Places to stay at Badrinath Dham
For budgeted stay, there are many Dharamshalas, guest houses, and hotels around the temple. The price for the double room with the geyser in hotel varies from Rs. 1800-2500. Whereas, for a luxurious stay; one can opt to stay at Sarovar Portico. And if you are traveling in season; prefer to get your bookings done prior hand as 10,000 is a huge no for a small town with limited options.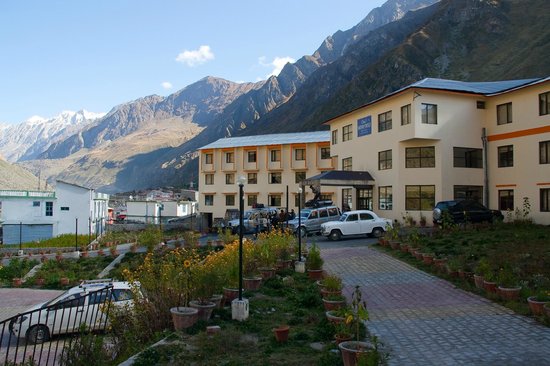 Food in the Badrinath town
One can find a variety of Dhabas and restaurant serving Indian food, but don't expect the quality to be too high. So, just look for a clean place and feed yourself and do ask or check the prices before ordering.
Another option to travel to Badrinath Dham
There are several private as well as government companies running Char Dham yatra service by helicopter. And the prices for each vary drastically. Here is the link for Uttaranchal Tourism.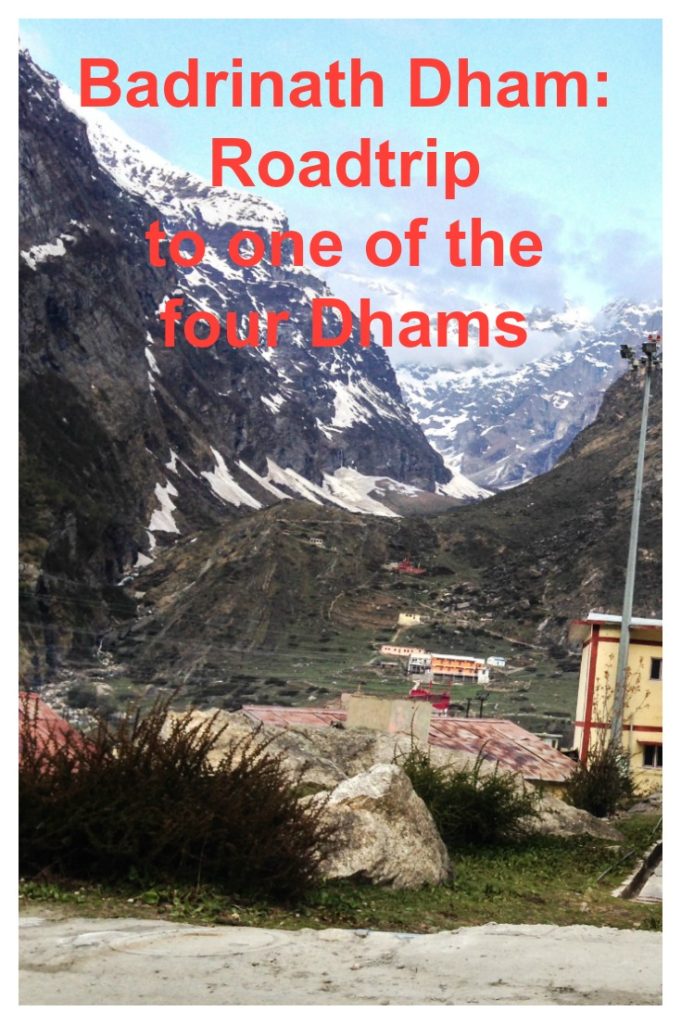 Overall, I will say the Badrinath Dham is a must visit. Don't wait for the old age. Go, when you are young because there is so much around to explore and see. When around also visit Mana Village and Valley of flowers.
You can read about Uttarkashi: the entrance to Char Dhams of uttarakhand here.