As we were heading to Spiti Valley from Kinnaur, the road was curling and getting narrower through the wide valleys, the wind was flowing through the mountains, and I looked out through the window of my car in astonishment that how the lush green mountains were taken over by arid huge mountains. There were no people and vehicles around, only we, the nature and sky in its quintessence form. So, ideally, we should say it was a "Drive to No Land". Finally, we saw the colorful Buddhist flags fluttering over the peak and a small village popped out nestled among the barren Himalayas. It was none other than the Heritage Nako Village which is well known for its Nako Lake and centuries old Nako Monastery.
https://www.instagram.com/p/BQp858Qh50n/?taken-by=suruchimittal
Distance: From Delhi- 671 km; Shimla- 331 km; Sangla- 129 km; From Rekong Peo- 103 Km
Route from Delhi: Delhi – Chandigarh- Shimla – Rampur – Chulling – Karcham- Kalpa- Spello – Pooh -Nako
The ideal time to visit Nako Village: April – October. Avoid traveling during winters as there is heavy snowfall and roads get closed.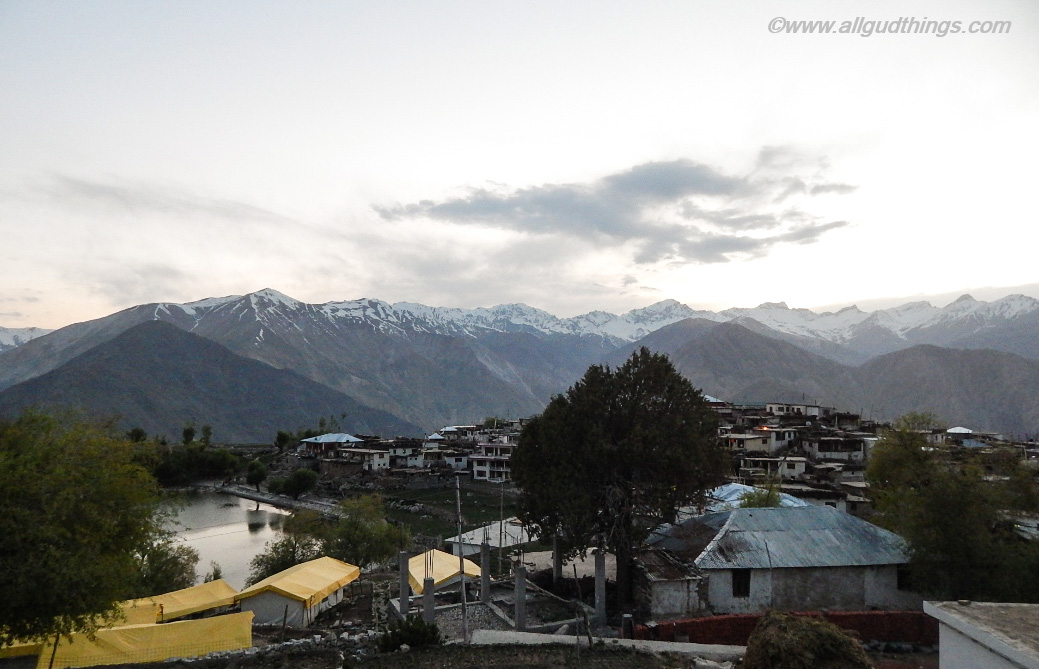 Nako Village; Himachal Pradesh
The word Nako comes from the Tibetan word "Nego" which means Door to Holy place.
The small picturesque green Nako Village located in Kinnaur district is perched on the banks of Nako Lake at 11,893 feet. It lies in the Hangrang Valley and has an extraordinary backdrop of majestic Reo Purgyal (22,632 feet), which is the highest mountain of Himachal Pradesh. The Nako Village is a part of restricted zone along the Tibet border. Foreign tourist needs to take an Inner Line permit from DC office at Shimla, Kullu, Manali, Rekong Peo or Kaza for visiting and staying in this village and it is valid for two weeks.
https://www.instagram.com/p/BVKLlz3hcRU/?taken-by=suruchimittal
The Nako Village is a glory with maze cobbled lanes and further by lanes. The traditional houses are made of stone and mud which remain warm in winters and cool in summers. Summers are just for the say; as the maximum temperature in peak summers here goes to 20 degree Celsius. The doors are made of stone and wood and are painted from inside with the Buddhist inscriptions. Gradually; the concrete and more modern houses too have come up with the trolling tourism.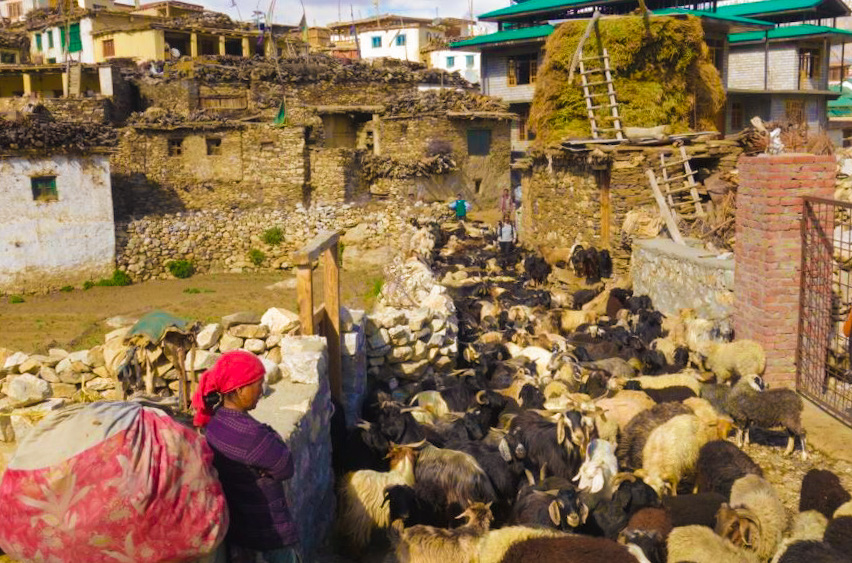 Solar panels are installed at many places in the village to reduce carbon emissions from firewood. Villagers and their chief strongly believe in making the place environment-friendly, as they clearly understand that Nako village lies in seismic zone 5 and too much environmental disturbance can lead to severe disaster.
The Prayer wheels, flags and Mani stone mounds are seen around for the peace and prosperity of the village. The villagers have Tibetan features and burnt complexion, as they love soaking themselves in the direct sun during days and fire at night.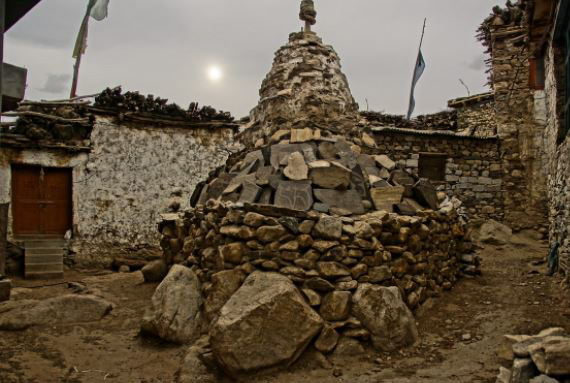 Most of the villagers are shepherds and have herds of cattle, goats, sheep, and donkeys. They have plantations of peas, carrots, rajma (pulses) apples and cherries. The Nako village, villagers practice Buddhism and speak Hindi and Bhoti. (Bhoti is a dialect of Tibet)
The greenish blue lake, vast azure sky and the open expanses around the village make it a tourist as well as photographers paradise.
Attractions at Nako Village Himachal Pradesh
Nako Lake
The Nako Lake is just like an oasis in between the naked mountains. It is oval shaped, seasonal Lake with a small walkway along. The thick canopy of Willow and Poplar trees surrounds the Lake periphery from all sides giving it a bluish green color. The Lake is sacred, as Saint Padmasambhava is believed to have meditated here.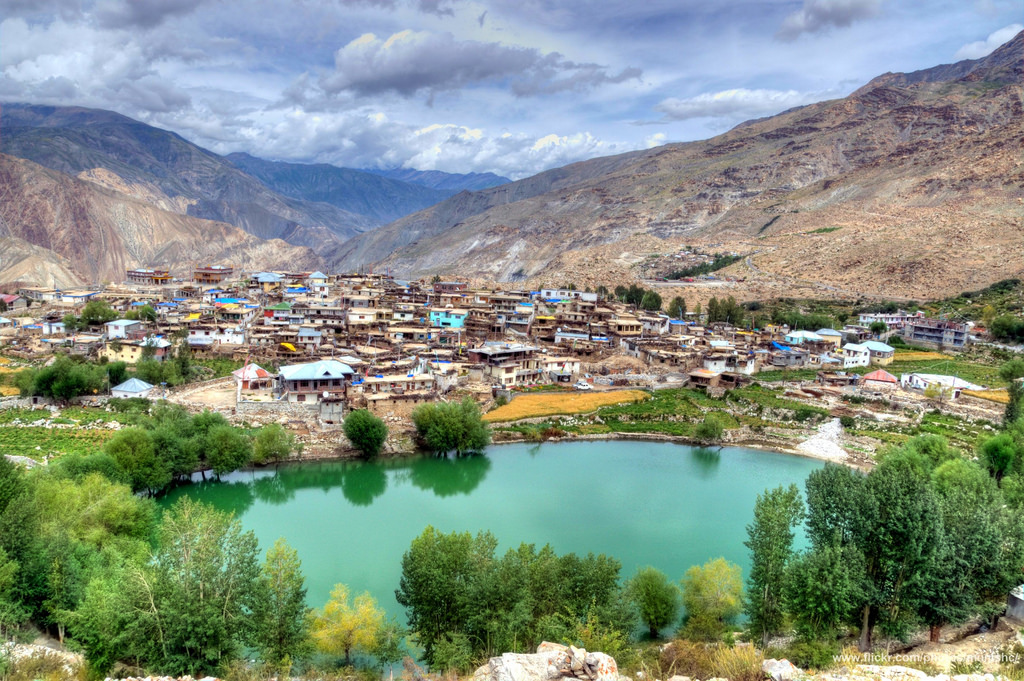 Padmasambhava Temple at Nako Village
Just close to the Nako Lake lies Padmasambhava temple; which holds his idol and foot prints on the stone dating back to 8th century.
Nako Monastery
Rinchen Zangpo also known as Ratna Bhadra; translated all the Buddhist scriptures from Sanskrit to Tibetan and established 108 monasteries in this region in the 11th century. Nako Monastery is one of those monasteries. Monastery has bright artwork, centuries old sculptures, idols, and murals in it. During 1975 earthquake, the roofs and artwork of monastery were vandalized. Further, due to extreme winters in 1998, the monastery was at the urge of collapse. In 2002, Nako Preservation Project was launched to restore the Nako monastery and other affected buildings and today this monastery stands well in a restored condition. (Note: Photography is strictly prohibited in the monastery).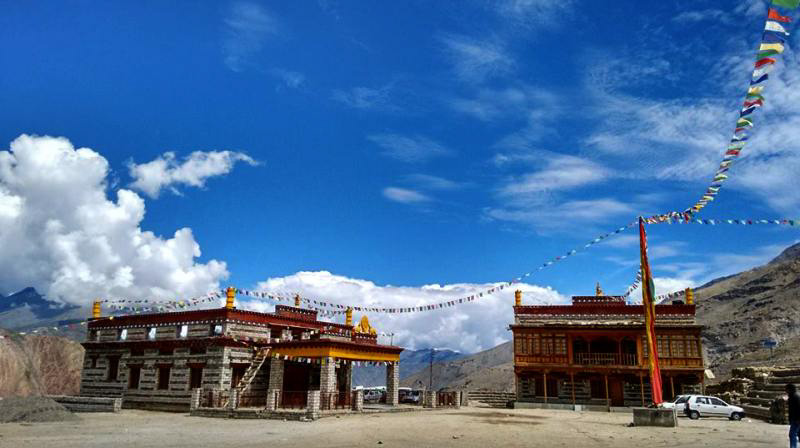 Chango Gompa
The Chango Gompa lies on the Spiti road at Chango. It has 500 years old prayer wheel which is 3.5 meters in diameter. The Chango village is famous for apricots and apples.
Accommodation at Nako Village Himachal Pradesh
The budgeted home stays, hotel Reo Purgil and Knaygoh Kinner Camp are the only options for accommodation at Nako Village. The price for Homestay starts from Rs. 200 and goes up to Rs. 650/- whereas in the hotel and camps it goes up to Rs.4000/-. We stayed at Knaygoh Kinner camps and it was worth every penny. The camps offer a panoramic splendid view of Nako Village and snow capped; arid Himalayas.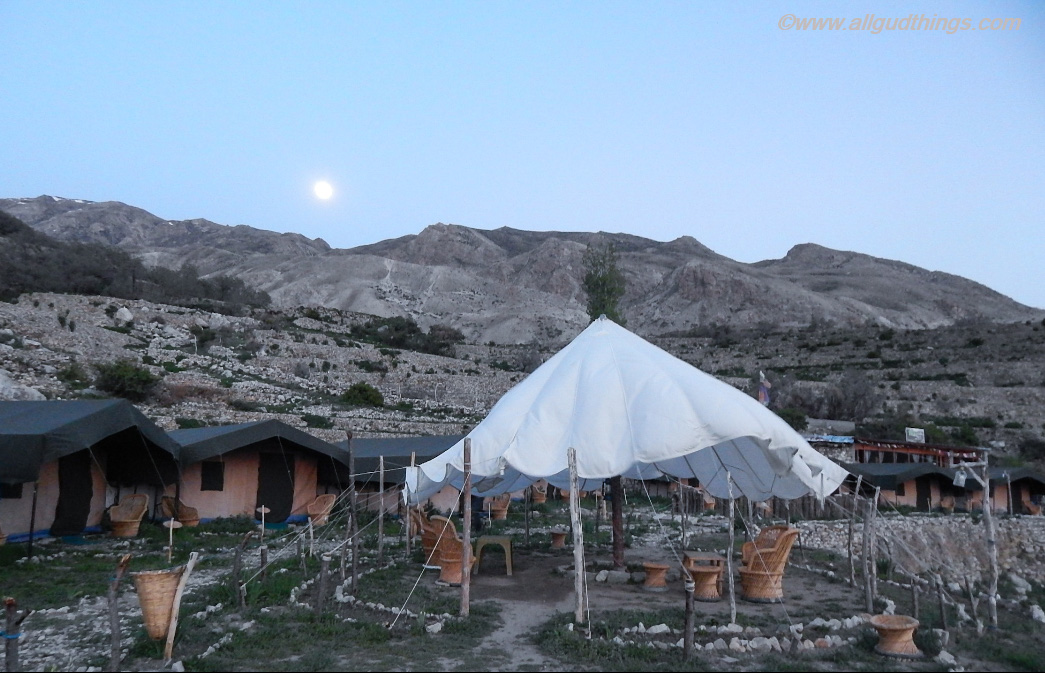 Food at Nako Village
The locals run small Dhabas and serve momos, chowmein, maggi, soup, Rajma rice and Parantha as a menu. At Reo Purgil and Knaygoh Kinner camps, one can get to taste the local, Indian as well as continental cuisines.
Travel Tips for Nako Village Himachal Pradesh
Roads are perfectly built but narrow. So, prefer driving up and down only during day times. Moreover, nothing beats the day views of this valley and we are sure you cannot afford to miss them.
Nako Village lies in a rain shadow region. Always there is an overcast of clouds but rains happen unlikely. The rain usually happens in the form of snow here.
In the evenings and mornings temperature dip variably in summers too, so always carry sufficient woolens along.
Always walk clock wise around Buddhist temples and shortens, keeping your right side facing them. Don't touch stone mounds and prayer flags with the left hand.
The Youth social club puts real efforts to keep the village clean and eco-friendly. They have installed dustbins throughout the village. So, use them to throw the waste.
Avoid using poly bags. The members of youth club encourage villagers to use cloth bags instead of poly bags and they have distributed them too.
Wood is the most expensive thing in Nako. You may have to pay additionally for the bonfire.
Avoid playing loud music especially at night.
Before leaving for a road trip, get your vehicle properly inspected and keep it equipped with the required accessories.
Do spend a night at Nako, to experience the heritage, spirituality, and tranquillity of nature. There are never ending mountainscapes, which leaves you wondering every way.
We left Nako Village with a broad smile, thinking to return back soon. What do you think about this heaven?