Leh Ladakh, the land of high passes is not only blessed with natural beauty, unbelievable landscapes, blue Rivers and sand dunes but it has some absurd stories or notions linked to it too. Are you amazed reading the word stories? Even we were, when we first heard the story from a truck driver while crossing the Gata Loops located on Manali Leh Highway. And imagine, today, this place is famous among the national as well international tourists.
On Manali – Leh Highway
While driving back from Nakeela (third highest pass) to Sarchu, we saw the milestone Gata loops ends here. Next read the line 21 loops at an altitude 15302 feet. I looked towards him (Tashi) in daze, are we going to cross this.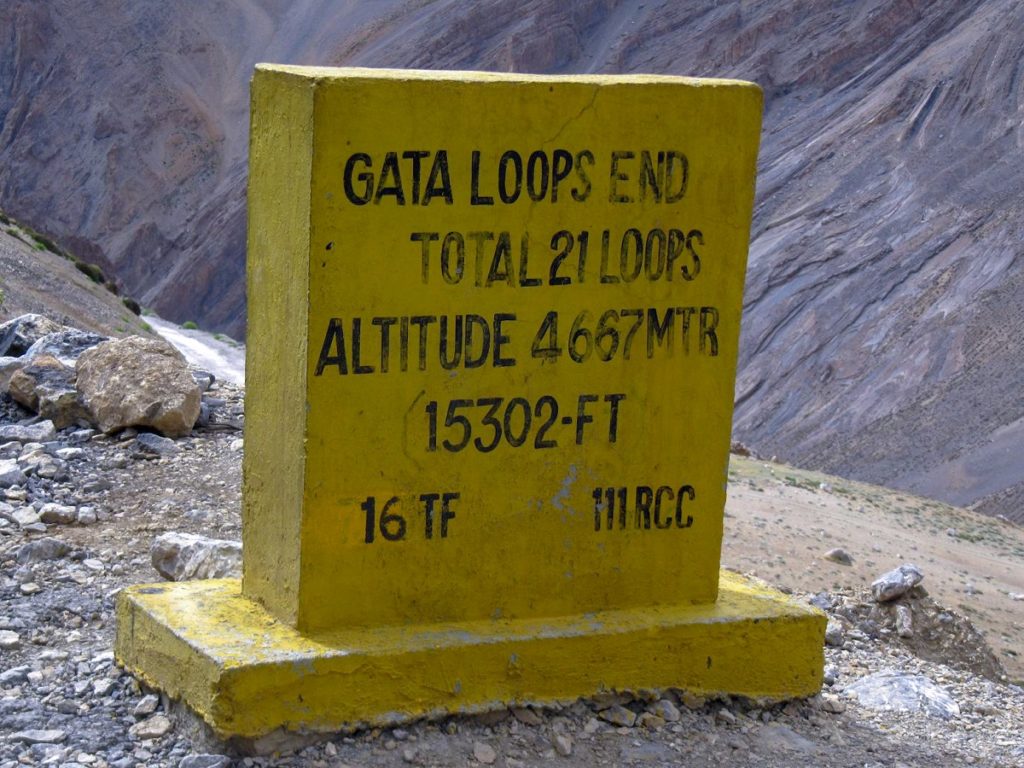 He – I guess so as the milestone says
Me– The serpentine road down there. It looks as it will take us to the River bed
He – Looks so
Note: Gata Loops ie. 21 hairpin bend road extends for almost 10 kilometers. You start at 13780 feet and ends at 15302 feet, so there are high chances of getting affected by AMS. (Altitude Mountain Sickness)
And from there, started our downhill journey on the Gata Loops. On the other side we saw the trucks coming uphill on the treacherous curvy road making quite an effort to climb as compared to downhill ride.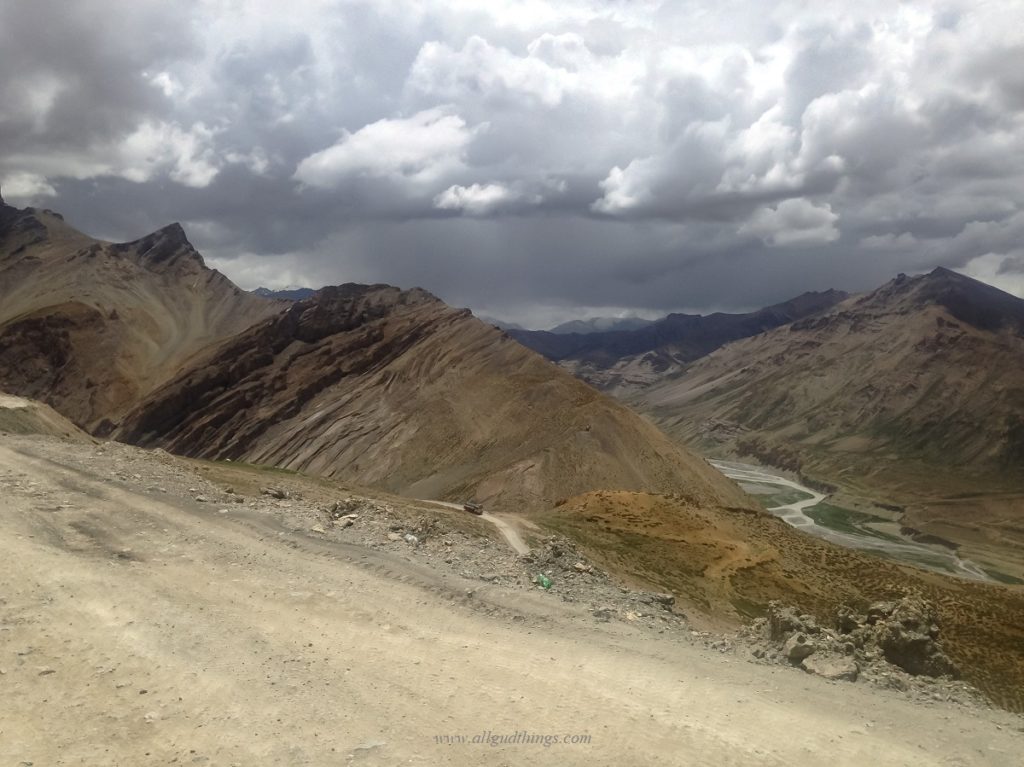 I was totally lost in the shades of landscapes around and was clicking pictures while he was concentrating on driving. There in the middle of these 21 loops, we saw a pile of bottles and a small temple. At first instance, we thought it to be a trash point, so just looked, ignored and crossed without making a stop there but then from the side mirror we saw a truck driver getting out and keeping a filled water bottle on the same trash. This scene left us completely confused. Next minute, we halted, parked our vehicle there and moved towards him to understand the story of adding another bottle to the trash.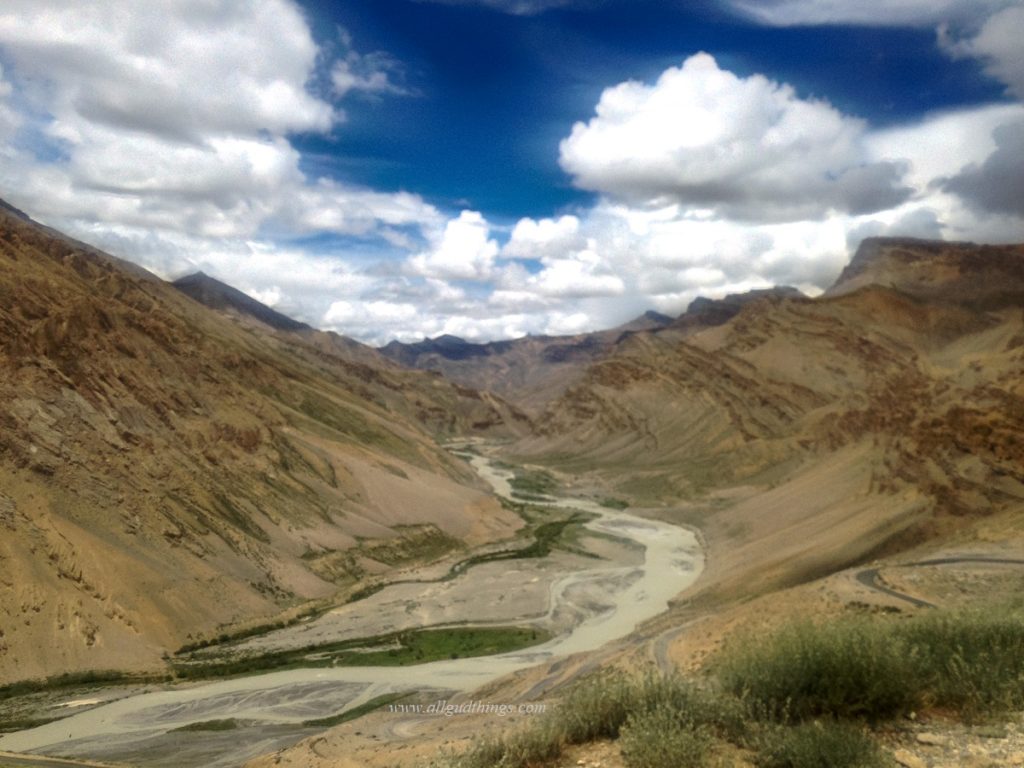 Me – Why are you keeping the filled water bottle here? There are already 100's of them lying
Truck Driver – Madam, are you coming on this highway for the first time
Me– Yes
Truck Driver – That is why you don't know about this place. Passers have to leave something to drink and cigarettes here for the ghost. So, keep anything you have to drink and leave from here as soon as possible.
Me – What Ghost? What is the story behind all this?
The Legend/ Story of Gata Loop
And he started– Years ago, somewhere in October, the truck carrying cargo was driving from Manali to Leh. It started snowing on the way to Rohtang Pass, but the driver and his Cleaner didn't stop there, as they had promised to deliver the cargo to Leh before the highways get blocked by snow. They pushed the truck hard to cross the treacherous pass Baralacha in Himachal to enter Jammu and Kashmir. But who knew the game of destiny ahead.
After crossing Sarchu, they started climbing the 21 hair pin bend, Gata Loops and there at one of the zig zag bend their vehicle broke down. Driver looked at the cleaner and cleaner at the driver with some verbal slangs. Both of them got out to fix the truck in the bone soring wind, but the truck couldn't be fixed. They waited for hours for some vehicle to arrive from front and back who could help them in fixing the problem but none of it arrived. It made them come to conclusion that the passes from both sides have been blocked by force of nature.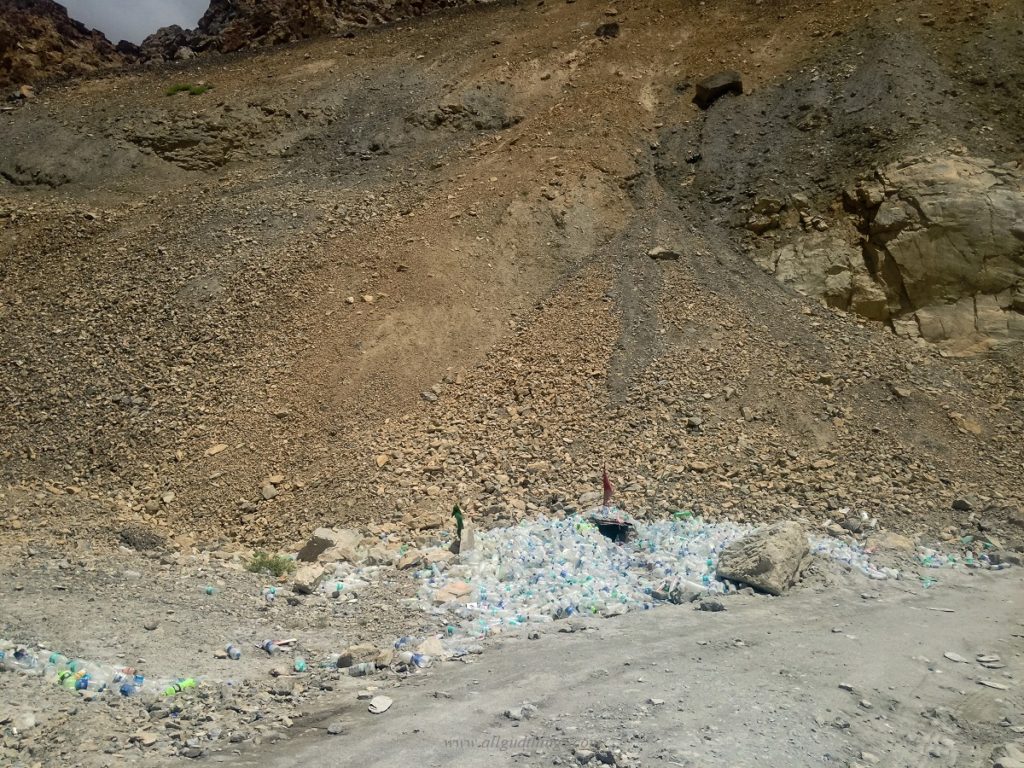 Seeing the condition, driver made a decision to walk down to the nearby village for help, leaving cleaner behind to take care of the cargo. Driver walked miles and reached a small village but alas there was no mechanic in the village. He continued walking to reach another village and finally he got help there. Driver requested the mechanic to walk with him there itself but seeing the weather conditions he advised to go once the snowfall stops and weather gets better.
The weather turned better next day and they left to reach back the place. It took them several days to reach back and as they reached the site, driver was left completely dismayed. His Cleaner was NO MORE! The poor soul had passed away in a lonely place, in freezing temperature without food and water, guarding the cargo. With a teary eye he decided to perform his last rituals and buried his body at the same spot.
The absurd notion started next year, after the highway got opened. The passers started hearing strange voices and some even noticed a beggar demanding water on the way. Those who gave water bottle, saw the bottle felling from his hands and then re demanding. Whereas others who didn't offer him water, either got affected by AMS (Altitude Mountain Sickness), injured or even died.
We kept listening and looking at him while he kept smoking and glaring at the landscapes around.
Me: Have you ever seen that beggar or sensed anything fishy while crossing this highway
Truck Driver– No madam. We always keep a filled juice or water bottle here
Me – Okay Brother. Thanks for narrating the story. Wish you a safe journey ahead.
After bidding him goodbye, our curiosity had increased certain folds and we were tempted to have a closer look of the place. There were several dozens of sealed bottles lying around a small built up hut, and the hut had a red flag on the top. I peeped inside the hut and saw the most astonishing thing – a human skull instead of deity. From there I turned back and stood far on the other side of the road. After calming myself down and getting back to the senses, I looked at Tashi. He was literally laughing at me.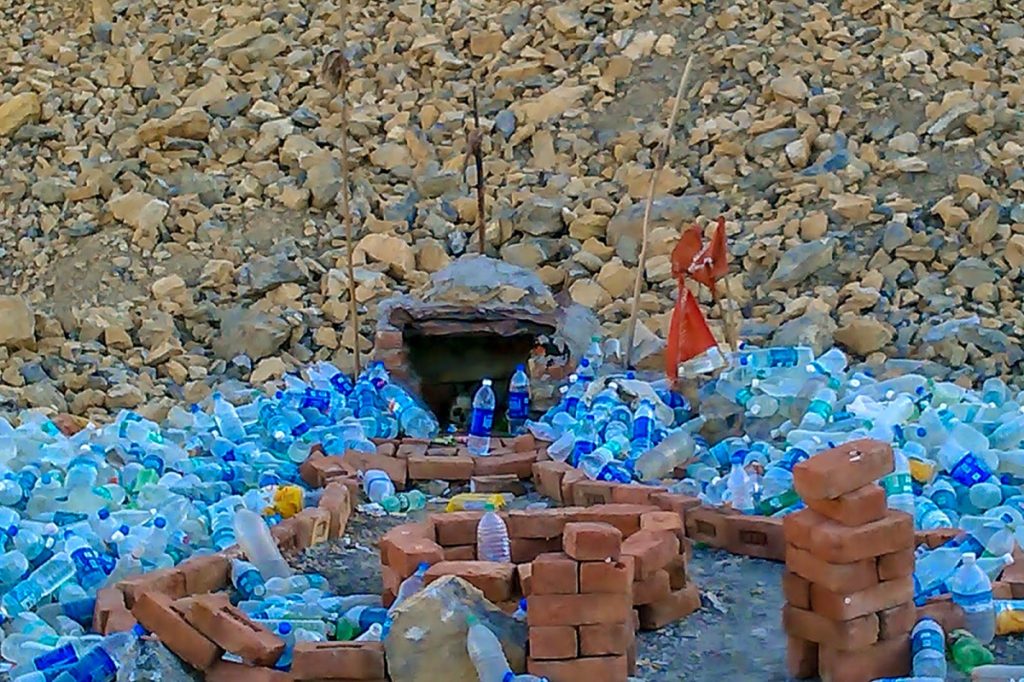 Our Version of story
This whole looked like a cooked up story by someone and now the same had spread like a fire among the locals and travelers. For us, it was a completely eye soring experience. We were highly disheartened after listening the disbeliefs people had made and seeing much of trash among the beautiful landscapes. Honestly, we didn't offer any water bottle; neither we saw any beggar nor experienced any sort of negativity around. There were only unbelievable landscapes and cool fresh air around to take your breath away.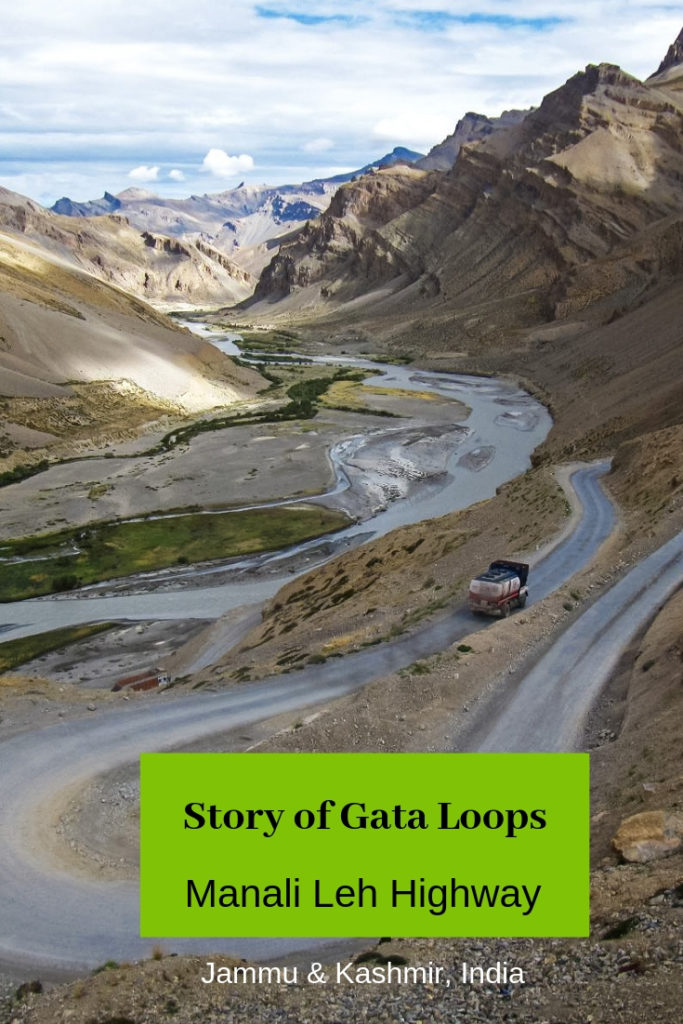 So, what do you think about this? We think the tale of Gata Loop is another mysterious tale. We request all the tourists and travelers to stop believing what drivers and locals narrate to them. Be positive and avoid littering the place by bottles and cigarettes. This small effort by all of us can surely save the beautiful mountains and landscapes.
Also, if you have heard any another version of this story or experienced any negativity while travelling to Leh Ladakh do share with us in a comment box.
You might be interested in checking our other posts from Leh Ladakh
Leh Ladakh Road trip from Delhi
A walk with Indian soldier at Kargil War Memorial
Nubra Valley: The Valley of Flowers in Ladakh
A day at White Lake Tso Kar in Ladakh
Attractions on the Srinagar Leh Highway
Ladakh-The land of High Passes
All you need to know about Leh Ladakh Inner Line Permit
Do's and Dont's for Ladakh Road Trip
Hemis Monastery: Biggest & Wealthiest Gompa in Ladakh
Sonamarg, Kashmir – The Golden Meadows of India
Bhuttico Kullu Shawls & Accessories – The Gift of Valley
10 reasons why everyone should travel India