Homestay or hotel for tripper is completely one's own choice. Homestay is exactly like B&B i.e. Bed and Breakfast. In Home stays you are accommodated as a guest in a private room with an en-suite bathroom and all sorts of luxuries. They are usually run by the homeowners who enjoy welcoming and interacting with people. Homestay does offer some advantages over hotels along with comfort. One gets to know more about the local tradition and culture as compared to staying in the hotels.
At Ranikhet all types of accommodations are available and for the first time, I choose Valley View Homestay Ranikhet over hotels to have a different feel. The gesture offered was up to the saying Athithi Devo Bhava which means the Guest is God. The staff and homeowner both considered an honor to have us as a guest at their place and they made all efforts to make our stay cozy and comfortable.
Valley View Homestay, Ranikhet
About
The Valley View Homestay, Ranikhet is located on the National highway between Almora and Ranikhet, approximately at a distance of 6 km from Ranikhet Golf course. It is a quiet place curated with love, labor, and patience.  Each point gives you views of lush green wide valley decorated in pear, apricot, peach and apple trees. In the evening sky in painted beautifully in hues of red and orange. At night the village lights, give the feel of twinkling/flickering Diwali Diyas from the balconies. If it's cloudy than for seconds you feel you are floating among those. It is a bird watching paradise for bird lovers.
Rooms & Tariff
There are 7 rooms from deluxe to honeymoon suites and tariff for each range from Rs. 2500 – Rs. 4500/-. Each room has its own aroma and gives a different view of mountain peaks and valley.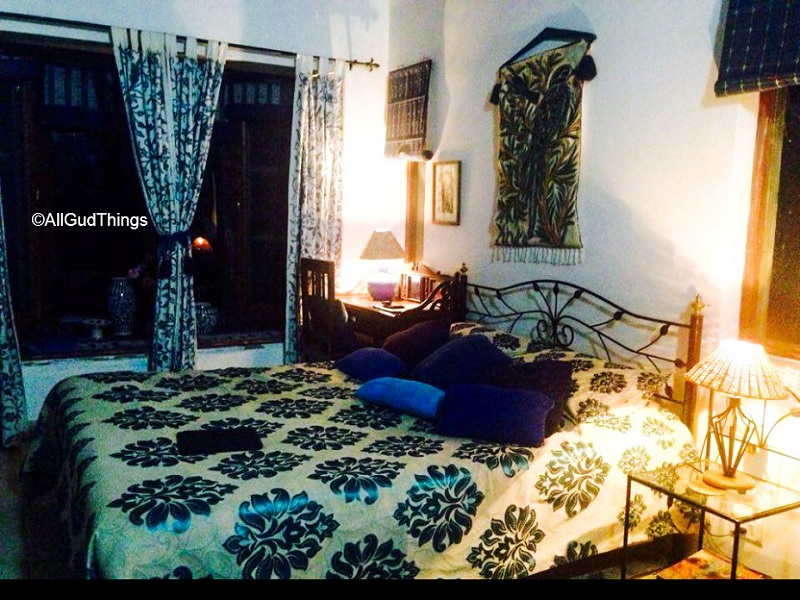 Amenities
Amenities at Valley View Ranikhet included everything (TV, the Internet, Power backup, Laundry service, room service etc) to give you a real home feel. Rooms are clean; linen is beautiful and crisp with matching decor.  Bathrooms are well lit and spacious. There are so many cozy corners to curl up with a coffee mug and enjoy the nature to fullest.
Food
For food, they use local produce, natural ingredients of their own farm. The menu is multidimensional from Indian to Chinese to Italian and continental. Each meal is a wholesome preparation from fish and chips to macaroni. Snacks are served in the rooms whereas meals are served only in the small polished dining area.
The Cafe
Adjoining rooms, there is The Cafe an ideal place to munch over homemade cakes, pies, muffins and Cafe special platters. One can also buy local made chutneys, pickles and jams too.

Some places nearby:
Ranikhet Golf Course
Local Ranikhet market for Kumaoni specialties
Orchards and Gardens
KRC Museum and War Memorial
Jhoola Devi Temple