Millions of years back, India as we know it today, drifted towards Asia in the Tethys Ocean. Upon collision, the silt from the ocean bed rose and gave way to the majestic Himalayas, and there evolved the Spiti Valley. In these valleys there stands a village known as Fossil Village Langza. Walk through the village and you will find a surplus of marine animals and plant fossils.
The Village Langza lies immediately at the base of Chau Chau Kang Nilda peak (20,679 feet), near village Kaza of Spiti Valley, India. The peak acts as a sole water source for the village, throughout the year. So, every summer some villager goes upstream to check the water stream route to be unobstructed and clear. From there started the interesting tale of Chau Chau Kang Nilda Peak.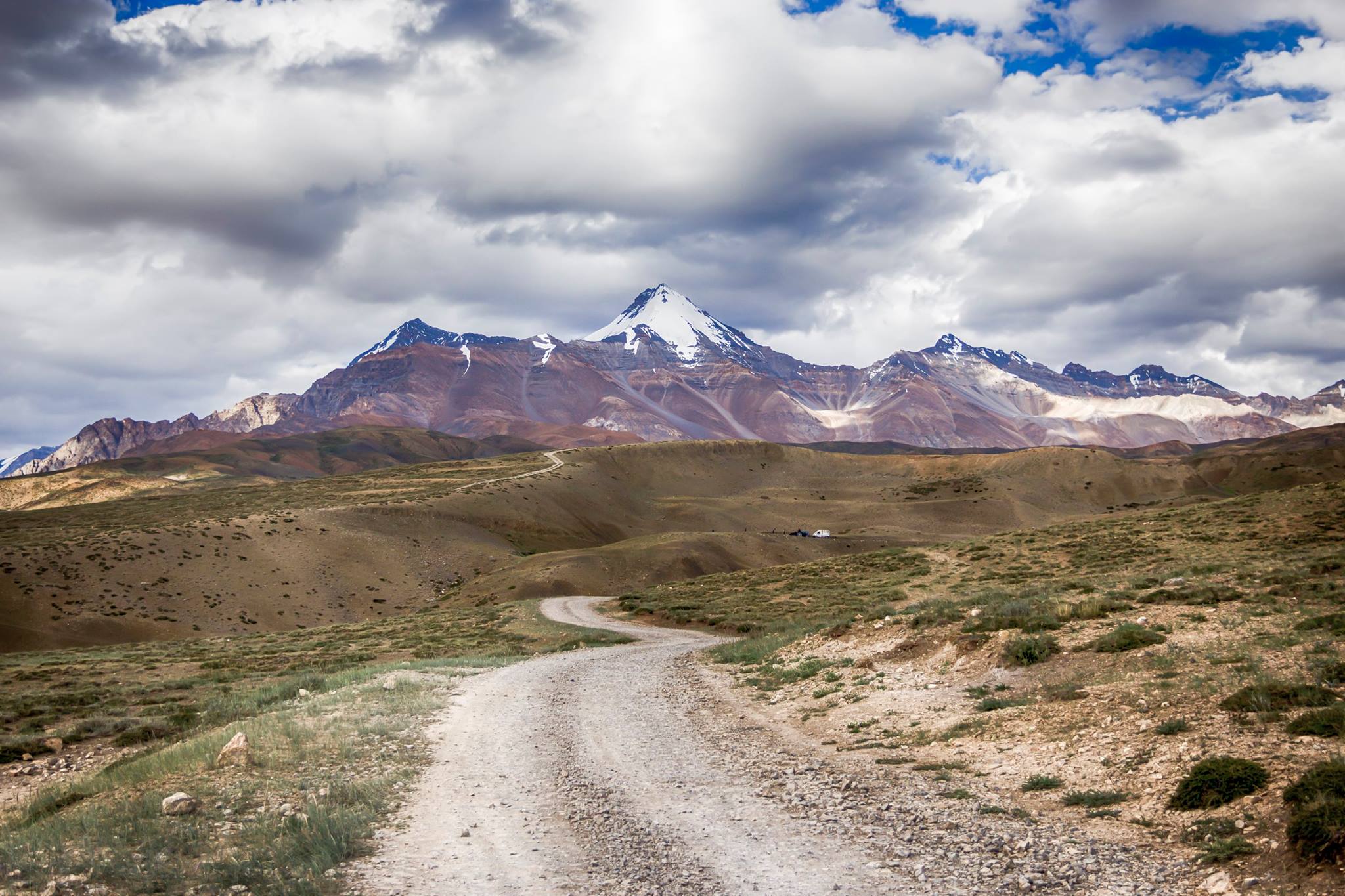 Chau Chau means Young Princess, Kang means snow-capped mountain, Ni means sun and Da mean dawn. So, this princess snow-capped mountain shines both during sun and moon. It is also known as "Guan Nelda" or "Blue Moon in the sky".
Check: Spiti Valley in Photos
Story of Chau Chau Kang Nilda Peak
Every summer in order to check the water supply and as a tradition, one villager by turn had to go upstream, and this time the work was given to a lazy flute player Landup. Without heart and lazing around here and there, he went off to the base of the mountain to check the stream. After checking, he sat at the base of the mountain and started playing his flute. Whenever he used to play he used to get lost in his own world and the similar thing happened this time too.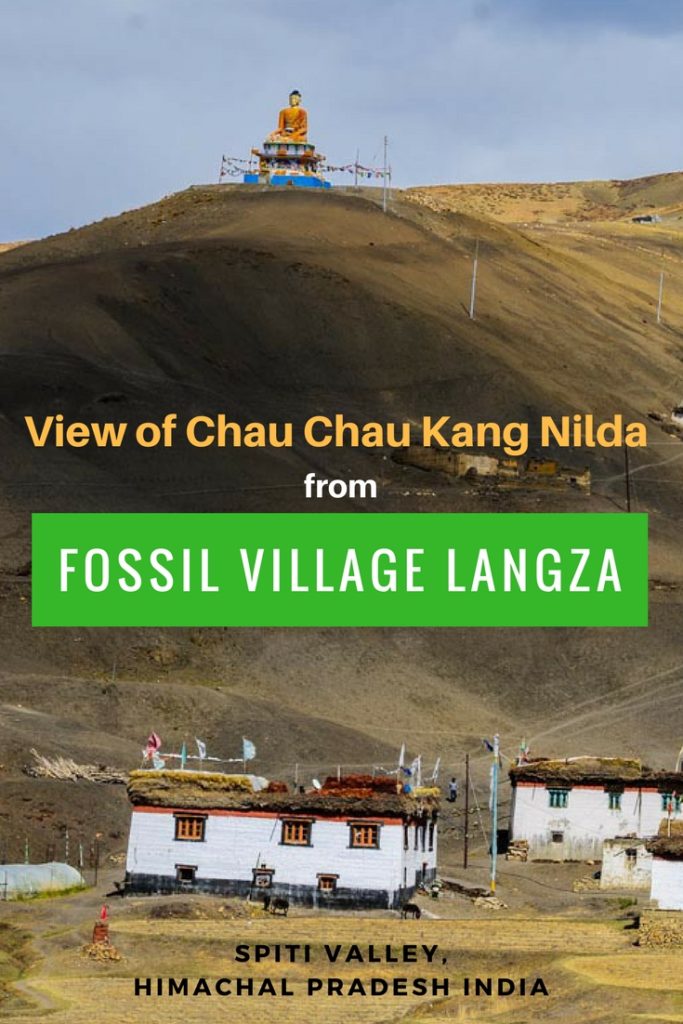 As he finished playing, he opened his eyes and saw an ethereal beauty standing right in front of him. With a broad smile and transfixed gaze, she requested him to play it again. He was so impressed by her beauty that he couldn't refuse and started playing again.
And then she said – "I am Chau Chau Kang Nilda fairy princess. Come here often to play this tune and I would love listening to it"
He turned back home and started waiting for the next summer to go back upstream. He went every summer upstream and played flute there. With following seasons princess and Landup fell in love with each other. But the fairy laid a condition that their love had to be kept secret and for that Landup agreed.
One winter evening when Landup was drunk and lazing around, his wife asked him to go and do some work. Listening, this he got furious and replied that it is better to be with Chau Chau Kang Nilda fairy than to be with you. His wife ignored him thinking to be totally drunk and asked him to stop dreaming.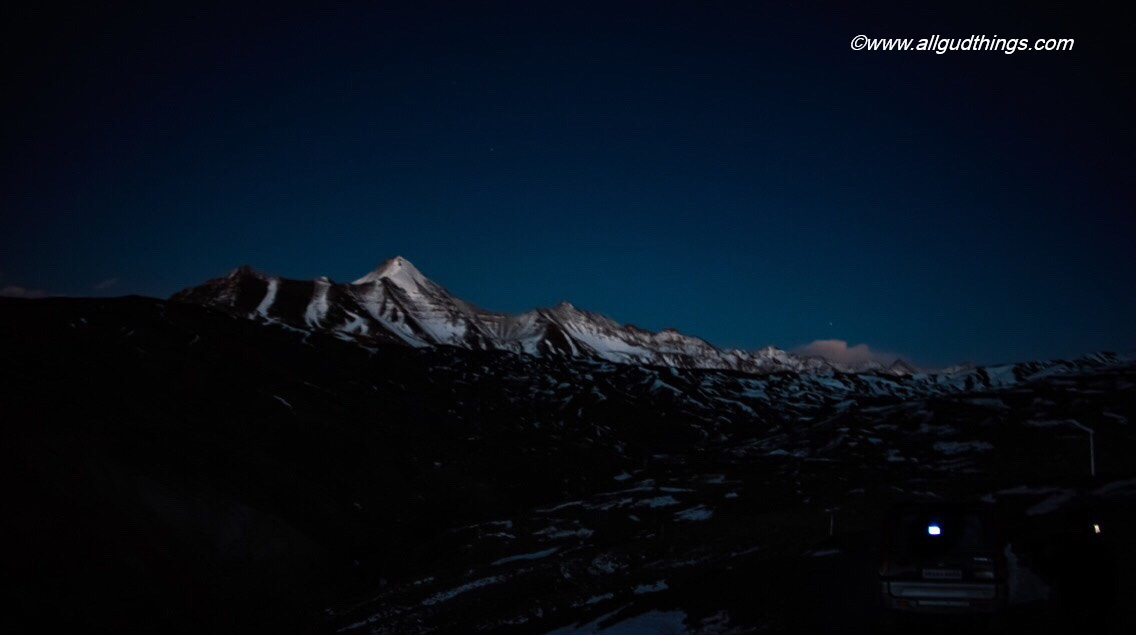 Next morning, Landup woke up covered in boils and pain. He remembered the last night conversation and fairy words but couldn't do anything because of extreme winters. So, he started waiting for summers to come. As summers approached, he ran to meet his fairy love. He played the flute, called her, confessed his love and mistake; but nothing worked. Fairy never turned down to see him. Indeed after that every time he went close to the mountain, the weather turned nasty and cloudy.
Even today, it is believed that whenever a man tries to climb Chau Chau Nilda Peak, the weather turns bad. Fairy's wound has still not recovered. She is still nursing her heart and will never let any man come nearby.
If that is the one mythological story then there are true stories of mountain expeditions too. The Chau Chau Nilda Peak was first climbed in 1939 by James Roberts, who crossed Spiti from Kullu.
Fossil Village Langza
The fossil Village Langza in Spiti Valley is located at height 4400 meters or 14,500 feet, 16 kilometers from village Kaza. The place is guarded by beautiful peak on one side and the huge Buddha statue on others side, to keep the evil spirits away. The bowl-shaped flattened valleys around the village are divine, and completely untouched.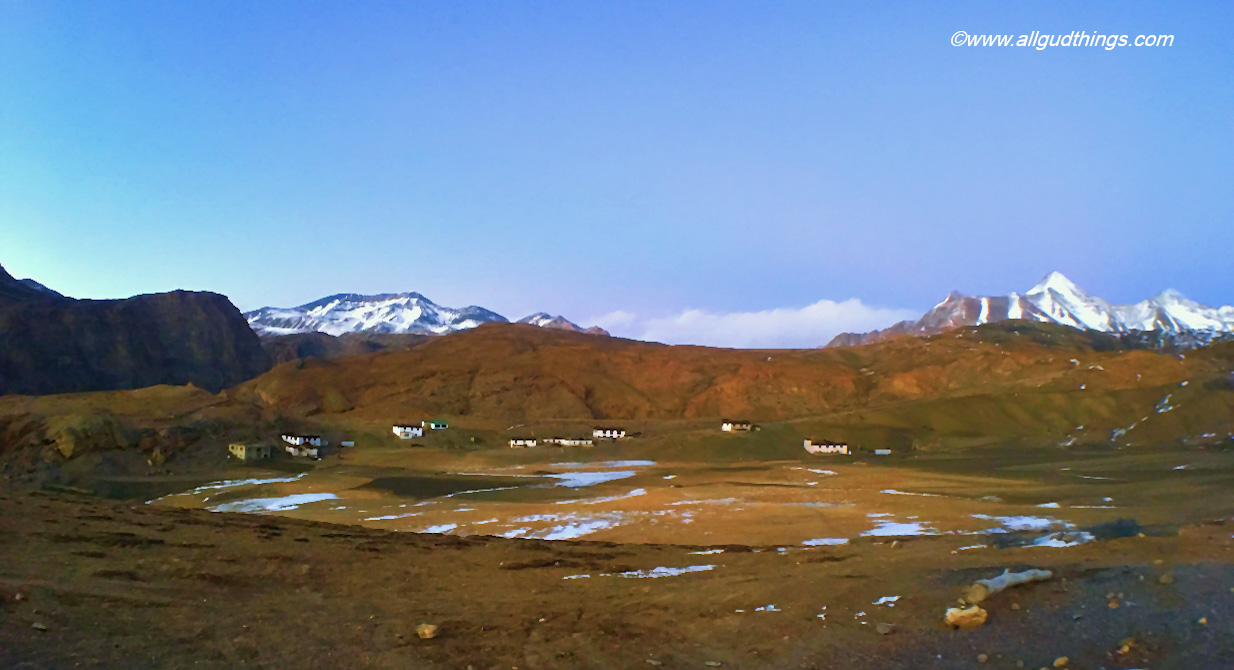 A small remote village usually cut off from the civilization has just 35 houses and a total population of 150 people. It is divided into two parts- Upper Langza, known as Langza Gongma and Lower Langza is called Lnagza Yongma. The village remains snow covered in winters whereas turns completely into green pastures in summers.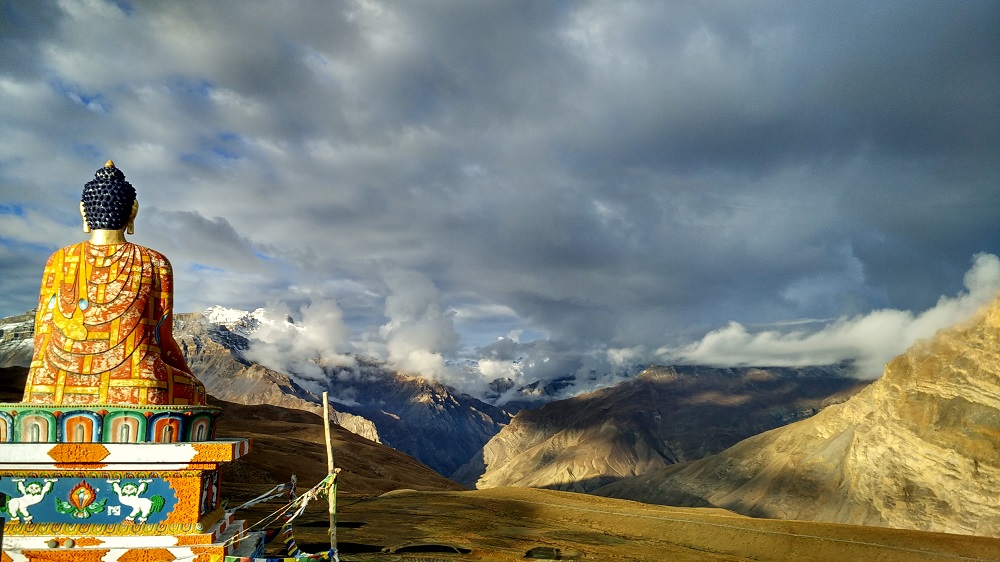 The white and red painted mud houses here are typical Spitian mud houses. They look small and widely spread from each other but are equally spacious inside. The houses are warm, cozy and they gel well with the surroundings. The roofs are covered with a lot of thatch and fodder for insulation. Every house kitchen of fossil village Langza has installed Angithis to beat the extreme cold temperatures. The kitchens have small cloth covered entrances and floors are decorated with colorful yak mats to keep them warm.
Tip: Do remember to remove your shoes before entering the Spiti Kitchens.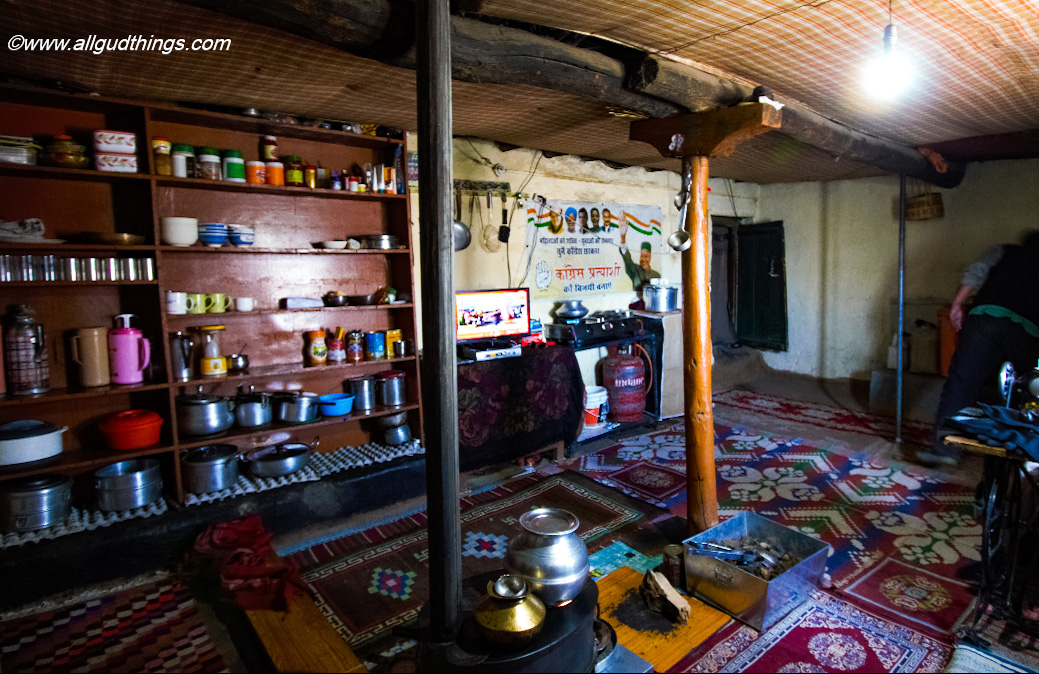 Food and accommodation options are limited in fossil village Langza but who can beat the hospitality of upper Himachali's. They treat you like Kings and can surpass everything to give you comfort. The yak tea with local puffed chapatti is what they can treat you with on a small conversation too.
The Toilets in Langza Village are mostly dry pits toilets, outside the houses.
Birds & Animals around Village Langza
Many national International tourists visit fossil Village Langza in winters to spot the big cat – Snow Leopard. The other animals which can be seen in the months of December, January are Tibetan wolf, Blue sheep, the Himalayan griffon, Yellow-billed Chough, and rock pigeon. And during any time of the year, one can see yaks and sheep roaming freely in herds or with the shepherds.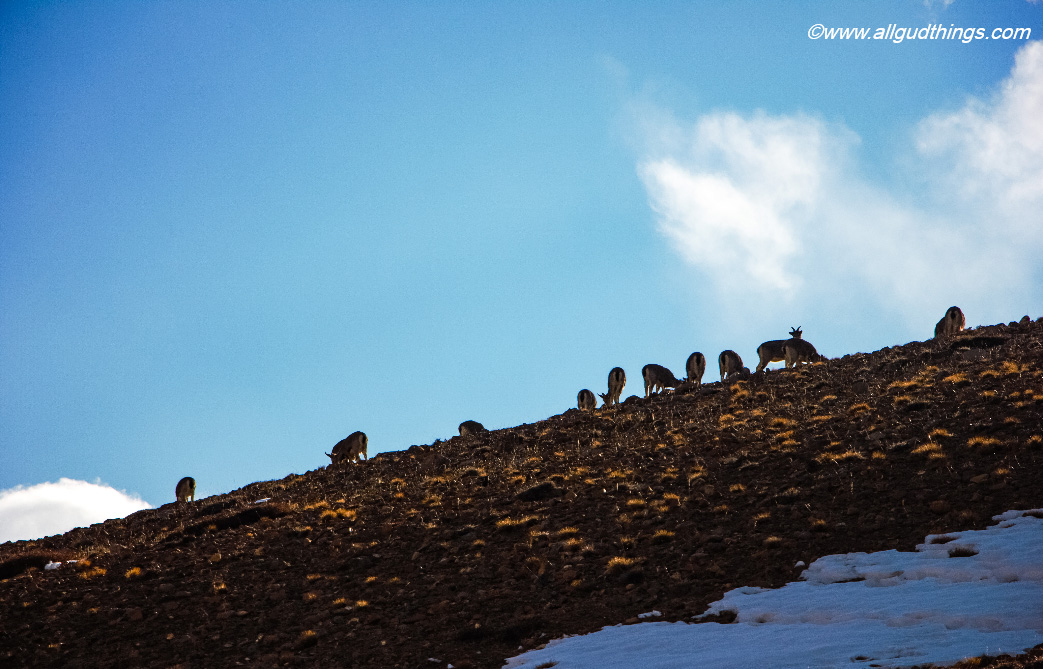 Also read: A must visit Fairyland- Chandratal Lake
Attractions of Village Langza
The village has an ancient Lang or temple 1000 years old, regarded as the headquarters of all the Deities of the Spiti Valley.
Various trekking routes and trails start from village Langza
One can also visit the high altitude lake –Tsonyeti and Chumo Tso. These lakes are around 3-4 hour hikes from the village which is difficult for travelers like us, owing to the low oxygen and high altitude of the region.
The village is a pivot for fossil lovers. The local name of fossil here is 'chaudua' and can be easily found in and around the village. The fossils are Cephalopoda. Do visit the fossil center, also known as Chauda Centre.Source
The other main attraction of Village Langza is Zama Pottery done with black soil collected from the valley. The villagers make Zama pitchers, pots, decorative items, animal figures, sculptures, penholders, lamps, paperweights and clay fossils. These can be seen displayed in their homes for sale
Earlier Zama pottery used to be the main source of income for villagers, but now they have earnings from agriculture too.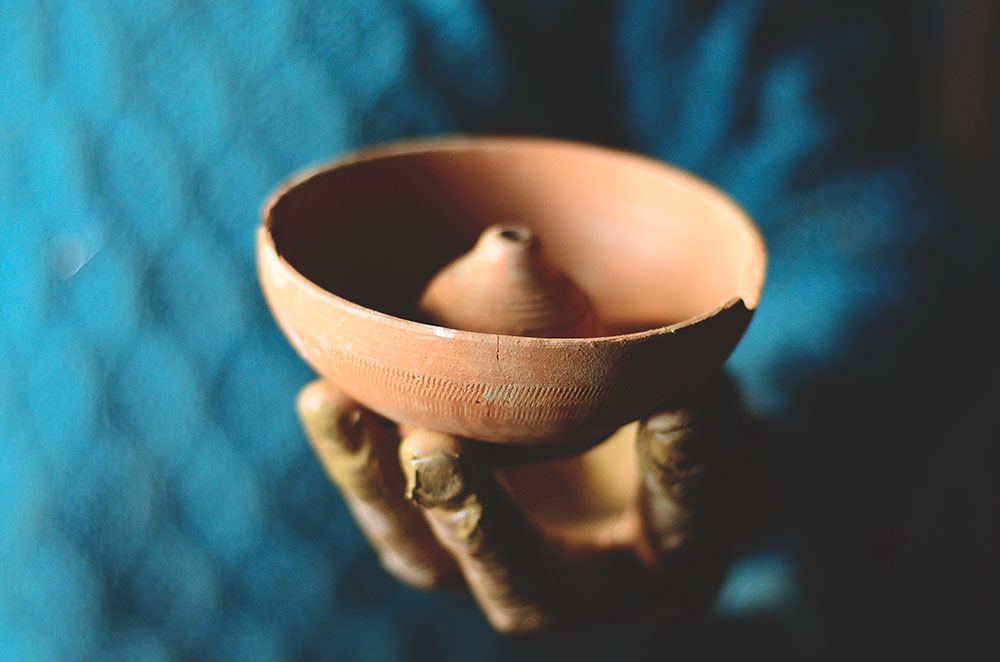 How to Reach Langza Village
The fossil village Langza can be reached by hiking, own car, hitchhiking, or by bus (which leaves on particular days and timings).
Route: While driving to Rangrik from Kaza, there comes a bifurcation on the right side which takes you to the village Langza. The fossil village Langza can be done in a circuit with village Hikkim and Komic.
Roads: The roads are narrow, perfectly paved with continuous ascent and descent. There are few bad patches in between. In winters expect snowfall on this route.
Also Read: 10 days itinerary for Lahaul Spiti Road Trip
Expected Temperature
In winters, days are cold and windy the with a temperature between 0 to -5 degree Celsius. Evenings are extremely chilly in winters and temperature goes to -25 degree Celsius. Don't wait for night photography here, as you may suffer from hypothermia.
In summers, days are warm but the night temperature goes below 5 degree Celsius
Best Season to Visit
May to September but if you are crazy like us, then winters too is good, as you will see the different face of this snow land.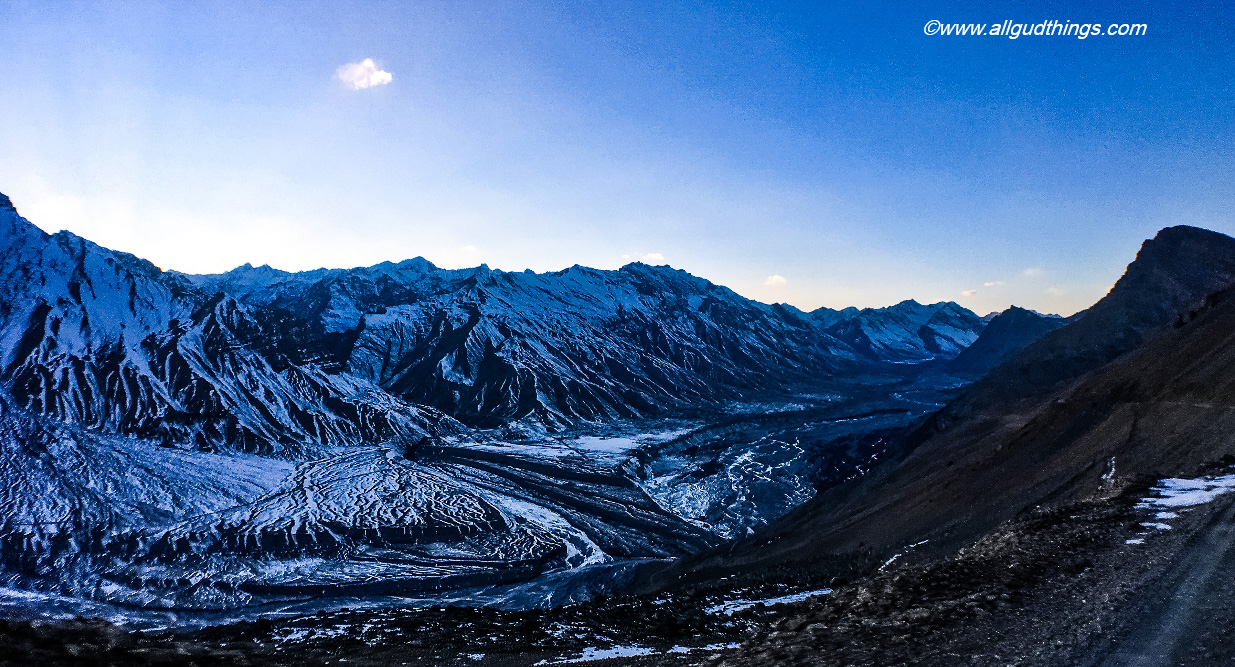 Important Points:
Food and accommodation options are very limited.
Only a few homestays are operational in winters
Avoid driving after sunset as roads are really narrow
Do spend a night with locals to experience the local traditional culture
Buy some local craft, Zama pottery, for locals earning and livelihood
Visit Spiti Valley and Langza village in winters, only after planning.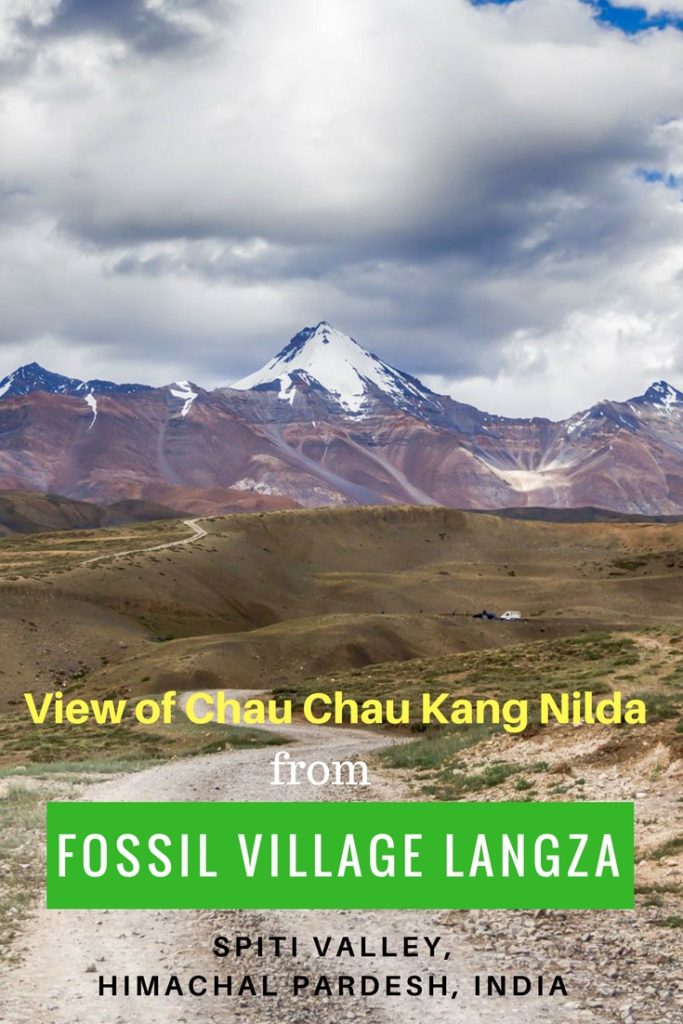 So, the village is a charming beauty with ancient buildings, old monasteries, snow-capped peak Chau Chau Kang Nilda, green meadows and bowl-shaped plains. Also, the land takes you to the prehistoric era, when Spiti valley was submerged under the Tethys Sea.
If you like it, please share it further.
Also Read:
A walk to the Nako village, Himachal Pradesh