It was 2:00 pm, our guide called our names and we ran to find the perfect seat in the canter. There was some different sort of enthusiasm for the Jungle Safari in tiger rich Ranthambore National Park despite the one we had done earlier at Sariska National Park.
Our guide checked our ID's and in minutes we had hit the road & our canter started swaying on the laden paths of Ranthambore. Just a few Kilometers ahead from the registration counter, and we entered the enclosed Jogi Mahal Gate and then an old gate decorated with one of the oldest Banyan trees for Zone 3. On one side stood the grand Ranthambore fort whereas on another side the crazy enclosed wild world. My eyes were transfixed to the door. It looked extremely magical. Indeed, Tashi was mocking that have you got some binocular power and will trace the tiger from far in the jungle.
From there on our canter started noodling on the dusty narrow roads and guide took his position to be in action. And in the next 5 minutes, he noticed some animal sitting in the old structure. Stop there, he said and everybody in the canter started gazing in the pointed finger direction without blinking. In the bold tone he continued, look there – There is something. Oh really, What? Everybody stood up and started moving here and there to find is it Jungle King or Queen in its natural habitat. It was far from us and completely camouflaged, but did it came out to break our suspense?  Could we find what it was? Wait to know the complete story! And before that, let's learn a little about Ranthambore Tiger Reserve and the jungle safari there.
About Ranthambore National Park
Ranthambore national park lies near Sawai Madhopur in Rajasthan, North India, between the Aravalli and Vindhyan Mountain Range. It has got its name from the Ranthambore Fort located within the jungle. The national park was initially spread over 282 km2 but today it covers an area of 1334 km2. In the year 1955, it was just a hunting ground for the Jaipur Royals and today after all the measures it is one of the biggest national parks in the world with numerous types of species, flora and fauna.
Looking at its history year wise
1955– Established as Sawai Madhopur Gaming Sanctuary by Government of India (GOI)
1973 – Declared as the Project Tiger Reserve
1 Nov 1980 – Became Ranthambore National Park
1984 – Adjacent Forests were declared – Sawai Man Singh Sanctuary and Keladevi Sanctuary
1992 – Tiger Reserve was expanded. The adjoining Keladevi Sanctuary was merged in the north and Sawai Man Singh Sanctuary in the south. And the total area became 1334 km2.
Today the Ranthambore Park is divided into 10 zones where the Zone 1-6 are designated as the "core zones" and zone 7-10 are known as the "buffer zones", and note that all zones have tigers.
Ranthambore forest is highly rich in flora and fauna. The vegetation here is almost dry deciduous type, because of the scanty rainfalls. Dhok' (Anogeissus pendula) is the most prominent tree in the forest and it constitutes about 80% of the vegetation here. Apart this, there are several medicinal plants (like Neem (Azadirachta Indica), Babul (Acacia Nilotica), Gum (Sterculia Urens), Kadam (Authocephalus Cadamba), Khajur (Phoenix Sylvestris), Khair (Acacia catechu) and fruit trees (like Mango, Jamun, Ber, Tamarind, etc) in the forest. Also, the national park is home to the oldest Banyan trees.
The unique climate and vegetation of the reserve area makes it an ideal place for wildlife too and one can get to see here tigers (almost 72 in total park), leopards (3-4 times the no. of tigers), fishing cat, sloth bear, striped hyena, jackal, sambhar, spotted deer, crocodile, serpent eagles and variety of birds.
Facts About Ranthambore Tiger Reserve
The Ranthambore Park was once a hunting ground for royals
It is a home to world-famous Machli Tiger also known as the most photographed tigress in the world, Tigress of Ranthambore, Lady of Lakes & a crocodile killer.
Today the tiger reserve has almost 72 tigers here including the cubs
T 84 Tigress also known as arrowhead is the granddaughter of Machli and is exactly like her
Tigers are territorial. A tigress needs an area of almost 20 Km2 whereas a dominant male needs up to 50 km2 or more. Male Tiger never shares his territory, indeed overlaps females territory
Where is Ranthambore National Park
Ranthambore lies at a distance of 14 Kilometers from Sawai Madhopur, 192 Kilometers from Jaipur, 142 Kms from Bhangarh, 166 kilometers from Sariska Tiger Reserve, 255 Kilometers from Sambhar Lake in Rajasthan.
How to Reach Ranthambore from Delhi?
The Ranthambore lies at a distance of 403 Kilometers from Delhi and 393 kilometers from Noida. It can be reached via car, bus, rail or air. The nearest railway station is at Sawai Madhopur and the nearest airport is Sanganer Airport at Jaipur. Further from Jaipur one can opt for frequently running cars, bus or rail services.
We, AllGudThings opted to go by car from Noida and came back via Delhi. So, the route was-
From Delhi (403 Kms)– Delhi – Gurugram –Bhiwadi – Neemrana – Kotputli – Dausa – Lalsot – Sawai Madhopur
From Noida (393 Kms) – Noida – Vrindavan- Mathura – Bharatpur – Bayana– Hindaun – Gangapur – Sawai Madhopur
Road Conditions
From Noida, it is all a multilane expressway journey except few bad patches between Bharatpur and Hindaun. There are multiple tolls in between, almost all charging between Rs. 40 –Rs. 60/-. The important point to remember is not to throw the toll slip beyond Bharatpur otherwise you need to pay the complete amount, as we did. The other route via Gurugram too is a highway and expects a rush beyond Bhiwadi.
Best Season to visit Ranthambore National Park
The best season to visit Ranthambore Tiger Reserve is from October to April. After that the temperature starts soaring in Rajasthan; going between 45 to 50 degrees Celsius. The Park closes down in monsoon i.e. from July to September, as this is considered as the mating time for tigers.
Expected Temperatures
In the month of October – November expect the temperatures between 20 -34 degrees Celsius whereas from December to February it lies between 10- 25 degrees Celsius. In March – April temperatures go high till 35-36 degrees Celsius whereas after that the highest temperature can be above 40 degrees Celsius.
Types of Safaris in Ranthambore National Park
There are four types of Safari options in the Ranthambore Tiger Reserve.
Morning Shift Safari (3:30 hrs.)
Evening Shift Safari (3:30 hrs.)
Half-Day Safari (6:00 hrs. in the morning or evening shift)
Full-Day Safari (12 hrs.)
The Morning and evening shift safari can be done via 6 seater gypsy or 20 seater canter. Both the vehicles are open from all sides for the best views. Whereas the half-day and full-day safari can only be done through gypsy.
Note: All the vehicles are available on a sharing basis as well as per individual or group basis. If you book for individual/ group, then also you need to pay for a whole canter or gypsy.
How to Book Safari at Ranthambore Tiger Reserve?
Ranthambore Safari Ticket or Pass can be booked online via a government portal or several private operators, local safari service booking operators, hotels or directly at the safari registration counter.
Online Bookings
The booking can be done by simply filling the details on the government website portal – or other private operator websites. The simple Details required are Zone (Choose between 1-6 or 7-10), type of vehicle, traveler details, and I – Card details.
We tried the process on both government & private websites and found that the process of booking on the government portal is much more cumbersome but quite cheaper too. Approx. the cost on government portal for morning/evening shift canter comes between Rs. 600-650/- per person whereas the private player's charge around Rs. 1400/-. and for full-day comes around Rs. 7500/- per person, whereas the private player charges around Rs. 15,000/-. Also, on all the tried websites, the gypsy option seems not available. On enquiring the same we got to know, that people book Ranthambore Safari in advance and most of them choose for Gypsy.
Process for Booking on Rajasthan Government Portal
From the top, make an SSO login
Enter SSO ID, password and captcha. If you haven't registered like us earlier, register via Facebook or google
After login go to the Forest & Wildlife application
From there select the one you are looking at – Advanced Wildlife Booking, Current Wildlife Booking, Half Day / Full Day Current or Advanced Wildlife Booking or Tatkal booking
Enter the place, zone, date and passenger details covering name, gender, nationality, Identity card details and the no of cameras he/she is carrying
Enter the Captcha and proceed to payment details
Print your e-ticket with the download option
Note:
The current booking window is open from 10:00 am. Morning shift booking closes at 6:00 am and evening shift booking close at 03:00 pm
The Half/full day booking window is available from 10:00 am to 06:00 pm for next day half day /full day booking
User can't book a ticket again for the same day with the same SSO Id, same zone, same date, and same IP address
Advance Tickets– Users can book safari tickets in advance for 365 days, from the date of booking
Passes of the full day/half day bookings are issued from 5:00 pm -8:00 pm on the previous day of the visit day or from 06:00 am to 01:00 pm of the visit day from the booking counter
The Tatkal booking quota opens 7 days prior to the date of visit and it fills on the first come first basis
Do remember to carry your I- cards or a picture of the same in your phone
For any query or help in booking, you can connect at-

[email protected]
Cancellation of Advanced Wildlife Tickets
All types of Advanced, half-day / full-day wildlife tickets can be canceled within the time frame.
| | |
| --- | --- |
| Cancellation From Date of visit | Refund Amount |
| 271 or more days | 75% |
| 181-270 days | 50% |
| 90-180 days | 25% |
| Less than 90 days | 0% |
Safari Registration Counter, Ranthambore National Park
For booking safari at the registration counter be ready to stand in a queue in the afternoon and get up early for the morning shifts. Also, the chances of getting pass purely work on first come first served.
There are fixed operational timings and the schedule for it vary according to the months.
| | | |
| --- | --- | --- |
| Month | Morning Shift | Evening Shift |
| October | 5:00 am – 6:30 am | 1:00 pm – 2:30 pm |
| November – Dec- January | 5:30 am – 7:00 am | 12:20 pm – 2:00 pm |
| February – March | 5:00 am – 6:30 am | 1:00 pm – 2:30 pm |
| April – June | 4:30 am – 6:00 am | 1:30 pm – 3:00 pm |
Through Hotel / Safari Operators
The easiest option for current booking is through hotel staff or safari operators. They definitely charge you somewhat more amount but also helps on the time. For booking via them, remember to carry your I – card & Photograph.
We booked all our safaris through hotel staff by just handing them documents, cash and telling them the preferable zones. For Canter Safari we paid Rs. 1000/- each whereas for Gypsy safari we paid Rs. 1500/- each.
Cost for Ranthambore Safari
The cost for a safari in the Ranthambore national park varies according to the type of chosen safari, vehicle and from where you have got it booked. Sometimes, it may vary with the zone too, which means the prices quoted for zone 1-6 can be higher than zone 7-10 whereas there is no discrimination on govt. portal and at the registration counter.
Type
Vehicle
On Govt. Portal (per person per seat)
Private Portals (per person per seat)
Registration Counter (per person per seat)
By Hotels / Safari Tour operators (per person per seat)
Indian
Foreigners
Indian
Foreigners
Indian
Foreigners
Indian
Foreigners
Morning / Evening Shift Safari
Canter
Rs. 600- 650/-
Rs. 1400- 1500/-
Rs. 1200/- 1400/-
Rs. 2000-2500/-
Rs. 500- 600/-
Rs. 1000 – 1200/-
Rs. 1000- 1200/-
Gypsy
Rs. 1000- 1100/-
Rs. 1800- 2000/-
Rs. 1600/- 1800/-
Rs. 2500-3000/-
Rs. 800- 900/-
Rs. 1800- 2000/-
Rs. 1500- 1600/-
Half Day Safari
Gypsy
Rs. 3300/-
Rs. 4400
Rs. 40,000 – 50,000/-
Rs. 50,000 – 60,000/-
Full Day Safari
Gypsy
Rs. 6600/-
Rs. 8800
Rs. 50,000 – 60,000/-
Rs. 70,000 – 75,000/-
Note – The pricing mentioned above also includes the vehicle and guide cost. Do check the same with safari operators and hotels.
Timings for Jungle Safari in Ranthambore
At Ranthambore, Jungle safari takes place in two slots i.e. Morning and evening. But the timings vary every month acc. to sunrise and sunset. Apart from this, there are other options of a full day and half-day safari, mostly booked by photographers, wildlife enthusiasts.
| | | |
| --- | --- | --- |
| Month | Morning Timing | Evening Timing |
| 1st Oct -31st Oct | 7:00- 10:30 am | 2:30 – 6:00 pm |
| 1st Nov – 31st Jan | 7:00- 10:30 am | 2:00 – 5:30 pm |
| 1st Feb – 31st March | 6:30- 10:00 am | 2:30 – 6:00 pm |
| 1st April -15th May | 6:00- 09:30 am | 3:00 – 6:30 pm |
| 16th May – 30th June | 6:00- 09:30 am | 3:30 – 7:00 pm |
Note: If you have got your bookings done by the hotel, the designated canter / Jeep will pick you almost 15 -20 minutes' prior the slot, from your hotel premises and the hotel will guide you to be ready half an hour before the slot.
Continuing the Afternoon Jungle Safari Story … Did we see what it was?
Not 1, but 20 of the gazes were still fixed in the pointed direction and one after another gypsies and canters started queuing behind us. They too started questioning our guide what it is- he said something in code words and then someone from the public said stripped big cat – Tiger or the spotted cat- leopard. Lined up vehicles no. kept growing from 2-3 to 6-7 and it looked no less than a traffic jam.
Vehicles were still on halt. Meanwhile, many people started climbing on their seats, took out their binoculars and zoom lenses to click from various angles, to find out what it is. Even we followed the league and kept howling from one seat to another in the canter like a monkey to get click to find what it is. Vehicles started pouring from another side too and we were instructed to move and we had too. Our guide instructed us to settle and we showed him the picture to find out the truth and imagine what it was – the spotted beast – Leopard. It clearly looked like a good start for the day but fingers were still crossed.
A few meters ahead, there was a small bridge. On one side of it was a river crossing and on another side stood a huge Padam Talao/ Talab with the ancient structure in-between. The structure looked almost submerged and in ruins. Our guide was still instructing our driver to slow down and us to be quiet and there he pointed out towards the river stream.
The striped cat was lazing down without moving. Our driver instructed us all to see it quietly, explaining that it is a cub (daughter) of T-84 arrowhead tigress. We all started waiting there patiently to see her moving. Her face was still not visible clearly, and our driver decided to do some off-roading to take the vehicle on the opposite side for a better view.
From the other side, she was hardly visible. Our guide still instructed us to be patient and there she was standing, camouflaging among the bushes proudly. Here too, the vehicles had jammed the whole area but cub looked extremely fierce less.
OMG! and behind it came the second one in no time. What a perfect view! Both the cubs of T-84 smiling and looking at each other. Incredible. The scene continued for almost 10 minutes and then one of them took a U-turn back to the bushes.
Another one crossed the stream, passed from the vehicles standing all around, jumped on the stone plinth, glistening in the sun, giving the perfect possess for the camera and then camouflaged back to the tall yellowish golden grass.
We still waited for the other cub to cross but it didn't and then finally our guide decided to move. From there, he further decided to circumambulate around the Padam Talao and there we saw the spotted deer's munching on the Dhok trees (Anogeissus pendula). The Spotted Deer's were completely camouflaged in between the golden trees and golden trails, completely unaware of the passing vehicles.
Further ahead the masque languor's were howling in between the road in joyful mode. From there we kept circumvallating around the lake and moved on another ahead, finding the crocodiles basking in the sun and near it were a peacock, peahens and other fauna.
The clock was ticking and the safari time of 3:30 hrs. was going to end soon. So, the driver pushed the vehicle and we were back at the entrance door, hidden behind the huge Banyan tree.
Exit the gate and you can use the washrooms at Jogi Mahal Gate. Sun was almost going to set but the desire to see the Tigers didn't end there. We wanted to see the Ranthambore jungle and its terrain more. So, after coming back to our hotel, we asked for another day morning safari and luckily we got the gypsy for Zone 2. The hotel instructed us to be ready by 6:30 am as the vehicle can come and pick us anytime between 6:30 am – 7:00 am.
Morning Jungle Safari at Ranthambore National Park
After quick tea and biscuits, we were ready to jump into our gypsy. A similar process followed here too. The guide checked our I – cards with the details and we were set to go. He got the entry done at the registration counter while our gypsy friends brought the goodies from vendors selling hats, caps, face masks and jackets for safari. In 5 minutes, he was back and we entered the first gate.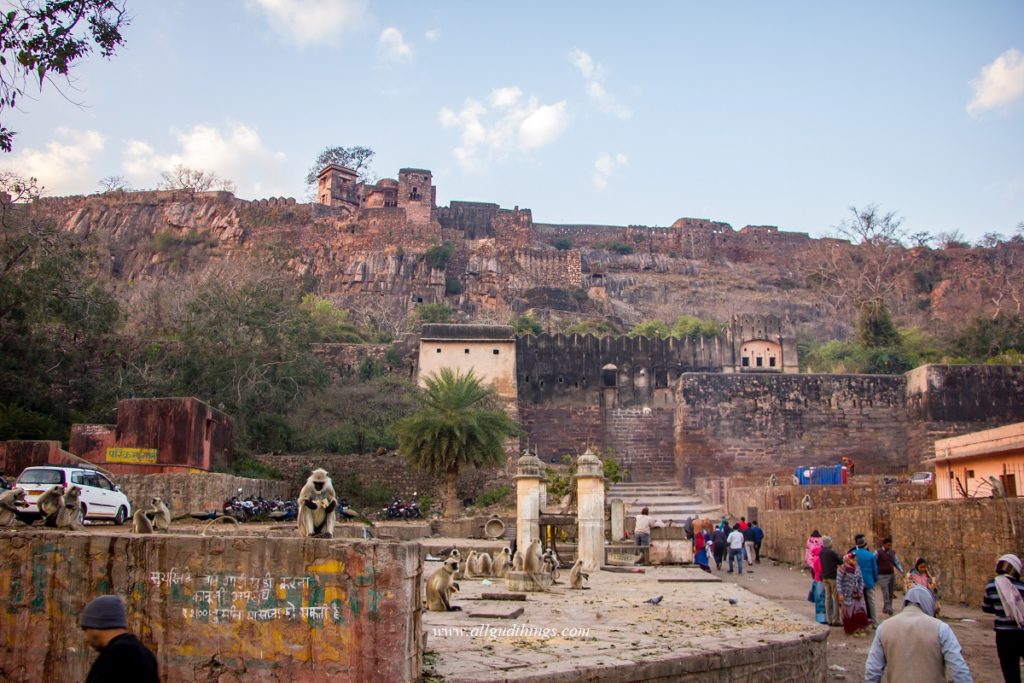 The road from this gate goes till Ranthambore Fort and even private vehicles are allowed till here. Further from there we again crossed the huge banyan tree and entered the allotted zone 2. We saw people walking inside zone 2 and got highly surprised how? There our guide narrated us the story behind the day –Chauth.
Story Behind the Chauth Parikrama- Trinetar Ganesh Temple
He told us that inside the Ranthambore fort, lies centuries-old Trinetar Ganesh Temple. On every Chauth (i.e. the fourth day of the month of Lunar Hindu Calendar), there is a tradition of circumambulating around the temple. And as the temple lies on the cliff, devotees complete the parikrama i.e. circumambulation (about 7 kilometers) by walking along with the fort in zone 2. We were extremely shocked to hear that – as this zone too had enough wild animals including leopards, tigers, jackals, etc. but as it is said everything fails and nothing comes in the path of devotion.
Interestingly, this temple has its own address and daily postal service. Lord Ganesha receives thousands of wedding invitations and letters every day from the devotees of the region and the priest reads all of them to Lord Ganesha.
Further, we kept moving on the track of Zone 2 and it was time for sunrise. The sky was on fire and everything looks well painted in orange-gold. We noticed we were almost on the opposite side of the location, where we had seen T-84 cubs yesterday and there we heard a loud Call. The guide said probably it is of a Tiger. He asked the driver to halt and started looking all around with the telescopic eyes. Simultaneously we crossed our fingers, wished ourselves luck to see another one. 5 minutes passed to 15 minutes and a group of people started pouring on this track too and the chances of him coming out almost went to zero.
With a bit disappointed heart, we moved ahead on a different track where there will be no devotees. And from here the jungle looked extremely different. Sunrays had already painted it in golden hues. Nilgai/ Blue Bull was standing in between the trees, looking for the food.
A few meters ahead, on one side we saw a herd of spotted deer/ Chital – some were hovering over the bushes, whereas others were digging the soil. There we learned something new from our guide that they too eat soil like the human kids. On another end, the herd of Sambhars was moving in a line towards the pond to quench their thirst. And Peacocks, peahens too had come out and started making noises to communicate with each other.
From here we reached towards Malik Tallao in search of Tiger and found several other gypsies and canters basking under the sun, looking for him just like us. Overall, it seemed like an unfavorable day for Zone 2 tourists. And on deep discussions with the guide, found that on Chauth when there is a huge tourist influx you hardly find any tourists, then why the authorities issue passes for Zone 2? Just to earn money!
Apart from wildlife, Ranthambore National Park too has a variety of bird species. The common ones to spot are cuckoos, Rufus treepie, woodpeckers, eagles, mynas, flamingos, sparrows, kingfisher, etc. We too spotted baby owls there.
What all to carry for Ranthambore Jungle Safari?
In Rajasthan, morning and evenings are cold and the days are really warm in winters and hot in summers. So, you need to dress accordingly. For morning safari in winters, do wear inners, jackets, and caps and for afternoon safari a single sweater with thin jackets is enough.
Also carry along a shawl/ scarf, hat/ cap, and goggles as the trails are really dusty. The following accessories will protect you from the cold in the winters and from the heat in the summers. And to stay hydrated carry a water bottle too.
Note: Please don't litter in the jungle and bring back your bottles.
Overall Safari Experience at Ranthambore
The Ranthambore National Park is every wildlife and bird watchers & photographers' dream place. There is plenty of flora and fauna here including tigers and leopards. Indeed, every zone has 2-3 tigers including cubs. Wildlife here seems to be quite accustomed to the gypsies, canters, and travelers. They cross quite confidently and give wonderful poses even when the gypsies are around it.
We advise you to do at least 2 safaris here- preferably one in the morning and other in the evening. The jungle is really a wonderland and is blessed with amazing topography, shrubby vegetation, hilly terrain, arid land, and water bodies. Most importantly don't go with the hope to see the tiger only. There is plenty to see here. Also before booking for Zone 2 safari, check for chauth, as the chances of sighting wildlife during this time are almost zero.
Accommodation at Ranthambore National Park
The nearest you can stay in the Ranthambore national park is at Sawai Madhopur. And here are plenty of stay options – from budgeted hotels to resorts to luxurious ones.
Being random planners, we had no prior booking. And planned to check the availability first at RTDC (Rajasthan Tourism Development Cooperation) heritage hotel, Jhoomar Baori. The hotel looked situated on the hilltop and quite nice in the google pictures but in actual it was too dingy and smelly and not worth Rs. 6000/- per night. So, we started searching for the private ones and found the Fern Residency just near to it.
Hotel Fern Residency in Ranthambore is situated on the main road and is a beautiful property. Their all cottages are similar and are absolutely neat, clean and spacious. Staff is highly helpful, courteous and prompt to serve you tea/ coffee before morning safari. We absolutely loved their hospitality and the way they arranged our safari.
Other Places to visit in Ranthambore
Apart from Safari, the other attractions of Ranthambore are
Ranthambore Fort Complex
The Ranthambore Fort lies within the National Park and is a UNESCO world heritage site. It is an almost 1000-year-old fort and a huge complex. From the fort, you get an amazing view of Padam Talao and Jogi Mahal. Also inside are present Bates Khamba, known for 32 pillars, Jain Temple, Rani Haveli, and Ganesh Temple.
Ganesha Temple
The Ganesha Temple is also known as Trinetra Ganesha Temple. It was built in 1300 AD by King Hammer who was an ardent devotee of Lord Ganesh. One night when he was sleeping, Lord came in his dreams and blessed him, quoting that all his problems will be solved and the war with Alauddin Khilji will be over tomorrow. The next morning an idol of Lord Ganesha was seen on the wall. So, King Hammer got the temple built here and it has the idols of Lord Ganesh, Riddhi Siddhi (his wife) and two sons (Shub Labh) along with mushak (mouse, his vehicle).
Palighat Gharial Sanctuary / National Chambal Sanctuary
The sanctuary lies 35 kilometers from the main city and is a breeding ground for Gharials and crocodiles.
Village Women Craft
At village women, craft one can find and buy the local craft and artwork created by the village women of Ranthambore. These women use natural dyes and environmentally friendly material for fabrics. The patchwork, tie & die, block-printing, woodwork and handloom are the major attractions here.
Frequently Asked Questions
Q. How to book for Ranthambore Safari?
A. You can book it online as well as offline. We have explained all the options with pricing in detail.
Q. What is the best time to visit Ranthambore?
A. October to March is considered as the best time to visit.
Q. Which Zone is best for Tiger Spotting?
A. Ranthambore Park has 10 zones and all zones have tigers. Still, the locals say Zone 1-6 are considered as the best zones.
Q. How early I need to book a safari?
A. Ranthambore Safari can be booked 365 days prior to the day of the visit.
Q. Can I book it online on the same day?
A. You can definitely try. But the chances of getting gypsy are almost zero.
Q. Can I choose the Safari Zone in Ranthambore national park as per my preference?
A. You can only choose the zone as per your preference, one year prior to the trip.
Q. Can we take our cars inside Ranthambore National Park?
A. Cars are allowed only up to the entry gate i.e. till Ranthambore Fort.
Q. Are still and video cameras allowed inside the park and do one need to pay extra for it?
A. One doesn't need to pay extra for still cameras but yes there are extra charges for videography cameras.
Q. Is Safari safe for Adults & Children
A. Ranthambore Safari is safe as per our experience. On Safari, a naturalist guide will accompany you.