The cool breeze started caressing our face when we opened the car window, our eyes popped up seeing the enchanting 180 to 360-degree views of the landscapes around. There was a strong urge to stop every now and then at each spot indefinitely. Such is the real beauty and benefits of road trips.  Road trips have always fascinated us.  And being road trip lovers, we did an epic 13 day, 3500 km road trip from Delhi to Leh Ladakh. The massive changing landscapes, crowning shaded mountains, and the virgin beauty of Ladakh left us completely stunned. It was a lifetime experience for us to drive on the Srinagar Leh Highway and its beauty is just beyond words.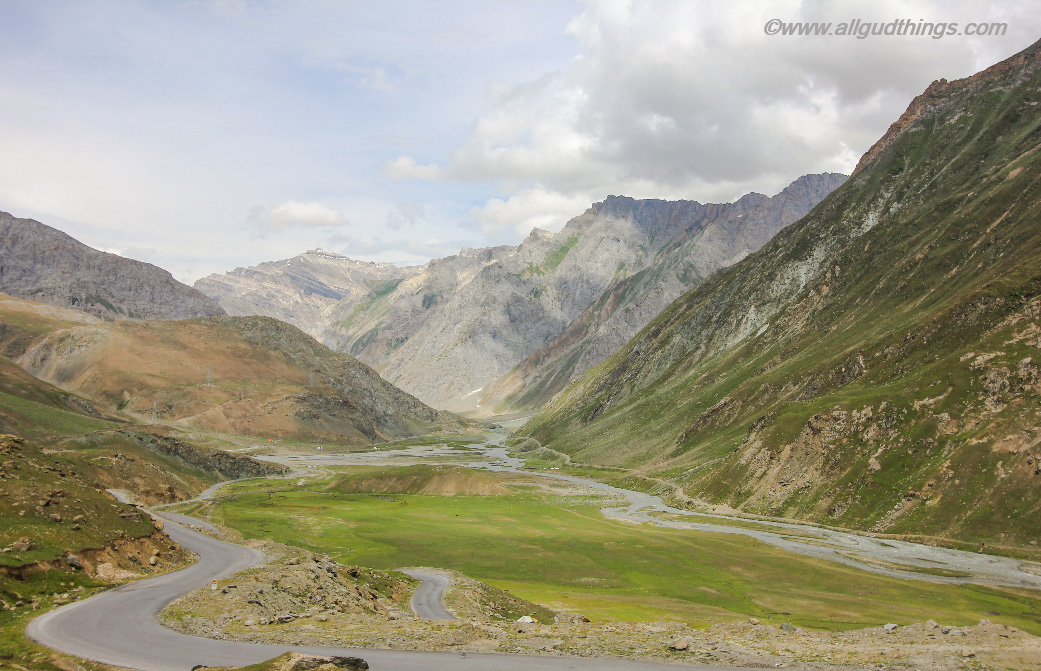 If we tell you to stop at each of these places or villages in between, to check the attractions out, we will be absolutely wrong.  In fact, the whole journey is a big attraction in itself. There are high passes and glaciers, natural and manmade wonders, centuries-old monasteries. And if you are a photo-bug like us, you will have a strong urge to stop and click pictures at every curve, while traversing on the Srinagar Leh highway. But stopping at each point is just next to impossible. So, here is a brief overlay of what one must visit.
%CODE1%
We broke our journey from Sonmarg to Leh in two days, to sense and feel the actual beauty of Ladakh. The first day we traveled from Sonamarg to Kargil and second day Kargil to Leh. Also, read complete Leh Ladakh Itinerary from Delhi
Attractions on Srinagar Leh Highway
(Day 1 from Sonamarg – Kargil)
Thajiwas Glacier
The Thajiwas glacier lies just 7 km away from Sonamarg. The trail offers splendid views of green and frozen lakes around it. One can climb it by ponies and also try a sledge ride in mid-summer there.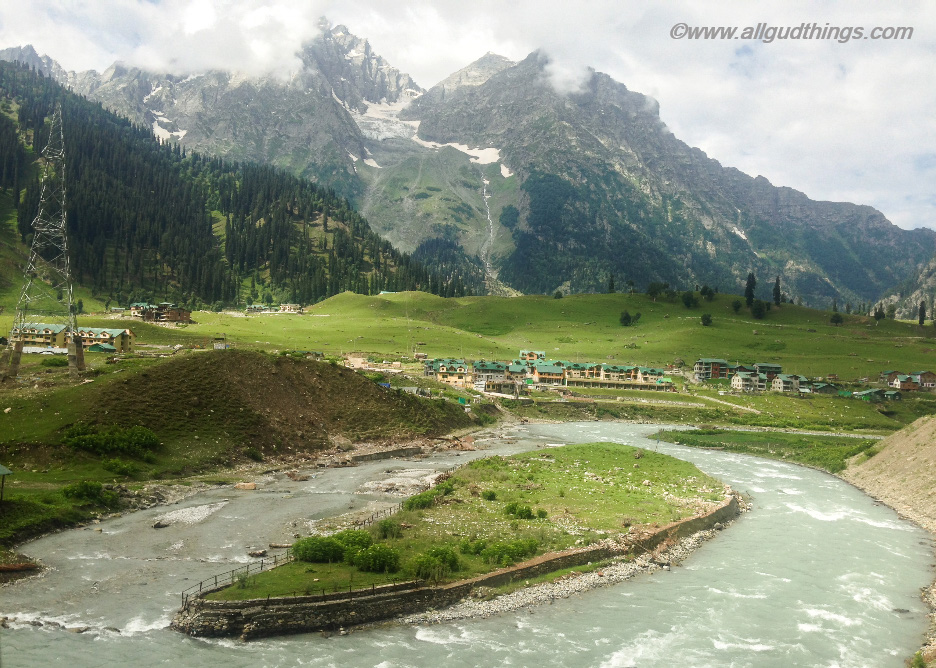 Zoji La
The first high altitude pass, Zoji La lies 9 km from Sonamarg and is at an altitude of 11,575 feet. The pass remains covered with snow throughout the year and even in the months of May-August, you can see 8 – 10 feet of snow wall around it. Just a kilometer ahead, there is a snow point where snow never melts and one can enjoy snow games there.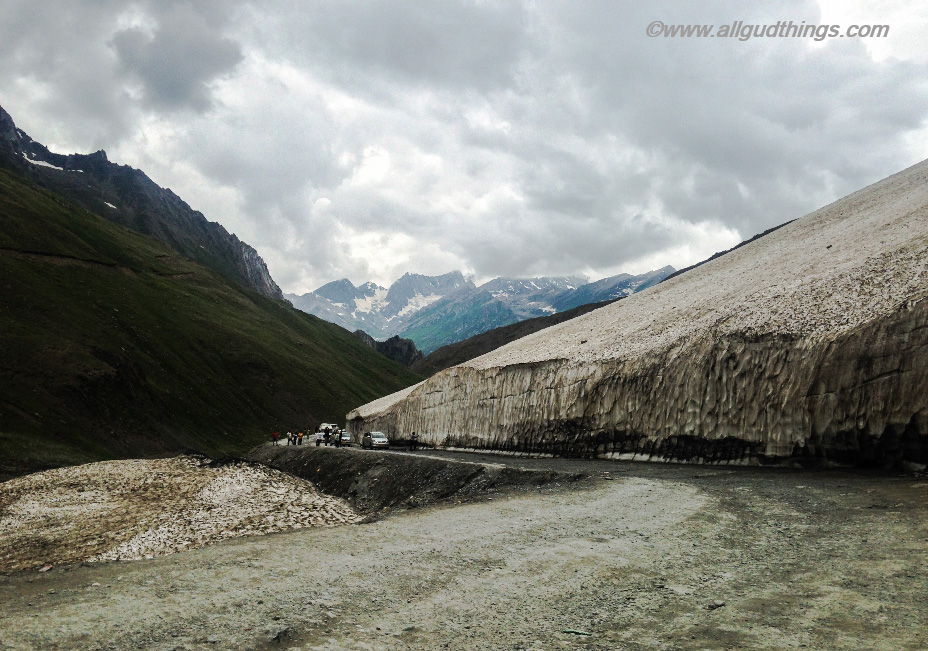 Also Read: Ladakh – The Land of High Passes
Drass War Memorial at Drass
Drass lies 39 km from Zoji La and is famous for the Drass War memorial which is built as a tribute to the martyrs of Kargil war. One gets teary-eyed seeing how our brave Indian soldiers fought and laid their lives to sway back our Indian Flag there. Remember to spot the Elephant ridge, Tiger Hill, and Tololing Hill in the backdrop of Drass War Memorial. Also, see Amar Jawan Jyoti and 100's of memorial stones at Veer Bhumi.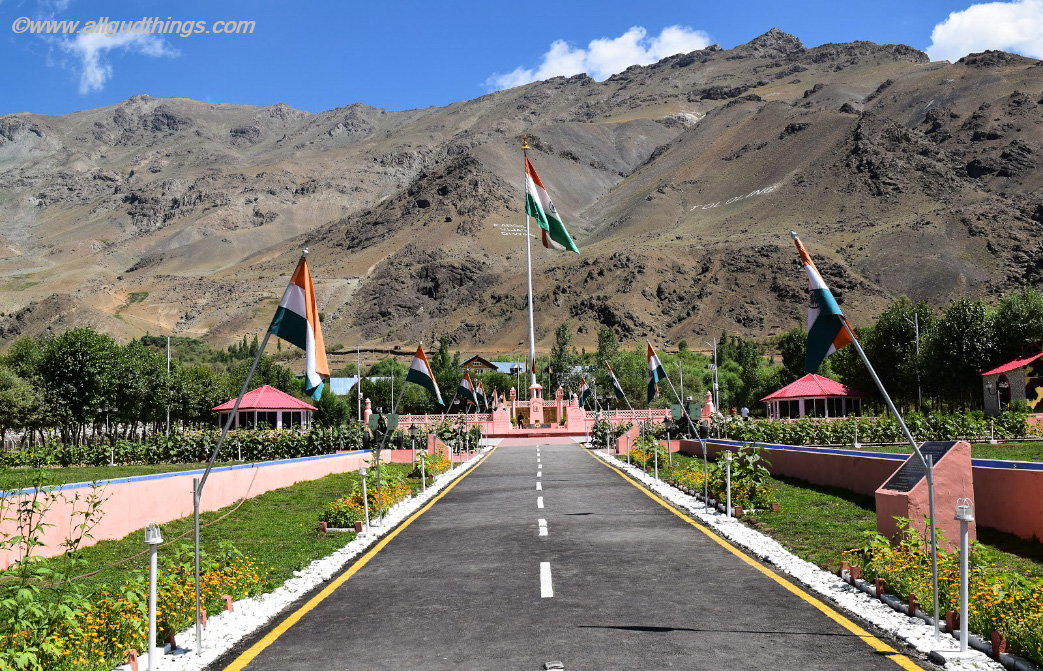 Also Read: A walk with Indian Solider at Kargil War Memorial
Kargil
The city Kargil lies 65 km away from Drass and is famous for rich apricot plantations. There is a Kargil war memorial and the Kargil heritage hut here too. Do visit these to see the traditional and cultural attires and crockery of the various tribes of Ladakh valley.
We stayed at Hotel Zojila Residency in Kargil. We must say, the ultimate place to relax and unwind; with the Suru River flowing around it.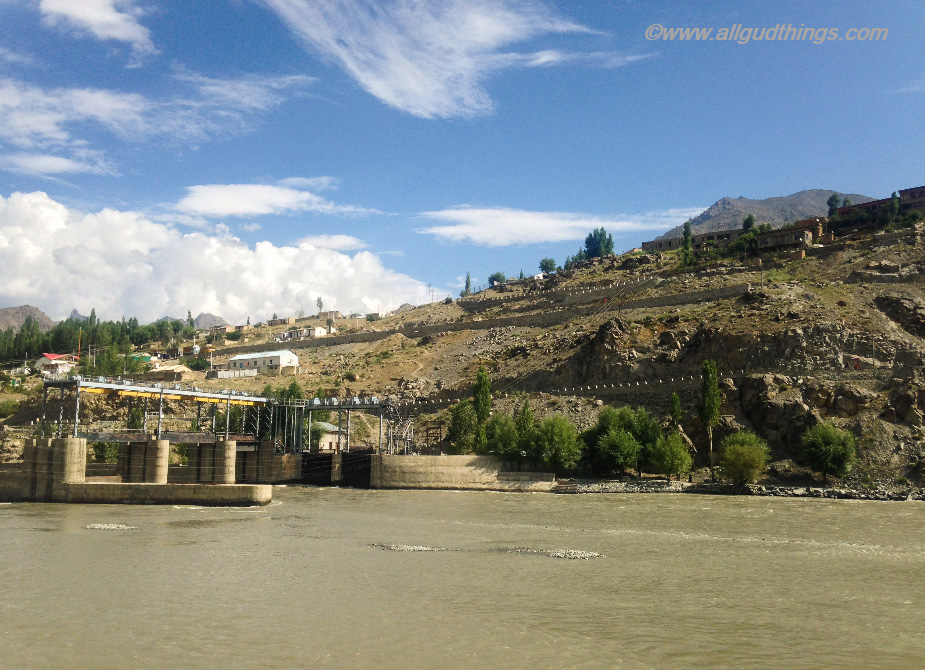 Attractions on Srinagar Leh Highway
(Day 2 from Kargil- Leh)
Mulbekh Monastery/ Maitreya Buddha at Mulbekh
The Mulbekh monastery lays 45 km from Kargil on the Srinagar Leh highway. It is famous for the 7th-century old carved statue of Lord Buddha. This Maitreya Buddha sculpture is 9 meters tall and is believed to be the former Buddha.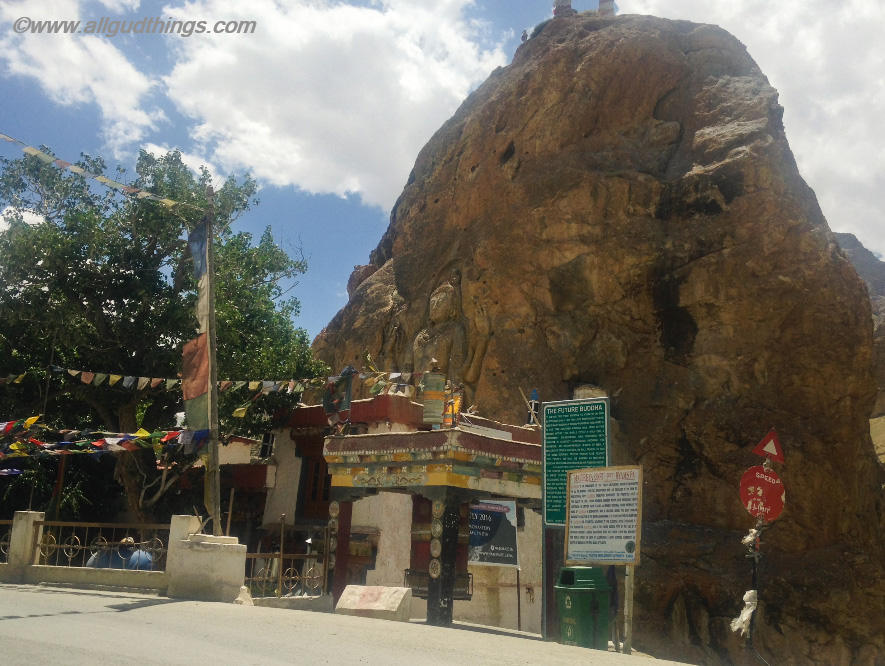 Namika La
Just 16 km ahead to Mulbekh, lays the second highest pass, Namika La.  It is at an altitude of 12139 feet and is known as the "Pillar of the sky pass" because of the pillar-like object rising towards the sky at the pass.

Fotu La
Fotu La, one of the most picturesque pass, lies at an altitude of 13,478 feet and is 36 km from Namika La. This pass too has relay station of Bharat Prasar. Read more about  Ladakh – the Land of High Passes.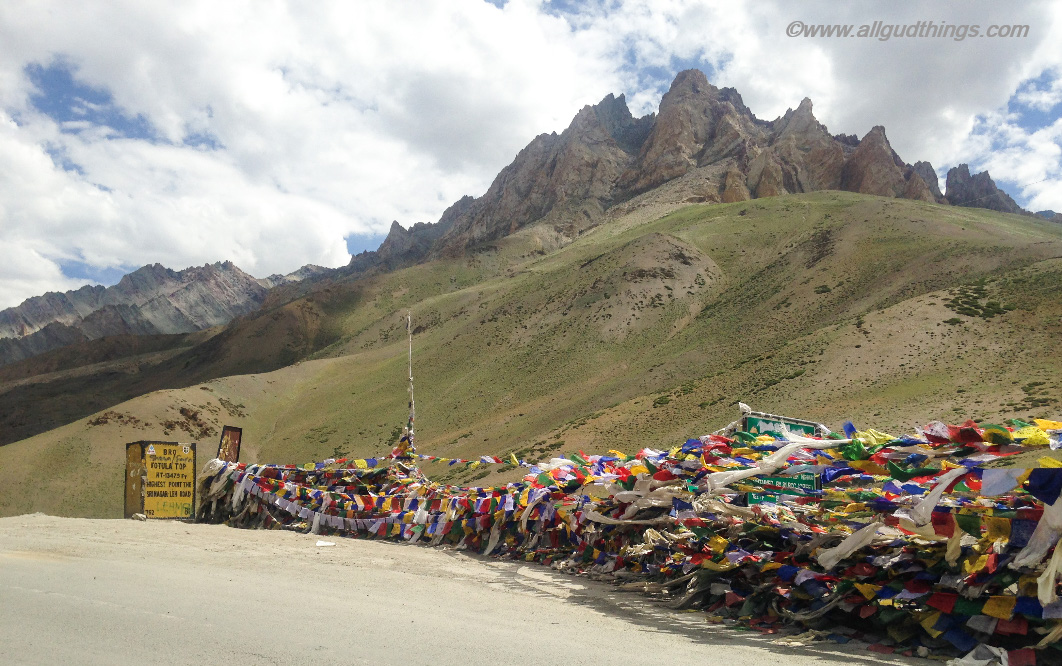 Lamayuru
After descending 14 km from Fotu La, you reach the most scenic surreal village, Lamayuru. The village is known for its absurd landscapes i.e. moon lands and centuries-old Lamayuru Monastery.
%CODE2%
Lamayuru Moon lands
These bizarre Landscapes resemble the lunar landscape of the moon; hence named Lamayuru moon lands. Locals too say they shine extraordinarily during the full moon nights. For best views of moon lands, one can climb the meditation hill.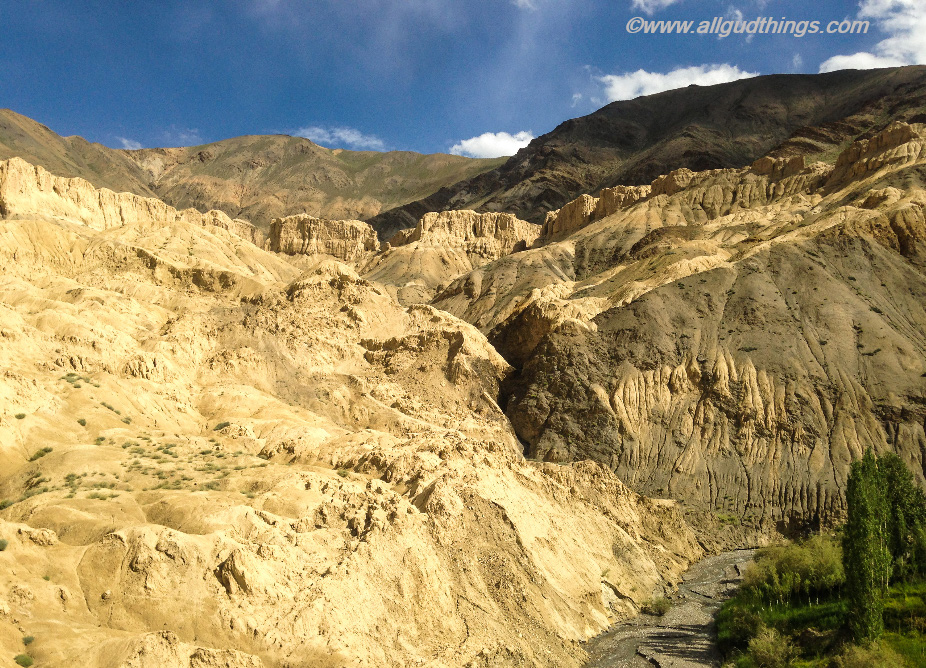 Lamayuru Monastery
The whitewashed monastery on the hilltop amidst these lunar landscapes is one of the largest and oldest Gompas of the region. The foundation stone of the Gompa was laid back in the 10th century by Mahasiddhacharya Naropa, after drying up the lake in the valley. The Monastery is still a house to almost 150 monks and is famous for the dance masked festival.
https://www.instagram.com/p/BW_XX9oB-H7/?hl=en&taken-by=suruchimittal
Magnetic Hill / Gravity Hill
Gravity Hill or Magnetic Hill in Ladakh is a perfect example of Optical Illusion. 30 km from Leh there is a stretch of the Srinagar Leh highway itself, where the surrounding slopes and valley layout give the impression that the downhill road is actually an uphill road.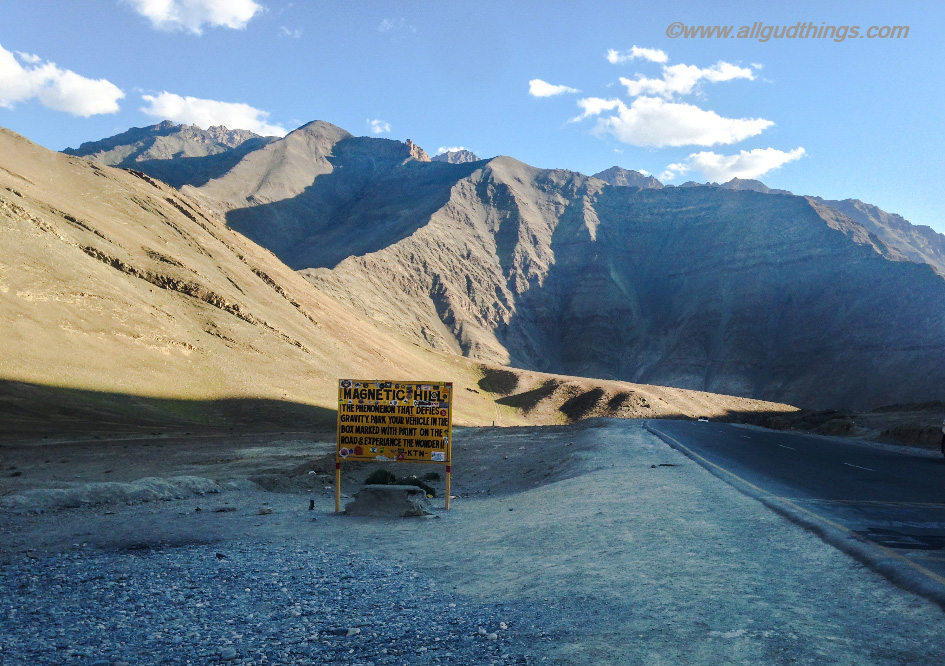 Most of the people are aware of the fact, but still, hey fascinate to turn off their car engines and leave them in neutral, to see their cars moving. Even we stopped our car here to experience it, no less than others.
Gurudwara Pathar Sahib
The Gurudwara Pathar Sahib is a beautiful shrine 25 km before Leh. The shrine has a huge boulder with imprints of Guru Nanak Dev Ji and demon foot.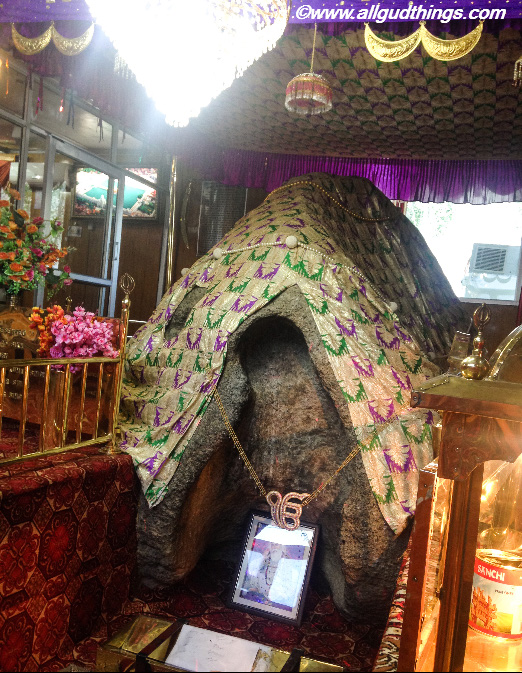 There is an interesting story behind this shrine. During Guru Nanak Dev Voyage to Ladakh, he was meditating here and seeing him lost, the demon thought of attacking him.  The demon rolled down the rock from the hilltop to kill the divine soul but as soon as the rock approached him, it got converted to the soft molten wax. Seeing this, the demon got more ferocious and he pushed the rock further with his feet with full strength. Instead of Guru getting injured, the demons' foot got injured himself. Soon, after this demon realized that he is a mortal soul and he stopped disturbing him.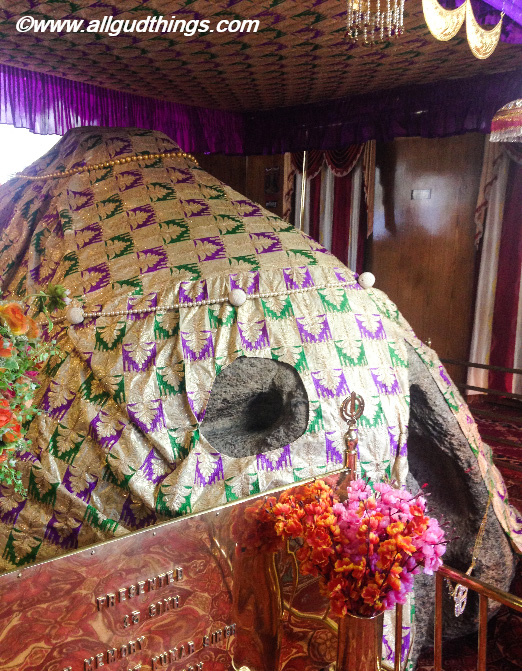 Tibetan Buddhists idolize Guru Nanak Dev Ji as a Guru Gompa Maharaja and as Nanak Lama.
Indus Zanskar River Confluence, at Village Nimmu
The confluence of river Indus and Zanskar on the Srinagar Leh highway is another mesmerizing sight in itself. It lies 6 km from the village Nimmu and is a photographer's delight.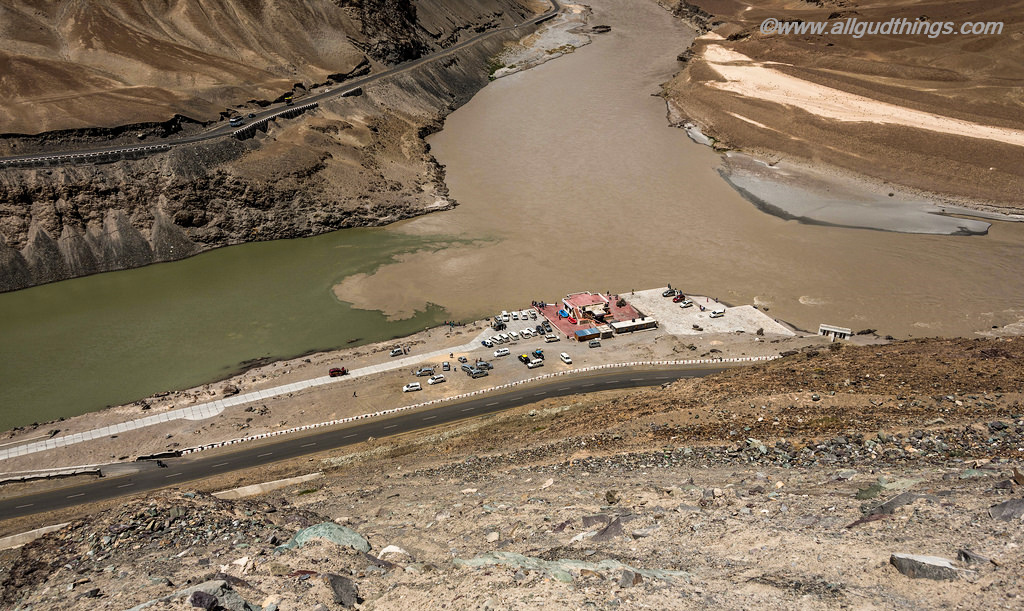 Apart from this, we mentioned earlier too, that the whole journey on Srinagar Leh highway is an attraction in itself. So, stop wherever you can, enjoy and get soaked in the beauty of the Ladakh.
If you like it, please do share it.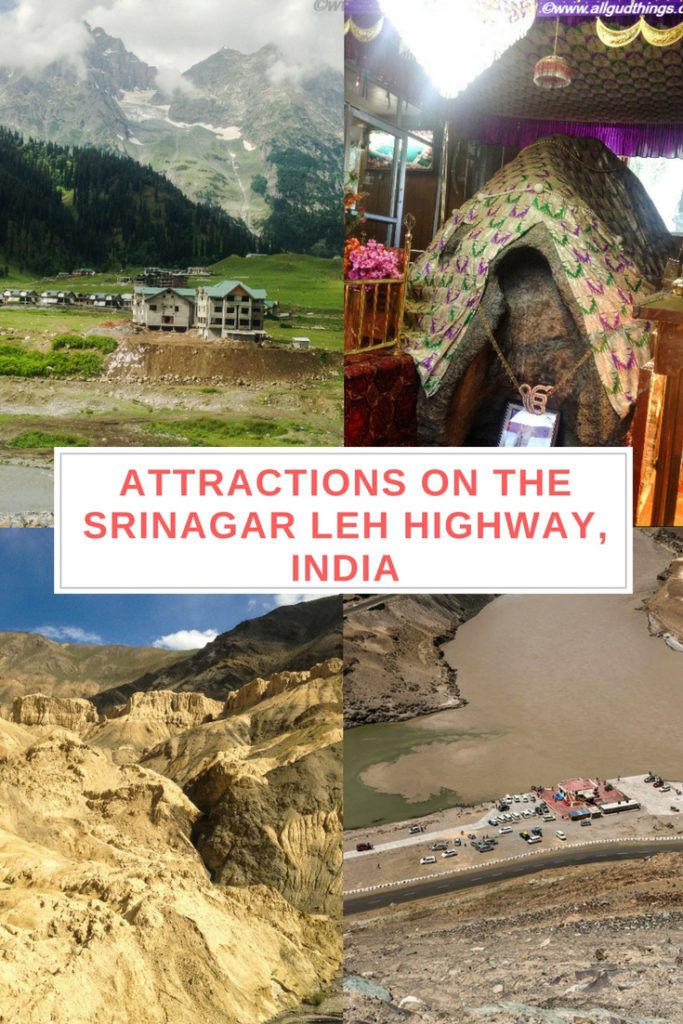 You can also read about our other series of Leh Ladakh below and the road trip to Spiti Valley.
Nubra Valley: The Valley of Flowers in Ladakh
A day at White Lake Tso Kar in Ladakh
Ladakh-The land of High Passes
All you need to know about Leh Ladakh Inner Line Permit
6 must-visit Leh Ladakh Palaces before they disappear
A Walk with Indian Soldier at Kargil War Memorial
Leh Ladakh Road trip from Delhi – 13 days itinerary
Dos and Donts for Ladakh Road Trip
Hemis Monastery: Biggest & Wealthiest Gompa in Ladakh
Sonamarg, Kashmir – The Golden Meadows of India
Bhuttico Kullu Shawls & Accessories – The Gift of Valley
10 reasons why everyone should travel India
The colored Tibetan Prayer Stones – Mani Stones
%CODE3%