If there is a heaven on earth, then it's in Kashmir! Have you heard that? Probably yes! Even we have heard that and don't know to which part of Kashmir, people refer as heaven. We visited Srinagar and Sonmarg during our 13 days road trip to Leh Ladakh from Delhi. And trust us Sonamarg which means the "Golden Meadows" or "Meadows of Gold" was no less than heaven.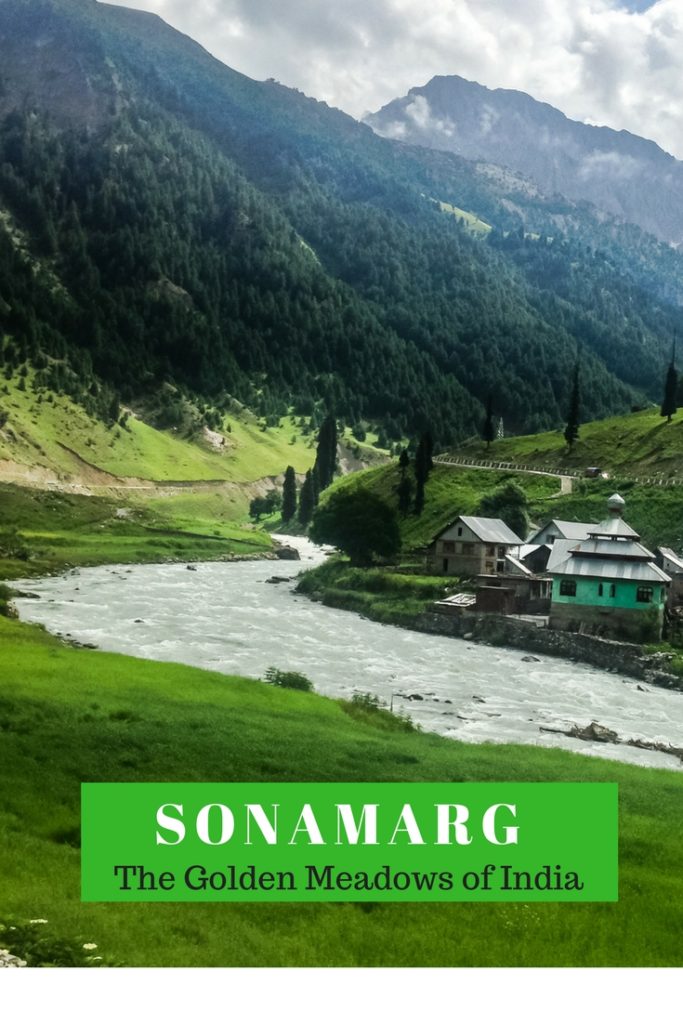 The green meadows on the banks of the Sindh River and the cold rustic mountains leading to Kargil from Sonamarg were completely striking. The valley enthralled us in its beauty and made us say it is a complete destination in itself.
https://www.instagram.com/p/BckVEqpn_q5/?taken-by=suruchimittal
Sonamarg lies 86 kilometers from Srinagar at an altitude 8950 feet. Till day, the place is mostly visited by pilgrims during the Holy Amarnath Yatra and by road trippers as a stopover link between Jammu and Leh. Even we had the similar impression for the place to be just a stopover. So, after strolling at Dal Lake, Srinagar for an hour we turned our steering to reach further.
Related: Attractions on Srinagar Leh Highway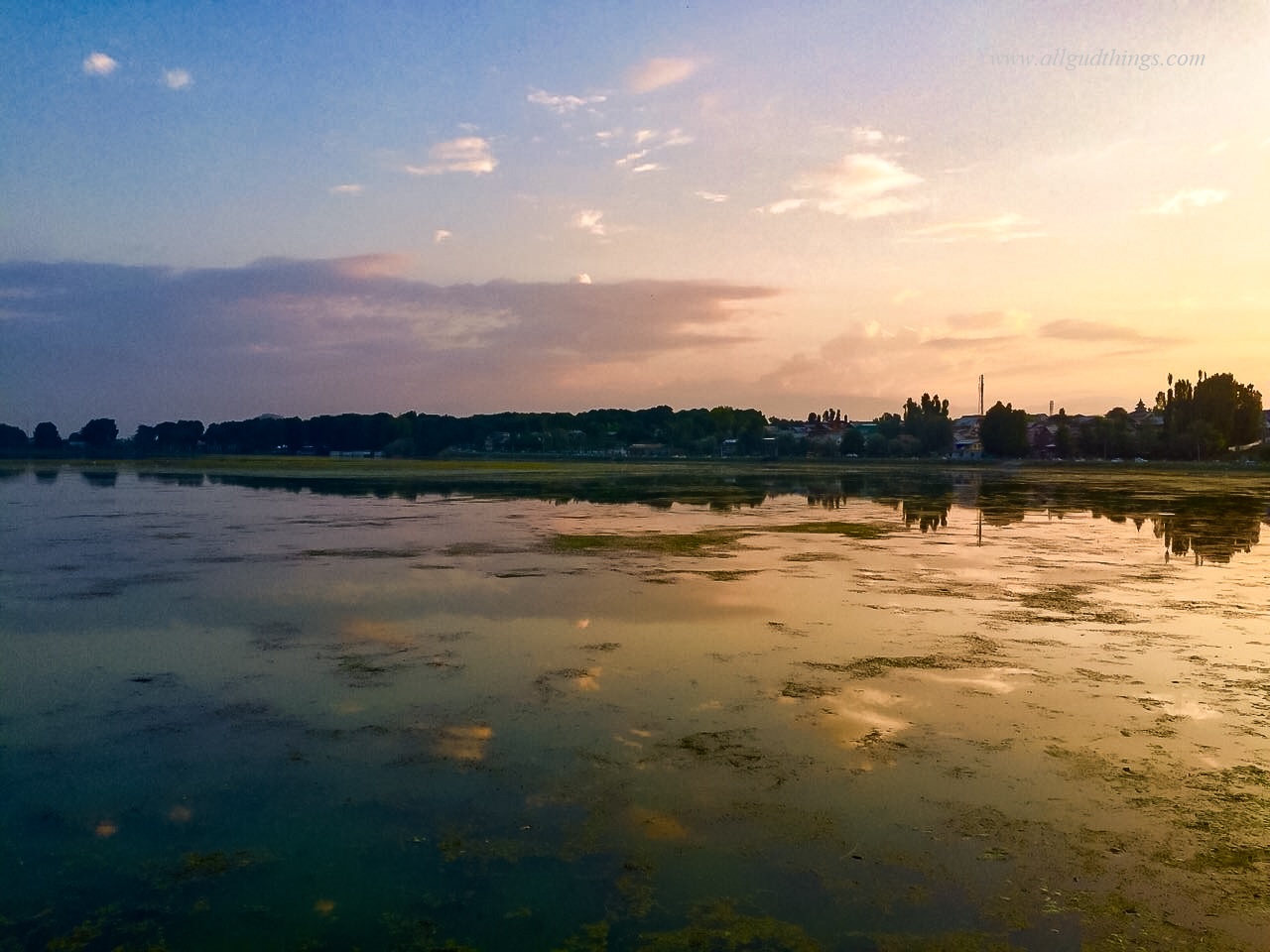 We reached the small town Sonamarg around 7:30 pm and it was already pitch dark. The only thing we could see in the darkness was snow-capped glistening mountains on one side and lots of resorts in a row on another side. So, the first impression was another hill town. Sad!!
But as I woke up and opened our room window, my jaw dropped down in a big Wow! I couldn't believe my eyes and mind. The meadows in front seemed to be vast and exceptionally beautiful in the shade of light and dark. And from there we made our mind to explore Sonamarg first before heading further to Leh.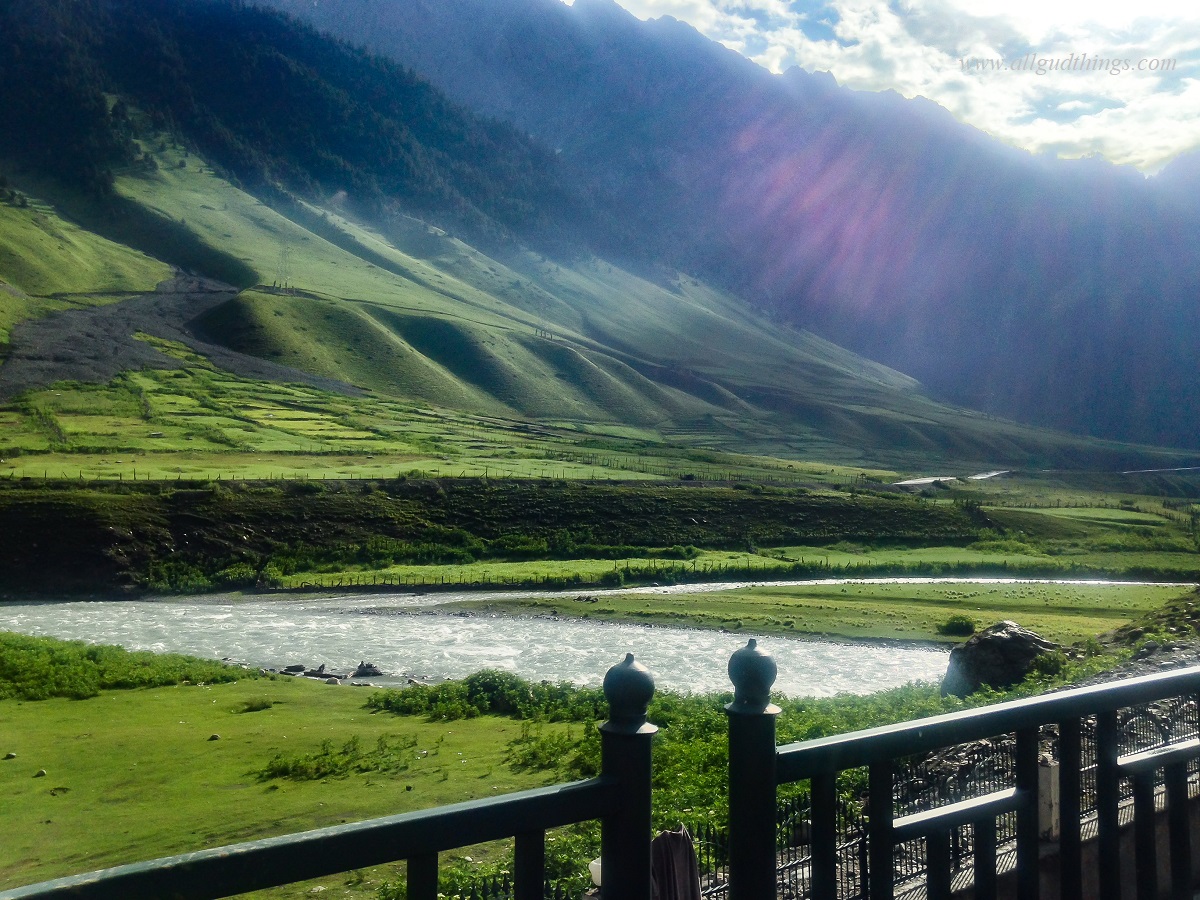 The valleys of Sonamarg have much to offer to nature lovers. If one side of the mountains is dotted by tall alpine trees making unique patterns than on another side there are snow clad Himalayas. Out of these majestic Peaks, one is Thajiwas glacier which seemed to be quite near but not that near. The clouds engulf the valley anytime making it look a green hamlet in the clouds.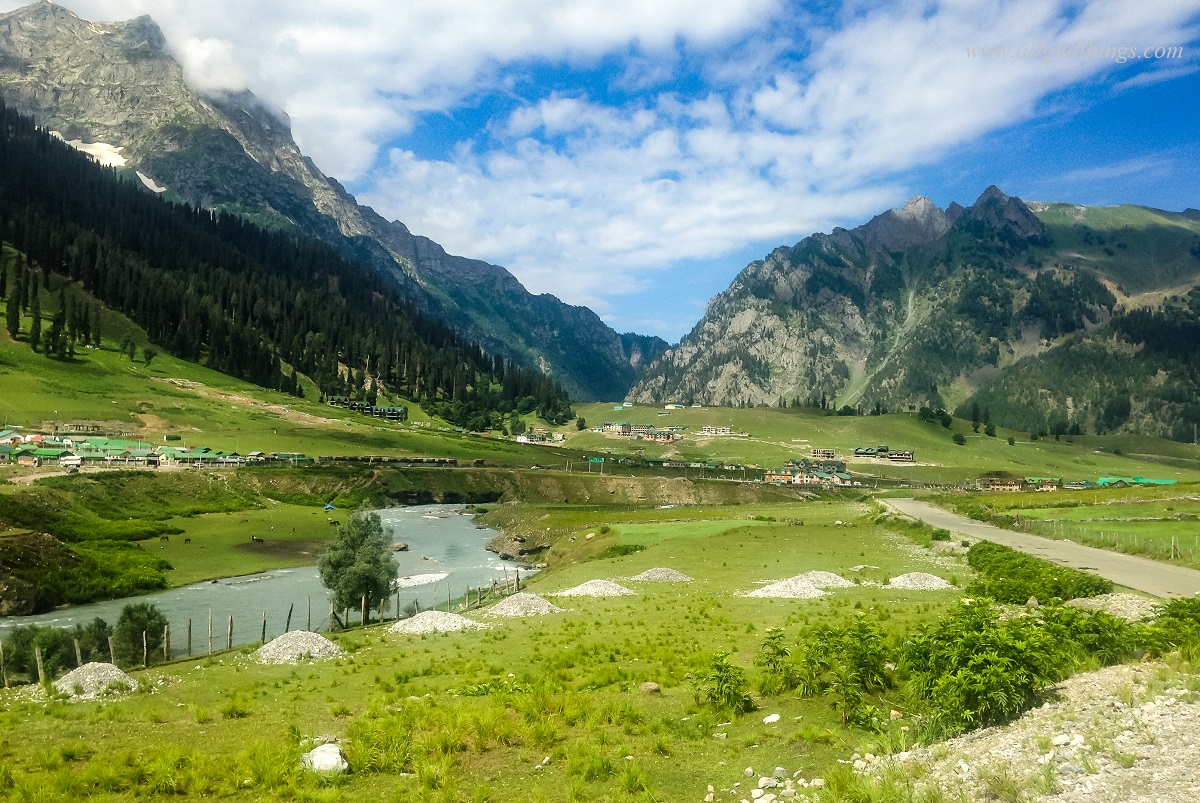 Sightseeing in and around Sonamarg
Sonamarg – the Golden Meadows, has not many attractions. It is a place to be with nature. We recommend to find a nice spot for yourself, enjoy serene beauty, breathe fresh air and listen to the music of water.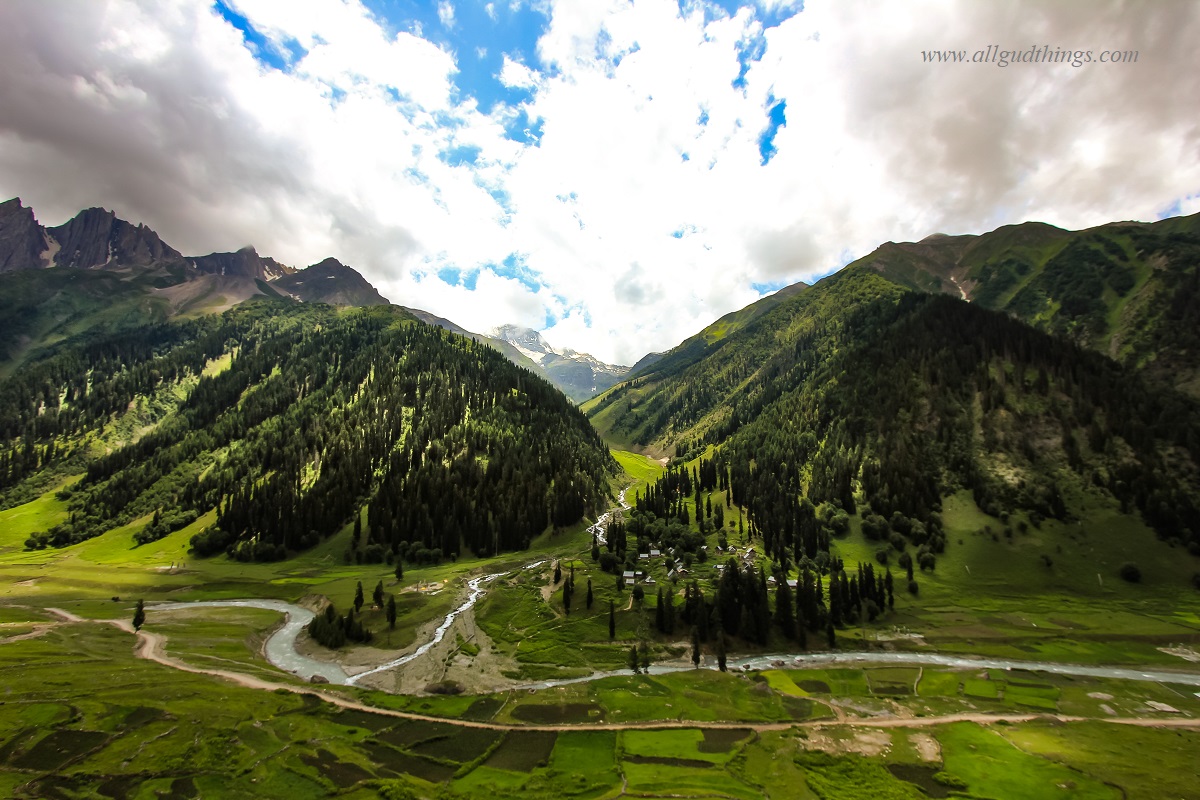 Also Read: The complete Kashmir Itinerary
Apart from this, visit the Thajiwas Glacier, which now days is also known as Bajrangi Bhaijan Point (after the release of Bajrangi Bhaijan movie). The base of the glacier can be reached through union taxis or ponies. The drive till glacier base is memorable and fun but the ponies dung leaves you breathless on the way. We found the union rates to be bit high and touts were annoying.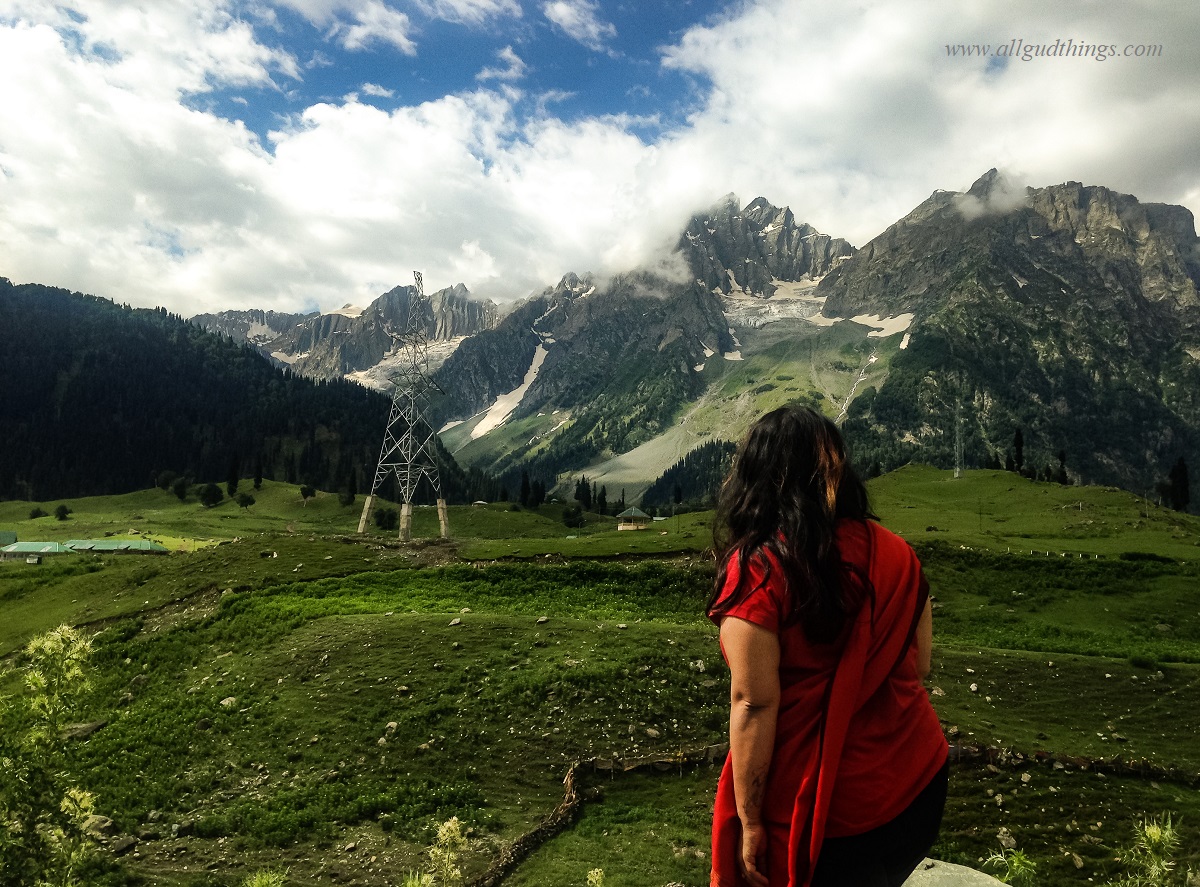 Drive through Baltal to Zojila Pass, which lies 24 kilometers ahead from Sonamarg. At Baltal, view the gushing picturesque Sindh River flowing down in the gorge and hundreds of colorful tents set up nearby for Amarnath Pilgrims.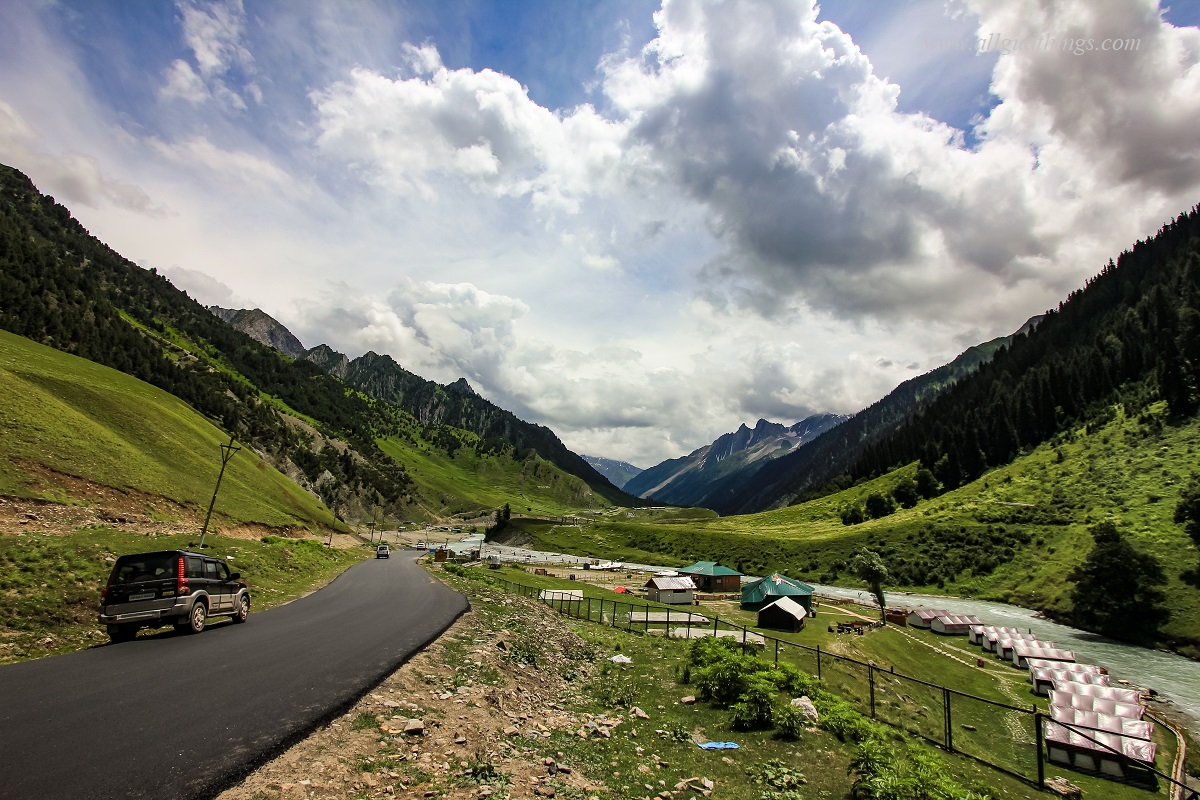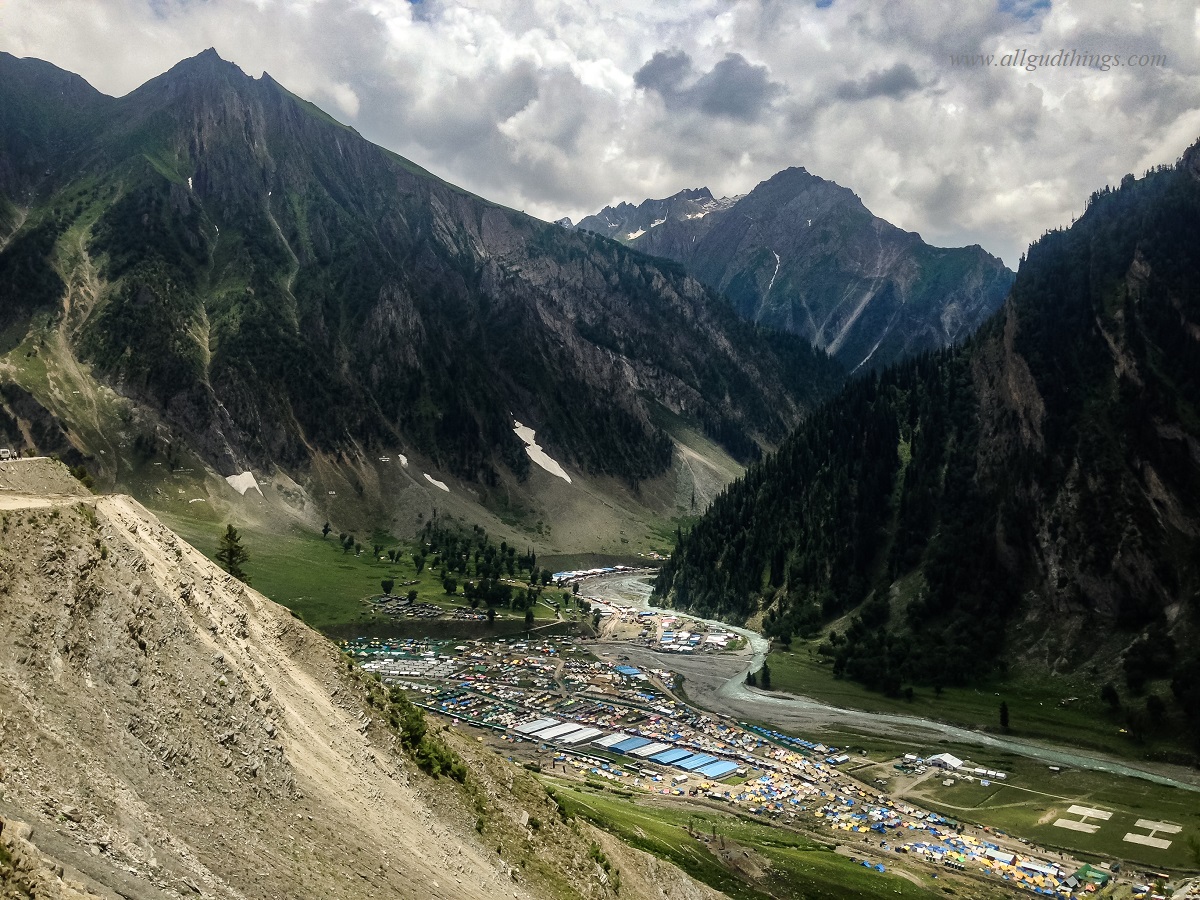 The Zojila Pass lies at 11, 649 feet. The road to the pass is highly curvaceous and narrow. So, the drive is thrilling for nature and adventure lovers. At one point, green Valleys are suddenly taken over by barren huge mountains and one can see huge snow walls around. One can enjoy snow sports like sledding, snow bikes and a trek to the barren mountain, at Zero point.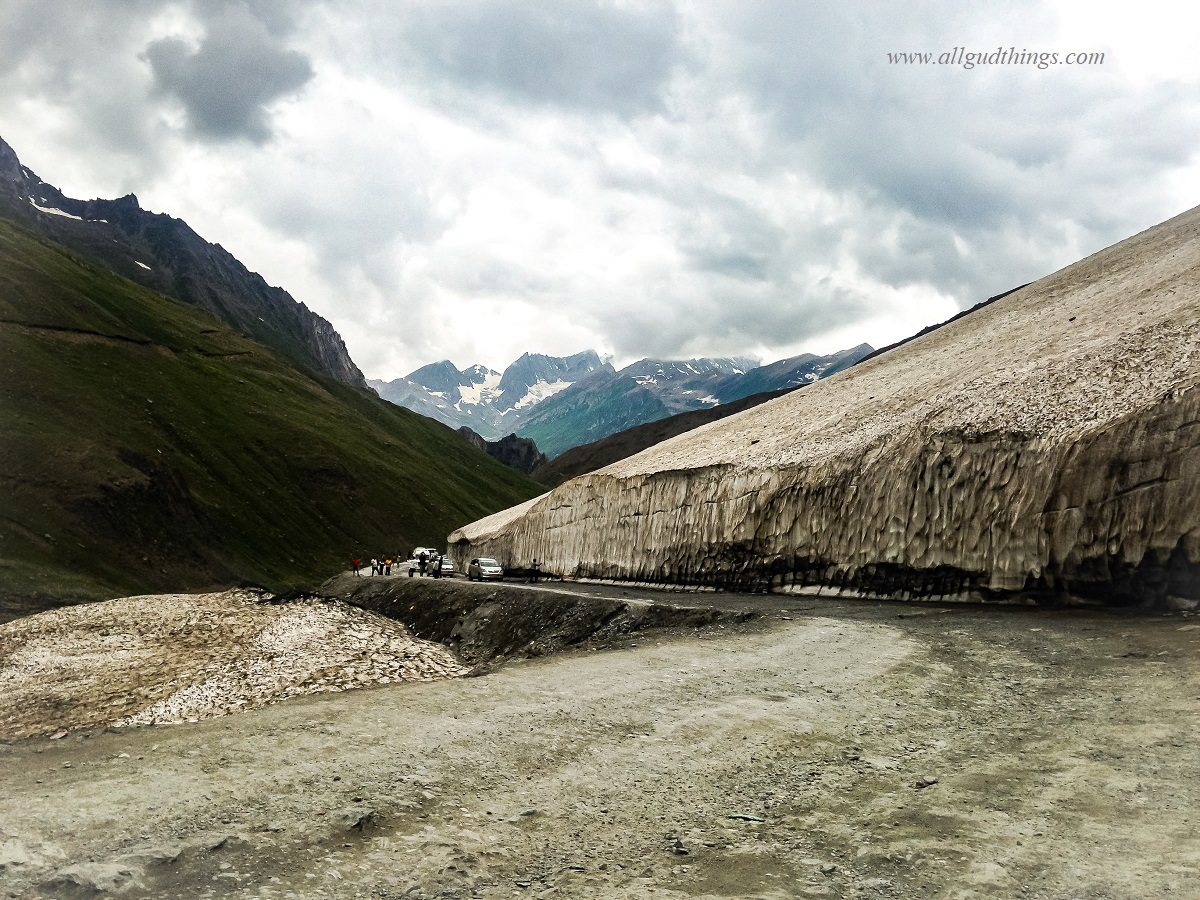 Also read: Ladakh-The land of high Passes
Just 4 kilometers from the city lay a highly reverted Nilagrad River. The water of River is believed to have some medicinal values. Sonamarg also acts as a base for some of the treks like Krishansar Lake trek, Vishansar Lake trek, Gangabal Trek, Kashmir great lakes trek etc.
Accommodations in Sonamarg
Sonamarg has various types of accommodation options ranging from budget hotel to luxury hotels to riverside camps. We suggest choosing a hotel which has glacier way. We stayed at Hotel Imperial, a mid-segment range property, which had a glacier view.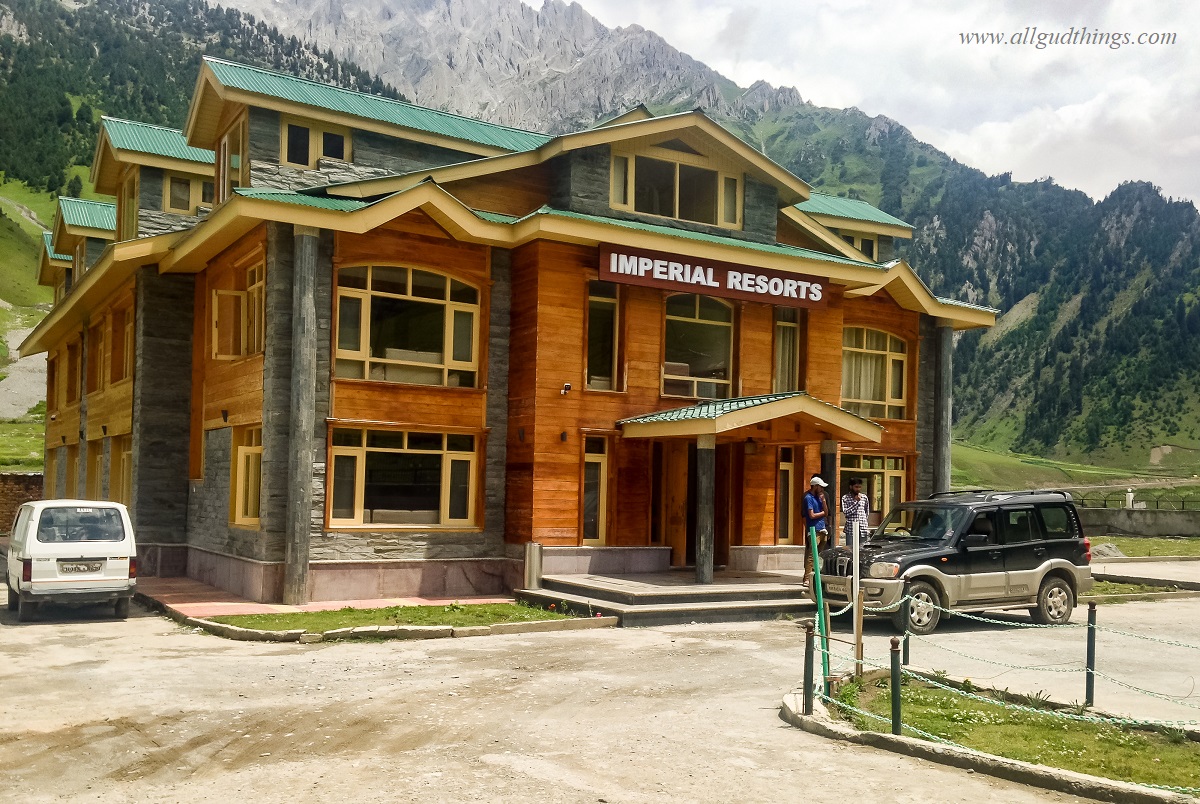 You can also check the various options here.

Local Cuisines
The Golden Meadows might look like a small place but there are plenty of restaurants and hotels to enjoy the food. One can try a range of Indian, Punjabi, Chinese and Kashmiri food. We say, when in Kashmir, do try the local Kashmiri cuisines and drinks which includes Syoon Olav (Meat with Potatoes cooked in spicy gravy), Marcha-Wangan korma, Nadir-Haaq/Gogji/Monji (lotus stems cooked with Spinach or Radish), Muj Gaad (Fish with Radish), Modur Pulaav (Sweet Pulao), Kaanti (lamb pieces in red-hot gravy) and Matschgand (minced lamb meatballs in spicy red gravy) and Kahwah or Qahwa (green tea with cardamom, cinnamon etc).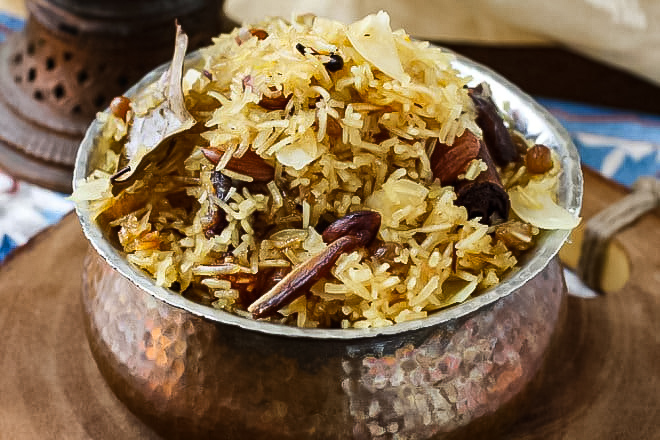 How to Reach Sonamarg
Sonamarg can be reached by air, bus, car, and train. The nearest airport is at Srinagar and railway station is at Jammu. From Srinagar, one can hire a shared or individual taxi, or reach by bus. The best option according to us is self-drive from Srinagar to Sonamarg.
Condition of roads: well constructed graveled road
Best Time to visit Sonamarg: Summers from May to October
Expected Temperature– 7 – 20-degree Celsius in summers and -8 to-18 degree Celsius in winters
So, Sonamarg was an absolute land of beauty and magic. It left us completely mesmerized. Throughout our drive Sindh River accompanied us, and the only change was in the background – sometimes a pitch green carpet on mountain slopes and sometimes the white snow-laden.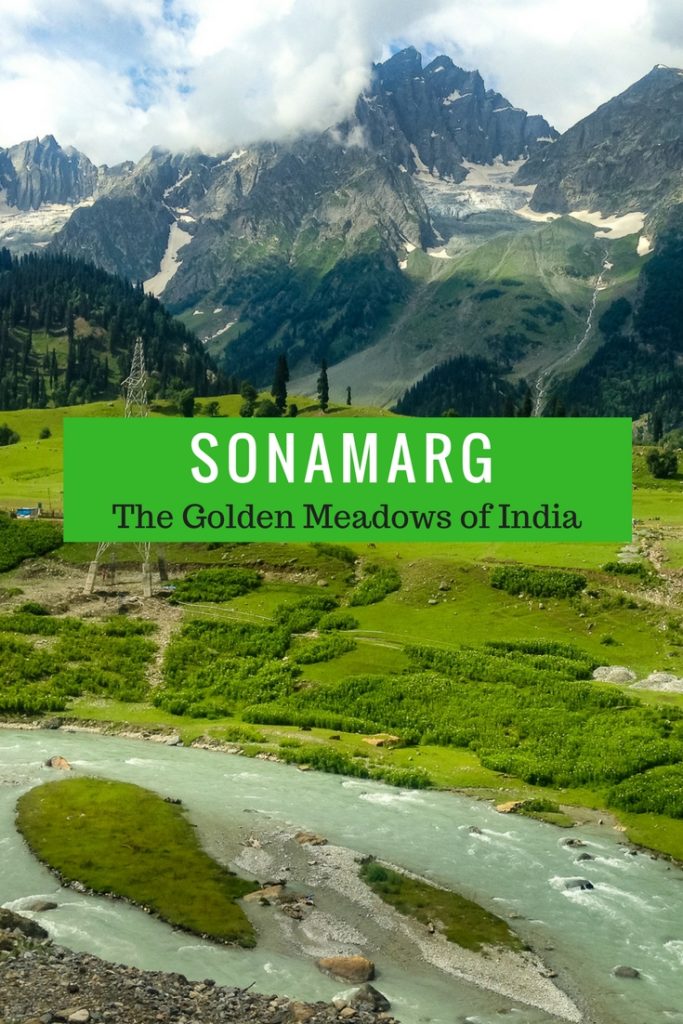 Do you also feel Sonamarg – The Golden Meadows is a real paradise or heaven. And, if you have any more stories of this land, please share it with us. We will be happy to listen to them.
You can also read about our other series of Leh Ladakh below
Nubra Valley: The Valley of Flowers in Ladakh
A day at White Lake Tso Kar in Ladakh
Ladakh-The land of High Passes
All you need to know about Leh Ladakh Inner Line Permit
6 must visit Leh Ladakh Palaces before they disappear
A Walk with Indian Soldier at Kargil War Memorial
Leh Ladakh Road trip from Delhi – 13 days itinerary