The alarm had already rung thrice but the warmth of quilts and pin drop silence was not letting us step out of our beds. At the back of mind, I imagined black and yellow striped big cat crossing in real and that excitement finally pushed me out of bed. I pulled the curtain to see out, it was still pitch dark, mist was hiding the dense beauty of jungle and there was hardly anything visible beyond 1 meter. There; I woke Tashi up and asked, are you sure we are going for Jeep Safari in Sariska Tiger Reserve. I doubt they will take us in so much fog and we will see the ferocious beautiful big cat – Tiger.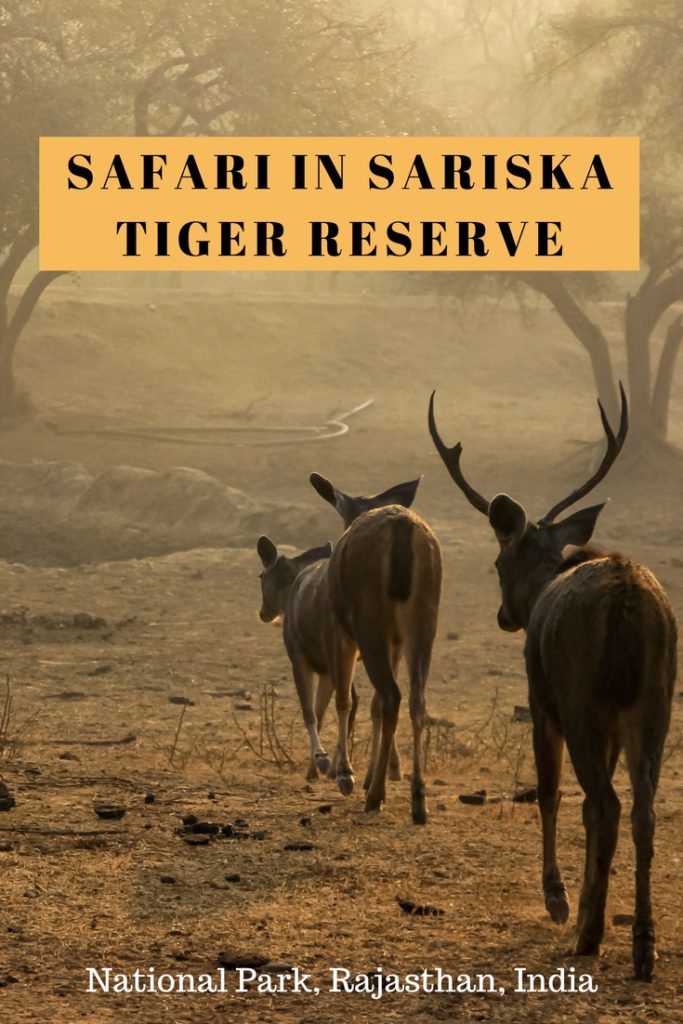 Without further discussion we stepped out to buy the safari tickets. The counter opened at 6:00 am and we were the first ones at window counter. Jeeps and canters were already lined up for 7:00 am Safari, with their engines on; and the guides were sipping tea gathered around the bonfires. Next 5 minutes we got our tickets with guide name Mr. Ramesh mentioned on it. We met him there and he directed us to be ready, outside our Hotel The Tiger Den.
Jeep Safari in Sariska Tiger Reserve
By 7:00am, darkness had already lifted; and an open jeep was standing at our gate. We jumped in with the excitement each occupying the corner seats as the whole gypsy belonged to us but then got to know three more members had to fit in from our Hotel itself. Like a child, I asked Ramesh, will we see tiger today. He turned, glared at me and with a small smile answered – Hanji, mam jaroor dikahega (Yes! Mam for sure you will see it). That raised my hopes and I crossed my fingers. We left in next 5 minutes and reached Gate No.1. After getting our tickets checked, we entered the Sariska Tiger Reserve.
https://www.instagram.com/p/BhMcHAVHQh8/?taken-by=suruchimittal
The Jungle appeared much darker and quite inside. Dusty trails had the tires prints marked on it and some animal paws prints too. The sun rays started filtering out from the leaves shading the sky and jungle in the golden hues. Peacock started chanting and came out from the bushes on the trail.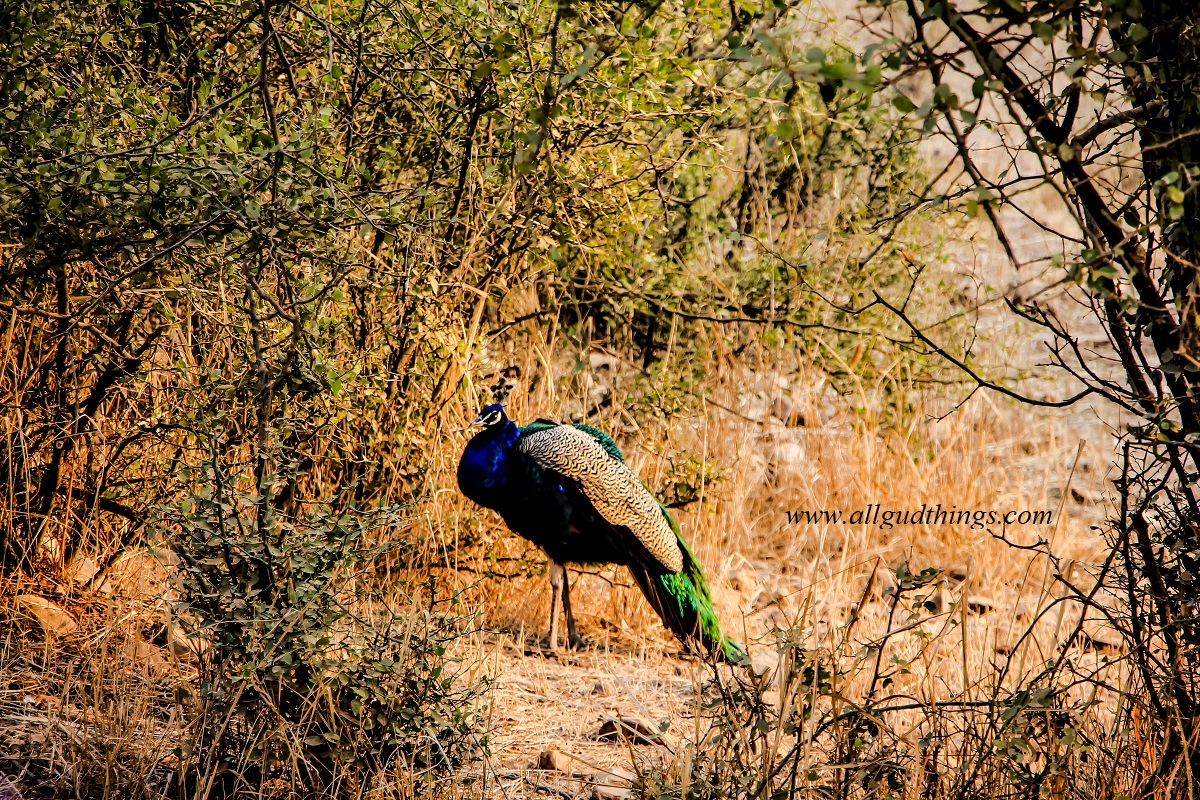 I shouted with the excitement, whereas everyone's camera's started making a "click" "click" noise. Not one but group of peacock and peahen crossed the trail completely nonchalantly, after all it was her territory and we were the aliens.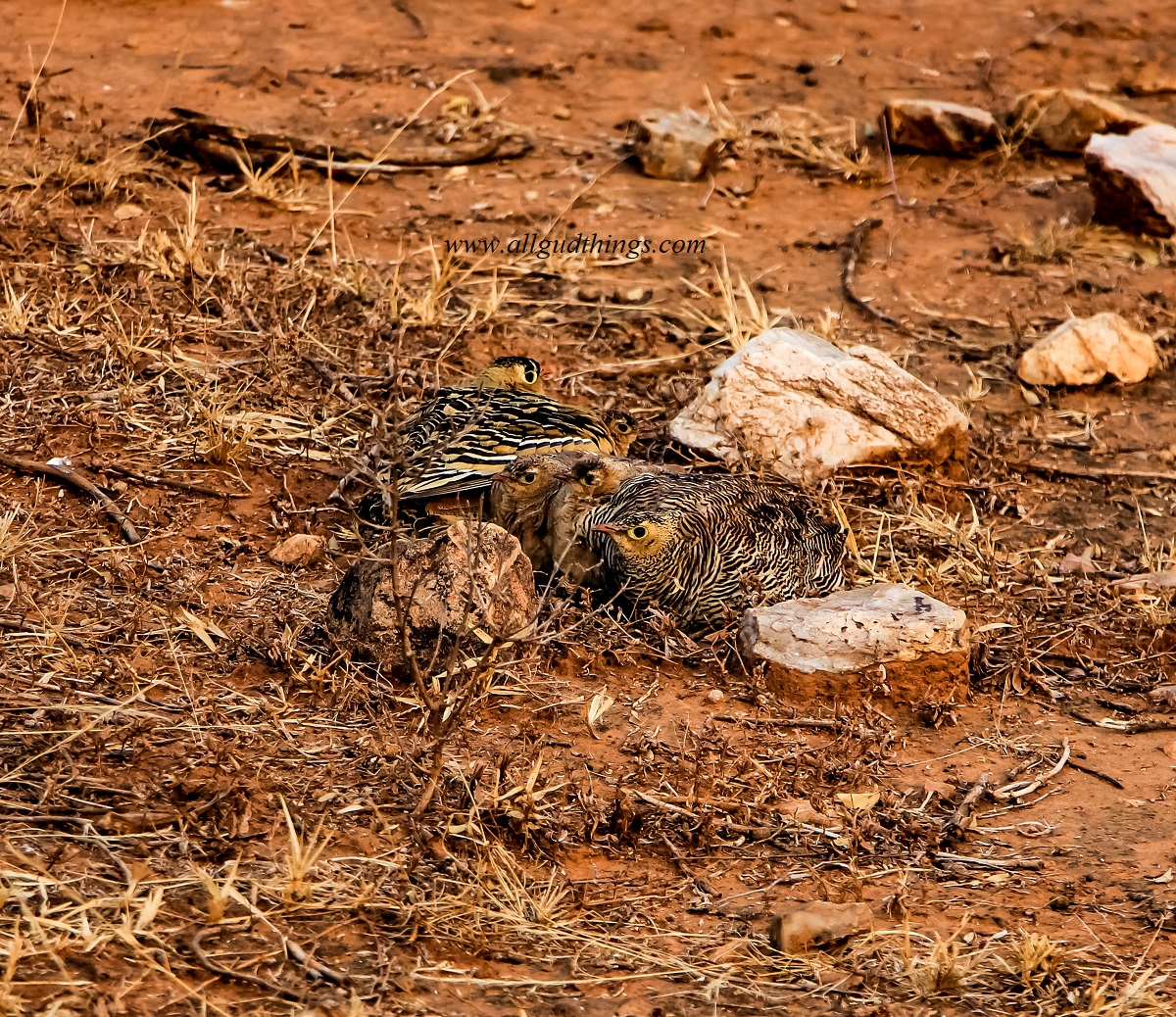 On the other side, we saw Quail, sitting together in a group of four, guessing the way to fight winters and stay warm. Nilgai / Blue Bull a bit far was raising her neck to find some food over the branches, but coexisted beautifully in the surrounding. After the continuous up and down trail, we saw a huge pond in the middle of the trail which used to be tiger shooting spot by kings, which made us clear the reserve area was never free from human settlements.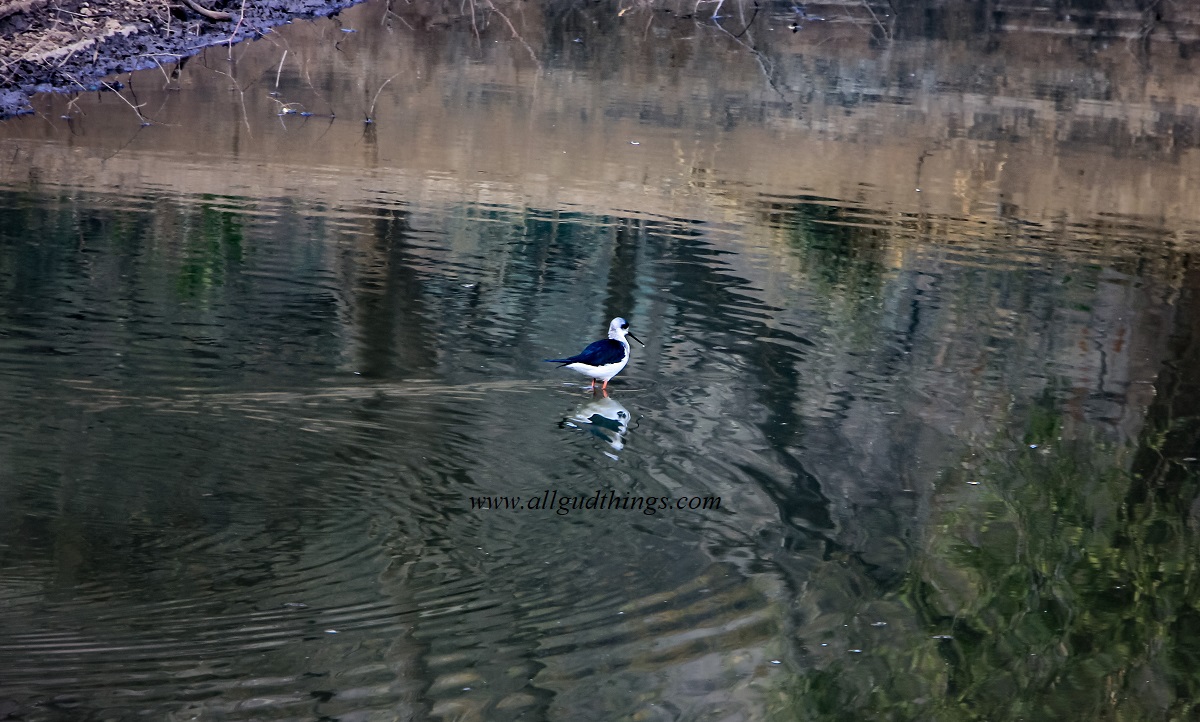 Few meters ahead, we saw spotted deer/ Chital, hovering over the bushes and a herd of Sambhar moving in line towards the another pond for some morning drink. The dusky sky with sun-rays plunging from it was making the Sariska Tiger reserve look extraordinary. Seeing all the natural habitat I actually forgot about the tiger.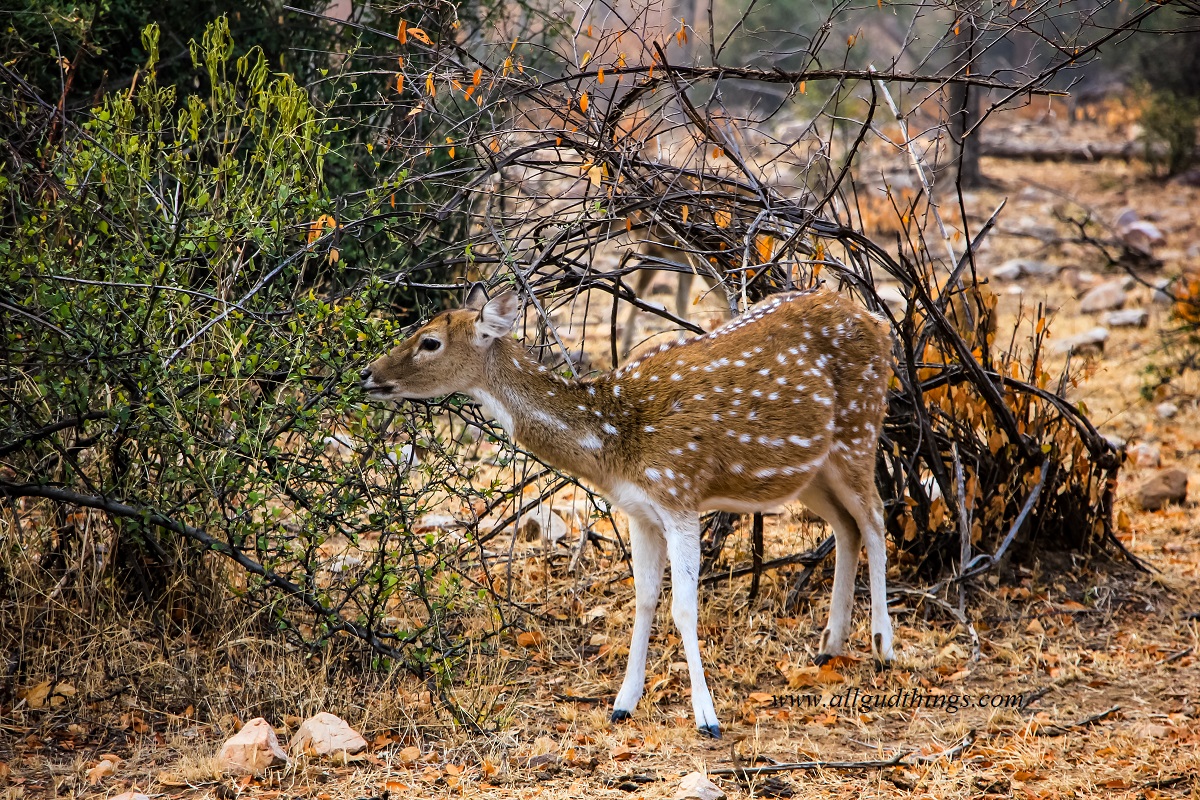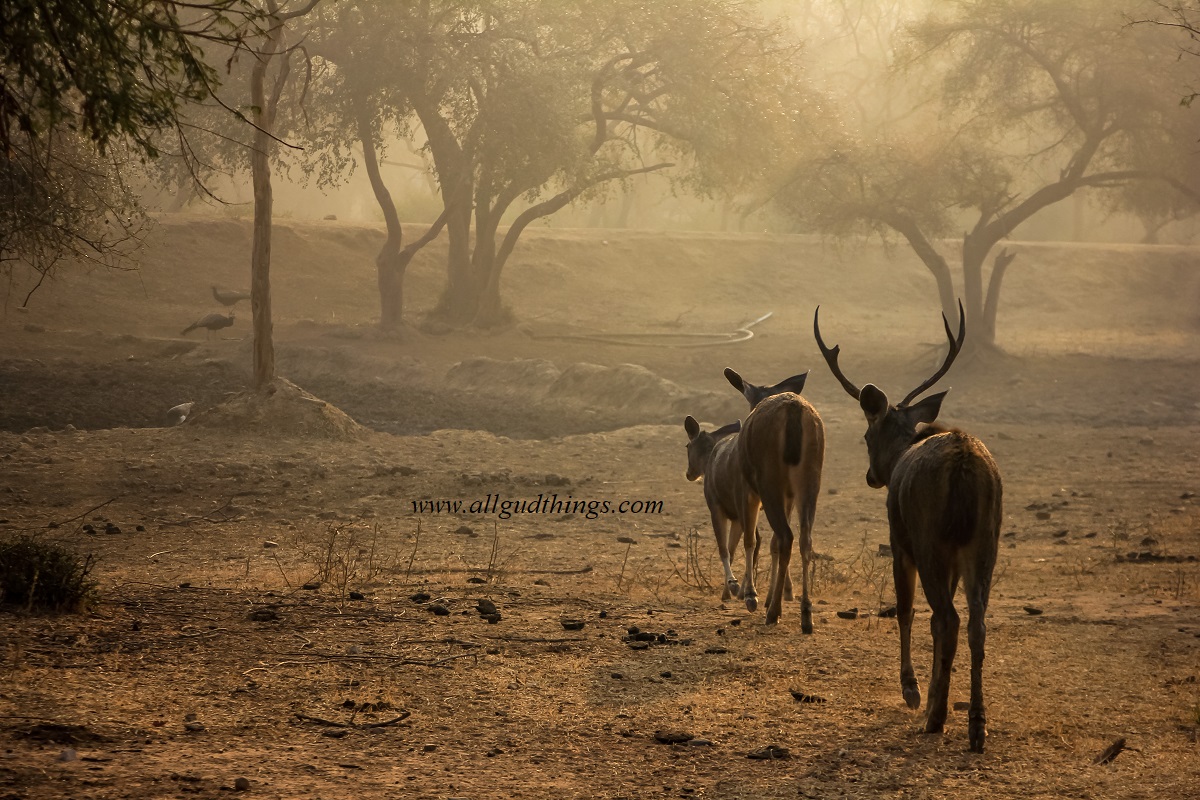 And it was already half time, we had reached the check post diverging into three ways one from where we entered and the other to Tehla and Pandu Pul/ Pandupol. The check post inside was more of a devastated museum, with some skulls on the display. Seeing the gypsies sanding there, we realized it's not only us, but several jungle lovers are on the go. And none of them had spotted the big cat till now.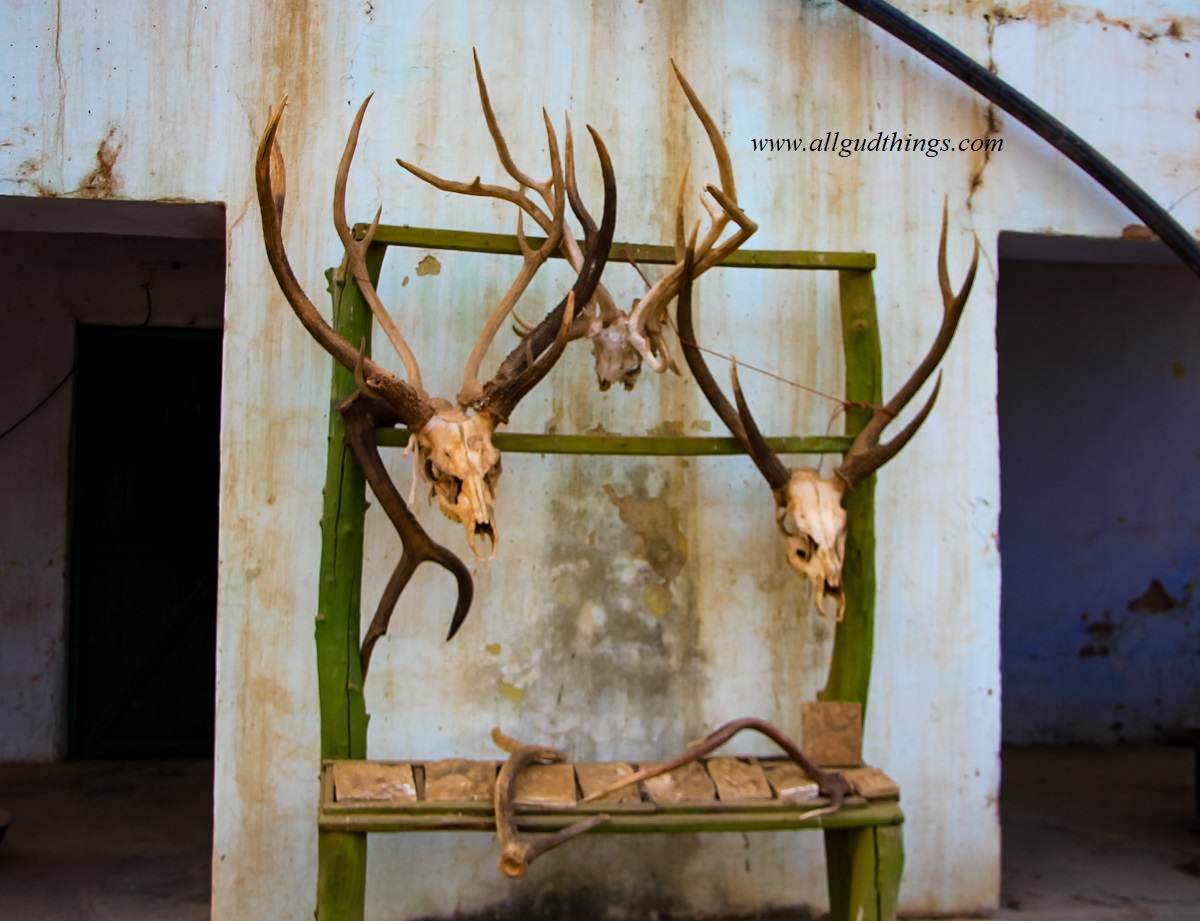 In the mean-time folk of Rufous Treepie, the cousin of Magpie had already found its branches on the jeep. We must say they are one of the super friendly beautiful birds.
https://www.instagram.com/p/BgRbZi9gmsN/?taken-by=suruchimittal
From there, we hopped back to the jeep and started towards another pond or Kankwari lake. On the way we observed the activities of Langurs, Wild Boars, and Rhesus Monkeys. The Kankwari lake just beneath the Kankwari Fort, situated on the hilltop. Half of the pond had dried up and the rest had some Stork birds, peacock and crocodiles were quenching their thirst.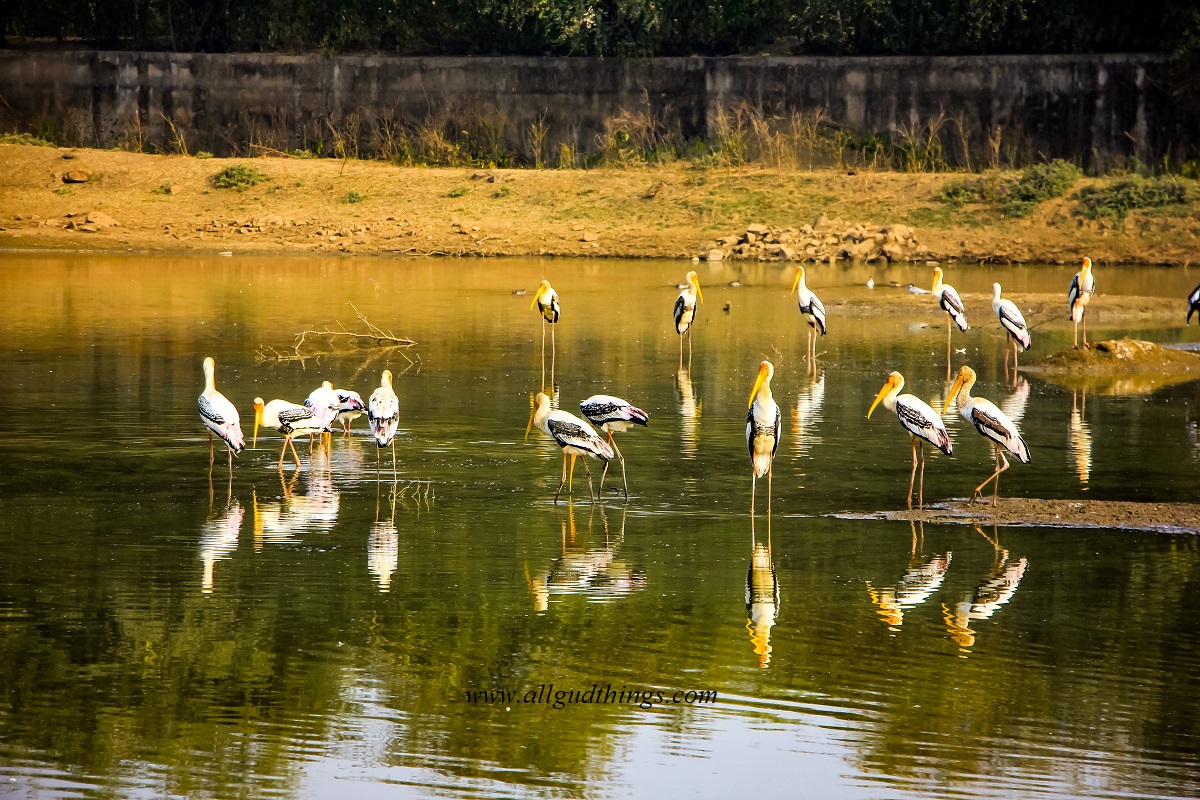 Till now, we couldn't spot the Tiger! which had woken and pushed us out of the bed. But still the experience was thrilling and 3.5 hrs passed away like an hour. Apart from the above birds and animals, Sariska Tiger reserve area is rich in Leopards, jackals, Hyenas, Civets etc. The sanctuary has more than 200 species of birds. So, is a paradise for avid birdwatchers too.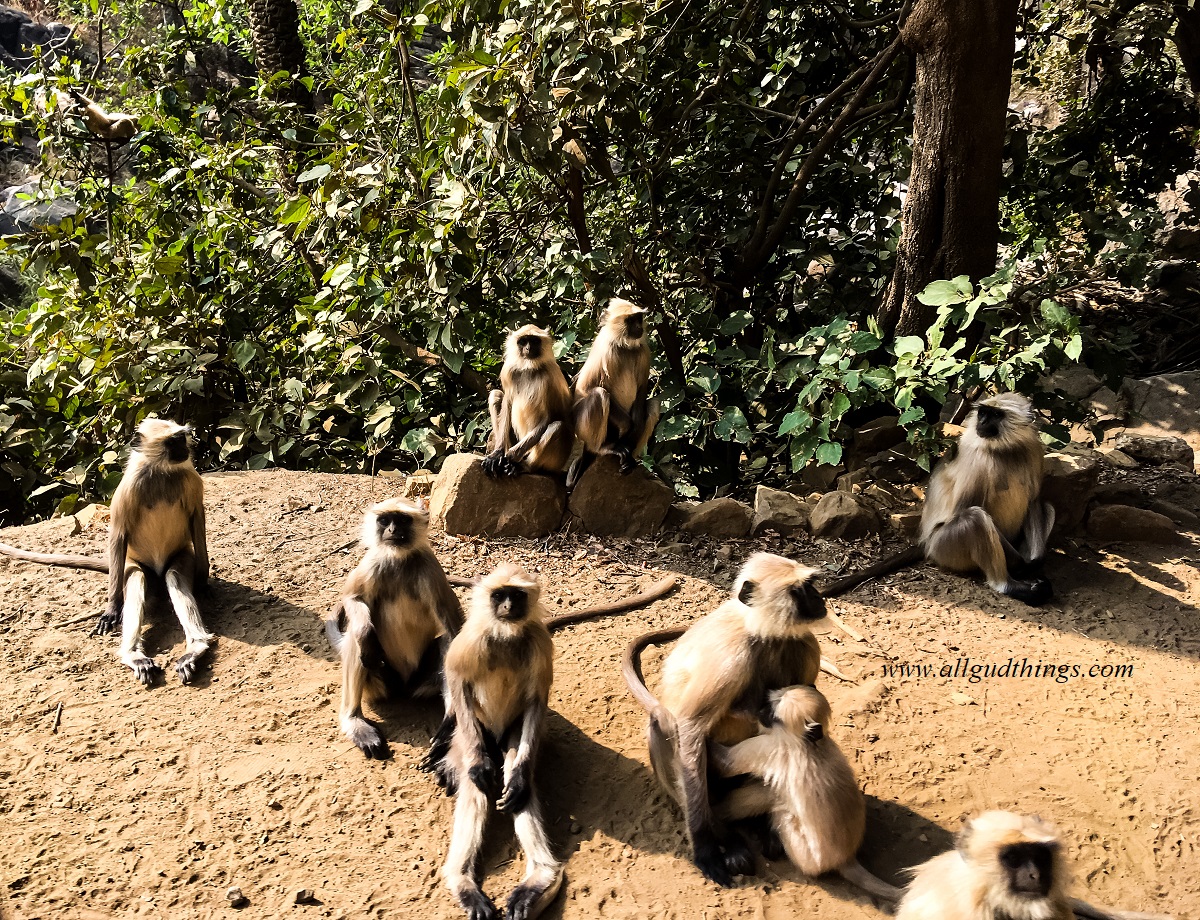 The Sariska Tiger Reserve spread in 866 square kilometers is a hidden treasure. The dry deciduous forest along with Rocky landscapes, shrubs and hilly cliffs in the Aravalli range, makes the topography look completely stunning. Although Sariska Forest is dry deciduous but is equally rich with lakes and water-bodies. The low lying forest is lined by Salai, Ber, Khair trees whereas the upper hills have a canopy of Dhok trees. In monsoons the whole land turns to lush green, giving an ethereal feel.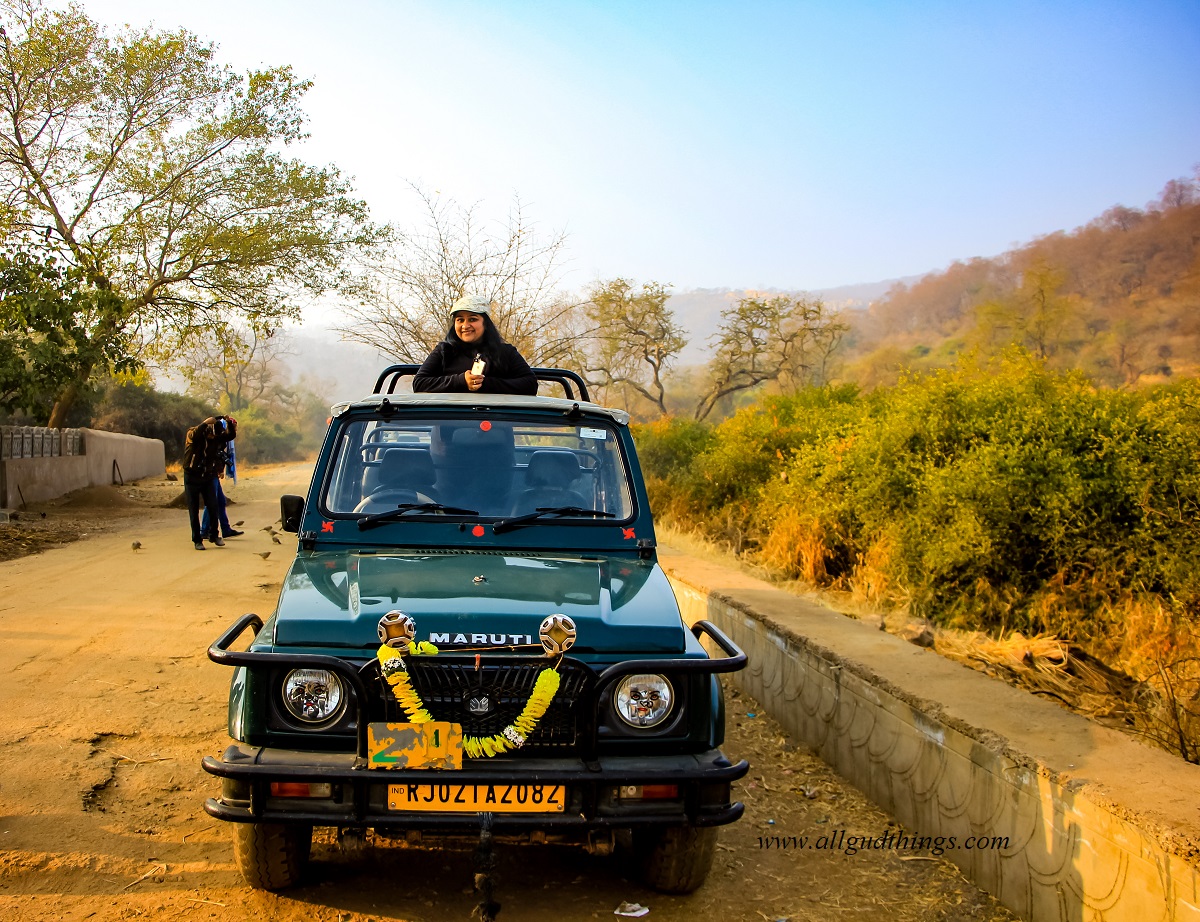 History of Sariska Tiger Reserve
The Sariska Sanctuary is believed to have mythological as well Historic significance.
Mythologically: It is the place where strongest Pandava Bhishma was defeated by Lord Hanuman. So, there is a shrine dedicated to Lord Hanuman at Pandupol which means "gateway of the Pandavas". The Shrine is visited by thousands of devotes on Tuesdays and Saturdays.
Historically: The beauty of the place was under the eye of royals too. The Kankwri Fort was built by Maharaja Jai Singh II. The Mughal Emperor Aurangzeb imprisoned his elder brother Dara Shikoh here.
And before 1955, it was used as a private hunting ground by Maharaja of Alwar, to entertain himself, his guests and royals.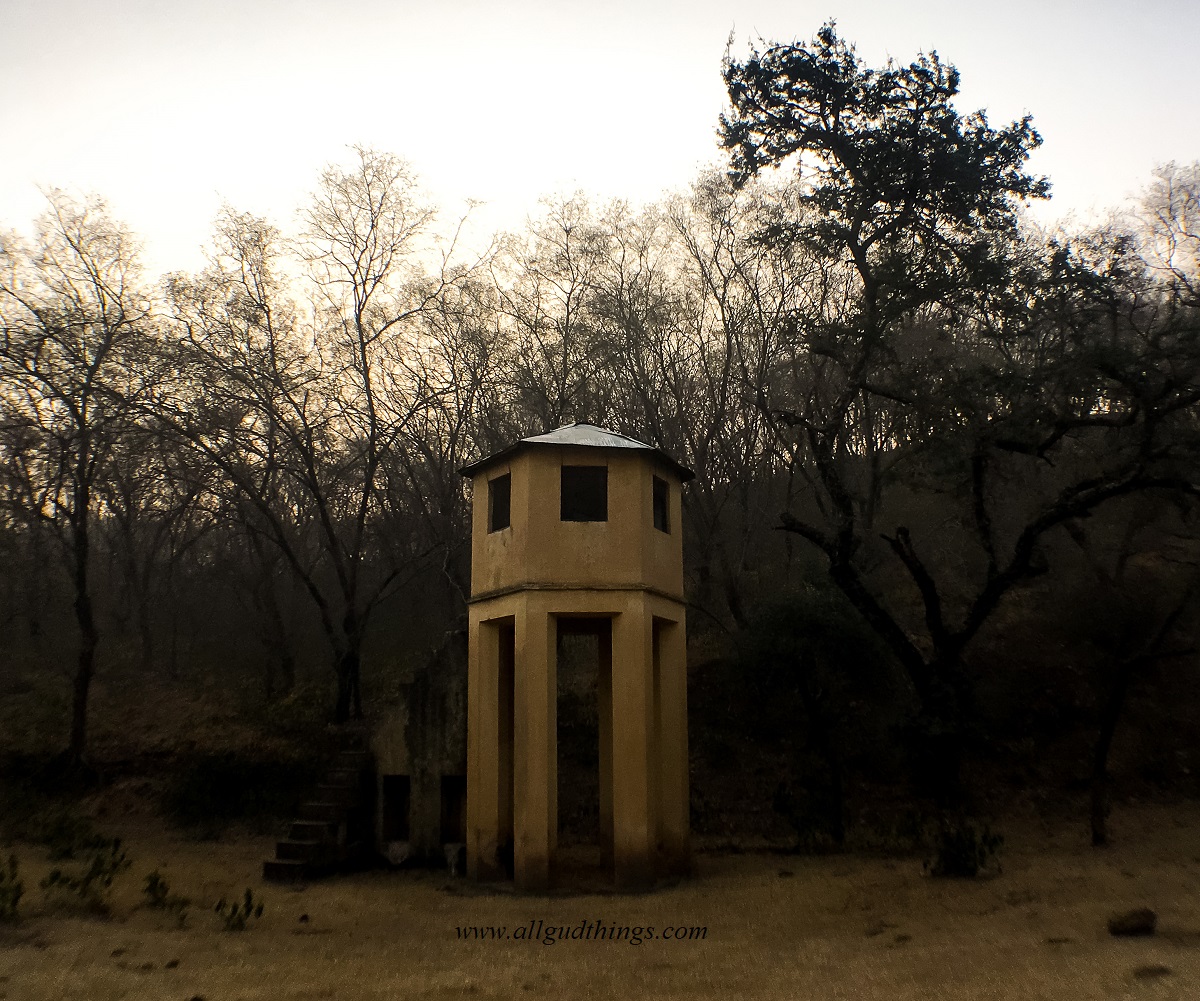 How to Reach Sariska
Sariska lies 200 kilometers from Delhi, 120 kilometers from Jaipur and 35 kilometers from Alwar in Rajasthan. The nearest airport is at Jaipur whereas the nearest railway is at Alwar. From Alwar, there are several operational cabs and buses till Sariska. Having good transport connectivity, we say it is a perfect weekend getaway from Delhi, Jaipur and Alwar.
Route from Delhi for Road trip:
Delhi – Gurugram – Bhiwadi – Chikani – Alwar- Sariska
Best Season to Visit
The best season to visit Sariska Tiger Reserve is from November to April. After that the temperature starts soaring in Rajasthan; going between 45 to 50 degree Celsius. The Park closes down in monsoon from July to September.
Timings and Cost for Jeep Safari in Sariska Tiger Reserve
At Sariska National Park, Jungle Safari takes place twice a day.
Summers: Morning Shift from 6:00 am to 9:30am and Evening Shift from 3:00 pm -6:30 pm
Winters: Morning Shift from 7:00 am to 10:30 am and Evening Shift from 2:30 pm -6:00 pm
The cost for jeep Safari is Rs. 762/- per person and additional Rs. 600 /- for videography camera. (You don't need to pay for DSLR cameras, as we did a blunder) whereas for canter it is Rs. 400/-.
Ideally, canter is more economical but there are 20 people in one canter whereas in Jeep there are 4 to 6 people. Moreover the jeep has more maneuverability on narrow trails.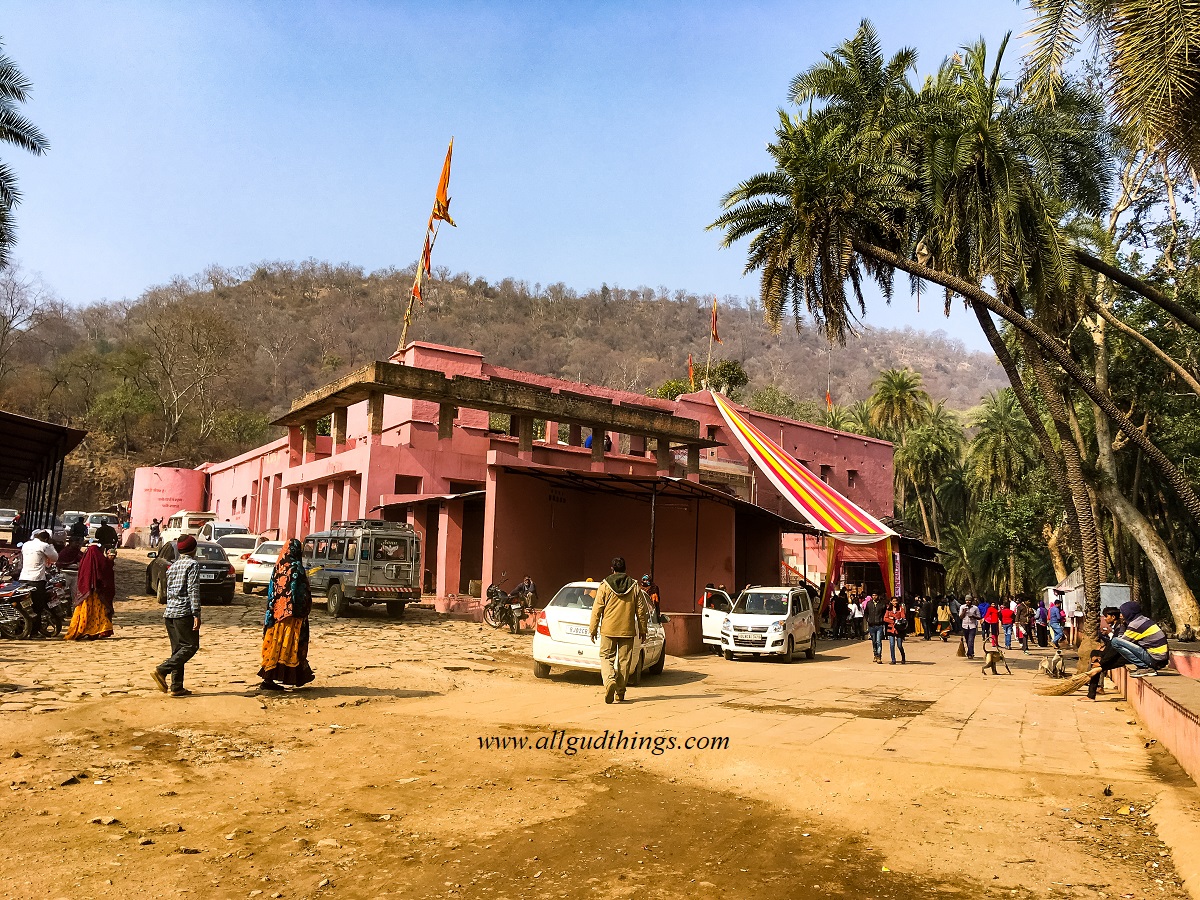 The best is, that on Tuesdays and Saturdays one can drive inside the Sariska Tiger Reserve, till Pandupol by his/her own vehicle by just paying Rs. 250/- at Sariska Gate or Tehla Gate. We did another trip around 12 in our vehicle and took exit through Tehla Gate, further heading to haunted Bhangarh Fort.
How to Book Sariska Tiger Reserve Safari
The Safari can be booked online at http://fmdss.forest.rajasthan.gov.in/ or the ticket can be purchased at the window counter. We recommend to book it online to avoid Queue as well unnecessary hassles. Even after online booking, you need to go to the window counter to get a hard copy and to know your vehicle and guide.
While Booking online there are Routes option, select Rout 1 and 3 as the probability of spotting a tiger is bit high in these areas. We selected Route 1, still couldn't spot it.
Accommodation
There are multiple stay options in Sariska Tiger Reserve ranging from guest houses, tents, government guest houses to luxurious hotels.
We stayed at Hotel Tiger Den, the government property managed by RTDC (Rajasthan Tourism Development Corporation). It lies just 500 meters from the Sariska Tiger Reserve entry gate and costs around Rs.3500/- per night including food. You can book it from here.
Overall Experience of Safari at Sariska Tiger Reserve
The Sariska Tiger Reserve is a perfect weekend getaway for wildlife & bird lovers and nature enthusiast. We feel it is more of a wildlife reserve than the Tiger Reserve. Although, we couldn't see the striped beast there but the overall experience was amazing.
Interesting Fact: At Sariska Tiger Reserve, there are only 14 tigers and more than 1 Lakh Peacock.
Our advice is – Don't go with expectation to spot Tiger only. It's a rare chance to spot the beast. People/ Wildlife photographers either might have been too lucky or must have spent many days there to capture them.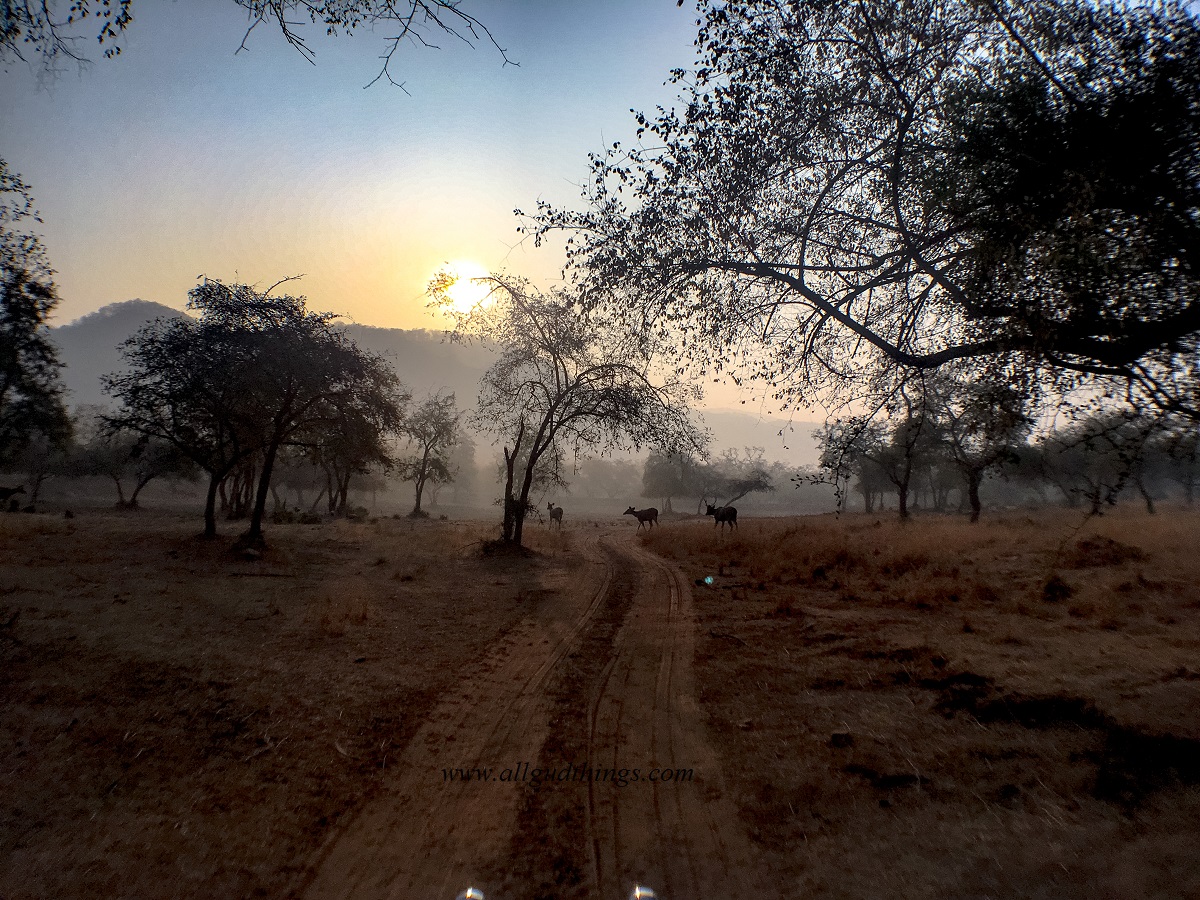 Important Tips
Carry a shawl/ scarf, hat/ cap and googles as the trails are really dusty. These accessories will protect you from cold in the winters and from heat in the summers.
Do carry a water bottle
Please do not feed birds and animals on the way
Do not get out of your vehicle without your guide's permission
Follow the rules and guidelines mentioned on the pass
Click pictures without disturbing the animals in their habitat
While driving by your own vehicle, remember to maintain a slow speed, not more than 30-40 km/ hour
If you find a wildlife animal crossing the trail on your way, stop your vehicle and give them the way first
And most important don't litter in the Jungle. Please bring back your bottles and wrappers. This will be helpful for the animals as well environment