Imagine the vast expanse of a shiny mirror where horizon stretches to infinity, where the white or silver land merges to blue, where you can drive, walk and jump, where you can see the reflections of the sky, clouds, sun rays, birds, and moon, where you can camp below zillions of stars. Doesn't this sound like some mystical place out of some poet's imagination? Seriously, this place exists and we saw one such landscape on our recent trip to Rajasthan, known as Sambhar Salt Lake surrounding the historical Sambhar Salt Town.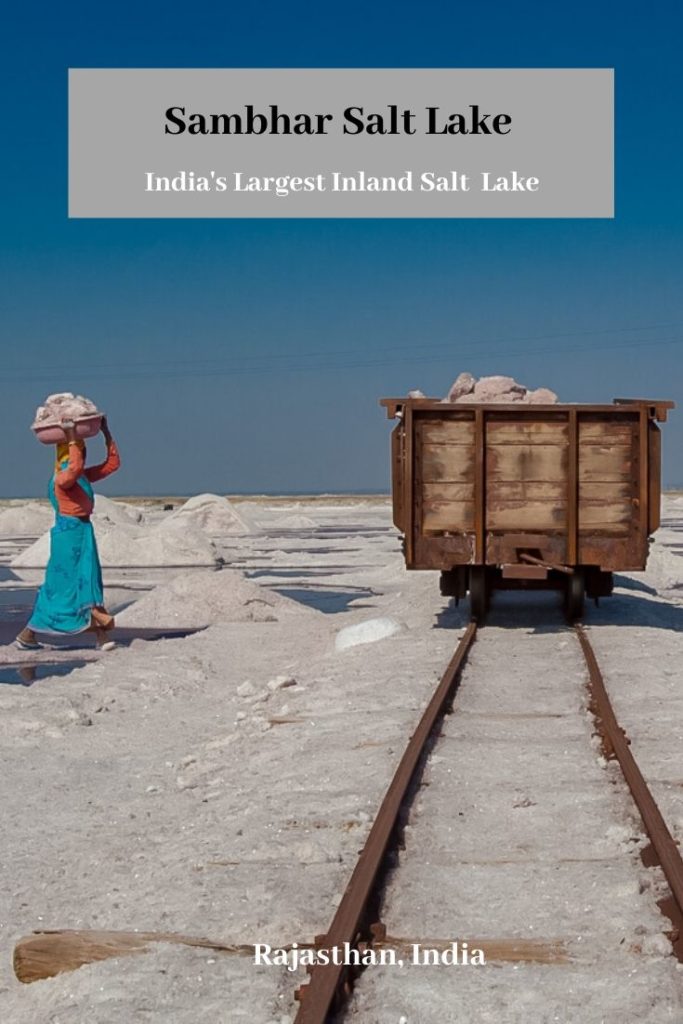 Till day, Sambhar Salt Lake had never been on our bucket list and the visit to it was purely a side visit while visiting the Salasar Balaji Temple. But after seeing it in real and spending a day there, we are absolutely in love with it and would definitely love to go back with a longer plan of camping there in full moon.
About Sambhar Salt Lake
The Sambhar Lake is an elliptical-shaped, saline wetland with a length of approximately 35.5 km and a breadth varying between 3 km and 11 km. The depth of the lake varies between 60 cm in the dry season to 3 meters in monsoons. There are around 38 villages around Sambhar Jheel/ Lake. Lake has both economic and ecological importance. It is a paradise for railway enthusiasts and bird lovers as they can spot both native and migratory birds playing and dancing in the shallow water.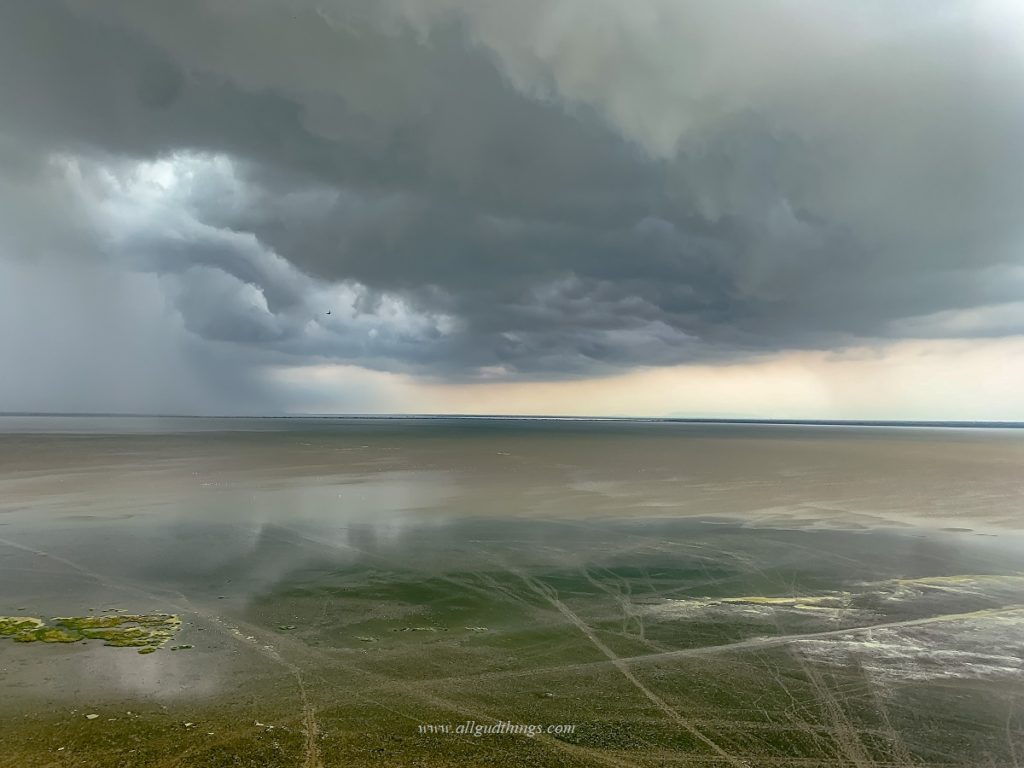 Being India's largest Inland Salt Lake, it produces 1,96,000 Tonnes of clean salt, which is equal to 9% of India's total salt production. The salt factory and pans economically help the villagers by providing a huge employment opportunity.
Also, Sambhar Lake is a Ramsar site and is home to thousands of migratory birds from Northern Asia and Siberia. The specialized Algae and bacteria in Sambhar Lake provide striking varying colors to the Lake water and also support the ecology.
How to reach Sambhar Salt Lake?
The Sambhar Salt Lake lies 80 kilometers from Jaipur, 60 kilometers from Ajmer on Jaipur – Ajmer Highway, 154 Kilometers from Salasar, 190 Kilometers from Sariska, 194 Kilometers from Bhangarh Fort and 85 Kilometers from Khatoo in Rajasthan. It can be reached by air, train, bus, cab or car. The nearest airport and railway station are at Jaipur. From there, one can travel further by bus, cabs or direct train to Sambhar Railway station. Sambhar is well connected by roads too, so we took a road trip.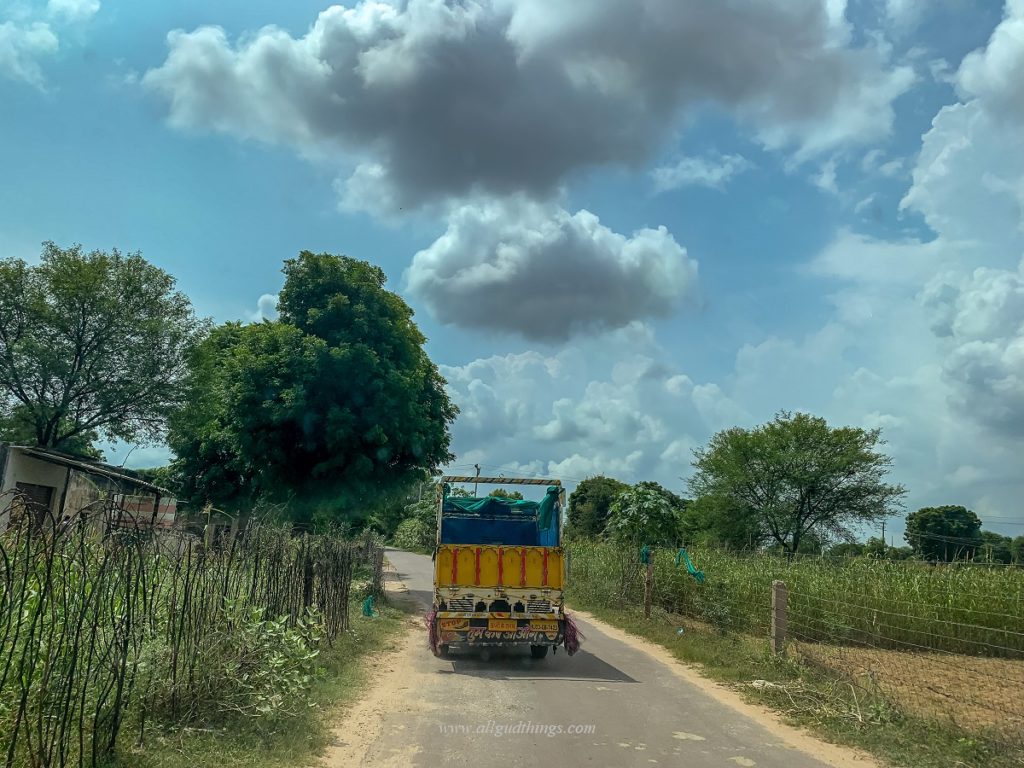 Route we (AllGudThings) took (388 Kilometers)
Delhi – Gurugram- Bhiwadi- Neemrana- Kotputli- Shahpura- Reengus- Khatoo- Sambhar
Total Time Taken– 7-8 hrs
Or
Ideal Route from Delhi (342 Kilometers)
Delhi – Gurugram- Neemrana- Jaipur- Sambhar
Total Time – 7 hours
Condition of Roads
If you have planned to opt for the route we took, then be ready to experience the completely different, unspoiled countryside of Rajasthan. Till Khatoo, roads are graveled with potholes somewhere in between. Beyond it you will be driving on state Highways & narrow village roads, crossing huge swamps, green flatlands. The amazing landscapes give you a mixed feel of crossing through different states of India.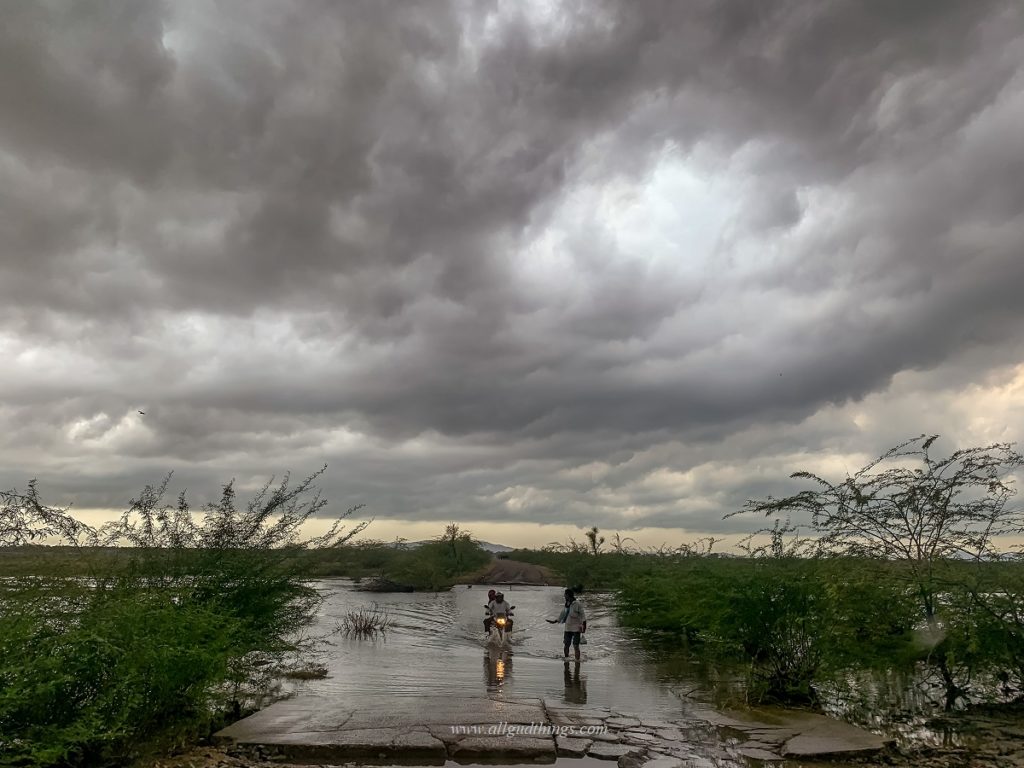 On the way, you will cross rustic Rajasthan villages and view the sights found in the paintings of renowned artists. The Village women adorning colored sarees or Lehanga Choli with a big veil and water pots or piles of fodder on their head, turbaned men wearing dhoti- kurta and riding a bicycle along the countryside or taking herds of sheep & goats for grazing is nothing less than a sight to behold.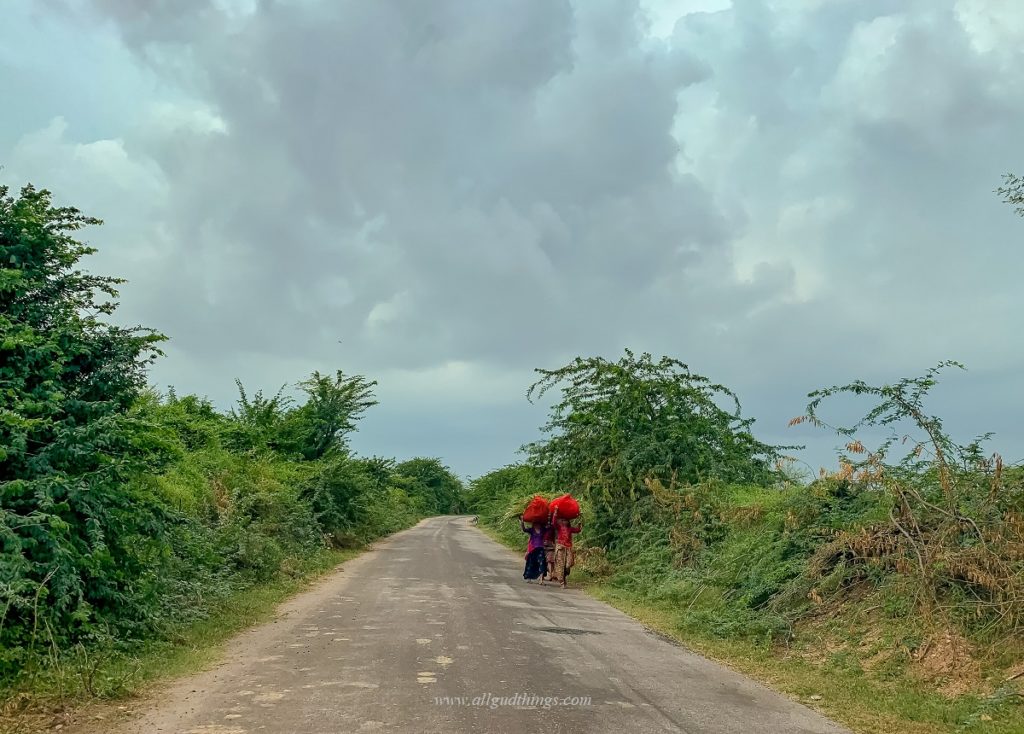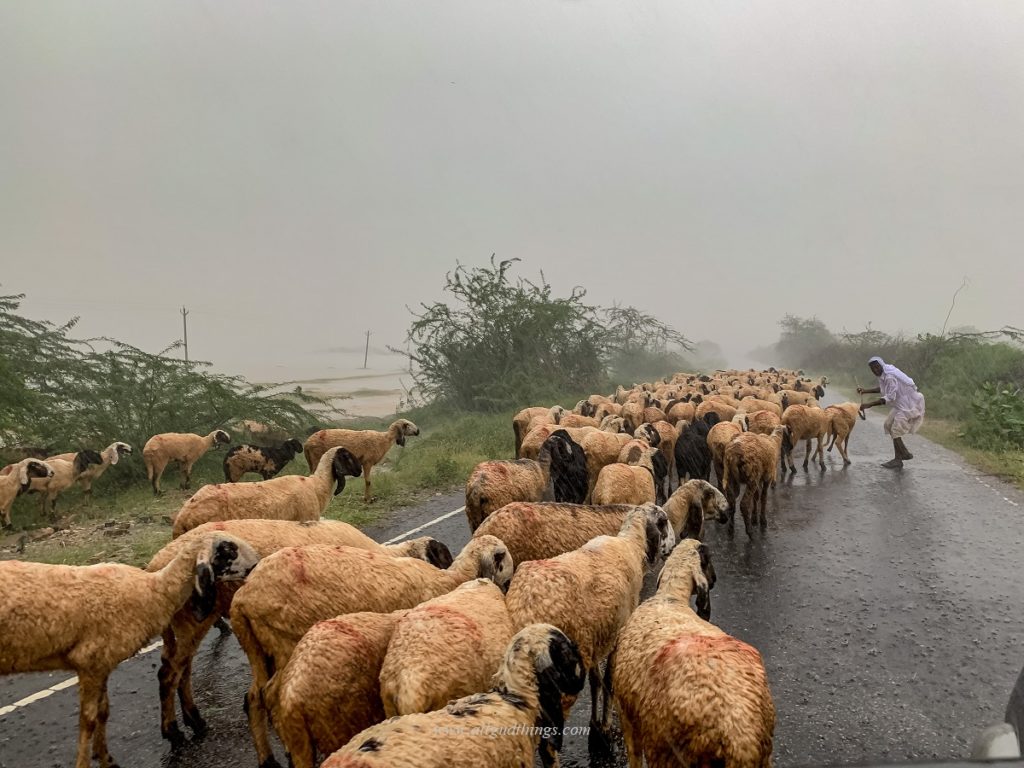 Sambhar Town
As soon as you reach the Sambhar town, you will start seeing the town chaos and multiple boards of famous Sambhar Salt. But to reach the white Lake without getting lost in the narrow unpaved lanes of Sambhar add the location of Sambhar Salt Lake to Google Maps. It will take you to the midpoint. From here we could see the vast expanse of dried white land with some water in it, demarcated into rectangles at places, which looked like salt flats or pans. And just parallel to it ran the centuries-old narrow gauge rail track.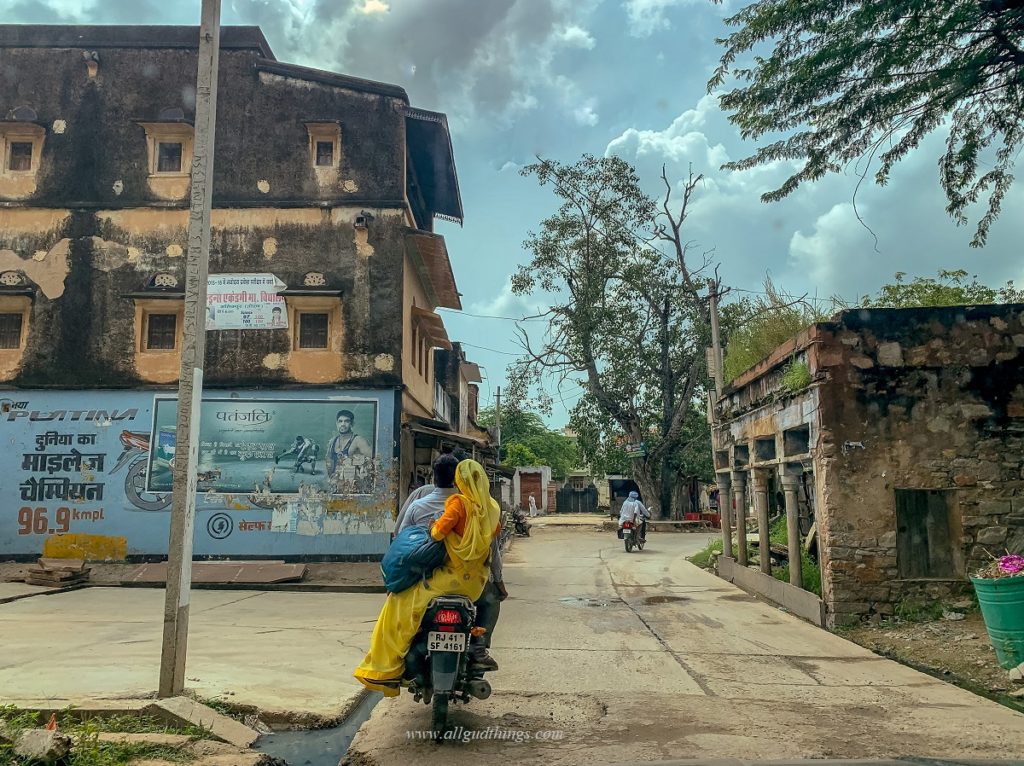 The view didn't satisfy our soul. We wanted to see the infinite view more closely and probably from some height. But before that our tummy was screaming and we wanted some delicious food. So, we headed over to NaCl. No! No! We didn't start having Salt (NaCl- The chemical representation of Salt) to fill our stomach but headed to the restaurant named NaCl in Sambar Heritage Lake Resort.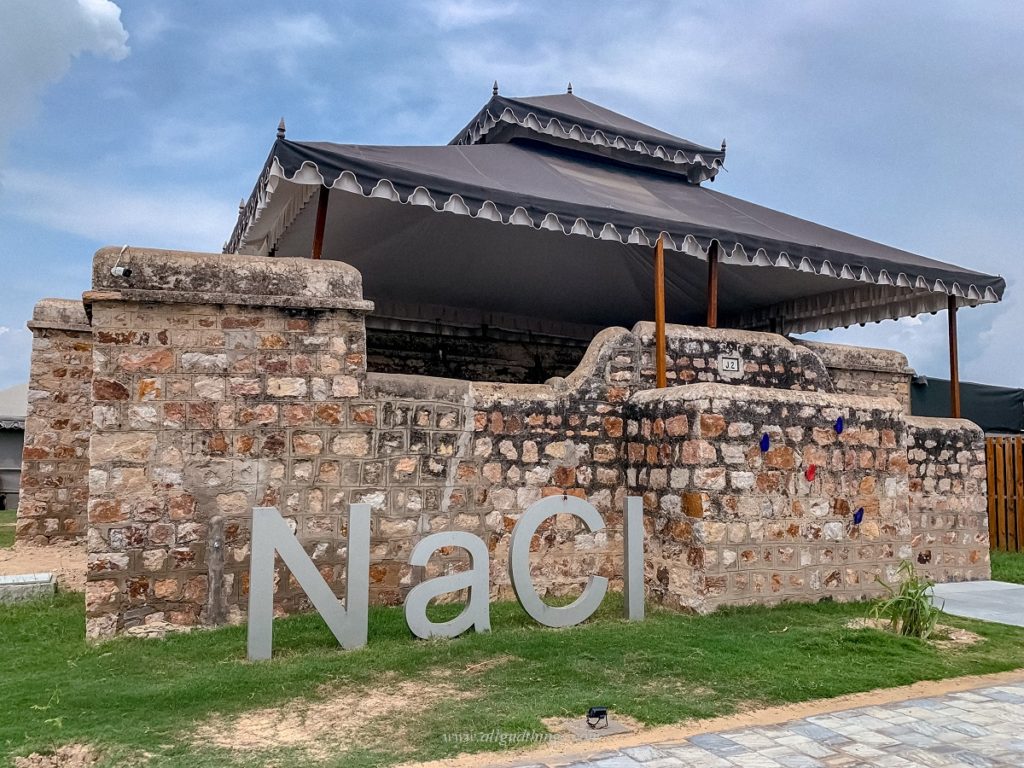 Sambar Heritage Lake Resort & NaCl Restaurant
The Sambhar Heritage Lake Resort is an 18th Century, British Built, first Circuit House in India. The refurbished resort architecture has a hint of heritage with all luxury and modernity and it too has kept its traditional structure intact.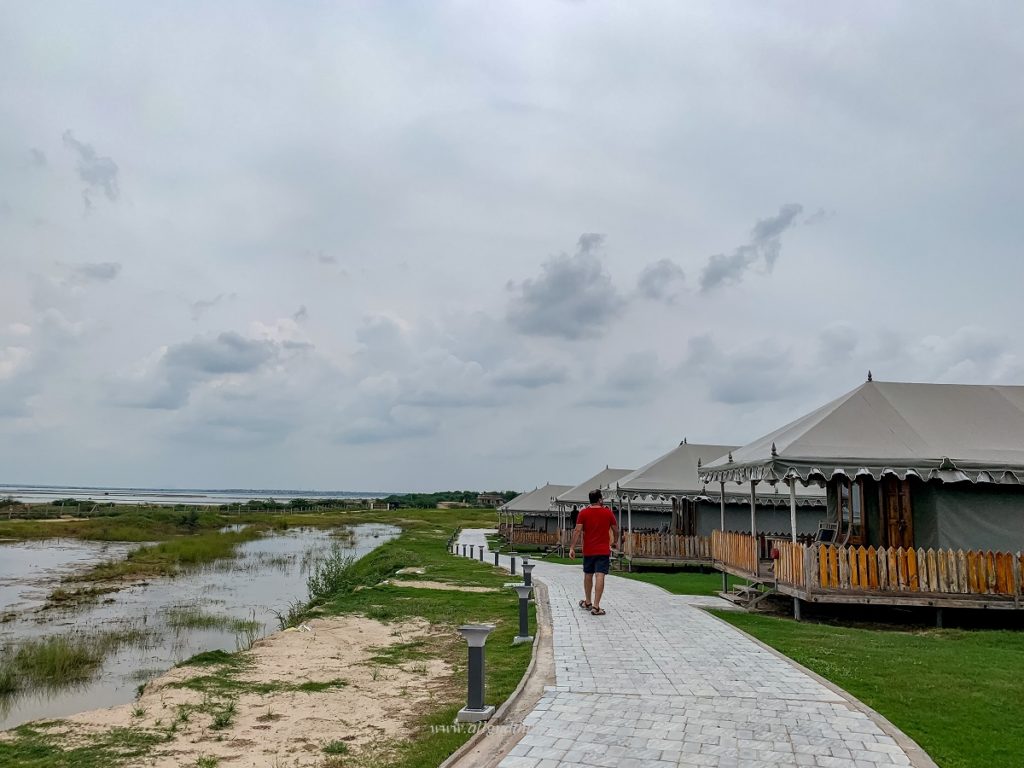 In total, the resort has 32 rooms, where the 4 heritage suites are located in the Circuit House, 8 suites are inside the Kothi which was initially the Britishers Clubhouse, 18 Swiss tents and 2 container rooms are set along the Sambhar Lakeside.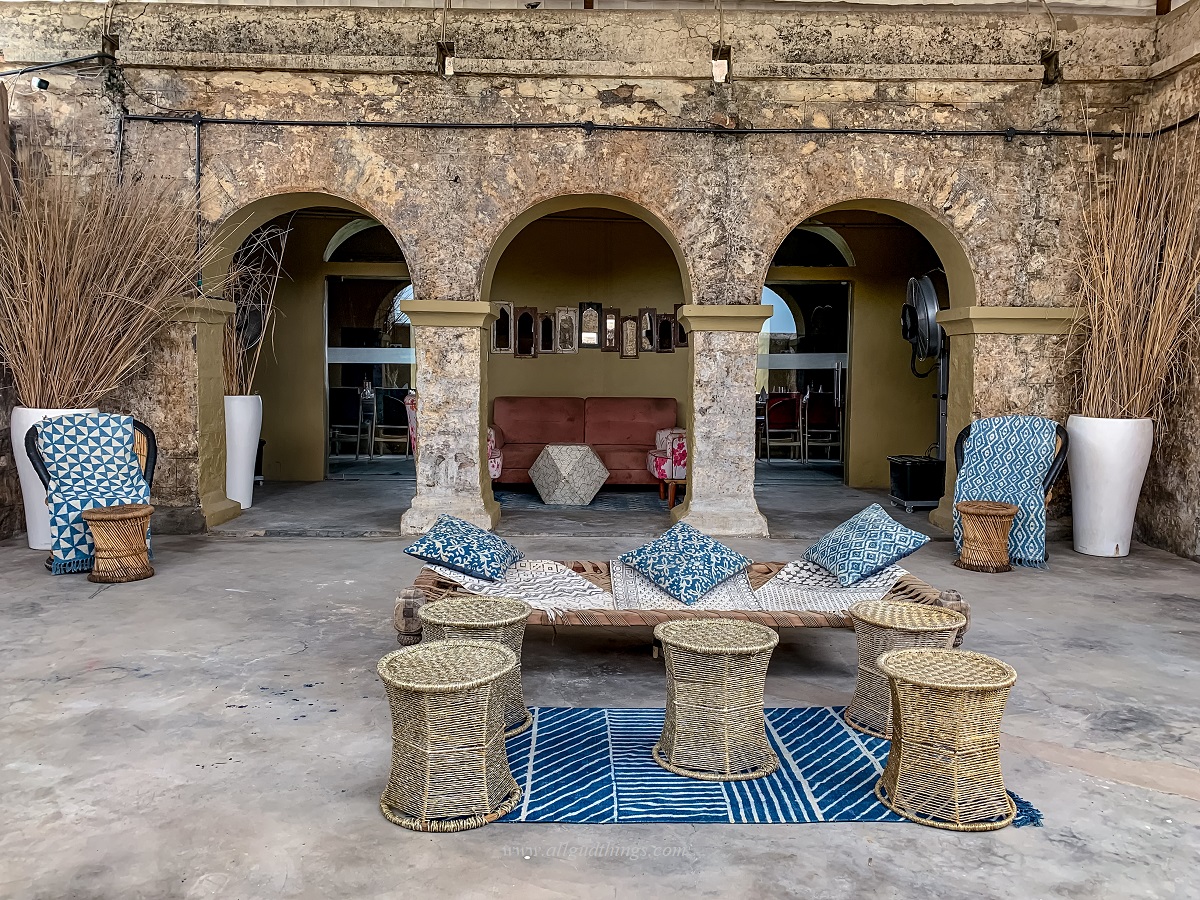 The resort has 3 restaurants- Mughal Tara, Veranda and Nacl offering the multispecialty cuisines. We went to the one close by swiss tents i.e. NaCl. Its colorful, rustic interiors were totally admirable and can surely win the heart of people who love vibrant colors.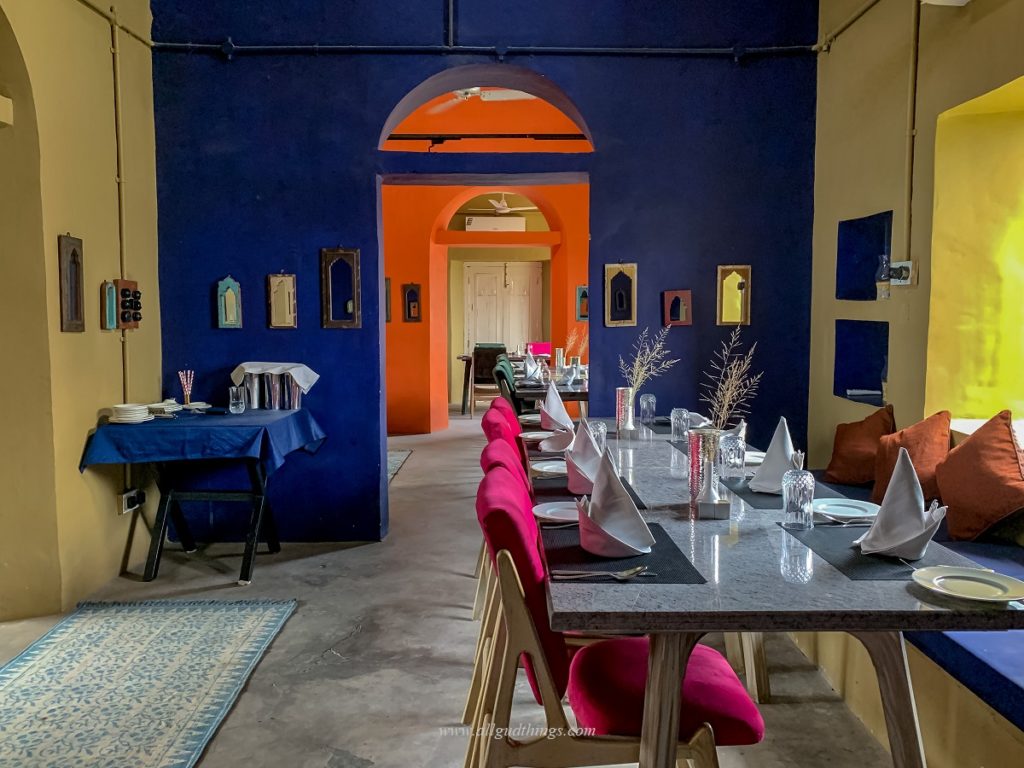 We ordered ourselves a traditional Rajasthani lunch i.e. Mirchi Kadhi, Aloo, Jeera Rice, Roti & Papad. Food was yummy and absolutely worth the price. The server also explained to us that the meals are cooked using fresh organic herbs and salad leaves are grown in their own kitchen garden.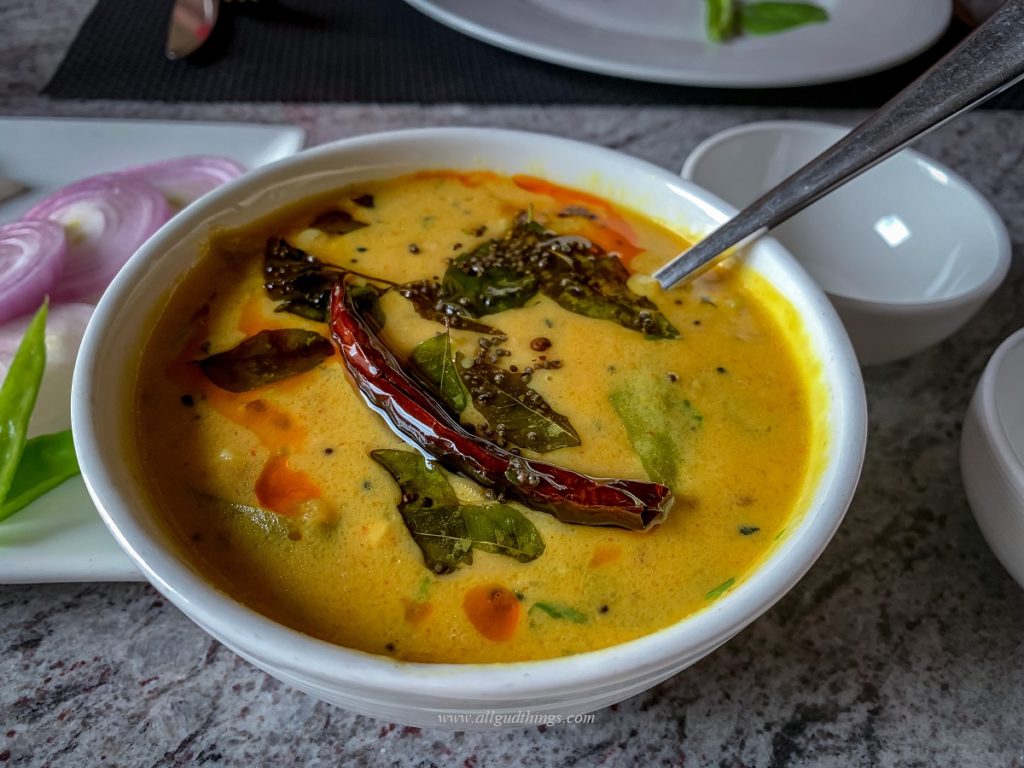 After lunch, we walked around the premises and observed that the resort is set at a perfect location. From your Swiss tents, you can see in front the Sambhar Salt Lake, Salt Pans, flying migratory birds and interestingly the narrow gauge rail track passing from the resort itself.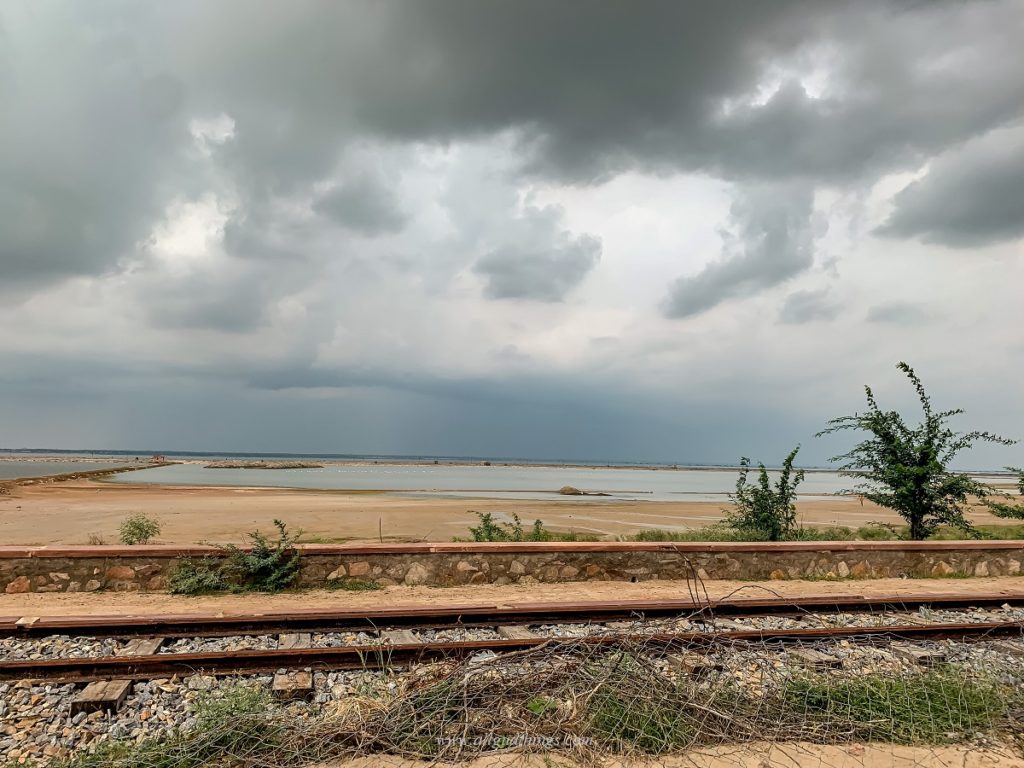 On enquiring from the staff we got to know that the small colorful train with small wooden chassis is fully functional and still this gauge itself is used to transport large bogies of salt from Sambhar. On prior information, Sambhar Heritage Resort arranges for a complete salt production tour by train. And the interesting part is that the train staff picks and drops you to resort itself.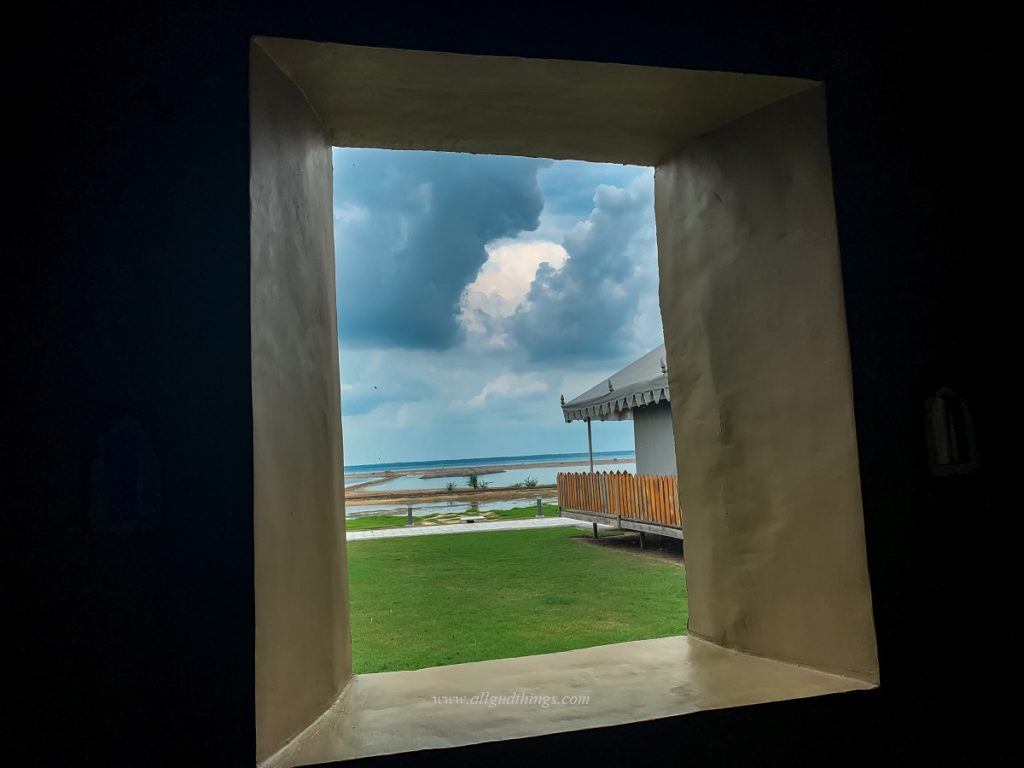 Form here, we left to visit the famous Shakambhari Temple of Sambhar, dedicated to Goddess Shakambhari the consort of Lord Shiva and the Goddess of Chauhan Dynasty, also from where the Sambhar town has derived its name.
Shakambhari Temple & Shakambhari Jheel (Lake)
The Shakambhari Temple, almost 2500 years old is located 28 Kilometers away from the Sambhar town. In front of the Temple, lies the Shakambhari Jheel also known as the Sambhar Salt Lake.
Sambhar Town a centuries-old town has its mention in Indian epic Mahabharata. Acc. to legends, it was once a Kingdom of Demon King Vrishparva, the place where the wedding of Devayani (daughter of Shukracharya, priest of Vrishpava) and King Yayati took place. So, here lies a Devyani temple & a Devayani Kund. It is also said that Queen Jodha Bhai married King Akbar in Sambhar in the 16th century.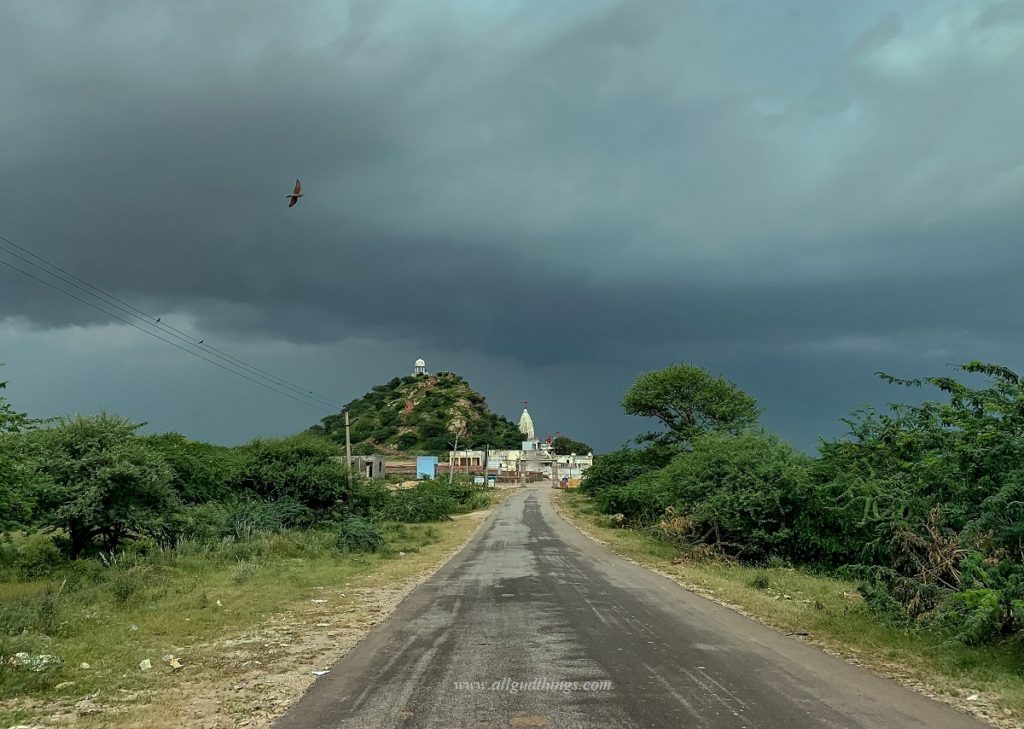 Apart from this the Shakambhari Temple & Lake has a mythological history. Sambhar Lake is believed to be the gift of Goddess Shakambhari to her followers. To appreciate the follower's Devotion, Goddess converted the green forest where the lake stands today to silver metal. But the locals took it as a curse and subsequently the fear of greed and strife, made the follower's request Goddess take back her boon. So, Devi being magnanimous converted the metal field to Salt Lake that would bring prosperity in the region and not lead to conflicts.
Around Sambhar Salt Lake
The narrow road takes you to the Temple and gets ready to see the unimaginable vistas of India. Firstly, from the parking, you will see the stairs and a long bridge going downwards to the Temple located in the center of Sambhar Lake. Also, you can see a lot of zigzag tire marks on the grounds of Lake, which could be the results of the stunts the drivers had tried to perform on the dried bed. We skipped going this side first as it was getting completely cloudy and looked the downpour could start anytime. So, we took the stairs going uphill (almost 150 stairs) to the Temple top.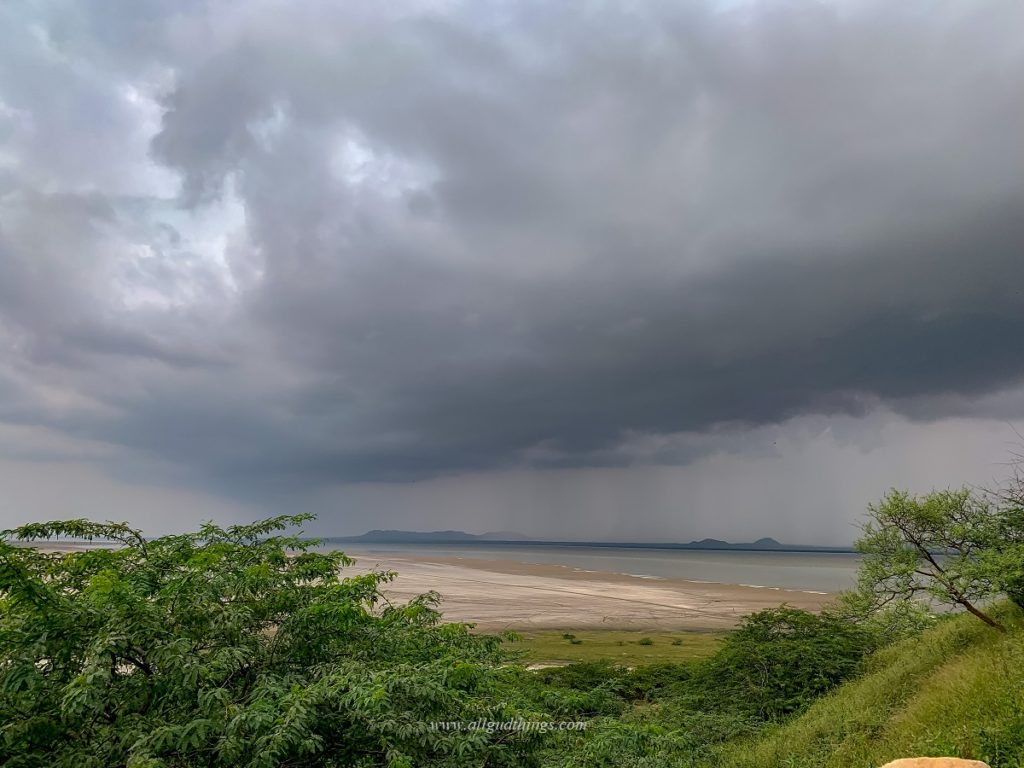 As you start climbing you start seeing the Lake on two sides with Aravalis in the backdrop and by the time you reach the top, Sambhar Salt Lake gets visible from all sides. First Look and we were completely speechless. We were in awe – is this in India. It's huge and looks like a pure hidden mirror. Why we had never thought of visiting it earlier?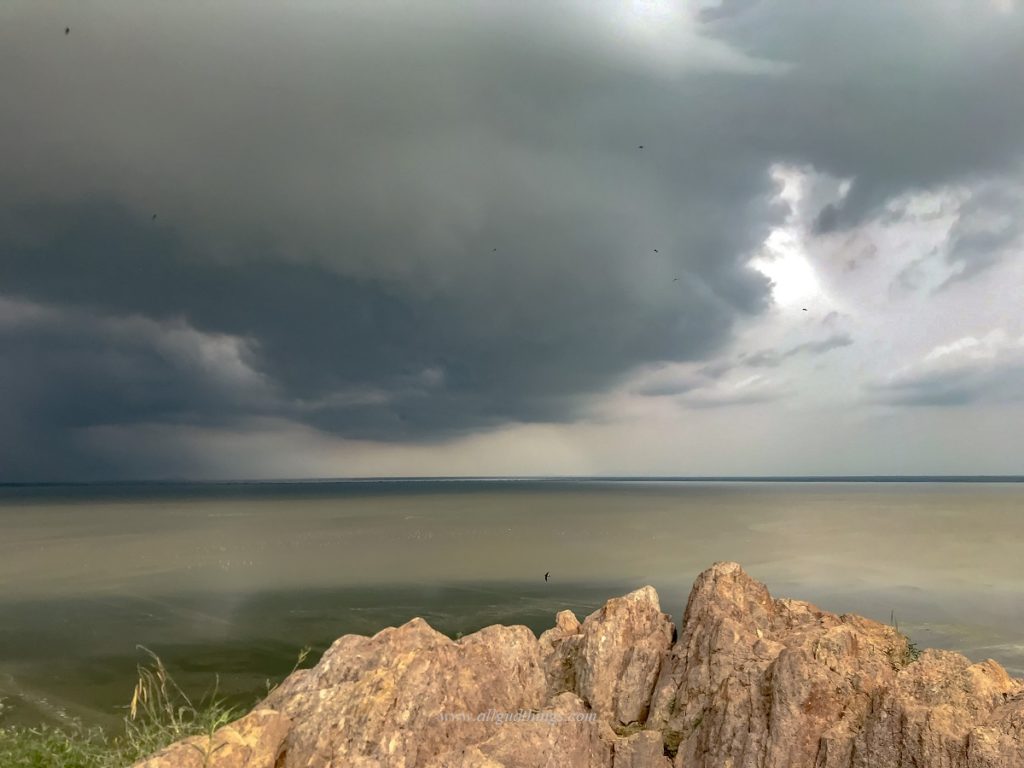 All we could see was a reflective mirror stretching to miles, where the horizon looked like meeting infinity. There were patches of green and pink in between. The moving things were thousands of migratory birds.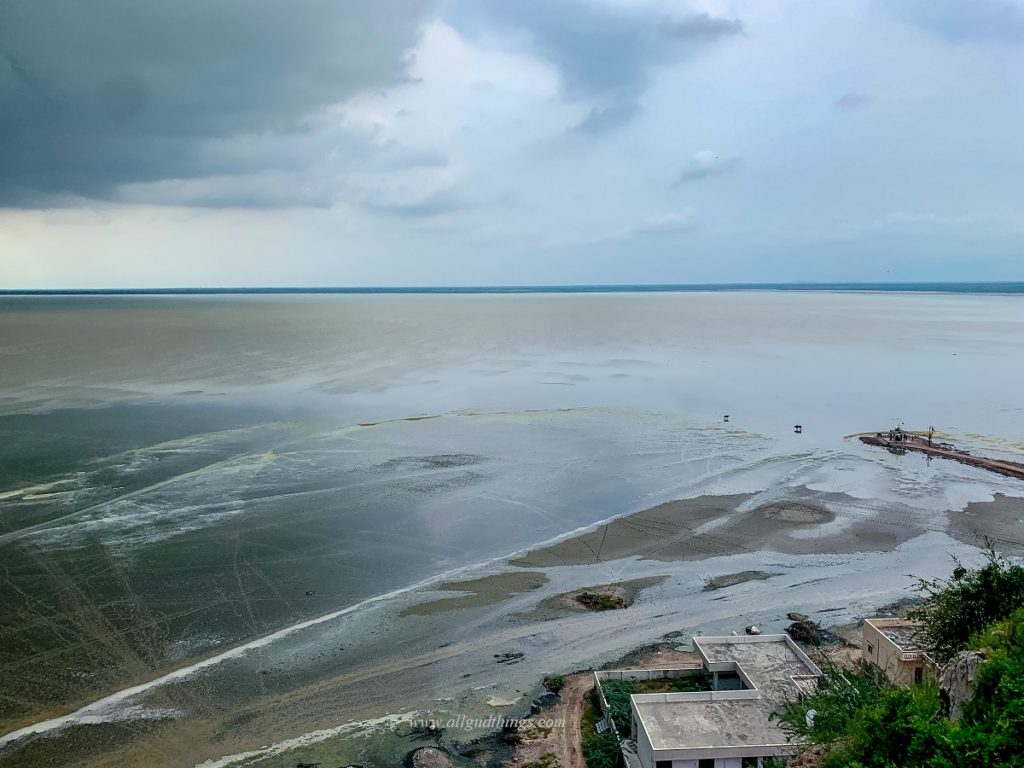 Clouds were hovering at speed. The sky was changing its color and so was the reflection in Lake, getting from white to grey. There was a perfect reflection of cows and flying birds too in Sambhar Lake. It looked in no time the storm will reach here and in the next 15 minutes, it started raining. The shelter above us got of no use as the wind and rain was at its maximum speed. We waited there itself for half an hour, thinking the weather will clear but it didn't. The clear sign of God was that you have seen the trailer of Sambhar Lake, come for a movie later on.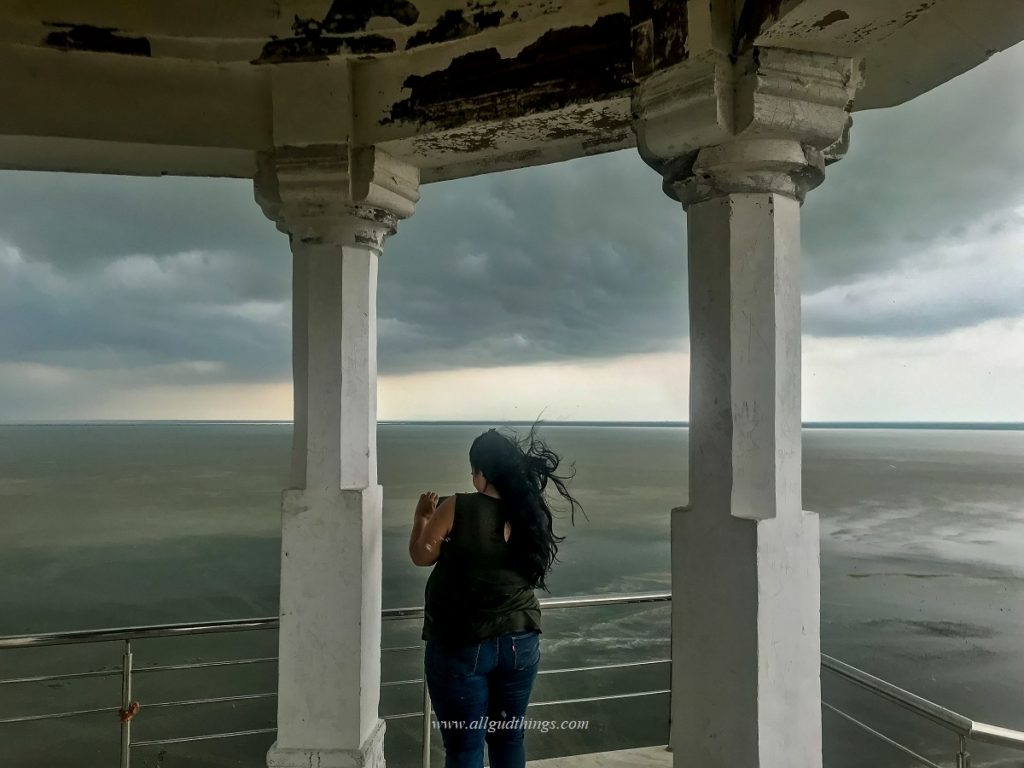 So, completely wet and mesmerized by the huge reflective mirror, we got down to our car to explore more of the countryside and head to Salasar.
Accommodation in Sambhar
Sambhar being a business spot has lots of accommodation options from luxurious heritage resort to newly built budgeted hotels. For a luxurious experience, we will suggest Sambhar Heritage Resort and for adventurous experience opt for glamping in the Sambhar lake under stars.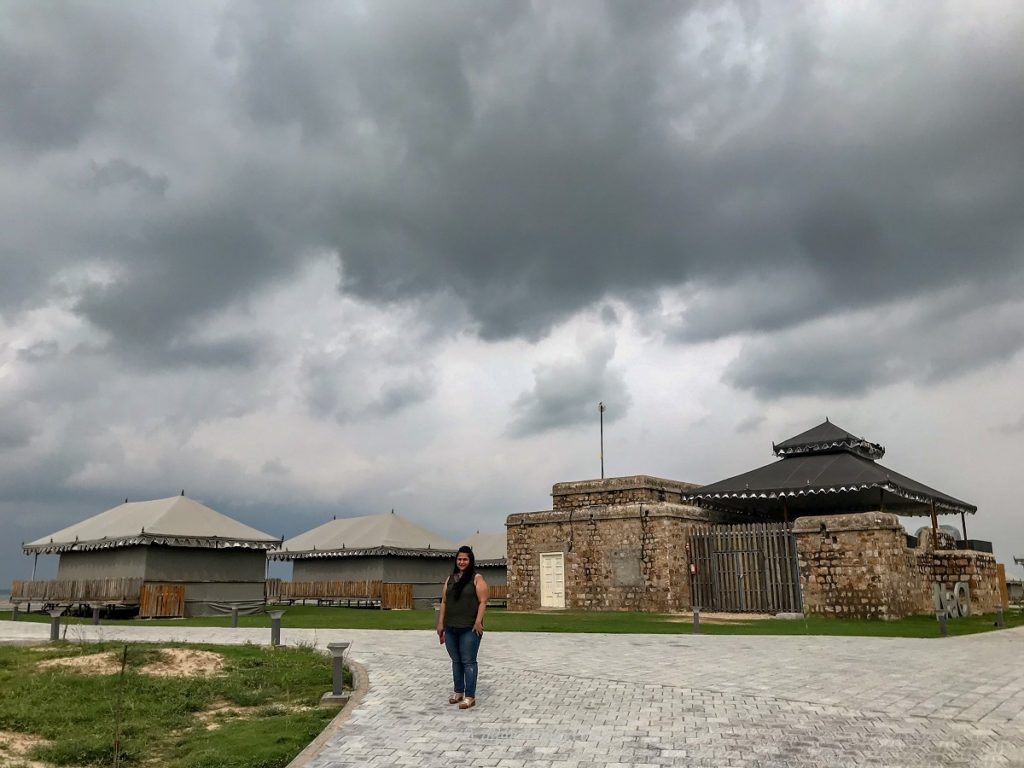 Best time to visit Sambhar Lake
Sambhar has a tropical climate where the temperature in summers crosses 45°C, whereas winters are moderately chilled and the temperature can fall below 10°C. An ideal time to visit Sambhar Lake and witness salt production is from October to March. It is also, the perfect time to see Flamingos and other migratory birds. June to September is the monsoon season when you can enjoy water and beautiful reflections in the lake.
Attractions Nearby Sambhar
During archeological excavations at Naliasar (4 Kilometers from Salt city), many terracotta figurines, coins, pottery, stoneware and evidence of well-planned settlements of the Kushan and Gupta periods have been found. Now, these have been placed in the Albert Hall Museum of Jaipur.
Apart from this, plan a visit to Sambhar wildlife sanctuary which is spread in an area of 22.5 kilometers. The sanctuary is a home to different avifauna like flamingoes, black-headed gull, and Northern Sheller. About 45 species of water birds as ducks, shorebirds, and geese can also be spotted at Sambhar Sanctuary.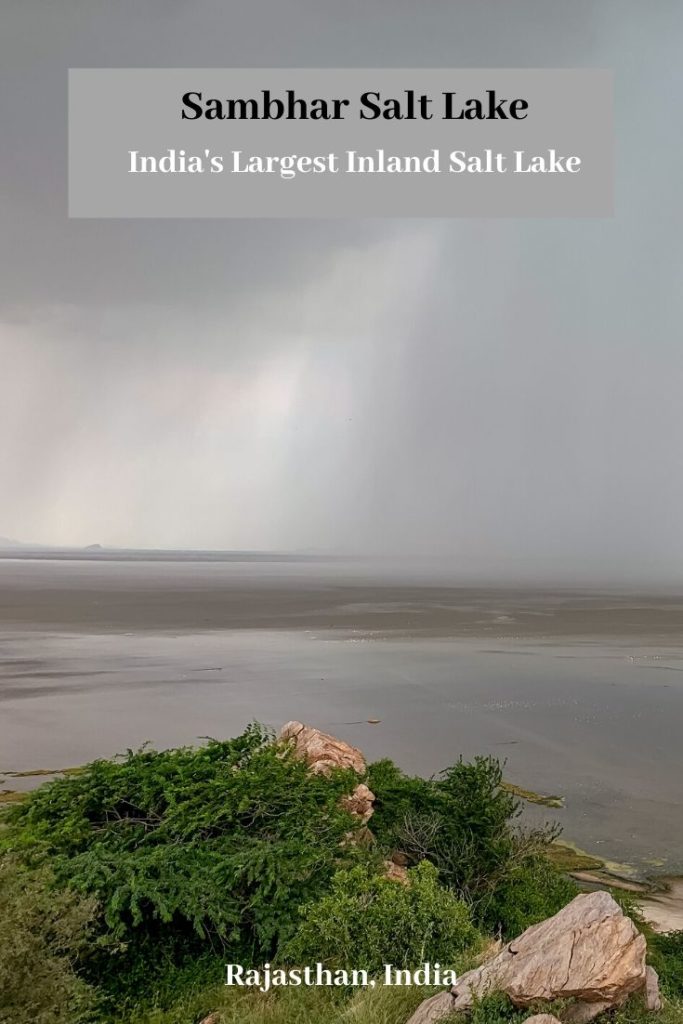 More Interesting Facts About Sambhar Lake
The Sambhar Lake receives water from five rivers – Medtha, Samaod, Mantha, Rupangarh, Khari and Khandela. It is an ephemeral Lake and is at its full capacity during monsoons
Sambhar Lake has been producing salt from around 1500 years
The salt production is done by the evaporation of Salty Lake Water (also known as Brine), collected during the rainy season. The production is mostly managed by Sambhar Salts Ltd.(SSL), a joint venture of the Hindustan Salts Ltd. and the state government.
Tourism & Commercial activities on Sambhar Lake are managed by SSL and one can also opt for glamping in the dried lake premises after permission
As per our observation, Lake might look magnificent during sunset and in the full moonlight. Surely, it will be a sight to remember always
Sambhar Salt Lake is a popular film making the location. A plethora of movies like Jodha Akbar, Delhi 6, Veer, Ram Leela, Highway, PK, Super 30 have been shot here
The Sambhar Salt Lake Train is the only Train which runs on the Lake under the joint venture of Indian Railway and Rajasthan Government