We always believe some things and trips are bound to happen and you can't resist them. Yes, that was exactly the scene when we did a trip to Badrinath Dham in 2017 and now Kedarnath Temple road trip in 2019. Honestly, the thought of covering both these religious destinations never occurred to us, but it seems GOD himself, pull us to see his abode and the beauty around it.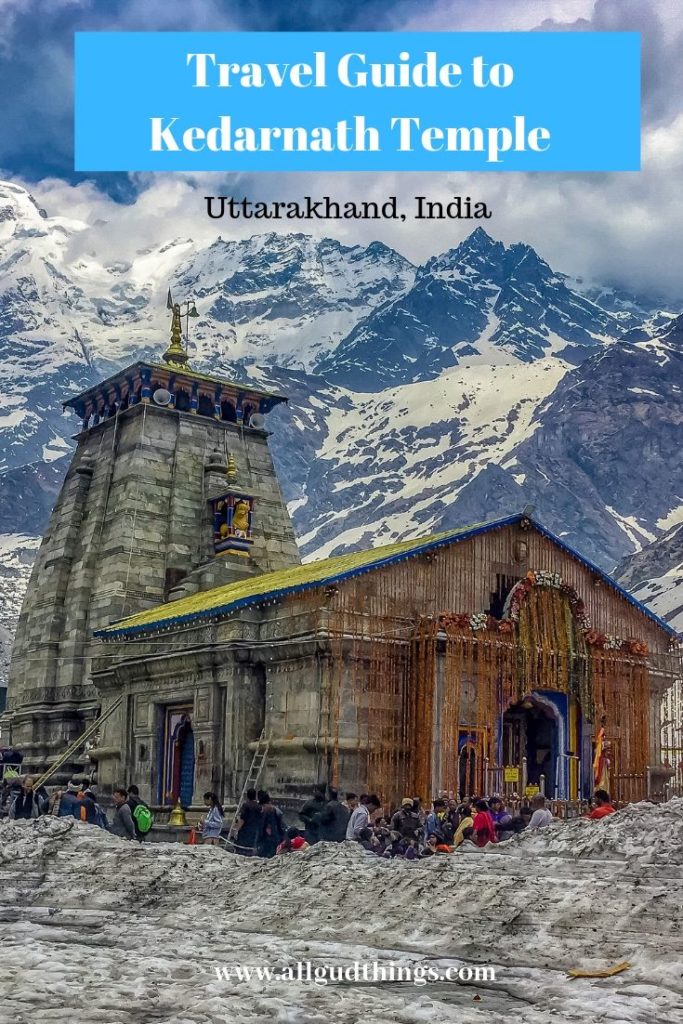 Our Itinerary for a road trip to Kedarnath Temple from Delhi
We did the complete trip to Kedarnath from Delhi in 5 days. Our starting and ending point was Noida.
Day 1 – Started our journey at 7:00 am from Noida and took the first halt at Srinagar around 7:00 pm.
Day 2- Started at 9:00 am from Srinagar and reached Gaurikund around 7:00 pm.
Day 3: Trek (via Horses) started at 5:30 am and reached up at Gooda Phul by 10:00 am and further reached the temple by walking around 11:30 am
Day 4: Left from Kedarnath around 9:00 am, and reached Kedarnath base camp by 10:00 am. Took horses and reached Gaurikund around 2:30 pm. Further walked and took a shared cab till Sonprayag and reached there around 3:30 pm. We took our car and left ahead. Reached Rudarprayag at 8:00 pm.
Day 5: Drove from Rudraprayag to Noida via Lansdowne. We started our day at 9:00 am and ended at 11:00 pm.
How to reach Kedarnath
The journey to Kedarnath can be done via road, or by air. For Road, you can check the route we followed and for the helicopter services from Haridwar/ Rishikesh or Phata (15 km ahead of Guptakashi), check & register here. The helicopter service providers at Phata make you reach Kedarnath Temple within 15-20 minutes. So, the to & fro can be done in 2-3 hrs.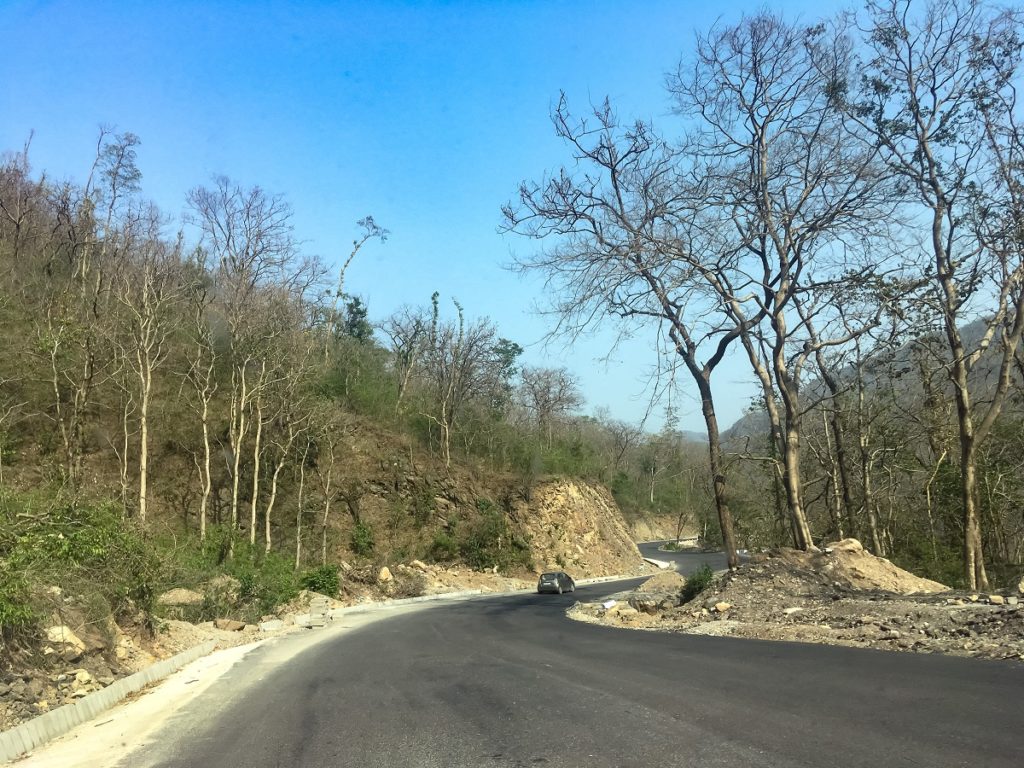 The nearest airport is at Dehradun whereas the nearest railway is at Haridwar or Rishikesh. Further, the journey to Sonprayag from Dehradun is 252 km, from Haridwar is 237 km and from Rishikesh is 212 Km.
Route from Delhi till Sonprayag:
Route 1 (Distance from Delhi to Kedarnath Temple Sonprayag, 491 Kms) Delhi – Noida – Modinagar – Khatauli – Muzaffarnagar- Rorkee- Haridwar – Rishikesh – Devprayag – Srinagar – Rudarprayag – Agastmuni – Guptkashi – Phata – Sonprayag
or
Route 2 (516 kms) Delhi – Noida – Modinagar – Khatauli –Najibabad –Lansdowne- Pauri – Srinagar – Rudarprayag – Agastmuni – Guptkashi – Phata – Sonprayag
We went via Route 1 and came back via Route 2 i.e. Lansdowne. No doubt the route 2 is more picturesque but it is equally tiring too, especially via returning back.
Road Conditions till Sonprayag
Roads are good and there are many rough patches too. Expect few landslides on the way and at times you will be taking detours and driving just at the River bed. Char Dham Highway project, NH-58 i.e. four-lane roads for 900 kilometers, connecting 4 Dhams i.e. Badrinath, Kedarnath, Gangotri, and Yamunotri is on the go, so there are many roadblocks and traffic will be slow on the way.
Sonprayag to Gaurikund
Further, from Sonprayag; Gaurikund is around 6 Kilometers and can be reached via trek or shared cabs only. Trekking will add another distance of 5 Km to the trek, making the total trek of 22 to Kedarnath Temple. So, a better and most economical option is to go via a shared cab from Sonprayag to Gaurikund. Park your vehicle in the Sonprayag parking zone and move towards the registration counter. After registration, walk for around 500 meters and you will see cabs there. The driver charges Rs.20 per head in a shared cab and jump in.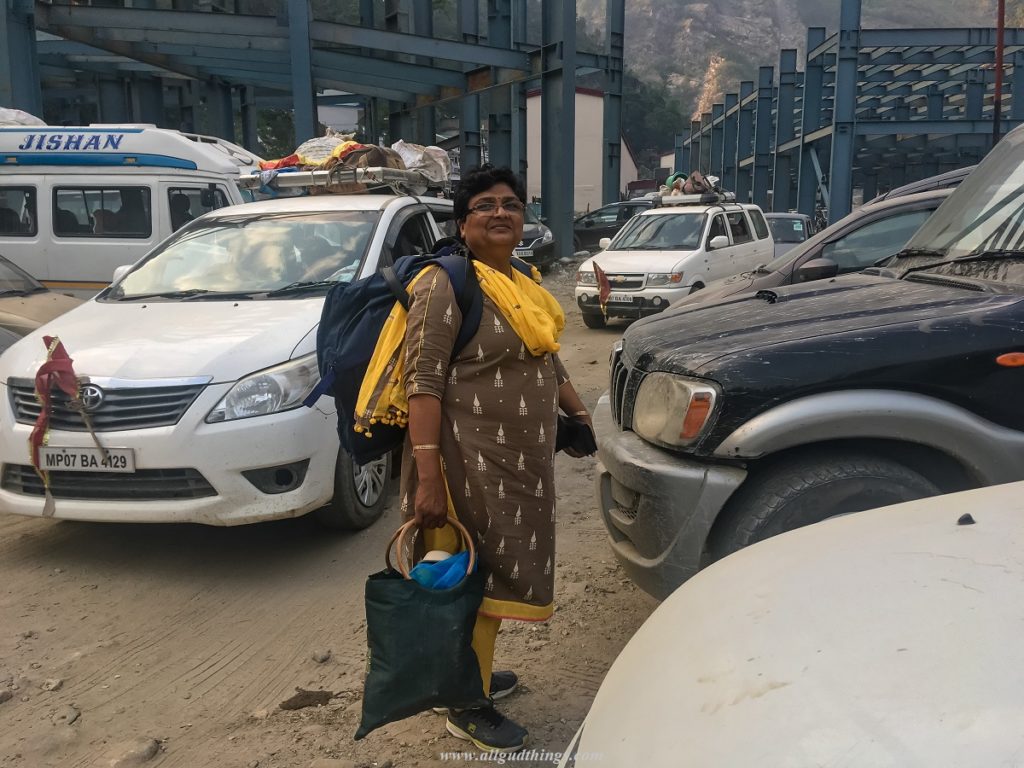 Gaurikund serves as a base camp to Kedarnath Temple and once you debark here the real trek to Kedarnath Temple begins.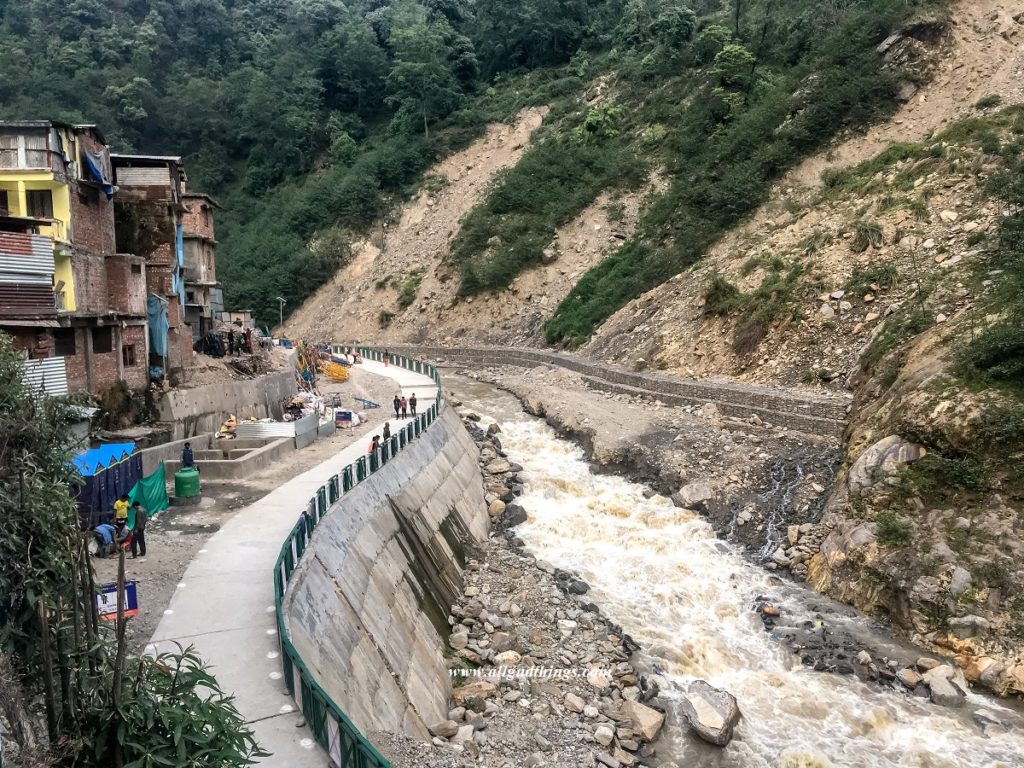 Gaurikund to Kedarnath Temple
Before Gaurikund to Kedarnath Trek distance was 14 kilometers via Rambara but North India floods in 2013 completely destroyed the older route between Rambara and Kedarnath. So, now the new route laid down from Gaurikund till Kedarnath Base camp distance is of 16-17 Kilometers. Gaurikund Base camp is the point where horses go and are also known as Ghoda Phul.
From Kedarnath Base camp, there is further a walk of 2-3 kilometers till Kedarnath Temple. Thee same can be done via, walking, Palki (Palanquin), or Pithu's only.
Complete new Kedarnath Trek Route Map
Gaurikund – Rambara Bridge (7 Kms) – In between comes Jungal Chatti (4 kms from Gaurikund) and Bheembali (6 kms from Gaurikund)
Rambara – Linchauli (4 Kms) i.e. 11 kms from Gaurikund
Linchauli – Kedarnath Base Camp (3-4 Kms)
Kedarnath Base Camp – Kedarnath Temple (2-3 Kms)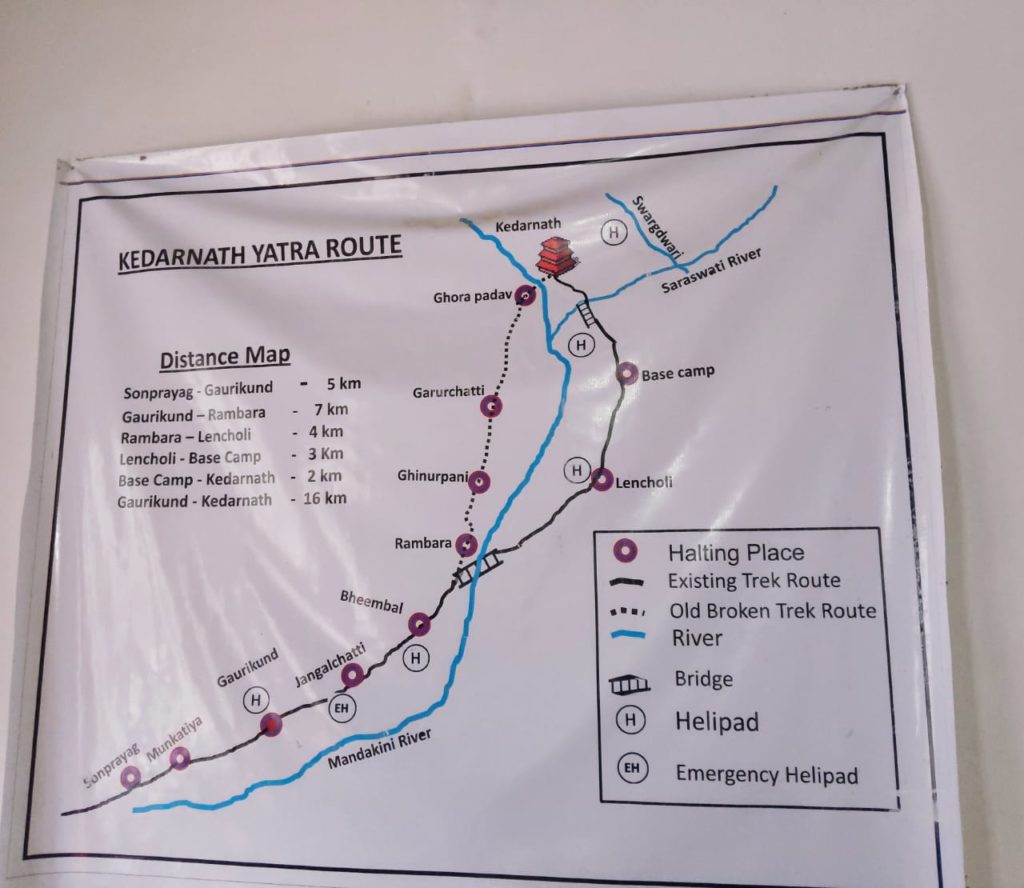 Facilities on the way to Kedarnath Trek
The Kedarnath trekking route is paved and barricaded except at the few patches. In the midst of the trek, there are shelters, proper medical facilities, tented accommodations, drinking water, and small shops/ restaurants.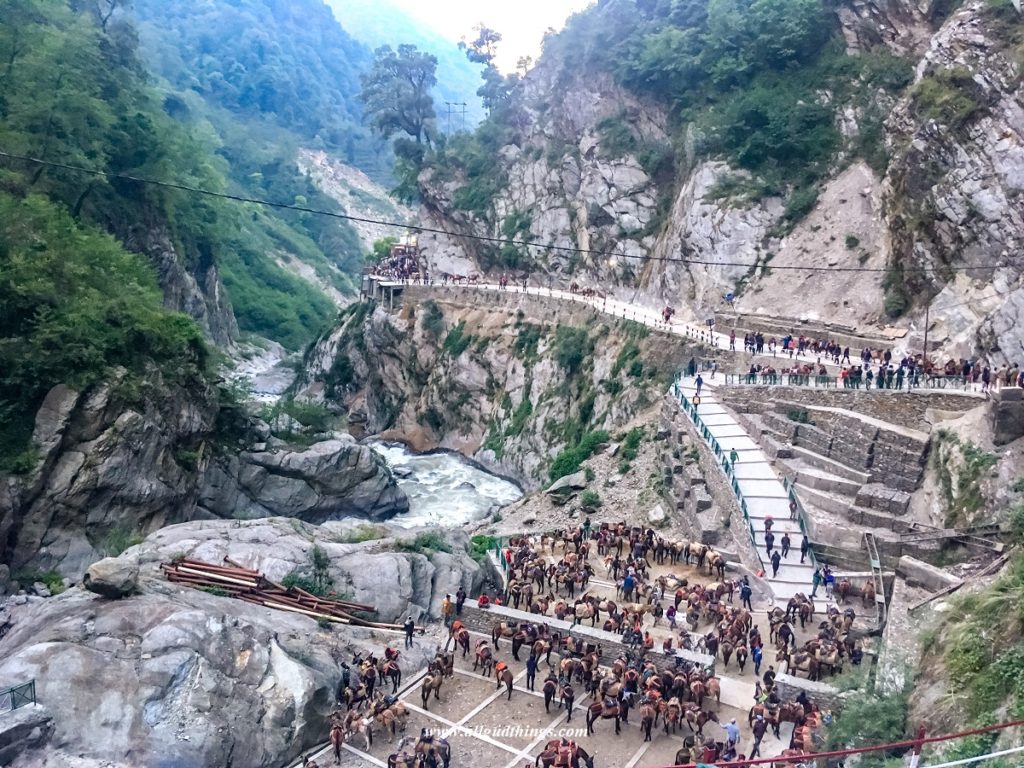 Horses/ Ponies/ Palki/ Kandi / Helicopter
Horses, Palki, Kandi and Kedarnath Pithu services are available at the base camp as an alternative to trekking. Remember you can get horses/ ponies easily at the base camps but the chances of getting them on the way are bleak; whereas Kandi and Palki service is available throughout. Rates for Horses/ Ponies is Rs.2500/- from Gaurikund base camp to Kedarnath base camp and Rs. 1500/- for vice versa. Whereas rates for Palki and Kandi varies with weight and you can refer the below chart for the same.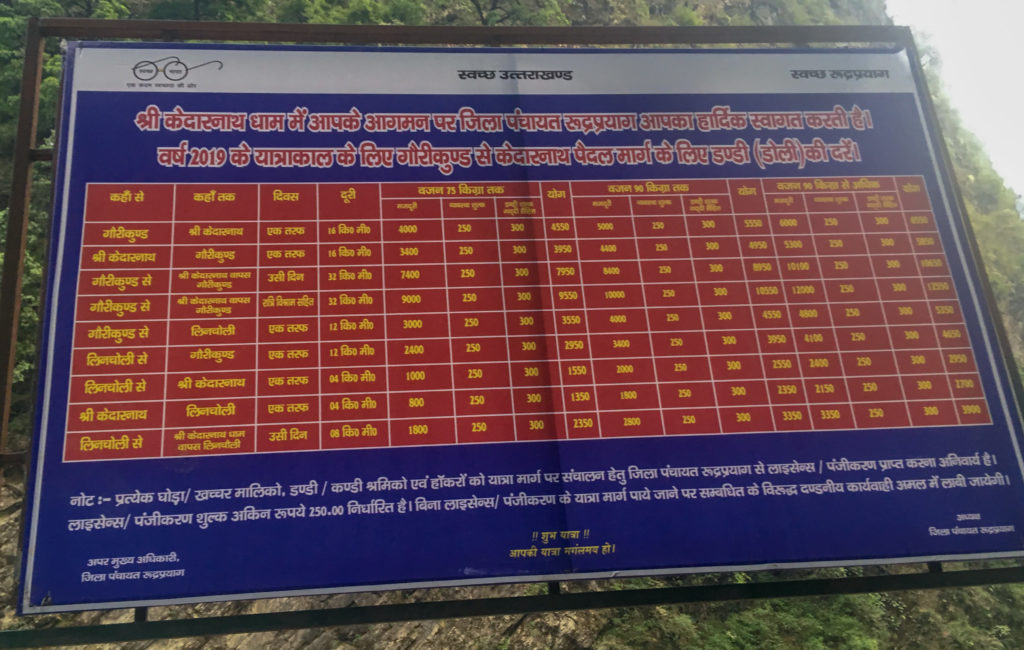 The Helicopter services to Kedarnath are available from Guptkashi (15 km before Phata), Phata, and village Sersi. A helicopter drops the pilgrims just behind the temple and for the revised rates, refer here.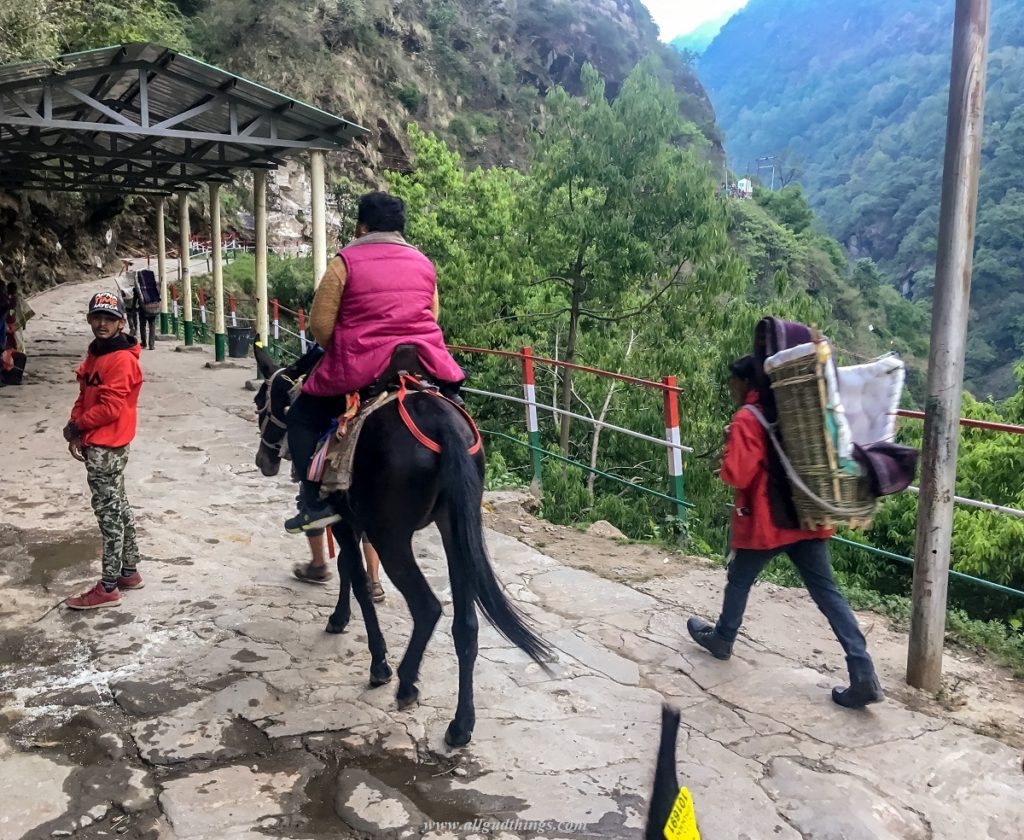 Medical Services
Special arrangements for medical services have been made by the Health Department at all the main stops i.e. at Jungle Chatti, Bheembali, Linchauli, and Kedarnath. Doctors are available for 24 hours and there is an arrangement of medicines, oxygen cylinders, telemedicine, and even airlifting. There is also a 10 bedded hospital with ECG and other modern facilities at Kedarnath.
Accommodation
Accommodation on the way is available at Jungle Chatti, Bheembali, and Linchauli. At Bheembali there is GMVN Bheema Complex and at Linchauli, there are Shivlok Cottages. At Kedarnath, there are several accommodation options. We stayed at Agra Bhawan, which is just next to Kedarnath Temple.
Shops & Restaurants
There are several shacks and restaurants on the way of supplying cold drinks, buttermilk, biscuits, Maggi, and food. The pricing is higher than the regular pricing but it's worth as it is tough to get and maintain regular supplies here.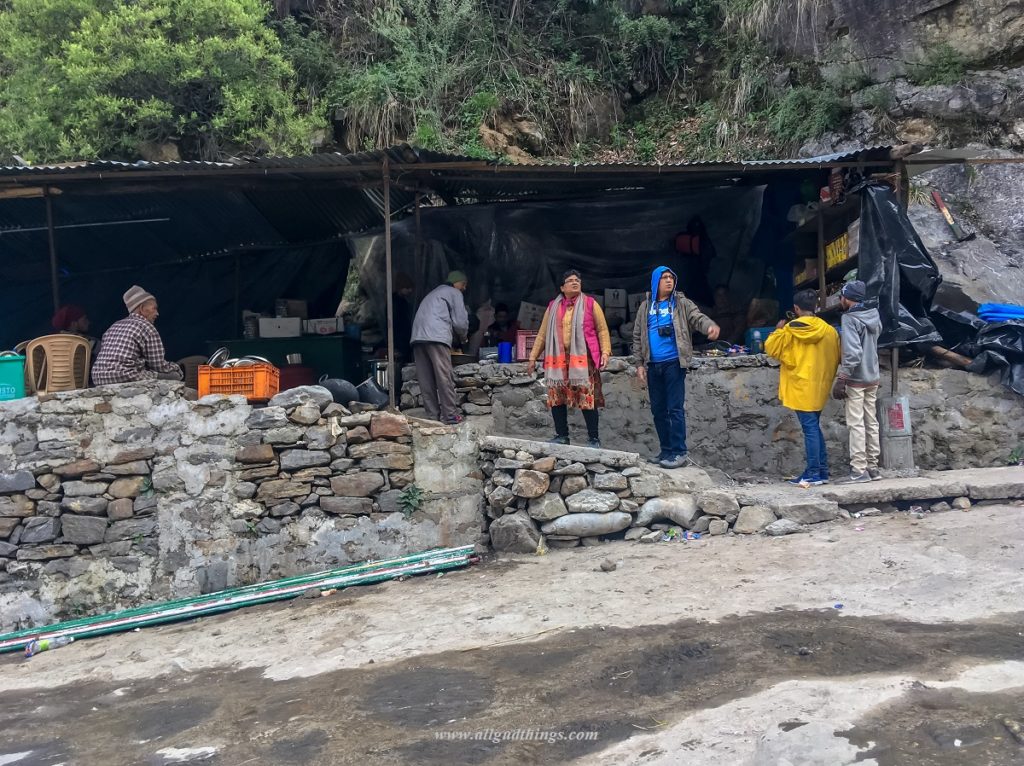 Best time to visit Kedarnath Temple
Kedarnath is cold during most of the year and weather too changes here drastically. So, the best time to visit Kedarnath Dham is May- June, and September – October. Avoid going during monsoons i.e. July – August as there are heavy rainfall and high chances of landslides.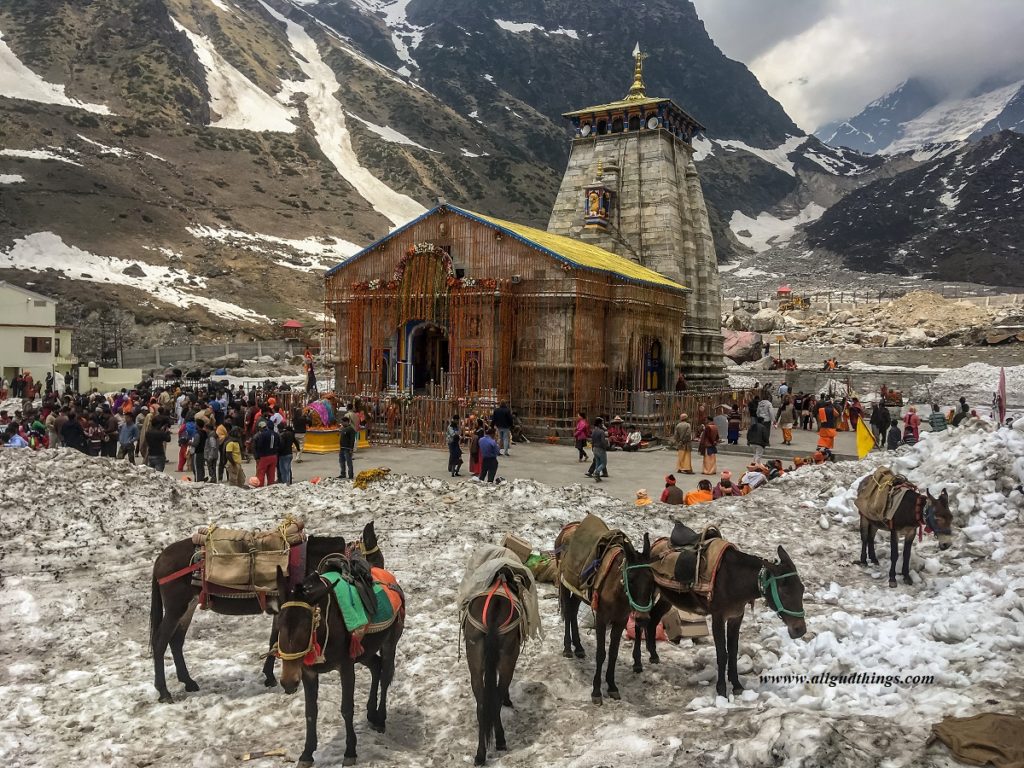 Kedarnath Temple opens up on the auspicious day of Akshay Tritiya (which falls in April – May) and closes on Bhai Dooj i.e. after Diwali (October – November). In 2019, the temple opened up on 9th May and probably will close on 29th October.
Kedarnath Temple Timings
The Kedarnath temple timings are fixed from 4:00 am -9:00 pm.
Timings for Kedarnath Trek
Because of the unpredictable weather conditions, there are fixed timings for Kedarnath trekking too. One cannot go up from Gaurikund base camp after 1:00 pm and cannot trek back from Kedarnath base camp after 5:00 pm.
Trek Level: Steep and Tough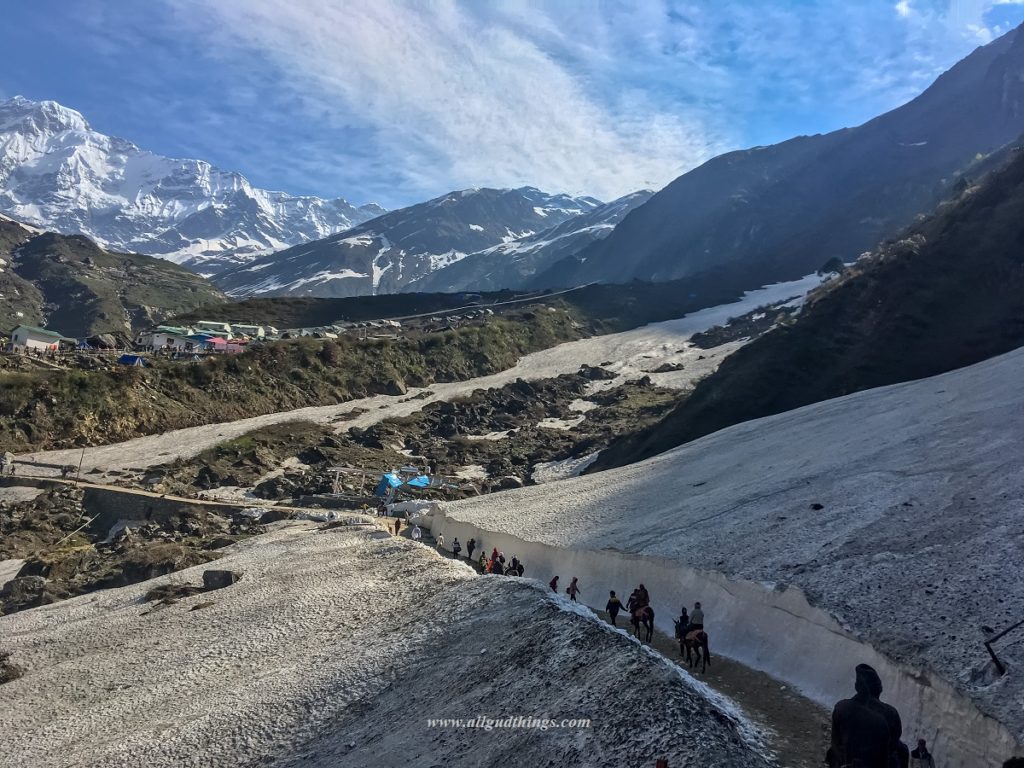 Registration for Kedarnath Trek
As soon as you park your vehicle in Sonprayag and move from the parking there is a Biometric Registration counter. There is a separate queue for men and women. The police personnel sitting behind the window will ask you for I- card verifies your details, take a picture and issue a Char Dham, Yatra Card. The whole process takes around 15-20 minutes.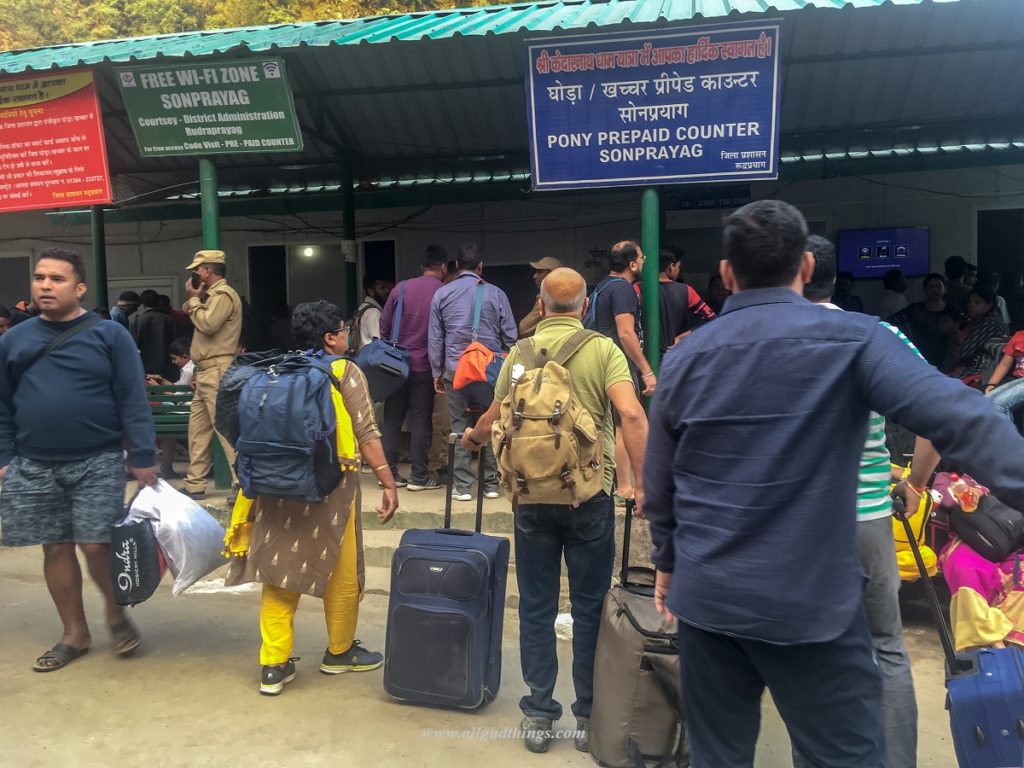 Just adjacent to this counter is a prepaid booking counter for horses/ ponies/ palkis and Dolis. One can book the same from here or from Gaurikund counter. We booked for ourselves from Gaurikund at the fixed government rates only.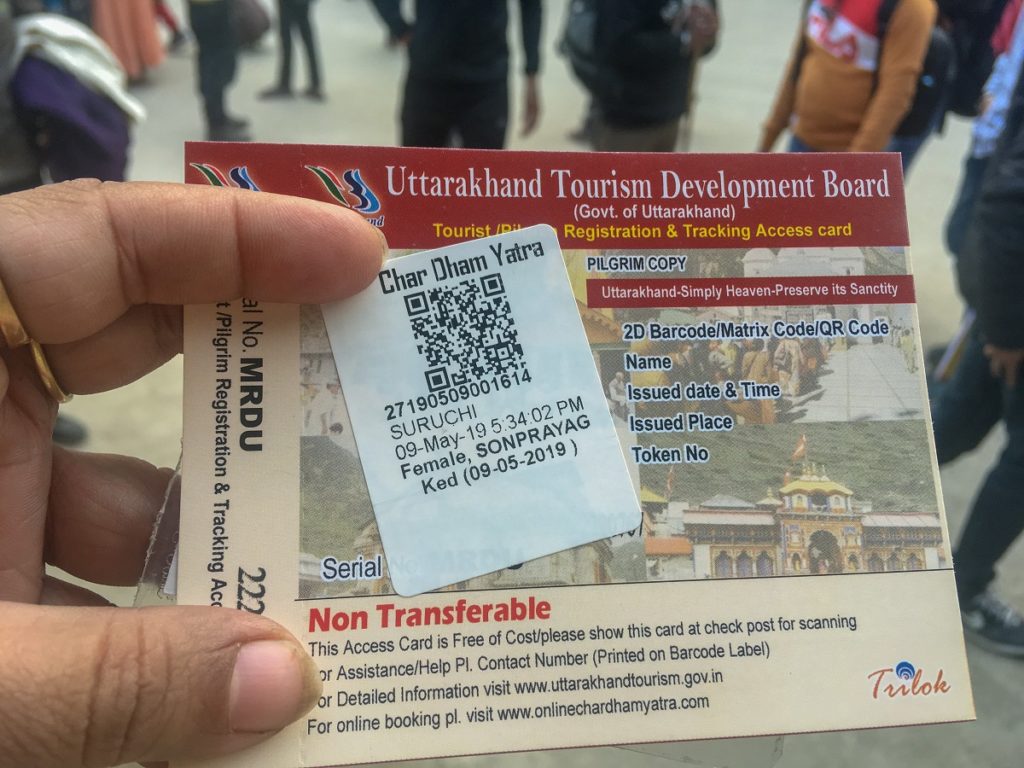 About Kedarnath Temple
Kedarnath; is formed from two Sanskrit words where "Kedara" means field and "Natha" means Lord. So, it is known as a place where the "Crop of Liberation" grows.
The Kedarnath Temple is located at 11,755 feet in the Garhwal Himalayan range of Uttarakhand, on the banks of Mandakini River (a tributary of Ganga), near the Chorababari glacier. It is a Hindu Temple (Shrine) dedicated to Lord Shiva and is also one of the Jyotirlinga. The temple is 85 feet high, 187 feet in length and 80 feet wide. Its walls are 12 feet thick and are built from extremely strong stones.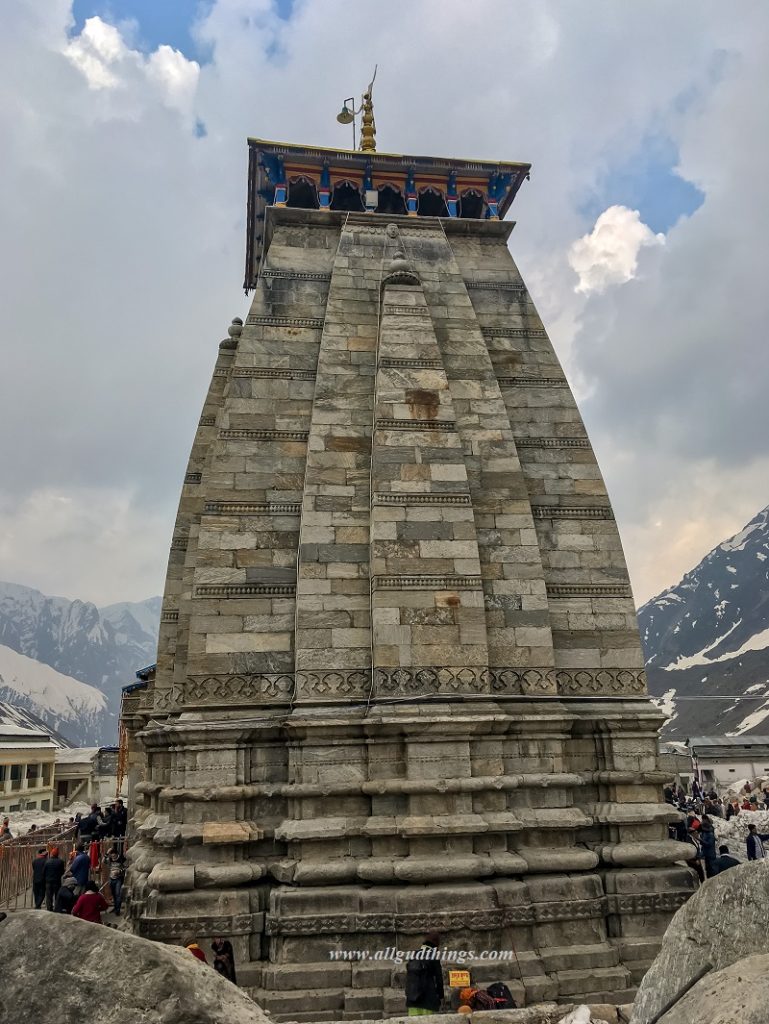 Tokens for Kedarnath Temple
For a visit to Kedarnath Temple, one needs to collect the Tokens. They are available at the Kedarnath entry gate, near the market. Remember, the token is for one person only and the collected token is valid for the same day Darshan only. After getting your token, wait for your number to be displayed on the display board.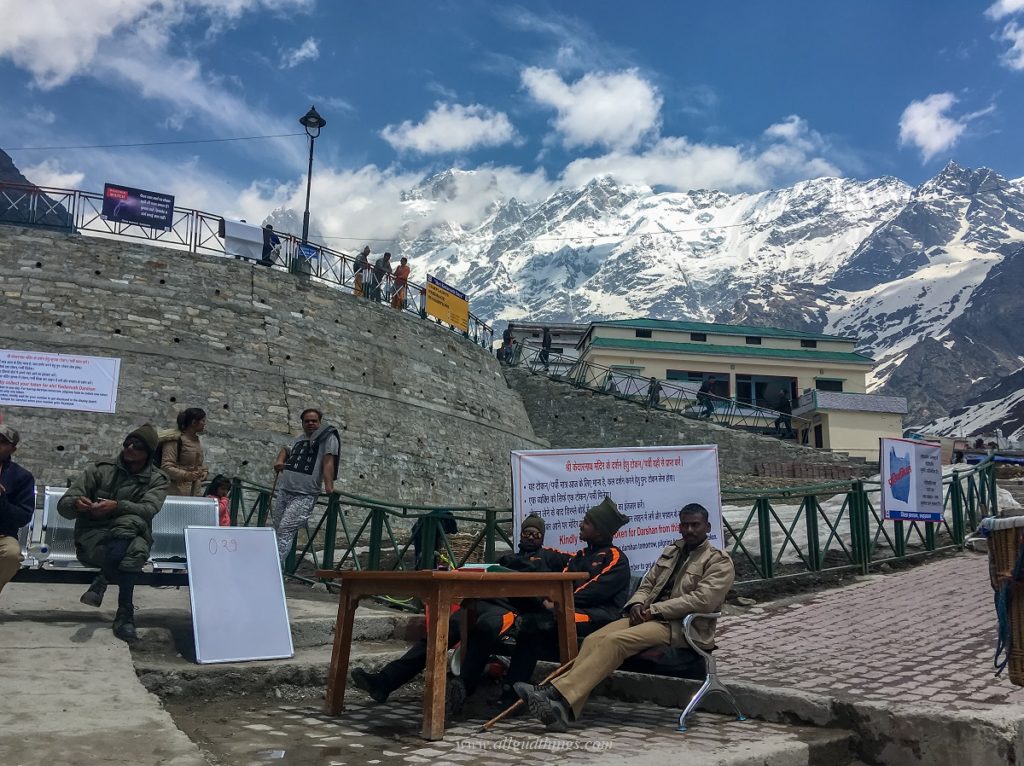 Note: For the next day you need to collect new tokens and the personnel's are available form 5:00 am to 6:00 pm.
Kedarnath Temple Story
There are several stories of Kedarnath Temple. Some claim it to be built by Guru Adi Shankaracharya in the 8th century whereas others claim it to be built by Raja Bhoj of Malwa in the 2nd century.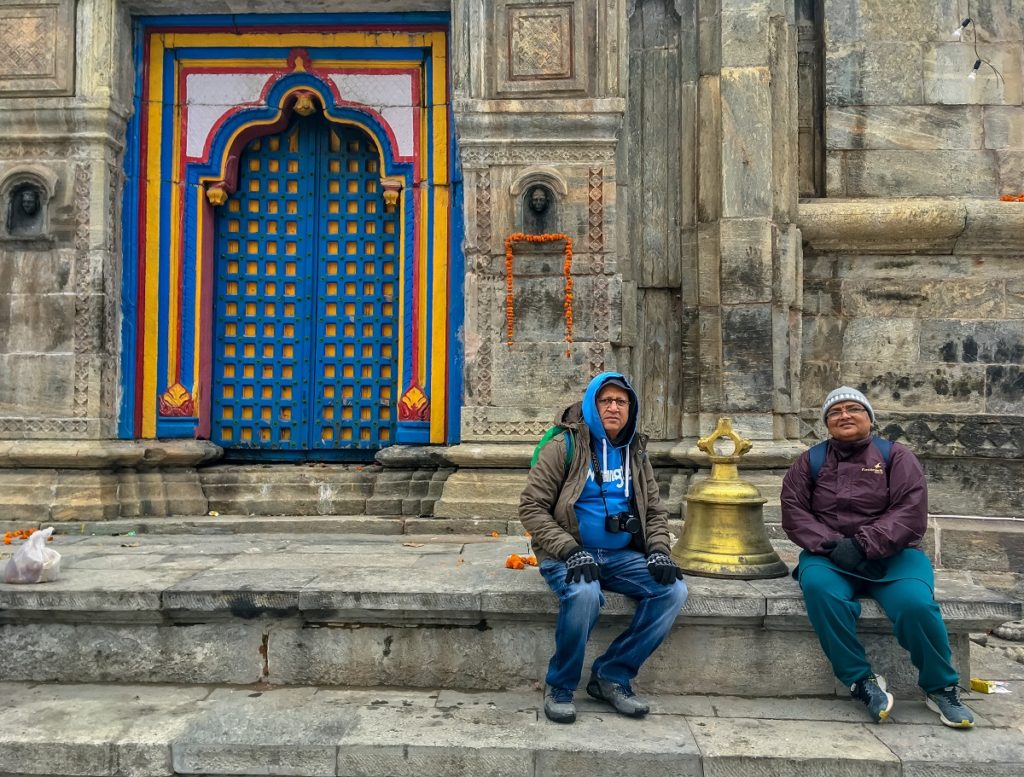 Acc. to Hindu mythology, the temple was initially built by Pandavas. Pandav Brothers after killing their kin during the Kurukshetra war, wanted to seek forgiveness from Lord Shiva but Shiv was not interested in meeting and forgiving them. So, Lord Shiva left Kashi his abode and came to dwell in this Himalayan range at Guptkashi. However, Pandavas got to know about his presence and they reached here too. To further hide, Lord Shiva turned himself into a bull and got mixed with the grazing cattle. But the Pandavas especially Bhima being too smart tracked Lord Shiva, and on realizing this Lord Shiva tried to disappear by sinking himself head-first into the ground. One of the brothers grabbed his tail and hind limb, forcing him to appear and forgive them. So, the hump is found at Kedarnath whereas the rest body parts are found at four other locations and together these places are known as Panch Kedars.
There is another Hindu story, in which a Hindu Deity Nar Narayana performed a severe act of austerity and on getting pleased, Lord Shiva appeared in front of them to grant their wish. The Deity requested Lord Shiva to stay here in the original form i.e. Jyotilingam for the welfare of humanity. Shiva granted their wish and Kedarnath became his abode.
Now, the most interesting story is that Geologist believes that the Kedarnath temple remained hidden under the snow for 400 years during the Little Ice Age-era i.e. from 1300to 1900 AD. The yellow lines on the temple structure completely depict the glacial activity it had undergone.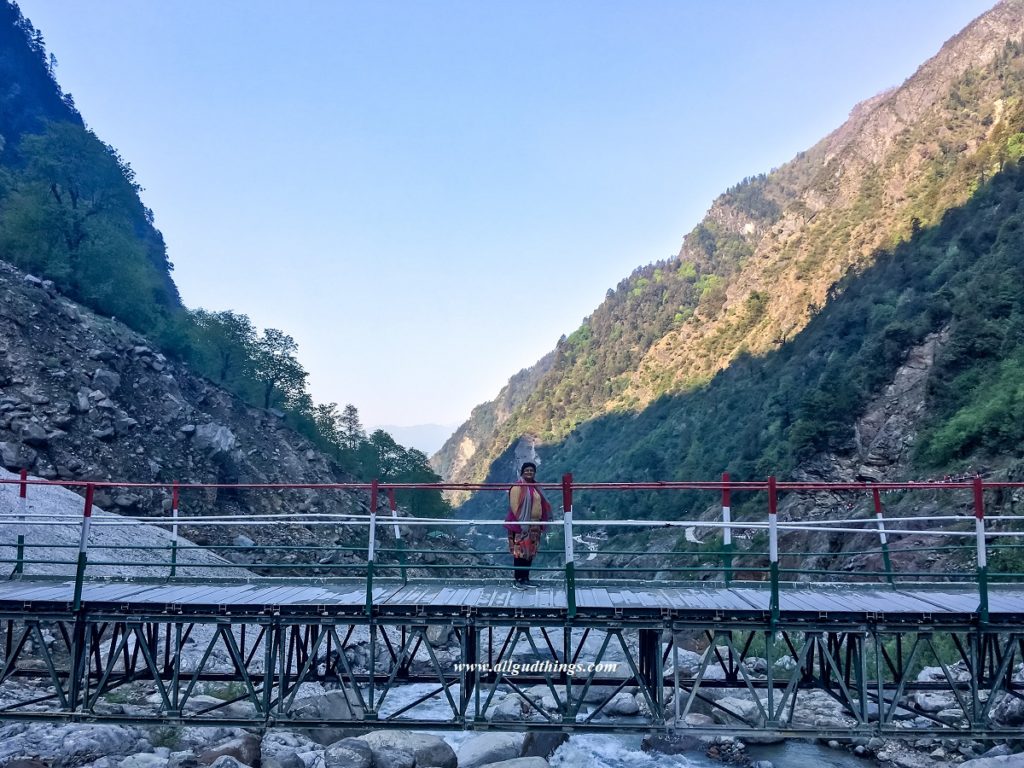 Inside Kedarnath Temple
Kedarnath Temple is an ages-old stone temple. Its architecture truly looks quite stout and that has been proved, as it still stands magnificently even after all the natural calamities and catastrophes.
Climb 3-4 stairs and you enter the first hall of the Kedarnath Temple. The Temple is dark and gloomy form inside, It houses statues of the five Pandava brothers (Bhim, Nakula, Yudishitra, Arjun and Sahadeva) and their consort Drapudi, Lord Krishna, Nandi- the vehicle of Shiva in the center and Virabhadra (one of the guards of Shiva). Another beautiful silver door decorated with Om makes you enter the main hall. In the center of the main hall, is a conical or triangular-shaped stone considered to be the Dhad (Torso) of Lord Shiva. The stone was completely covered in ghee and butter by pilgrims. Earlier the pilgrims used to pour milk and water on Shivlinga but now the management has stopped it. The statue of Shiva and other deities are also installed in the main hall.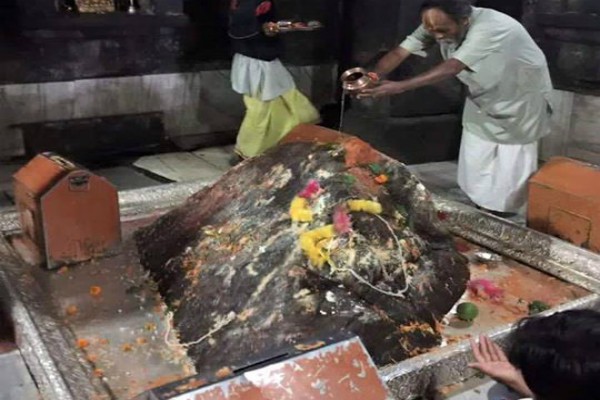 Outside Kedarnath Temple
As you step out the temple and start circumvallating around the temple; you will see the temple is surrounded by snow-covered peaks from all three sides. On the front, there is a huge statue of Nandi.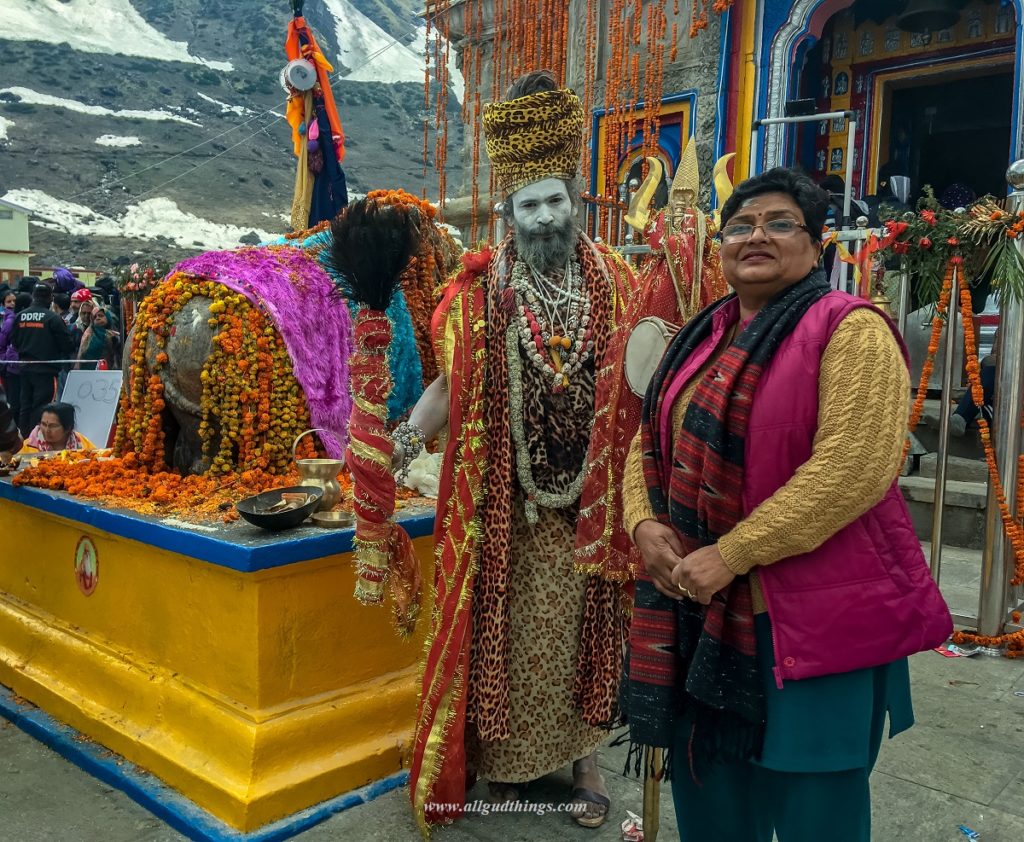 And rest on all the sides, dozens of Sadhus and Saints, half-dressed half-naked are sitting in various colorful attires. They are Lord Shiv devotees and live a hard tough life, like him.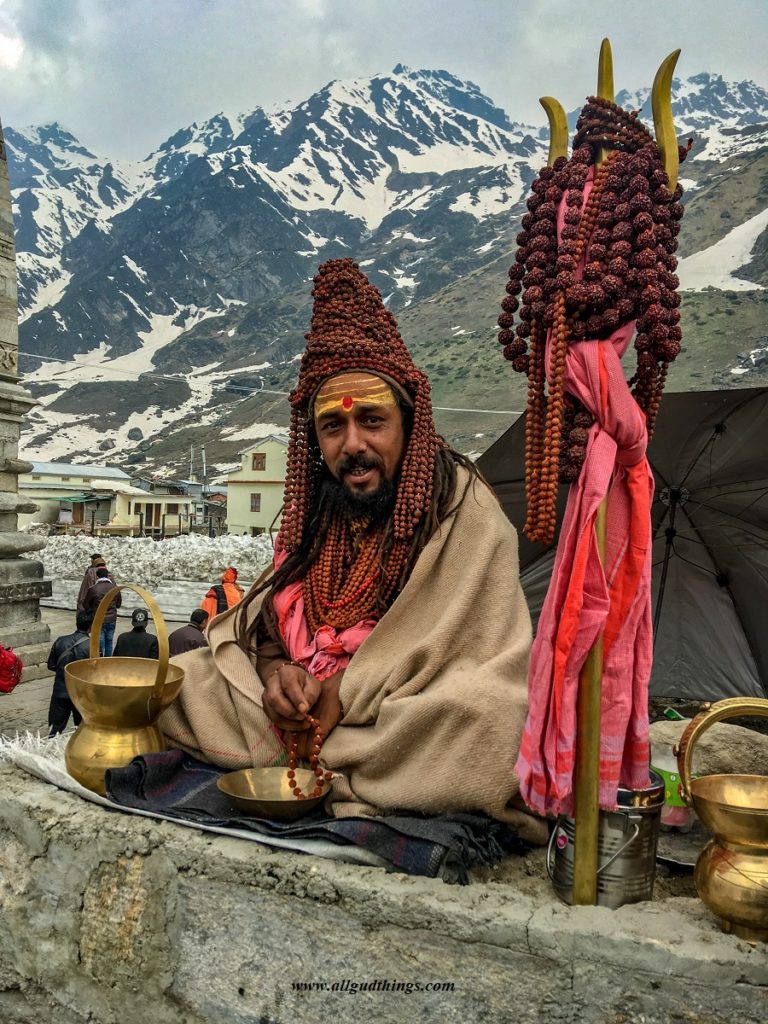 On both sides there are beautiful colorful doors that resemble the ones from Badrinath Temple and at the back is an Amrit Kund. Some Pilgrims just wanted to just touch and taste this water whereas others wanted to fill the bottles and take back home.
Just Like Bheem Shila in Mana village near Badrinath temple, there is a huge Shri Divya Bhim Shila behind the Temple. This stone is believed to be the one that protected the temple from devastation during the 2013 North India flash floods. But the locals or priests have another story to it. They believe the Shila is just another stone that came down during natural calamity towards Kedarnath Temple and it is the pilgrims who have made a temple around it and now consider it to be sacred.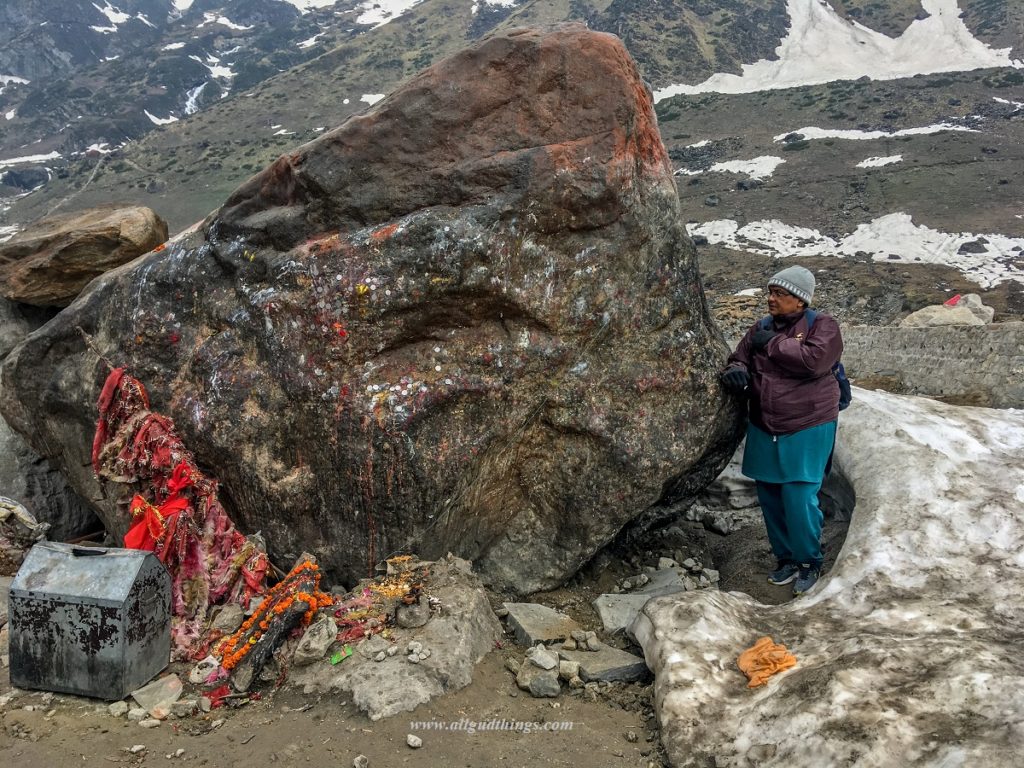 Accommodation at Kedarnath
At Kedarnath, there are several accommodation options from Hotels to guest houses to Bhawans. During our visit, only a few of them were operational whereas the others were closed or in bad shape due to the extreme snowfall in winters. The government claims to have made an arrangement of 3000 pilgrims but we really doubt that.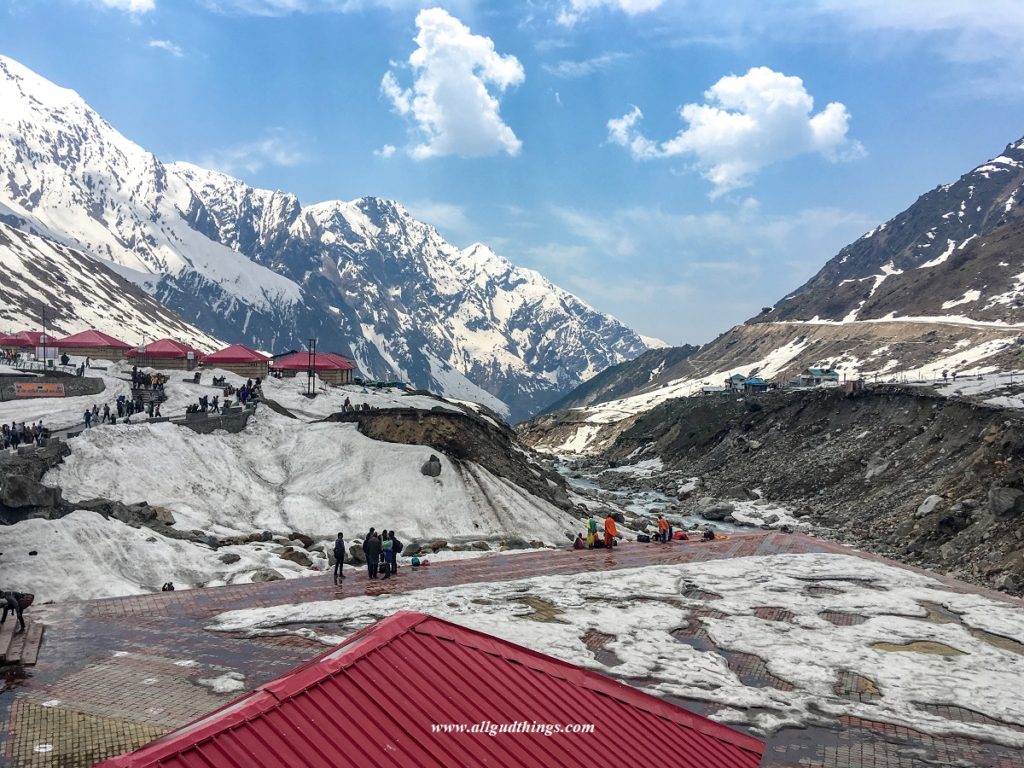 GMVN (Garhwal Vayu Mandal Nigam) the government authorized tents were also operational at Kedarnath but they were far from Kedarnath Temple and charges were Rs.900/- per bed for 6 Bedded huts, Rs. 750/- per bed for 10 Bedded huts and Rs. 300/- for tents, with common sharing washrooms.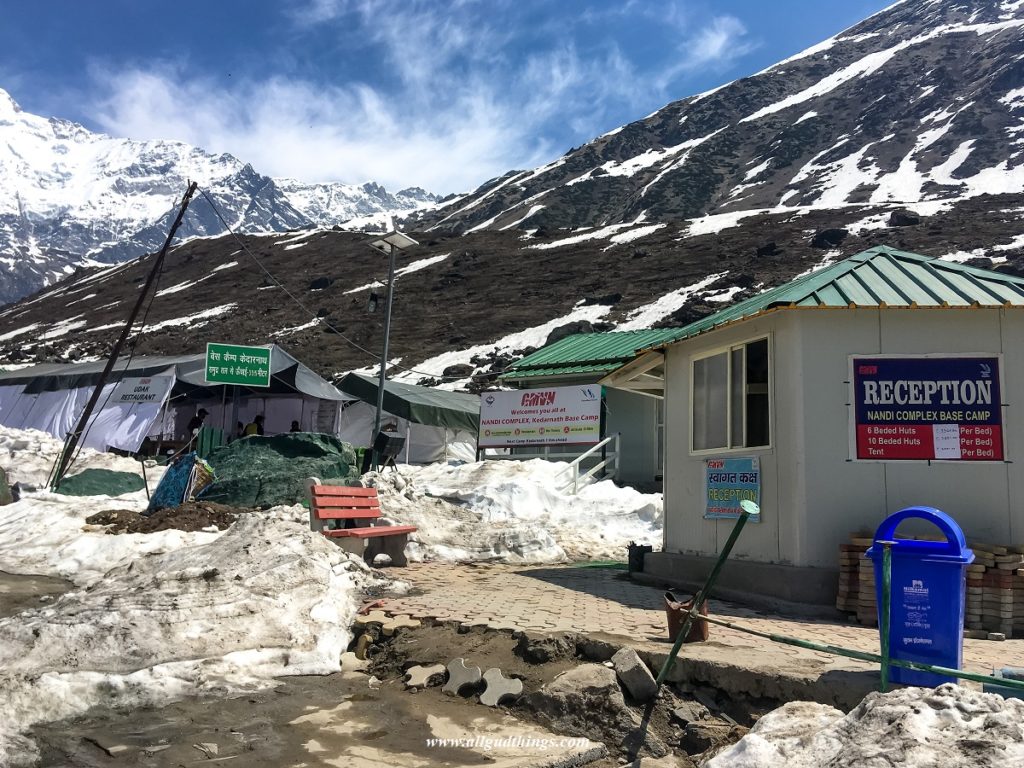 We stayed at Agra Bhawan, just next to the Temple, where a four-bedroom with attached washroom costed us Rs. 3000/- and 1 bucket of hot water costs around Rs.80/-. Another good option we recommend to stay in Himachal Bhawan just opposite Agra Bhawan and near to Temple.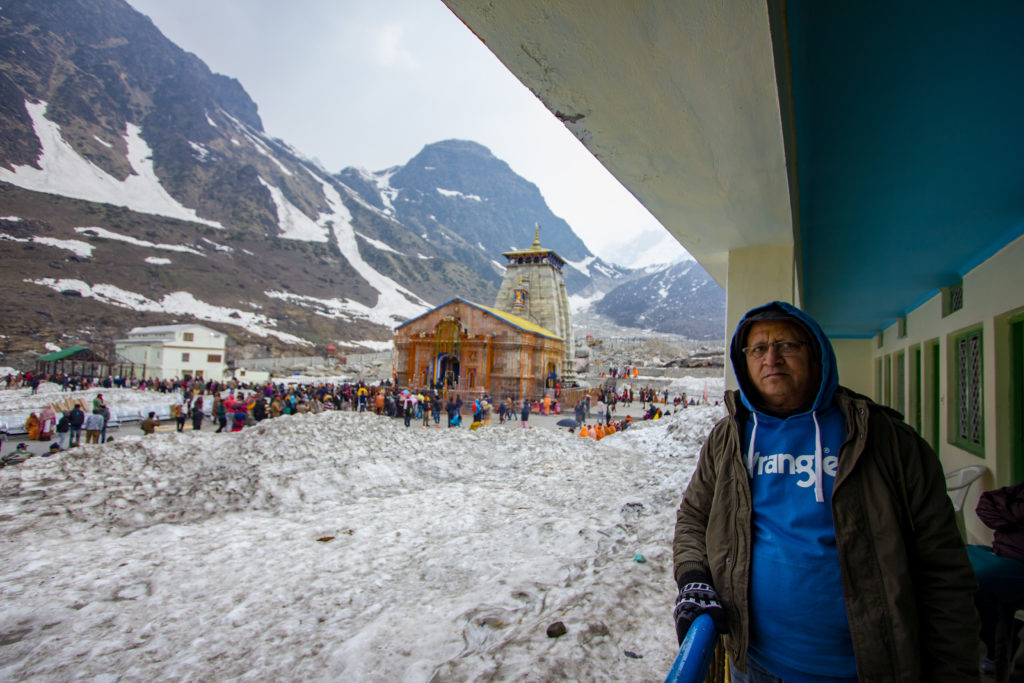 Food and Market at Kedarnath Dham
As you leave the Kedarnath Temple and move down the stairs, start the Kedarnath Haat Market. During our visit, there was lots of snow around the shops and the whole of the market looked closed only.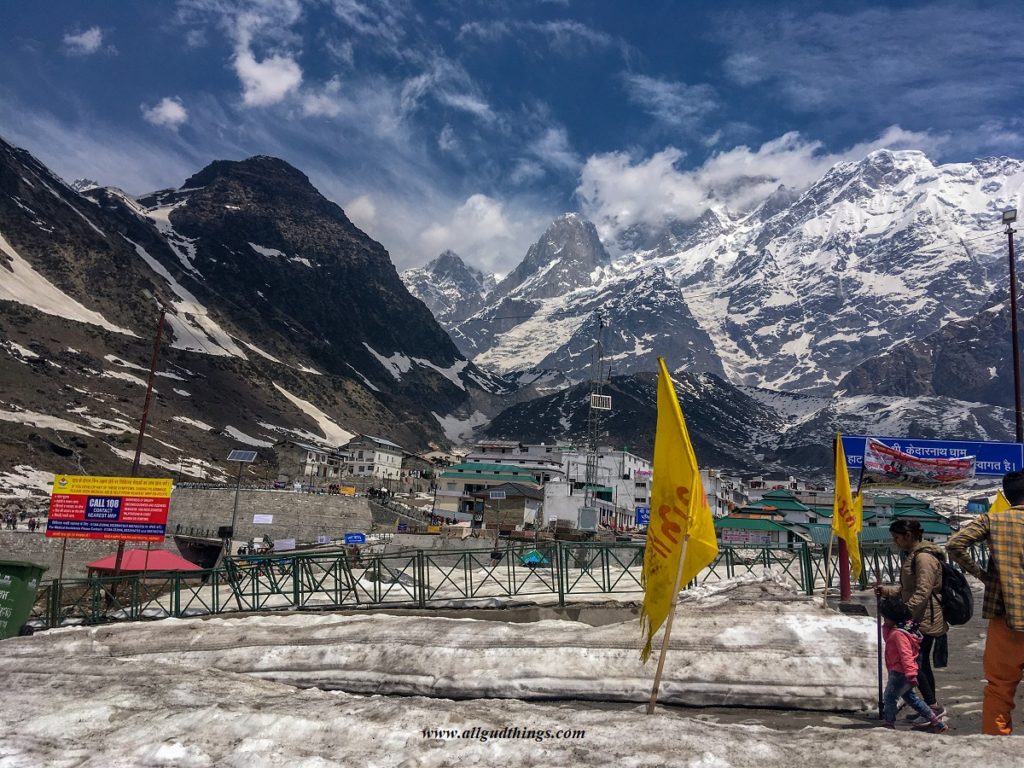 20-25 steps down from the Kedarnath Temple is a food shop that serves Indian food, Tea, snacks, etc. Just opposite to it there was another operational Dhabha.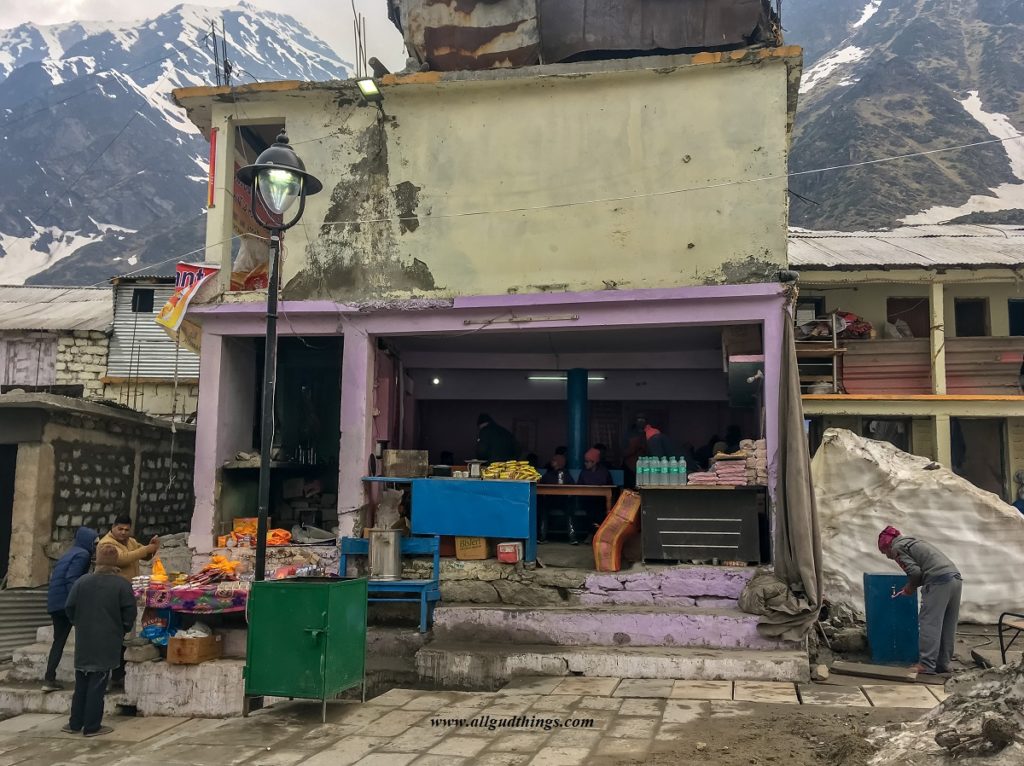 Another option for getting food is the guest house or Bhawan, where you are staying at but we opted to have it in the market itself.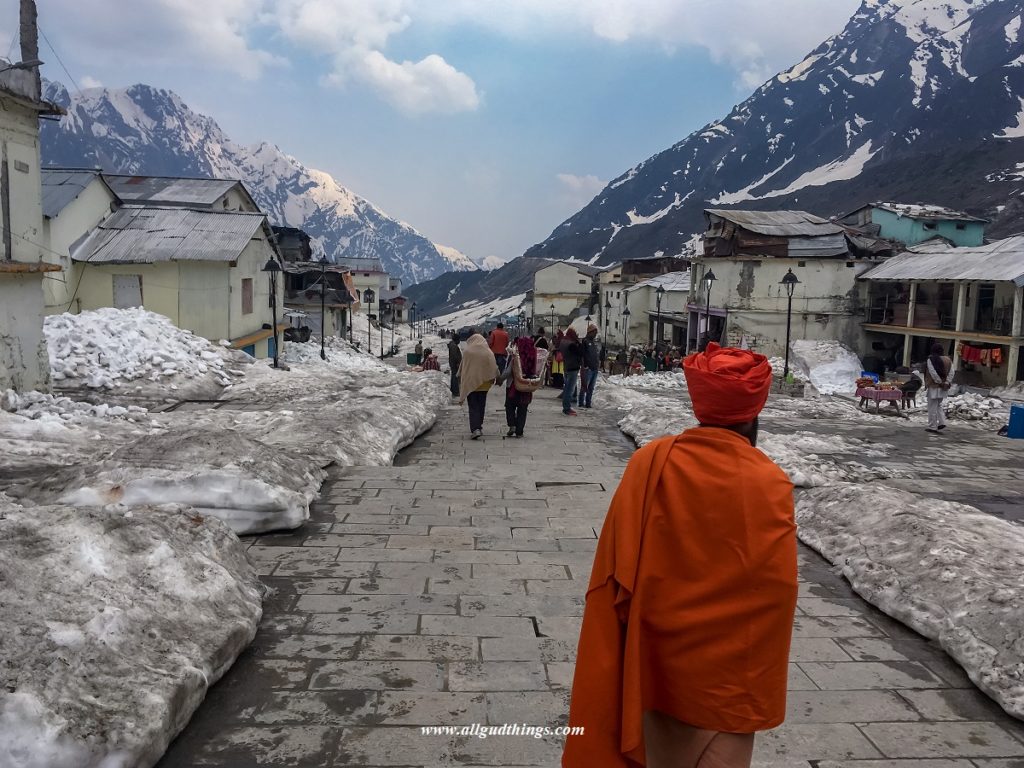 Weather at Kedarnath Dham
Kedarnath is really unpredictable in terms of weather. If one moment it is sunny, another moment the weather can take a twist and it will be snowing. You will find banners everywhere on the route quoting you to carry Warm Clothes, Raincoats, and Umbrellas with you, and they actually make a lot of sense. We experienced all types of weather in a single trip.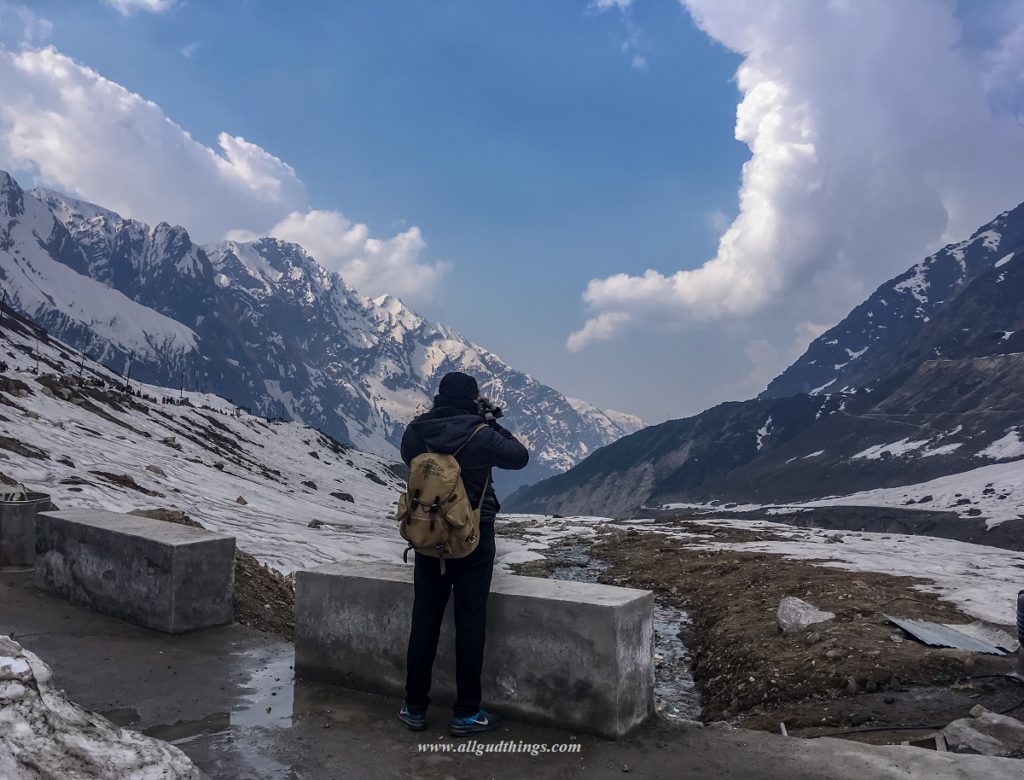 Here, the Day temperatures vary between 5- 10 degrees Celsius whereas the night temperatures can go low to -5 degree Celsius too.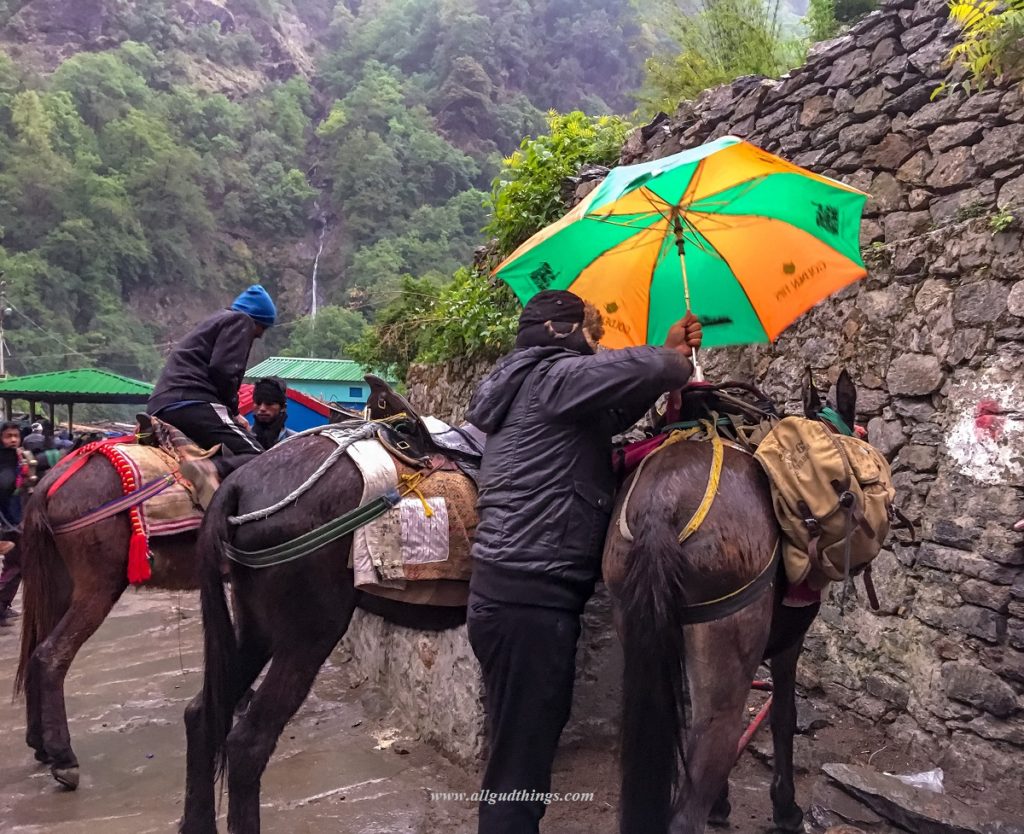 What you need to wear for Kedarnath Trek
For the Kedarnath trip, one needs to pack and wear clothes in layers. While walking or at some places, you may feel hot and removing layers but be really cautious. The clothes you must wear are:
Inner Layer
T- Shirt
Fleece Layer
Jacket (Wind and water proof)
Gloves and Cap
Packing for Kedarnath Temple Trek
At Kedarnath Dham, you have limited options for everything from living to food, so just pack a small backpack. The must in the backpack should be a towel, toiletry kit, an extra pair of your clothes, medicines, and a small portion of energy food like nuts, chocolates, or energy bars.
In case of emergency, there is a medicine shop and relief center at Kedarnath, from where one can make a purchase.
Facts about Kedarnath Temple
Just like Badrinath Temple, Kedarnath Temple is a part of Badrinath and Kedarnath Temple act
The head priest of Temple belongs to Karnataka and is known as a Raval
Raval does not perform the puja in the temple. The pujas are carried out on the instructions of the Raval by other priests.
The Raval moves with the deity to Ukimath during the winter season
About 6000 pilgrims visit Temple every day during the season
Temple opens for only 5-6 months and during rest months it is engulfed among the snow
Places around Kedarnath Temple
Bhairon/ Bhairav Nath Ji Temple
The Bhairo Nath Temple, located at a very short distance from Kedarnath Temple is known as a guardian of the Kedarnathji. It is believed that Bhaironathji guards the Kedarnath Temple by keeping away the evil while the temple remains closed. Therefore the Bhairon Nath Temple is visited ceremoniously at the opening and closing of Kedarnath.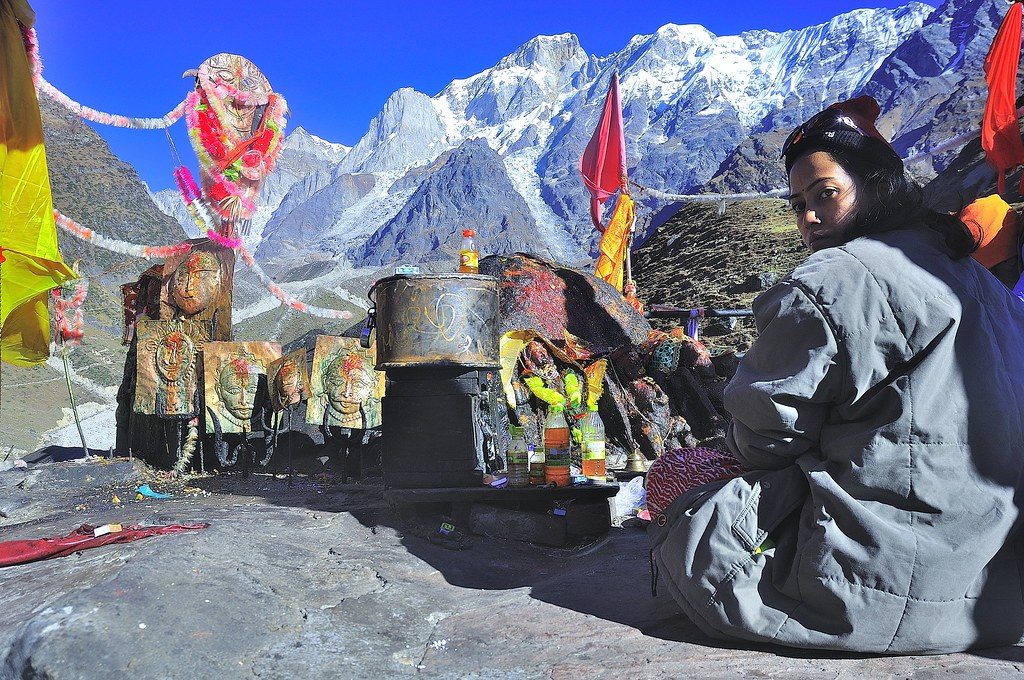 During our visit, the Bhairav Nath Temple was yet not opened. So, the Aarti ceremony was not even performed at the Kedarnath Temple.
Kunds at Kedarnath
It is said that there are several Kund at Kedarnath but still many of them haven't been revived after the 2013 Disaster. The one we could see clearly was Google Kund.
Google Kund
Around 0.5 Km from Kedarnath Temple, there is an interesting semi-frozen Kund known as Google Kund.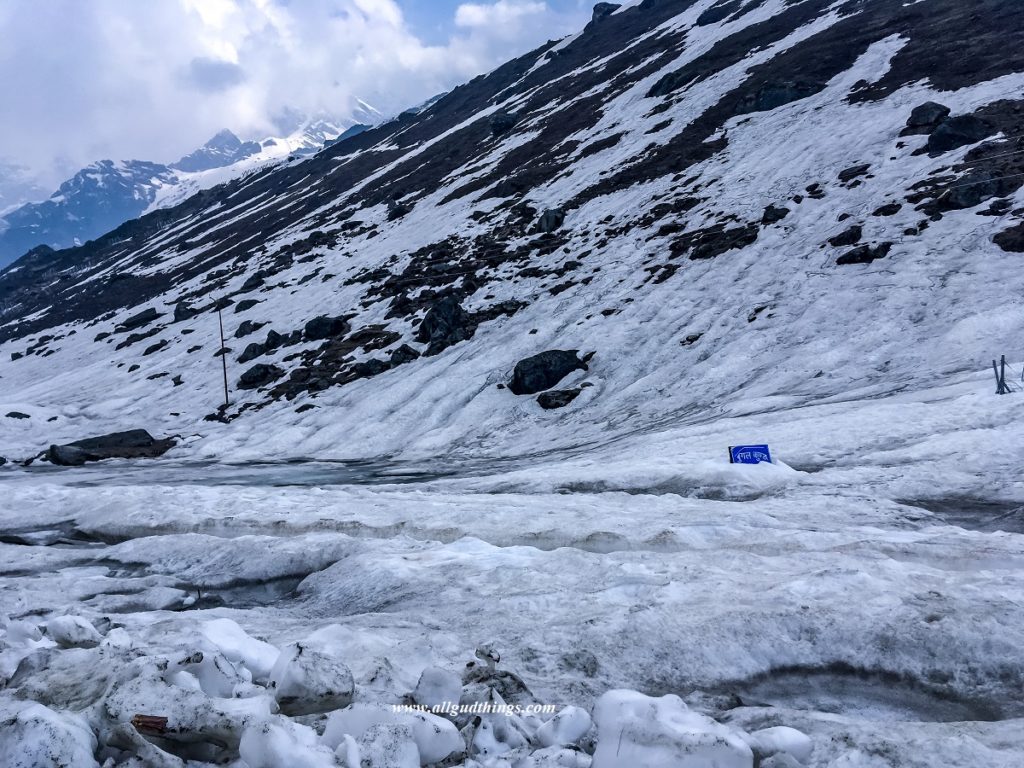 Chorabari Sarovar / Gandhi Sarovar
At a distance of 3 km from Kedarnath Temple, at 12,795 feet lies a beautiful lake known as Chorabari Sarovar or Gandhi Sarovar fed on Chorabari Glacier. The trek to Lake passes through green grasslands and it is advised to carry the trek during the morning only as temperature and weather changes here drastically.
The Sarovar was initially known as Kanti Sarovar and was renamed to Gandhi Sarovar in 1948 when the ashes of Mahatma Gandhi were immersed into the Sarovar. But now, no more the lake exists as the glacier has resided.
Vasuki Tal
Vasuki Tal lies at 13, 566 feet, and can be reached by trekking for 8 kms from Kedarnath Temple. The trek is said to be extremely steep, difficult and can be carried only under supervision. Vasuki Tal is surrounded by high mountain peaks and offers a view of Chaukhamba peak.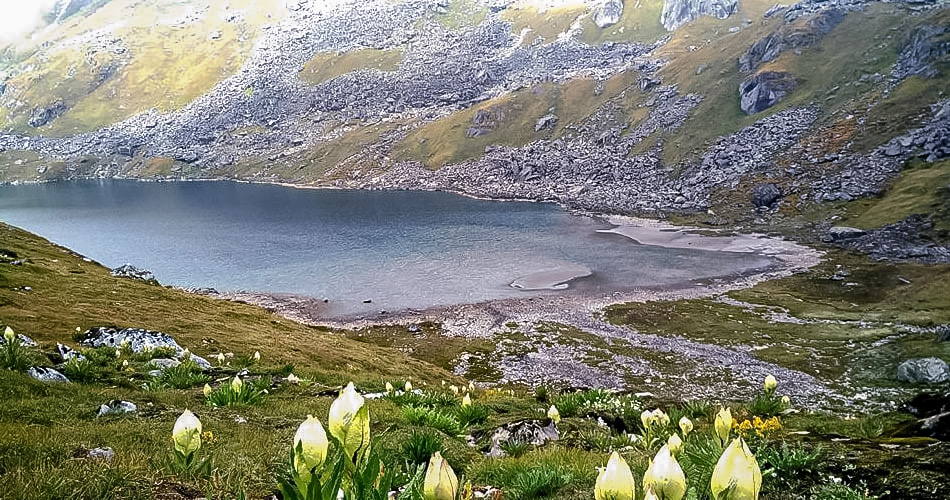 There are several beautiful, colorful flowers around the Vasuki Tal and one of the famous flowers is Brahma Kamal. During winter the lake is completely frozen.
Rudra Meditation Cave/ Modi meditation Cave
Around 1.5 kilometers from Kedarnath Temple, at GMVN, in isolation are available underground mediation caves known as Rudra or Modi Meditation caves. The caves have a window for the direct view of Shrine and can be booked at Rs.990/- per day, for a maximum period of 3 days. They are equipped with electricity, water, heater, attached toilet, and phone to call authorities in case of emergency.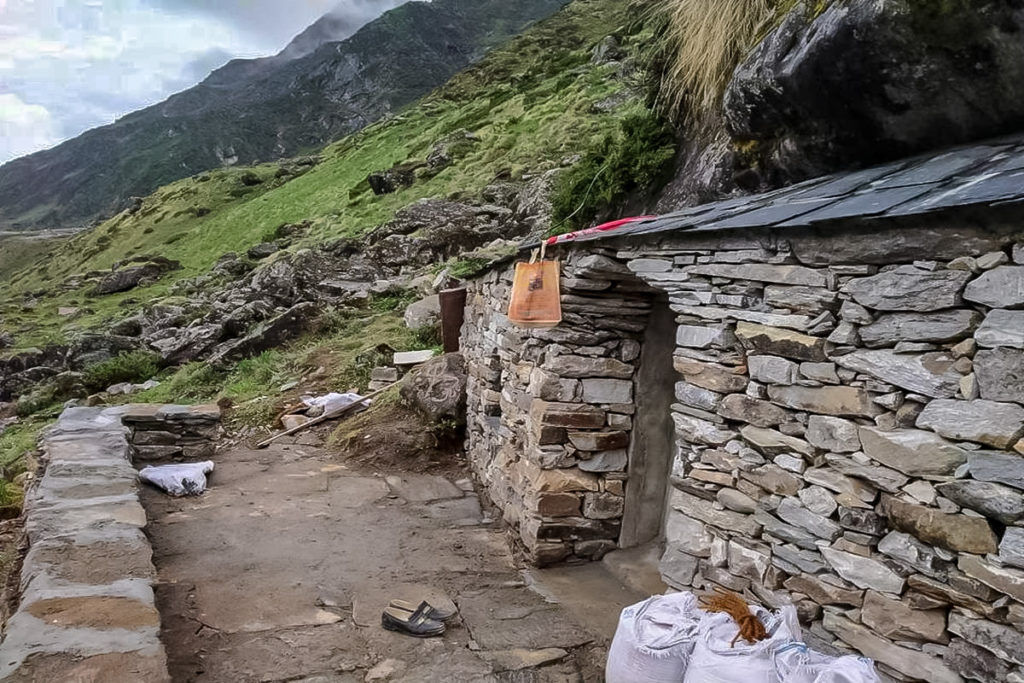 Before dwelling into the cave, one needs to undergo a medical test at Guptakashi and only those found medically fit can stay here. And only one person can stay at a time inside the cave. For more details and bookings check here.
Shankaracharya Samidhi
The resting place of Adi Shankaracharya is an extremely renowned place in Kedarnath. The hot water spring present there is believed to remove all the suffering of the devotees.
Places to stay in Base Camp Gaurikund
There are several hotels, guest houses and Bhawans to stay in Gaurikund but if you have no prior bookings then availability will be completely on your LUCK. We went prior booking and trust me, we had a tough time finding one for ourselves. Finally, we got a room in the market at Subash Hotel, with the attached washroom. 4 of us (We and our parents) accommodated in a 3-bedroom which costed us Rs. 1500/. And a bucket of hot water cost us Rs. 60/- per head.
Note: Hotels, guest house people don't take advance bookings in Gaurikund, even on giving advance and pricing changes every day. The maximum they can charge is Rs.3000/- per night.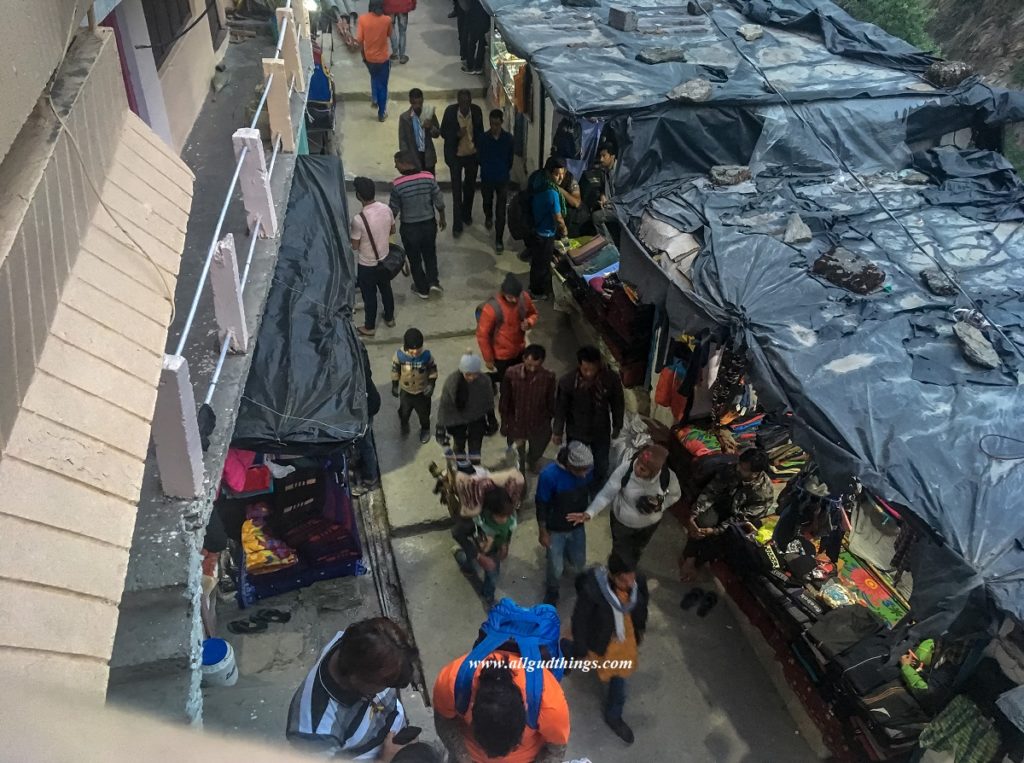 Our Experience on Horses
Honestly, this was the first time we had covered the journey on a horse and it was not at all an easy task. If our horseman had not been so cooperative and good, we would have not been able to do this journey. The process of ascending is much easier than the process of descending.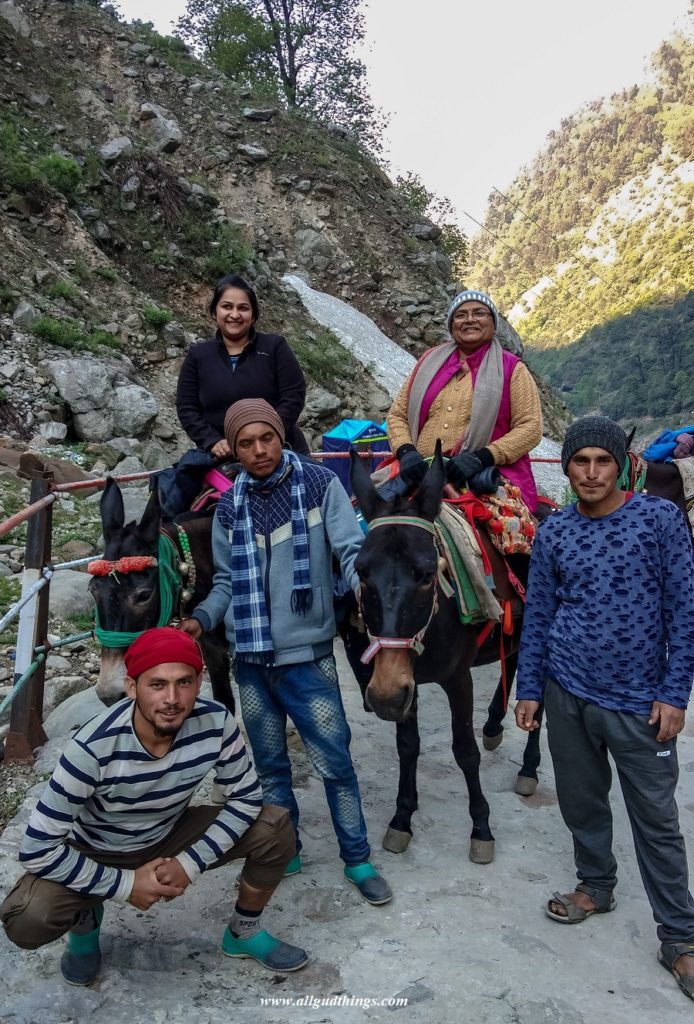 The tip to remember here is to bend forward while climbing upward and bend backward while climbing down and hold the saddle tightly.
Things to Remember before taking up Kedarnath Trek
Check the weather forecast before planning the trip. Also, inquire about the weather at Sonprayag check post and then at Gaurikund check post. Further government has made special rules for the continuation and discontinuation of the trek.
Get a medical checkup done before going for a Kedarnath trek
People with respiratory disorders, cardiac disorders, and high blood pressure should take special care
Remember while trekking to Kedarnath doesn't exert yourself too much. Do not lose your breath while walking and halt if you think that you are experiencing shortness of breath.
Hire a pony/ horse/ palki from the base camp itself, if you have made up your mind to trek with them. Also check, your horseman is not less than 18 years, as they are not allowed to ride passengers up and down
There are fixed trek timings. Also, if personnel's stop you going further beyond one-point it's for your safety and please abide by the rules
There are accommodations available on the way at Jungle Chatti, Bheembali and Linchauli
All mobile networks work well at Kedarnath. The best ones were Vodafone, Jio, and BSNL. Airtel was showing 4G but the signal was playing hide and seek
Be safe and cautious from falling stones especially during rain and snow. Recently one pilgrim from Punjab was hit by a shooting stone and she died on the spot.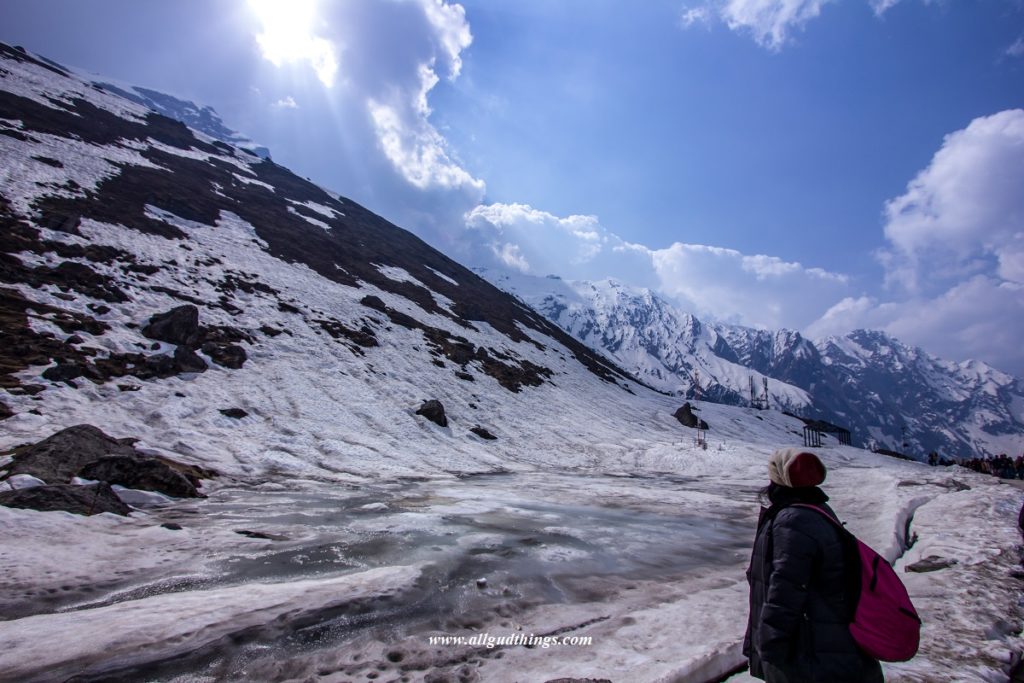 Overall Experience
Trek to Kedarnath Temple is quite challenging and one actually needs a good fitness level to do it. The lofty snow-covered peaks, verdant grasslands, and River Mandakini makes the trek to Kedarnath unforgettable. The facilities and cleanliness on the way and at Kedarnath Temple are completely beyond expectations. Incredible India is definitely doing a great job to make Char Dham Yatra seamless.
Places of Interest on the way to Kedarnath
Devprayag – where Sangam of River Alaknanda and River Bhagirathi happens
Rudraprayag – where Sangam of River Alaknanda and River Mandakini happens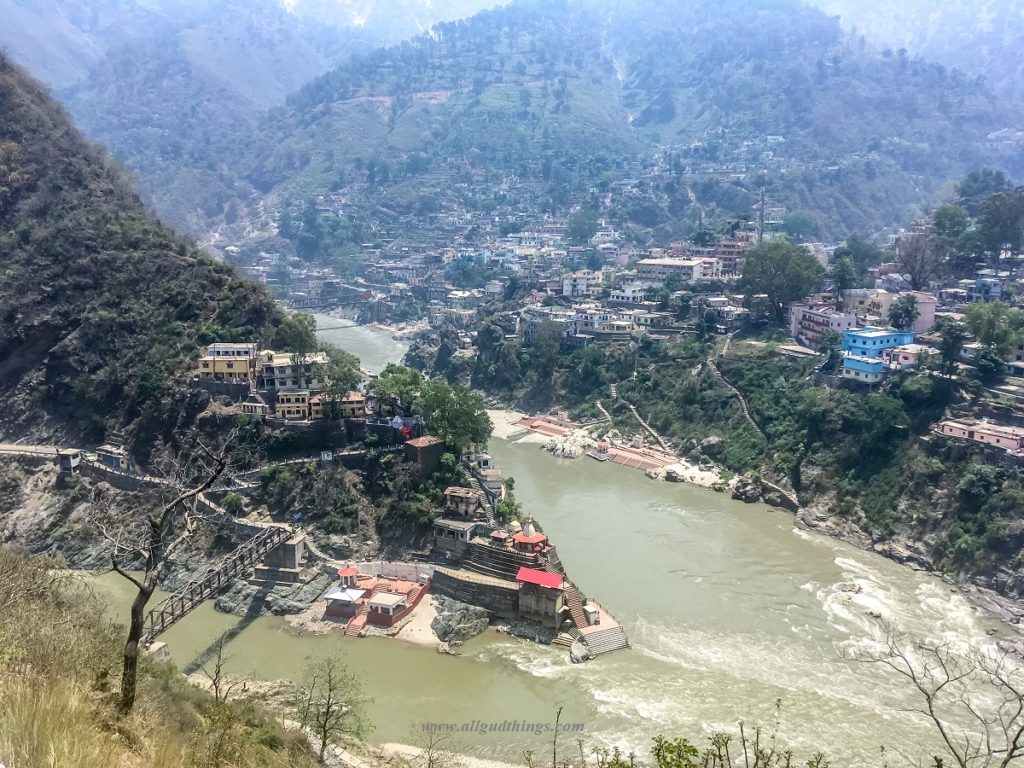 Sonprayag – where Sangam of River Basuki and River Mandakini happens
Agastmuni / Augustyamuni – 20 km from Rudraprayag lies the Agastmuni Temple built in the name of famous Saint Agastya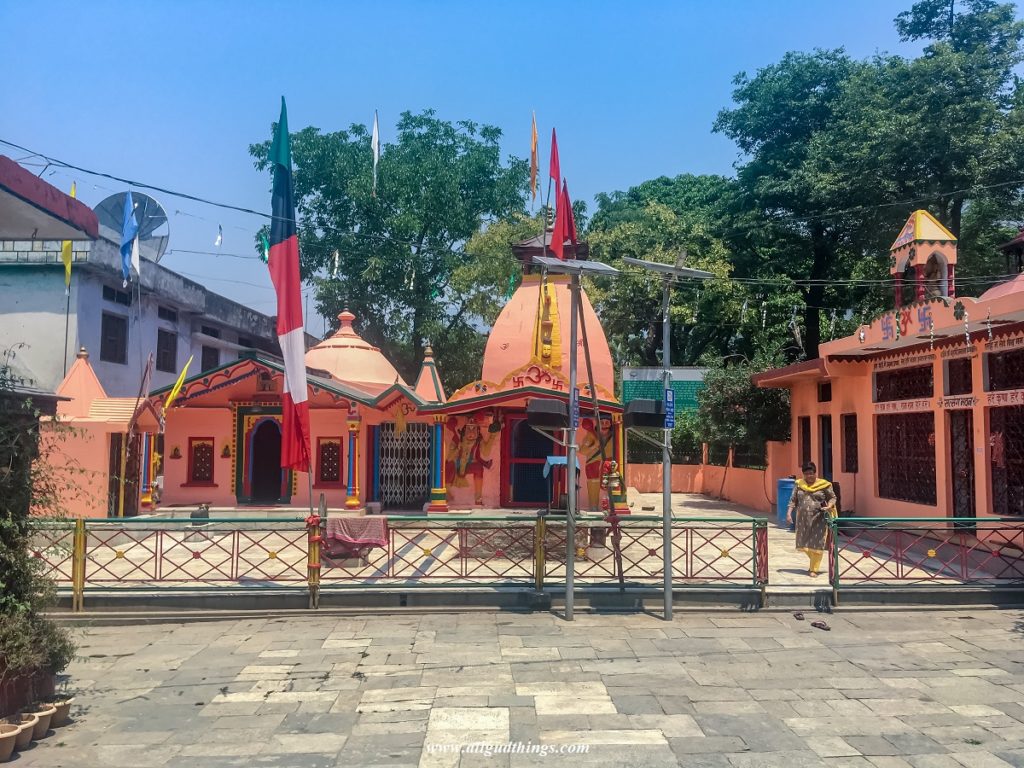 Guptkashi – is believed to be a place where Lord Shiva hid from the Pandavas. The place has two temples. Viswanath temple has several incarnations of Lord Shiva. Ardhanareeshwar temple, on the other hand, depicts Lord Shiva in the form of half-man and half-woman. In addition, there are two streams of water located in the temple, which symbolize the two holy rivers, Ganges and Yamuna.
Gaurikund – Gaurikund the base camp to Kedarnath, houses an ancient temple of Goddess Paravati. It is said that Goddess Paravati meditated here for a long time to win Lord Shiva as her husband. There is also a common hot water spring here. For Ladies, there is a separate one too but currently, it was not operational.
Ukhimath- is the winter abode of Lord Kedarnath and Madhyamaheshwar
Triyuginarayan Temple – located at a distance of 5 Kilometers from Sonprayag, is a Temple where Lord Shiva tied the knot with Goddess Parvati. Tourists visiting this sightseeing place can also make a visit to other attractions such as Vishnu Kund, Rudra Kund, and Brahma Kund.