Treacherous, continuously ascending, bottleneck roads with mountains on one side and valley with the slithering river on other, where mountains keep on increasing height and changing colors, where landscape changes from lush green to barren, where weather changes from sunny to cloudy to even snowy, where temples give way to Buddhist Stupas, where Pagal Nallahs (water streams) abrupt out of nowhere and make you go weak on the way itself, where there is no permanent habitation for almost 30 Kilometers is what describes the path to majestic or mysterious Rohtang Pass from Manali / Old Manali. Lakhs of People visit Manali every year and the majority of them have Rohtang Pass on their list. Years before anyone could go to Rohtang top but in 2016 rules changed and the Himachal Pradesh state government started issuing Rohtang Pass Permit to limit the vehicles and to prevent pollution.
In this post, we will be discussing all the details about how, when to travel to Rohtang Pass and from where to take the Rohtang Pass Permit.
About Rohtang Pass
Rohtang the Ladakhi word is formed from a combination of two words "Ruh" and "Tang" means a pile of dead bodies. Yes, you read it right – The pass was known as a pass of dead corpses as many people lost their lives while crossing and working on the pass due to unpredictable weather conditions, frequent snowstorms, and landslides.
Rohtang Pass is also known as Rohtam Pass and lies at a grueling altitude of 13000 feet and 51 Kilometers from Manali on the Manali Leh Highway (also check the story of Gata Loops on Manali –Leh Highway). It is considered as an ancient trade route between the people on either side of the Pir Panjal range. The pass has strategic importance for India as it connects the landlocked Lahaul & Spiti Valley to Manali and is also a gateway to Pangi Valley and Leh Ladakh. 
The Pass is accessible only for a limited time in summers usually from May – June to October and during the rest of the months, it is completely snow-covered. Indeed, every year road diggers struggle with GPS to clear snow and find road buried under piles of snow. During these limited months, the pass can be visited as a day trip or while heading towards Spiti Valley or Leh Ladakh from Manali side via your own private car, HTPDC bus or shared cabs.
Route to Rohtang La (51 Kilometers)
Manali- Vashisht- Palchan- Gulabha- Marhi- Rohtang La
Conditions of Roads
Single lane and continuously ascending narrow roads are not at all for the novice drivers. For few kilometers expect a slushy and muddy road. In between, you too can encounter a huge or multiple small landslides. Sometimes the landslide is that worst that they can result in an 8-10 hours' traffic jam.
Expected Time to Reach
Usually it takes almost 3 hours, rest completely depends on the landslides and traffic volume. In season time there are long queues and the time can go up to 6-7 hours or even more!
What is Rohtang Pass Permit?
Years ago, everyone was free to travel to Rohtang Pass but this led to a lot of Pollution and littering in this environmental-sensitive zone. So, to counter and stop this abuse, NGT (National Green Tribunal) restricted the daily vehicular and tourist movement to Rohtang Pass and started issuing a Rohtang Pass Permit for a visit or cross over.
Along with this tribunal also restricted other activities like horse riding, snow biking, paragliding, plying of snow scooters and setup of eateries at Rohtang. Although there are some temporary eateries and moving hawkers at Rohtam Pass. At Marhi there are around 10- 15 temporary setup shops and eateries which serve food and sell woolens to the tourists.
In 2019, only 1300 vehicles per day (i.e. 860 Petrol & 440 Diesel vehicles) were permitted to ply from Manali to Rohtang Pass, in order to maintain the ecology and prevent more environmental damage.
Types of Rohtang Pass Permit
Basically there are two categories of Rohtang Permits – Permit for Tourism Purpose & Permit for Travel Purpose.
Permit for Tourism Purpose
The Permit for Tourism Purpose is issued on a daily basis to the vehicles going to Rohtang top from Manali and returning back on the same day. This permit is further divided into two types i.e. Rohtang Pass Permit and Special Rohtang Pass Permit.
Rohtang Pass Permit
This pass is applicable for both commercial and Taxi registered vehicles and under this type 1200 passes are issued i.e. 800 for petrol and 400 for diesel vehicles.
Special Rohtang Pass Permit
This pass is applicable for private 4 wheelers only and under this type only 100 passes are issued, which breaks down to 60 for petrol and 40 for diesel.
Permit for Travel Purpose
This permit is issued to the travelers who will be crossing the Rohtang Pass to go further to Leh Ladakh or Spiti Valley and there is no fixed daily quota for this category.
Note: One doesn't need a permit while coming from Keylong side.
Rohtang Pass Permit Cost
Vehicles applying under permit for tourism purpose (Rohtang & Special Rohtang Pass will have to pay
Permit Fee (Car, Jeep, Buses, MUV, HMV) – Rs.500/- per day
Congestion Charges – Rs. 50/ day for Cars, Jeeps and MUV's & Rs. 100/day for Buses & HMV
And vehicles (bike and 4 wheelers) applying under permit for travel purpose will just have to pay congestion charges Rs. 50/day, whereas goods vehicles will have to pay congestion charges Rs. 100/day.
Documents for Applying for Rohtang Pass Permit
The documents include :
Valid Identity Proof (Aadhar Card, Driving License, etc.)
Vehicle Registration Rate (Vehicle should not be more than 10 years old)
Valid Pollution Under Check (PUC) certificate
How to apply for Rohtang Permit?
Just like Leh Ladakh Inner Line Permit, Rohtang Pass Permit also can be applied both online and offline. Online it can be applied only through the web portal. In 2018 authorities too had launched a dedicated Rohtang Permit mobile app (available both for android and IOS users) but till the day it is not functional for booking and helps only to check the Permit availability, validity and also helps to download the booked permit.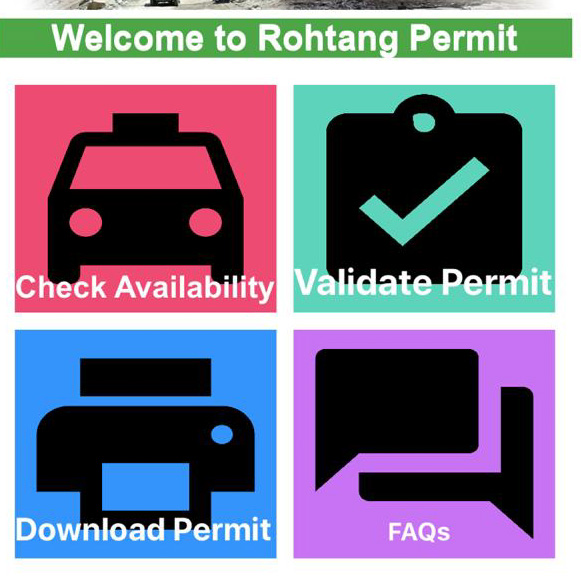 While offline it can be booked through travel agents or in person at SDM office or Tourist Information Center in Manali.
Online Procedure for Rohtang Pass & Beyond Rohtang Pass Permit
Login to Rohtang Permit website
On the top, there are four options – Rohtang Pass, Special Rohtang Pass, Beyond Rohtang & Green Tax (Manali Tax)
Commercial & Taxi Registered Vehicle, click on Rohtang Pass whereas the Private 4 wheelers click on Special Rohtang Pass, for to and fro to Rohtang Top from Manali
Vehicles going ahead to Ladakh and Spiti Valley, click on beyond Rohtang option
Green Tax/ Manali Tax is the one which is charged at the entry of Manali and this doesn't give the permission to visit Rohtang Pass. We suggest you not to pay this online as you still have to show the receipt at Manali entry and is not much time-consuming project.
After selecting the option, fill all the required tourist details (driver name, phone no, email id, purpose); vehicle details (like type & category of vehicle, fuel type, vehicle no, vehicle registration no, seating capacity), no. of travelers, ID Proof, Pollution under check (PUC) no and proceed to submit the form. After submission, you will receive an OTP. Fill the OTP and it will take you to payment gateway. Make the online payment and you will be directed to print permit window
Print the Permit issued, as it is compulsory. Forgoing ahead Rohtang we suggest you take multiple print outs. Also, take a screenshot and keep a copy of same in your phone
Offline Procedure for Rohtang Pass & Beyond Rohtang Pass Permit
The Offline Permit can be taken from the SDM office or Tourist Information Center which is open on all 7 days including Sunday from 10:00 am to 8:00 pm. The process of application is really simple but time-consuming. Fill up the form and submit the above-mentioned documents between 10:00 am – 1:00 pm. During the season the permit is not issued at the same time but you will be asked to collect it between 3:00 – 5:00 pm.
The other option is to get it booked by travel agent offices in the Manali market just opposite to SDM office. They too use the online portal to book but hand over the permit in 5 -10 minutes. They charge 550 +150Rs. for booking.
Our Experience with Rohtang Permit
During our recent visit to Rohtang Pass in October 2019, we tried booking the Permit online but failed at the payment gateway because of the slow internet. Ultimately rushed to the travel agent sitting in the Manali market, paid him Rs.700/- and got the permit in next 5 minutes. But during our travel to Spiti in August 2018, we submitted the documents at the SDM office itself and got the permit in the next 15 minutes itself.
Some Important Points to Remember
Rohtang Permit is issued in two-time frames i.e. at 10:00 am (600 vehicles) and 4:00 pm (600 vehicles) and in a week i.e. from Tuesday to Monday – only 3 Rohtang Pass Permits can be obtained for each vehicle
Special Rohtang Permit (100 vehicles) window is open throughout the day and the permit is issued only once to one vehicle during the entire season
Beyond Rohtang Pass can be booked between 12:00 pm to 12:00 am and in a week i.e. from Tuesday to Monday – only 2 Rohtang Pass Permits can be obtained for each vehicle
Also, NO Vehicle is allowed on or can cross Rohtang on Tuesday from Manali side, as it is closed for maintenance whereas the vehicle coming from Leh and Spiti are allowed entry
Vehicles having wrong information on the permits as compared to valid proofs are not allowed to cross the barrier. So be really careful while submitting your details.
Importantly, your vehicle age shouldn't be more than 10 years
Who all Needs Rohtang Pass Permit
Everyone traveling to Rohtang Pass or beyond Rohtang Pass from Manali by cabs, commercial or private vehicle needs a permit. But the people planning to travel by HRTC or HPTDC buses and cycle till Rohtang Top don't need a Rohtang Permit.
HRTC / HPTDC Buses
HRTC/ HPTDC bus service starts at 5:30 am from the main Manali bus stand and the next bus goes after every 15-20 minutes. Also, 9 Electric buses with a passenger capacity 25, fare Rs.600/- do to and fro every day (i.e. from Wednesday to Monday) to Rohtang top in season and takes almost 4 hours to reach. The bus service for the same can be booked here.
What if I apply for Beyond Rohtang Permit and comes back from Rohtang only?
Many have attempted booking Beyond Rohtang Permit and coming back from Rohtang Pass itself on the same day. And the consequences they have faced because of this is either they had to shell heavy fine of Rs. 5000/- from their pockets, as environmental compensation and some vehicles even have got blacklisted.
Remember, the authorities have put up a barrier system on both sides of Rohtang Pass i.e at Gulaba, (which is 20 kilometers from Manali and 31 kilometers from Rohtang Pass) and Khoksar (which is 19 kilometers ahead from Rohtang Pass on to Keylong road). So, the vehicles having Beyond Rohtang Permit Pass gets verified at Khoskar Barrier too along with Gulaba. At the day end, data between these two barriers helps to find the misuse of the permits.
So, make sure to have the correct permit and if in case you have the wrong permit, then go ahead and don't come back on the same day.
What are the Timing & Validity of Permit for Rohtang Pass?
Vehicles going to Rohtang Top and beyond are not allowed to cross the Gulaba check post before 5:30 am. The issued Rohtang Pass & Special Rohtang Pass Permit is valid only for 6 hours. And all vehicle has to leave from Rohtang Pass maximum by 4:00 pm.
What is the best time to visit Rohtang Pass?
Rohtang pass opens up in May end or June first week and closes down in October end or November first week. So, may – June is considered as a peak season, July – Mid September is monsoon time, and October is the season end time when you can see the fresh snow.
We have visited Rohtang Pass in July – august i.e. during monsoons as well in mid-October and trust us the landscapes, roads, panoramic vistas, the weather looked extremely different each time. During monsoons the pass was under the clouds, mist, and rain, landscapes were lush green and there were landslides in patches whereas in October we experienced fresh snow and very fewer tourists. So, according to us these both are the good times to explore Rohtang Pass.
How is the weather at Rohtang Top?
From May – September the temperature can go as high as 25 degrees Celsius and low to 10 degrees Celsius whereas in October – November expects the high temperature between 18 -20 degrees Celsius and low to 4-5 degrees Celsius. In October – November, expect snowflakes too.
Some more FAQ's
Do we need a permit for a rented vehicle, which already has All India Permit?
Yes, you still need to take a Rohtang Pass or Beyond Rohtang Pass Permit according to the destination.
Do we need a permit while coming from Leh, Keylong, Chandartal or Spiti to Manali?
No, Permit is required for traveling to Manali from Leh, Kaza, Keylong, Chandartal and Spiti Valley.
Do I need permit for Motorcycles and cycles?
Yes, you need a Rohtang Pass/ Beyond Rohtang Pass permit for Motorcycles but cyclists don't need any permit.
How many days before I need to apply online for Permit?
The online permits (Rohtang Pass, Special Rohtang Pass & Beyond Rohtang Pass) can be applied for the next 6 days from the current day.
Can I cancel the booked Permit?
No, you cannot cancel the booked permit. Please be sure of your travel and then only book, as only 1300 Permits are issued per day.
Where to contact in case of some queries related to Permit issuance?
For any other Permit issues, you can write a mail at [email protected]
How many permits can I apply from my own mobile/ IP address?
Only 2 permits can be applied in a week from a single IP address or mobile unit.
Any email id where I can send my queries?
You can send your queries at [email protected]
My name spelling/ vehicle reg. no/ vehicle no./ license no isn't the same as the issued Permit. Will it matter?
Yes, it matters a lot. You will not be allowed to cross the Gualaba Checkpost. So make sure to check the spellings, reg. no twice before submitting the form.
Can I book a permit through Rohtang Permit App?
No, you cannot book Rohtang Pass Permit through their app. You can just check the Permit availability and validity. Also, you can download the booked permit from here.
Should I visit Rohtang pass without woolens?
We don't recommend you to visit Rohtang Pass without woolens in any seasons. Weather changes here drastically. If one moment it's sunny, another moment it may cloud and start raining. Please do carry windcheaters, a jacket, a cap, and gloves. If you are not carrying or have forgotten them, you can rent or buy them from Marhi shops. We too made a purchase for woolens at Marhi.
Do I get anything to eat at Rohtang Pass?
Yes, there are temporary shacks and some moving hawkers at Rohtang Pass. They serve you bun – omelets, Maggi, soups, tea, coffee, corn, and chana chaat and everything is almost priced at Rs. 50/- per plate. They have bins placed near their tents, so remember to put your trash in the same or get it back.
Do I get anything to eat on the way to Rohtang Pass?
Yes, there are around 10-15 shacks in Marhi, serving you lunch, tea, coffee and various types of snacks.
Is there any chance of facing AMS (Altitude Mountain Sickness) at Rohtang Pass?
Yes, you may feel headache, dizziness, loss of appetite, vomiting, or shortness of breath at Rohtang Pass due to high altitude and thin air. Please descend back if you feel the symptoms are getting worse. The advice is to keep having liquids and munchings at short intervals to stay fit.
How far I can go with the Rohtang Pass Permit?
You can go ahead for few kilometers to enjoy the views but cannot cross the Khoskar check post.
If you have any more questions, do leave them in the comment section. We will be happy to answer them.