Dogs are cuddliest & innocent. They are man's best friend, & don't bite until teased. They just need love. It's okay to feed them. Have you heard these lines from a dog lover? We have heard these conversations endless time. And even seen tourists or travelers adoring or feeding the stray dogs with bread/ biscuits/ fruits on the streets, in India. But are you aware these feral dogs can sink their incisors anytime into your body and can put your life to risk? Yes, we are talking about a dog bite by a stray dog.
India is a country where National Rabies Control Program is functional but still, 18 million cases of dog bites happen annually and 20,000 -30,000 people die of rabies (a viral zoonotic disease spread via a bite, scratch or a lick from an infected animal like dogs, monkey, cat, etc.) every year. Here, a person is bitten by a dog every 2 seconds and someone dies from rabies every 30 minutes.
According to the study published by the WHO (World Health Organization), 36% of rabies deaths occur only in India. While all mammals can transmit rabies but of the above stats, 99% of human rabies is through dog bite only. Aren't these numbers scary?
Anyways, here is my story on a dog bite by a stray dog in Goa and then the hustle for Rabies vaccine.
My story of Dog Bite in Goa India
In August 2019, we were in Goa to celebrate our anniversary & it was pouring heavily. We were stuck in our Resort (Keys Select Ronil) since morning. By afternoon our patience to be at the same place ran out & we left for a ride in the rain, on our hired bike towards the Candolim – Aguada Fort area.
Monsoons make Goa extremely beautiful. The whole environment was lit up, looked clean, and lush green. After a while, heavy rain turned to drizzle. While riding the bike, the cold breeze and the scotch mist was soothing to our skin. The Nerul River flowing in full swing parallel to the road was like the musical rhythms, while the humming sound of insects was a supplement to it. We were completely happy, lost in the tunes of nature.
Also Read: 5 Offbeat Monsoon Weekend Getaways from Delhi
In India, canines are on every corner of the streets and similarly, they were rambling on the Aguada Fort road too. We drove past them, without looking, teasing, or paying them any attention, just happily clicking some shots of the boats parked around the river. Suddenly the dogs started chasing our bike and a few seconds later I (Suruchi) felt a sharp pain in my foot. The white dog from the herd had sunk his long incisors on my small toe and the other "monster" was jumping to grasp my other foot. I shouted and Tashi saw from the rearview mirror that my foot was in it's mouth. Scared, he increased the bike speed to drove away from them.
Also Read: 5 Places not to miss for monsoon road trip
A quick race from there, and we stopped at some distance to see, how bad the wound is? Two bloody puncture marks with the skin laceration and the cherry on top – Monsoon season. So, chances of a high risk of infection & the panic gurgled into our throat. From there started an ordeal to find the nearest dispensary/ hospital/ clinic on our anniversary trip.
Note: In 2019, from Jan to May, Goa alone reported 10,340 dogs bite cases i.e. 68 dog bite cases every day and this number doesn't include the private clinic's data.
From the locals, we found that the nearest dispensary is just a kilometer away. Immediately we rushed to the nearest chemist shop cum clinic & in seconds was shunned from there to the hospital since they did not have the vaccine. The thought of finding no vaccine or rushing from one place to another was stressfully striking in our head. So, we decided to rush directly to a government dispensary, where the chances of finding medications were relatively higher.
Note: No matter how small the bite is, make sure to see a doctor immediately or within 8 hours after a dog bite. Waiting for longer increases your infection chances. And if someone is diabetic or anyway immunocompromised, the risk of infection is much higher.
..and then started..
The Ordeal of Rabies Vaccine & Treatment
Driving from the chemist shop towards Candolim, we saw a Primary Healthcare center. We rushed inside instantly, but there was a long queue with a single on-duty doctor in the evening. Seeing us speeding towards the doctor cabin directly without standing in the registration queue, patients started howling on us thinking we were breaking the queue. But our tensed faces made a paramedic staff understand – it was an emergency case.
They saw my wound and promptly asked us to buy a Dettol soap from the nearby chemist shop and wash the wound with soap and running water for almost 10- 20 minutes. We did the same in the smelly dingy washroom and by now there was no bleeding but the sharp pricking pain was hurting. Our heart was pounding & we were distressed. By now, patients outside the doctor's cabin had found that I had been bitten by a dog. Their continuous stare silently questioned that how and where it happened while their faces showed sympathy as well.
After an hour of waiting (as it seemed like it was not an emergency case for the hospital), we got a call from the physician's cabin. First, a big chuckle from him and then instantly to cool the tensed environment, he explained that it is just a Category 2 wound. So, I need to go for a Tetanus injection & the complete course of the anti-rabies vaccine. Also, we need to watch the other symptoms which can arise in a few days – and the fever can be the first one to come.
OMG! Anti-Rabies Vaccine course. It is going to be a big cry from the dozens of abdominal shot to fight against the virus and develop immunity was what we thought. But in the injection room, the nurse explained that gone are those days. Now, the post-exposure vaccination course is a simple but prolonged one. It is just an Intramuscular (IM) or Intradermal (ID) injection course over the 0, 3, 7, 14 & 21 days.
In the injection room, the single on-duty nurse filled the form and register and asked me to lie sideways. Still strained I laid on the white soiled bedsheet and she injected a Tetanus injection on the side of my thigh and other two shots of anti-rabies vaccine Intradermal on my both arms. And that was done for Day 0.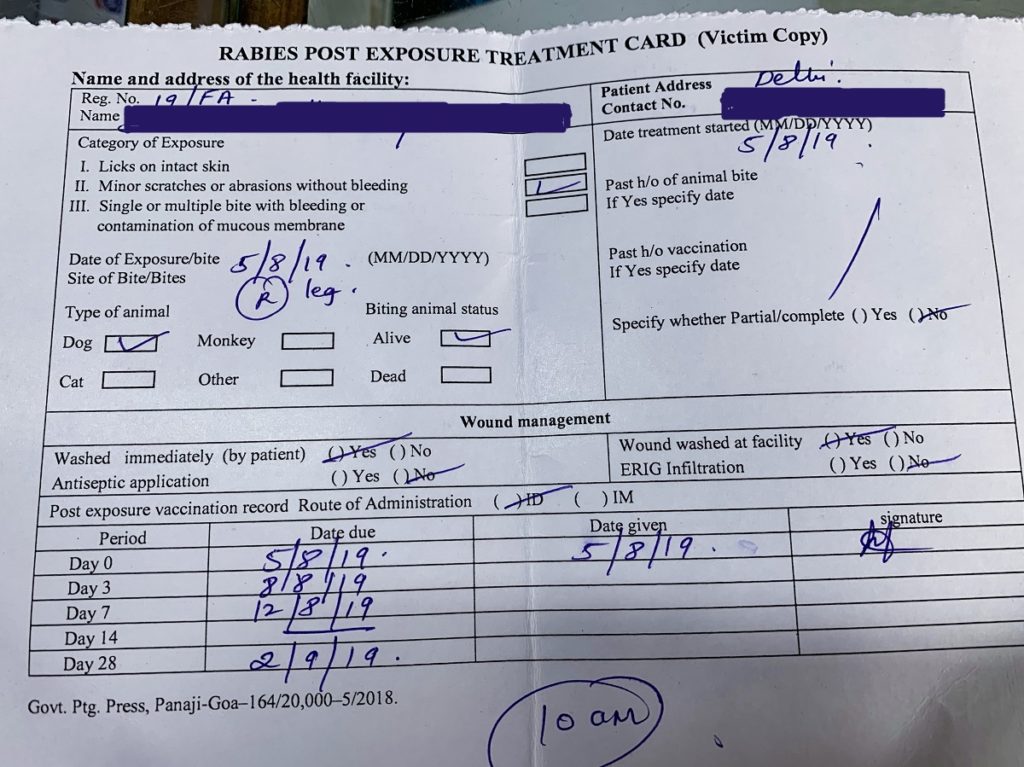 I felt lethargic after the shot and was literally quite for some time, thinking about what will happen next. In meanwhile, the nurse announced, that we don't have more anti-rabies vaccines in the stock and probably there are very low chances of getting it from the chemist too. So, for the third-day dosage (2nd shot) you need to visit the Panaji Primary Health center at 10:00 am. The Panaji Health center was almost 18 Kilometers from our hotel and we had our return flight the same day to Delhi at 1:00 pm. So, another tension gripped there.
Anyways for the day, we left the hospital relieved that Suruchi has got the first dosage of the vaccine.
Day Before Day 3 Anti Rabies Vaccine Dosage
There was continuous stress of finding the anti-rabies vaccine and then the deterioration of wound and rabies further. By now, there was a formation of nodules and swelling on my both arms.
Tensed but keeping these thoughts behind, we left to find the vaccine with the nearby chemists. One after another no one had it in the Calangute area and then thought to find it in the Candolim area near the Primary Healthcare center itself. Luckily one small chemist had the last vial. So, we asked him to keep it for us and will buy it from him next morning before visiting the hospital.
Note: Anti rabies vaccine needs to be stored at 2 – 8-degree Celcius and protected from the sunlight
Day 3- Second Dose for Dog Bite in Goa
Sharp at 8:00 am we left to purchase the anti-rabies vaccine vial & there the chemist shop was closed. "Will we get it or Not? Will, we catch our flight or Not?" – were the questions pondering in our heads. Finally, he was there at 9:00 am. He pulled the shop shutter up & handed us the vial for INR 350/-. From there we reached the Candolim Primary Healthcare center by 9:20 am but – no STAFF! They will only come after 10:00 am – told the sweeper.
Surely we will miss our flight – I said.
By 10:15 the nurse came and I got my second dosage. Immediately, we left to catch our flight for Delhi- which anyways we missed in the end and had to book another one.
Day 7, 21 & 28 – Third, Fourth & Fifth Anti Rabies Vaccine Dosage in Noida
In Noida, we planned to continue the rest of the treatment in the government hospital itself. So, the first visit (7th-day dosage) to Govt hospital, and we were told there is no vaccine, but being aware that the anti-rabies vaccine dosage has to be taken on the prescribed day itself, we rushed to a private hospital. They recommended us to purchase the vial and take a shot in the emergency department. A single shot cost us almost double i.e. Rs. 600/- per visit here, instead of Rs. 350/-.
That was not the end…
There were still lumps and redness on both arms from the first and second injection. On seeing it the hospital staff went into a panic state thinking it to be the adverse reaction, wrong injection site, or some symptoms of rabies. Again we were dreaded. To be on the safe side, we went to the other hospital doctor, and there too came different assumptions but no appropriate answer. It clearly showed that staff didn't have enough experience in the animal bite management cases.
At home, we continued our research online at various medical sites. In one study we found that in some patients the redness and swelling on the rabies injection site take months to go. Now, the thought was probably I am that one case, and the reaction will subside away on its own, and actually it did, after months.
Now, its almost 9 months to this incident. I have no symptoms but the trauma of dogs & being bitten by them still haunts me. I have planned to take my booster shots to maintain the immunity for future travels.
Rabies Exposure Categories as Defined by WHO (World Health Organization)
According to WHO, rabies exposure categories are defined as
Category 1 (No Exposure)
While touching or feeding animal licks on intact skin
Category 2 (Exposure)
Nibbling of uncovered skin or Scratches or abrasions without bleeding
Category 3 (Severe Exposure)
Single or multiple transdermal bites or scratches
Contamination of mucous membrane with saliva from licks
Licks on broken skin
Exposures due to direct contact with bats
Treatment Steps to follow after Dog Bite
Wash your wound with soap and water for almost 15 minutes
Gently press the cloth on the wound to stop bleeding, if it's there
Try to keep the injured area elevated
Leave the wound open
Visit a doctor immediately and take tetanus injection, along with an anti-rabies vaccine
The severe exposure category 3, need the administration of rabies immunoglobulins too
The dosage has to be taken on Day 0, 3, 7, 21 & 28 and don't miss it
Keep noting your temperature and the other symptoms and signs of infection in between the dosage days
Why Dogs Bite?
Experts say dogs bite is basically a reaction to an action. So, they bite when they are scared or are ill, when you provoke them, when they find themselves in a stressful condition, or to protect their territory.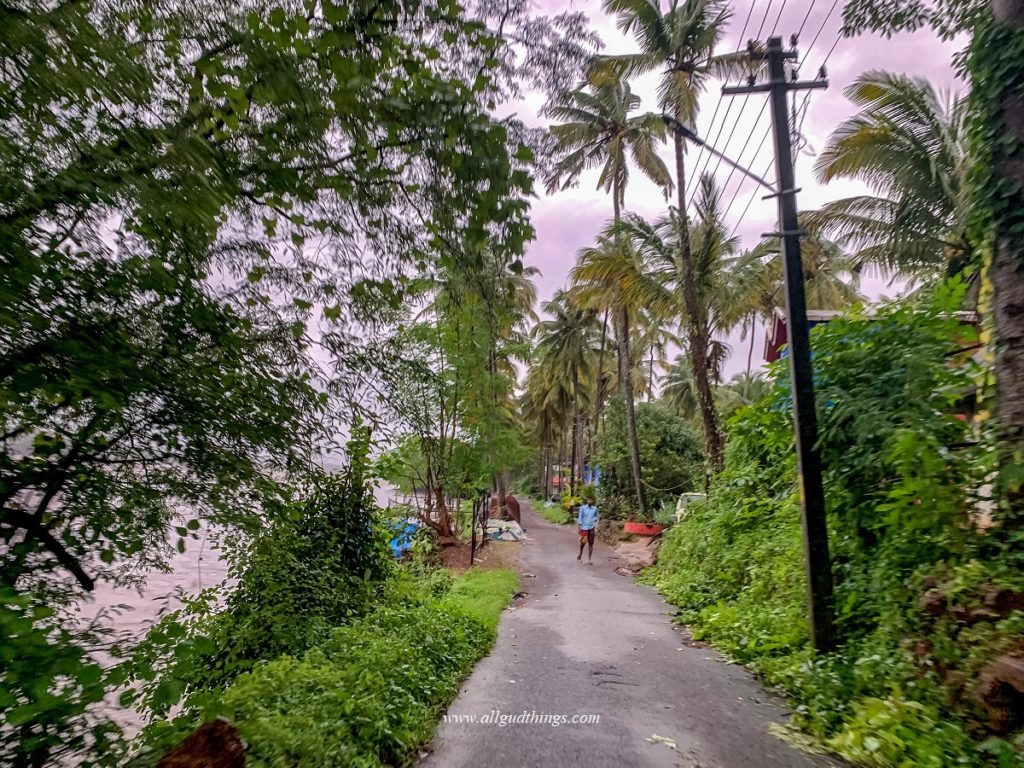 In our case, we never provoked or scared them. So, either he was irritated, ill or he was trying to be territorial.
The Dog Menace in Goa
In Goa, you will find dogs outside every cafe, shacks, beaches, & on streets. Acc. to the research, in 2019 from Jan to May, Goa reported 10, 340 dog bite cases i.e. 68 dog bite cases every day. The above numbers are only of the government hospitals. So, overall the stats will be far higher when clubbed with the stats of private hospitals.
The topmost reason cited by officials for this Dog menace in Goa is the increased no of free roving dogs due to the free availability of garbage.
The Mission Rabies scientific manager Dr. Gowri Yale has said –

"The free availability of food provided by the scraps in the garbage not only increases fertility in dogs, but scavenging makes dogs more likely to attack humans. Dogs that get free food from garbage left behind by bakeries, slaughterhouses don't see humans as providers of food and are more likely to attack them"
Advice for Travelers
In case of an animal bite, wherever you might be, wash your wound immediately and consult a doctor for additional treatment. Take post-exposure anti-rabies vaccine to fight against the virus and build immunity.
For international travelers, as advised by CDC (Center for disease control & prevention) and WHO – speak to your doctor about your travel plans and take pre-exposure vaccination, especially when traveling to countries at risk like Asia & Africa, even if the duration of travel is short and if you are going to the rural areas or off the beaten backpacker tracks.
Important is not to fall into the unnecessary advice and traps like – Man eats dog heart to prevent rabies after bite.
In the end, I leave it to you or ask that Dog is considered as man's best friend but what about the people who have been bitten by them and still are under the trauma.