"Our Land is so barren and the passes so high, that only the best friends or the fiercest enemies come to visit us"
%CODE1%
The above saying can be found everywhere on the internet about Ladakh the Land of High Passes; also known as the roof of the world but never knew the deep meaning behind it. In July 2017, while doing a 13-day long road trip to Leh Ladakh from Delhi; we saw the same quote at various places posted by BRO (Border Road Organisation) and now after visiting quite the part of Ladakh; crossing one valley to another we have understood the real meaning of each word.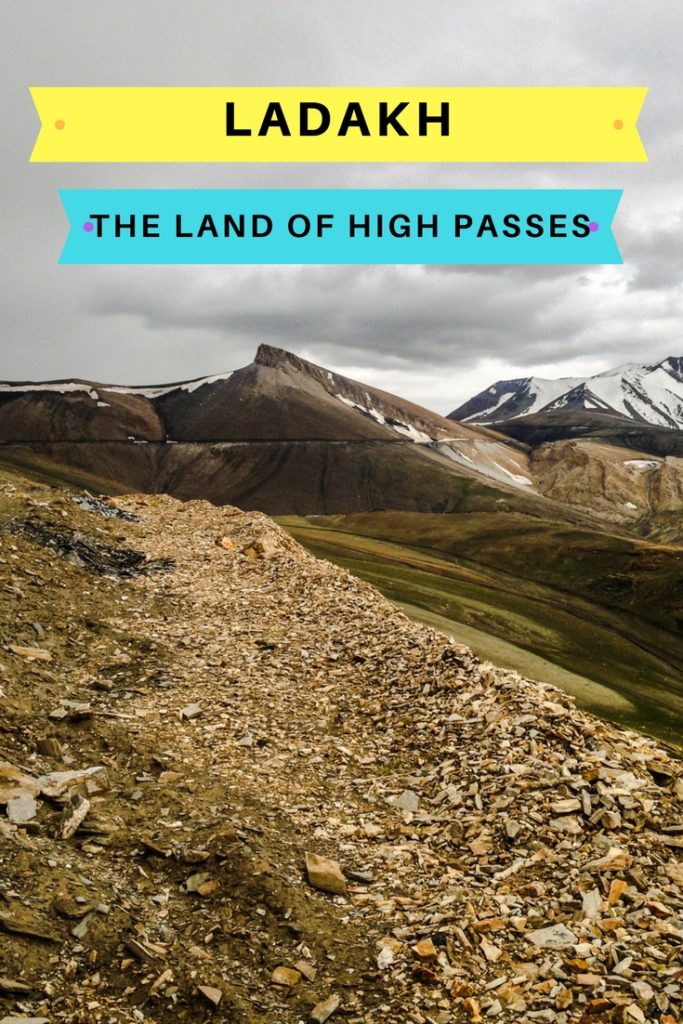 It is true that the whole land in Ladakh is barren; a cold desert lying at an altitude between 10,000 – 25000 feet, where temperature even dips to -50 degrees Celsius in winters. The army is on its foot front guarding Indian border from Pakistan and China, and the passes are not only India's but worlds highest. Some of these passes or La, as known in Ladakh are the highest motorable and treacherous roads. So, in this post, we will be talking about why Leh Ladakh is known as Land of high passes. The word Ladakh itself is composed of two words La and Dakh, where La stands for "passes" and Dakh stands for "many" which together comes to  Land of High Passes. It's not 5 or 6 passes but overall there are more than 20  passes. And if you are following our itinerary then will be crossing around 15 passes. So, let's see the passes covered by AllGudThings.
The route to Leh Ladakh from Delhi
Delhi – Ludhiana – Jammu – Srinagar – Sonamarg – Kargil – Leh – Hunder- Pangong Tso – Tso Moriri – Tso Kar – Keylong – Manali – Chandigarh – Delhi
Ladakh – The Land of High Passes
1. Zoji La
Altitude: 11,649 feet
Road: From Sonmarg to Zoji La, roads are serpentine and single Lane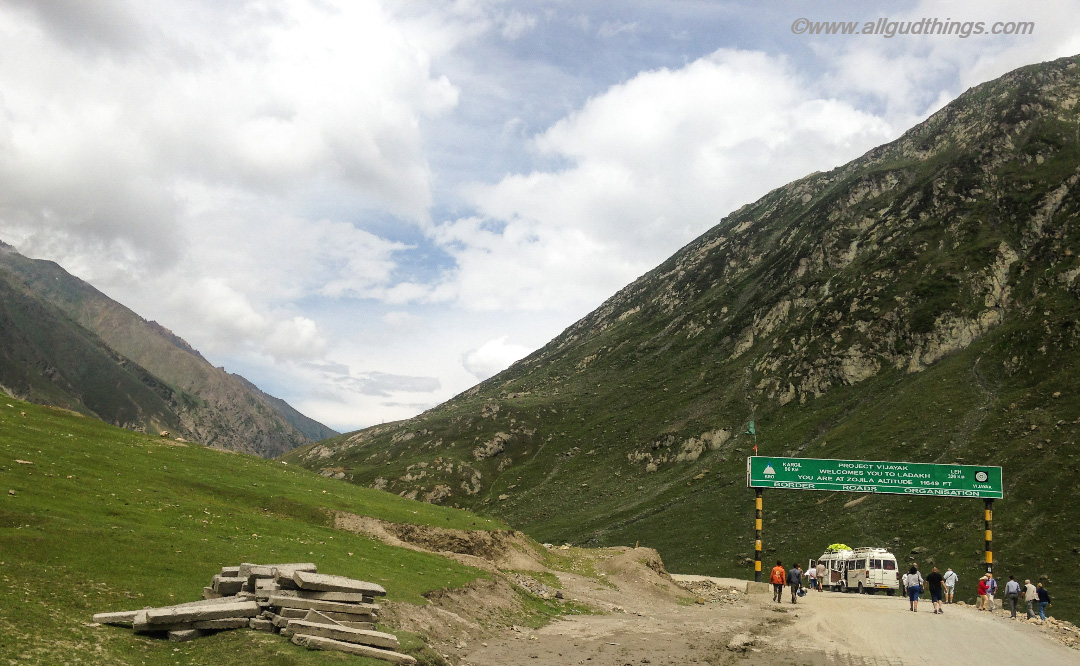 The first pass; Zoji La lies on Srinagar – Leh highway is 24 km ahead of Sonamarg and is the gateway to Ladakh. This highway is also known as NH1D and has high strategic importance, as it links Ladakh with the Kashmir Valley. Zoji La is quite daring and thrilling for nature lovers as the green valleys are taken over by barren cliffs and here the winter never seems to end. The tall walls of snow can still be seen in July- August too.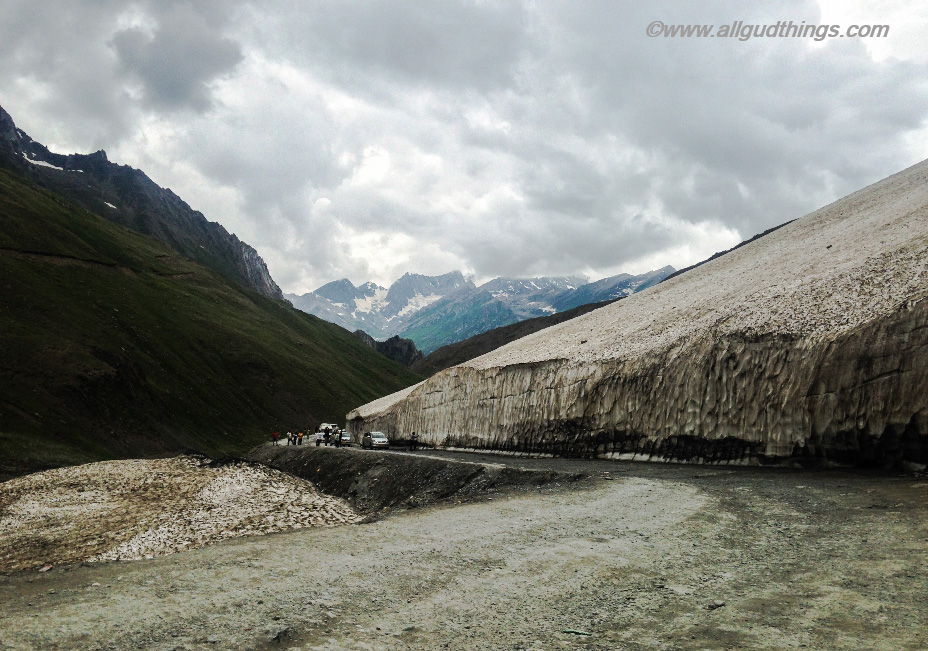 Just meters ahead form pass, there is a Zero-point where no natural habitation exists. Here, the snow lovers can enjoy snow sports like sledding, snow bikes and trek to the barren mountain.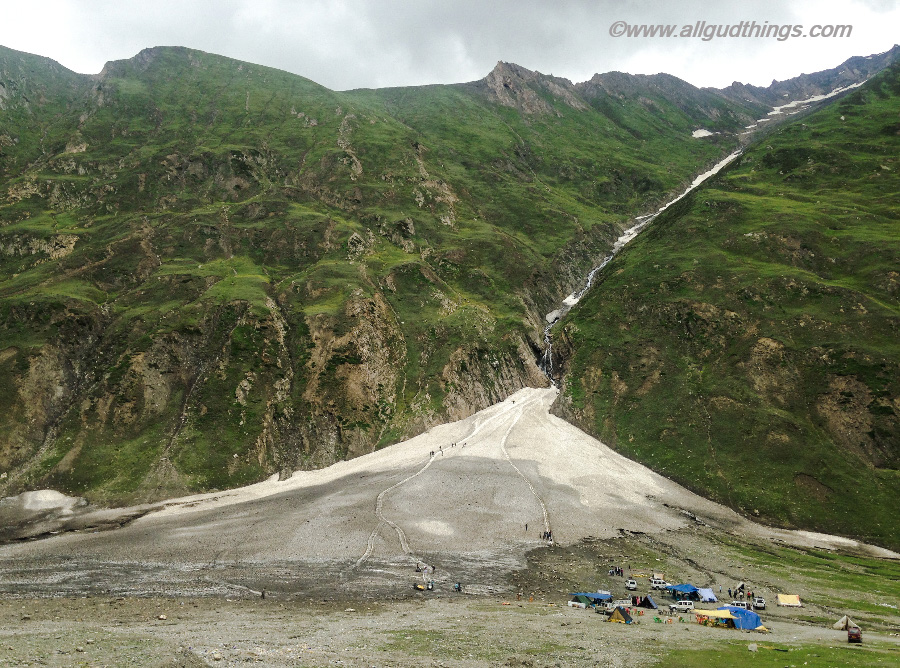 Also, enjoy some Maggi with tea/coffee at shacks. It is really windy at the pass; so wear some woolen or windcheater, to protect yourselves.
Note: Zojila receives on an average, 60 feet of snowfall and it opens only in April end or May.
2. Namika La (Pillar of The Sky Pass)
Altitude: 12,198 feet
Roads: Well constructed road, continuous ascent, and descent; lie 16 km ahead of Mulbekh.
The Namika La is one of the two passes between Kargil (Also Read- Kargil War Memorial) and Leh in the Zanskar mountain range. The mountain at the pass has a pillar-like object rising to the sky. The mountains around are arid and offer a 180-degree view of the valley. The Tibetan prayer flags around the summit flutter at its best.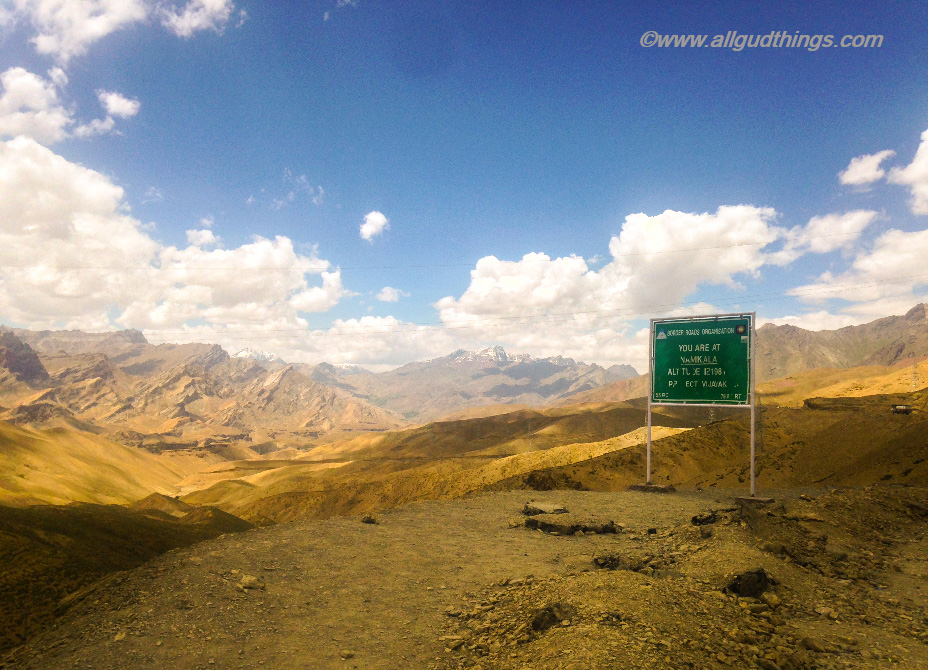 3. Fotu La / Fatu La
Altitude: 13,149 feet
Roads: Well constructed road with a thick layer of tarmac, continuous ascent and descent with hairpin bends, lies 36 km ahead of Namika La and 14km from Lamayuru.
Fotu La is considered as one of the highest points on Srinagar – Leh highway. From here one gets the perfect view of rugged, brown, stacked mountains. Ahead the road descends to beautiful Lamayuru town. Personally, we feel the views from this pass are photographers and videographers' delight.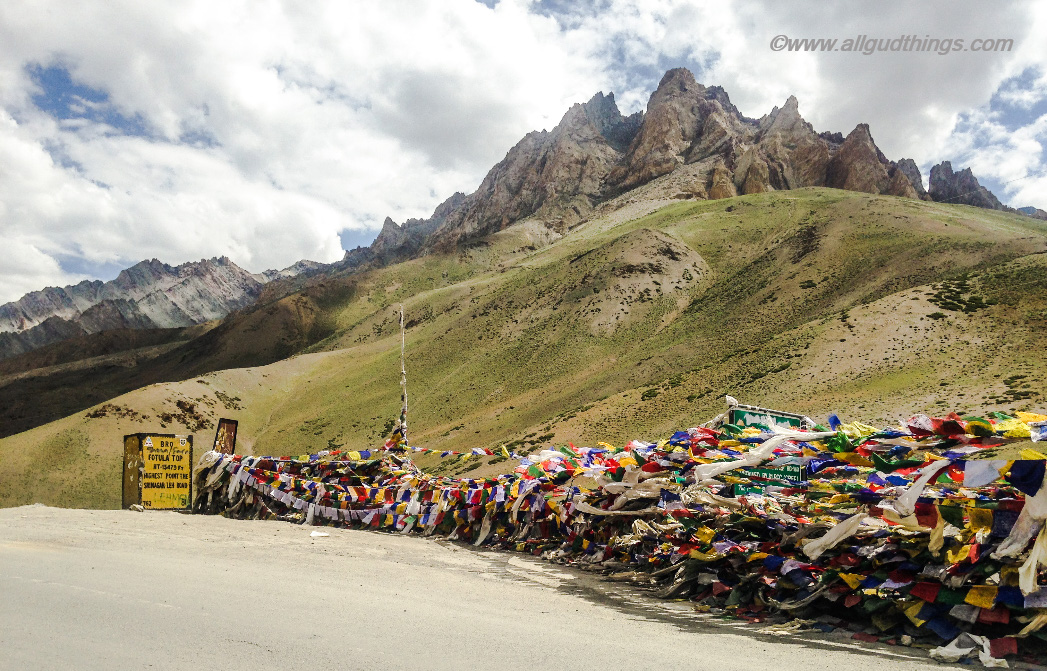 On the pass is also located the relay station of Prasar Bharati television that serves Lamayuru village.
4. Khardung La/ Khardongla (Pass of Lower Castle)
Altitude: Claimed to be at 18,380 feet, but actual height is 17,700 feet
Roads: Lies 39 km from Leh; roads are paved from Leh till South Pullu i.e almost till 24 km; After that rock and dirt road with snow melting streams in between North Pullu to South Pullu. Overall the roads are continuous winding ones.
Time Taken: 2.5 – 3 Hrs
Khardongla lies in the Ladakh range and is a gateway to Nubra and Shyok valleys. The pass was built in 1976 and opened to the public only in 1988. The pass is strategically important as it is used to carry supplies to the Siachen Glacier. Khardongla offers breathtaking views, is covered with snow all around and thousands of Tibetan prayer flags decorate the place.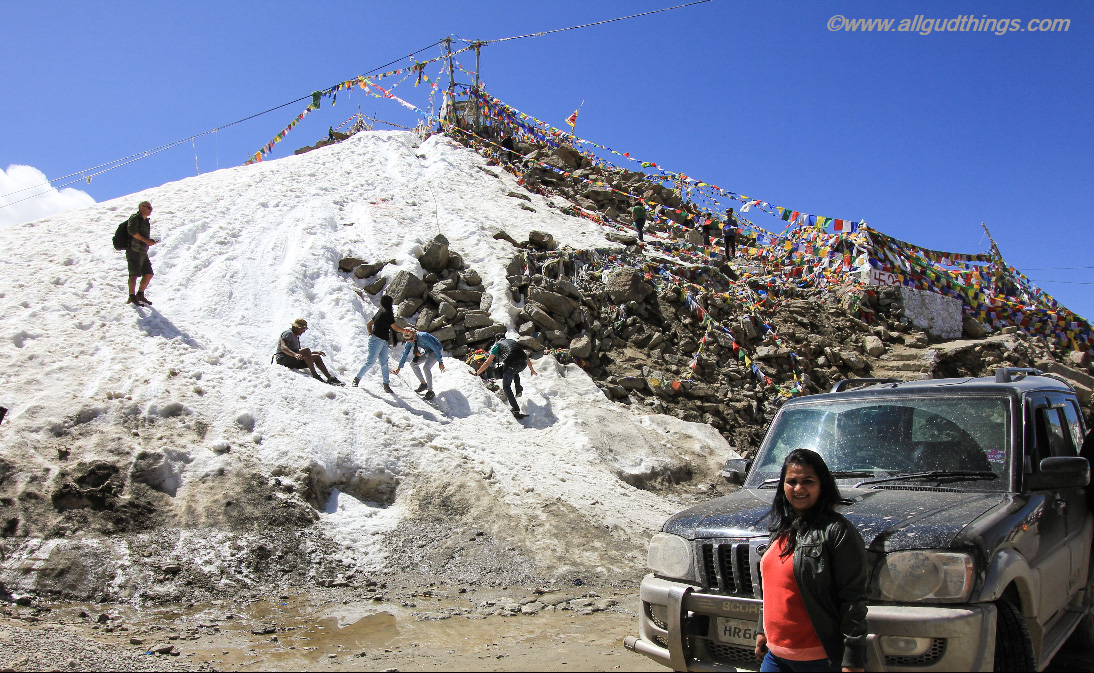 For visiting this pass, Indian as well as International tourists both need a Leh Ladakh Inner Line and Protected Area Permit.
Note:
You will find hundreds of bikers, cyclists, and four-wheelers at the pass, so this La is highly packed.
The roads are quite narrow & slippery because of the melting snow.
At this high altitude one is likely to suffer from AMS (Acute Mountain Sickness), so rush back towards lower altitude as the symptoms appear. Take help if it is severe.
The best time to visit is between May – September, however, the pass remains open throughout.
https://www.instagram.com/p/BYYoe0JhVp-/?taken-by=suruchimittal
5. Chang La (Pass towards South)
Altitude: Lies at 17,590 feet
Roads: Steep climb, well-constructed road but almost 15 km before and after the Chang La pass, the road is of loose dirt and slush. Small streams too appear across the road.
The Chang La lies on the way to Pangong Lake via Leh and is covered with snow throughout the year.  It is the main gateway to the Changthang plateau located in the Himalayas. The views from the pass are mesmerizing, scenic and adventurous along with breathlessness and extreme chill. If one is lucky enough, one can get to witness snowfall happening.
Both Indians, as well as international tourists, require Leh Ladakh inner line permit and protected area permit respectively for visiting Chang La and Pangong Tso too.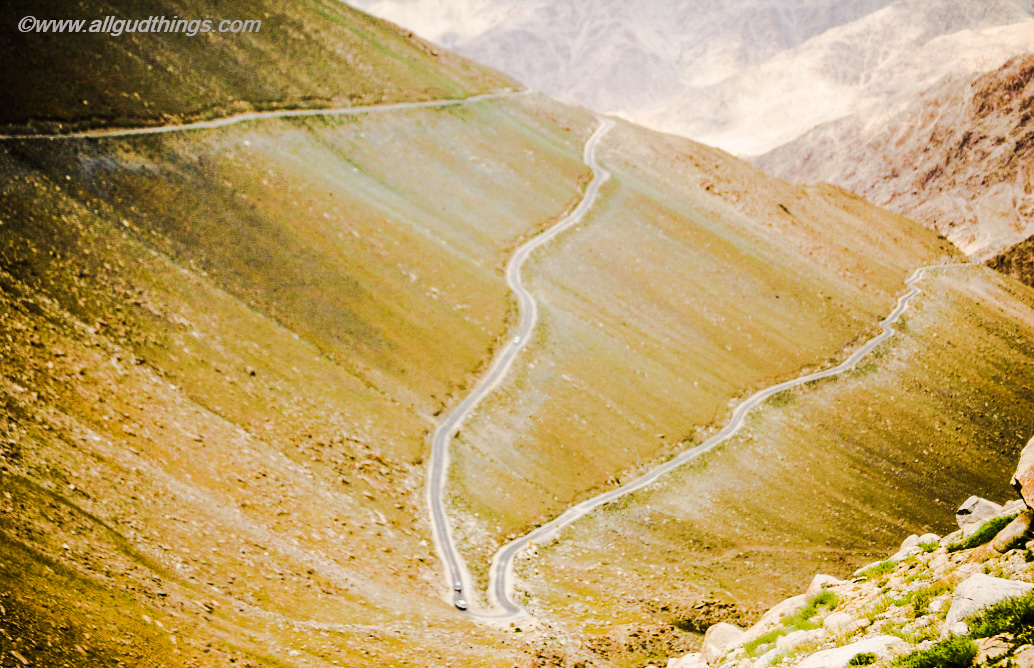 There is a myth that Chang pass is named after Saint Chang La but the myth is banished by army personnel.
Note:
It's quite windy and chilly at Chang La, so wear woolens and cover your head and feet too.
Don't stay there for more than 20 -25 minutes, to avoid AMS.
Check the weather conditions from locals before leaving for this route.
The roads are slippery and steep, be really slow and careful.
The best time to visit is from May – October.
Enjoy hot tea served by the Indian army
Carry extra fuel from Leh
6. Rezang La
Altitude: Lies at 16,000 feet
Road: Completely dirt and gravel road, except for a few places there is a tarmac road.
Rezang La lies in the Chushul Valley, 46 km from Spangmik on the way to Tso Moriri. The landscapes on the way are beautiful, scenic and at times, one might be the only lone wanderers. Local advised us to follow the electricity wires, to avoid getting lost. The place is known for Rezang La Memorial; which is built as a tribute to the martyrs of Sino – Indian War, 1962.
Domestic tourists need an Inner Line Permit to travel along this way whereas International tourist needs special protected area permit.
Note:  Rezang La lies at a really high altitude, so just stop for a short span of 20-25 minutes.
7. Chagga La/Tsaka La
Altitude: Lies at 15,242 feet
Road: Gravel, dirt and rocky road, Continuous steep road.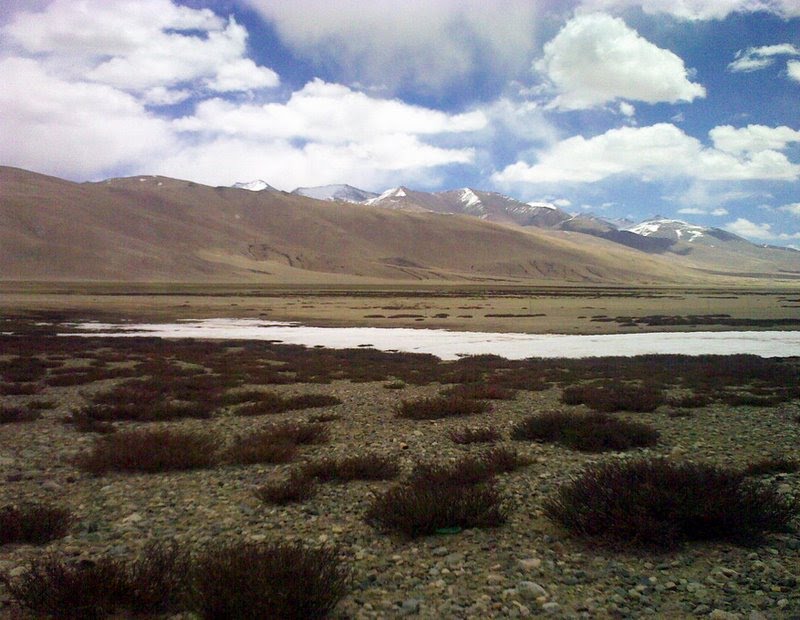 The Tsaka La lies on the way to Tso Moriri from Pangong Tso. The area around Tsaka La is almost barren and the roads are only accessible during summer months. It is advised to take this route only if you are confident enough to drive on steep mountain roads. The drive becomes tougher if roads are wet.
8. Namashang La
Altitude: 15800 feet
Road: Mostly gravel & Dirt road; steep too. One needs to be really attentive and careful here to be on the track.
The Namashang La lies between Mahe & Kyagar Tso on the way to Tso Moriri. Roads are only accessible during summers. And just like Rezang La and Chagga La, Indian tourists need Inner line permit and foreign tourists need Protected Area Permit.
9. Polo Kongka La
Altitude: 15800 feet
Road: Dirt road, not very steep, but maximum you can drive is at a speed of 20 -30 lm/hr.
Polo Kongka La lies on the way from Tso Moriri to Tso Kar near Pulga. On the way, there are many sulfur springs also known as Pulga Hot water spring.
Note: Do check the condition of roads before leaving for Tso Kar from Tso Moriri.
10. TagLang La
Altitude: Lies at 17,582 feet
Road: The roads are well paved while ascent from Moore plains and during descent towards Upshi.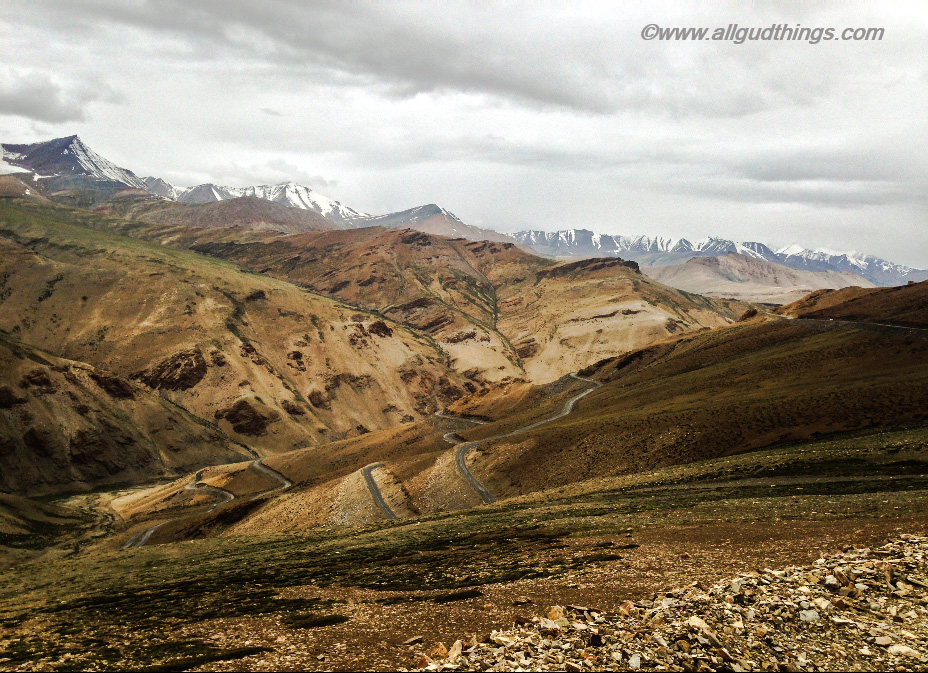 The TagLang pass lies between Leh and Pang and is considered to be the highest pass among all the passes on Manali – Leh Highway. The pass is well made, paved and there is a shack on the top too. Luckily or unluckily, at Taglang La; we experienced rain, snow and chilled wind with almost zero visibility. The mountains around are snow-laden and the valleys are electrifying. The pass summit is overall laden with Tibetan prayer flags.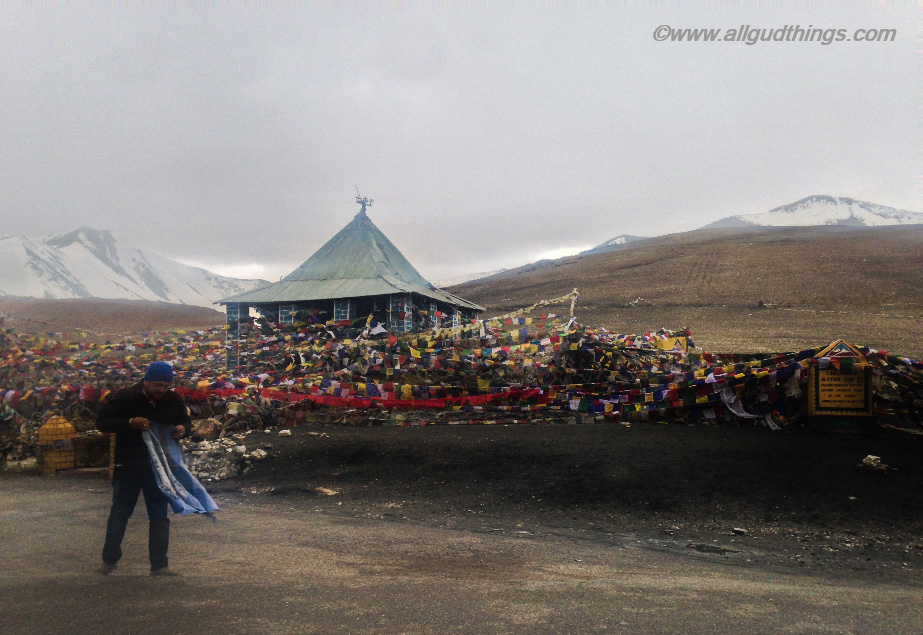 The pass is impassable during winters. During snow melting and rains, roads become too slippery. There is a small temple on the Taglang La.
Note:
The temperature and oxygen supply at the pass is relatively low. So, there are high chances of AMS.
Stay maximum at Taglang La for 20- 25 minutes.
11. Lachung La / Lungalacha La
Altitude: 16,616 feet
Road: Steep paved road at a pass, in between patches of dirt and gravel roads, bumpy because of a lot of potholes.
The Lachung La lies on Manali – Leh highway and is 22 km from Pang. The pass is completely deserted and the cold winds blow at a very high speed. The vast landscapes, brown humped mountains, and valleys around it are known for its exquisite beauty.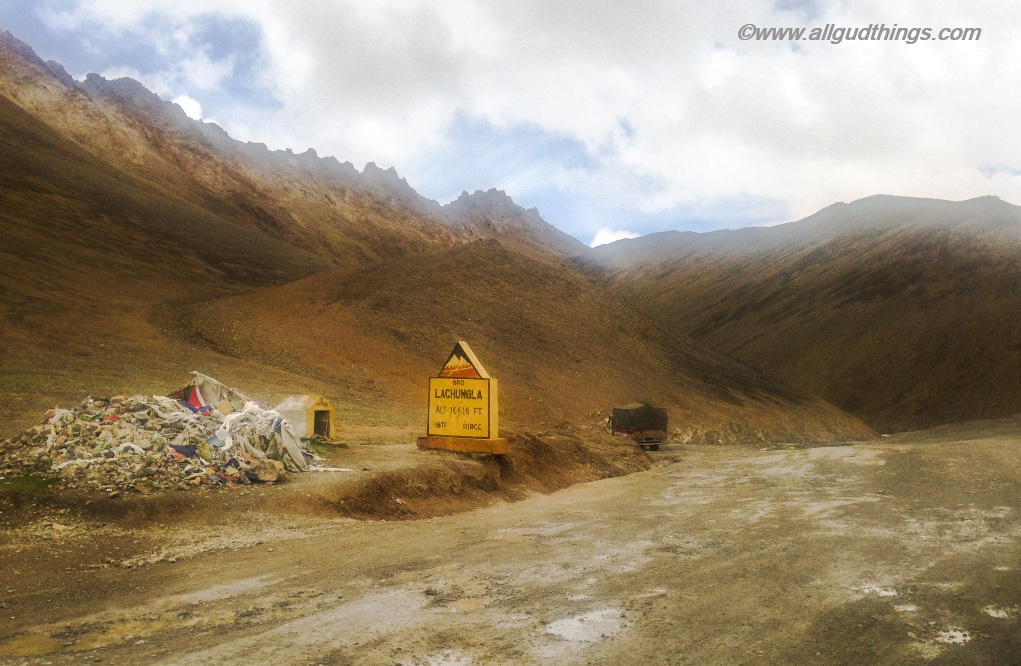 Note: The pass gains sudden height from 15000 feet and the cold here increases tremendously. If one is not acclimatized well, he/she will surely face the symptoms of AMS.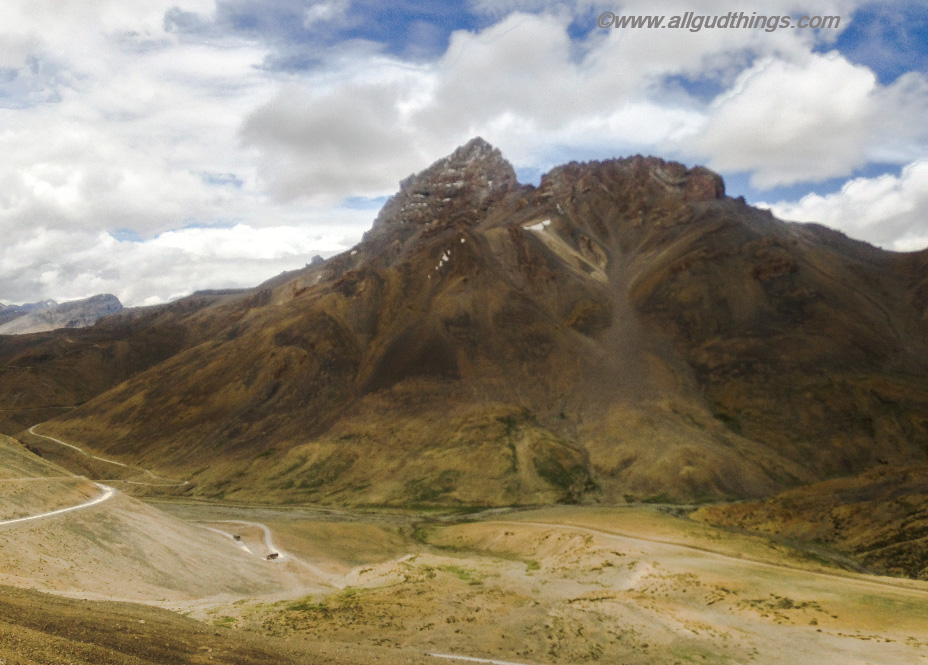 12. Nakee La
Altitude: Lies at 15,647 feet
Roads:  Well construct red asphalt steep road passes between the rocky gorge.
The Nakee La pass too lies between Pang and Sarchu; just 19 km ahead to the LachungLa. The Indus river flows along in the valley, leaving green patches on the arid mountain slopes. As you descend from the pass, one crosses 21 hair loops known as the famous Gata Loop. There is an interesting story related to the loop which you can read on our blog.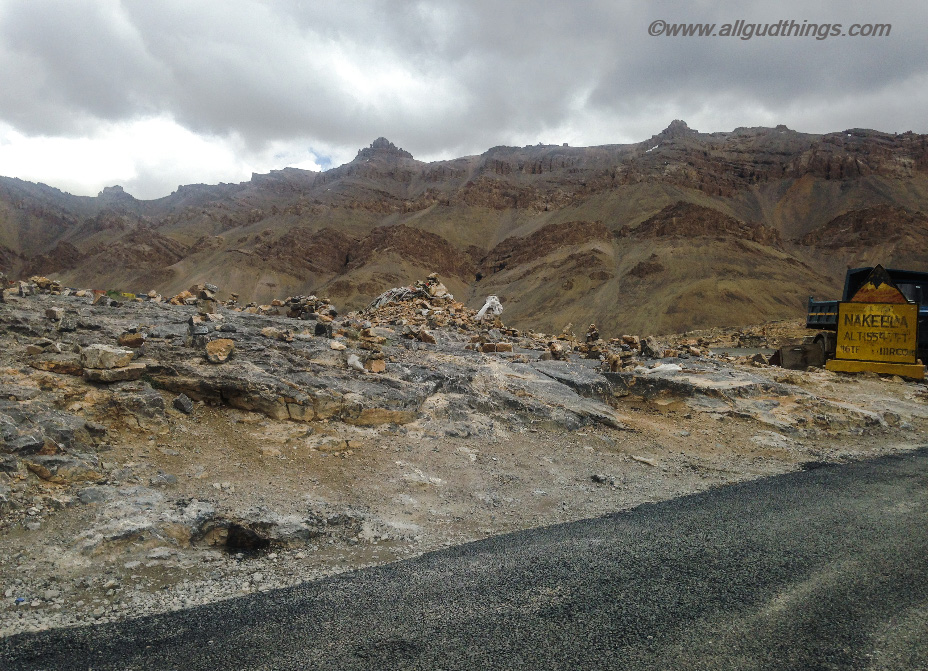 Just like other passes, here too, it is quite windy. The weather here is really unpredictable; in seconds it changes from the sunshine to rain and snow.
Note: Roads get slippery after rain and snow, so be really careful.
13. Baralacha La
Altitude: 16,040 feet
Road: Well constructed, steep, paved road with multiple water streams flowing in between and some of these are really wild. On one side there are huge mountains, while on another deep valley; so be careful while driving.
The Baralacha La lies between Sarchu and Jispa, 59 km from Sarchu in Himachal Pradesh, India. The pass summit has crossroads from Ladakh, Lahaul Spiti, Zanskar and was earlier a famous trade road. It is also a base for many treks. We encountered lightning and rain at Baralacha pass. Roads and the whole valley turned foggy but still, it was really serene. We guess the pass will be much prettier in clear weather.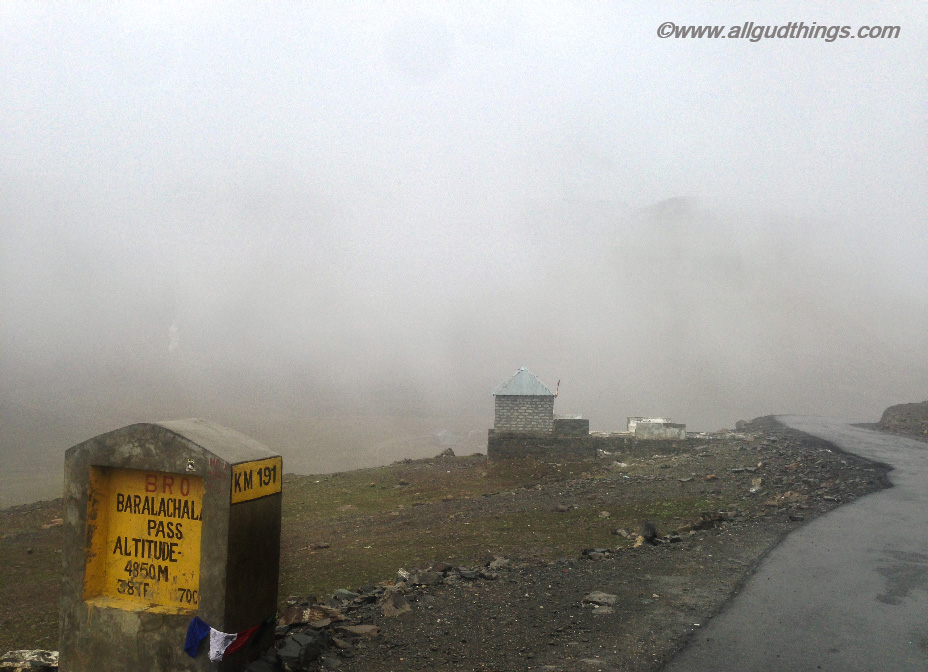 Just 3 km ahead of the pass, we saw a pentagon-shaped, turquoise blue pond, known as Suraj Taal, which is the source of river Bhaga.
https://www.instagram.com/p/BXNtSo7h5lZ/?taken-by=suruchimittal
The BaraLacha La closes down in winters due to heavy snowfall and one doesn't need any permit to cross it while coming back to Manali from Leh.
Note:
There are multiple streams passing on the road. Cross only if it's not extreme, as it can be dangerous.
Be careful with the falling rocks and landslides.
April to October is the best time to travel this pass.
14. Rohtang La / Rohtam Pass (Pass of Corpuses)
Altitude: 13,054 feet
Road: The road is really rough and in dreadful condition. There are patches of gravel and then completely muddy and slushy roads. There are a lot of potholes and one mostly faces traffic jams while ascending and descending the pass.
The Rohtang La is on the Manali – Leh highway in Himachal. It lies 53 km from Manali; connects Kullu Valley with Lahaul -Spiti and is a gateway to Keylong from Manali. It is considered to be one of the most dangerous passes. Every year the pass faces many landslides, gets completely embedded in snow and the road cleaners use GPS services to dig it back. There are always chances of getting stuck in between while crossing the Rohtang pass. Sometimes the jam gets cleared only after 10 -12 hrs.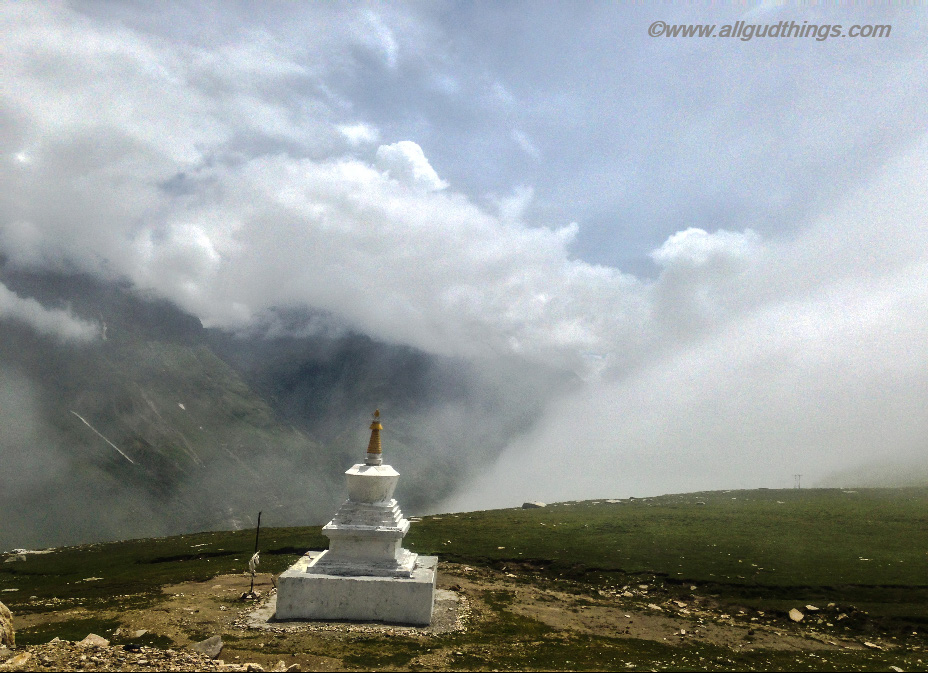 The pass is highly scenic, offers views of glaciers, peaks, lush green valleys, and Chandra River. Indeed it is one of our favorite passes too. While we crossed it, the whole pass was under and in between the clouds. There was hardly any visibility; the cold breeze was caressing our face but the fear of 13 days Leh Ladakh trip getting over had started biting us.
https://www.instagram.com/p/BXk2Fsrhm7V/?taken-by=suruchimittal
Just 6 Km ahead of the pass submit lays a Rani Nallah, which is huge and ferocious and can be dangerous too.
Note:
The Rohtang Pass opens only for a short window between May end or June till November. If the snowfall happens earlier than November then it also closes early.
One needs a Rohtang pass Permit; for visiting it from Manali.
Drive really slowly and be very cautious while crossing the pass.
Every Tuesday, the pass remains closed because of the repair work carried out by BRO.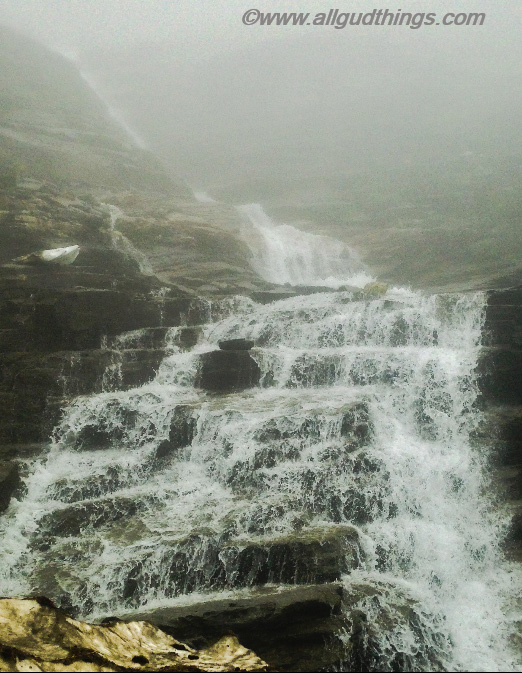 Apart from this, there is one unknown pass around Chushul, and people have named it as Chushul Pass or Chushul La.
We encountered all colors of nature while being on this path. Crossing 15 passes in 13 days has actually made us believe that name Ladakh is perfect. It stands true to its words and is actually the mesmerizing Land of high passes. In case, you think we had missed out listing anyone here, do let us know. We will try to include it, as will cover the missed out La's in our next post of Ladakh – The Land of high passes.
Other related articles from the Leh Ladakh series:
6 must-visit Leh Ladakh Palaces before they disappear
A walk with Indian soldier at Kargil War Memorial
Nubra Valley: The Valley of Flowers in Ladakh
A day at White Lake Tso Kar in Ladakh
Attractions on the Srinagar Leh Highway
All you need to know about Leh Ladakh Inner Line Permit