Nestled among Deodar and pine trees, with the gushing River Beas flowing alongside, view of snow-capped peaks in front, the colorful shops along the winding lanes, the whipping coffee and baking smell from the cafes is what defines a quaint little town – Old Manali of Himachal Pradesh, India.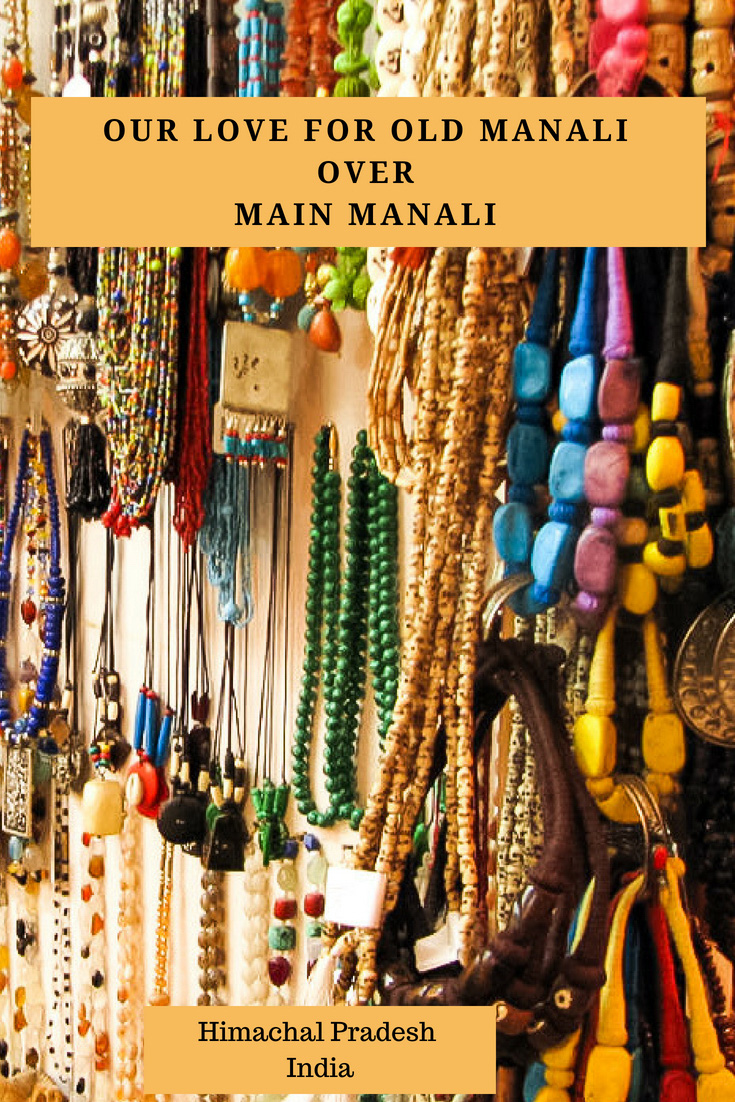 Old Manali – Don't go by the world OLD, here. The place is not at all an old town. Indeed, we feel it is full of life and much more happening than the main Manali. It is not a honeymoon destination but a Hippie Land and the abode of Backpackers. The place has a traditional Himachali fell and interestingly, this trail is also listed under the Banana Pancake Trail along with Kasol, Jaipur, Goa, Bangkok, Phuket, etc.
You might be thinking we are biased towards old Manali and actually, we are. The place is famous among weed and other notorious drug lovers but we have our own reasons to love it.  But before reading further, we suggest you find a hotel in Manali, as the place is always loaded with tourists/ travelers and backpackers.
Reasons why we love Old Manali
1. Feel of fresh air, water, and Spirituality
Cross the bridge over River Beas, separating Old and Main Manali, the cool breeze and spirituality of Old Manali will engulf you. The fresh air will open up your senses and the flowing River will act as music to mind and soul. The water here is utterly pure because it's coming directly from the glaciers.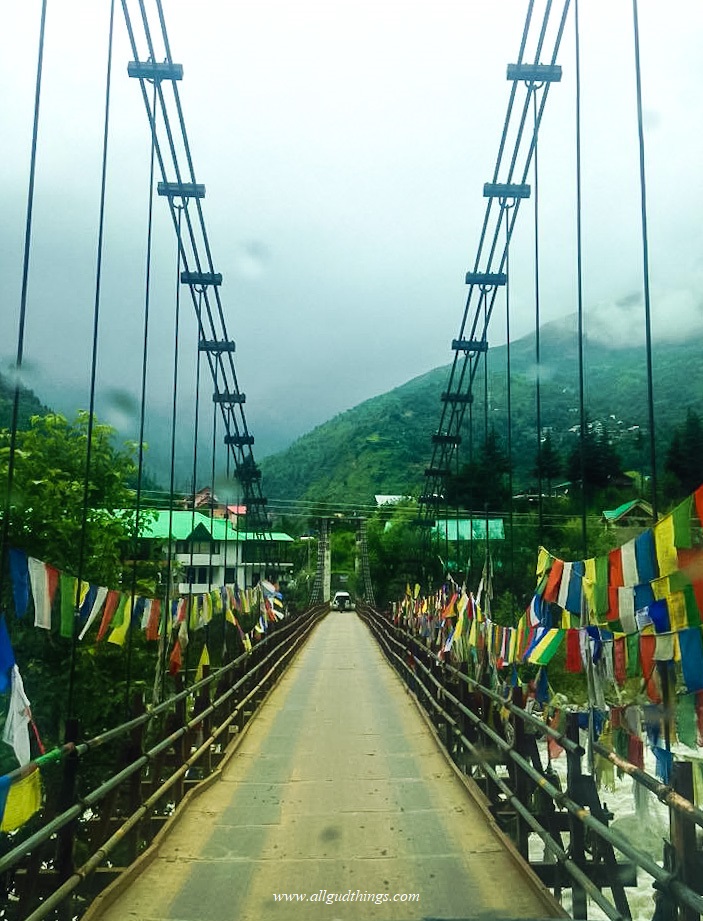 We feel, the place is beautiful in all seasons but its heaven in Monsoon. During Monsoons, clouds engulf you from all sides, mist settles down on your clothes and hair. Rain starts pouring in no time, leaving you completely drenched, and everything gets super clean and fresh.
2. Nature Walk
There are plenty of nature trails in Old Manali and each one is unique. Start walking on any, and you will be amazed by the beauty of nature here. The place makes you feel completely in the lap of nature and sometimes accidentally you hover to discover the hidden or secret trails.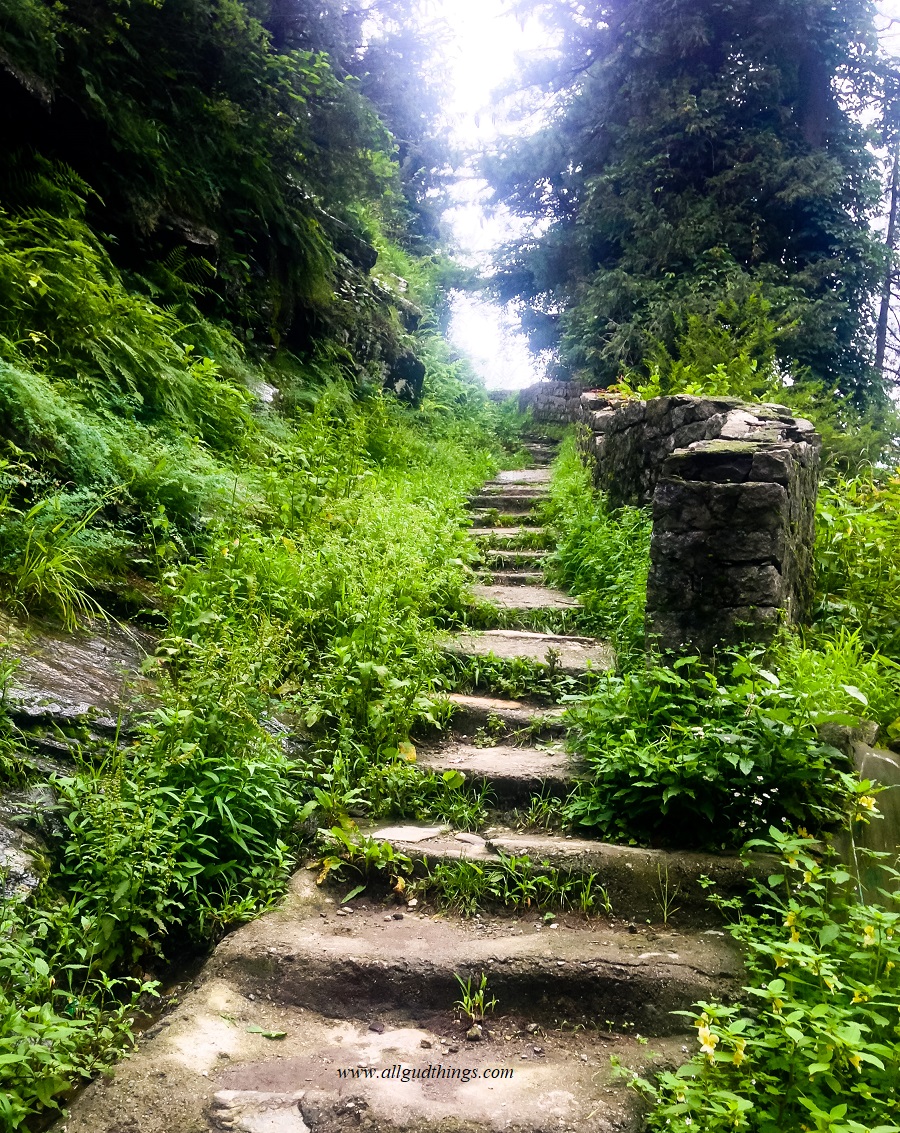 This small town also serves as a base for the adventure freaks and trekkers. Multiple treks start from here ranging from easy to intermediate to long. To name, few of them are – Trek to Lahaul Spiti Valley, Pin Valley, Chandratal, Kheerganga, Kasol, etc.
3. Good Food and Cafes
Old Manali is also a hub for cafes and delicious food. They serve cuisines from Himachali to Italian to Chinese and Israeli. The cooks of each of these cafes have honed their skills and become masters by learning from the backpackers and visitors.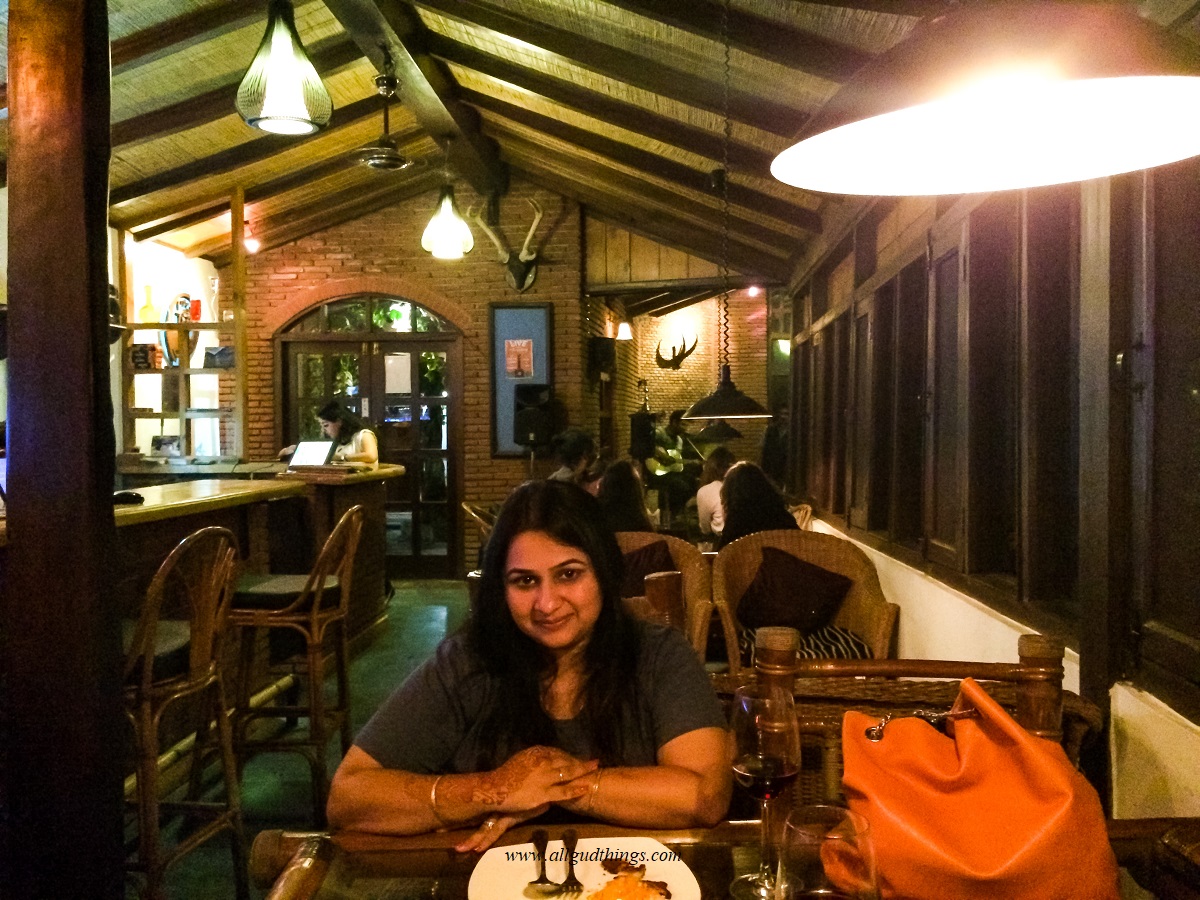 Till day, we have tried a variety of food from different cafes and Bakers and honestly, none has disappointed us. But still, the favorite from our list is German Bakers for fresh cakes, pastries, pies and coffee and Café 1947, Lazy Dog for food. And yes! the fresh Trout fish is a must-try. Eat and you will be in heaven. Okay Jokes apart, after eating Trout here, we have stopped liking it anywhere else.
Some of the cafes in the town too, have books and games sections to make up your day.
4. Music and Parties
If you are one like us, who loves sipping drinks with beautiful views and music, then Old Manali is a place for you. The cafes play trance, Reggae, romantic songs, and some have Live Bands too. One can spend their entire day here. During our last visit, we found a cafe playing Punjabi numbers and people dancing on it. So, feel the scene is really changing here too.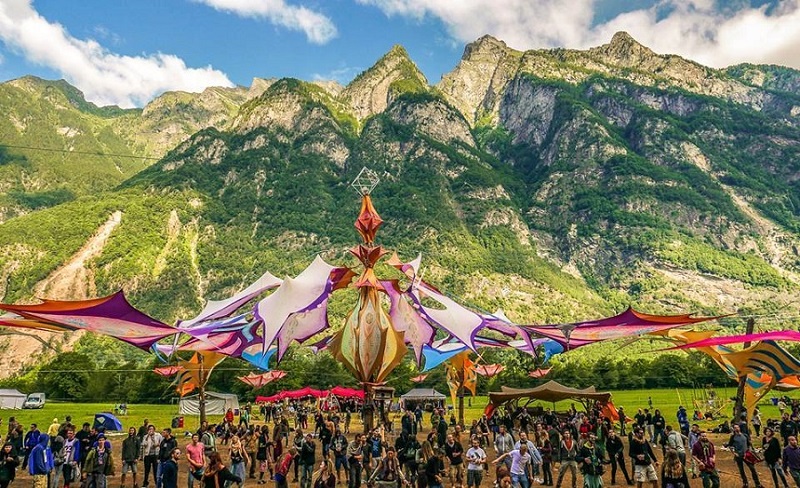 Apart from the regular Music and parties, the Shiva Squad festival is held here for psychedelic music and natural scenic beauty lovers. The festival is spread over for two days and the dates for this year i.e 2018 are from 25 to 27th September.
5. Love for colorful Handicrafts and quirky stuff
Just as you enter the town, the Boho vibes start surrounding you. The colorful lined shops and the smiling owners on the winding roads welcome you. They sell local handicrafts, woolen stuff, funky jewelry, sling bags, dream catchers, Tibetan Prayer Flags, all types of Chillums, Punk T-shirts and other quirky stuff at quite a reasonable price, which perfectly fits the needs of Backpackers.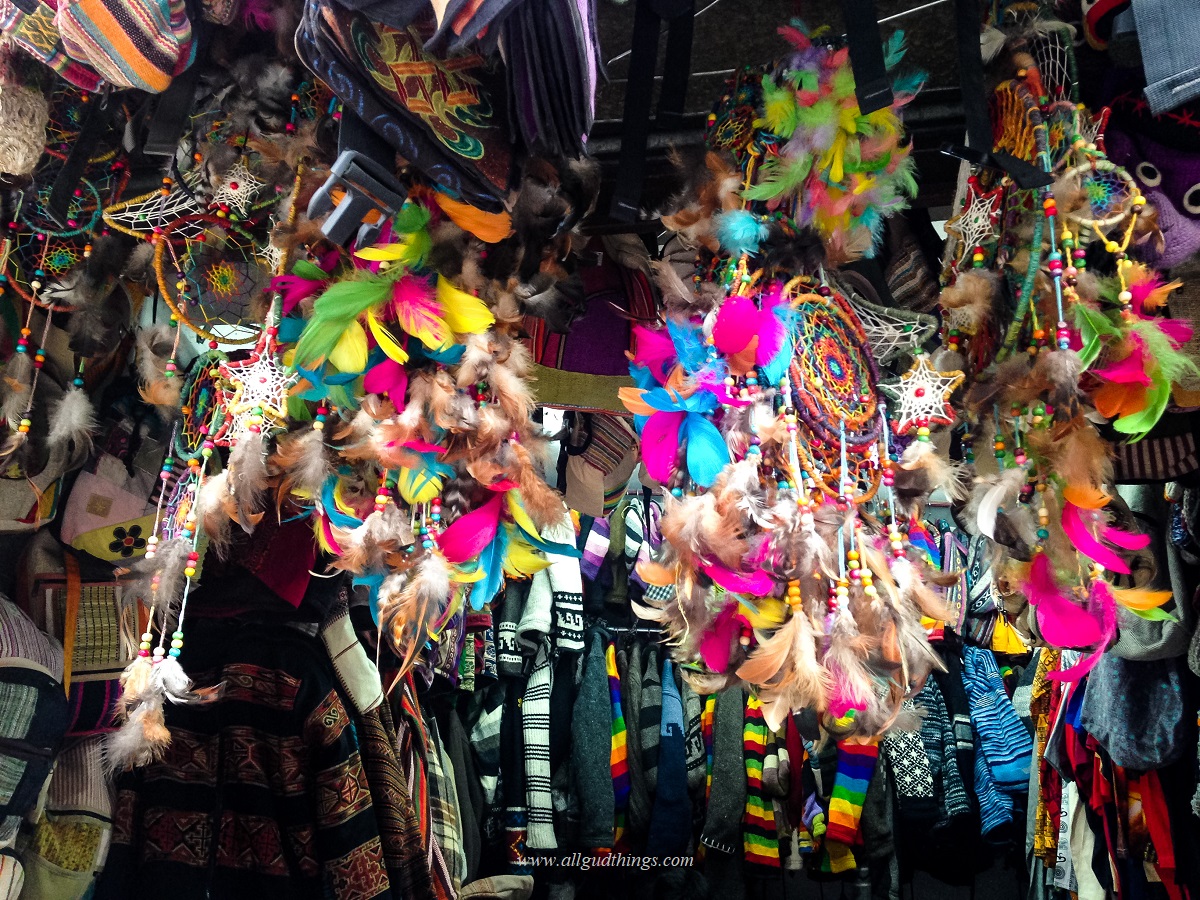 There are also some dreadlock (Jata) and tattoo makers sitting outside the shops. So, get yourself done one, for some cool Hippie look.
These are a few of the reasons for our bias attitude towards this old Quaint town. Truly, we can never get bored of it. What do you feel now?
How to Reach Old Manali
Manali lies 537 kilometers from Delhi and can be reached by direct Volvo Bus (Redbus), Cab or by air.  The nearest airport is at Bhuntar, i.e. 50 Kilometers from Manali. From there, one can hire a cab or bus to Manali. Further to Old Manali, one can hire a Tuk Tuk (Auto-rickshaw) or walk for about 20 minutes and cross the bridge.
Route: Delhi – Panipat – Karnal – Chandigarh – Rupnagar- Bilaspur- Mandi- Bhuntar – Manali
Best Time to Visit Old Manali
Manali is beautiful in all seasons but we suggest exploring it during offseason. Monsoon is one such off-season when hotels are quite cheap, and you have the whole place to yourself. Although be careful with the landslides.
Summers: March – June; Monsoons: July – September; Winters: November – February
In September the weather is quite pleasant with bit chilliness, especially during the morning and evenings.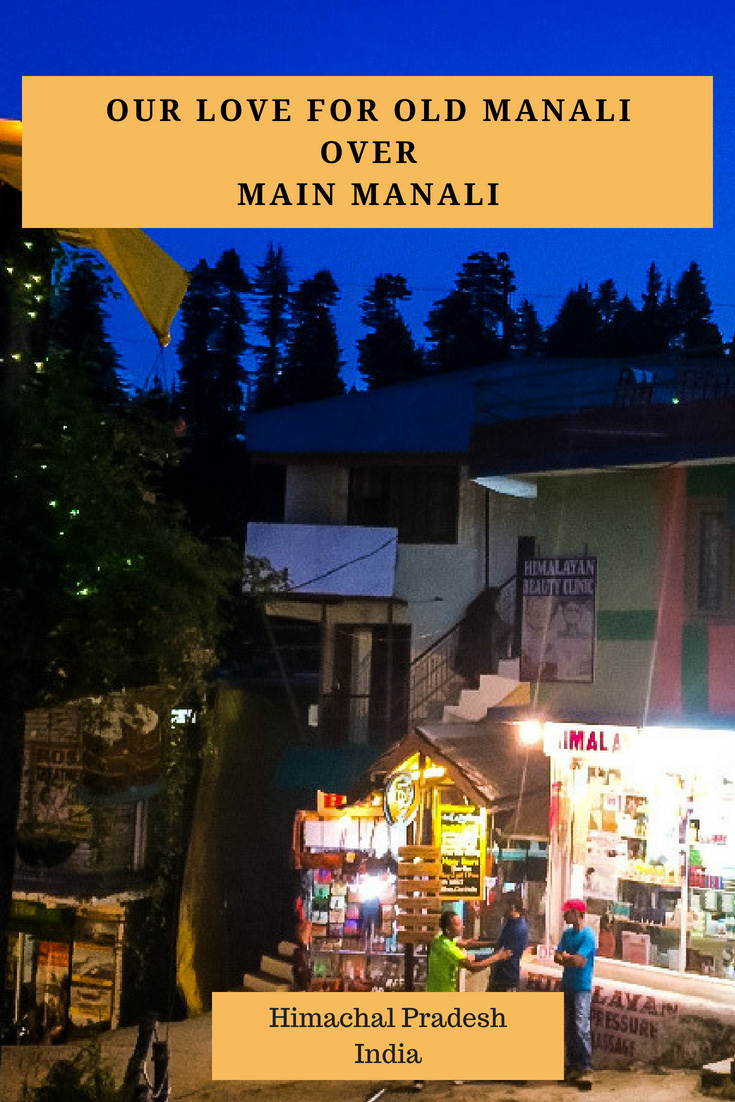 Important Tip
Old Manali has a hippie culture but we request you to be a responsible traveler and citizen. Don't create nonsense and respect the locals and their culture. Don't litter and use the installed bins.