Imagine how ethereal the place is – the flat grasslands with hues of blue sky on top, erect never-ending mountain slopes with pine trees, 100 feet tall waterfalls singing their own songs, and hot water spring in the midst of all.  Lord Shiva meditated here for 3000 long years. Yes! I am talking about the hike to hot water spring Kheerganga in Parvati Valley, Himachal Pradesh located at a height of 13,050 feet.

The hike to hot water spring Kheerganga/ Khirganga (as on Google maps) in Parvati Valley, the temporary village is so picturesque that each tough trail gives you spellbound views of nature. The trek lands you away from the city hustle-bustle, into the serene lap of nature, isolated from habitation, and technology too could not mark itself. At Kheerganga, still, everything has retained its original shape and form. With every step, you hear the gushing flow of water; feel the aura and fragrance of woods.
The magic of this beauty force me to say – "I wish this place always remain hidden from the rest of the world".
Best time to Hike
The best time to hike to hot water spring of Kheerganga is between May – November.
When and where to start Kheerganga Hike
Start your hike to hot water spring Kheerganga early, around 7 am from the Village Barshaini. Total hike is 12 kilometers and it takes around 5-6 hrs dangling through mountains to reach the Kheerganga cliff. Barshaini is around 22 kilometers from Kasol and 3 km from Tosh.
Villages on the Way to Hot Water Spring Kheerganga in Parvati Valley
On the way, there are 3-4 small villages with cottages and shacks. You can eat food, snacks and relax in the springs.
The Village Pulga – Around 2Kms from the Pulga Dam;
The Village Nakthan– 2 Kms from Pulga
Rudra Naag Temple – 2 Kms from Nakthan
Beyond Rudra Naag, the woods become dense and the trail becomes much steeper. After crossing the bridge at Rudra Naag, 3 kilometers ahead there are 1-2 more Shacks to munch on Maggie and Snacks.
The last part of the trek is a tough strenuous climb before you see an entry point to Kheerganga.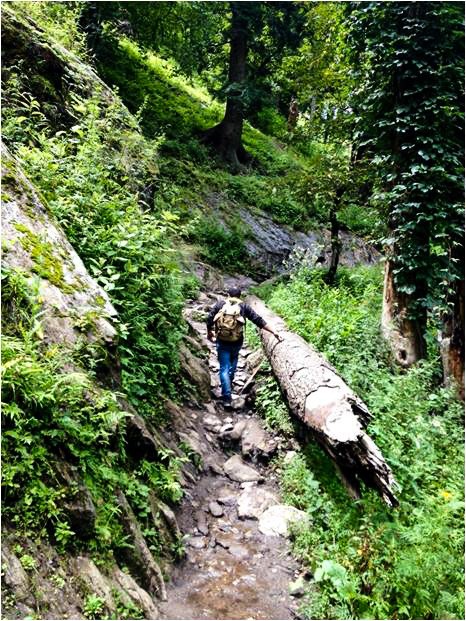 The amazing landscapes, rock patterns, tree formations, waterfalls, and the alpine meadows bound you to stop everywhere and photoshoots them.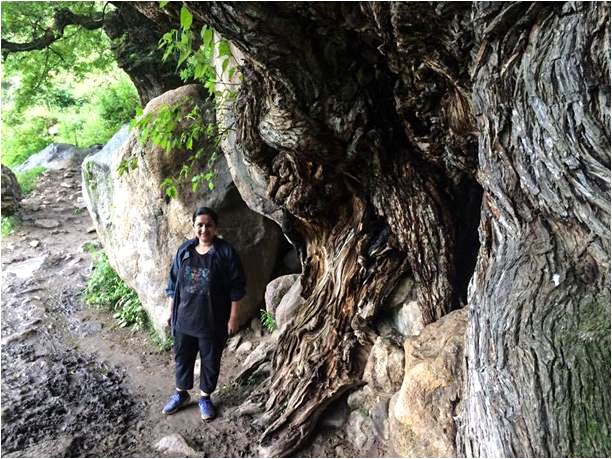 Accommodation
On the Kheerganga meadows, there were several lodging and food options at pretty reasonable prices. The cafes used to offer to stay in tents and large halls too with inbuilt 'angithis'. The cost per bed varied from INR 100 to INR 200 depending upon the season. But now, camping and littering at Kheerganga has been banned by the Himachal Government, to avoid trash and ecological disturbances in the sensitive zone.
We stayed at Lotus Valley, which had small private cozy rooms for two, at a reasonable price of INR 300.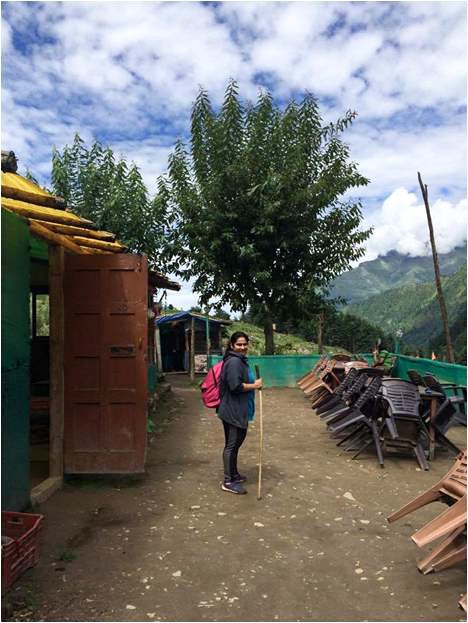 Note: Parvati Valley is turning to an Israeli habitat and wonderland for cannabis (weed) users.
Also Read: The guide to weed in India
What to do at Kheerganga
The trek is tough and tiring (I wonder how people grade it in easy category) but the mystical and mesmerizing views, take away all your pains.
After reaching,
Head towards spring to get yourself immersed in hot water with mountains all around
Sip a wonderful coffee with awesome sandwich, admiring how the sun sets at such an altitude
Take photos of glowing peaks at sunset
Get tranquilized with smoke and trance music in the evening.
Wake up next morning to see sun splashing colors on the mountains
Calm yourself and gather your thoughts in the peace
Things to take care of
Hike only during day time (not after 6 pm) and be careful with wildlife
Carry light – Must include a pair of slippers, wind and rain cheater, sun block, an extra pair of t-shirt, lower, a small torch and band aid. Make sure your trekking shoes are not slippery as the weather is completely unpredictable
Keep some dry fruits and energy bars handy – As they act as an instant source of energy
Stay hydrated to avoid muscle cramps
Do not pluck apples on the way – it's annoying for the locals as well as you will end paying Rs 1000 for a single apple
Do not litter here and there. What you carry either dispose it nicely in the bins or bring it back. Hollow Tree barks are used as bins
Avoid Shortcuts unless you are with a guide who knows in and out about the place
Watch your steps at hot water spring as it is very slippery
Never run and be careful with stones – A single wrong step can end up the story so be very cautious while ascent as well as descent.
Landslides – Cross landslides with the help of porters or guides. They can guide you where to place feet and how to cross it
Do not push yourself – Stop! Take a deep breath and then move ahead calmly.
Important:
Do not listen to people for any negative thoughts. You know what is right or wrong for you. If you have a strong will and your goal is clear, you will definitely achieve it with a smile and accomplishment.
This is our view on the hike to hot water spring Kheerganga, Himachal Pradesh. Share your thoughts and pictures.