I don't know how special the falling snowflakes are to you but for me, that whole moment is extremely thrilling. I love witnessing and capturing how the whole colored town gets painted in white color in minutes. It looks so heavenly. I can sit and gaze at the snowfall for hours. They seem like cotton candies of various sizes. Anyways, if you too feel the same and want to experience the live snowfall, then January and February are the right months to rush to satisfy your eyes and soul. And here are the five winter destinations to experience snowfall in Himachal.
%CODE1%
Shimla – Kufri – Chail
Shimla, the queen of Himachal is a colonial town. In winters the slanting roofs of buildings get covered in snow sheets and dancing deodars around it give a Paradise feel. The whole scene is a perfect postcard picture. Kufri a small hill town lies 18 km ahead and it is a famous skiing hotspot in winters. Chail known for its quietness and birds lies further 27 km to Kufri. In winters during snowfall, there is only snow, greenery and the misty surroundings engulfing the whole environment.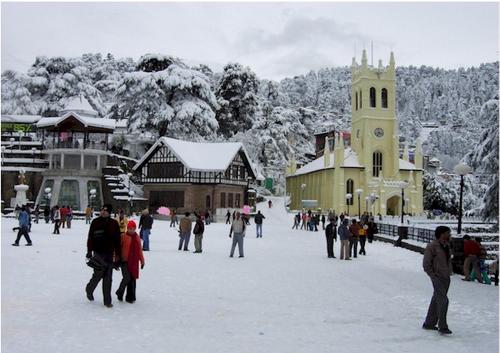 Distance from Delhi to Shimla: 350 km
Route: Delhi – Panipat – Karnal – Kurukshetra -Ambala – Zirakpur- Pinjore – Solan – Shimla
Expected Lowest Temperature: -2 to 0 degree Celsius
What to do: Play and walk-in snowfall, build snowmen, enjoy snow games like skating, skiing, and party with bonfires
Difficulties you may face: Water shortage, power trips, road blocks, traffic jams
Special: Winter Sports festival happens around February in Kufri
%CODE1%
Manali – Solang Valley
The Manali town is surrounded by snow clad mountains on one side and Beas River on the other It is beautiful during all the months and imagines how beautiful it will be in extreme winters (December, January, and February) when there is fresh snow with a fluffy texture. Everything gets white, more beautiful, and picturesque. The landscapes get more enhanced and are clearly demarcated.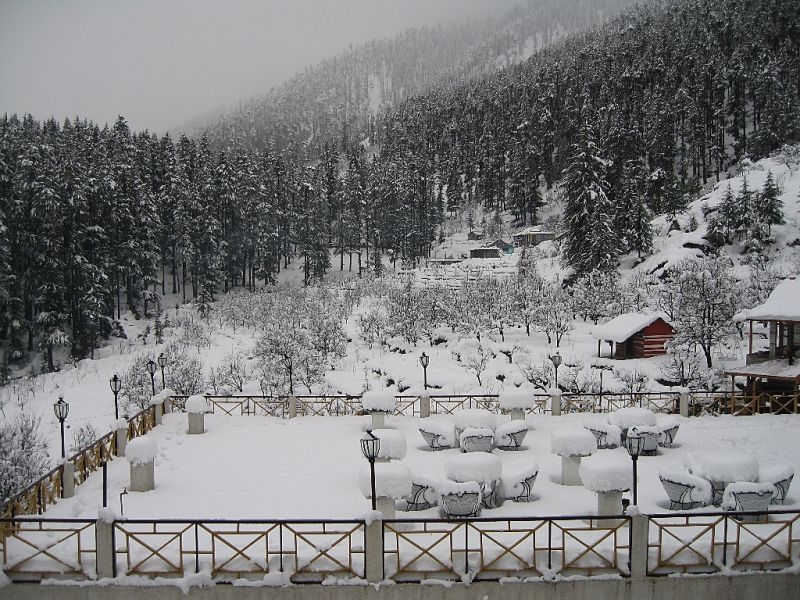 The Solang valley lies 14 km ahead of Manali and is famous among tourists and travelers for ice skating, skiing, and zorbing. The cable car from Solang valley is a beautiful ride and it takes you to the snow point.
Distance to Manali from Delhi: 543 km
Route: Delhi – Panipat – Karnal – Kurukshetra – Ambala – Rupnagar – Bilaspur – Sundernagar – Mandi – Bhuntar – Kullu – Manali
Expected Lowest Temperature: -6 to -8degree Celsius
What to do: Enjoy snow games, click lots of pictures, visit old Manali restaurants and party all night
Difficulties you may face during snowfall in Himachal: Water shortage, power trips, roadblocks, traffic jams and high chances of slipping on ice. So carry snowshoes or you can rent it from there.

Haripur Dhar
Haripur Dhar is a small town situated on a ridge overlooking deep valley in Sirmour district of Himachal Pradesh. It is quiet, serene and not a common tourist destination. The temperature during summers in Haripur Dhar varies from 0 to 5 degree Celsius and in winters it is completely snowing. There are awesome views of snow clad mountains from the ridge top.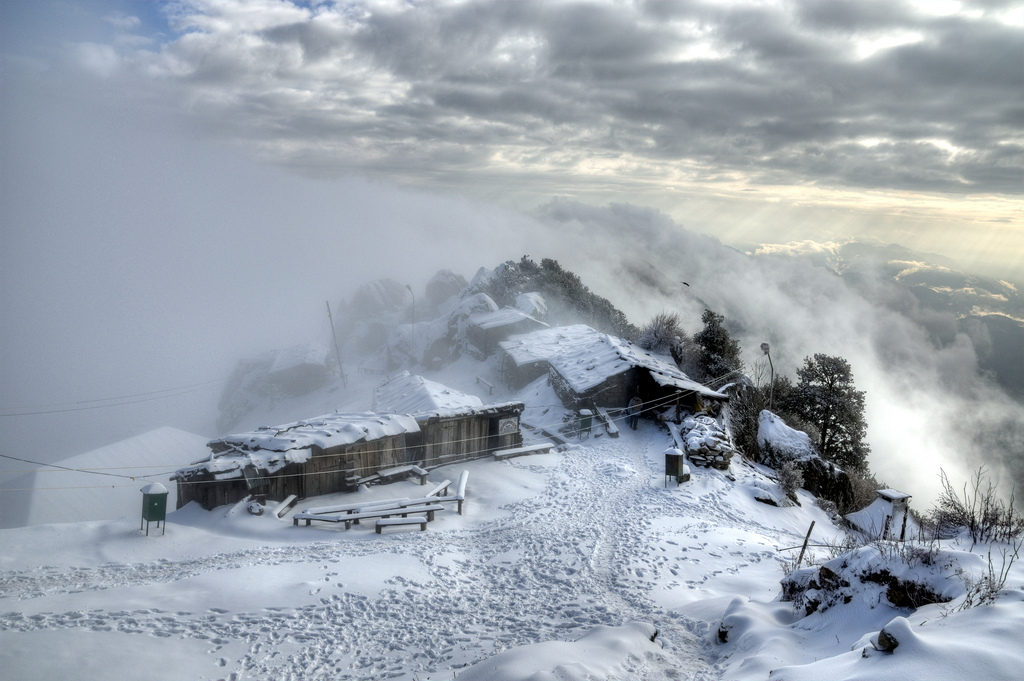 Distance to Haripur Dhar from Delhi: 337 Km
Route: Delhi – Panipat – Karnal – Kurukshetra – Shahbad – Mullana – Nahan- Renukaji – Haripur Dhar
Expected Lowest Temperature: less than 0 and can go up to -6 degree Celsius
What to do: Leisure walks, photo shoot mesmerizing views and visit Maa Bhangayani Temple
Difficulties you may face: roadblocks due to excessive snowfall, extreme cold, power cuts and water shortage
%CODE1%
Dharamshala – Mcleodganj
The Mcleodganj located at an altitude of 1700 meters is a home to Dalai Lamas and has a jumbled mix of shops, restaurants, hotels, and cafes strewn along the steep winding alleyway. It lies in the Dauladhar range, 10 km ahead of Dharamshala. Mcleodganj receives a good amount of snowfall in Himachal during winters in January and February. The environment is chilling with the cold breeze and is flocked by couples especially honeymooners. The whole place is blessed, romantic and a tranquilizer in itself, quite different from summers.
Distance to Dharamshala from Delhi: 476 km
Route: Delhi – Panipat – Karnal – Kurukshetra – Ambala – Rupnagar – Anandpur Sahib – Nangal- Una – Amb- Kangra – Dharamshala- Mcleodganj
Expected Lowest Temperature: 0 to -2degree Celsius
What to do: Visit Bhagsu Waterfall, climb to Shiva Cafe, roam around the local colorful market, Buy local wood and metal artwork, enjoy Tibetan food
Difficulties you may face: Traffic jams, Parking problem, water shortage, extreme cold
Dalhousie- Khajjiar
Dalhousie, a quiet colonial Hill station is named after British General Lord Dalhousie. It is a tourist destination throughout all seasons but in winters during January and February snowfall adds an extra charm and cream to its picturesque landscapes. The white sheet makes the combination of white and green nature more enchanting and beautiful.
The Khajjiar town lies 21 km from Dalhousie and is known as Switzerland of India. In winters its huge green meadows get covered with snow sheets and pine trees in backdrop look so poetic and it is like a dream come true.
Distance to Dalhousie from Delhi: 565 km
Route: Delhi – Panipat – Karnal – Kurukshetra – Ambala – Ludhiana – Jalandhar – Pathankot – Dalhousie
Expected Lowest Temperature: 0 to -7 degree Celsius
What to do: Visit potato field, Dainkund Peak, Bakrota Hills, leisure walk at Cantonment area and Tibetan market, click pictures of snow clad mountains, and shop at Gandhi chowk
Difficulties you may face: Roadblocks and traffic jams, power cuts, carry extra clothing and take precautions for elderly and children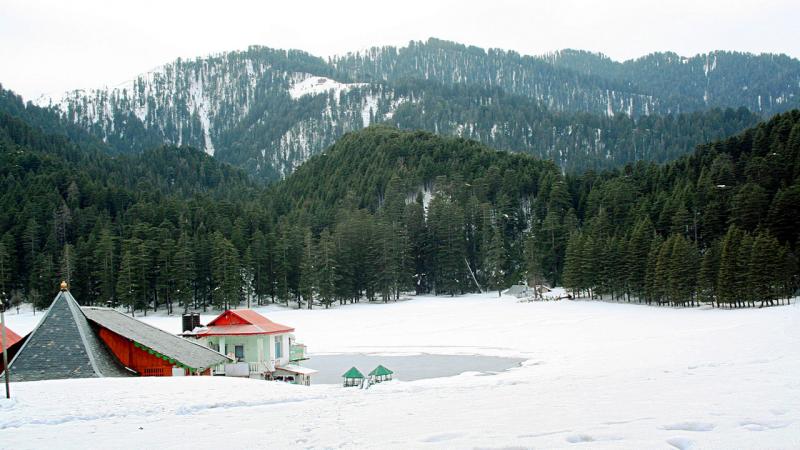 Word of Caution while traveling to see snowfall in Himachal
Pack well with enough of clothes, gloves, caps, food, and medication. Carry an extra blanket for an emergency
If you are snowbound, stay in your vehicle. It will be easy for locals to locate you and don't walk out in snow storm
Drive slowly. Accelerating, stopping, turning all takes time on snow covered roads as compared to dry roads
Make sure your vehicle and its tires are in peak operating condition
Keep your gasoline tanks at least half full
Clear snow from windows and lights and check your vehicle's exhaust pipe is never clogged with snow or ice
If your vehicle gets stuck, don't overexert to dig it out from snow. Tie a colored cloth to the antenna to make your vehicle visible to rescuers
Apply brakes carefully. As there are more chances of vehicle slipping during snowfall in Himachal
Keep fog lights on and maintain some distance from the vehicles moving ahead of you
Equip your vehicle with basic winter driving equipment like small shovel, tow chain, jumper cables etc when traveling to see snowfall in Himachal
Always keep locals no and your cell phone handy, to call in distress situation
Check the weather forecast before leaving if you don't want to be struck
Most important is – Don't panic if you are struck. Calm down and think how to handle the situation.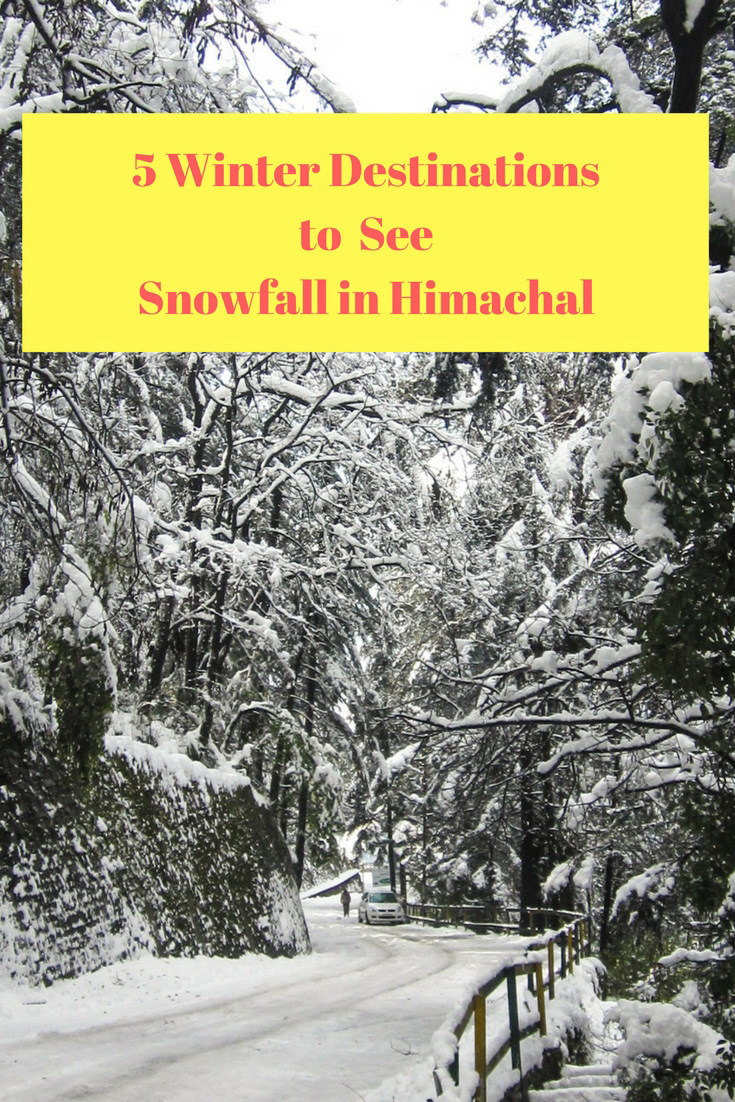 You can also check the places to experience snowfall in Uttarakhand near Delhi.