There is a famous proverb in Rajasthan Je Na Dekho Jaipario, To Kal mein akar Kya Kario! You know what it means? It means that the one, who has not seen Jaipur, has not accomplished anything in life; and we believe it to be correct too. Jaipur Pink City, the capital of Rajasthan is famous not only among national tourists but also among international tourists for its vibrant colors, culture, heritage, grand palaces, hilltop forts and lip-smacking Rajasthani savors. So, in this post, we are writing a complete guide to Jaipur Pink City.
%CODE1%
Distance from Delhi: 293 km
Route: Delhi Ajmer Expressway (Delhi – Gurugram- Bawal – Kotputli – Jaipur)
Total time taken to reach Jaipur by road: 6 Hrs
Mode of Transport: Jaipur city can be reached by road, rail or air from Delhi
Best Season to Travel: October – March i.e. winters is the best time and expected temperature during this time is between 8- 32 degree celsius. Summers are extremely hot and the temperature ranges between 25- 40 degree celsius. Sometimes it goes above 40 too.
Why Jaipur is known as Pink City
In the year 1876, when the Prince of Wales and Queen Victoria had to visit India on a tour, Maharaja Ram Singh of Jaipur painted the whole city pink in color in order to welcome the guests. It was then that Lord Albert named Jaipur as a 'Pink City'.
About Jaipur Pink City
Jaipur, the pink or salmon colored city, is flanked by the rugged Aravali Hills from three sides. It was built in the 18th century and is named after Maharaja Sawai Jai Singh. The Pink city, Jaipur is one of the first planned cities in the world. Today, the city might be rapidly changing as the skyscrapers and more food outlets are rising exponentially but still it has retained its traditions and culture. Indeed on 6 July 2019, the walled city has made it to the UNESCO World Heritage sites list.
The Jaipur Pink city is built according to the Indian Vastu Shastra and is a city of more than 30 million people. Indeed, it is one of the largest and most popular tourist spots in Rajasthan.
Most of the tourist spots in Jaipur Pink city are located close to one another within the city. And around these attractions is the jumble of colorful native shops selling Rajasthani ghagharas (skirts), turbans, juitis (shoes) etc.

Attractions of Jaipur Pink City
Jaipur pink city has a plethora of attractions. One needs minimum 3-4 days to explore around, without rushing over the things. We, advise you to divide your days carefully before starting, keeping the nearby attractions in mind.
Like while visiting Amer Fort, visit Jaigarh Fort, Nahargarh Fort, Gaitore and Jal Mahal too.
For another day club Jantar Mantar, City Palace, and Hawa Mahal
The Sisodia Rani Bagh, and Albert Hall Museum can be explored together, on the same day.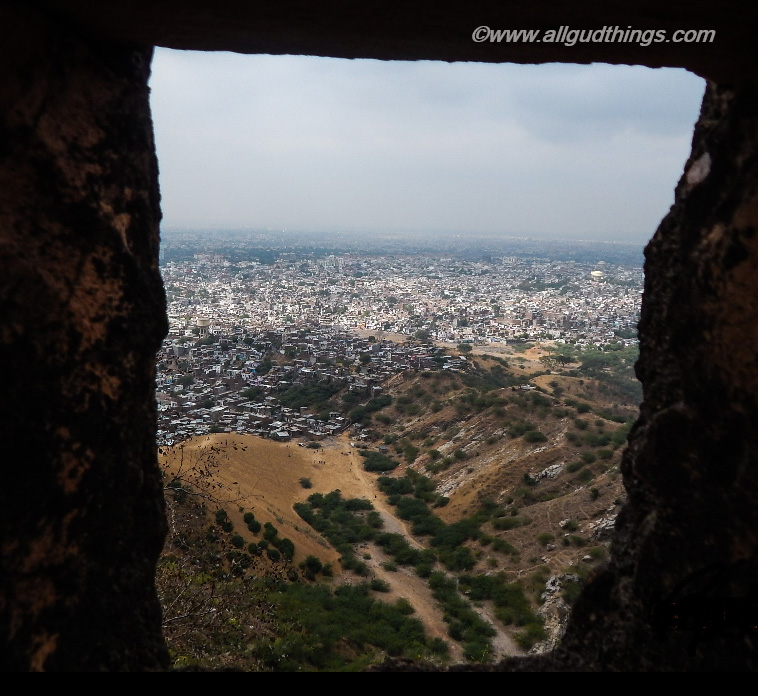 Apart from these, there are temples like Birla Temple, Govind Devi Ji Temple, Ganesh Temple, Galtaji which are world famous and are the perfect architecture examples. For traditional Rajasthan experience, walk into the Chokhi Dhani during late evenings. The place is an ethnic-themed village with the mix of activities around. There are multiple other museums in the Jaipur city apart from Albert Hall. The ones which should make to your list are Anokhi Museum of Hand printing and Jaipur Wax Museum.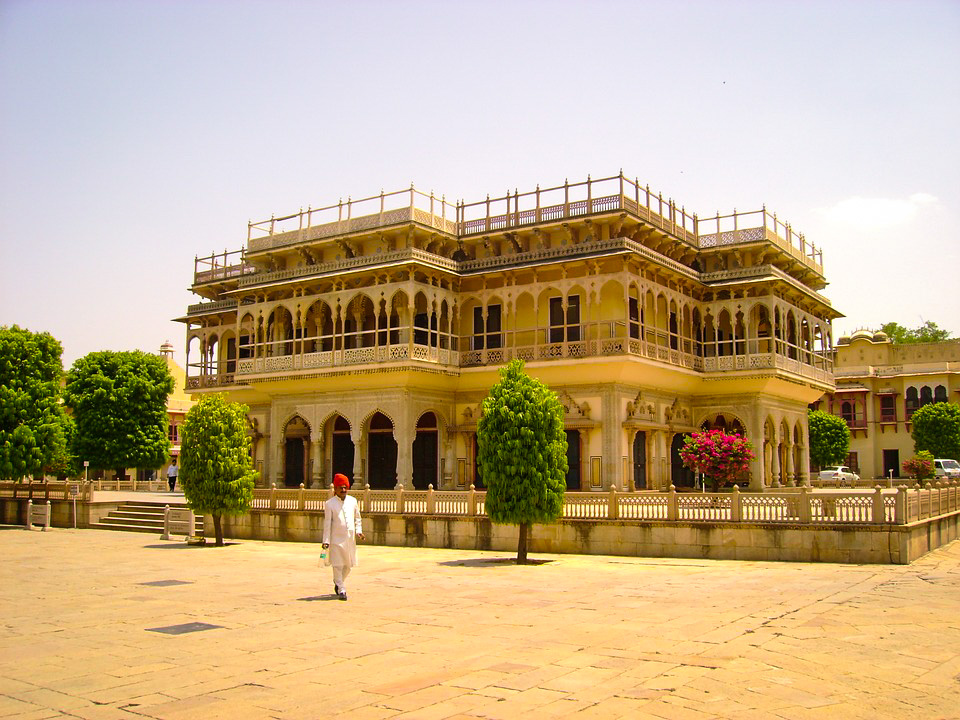 Another famous attraction of Jaipur is the Raj Mandir, one of the oldest cinema built in Art Moderne style.
What to eat in Jaipur Pink City?
If the Jaipur Pink city is a heritage hub, it too is a gastronomic delight. There is a list of must-try options both for vegetarians and nonvegetarians.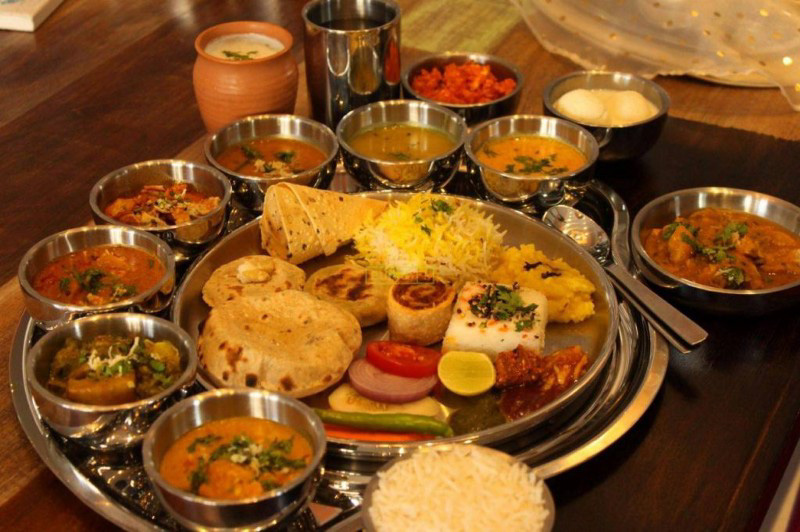 Vegans must eat Dal Bati Choorma, Pyaaz Kachori, Mawa Kachori, Gatta curry, Mawa curry, Mawa Naan, the unique variety of Omelletes, Galauti Kebabs, Grilled Kebabs, Sevpuri, gulab jamun, Sweet Lassi, Ghewar & Malai Ghewar.
Non Vegans must eat: Keema Batti, Jungle mass, Laal mass and Soola.
Also Read: The best places to eat in Pushkar, India
Accomodation in Jaipur
The walled city has plenty of options to accomodate every type of tourists and travellers – from hostels to budget hotels, heritage hotels and luxurious hotels. The architecture and color scheme of heritage hotels and resorts matches the colour scheme of city and is a perfect mix of contemporary Rajasthani designs and modernization.
%CODE2%
The options to pick for living heritages are Taj Rambagh Palace, Lohagarh Fort Resort, Raj Palace, Fairmont, Chokhi Dhani, Pride Amber villas, Pearl Palace Hotel etc.
Shopping in Jaipur Pink City
Jaipur is laden with colorful markets everywhere selling Jaipuri Jewellery, block printed handicrafts & clothes, Jaipuri bed sheets, and quilts etc. Indeed, there are separate zones in the city for food, flowers, textiles & Jewellery.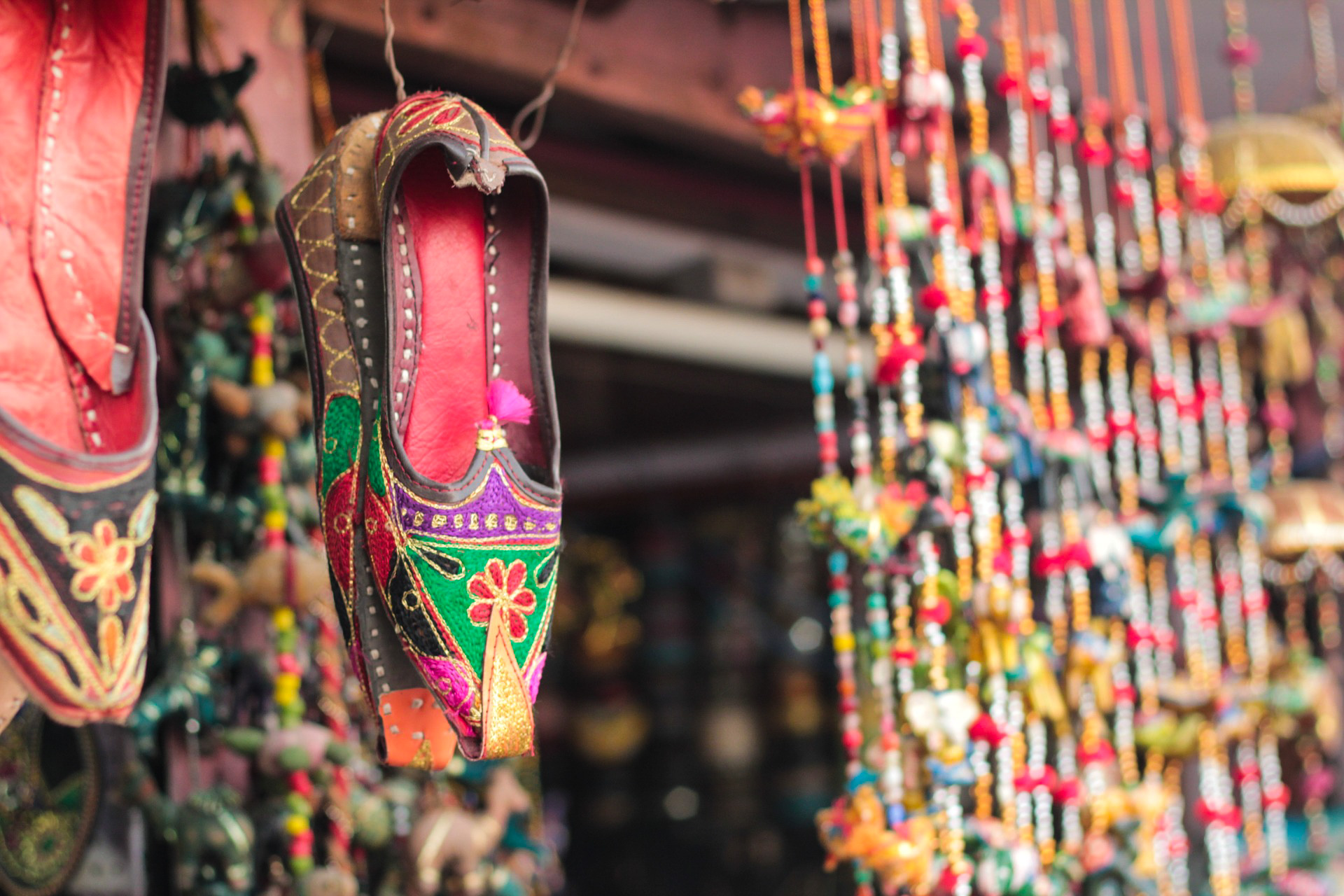 For the cheap and budgeted shopping, do make a visit to Bapu Bazaar and Johari Bazaar. And you can read the complete guide for shopping in Rajasthan here.
Also Read: The Palaces of Jaipur, Rajasthan
Points to Remember while traveling to Jaipur 
Leave early by 8:00 am in the morning to utilize your day well.
Wear comfortable shoes and clothes, as one needs to walk a lot around.
Days in Jaipur are really hot in summers as well as winters, so it is good to carry water along to stay hydrated.
The Cultural villages like Choki Dhani, begin their activities around 7:00 pm and these continue till late night around 1:00 am.
Remember to buy some traditional handicrafts from Jaipur and also negotiate on the same as much as you can while purchasing. In the city, there are government authorized shops for Rajasthani articles but they too don't have fixed prices. So, always make sure to bargain.
%CODE3%
Well, that is a brief guide on Jaipur Pink city covering the best option to stay. Also, do check the travel tips for Rajasthan. And if you any further questions do let us know, we will be happy to help and answer them.
If you liked it please pin and share it with your friends and family.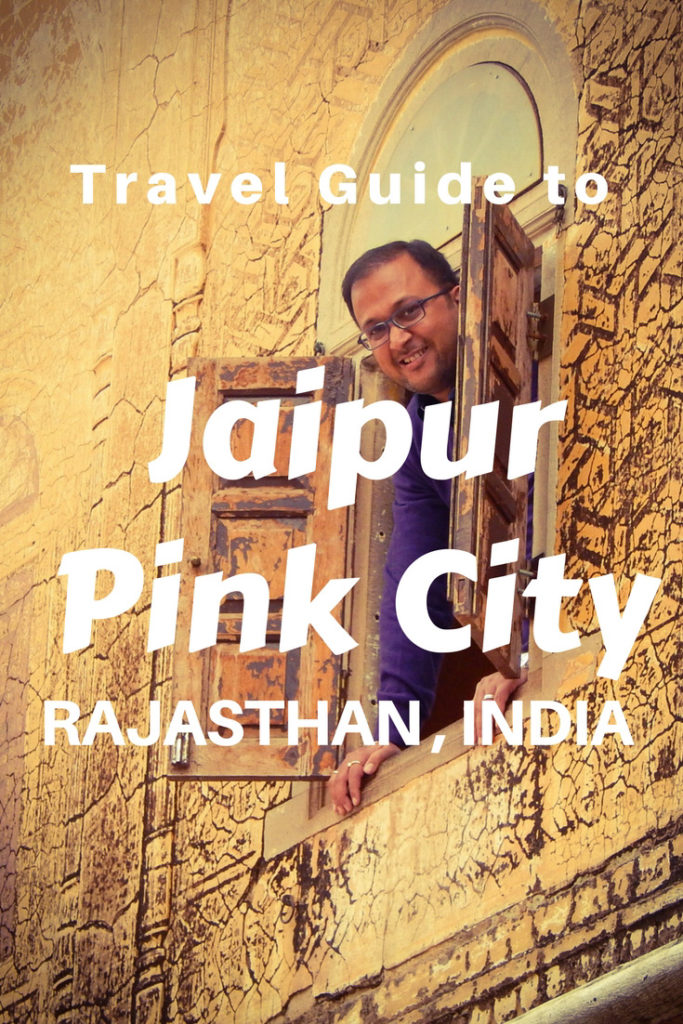 You must check these places too in India: