Waking up to the birds chirping, in the private cottage dotted with pine and oak trees, sipping morning tea & handcrafted cookies with sunrise at the cliff, strolling aimlessly among the tranquil trails, spotting Kalka Shimla toy train from various tunnels, mountain climbing, rappelling and endless conversation with staff of Aamod Resort Shoghi are some of the beautiful memories that have etched in our heart forever.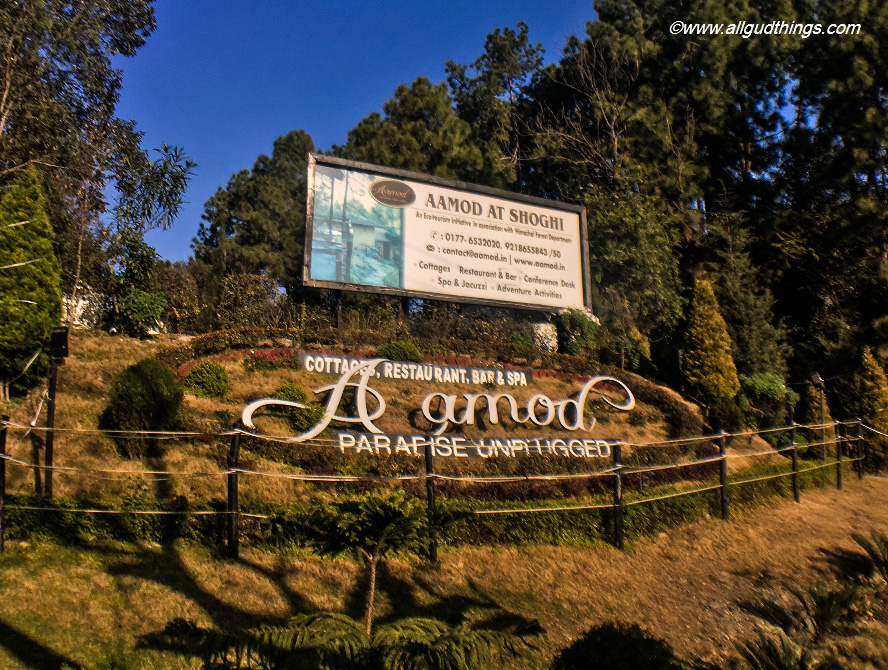 About Aamod Resort Shoghi
The Aamod Resort Shoghi is a Luxurious eco-friendly retreat tucked in between several feet tall pine and oak trees on NH 22. The resort is 16 kilometers before the hustle bustle of Shimla, completely amidst nature.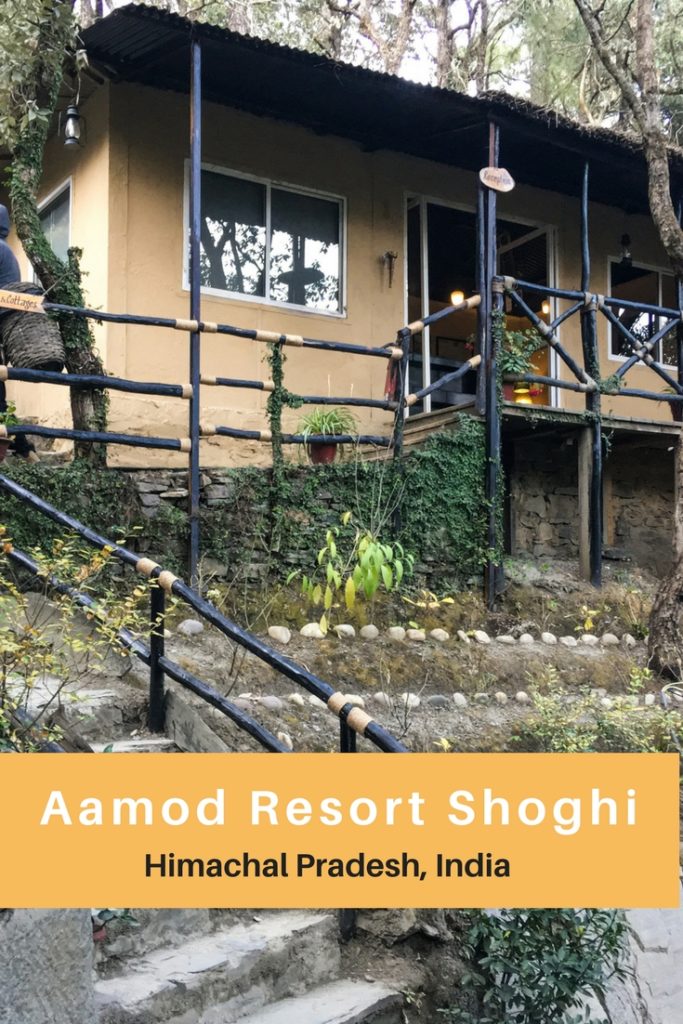 We did this trip, along with our winter expedition to Spiti Valley in January 2018. We were invited by escape Route and hosted by the Aamod Shoghi Resort.
Welcome
As we crossed Dharampur in Himachal, we saw the valley view's getting widened, the fresh air opening our blocked senses and the roads getting dotted with pine and oak trees. The sky was deep blue with some haze on the mountains, but the sun was ready to say goodbye in an hour or two. After an hour's drive, we reached the resort and were greeted "Namaste" with folded hands by the staff at the parking.
The staff unloaded our luggage into their private vehicle and took us through the narrow lanes to the resort entrance.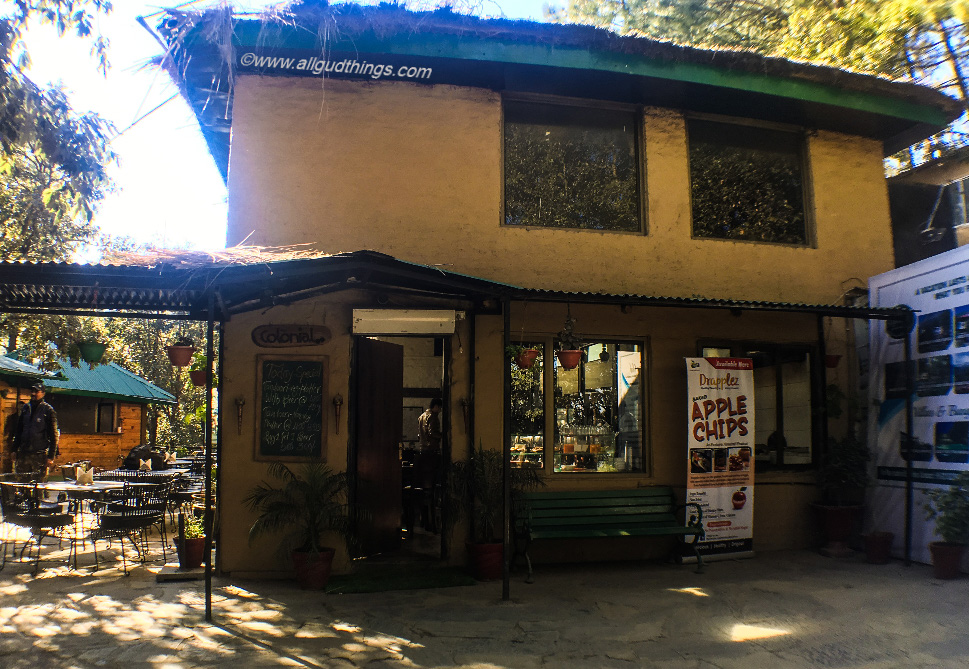 As soon as we stepped down, the first impression was: nicely blended work in the woods, mud layering from outside and dark paneling from inside giving a perfectly traditional and modern feel. The hanging pots outside the open cafe and the use of local elements added a charm to the whole place. The big glass windows inside the restaurant – Colonial were beautifully framed to get the complete view of the jungle around and to bring enough light to the dark furnishings.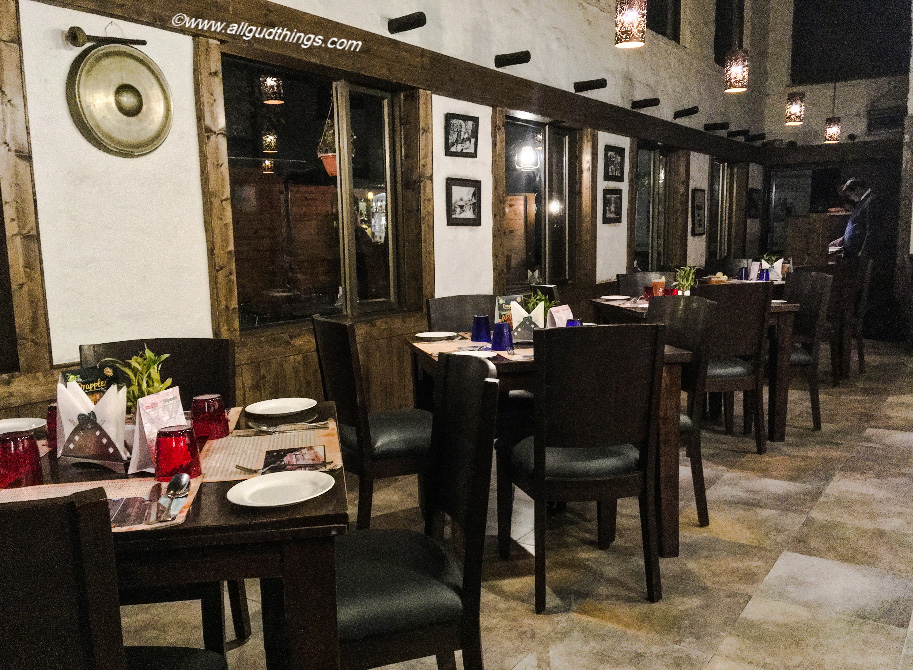 The check-in formalities were done in seconds while sharing a hot cup of Kahwa with Mr. Harish (General Manager) and from there promptly we were guided to our super deluxe cottage 101.
Aamod Resort
The resort has in total 20 cottages spread on the mountain slopes and tops, without disturbing the forest land. They are categorized into deluxe (11), super deluxe (6), family (2) and family deluxe cottage (1).
The narrow, jungle trails shaded by several feet tall trees, curl up and down in the whole property taking you to the adventure zone, spa, private couple Jacuzzi, Glade (the conference room) and open terrace.
The Cottage
The cottages have been handcrafted well; keeping in mind the comfort, luxury and perfect synchronization with nature. We were put in deluxe cottage 101. It was quite spacious with bespoke furniture and a large patio that overlooked the valley, mountains and a running toy train track underneath.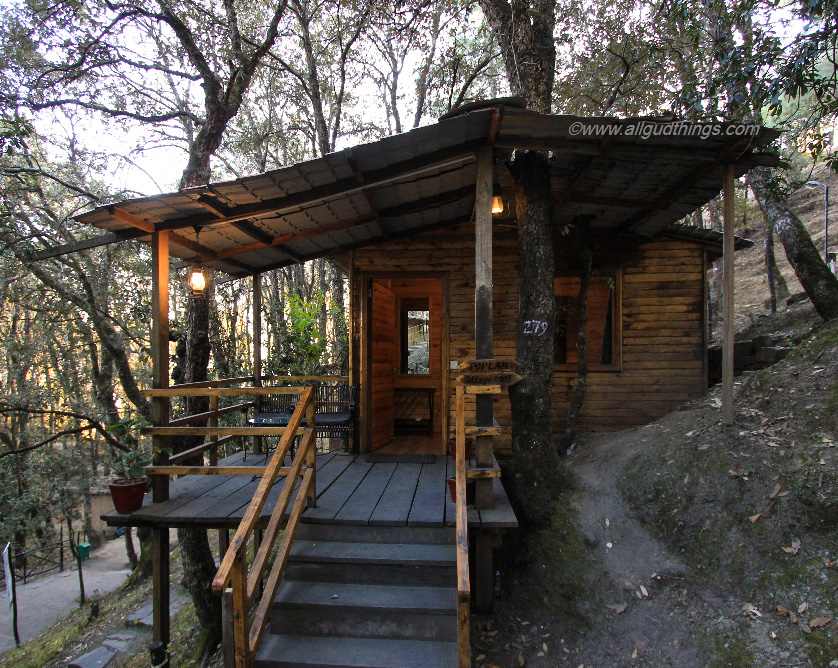 As soon as you enter the cottage, there is a foldable recliner on one end, a king sized bed on other and a wooden closet leading you to the separate toilet and bathroom.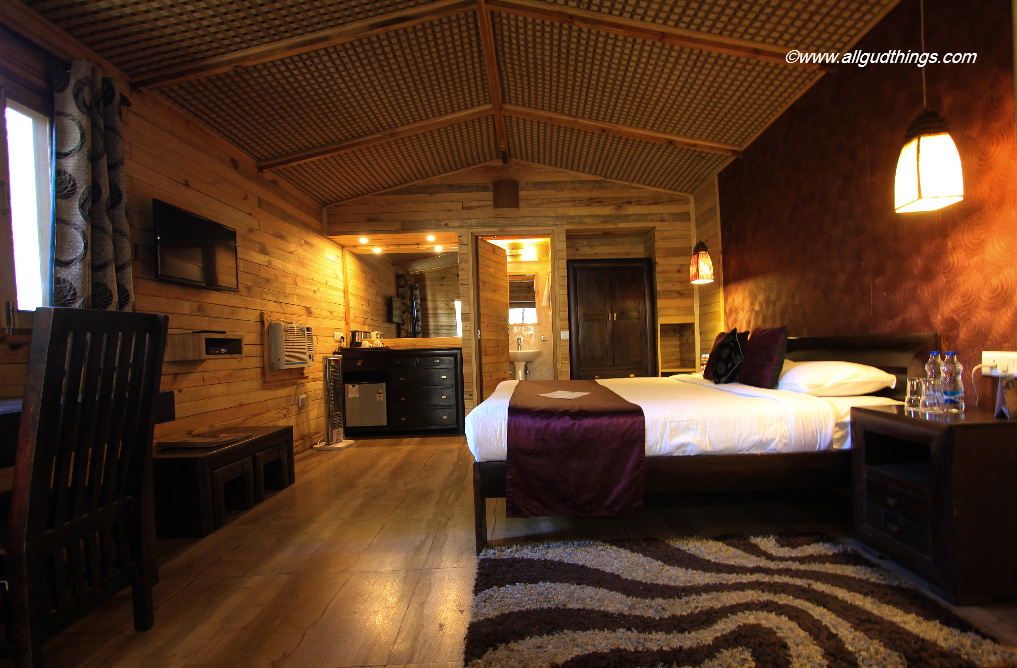 The room is perfectly equipped with all the modern amenities ranging from the bar, hot water kettle, heater, workstation and electric bed warmers etc.
Food
If food is something that keeps your wanderlust awake, then Aamod Resort Shoghi will prove to be the delectable treat for you. They offer lavish buffets in the breakfast, lunch, and dinner or one can order ala-carte too. The buffets specialize from continental, oriental, Indian, Italian, Mexican, Chinese & traditional Himachali cuisines.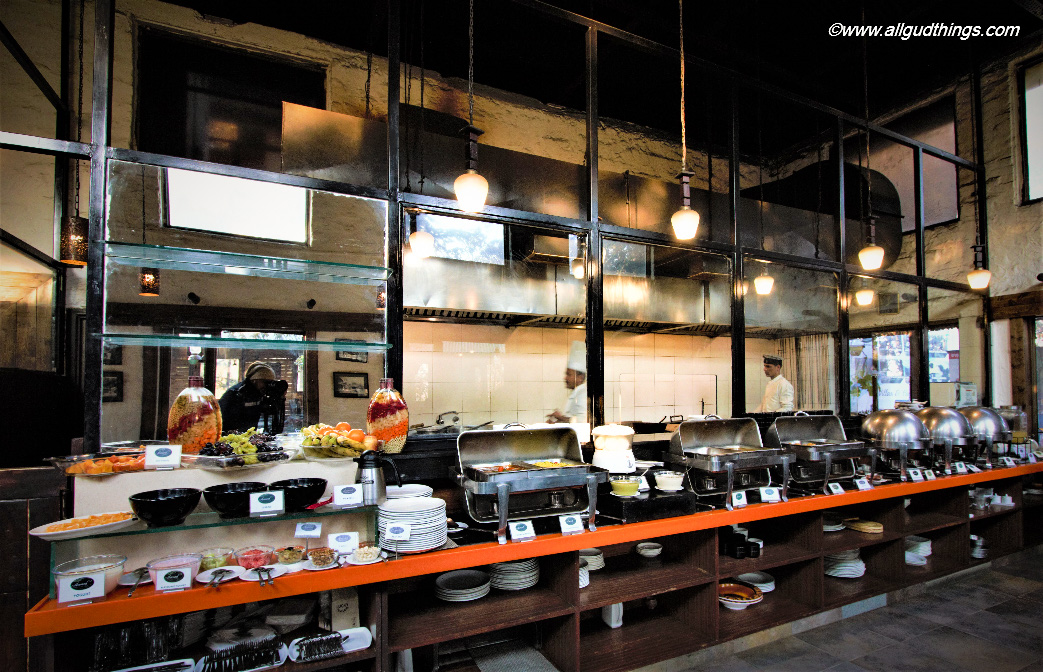 We believe that when in Himachal one must feast on the local cuisines. So, do try their Himachali cuisines – in particular, the Mal puddas with Khatti kadu Chatni and Siddus. The aroma of freshly used spices and ingredients, in the cuisines, is enough to tickle your taste buds and further aggravate your hunger.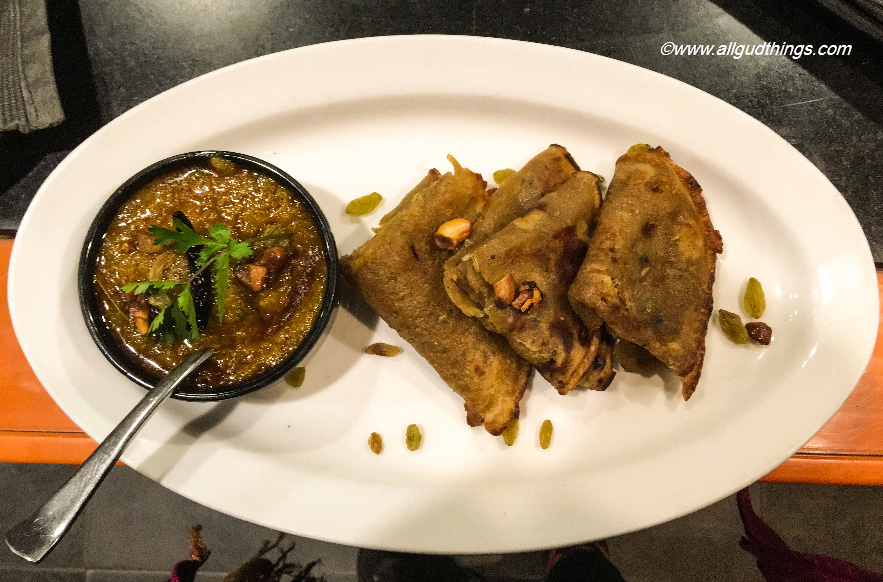 Aamod Shoghi has a separate bakery section and we loved their Variety. The kiwi crush, marble and chocolate cake goes to our favorite list. The Jam donuts too is another recommendation and a must try too.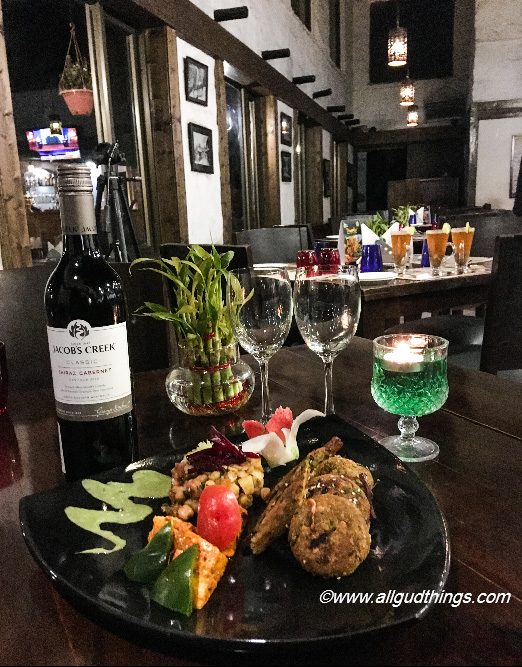 Dining & Bar
The food and drinks can be enjoyed in the indoor and outdoor dining area "Colonial" with a bonfire. They serve the variety of spirits and handcrafted cocktails. We recommend you to try their newly introduced: Gin based Lodge cocktails.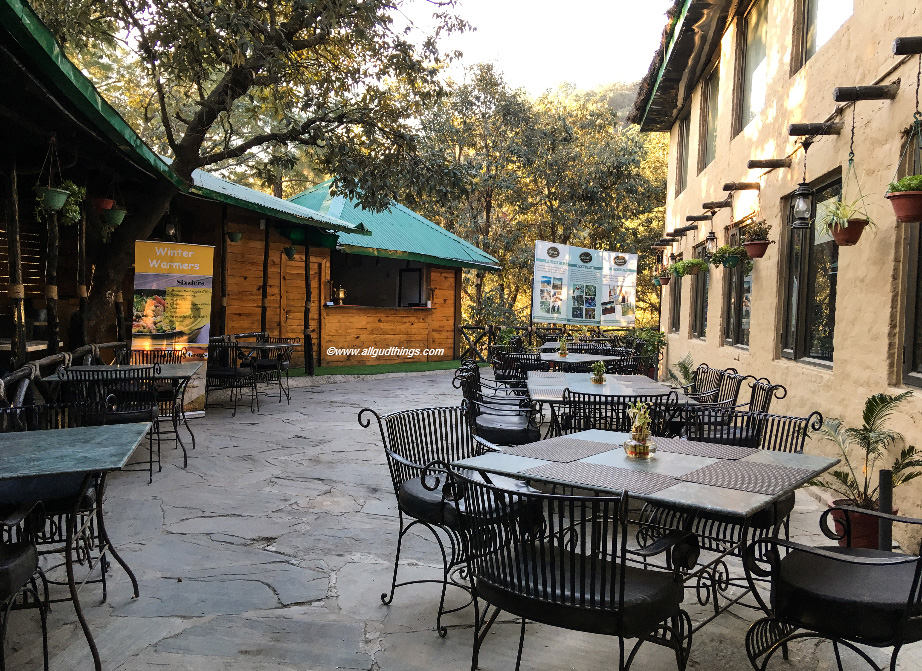 Apart from this, if you wish to enjoy food with valley views from your balcony then you can order ala- carte. The kitchen is open till 11 pm.
Activities at Aamod Resort Shoghi
If there is a widespread patio in front of cottages to unwind, relax and enjoy nature, then there are a plethora of activities to get some adrenaline rush, sweat and detoxify you.
There is a recreational room, adventure activity zone, mountain cycling, nature walks and spa to cool down, & rejuvenate. The private Jacuzzi at the cliff followed by some romantic dinner is for some romantic moments together.
Recreation Room:
The recreation room lies next to the reception area and has a variety of indoor games like monopoly, scrabble, Ludo, Carrom, Table Tennis etc. There is a collection of books and DVD's to enjoy some classics.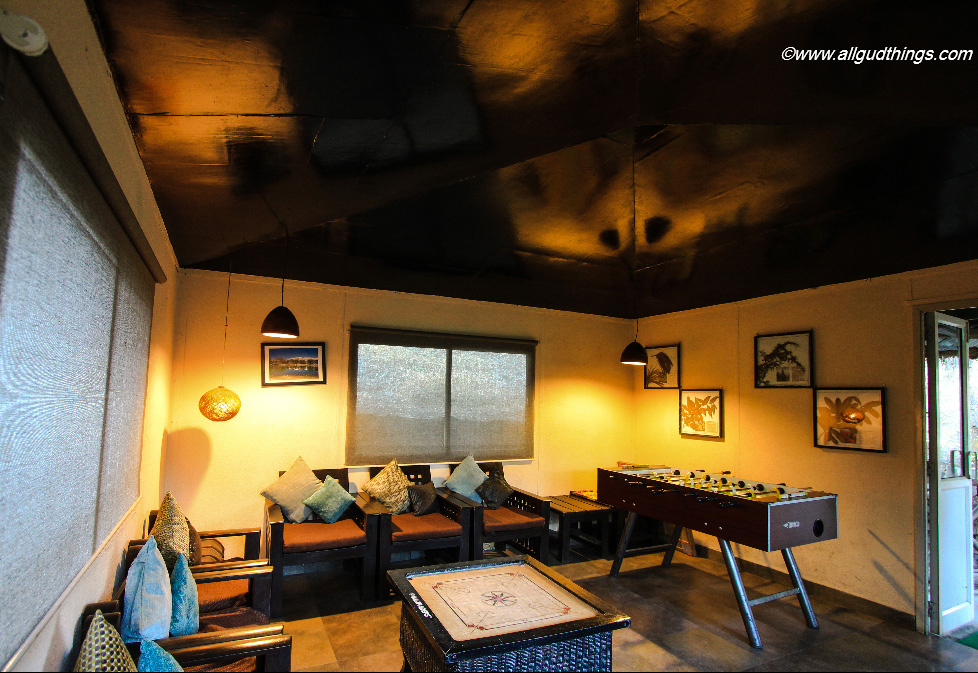 Adventurous Zone:
There is a 9 step extensive rope course in the adventure zone of Aamod Resort Shoghi. The activities involve from Burma Bridge crossing to fox flying, rope bridge walk, commando net, tire riding and many more.
And if you want to have some more thrills like us, try mountain climbing and rappelling from a 40 feet high mountain rock face. It is rarely scary if you look down but it's equally fun, after taking the first step. Imagine, I did it twice after the horror of the first one.
All these adventurous activities are carried only after making one wear safety wear with belay and under the supervision of a trained supervisor. So, it's really safe for adults as well kids.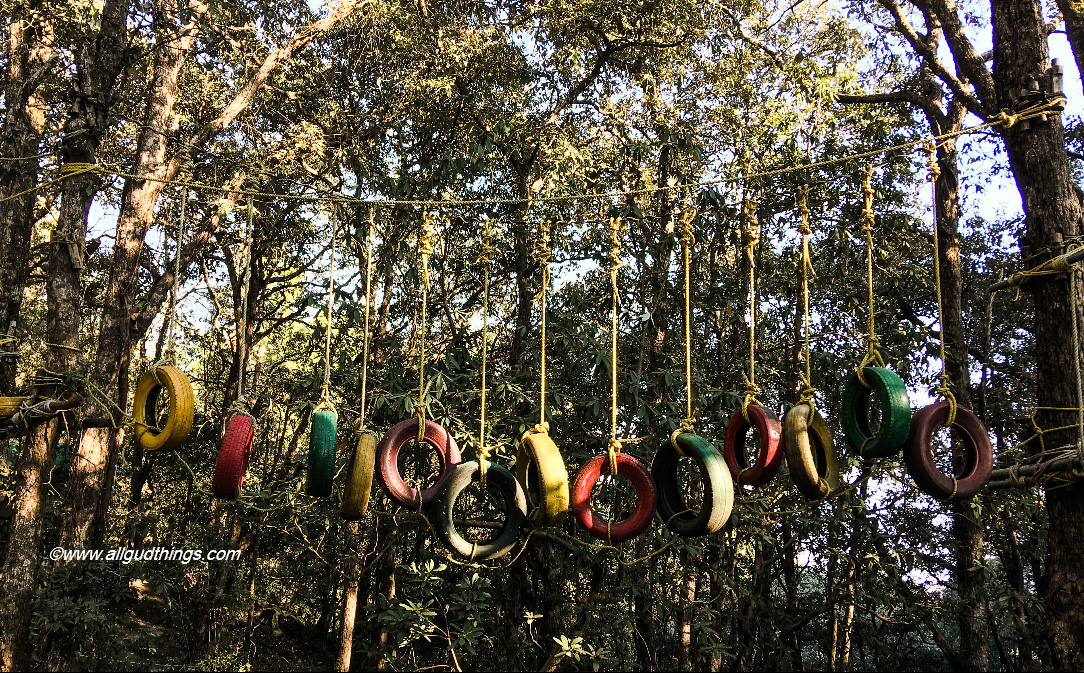 Nature Walks:
If you like walking aimlessly with your spouse in the jungle or want to give a wood experience to your family and children while listening to the birds chirping, then do plan a nature walk with Aamod Resort Shoghi. There are several walking trails near the property for nature walk which lasts from 1 hour to half day.
One of the walks we did was along the UNESCO world heritage Kalka Shimla railway track. It was purely a heritage walk taking us back to the Britishers time, history was all around and the cool breeze from the valleys and mountains was enough to dry our sweat.
https://www.instagram.com/p/BeKwP8zHH3P/?taken-by=suruchimittal
While spotting toy train we too experienced the rich flora and fauna. We tried Baboon and Tung Datoon (Datton is a substitute of toothbrush & toothpaste which locals use for cleaning teeth) during our walk and the staff surprised us with hot tea and cookies on the midway of the hike. We must say it was an experience to cherish for!
Spa & Open air Jacuzzi: Sublime Area
The Sublime area on the mountain cliff houses both spa rooms and Jacuzzi for individuals as well couples. The rooms overlook the mountains and have huge glass windows to be well lit and warm during the sessions. We recommend taking Spa and Jacuzzi session during sunrise and sunset. At that time, the sky is lit in hues ranging from blue to orange and the whole place looks totally serene.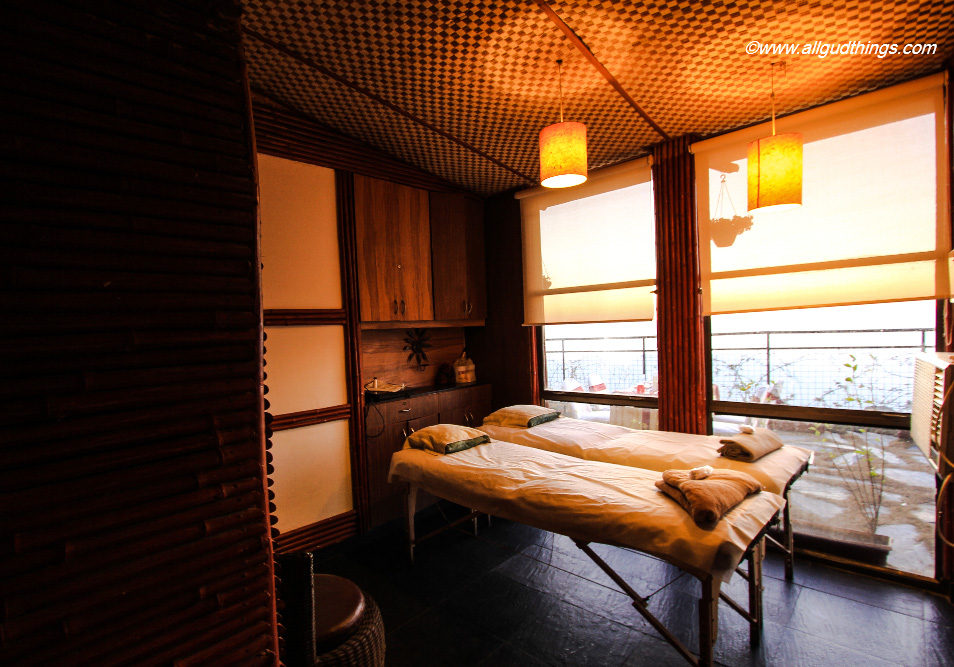 We opted for evening Spa and Jacuzzi session. It started with the Ayurvedic massage with hot oil. The total kneading and pressuring continued for 1 hour from toe to head, leaving us completely relaxed. Further, at the end, we were handed the bathrobes and directed to the hot water couple Jacuzzi. We were stunned to see the sun was already at the climax and had painted the sky well.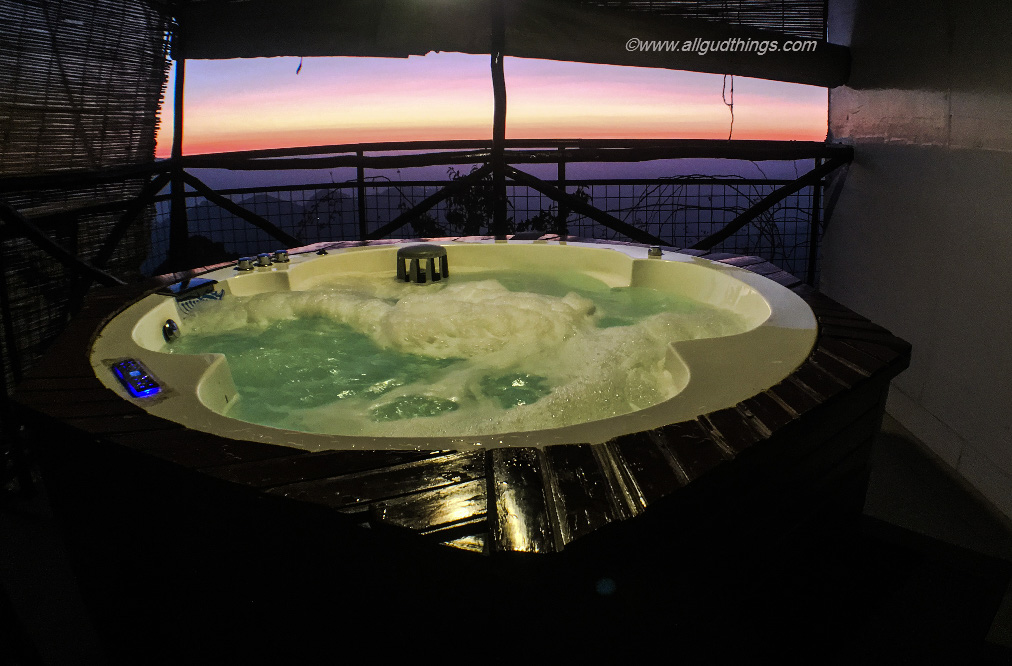 Spa Sessions can vary from 30 to 90 minutes whereas Jacuzzi sessions are for 35 minutes.
Toy Train Ride & Train Spotting
The other activity to enjoy here is Kalka Shimla toy train ride. But, instead of taking a ride we opted for catching the train at various tunnels and stations. It was pure fun and adventure. Train Spotting needs a separate post. For timings, please enjoy this video.
Private Romantic Dinner on the Ridge
The private romantic dinner set up on the cliff left us completely in awe. The sky was glowing and the cutlery, candles, flowers, wine glasses everything was perfectly arranged for us to go on a romantic date. Steward was on our table end to make us special throughout. I wish there was some romantic music to side bye to make it look like a movie scene.
Watch Sunrise & Sunset from the ridge
The Sunrise & Sunset in mountains is every photographer's delight and the Aamod resort Shoghi provides a true spot to capture glittering sky. While clicking, staff can serve you tea/ coffee with cookies at the ridge.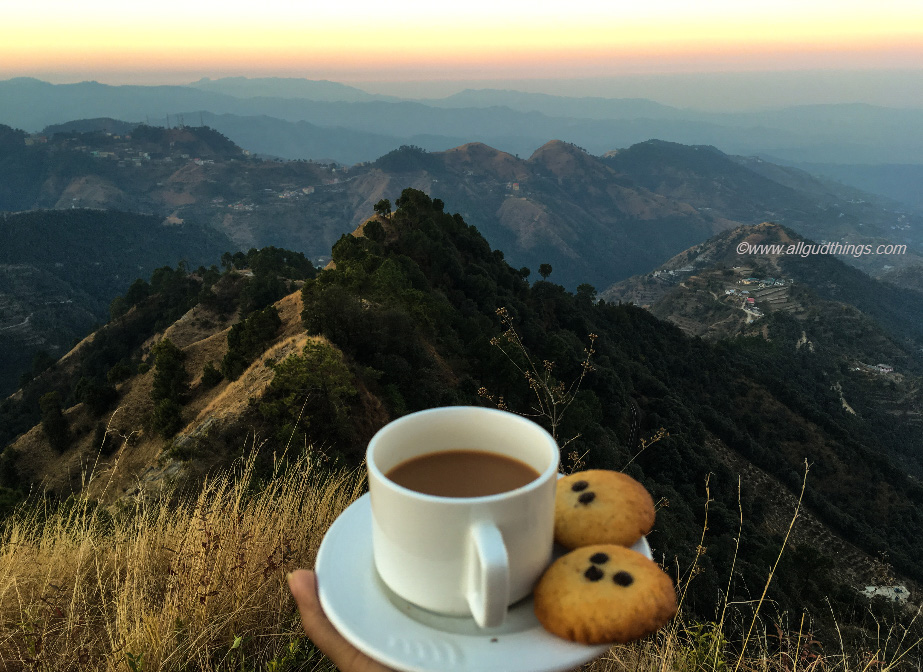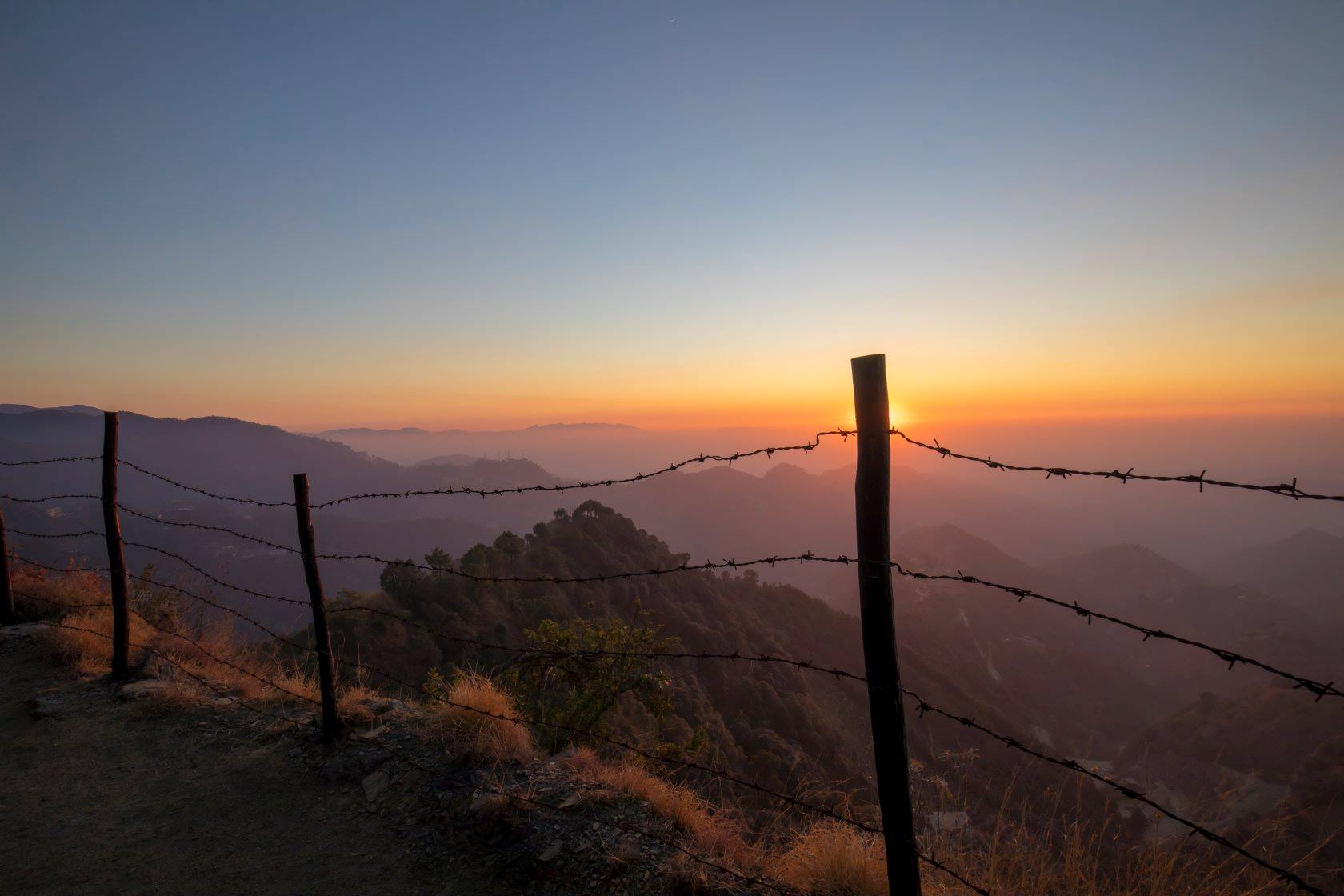 Camping
For camp lovers, there is an ideal spot at the ridge to camp overnight and learn about the jungle survival. Aamod resort charges a minimum amount for this experience.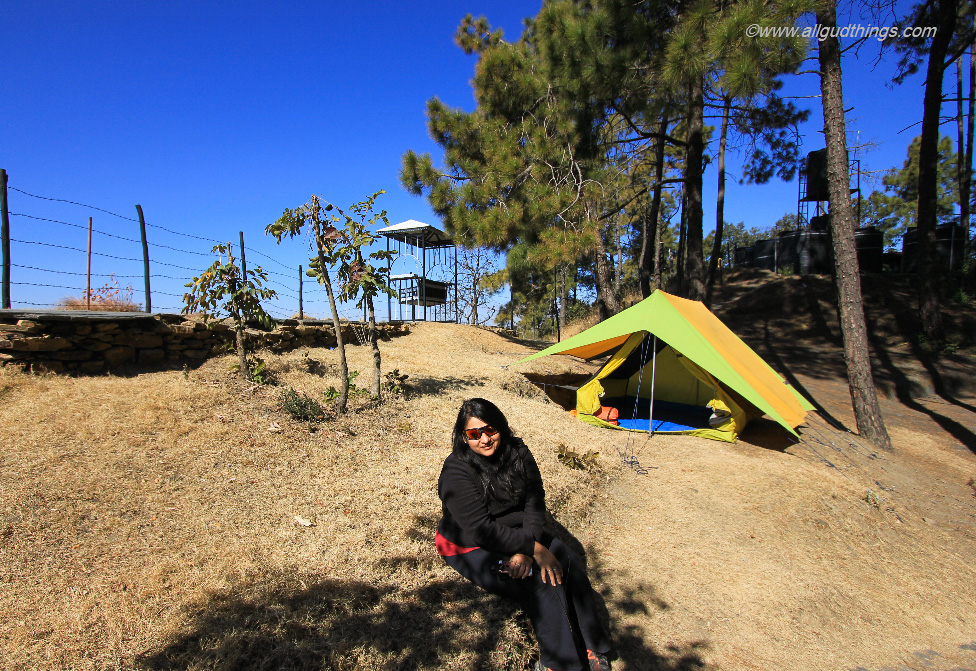 In addition to all the activities mentioned above, the Aamod resort Shoghi also arranges for yoga, meditation sessions, village tours, mountain cycling, storytelling by locals and team building activities; but only on prior information.
Sight-Seeing
Shimla lies just 16 kilometers from the resort. So, one can go & explore the colonial town and other nearby towns like Fagu, Mashobra, Chail, Barog etc.
Overall
The Aamod Resort Shoghi truly lives to the name of being an eco-tourism resort. They have impeccable services, nature love, scrumptious food, spa and Jacuzzi with valley views and one of the best adventure services. In short, if you are looking some good time in the woods, away from city jungle, then this is the place for you.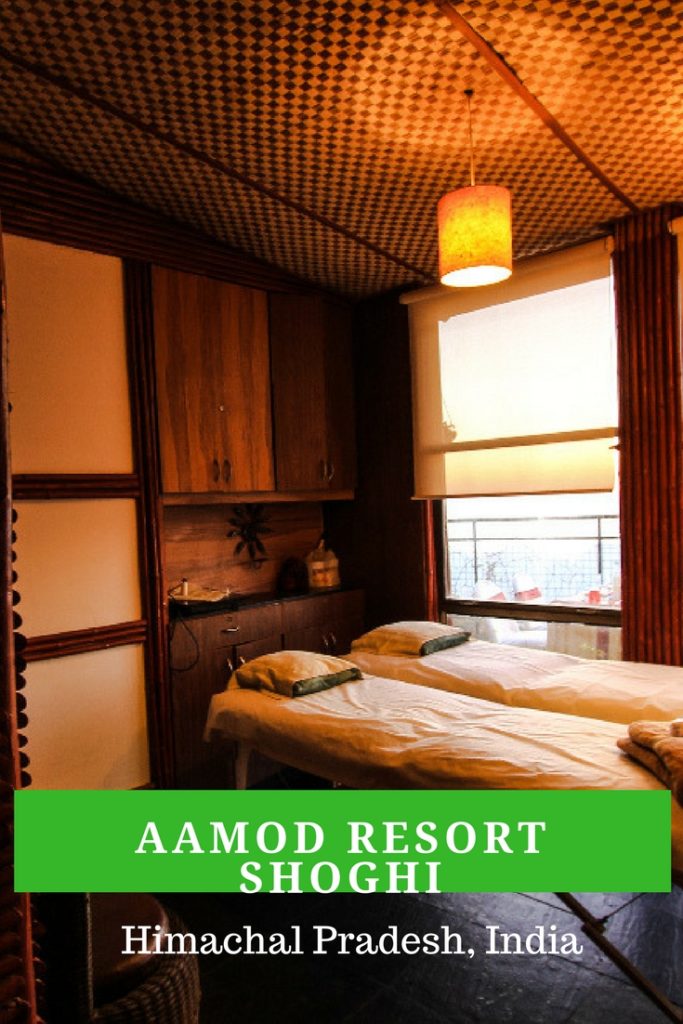 Additional Information
Route: Delhi – Ambala – Zirakpur – Dharampur – Shoghi
Total time to Reach: 7-8 hours
Roads: Excellent graveled roads, Highway but few bad patches after Jabli because of the road widening project.
How to Reach: The eco-friendly Aamod resort at Shoghi can be reached by car, train or by air.
Train: There are no direct trains between Delhi & Shoghi. So, one can reach by taking Shatabadi Express till Kalka and further Kalka Shimla Himalayan Toy Train till Sanklaghat (on the way to Shimla). From there, call up Mr. Kamal to pick you up.
Air: Take a flight from Delhi to Shimla. From Shimla, you can either hire a private cab or ride by Himalayan toy train till Sanklaghat.
We thank Mr. Sumit for arranging and Mr. Harish and Mr. Kamal for giving us wonderful, handcrafted, memorable experiences here.