Mountains are our second home and we can drive to them; any day any hour we need a break from the city life and pollution. And this time the exploration was to one of the most rugged terrains of Himachal i.e. Lahaul Spiti. So, we planned a 10-day road trip itinerary to Lahaul Spiti, keeping in mind a day's layover in the land of fairyland i.e. Chandratal Lake.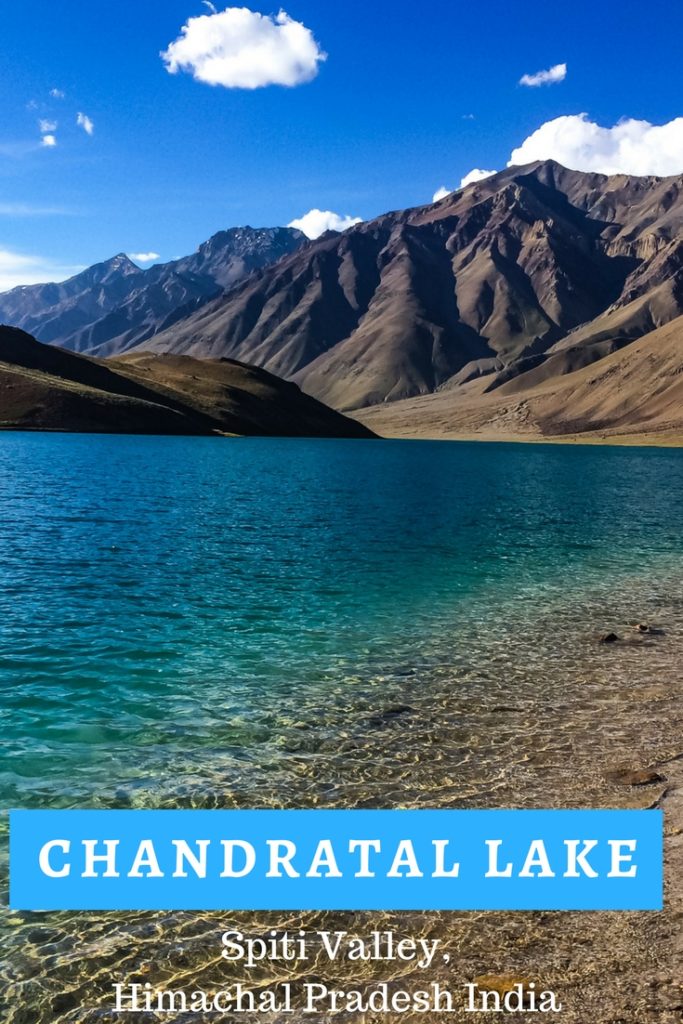 About Chandratal Lake
Chandratal or Chandra -Tal, is derived from two Hindi words Chandra meaning moon and Tal meaning lake. So, the lake is also known as the Lake of the Moon or Moon Lake.
The Chandratal Lake is fresh water, high altitude lake in the Lahaul Spiti valley of Himachal Pradesh, India. It lies at 14,100 square feet, spreads up to 2.5 kilometers and is the main source of River Chandra. From sides, it is enclosed by semi-arid brown mountains Moulikla and Chandra Bagha, which turns completely white in the winters. The Cirque in between these Himalayas provides a complete 180-degree view of the deep blue colored lake.

Every high altitude lake in India is linked with some or other story. Similar is the case of this crescent-shaped, Chandratal Lake. So, let's start with the story itself.
Story of Chandratal Lake
The Moon Lake, in Himachal, is believed to be discovered by shepherds. There are several stories linked to this lake and here we are reciting the ones we heard from Tenzin Bodh of the Tenzin Camps.
The first story is that the God Indra landed in his Chariot at Chandratal Lake to take Yudhishtra eldest of all the Pandavas, in the mortal state to heaven. So, the lake is considered as sacred and is visited by thousands of Hindu Devotees, every year.
The second story is – A shepherd used to come, sit and talk to the Moon Lake every day for hours. One day while sitting he saw a fairy. She wished to marry him and in return will fulfill his all dreams. He denied her proposal saying he is already married. Fairy gave him the solution that he can stay with his wife; & marry her too; without disclosing it to anyone. He was happy and didn't tell anyone about this happening. One night while he was drunk and arguing with his wife he disclosed that fairy wants to marry him. It's believed that was the last day Fairy was seen in the Chandratal Lake.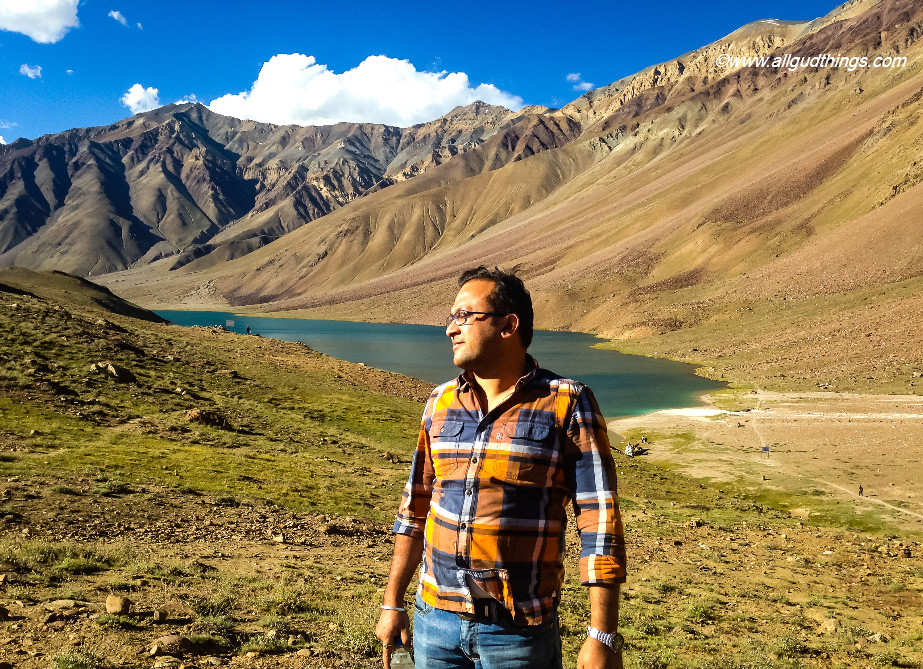 Third Story is – Chandra was a daughter of Moon God and she fell in love with Bagha, the child of Sun God. It was love at first sight at Baralacha pass but heir love was not approved by their parents. So, both of them decided to elope and marry without parents' permission at Baralacha Pass where they met for the first time. On the day of a meeting, Chandra reached bit earlier than Bhaga. When she didn't find Bhaga at the decided location, she started running towards Kunzum La and back to Baralacha to search him. At Tandi, she saw Bhaga coming from the opposite direction. So, finally they met and the celestial marriage happened. Many of the trekkers, trek on this route to witness real beauty.
The River which flows at Tandi is known as Chandrabhaga River, which on entering Jammu and Kashmir becomes Chenab.
Also Read: Ladakh- The Land of High Passes
How to reach Chandratal Lake
The Chandratal Lake can be reached from Manali as well as from Shimla.  From both these routes, one needs to reach Batal and further take a diversion to reach moon Lake.
Route from Shimla via Manali (364 kilometers): Manali – Marhi – Rohtang Pass – Chhatru – Batal
Route from Shimla via Rekong Peo (533 kilometers): Shimla – Rekong Peo – Nako – Kaza – Batal
From Batal, the Lake lies further 13 kilometers inside, and it takes 45 minutes to 1 hour to reach the base camp.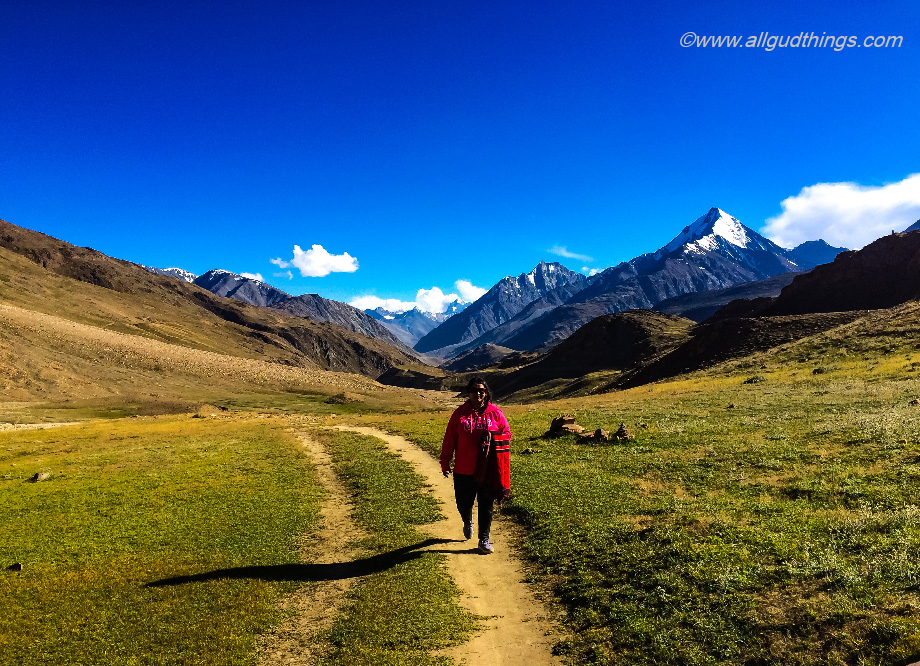 The Moon Lake can be reached by trekking as well by driving from Batal. One can drive his/her own vehicles, hire a cab, or join in shared cabs & buses. Do; check the time of buses if you are going by bus. In case, you miss one wait for the shared cabs at Batal, as there are only limited options.
The last 2 – 3 kilometers of Chandratal Lake can be covered by hiking & traversing the mountain slopes, getting 360-degree views.
Condition of Roads
The road to Lake is narrow, made of mud and gravel, with lots of potholes. The whole stretch runs along the River Chandra and a few points, there are passing water streams and Pagal Nallas too.
Note: Try to keep your vehicle at a maximum speed of 20 – 30 km/ hour, taking care of the cyclist, bikers, and hikers on the way.
Best Season to Visit Chandratal Lake
The best time to visit lake is from June to September. We went in August end and it was too chilly.
Average Temperature:
Summers: Days are warm but evenings and mornings are chilly and windy. At night temperature goes to 0 or below 0 degree Celsius.
Winters: Temperature varies from -10 to – 30 degree Celsius but the roads and accommodation both are closed.
Nights at Chandratal Lake
The nights at Lake are exceptionally beautiful. You can see countless stars, the whole of the Milky Way galaxy with the naked eye. The place is perfect for night photography as well to gaze at the sky for hours.
Accommodation at Chandratal Lake
Chandratal Lake is famous among both national and international tourists for trekking, and camping. Camping is not allowed near the lake. There are several camps for accommodation at a base, which is about 2-3 kilometers from the lake.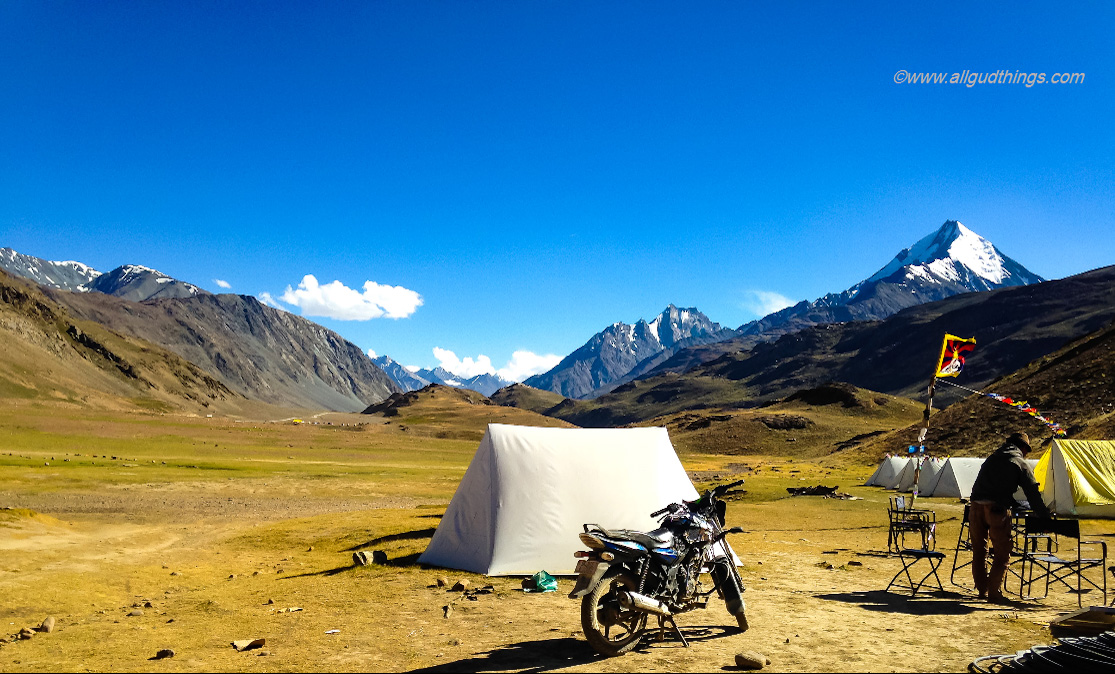 We stayed at Tenzin Camps. The tent had a double bed mattress with several blankets and quilts. Still, we were shivering, so Tenzin provided us two hot water bottles to make ourselves comfortable! That was really sweet of him. And there are separately shared washrooms for men and women.
Food: At morning and evening, you get an aromatic drink to fight altitude sickness. Lunch and dinner contain boiled Dal, Chawal, Sabji for vegetarians and meat for non-vegetarians.
At such temperatures water boils in almost half an hour, so if you want some to drink or for your personal usage let them know beforehand. Tent owners are kind enough to serve you drink at night.
Some Points to Remember
The road to Chandratal Lake is really narrow and bumpy so drive slowly
Get your vehicles properly inspected before leaving on this route and do carry extra spares; as you won't find mechanics here for several miles
Don't drive at night
Always carry enough woolens and windcheaters with you, as the weather is unpredictable here. If it is sunny right now, it may turn cloudy in next 15 minutes. Wear cap, especially during morning evening to avoid getting sick
Do carry sunscreen, sunglasses and first aid kit with you
Keep compass with you to keep the idea of directions and to avoid getting lost
There is no phone & electricity connection at Chandratal lake
Keep yourself hydrated to avoid AMS. If you are hit by it take help from your tent members
Avoid drinks at high altitudes
Try your photography skills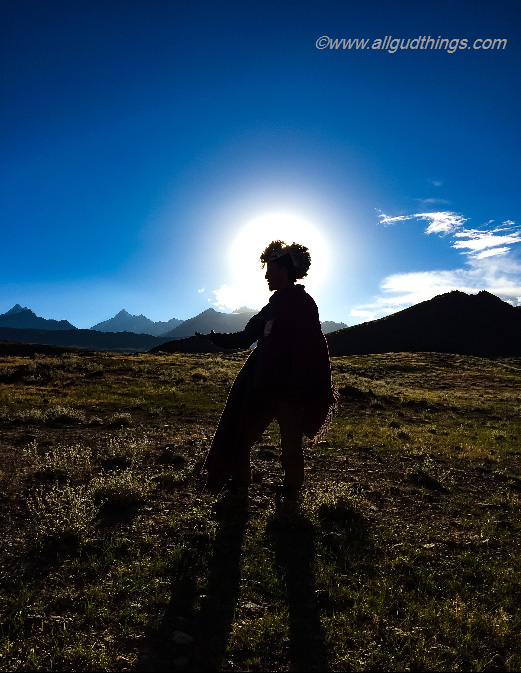 No matter, how much you plan for this trip; the journey to this fairyland will still seem unplanned. The roads are adventurous and nature is just surreal.  The breathtaking views of snow-clad glaciers, arid mountains, green hills, river, and lake, leave you spellbound and force you to stay back or visit again. This crescent-shaped, high altitude glacial lake is for every traveler and adventure enthusiast.
If it interests you please share it with your friends and family.