Bangkok, the capital of Thailand is a getaway to the Southeast Asian world. It is a must stop for few days when you are heading towards beautiful islands and beaches for vacations. The city is a crazy mash of ancient sites, shrines, colourful shopping malls, tourist treasure and culinary. Bangkok trip itself has lots to offers which cannot be covered in 3-4 days.
So, here we have shortlisted 10 places which cannot be missed during Bangkok trip.
The Grand Palace & Wat Phra Kaew
The Grand palace built in 1782 lives up to its name with golden Chedis, statues, lush green ground and old chapel. It is located on the banks of Chao Phraya River and represents a great combination of Thai and European architecture. Wat Phra Kaew also known as the temple of the Emerald Buddha contains Buddha statue dating back to 14th century. For detail information about the temple, click here.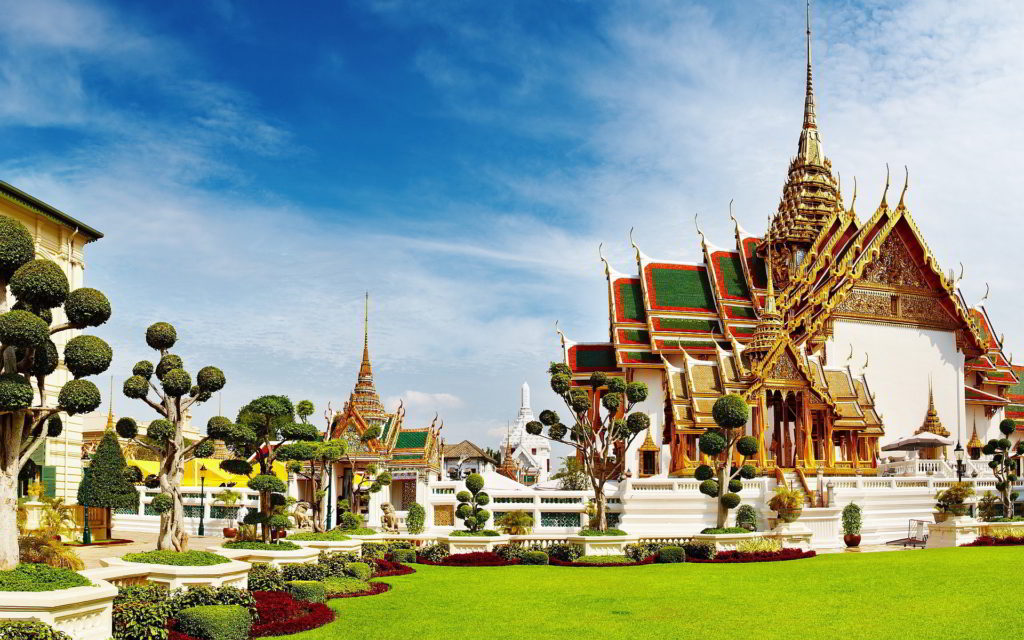 Time to visit The Grand Palace – 8:30a.m – 3:30 pm, daily
Entrance Cost– 500 THB for tourist; Free for Thais
Important Note – Wear clothes that cover your legs and shoulders; otherwise, you need to rent clothes outside the palace.
Wat Pho – Temple of Reclining Buddha
Wat Pho the other famous landmark is located at the south of Grand Palace. One can reach here, by a 10-minute walk. The main attraction of this temple is 45 meters long and 15-metre high reclining statue of Lord Buddha covered in gold leaf. The sole of the feet are laid with precious stones and are divided into 108 panels, displaying auspicious symbols by which Buddha can be recognised. It is also a school of Thai medicine.
Time to visit Temple – 8:30a.m – 6:30 pm, daily
Entrance Cost– 100 THB for tourist;
Cost for Thai massage at Temple – 260 THB
Important Note – You need to wear clothes that cover your legs and shoulders, or you can rent or purchase clothes from outside. Somehow I managed to enter without covering my shoulders.
%CODE1%
Wat Arun – The Temple of Dawn
The temple of Dawn is named after a Hindu God Aruna and one can reach temple through a ferry ride paying 5 THB. The best time to visit the temple is during sunset and night when the temple is fully lit up with lights. Before sunset, authorities let you climb till central prang, the mid-level of the temple. You will get the magnificent and mind-blowing views of city and sunset on the Chao Praya River.
Time to visit Temple – 8:30a.m – 5:30 pm, daily
Entrance Cost– 20 THB for tourist;
Important Note – Wear clothes that cover your legs and shoulders, to pay respect.
Also Read: Experiencing Thai food on a Bangkok Street Food Tour
Wat Traimit – Temple of golden Buddha
The temple is located on Chinatown road and it houses the world's largest massive gold seated lord Buddha. The statue is nearly five metre in height and weighs five and a half ton. Till today no one has been able to trace the origin of this priceless statue and is believed to be of Sukhothai period.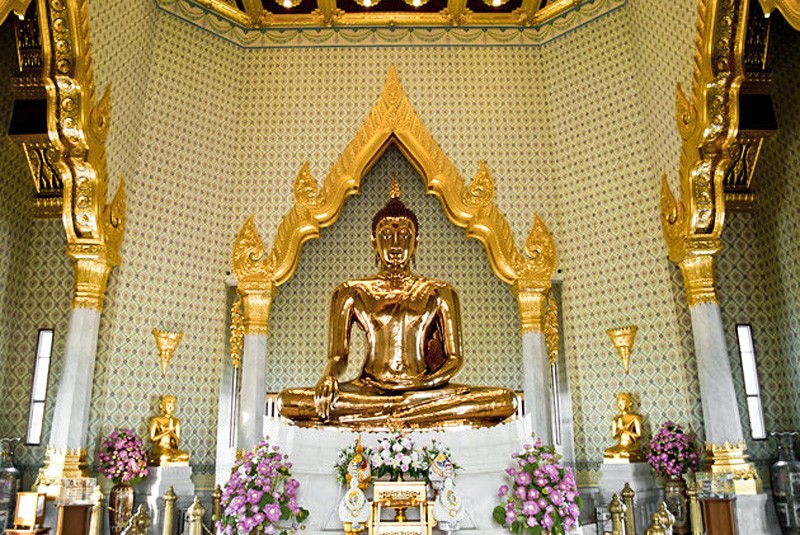 Time to visit Temple – 9:00a.m – 5:00 pm, daily
Entrance Cost– Temple visit is free and 10 THB for museum visit
Important Note – You need to cover your head and maintain silence in the premises
Chatuchak Market – Weekend Shopaholic Paradise during Bangkok trip
The Chatuchak weekend market is one of the world's largest markets with more than 15,000 stalls. It is a must visit during a Bangkok trip as it is a house of everything – clothes, jewellery, plants, pottery, souvenirs and most importantly all types of Thai food. So, it is quite exciting to visit. You need a complete full day to explore it. Once you have moved ahead, it is very tough to find the last shop from where you wanted to make a purchase. Therefore the advice is to buy immediately what you like, after bargaining. For detail information, check here.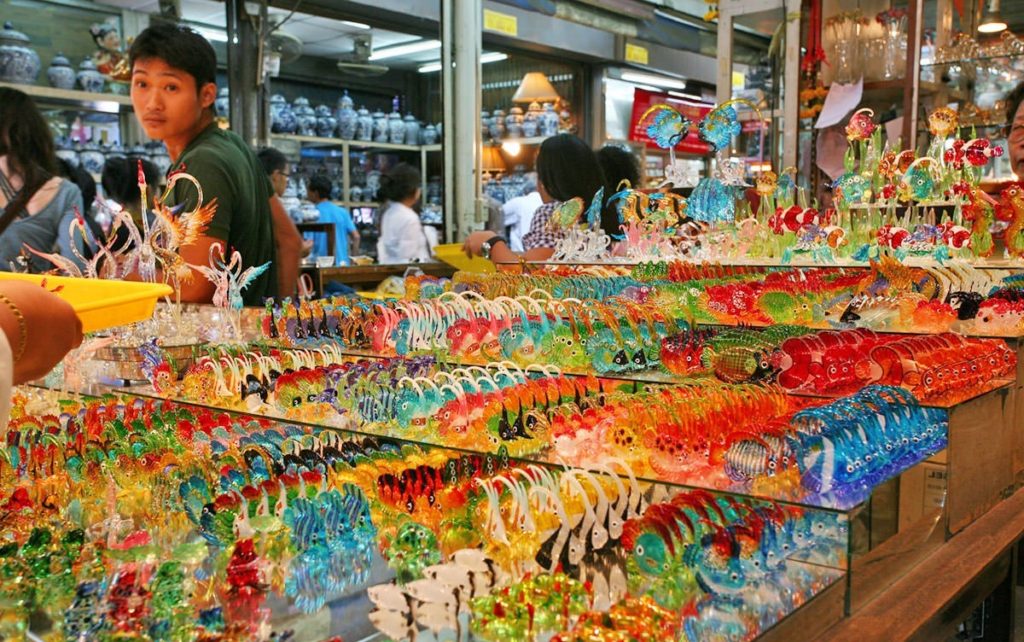 Market timings – Saturdays & Sundays 9:00a.m – 6:00 pm; Friday – 6pm – 12 am. On Wednesday and Thursdays, it is open for plants from 7:00 am – 6 pm
Important Note – Be aware of pickpockets, bargain as much as you can and don't trust on vendors for antique unless you have an eye for them.
Also Read: The best places to stay in Bangkok
Damnoen Saduak Floating Market
This is one of the most famous floating markets and is located at a distance of 1.5 hours from Bangkok. It's lively and colourful but too much crowded with tourists. You can find stalls selling almost everything- Thai handicrafts, souvenirs which you could find too at Chatuchak market. The best is to enjoy fresh fruits, food, and interaction with the locals on the boat.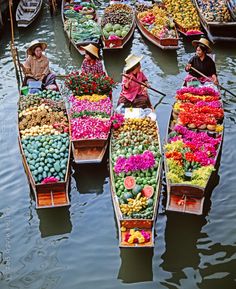 Timings – opens daily in the morning at 6:00 am –till noon
Pricing– By long tail boat 2000 -3000 THB
Important – Check for the boats run by government authorities, leave early around 5 to avoid harsh sun, check the prices
%CODE1%
Boat trip on Chao Phraya River
Boat ride while Bangkok trip is on every tourist wish list. You can opt for a complete day or half day trip with Chao Phraya Tourist Boat. Boat trip gives you the opportunity to see the city in different perspective. They provide service at 8 piers and tourist can get down on any pier to explore the same.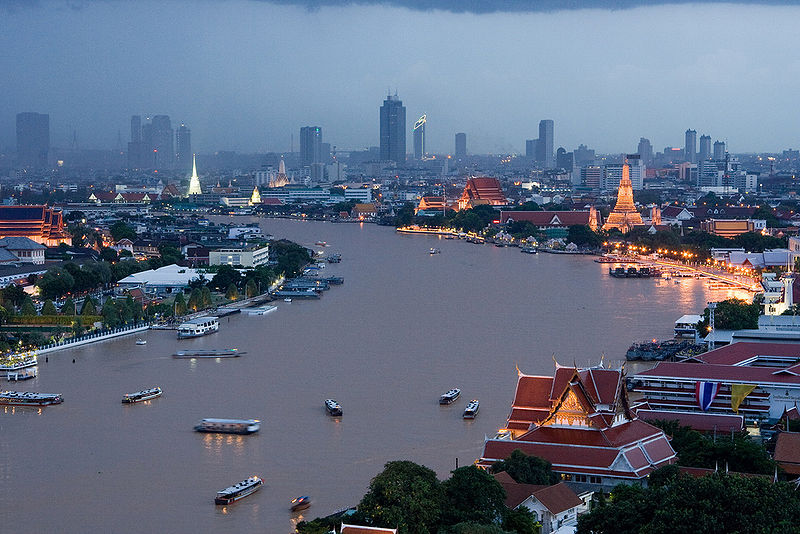 Timings –9:30 am –7:30 pm
Pricing– At times it's free or you can take day pass
Important – You can hop up and down at any pier and catch any of their boats for returning back
China Town
With the sunset, China Town Street in Bangkok gets laid with the food street cuisines. On the streets, you will get not only Chinese cuisines but others too at decent enough prices. It is spread over a kilometre and is unique and fascinating. Photographers can try their hands here for the colourful and bright pictures.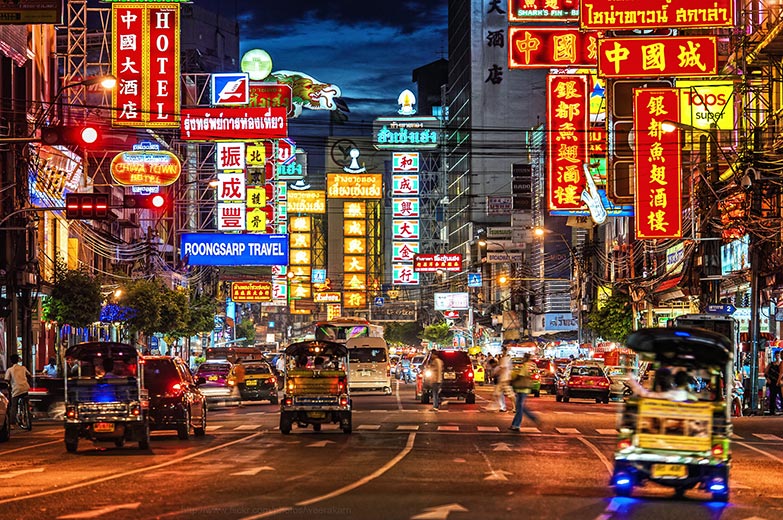 Timings –open 24 hrs
Jim Thompsons House
The Jim Thompson house now turned into a museum is a lovely garden enclosed compound on the banks of Saen Saeb canal. It contains old Thai structures that Jim Thompson collected between 1950 -1990. This house makes you look and admires the Thailand's traditional architecture, beautiful silk, and art. Outside there is lush green gardens and pond to sit and relax.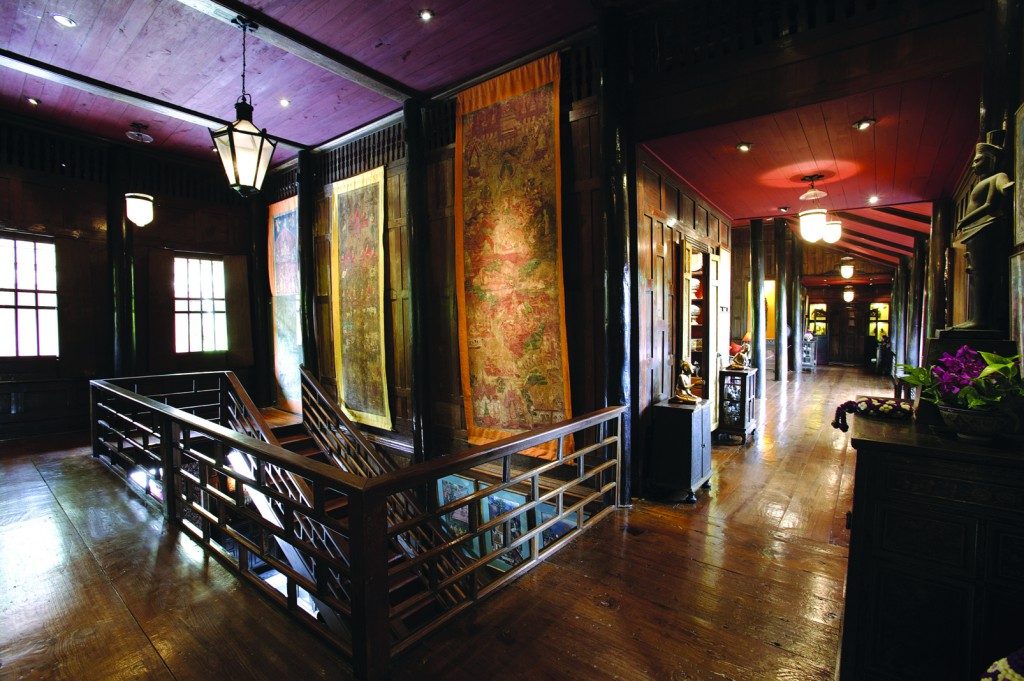 Timings – 9:00am -6:00 pm
Pricing– 150THB
Maeklong Railway Market
Bangkok has several markets but this railway market has something unique. There is a train running in the middle of the market, that also several times a day. The market is just down the street from the Maeklong Railway Station, which is the last stop along the railway line. A little warning bell rings over the speaker system just a few minutes before the arrival of the train. Within a few minutes of a buzzer, vendors pull back their specially designed awnings. This market is locally known as Talat Rom Hoop which means "Market Umbrella Close".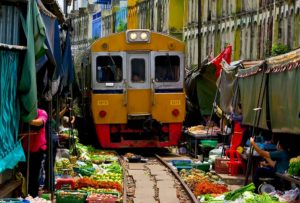 Timings – 7:00 am – 5:00 pm
Important Note – check the train departure and arrival time to get the full view of Maeklong railway market on Bangkok trip. You can easily get out of the train, and walk into the market. Buy a ticket for getting onto the train.
%CODE1%
Also Read: South East Budget guide