The turquoise blue water was glistening and changing its color every minute in the sun. There was pin-drop silence except the breeze and fluttering of Prayer flags. Clouds were getting dramatic – One moment they were making formations in patches, whereas other moments they engulfed the snow-covered peak. We were totally in awe of the beauty of Gurudongmar Lake in North Sikkim or actually hypnotized by the magical power of it.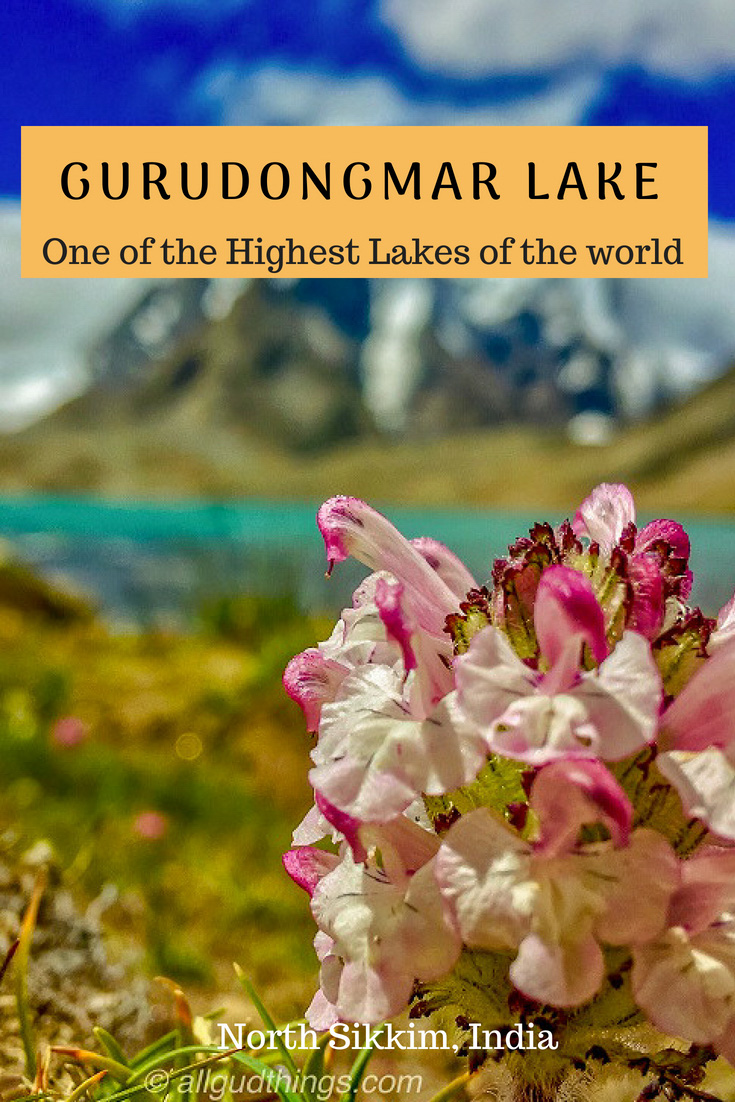 Trip to Gurudongmar Lake from Lachen
It was August and monsoon season was at its peak. The chilliness in the weather had increased. We reached Lachen in the evening, around 5:30 pm for a trip to Gurudongmar Lake from Gangtok after 6 – 7 hours' drive (107 km). Locals were dressed up in sweaters and jackets and in no time we joined their fleet. It was still drizzling in the evening but we wanted to see Lachen, so went for a quick walk.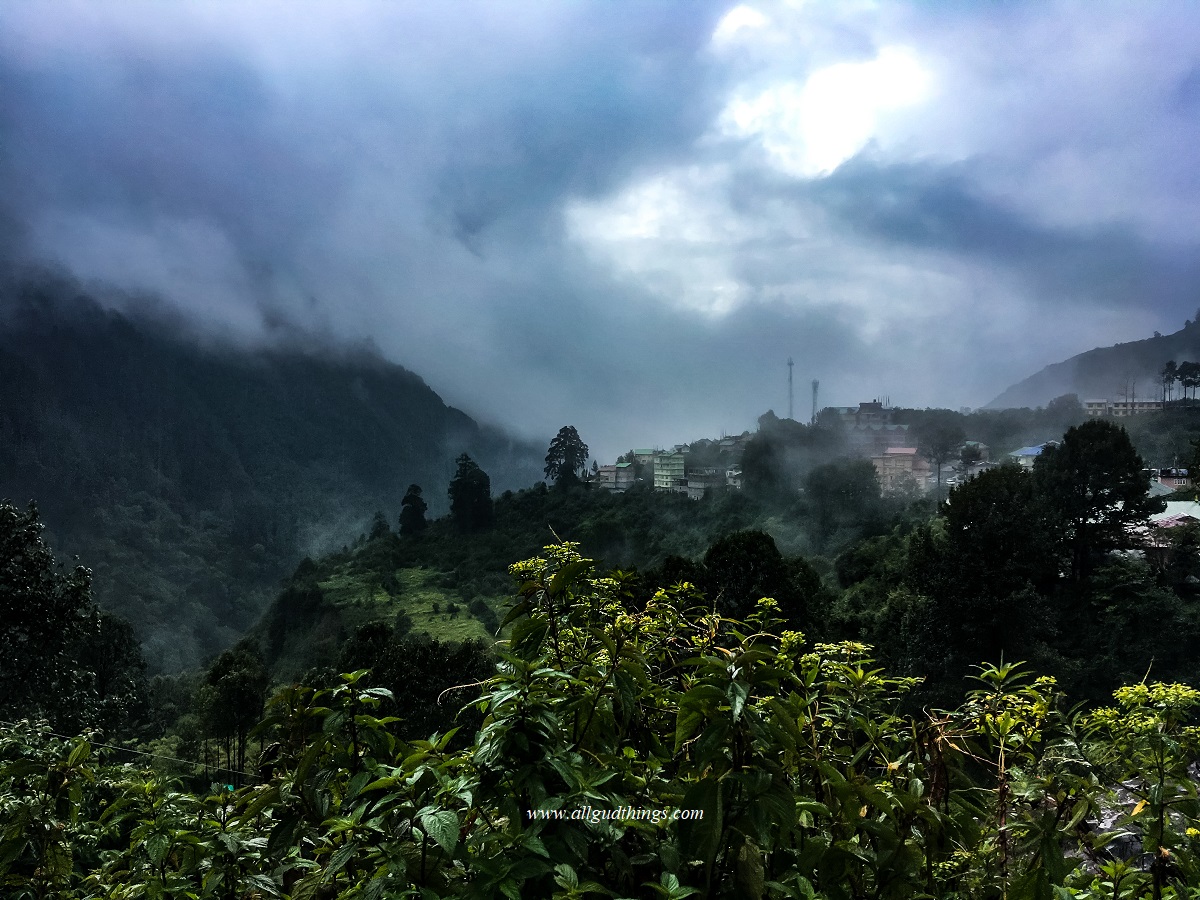 As we turned back it was already 7:00 pm, our driver asked us to have dinner by 8:00 pm and go off to sleep. He also reminded us to put an alarm for 4:00 am. Yes! 4 in the morning as we had to leave at 5:am, to explore the magical Gurudongmar Lake, also known as Gurudamba Lake.
At 4:00 am, the alarm rang. I snoozed it and dozed back in the quilt. It again chimed after 10 minutes and I chimed out at Tashi! Get up boy, we have to leave in 45 minutes. Quickly he got up and we dressed up in layers knowing that we will be gaining height in the next 67 km (distance from Lachen to Gurudongmar Lake) from 9,000 to 17,800 feet.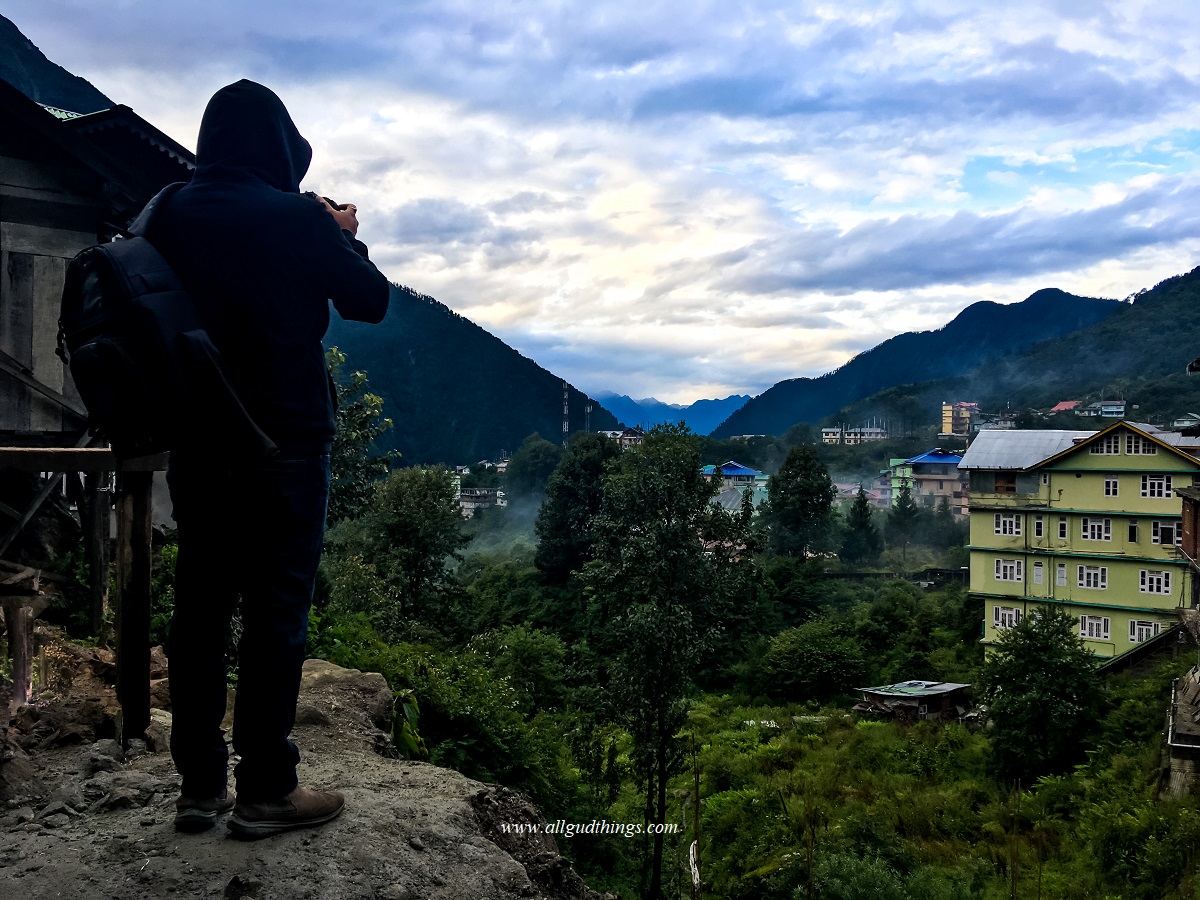 We stepped out at sharp 5:00 am and there was good daylight along with clouds. We were super excited to see the beauty which we had seen till day in the pictures only but at the same time, there was fear of landslides ahead. Our driver too had a similar fear because of the heavy rains. But with the fingers crossed and positivity, we all left to take the journey ahead.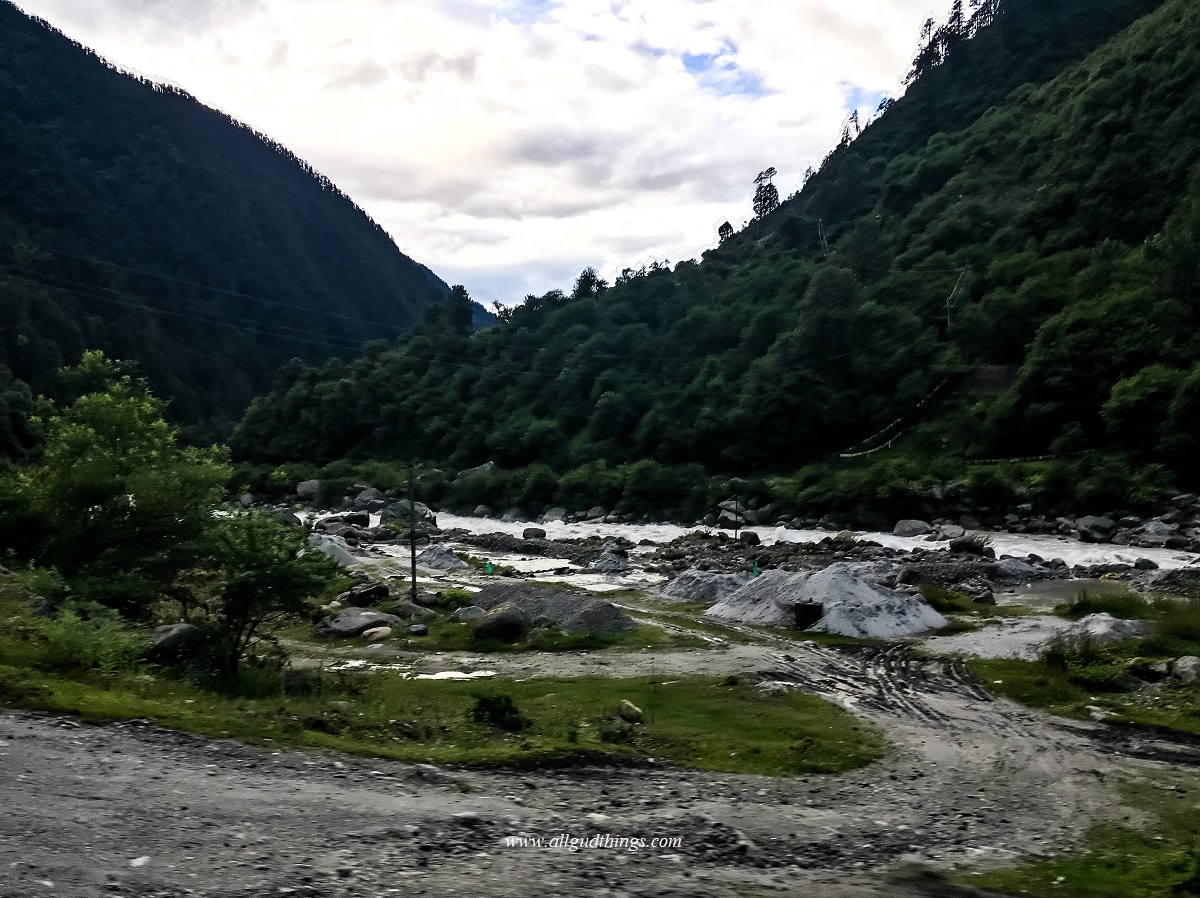 After Lachen, the pretty narrow roads had started losing all the gravel. There was continuous ascent descent but the gushing Lachen River was flowing alongside to give us company. From curvaceous, the roads turned to super curvaceous. And sitting alone at the back seat, I was tossing up on all sides. But I was enjoying that too, as I had both the windows to look at the views and click pictures.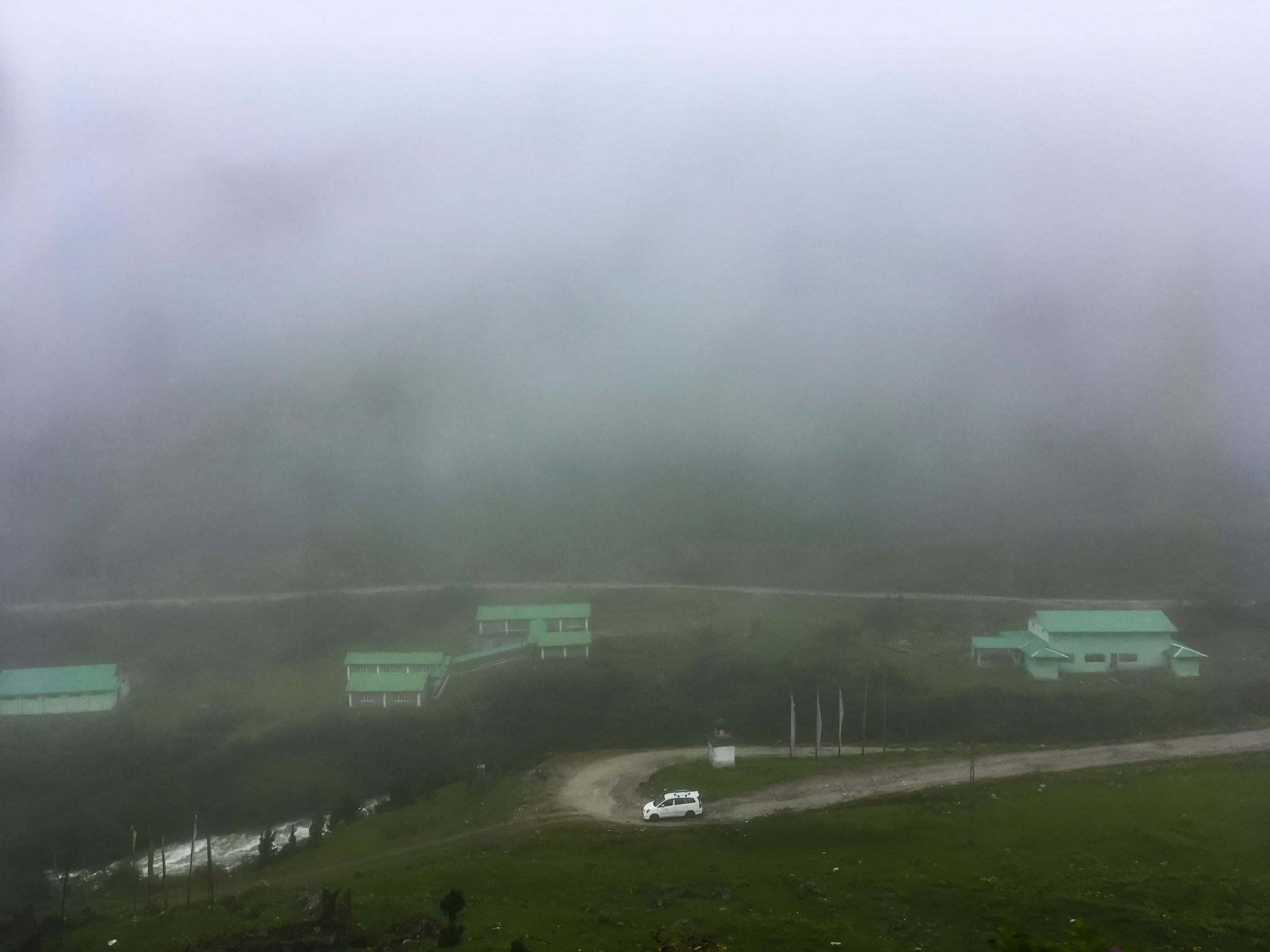 As we started gaining altitude, the rain started pouring again and at other places, the mist had taken over. There was green all around. Everything looked pure, fresh, and clean and waterfalls were accompanying is throughout the way. Yes! There were 'N' of them and each of them was gorgeous. Some of them were even flowing directly on the road.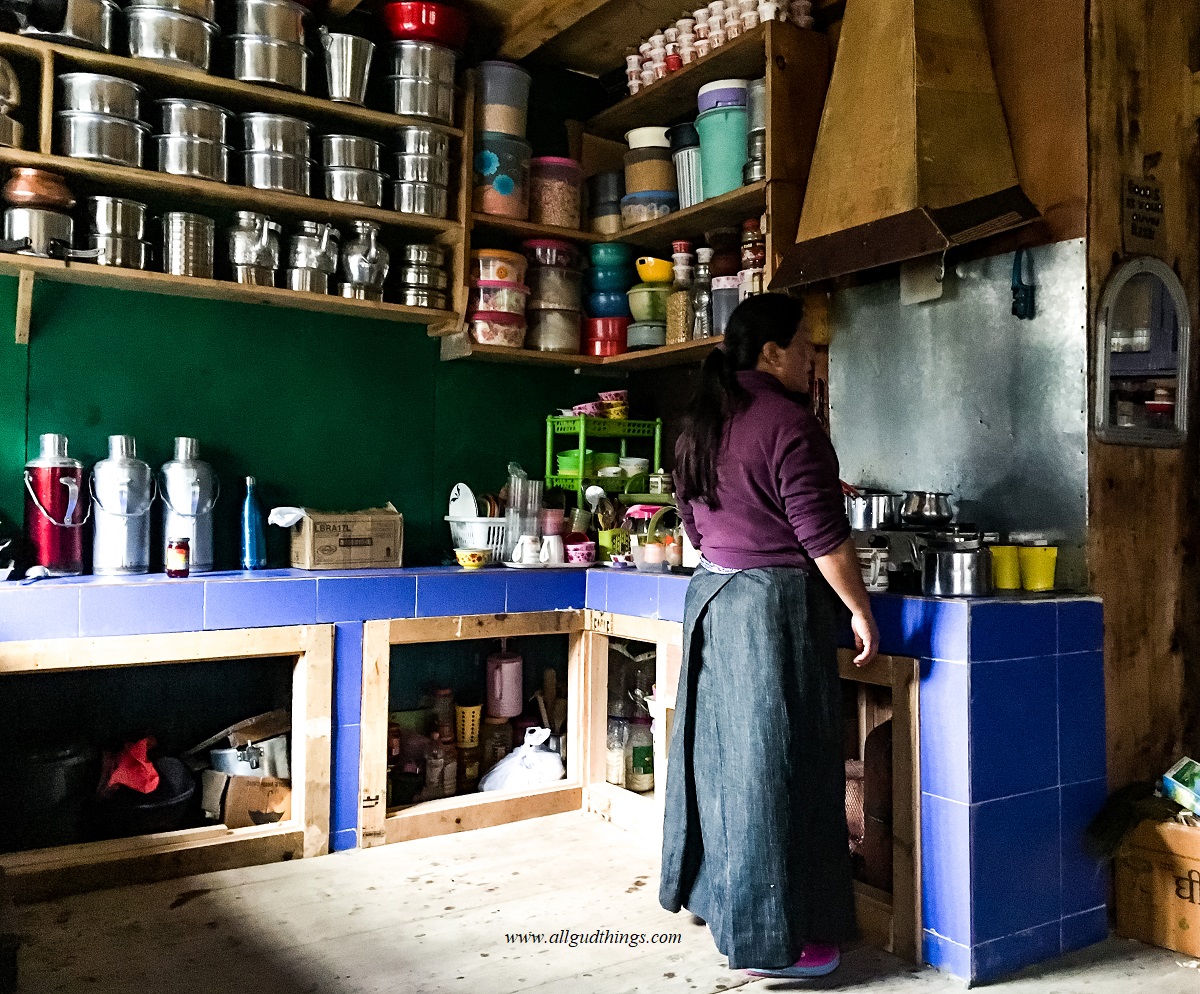 We had to reach the Thangu check post (i.e. 35 km from Lachen) by 7:30 am but before that, we made a quick stop at a homestay run by Pema in Yathang Valley (4000 meters) for breakfast. She made us enjoy the delicious bread Omellete, Maggi, and coffee with a view.
From her balcony, we could see the huge carpet of greens with a river flowing in between; just that river here had become wider and it was roaring now OMG! This place is no less than a paradise.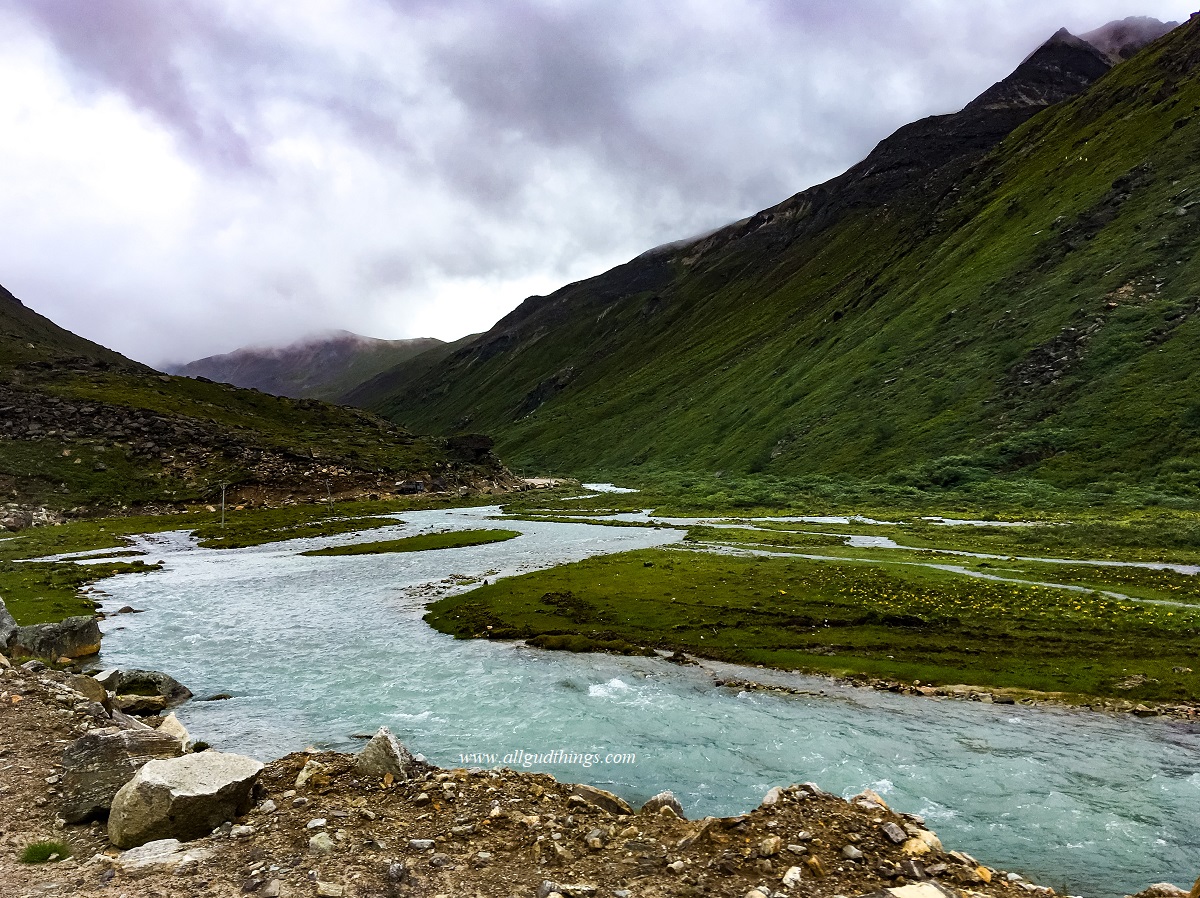 And we left for Thangu, a quick stop at the check post and we were ready to go further. The roads further turned bumpier, more rugged and it was amazingly sunny.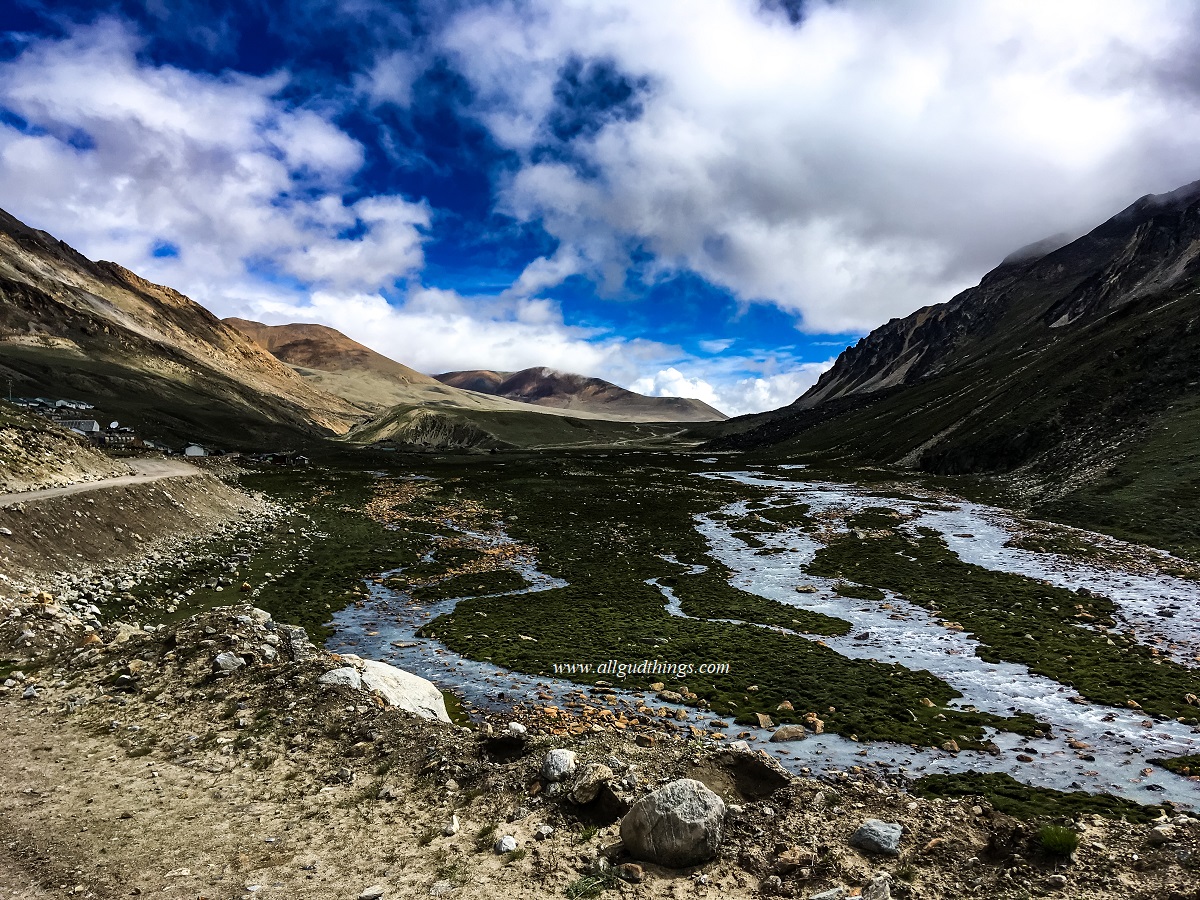 The green landscape was slowly taken over by the barren land and clouds were now just the patterns in the deep blue sky, and we entered the alpine zone.
We were at Giagong i.e. at 15,000th feet the last check post and stop with some settlement, café, and public convenience. After permit entry, we had momos and tea with some army Jawans at Dare Devil Café and left further.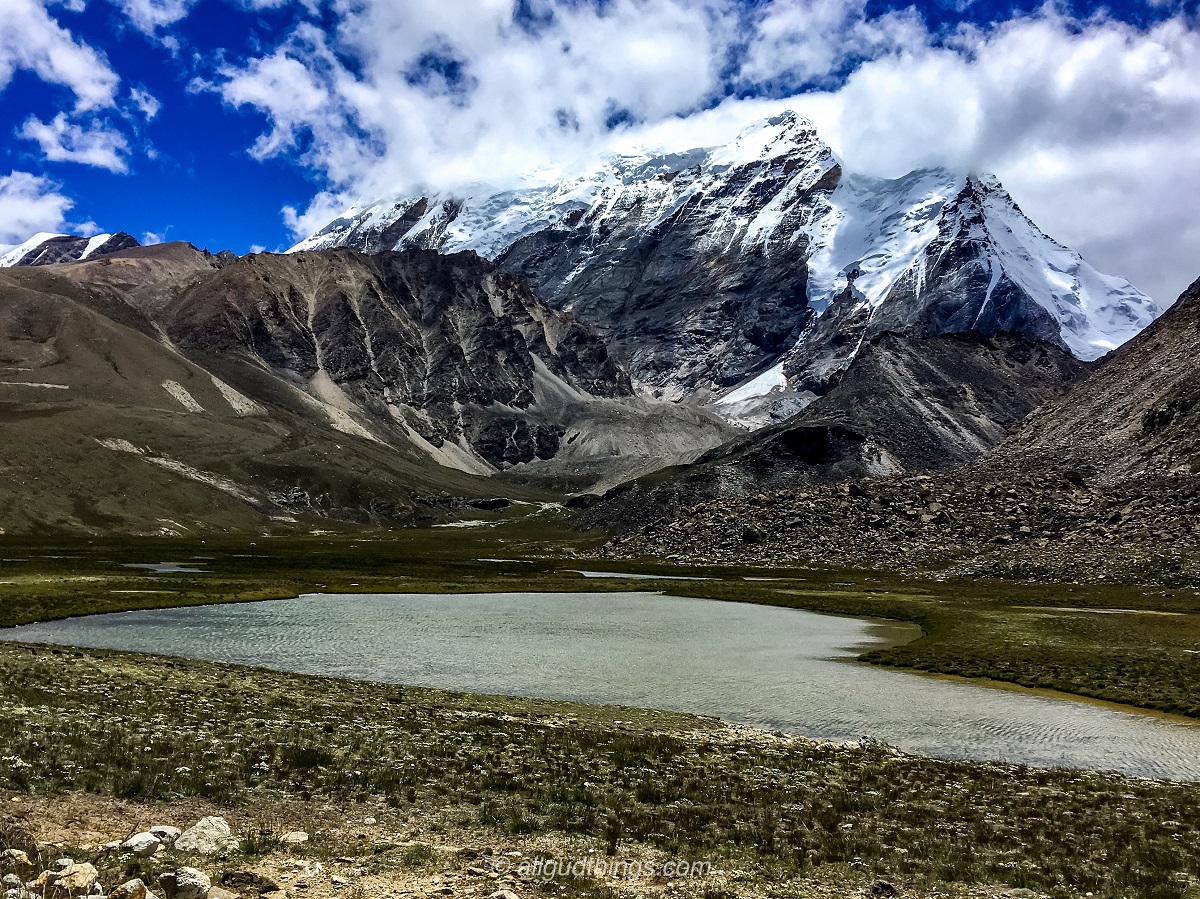 From here the landscape had changed altogether. They looked similar to the ones from Spiti Valley and Ladakh but there was an absolute feel of Sikkim too.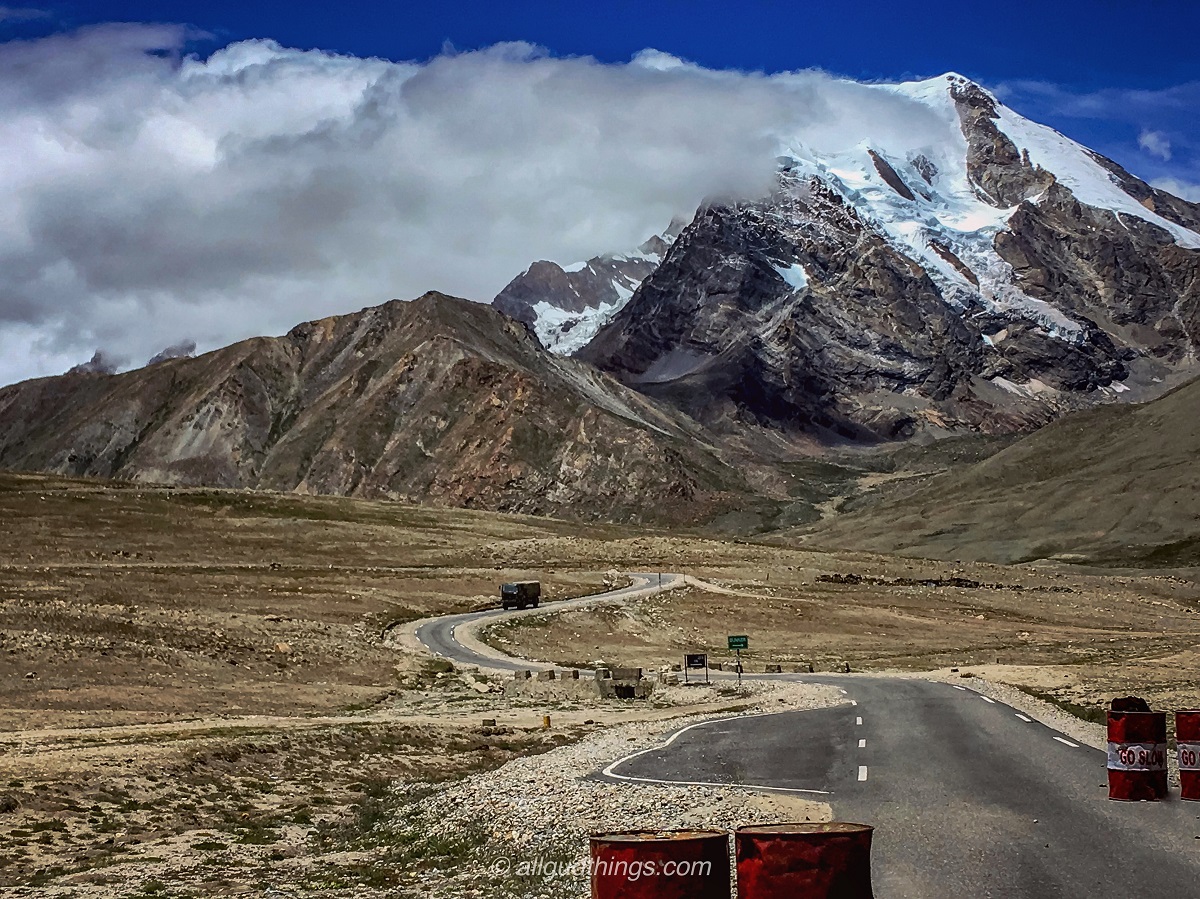 9 kilometers before our destination the road turned smoother and well-constructed. All we could see now was miles of straight graveled road, snow and cloud covered peak in between the brown mountains and the floating clouds in the deep blue sky. This is something beyond our imagination and what we can say is the true shades of NATURE. I guess, we were destined to see this!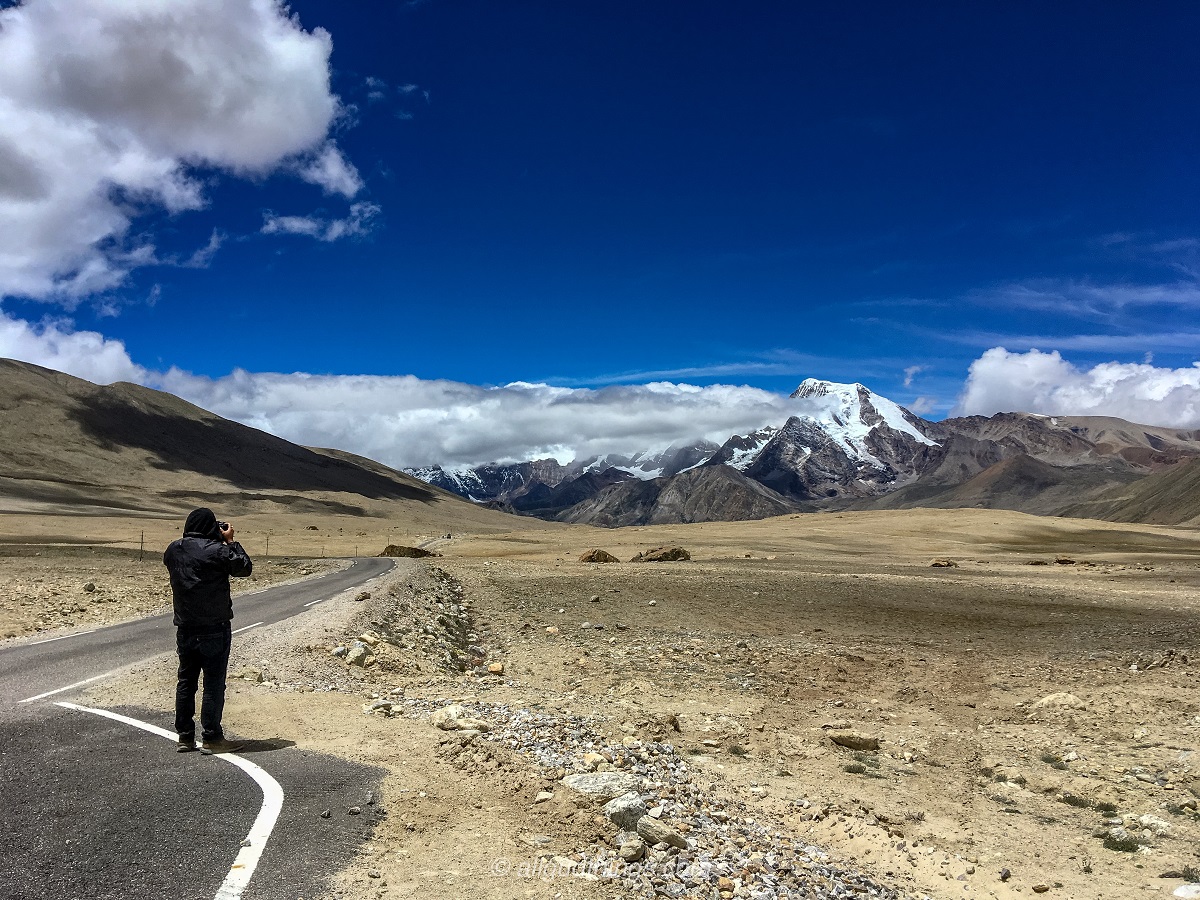 The driver kept telling us how the army takes care of these roads and maintain them but we were lost in our own world and couldn't stop taking pictures. Suddenly, a board showing 17,800 feet came up.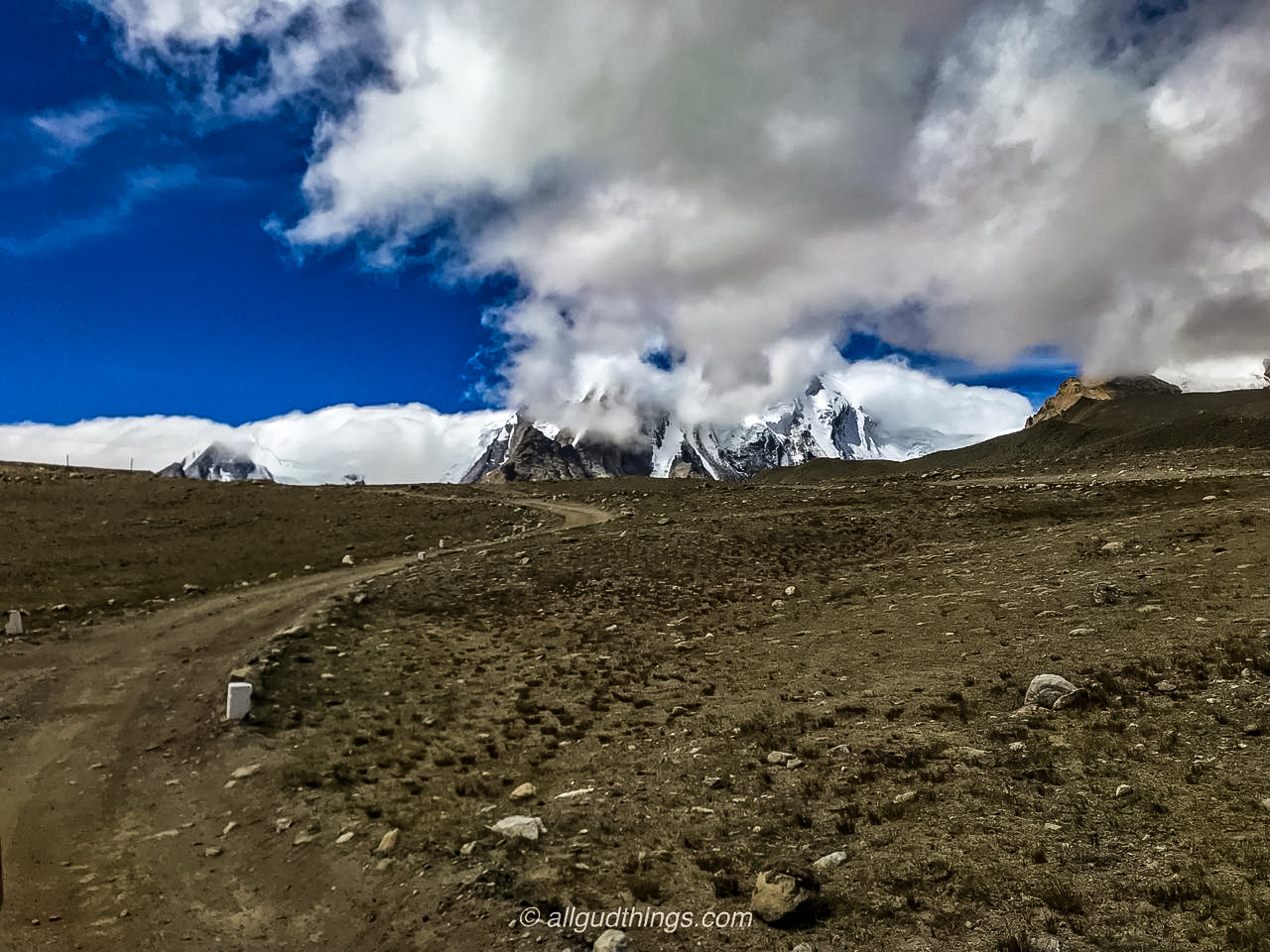 From there, he took off-road and started ascending on a hillock. 5 more minutes of drive and we will be at our destination. It seemed my heartbeat has increased and yes it had.
At Gurudongmar Lake North Sikkim
We had reached our destination at 9:30 am and without a thought, I got out of the car. I stood there silently and said to myself is this for real. Magical! Ethereal! Serene! Dope! Heavenly –what it is. These words were juggling inside me. This is so different than other high altitude lakes (Pangong Tso, Tso Moriri, Tso Kar, Chandratal and Surajtal), we have seen till day.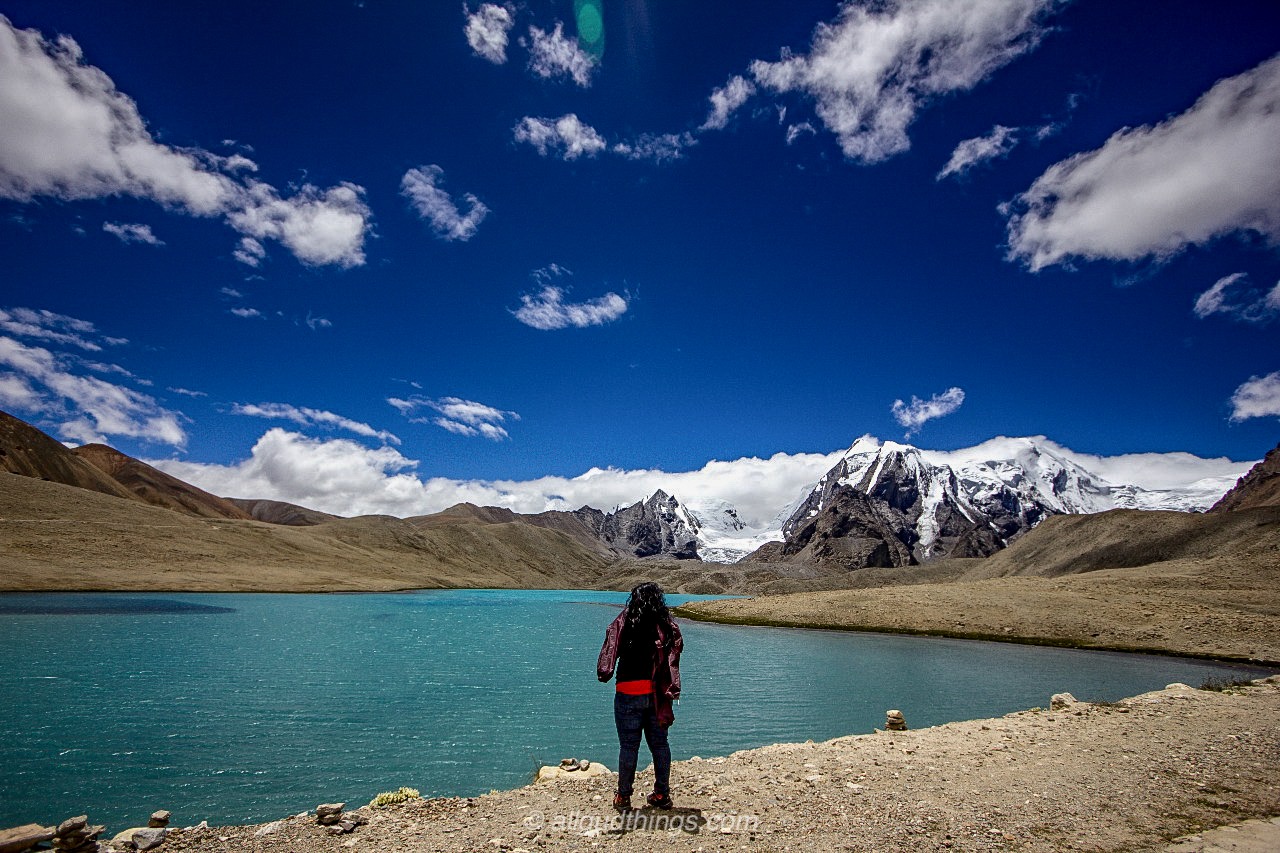 The turquoise blue lake was glistening in the sun. No one was around it despite the properly built pathway. I jumped to go downstairs. Our Driver and Tashi came running behind me to stop, but they couldn't, and seeing me overwhelmed Tashi joined me.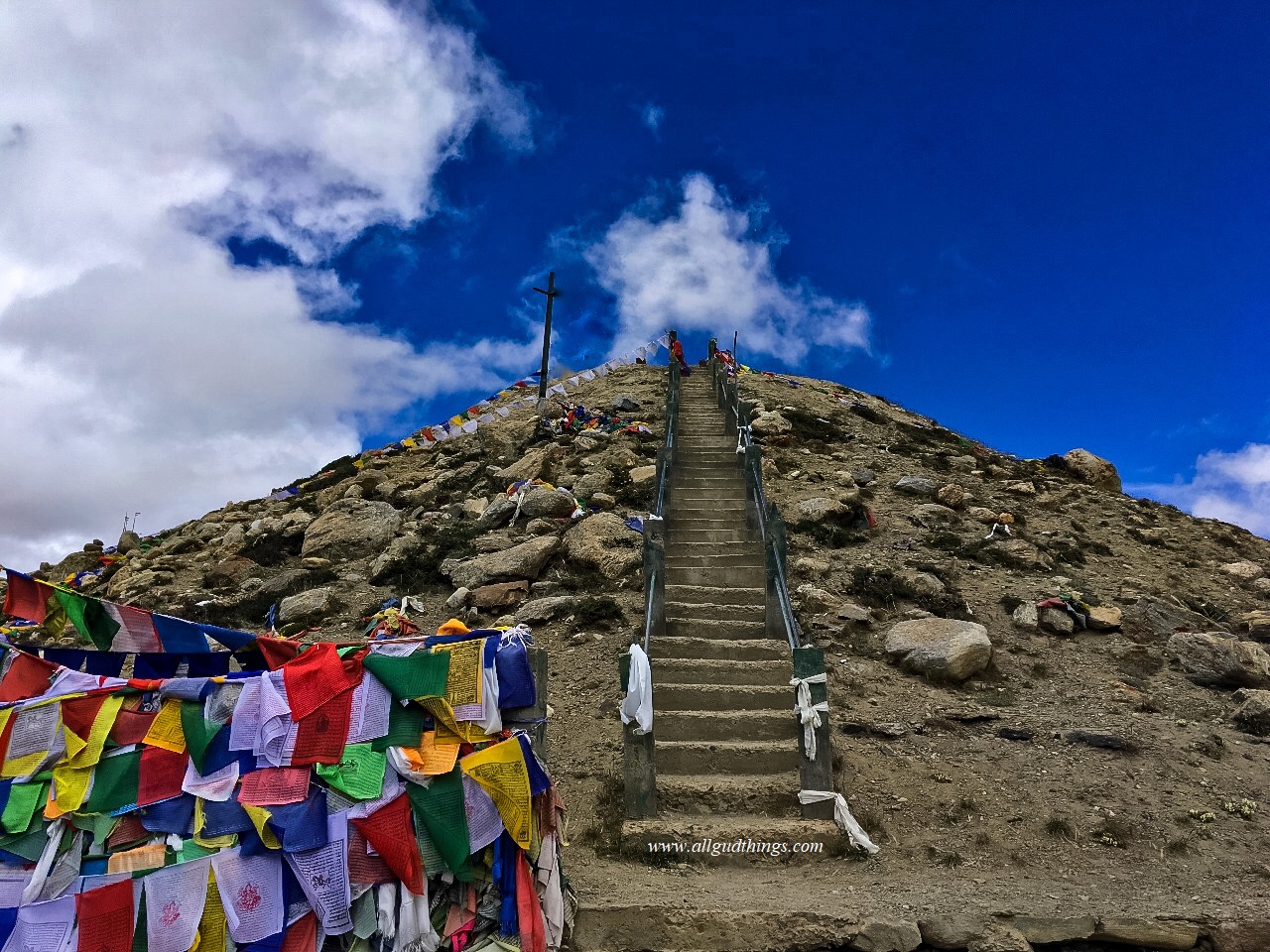 Look at it! Isn't this magical? Literally, I have no words to describe our feelings. People suffer from breathlessness and get hit by AMS (Acute Mountain Sickness) at 17,800 feet North Sikkim Lake. But we don't know what magic happened to us. We got recharged at its first sight. Indeed, it hypnotized us.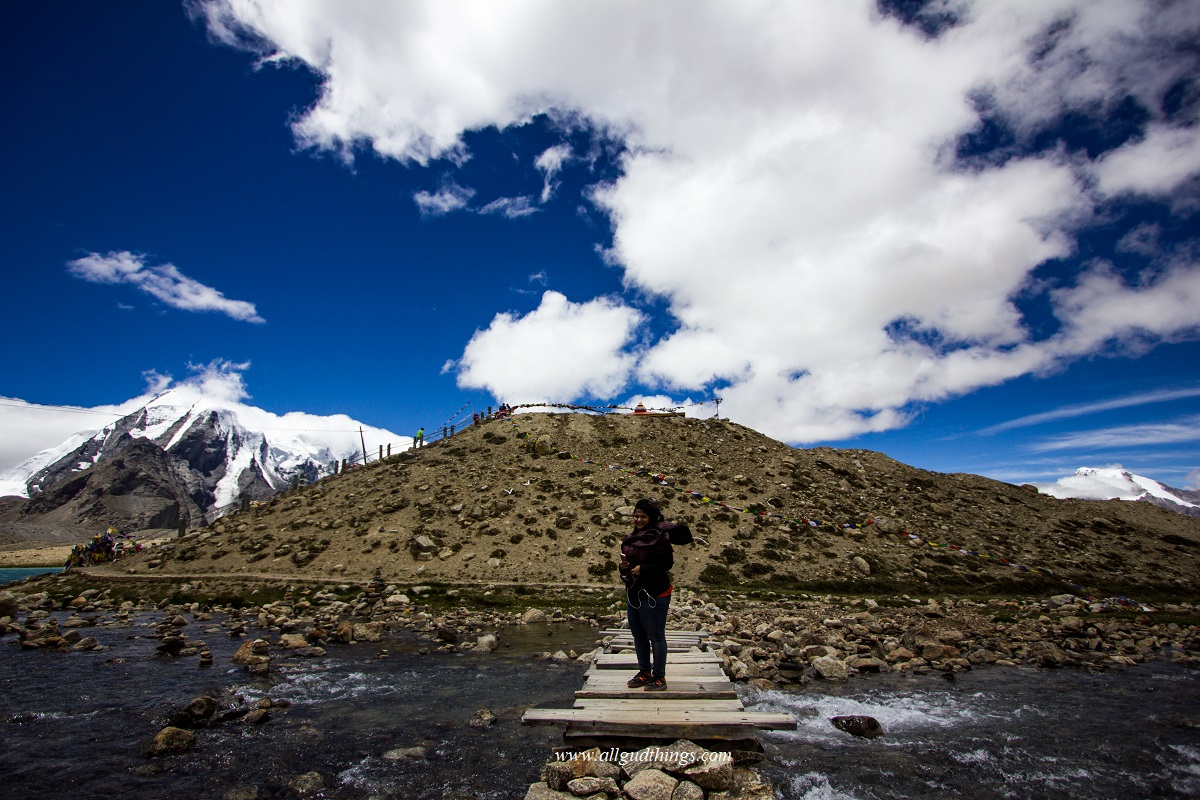 On one side of it, there were rows of fluttering prayer flags whereas on the other end there was a small wooden bridge to go on the other side of Gurudongmar lake. We crossed the bridge to go around and the Lake changed its color and shape.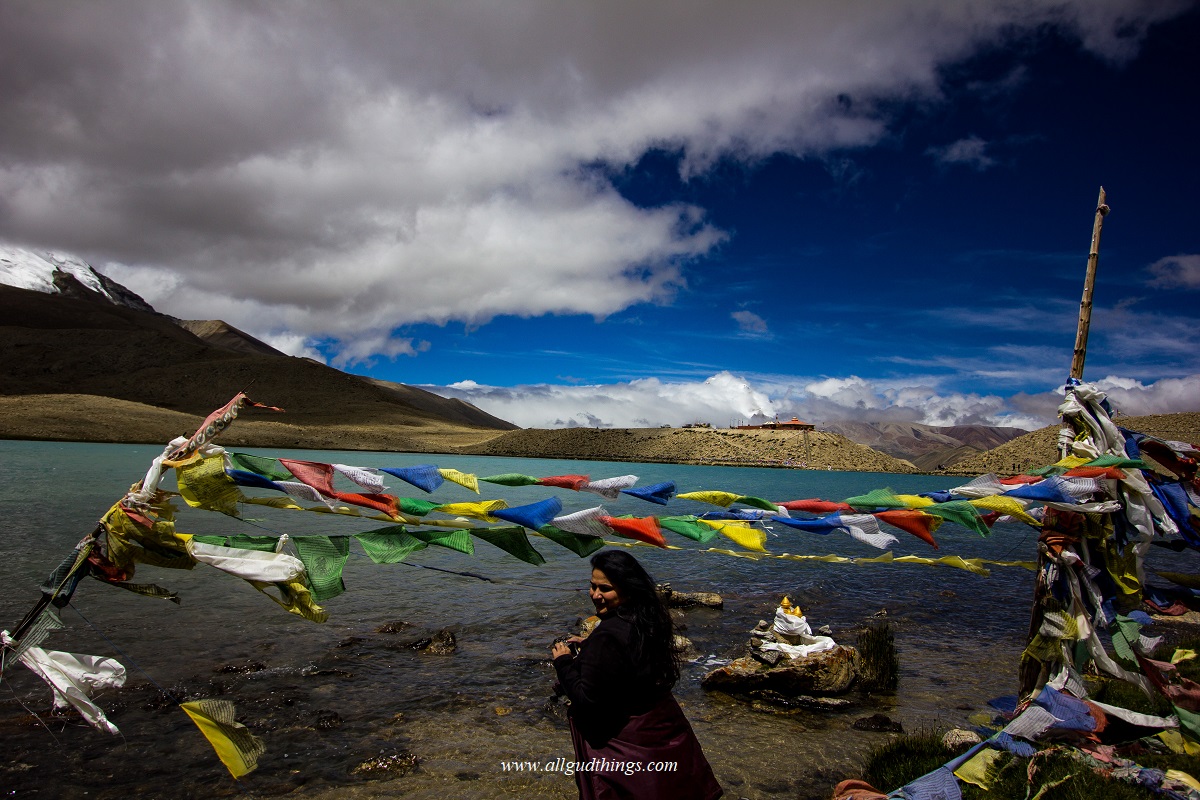 We continued walking for 2 kilometers around the Lakes periphery and still, there was more. The total peripheral length of Gurudongmar lake is 5.3 Kilometers. Locals attempt for complete circumvallation because of the sacred believes and it takes them around 4-5 hours. Imagine walking that long in the bare minimum oxygen zone. We too wanted to see it from all sides but our driver stopped us from attempting the same.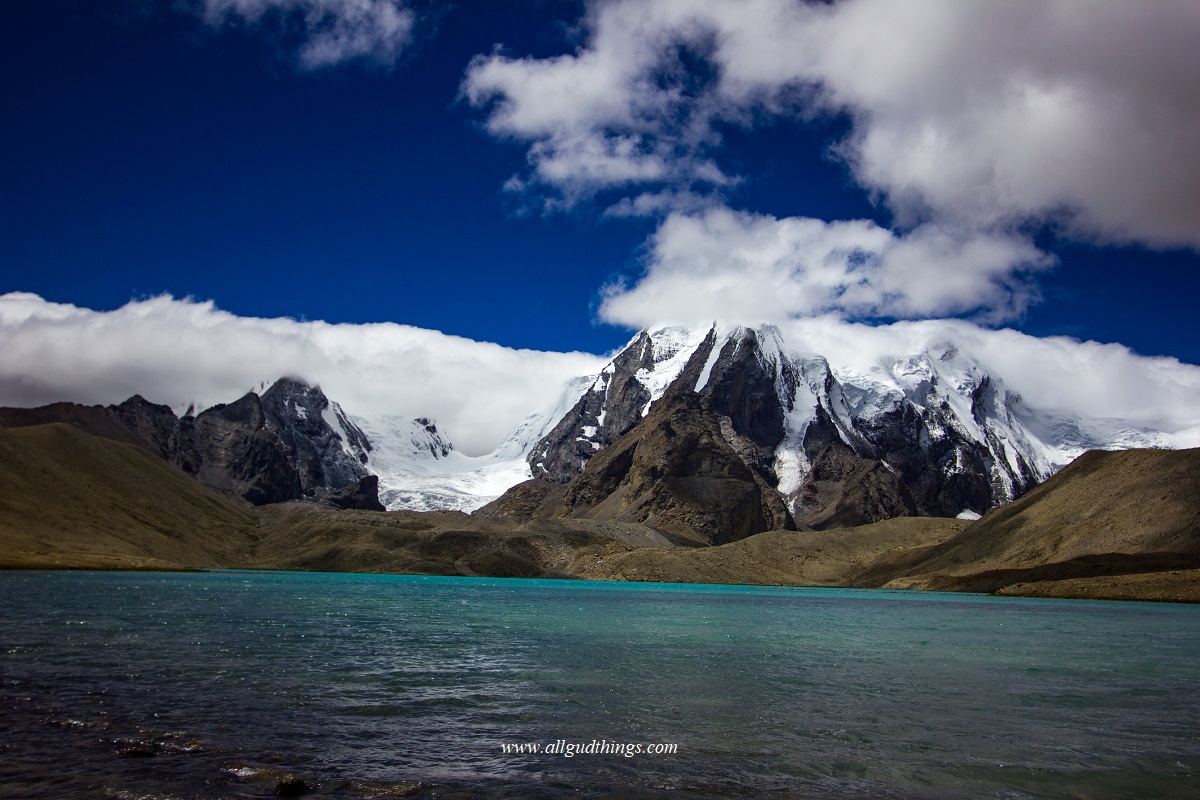 It was already 11:30 am and the wind and water speed have increased. We had to turn back but we were not ready. While climbing each step, we were still looking back at it.
On the top, at the plinth is a Sarva Dharma Sthal; the place of worship for all religions and there are interesting legends linked to it.
History of Gurudongmar Lake
Gurudongmar Lake is considered to be the sacred lake by Hindus, Sikhs, and Buddhists and it remains frozen from November till May.
One of the legendary stories is that in the 8th century, the Guru Rimpoche or Padmasambhava visited the place, before heading to Tibet. That time the people of Gurudongmar village appealed to him, to make the lake a source of drinking water. He touched the lake and made a part of it snow-free. Whereas others say, in 15th century Guru Nanak Dev Ji, passed through the Lake while his return from Tibet and then the people of Gurudongmar village appealed to him. He touched the part of Lake with his stick and made it snow-free.
Since, then the Lake is considered as scared and devotes carry the water of Lake.
Route from Lachen to Gurudongmar Lake
Gurudongmar Lake lies at a distance of 67 kilometers from Lachen and can be reached in 4 hours via car. The nearest airport is at Siliguri.
Route: Lachen – Thangu Valley – Gurudongmar
Condition of Roads: Mud and stony roads (or no roads) except the last 9 kilometers. There is a continuous ascent and descent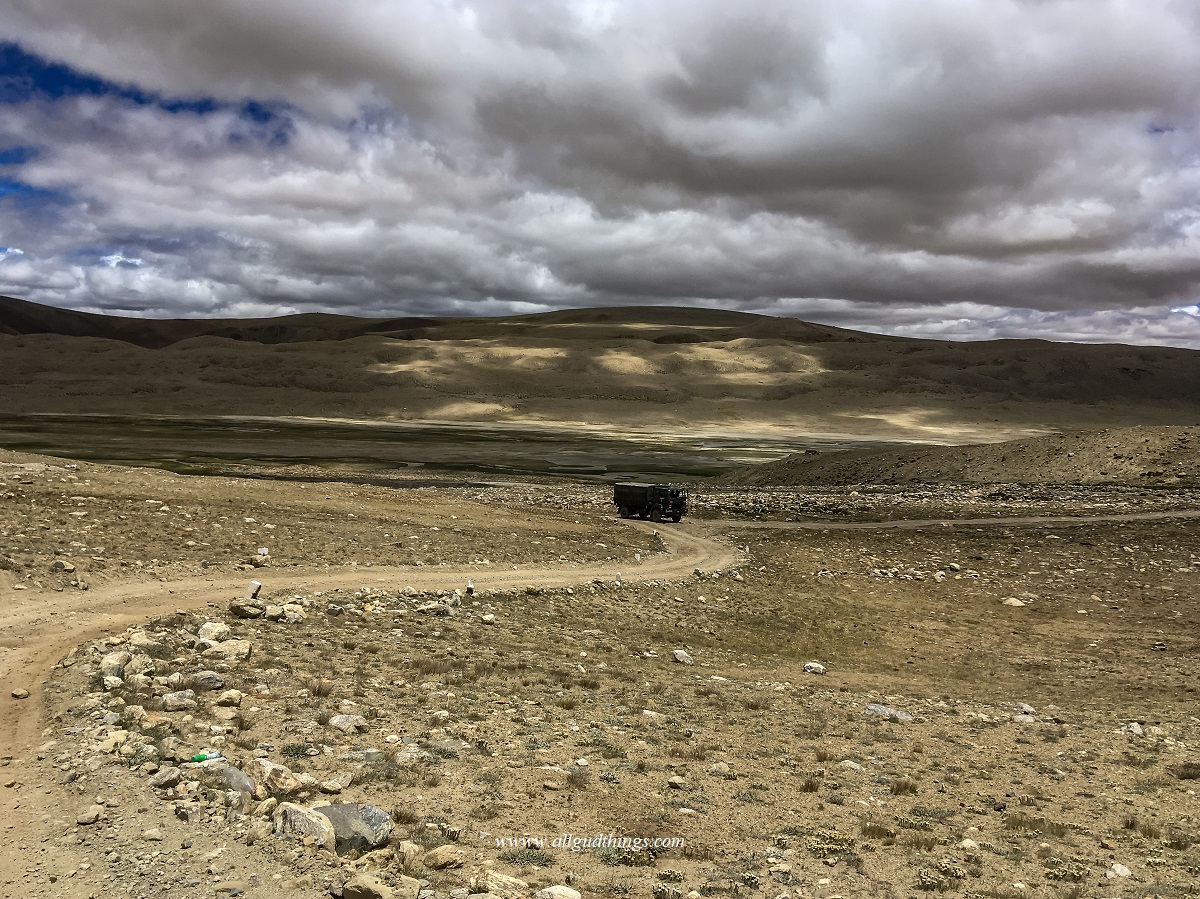 Preferable Vehicle: Scorpio or Bolero. Complete No for Sedans and small vehicles.
Best Time to visit Gurudongmar Lake
The Lake remains frozen from November till May. the
Season: April to June and November to February is considered as the full season time. In April – May, rhododendrons are in full bloom whereas from November to February the lake is frozen and surrounded by white peaks. October too is considered as an ideal month, as the sky will be clear and there will be no snowfall.
Offseason- July – September. There are high chances of landslides due to rain but then the whole lake will be yours.
Expected Temperature at Gurudongmar Lake
November is the time, when the temperature starts dripping and lake starts freezing. Expected temperature in November is between -2 degree Celsius to -15 degree Celsius. From December to February one can expect extreme snowfall & cold. And temperature can go as low as -25 degree Celsius. From March to April, temperature lies between -20 degree Celsius to 0 degree Celsius. In May – June, it may go up to 5 degree Celsius. And in Monsoons i.e. July – September, temperature goes up to 10 -12 degree Celsius.
Permits for Gurudongmar Lake
One needs a restricted and protected area permit from Sikkim Tourism Department to visit Gurudongmar Lake and these can be organized only by the tour operators. The local Sikkim numbered personal cars are allowed with special permits whereas there is no entry for Self drive vehicles like Zoomcar. You need to summit one Identity proof and 2 photographs for the permit. 
Note: Foreigners can only visit the Gurudongmar Lake with the special permits from Ministry of Home Affairs in Delhi, otherwise they can only visit the scenic Chopta Valley which lies on the way at a distance of 2.5 hours from Lachen
Also Read: Leh Ladakh Inner Line Permit
Package for Gurudongmar Lake
One needs to take a package for visiting Gurudongmar Lake in North Sikkim and there are several options available with tour operators depending upon the vehicle and hotel, you want to take.
We opted for 2 Nights 3 Days Package which includes a visit to the Gurudongamr Lake and Yumthang Valley and one night stay each at Lachen and Lachung. The cost for the same was around18,000/- which includes Permit cost, accommodation, and food. The packages don't include a trip to Kala Pathar, Chopta Valley and Zero Point. For including these too, you need to pay extra to drivers. Drivers will ask you additional Rs. 2500/-  per place. Do negotiate and they will settle down between Rs. 1500 – Rs. 2000/-.
We did this trip with driver Sharon Chettri and his contact details are 8348815694. He himself too organizes the trip, which costs quite less than the tour operators.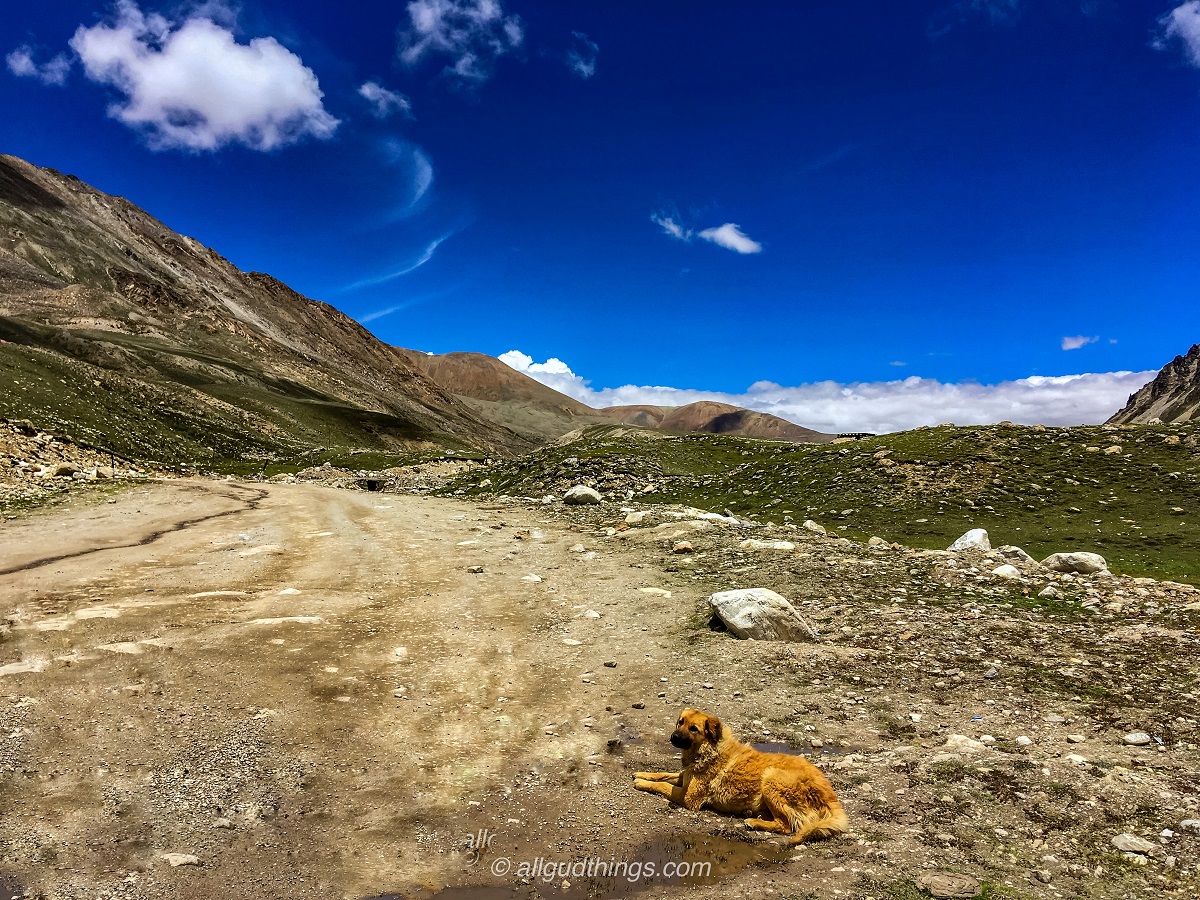 Important Tips
Start your journey from Lachen early because as the day progress, weather near Gurudongmar worsens. Ideally, the army personnel instruct you to spend half an hour there and leave by 10:30 am. We were there for almost 2 hours and still wonder how?
The daylight breaks very early in this region
Being at high altitude there are high chances of AMS. So, as soon as you feel any of the symptoms, do start your journey back to Giagong / Lachen. Oxygen administration service is available at Giagong and ask army jawans for the help
To avoid AMS, keep sipping water/ tea and have small meals too
Don't exhaust yourself by running or climbing stairs repeatedly at Gurudongamar
Don't litter and bring back your waste. Plastic is not allowed beyond Lachen and there are heavy fines for littering
Public convenience facilities are available at Thangu and Giagong
You might see some wildlife on the way as we saw Deer, fox, crane and yaks
Don't click photographs in the army zones
Do apply lots of sunscreen. My face actually got burnt and tanned
Note: Children below 5 years and adults above 60 years are not allowed to visit Gurudongmar Lake. Also, people with ailments like heart diseases, high Blood pressure, need to have a doctor's recommendation for a visit. Please do respect that. It's for your safety and well-being.
You can check more pictures of Sikkim and Gurudongmar Lake on our Instagram account or by using hashtag #allgudthings.