When I say, Harsil the virgin village of Uttarakhand, I don't mean the villagers don't like themselves or their surroundings being touched as it is in Malana village of Himachal. But the word virgin here means the village is unpolluted; not destroyed, has retained its natural beauty and traditional culture. The Harsil Village of Uttarakhand is serene and it has not been influenced by the fast developing urbanization and civilization. I actually had a feeling that Thank God! at least this village is saved.
%CODE1%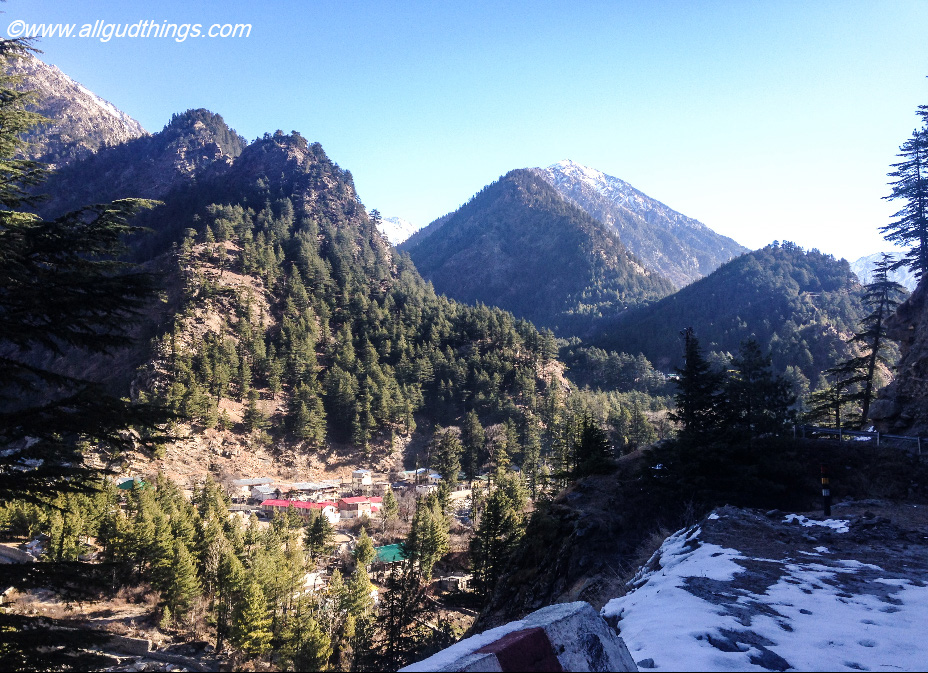 The dense lush slopes of deodar trees encapsulated the Harsil village from all sides; the clear bluish green River Gangotri make its own way amidst the village and snow capped peaks kissing the blue sky makes the village look abode in heaven.
The Harsil Village
The Village Harsil lies at an altitude of 7860 feet and is located 70 Km ahead of Uttarakashi and 23 km before Gangotri on the Uttarkashi – Gangotri Highway. Harsil is an army cantonment area with only a few houses, guest houses, small market and local Dhabas.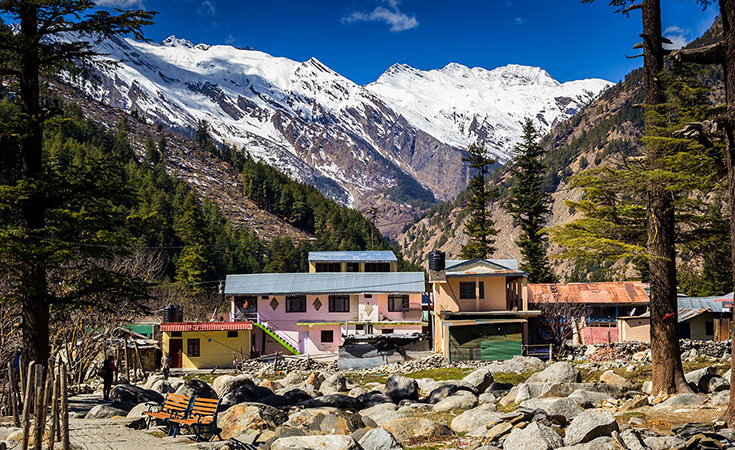 How to reach Harsil
Route from Delhi: Delhi – Noida – Muzaffarnagar – Roorkee- Haridwar – Rishikesh- Uttarkashi – Harshil
Time to reach from Delhi: 13 -15 hrs by road. By air, one can fly to Dehradun Airport (Jolly Grant) and from there the rest journey till Harsil Valley can be covered in 6-7 hrs by car.
Advised Stoppages: At least one-night stoppage is advised for Harsil if you are driving by car. One can opt to stop either at Haridwar or Rishikesh. That covers almost half of the journey. We stopped at Uttarkashi, which covered 3/4th of the total distance. You can read my Uttarkashi post-Uttarkashi post here.
Best Season to Travel: April – June and September to October (full season); November – March (offseason)
Expected Temperature: In Summers temperature day temperature varies between 10 -15 degree Celsius and night can go till 7-8 degree Celsius whereas in winters the day temperature is between 0-10 degree Celsius and at nights it can dip too low as – 5 degree Celsius or more.
%CODE2%
Interesting History Behind Village Harsil
The Village Harsil is famous for Raja or Pahadi "Wilson" whose original name was Frederick. E. Wilson. He deserted the British army and escaped into the Garhwal mountains. While rescuing he landed at a remote beautiful village Harsil; where he married a beautiful Pahadi girl and got settled. For his living, he started selling huge deodar trees/wood to Britishers by floating them in the river. This was sold for railway construction. By selling these rail sleepers he became so powerful that he started his own currency coins which were even available with the locals till the 1930s.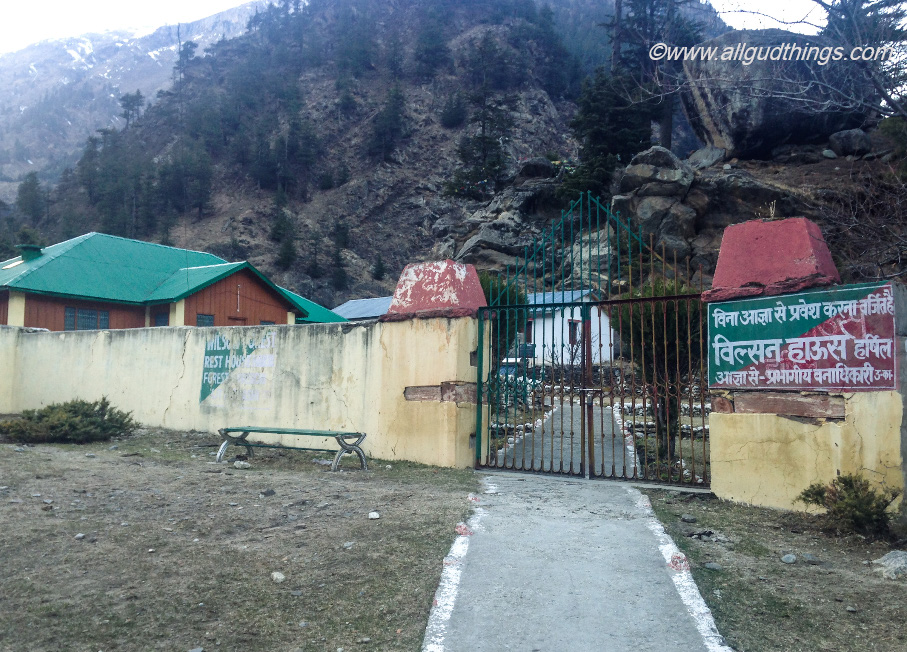 He too built his own mansion a Wilson Cottage at a beautiful location. The cottage is just located after crossing the bridge which later on caught fire and got turned into ruins. Now the cottage has been restored by Forest Department and converted into Forest Guest House.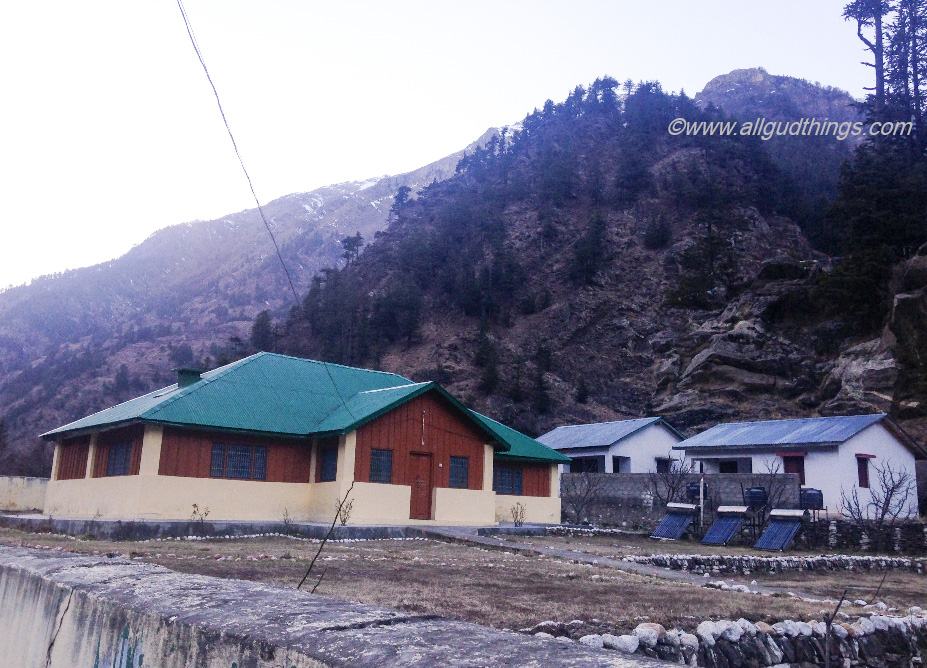 Attractions of Village Harsil
On walking ahead of the Wilson cottage there is a wide river which was almost dry during my visit but locals told in summers it is filled with one of the purest and cleanest waters. The water of this river has medicinal properties as it is rich in minerals and digestive enzymes.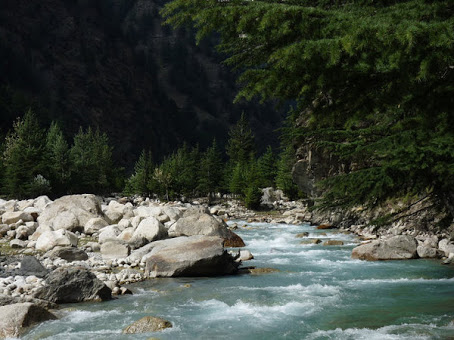 %CODE1%
Keep following the trail ahead for almost 1- 1.5 km and there is another small village Bagori having traditional wooden Pahadi row houses. I simply loved these houses, they look so homely. During my visit in February the whole village was closed, I mean locked (I have actually never seen anything like that). There was not even a single human except some Pahadi dogs which were our companions till Buddhist Monastery. Honestly, it was scary too.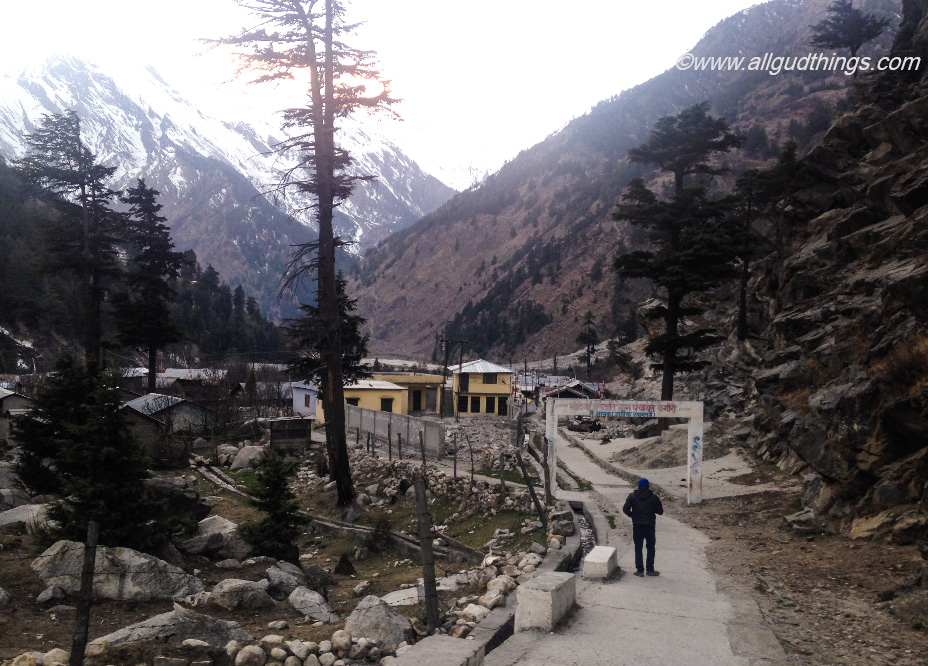 From the river itself, there were few more trails going up the mountains which looked adventurous but I was advised by my guest caretaker not to explore them in the late evening.
On the other side of the bridge crossing the cantonment offices, there is a trail going to another religiously famous Village Mukhwa.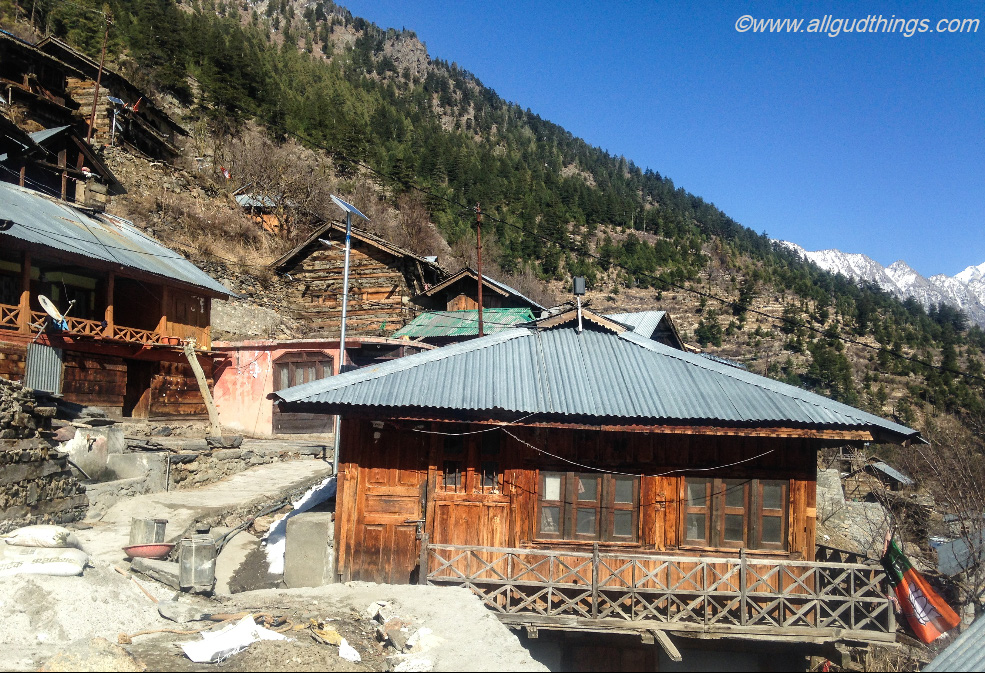 In off season/winters; when the main Gangotri Temple is closed, the deities of Goddess Gangotri are brought down here in the village temple, so the Village Mukhwa is a winter abode of Maa Gangotri.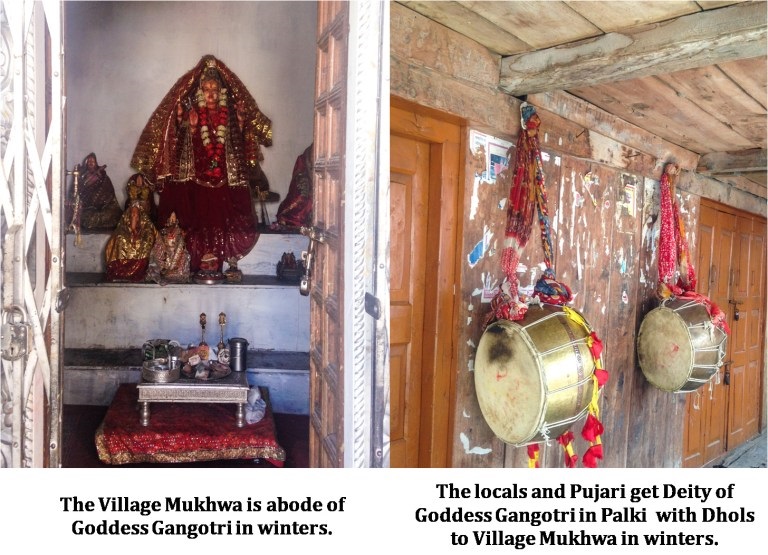 This village lies almost 3 km from the village Harsil and the views from here are breathtaking.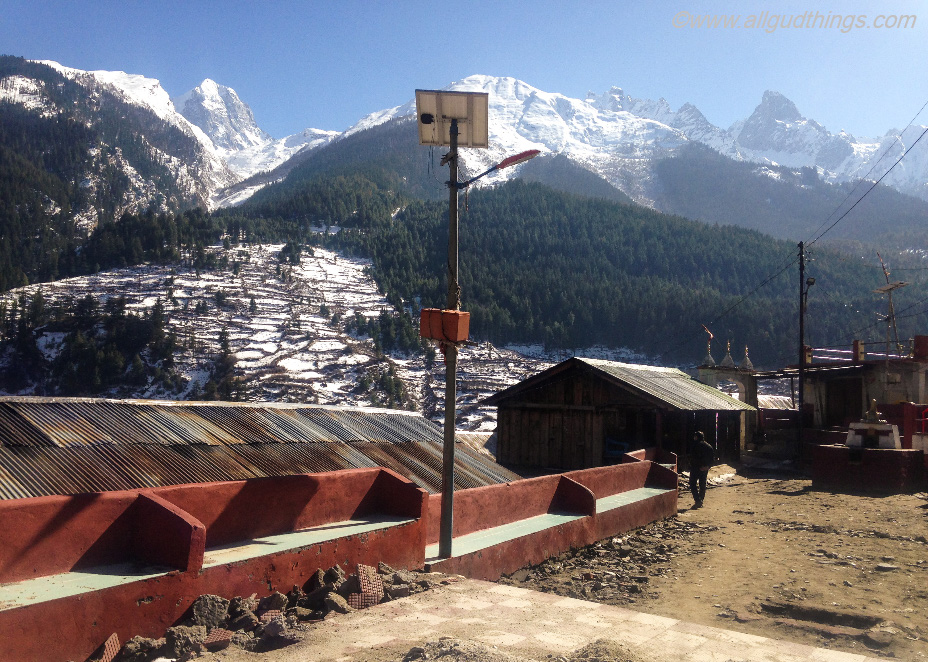 One can hike ( bit steep) or go by car, as the road is motorable. I went by car but personally recommend to go hiking, if you can to get the mesmerizing views of nature.
https://www.instagram.com/p/BRVj-zchAbP/?taken-by=suruchimittal&hl=en
Places to stay in Harsil
There are few guesthouses and hotels in Harsil. All of them are fully equipped and operational during the seasons but the problem arises during offseason. During my off season visit, only two of them were operational – GMVNL and Sunder Guesthouse. So, first, we checked the stay option with GMVNL (Garhwal Mandal Vikas Nigam Ltd) and I didn't like the rooms. They were smelly as well as not at all cozy; which was must require for the dipping temperatures in Harsil. So, we headed to the Sunder Guest House. The attendant here was welcoming and he helped us out in every way. He even took the pain of preparing fresh food with the selected vegetables available in the market. Don't expect that you can get all type of food and vegetable. So, relish your tongue with the limited options only. Even the place and rooms were warm, cozy and comfortable.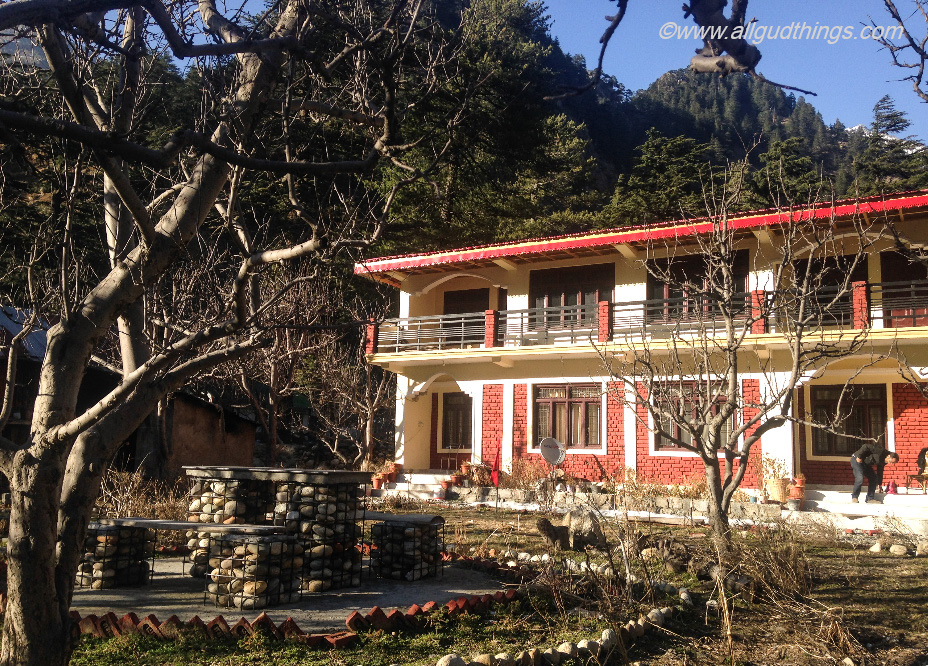 Overall this small village is an incredible gem in the lap of nature. It bestowed me in every sense and I wish to go back to explore the left out trails.
Note:
Always carry some of the woolens as temperatures are low in this belt of Uttarakhand and they can further dip anytime.
In offseason, the whole of villages is locked. So refer locals about the available accommodation and food options.
Always keep some snacks handy for the way, as there are not much-running Dhabas during offseason.
The food options and Vegetables available are very limited at these altitudes, so eat whatever you get. Sometimes you need to kill your taste buds too.
Do carry a small heater or hot water bottle if you feel excess cold.
Avoid driving if there is old snow on the road. Your car/ Bike can slip and put you into trouble for life.
Check the weather conditions with locals before heading ahead on this route.
Be slow while driving as at point the road is for a single vehicle. There is no race going and you won't be rewarded for anything.
%CODE1%
If you like it please share it and pin it.