It was a winter afternoon, the sun was glooming on our heads, everything looked so golden in Rajasthan, India but we were ready to get soaked. We parked our vehicle near the huge Iron Gate and left to explore the true saga of haunted Bhangarh Fort.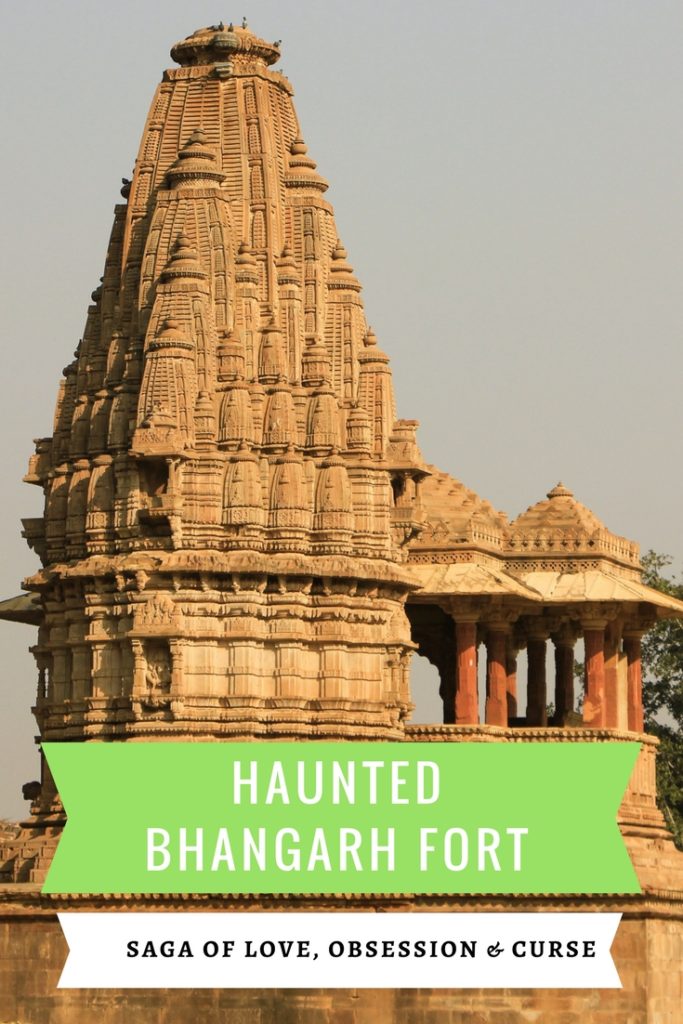 After entering from one of the five gates of the fortified city, we kept on walking for a kilometer in the cobbled street decked with rubble shops on both sides. These multi-storied shops looked same and were giving the true picture of prosperous Bhangarh city during King Madho Singh reign. This whole market was known as Johari Bazaar. And there we saw the giant, horizontal structure jutting out from the mountains. Still a kilometer away, the fort looked grand just like others forts of Rajasthan, coming out from the Aravali hills. I turned and said oh! there stands the haunted Bhangarh fort? How can this be haunted? As we were still gazing towards the Fort, guide broke our silence.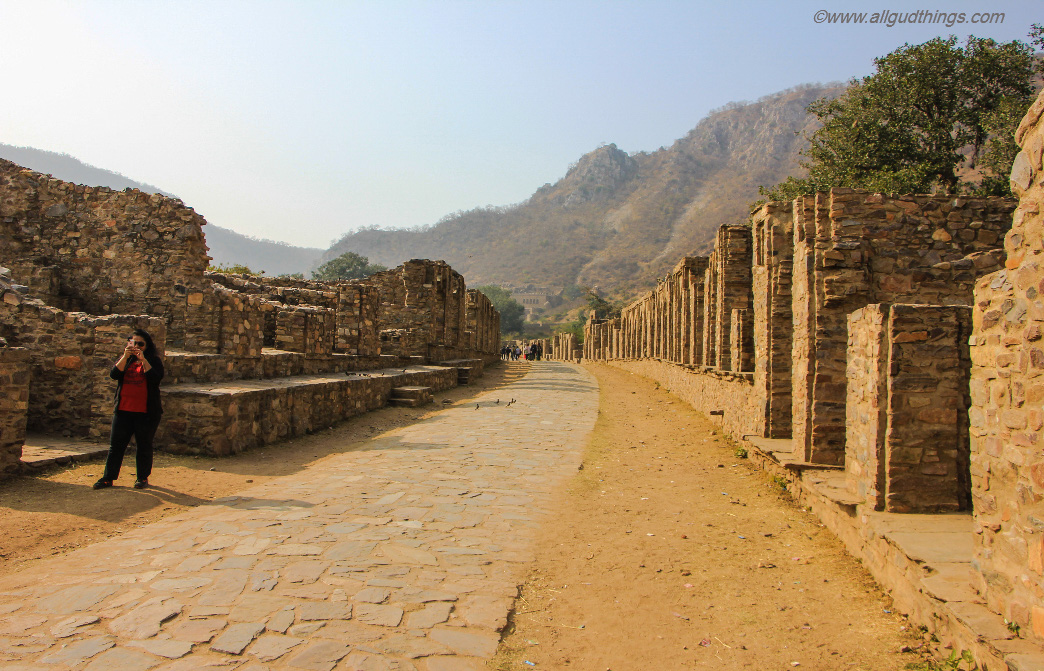 I can recite you the tale how once the royal place became haunted and this title is now carried from generation to generation.
%CODE1%
Bhangarh Fort Stories
Story of Curse
The haunted Bhangarh fort was built by King Man Singh or Bhan Singh in the 17th century for his younger brother Madho Singh. When the king decided the location, he came to know about the Guru Balu Nath who used to live and meditate in the same hills. He went to meet and greet him, but the ascetic was really against the idea of building a fort and city there. After many persuasions and thought, saint granted permission on a condition, that the shadow of his palace should never fall on his residence. King agreed to the condition and the fort was constructed till 4th floor. The city kept on flourishing and Guru's word was forgotten with time. Later the King Ajaib Singh added 3 more floors to the Palace and King Man Singh's promise went to hay way. There came the curse and the dooming of the whole city. I wonder was Guru Bhalu Nath immortal and living for centuries!
https://www.instagram.com/p/BdiJiEEnz3f/?hl=en&taken-by=suruchimittal
Locals believe the town was cursed to remain roofless. Even, if today a roof is built here, it collapses.
Story of Love & Obsession
Another fascinating story is of Beautiful Princess Ratnavati. It is believed that she was the most beautiful princess in Rajasthan. As soon as she turned 18, every Prince wanted to marry her including the Bhangarh Prince, Madho Singh. Princess Ratnavati refused to marry King Madho Singh, as he used to hunt animals. But the King was in deep love and he kept on pleading Princess for marrying him. Princess in return kept two conditions to the king. First being that he should stop hunting animals and second being, to build a palace in a way where the last sunray shouldn't fall on it. In a year, King fulfilled both the wishes and Princess Ratnavati agreed to marry him. She became Queen of Bhangarh.
%CODE2%
The Queen Ratnavati was a Krishna follower, so there is a magnificent Gopinath Temple within the fort. There too are Shiva, Hanuman, Someshwar, Keshav Rai and Ganesh Temple within the fortified city.
https://www.instagram.com/p/BdnTeF3HblE/?hl=en&taken-by=suruchimittal
Apart from Beauty Queen Ratnavati was equally brainy too. After the wedding, she was learning tantric vidya from a famous magician Singhia. While teaching her, Tantric got attracted and wanted to achieve her by any means. One day, he spotted Queen's maid buying attar (perfume) for Queen from the market. So, he thought to trick Ratnavati by doing Black magic on the perfume. But the Queen was herself well versed with all the magic's tricks and the occult. She sensed the plan and just after opening the bottle; poured the whole of it on a boulder. Soon, the boulder rolled towards Singhia, crushing him into pieces. He died in few minutes but after giving a curse. He cursed that everyone will die who dwelt in the palace without taking rebirths. Soon, a year after the battle took place between Bhangarh and Ajabgarh, in which Queen Ratnavati died.
All these stories are fascinating but don't have a solid ground. Except that in 1783 famine hit the place, which forced the people to leave their ever-growing shops and homes.
These both stories sent a chill down our spine. And further, the guide took us inside to explore the premises.
Haunted Bhangarh fort Entrance
Enter the fort and palace through a Hanuman Gate and huge gardens welcome you. On one side stands the Gopinath temple built in gold yellow stone, on 14 feet high plinth. And at the other end is a Shiva Temple with a huge Kund. Just before climbing the palace, there is a Kewda and Pandanus tree forest.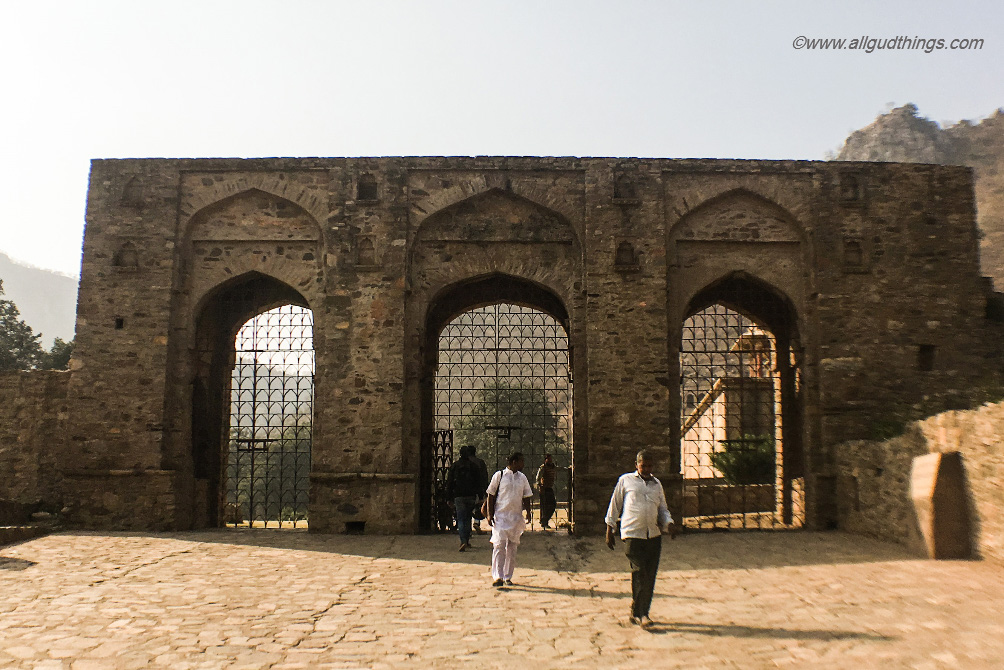 A small steep climb takes you to the entrance which seemed quite interesting. The Fort was divided into two halves and had 7 floors in total. But today only four of them are visible.
https://www.instagram.com/p/BdsfKEnn_iZ/?hl=en&taken-by=suruchimittal
Inside the Fort
The first floor has long corridors with the small rooms at each end. One of these rooms has been turned to a prayer house, to keep the unnatural powers away from the fort whereas the other room on the end goes several floors down to the Khazana (where gold and cash used to be kept). It surely looked scary and dangerous as it was dark and there was no light.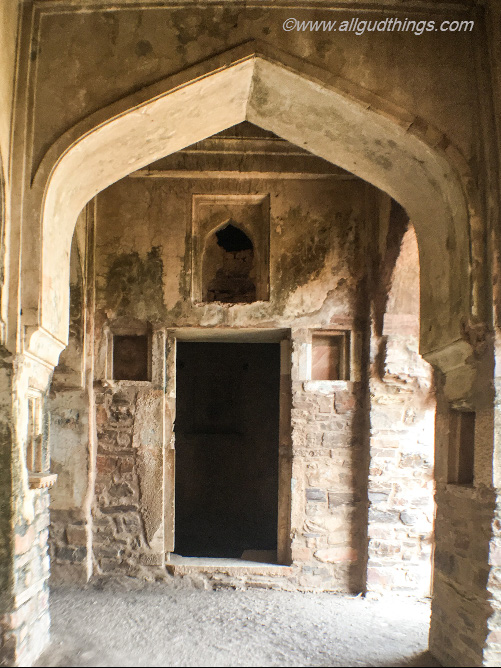 From there climb few zig-zag stairs and you will reach a floor with several rooms in the deserted state. Only one or half wall of the rooms are intact and makes you judge that this was a room year's back. There seemed to be a huge bathing tub or pool in between for Queen. we could guess how luxurious it would have been in those days!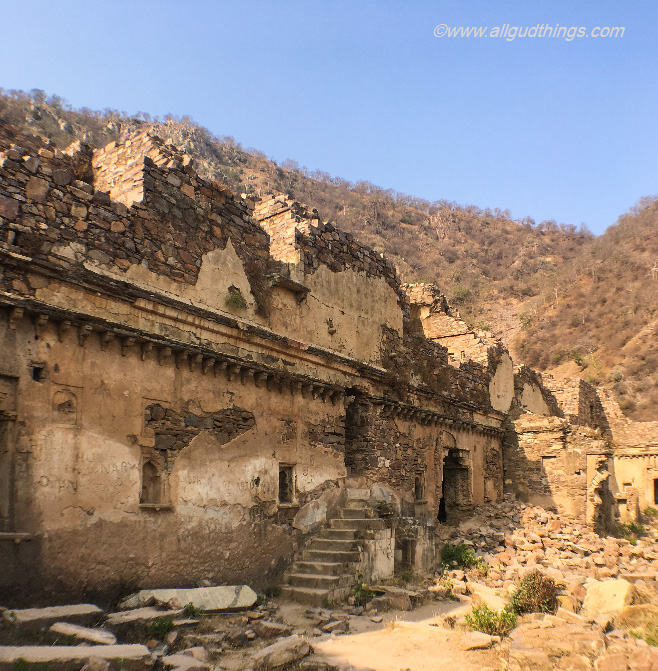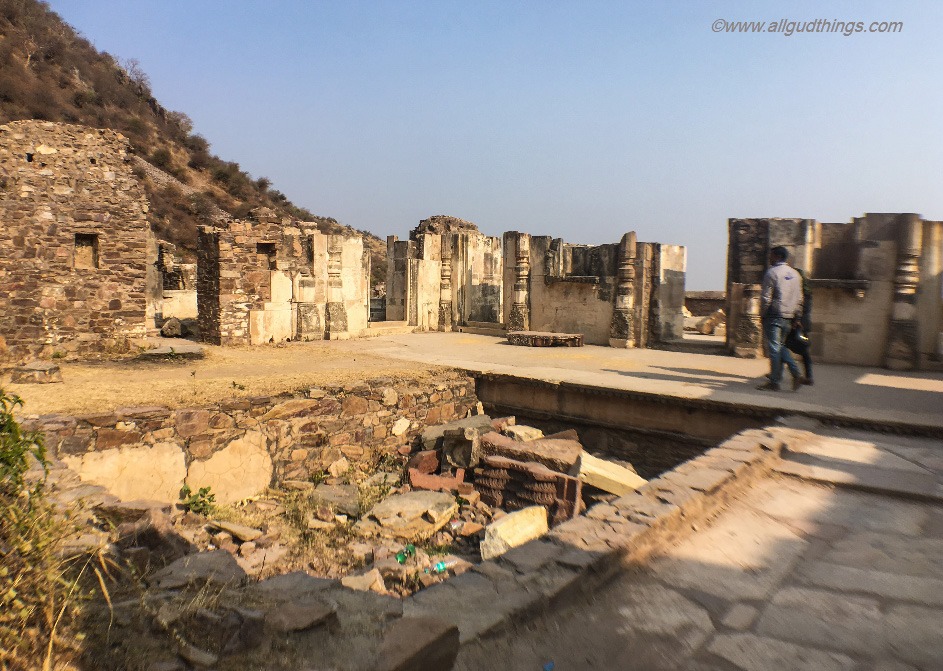 There is a Kali Devi Temple in one of these rooms and from there move towards the fort edge where you can see the birds-eye view of the whole fortified city.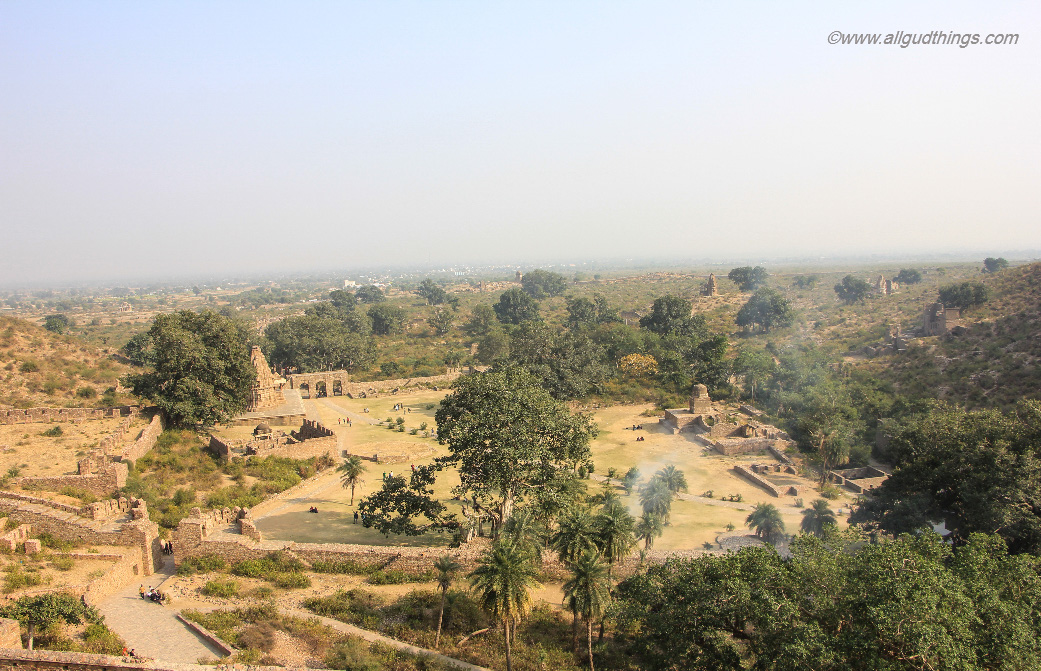 On the side of the hill top, there is a dome-shaped pavilion, which is believed to be habited by tantric Singhia.
Outside Bhangarh Fort
Just as you step out there are rows of similar shops on both sides of the street, known as Jauhari Bazar. Keep walking and you will see the remains of Nachan ki Haveli i.e Dancers Haveli and Purohit Ji Ki Haveli (Pundit's Haveli). Before exiting the final gate there is a cenotaph of Hanuman Ji to keep all negative forces away.
So, we found this fortified city wall has enclosed Palaces, temples, and Havelis in it. The haunted Bhangarh fort is one of its own kinds. We think it to be more of an architectural beauty of the medieval era rather than being haunted.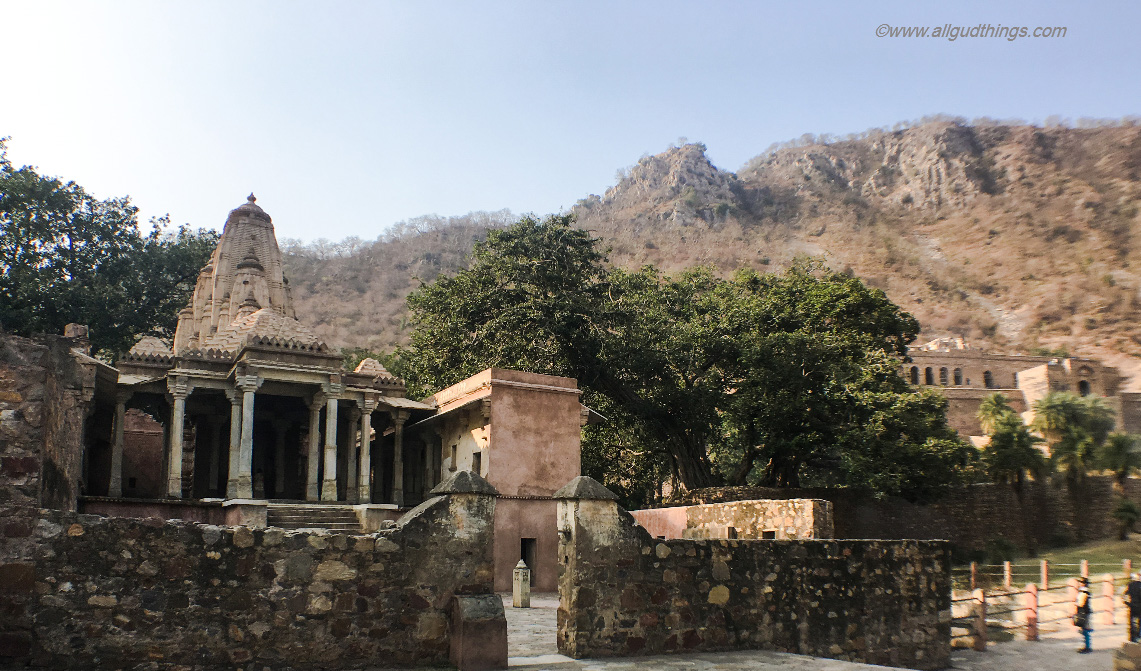 We have read about the paranormal activities which several people had faced in the fortified city but truly we didn't feel any negativity here.
Instructions for Visiting Bhangarh Fort
Entry is prohibited before sunrise and after sunset, as there is a strong belief in some paranormal activities there.
Cutting of Kewda trees is not allowed and they are government's property.
Entry of woodcutters, shepherds, and animals is strictly prohibited.
Don't go at the fort edges to avoid falls.
Avoid littering in the premises as the government is making efforts to clean it and promote it for tourism.

How to Reach Bhangarh Fort
The haunted Bhangarh Fort is located on the borders of Sariska Tiger Reserve, in the Aravali hills, of Alwar district; Rajasthan.
It lies 235 kilometers from Delhi, 89 kilometers from Alwar, 86 kilometers from Jaipur and 28 kilometers from Sariska. The haunted fort can be reached via car, train or local bus. The nearest railway station is in Jaipur (53 km) and Dausa (22 Kms).
Condition of Roads from Delhi: Excellent
Total Time from Delhi: 5- 6 Hrs
Ideal time to visit: Winters from November to February
Related: Travel Guide to Jaipur Pink City
%CODE3%
Interesting Fact about Haunted Bhangarh Fort
There is almost negligible settlement around the fortified city. Locals believe that if they construct roof of their houses, it will collapse. So, many of the houses are without the roof or if there are roofs; they are mostly thatched roofs.
The Bhangarh Village is also known as Roofless Village of Rajasthan.
If you found it interesting, do share it with your friends and family.