Hey, stop the car and look over that mountain, he is my father and brother – said a local girl whom we gave lift while travelling in North Sikkim, India. Our driver immediately halted the car. We came out and saw not two but a caravan of people literally lying and crawling the high mountain slopes at an altitude about 13000 feet. I asked her in astonishment what are they doing there to which she replied, they are collecting Yarsagumba. That was the first time we heard the name Yartsa gunbu and there we made up our mind to find more about this Caterpillar Fungus Yarsagumba.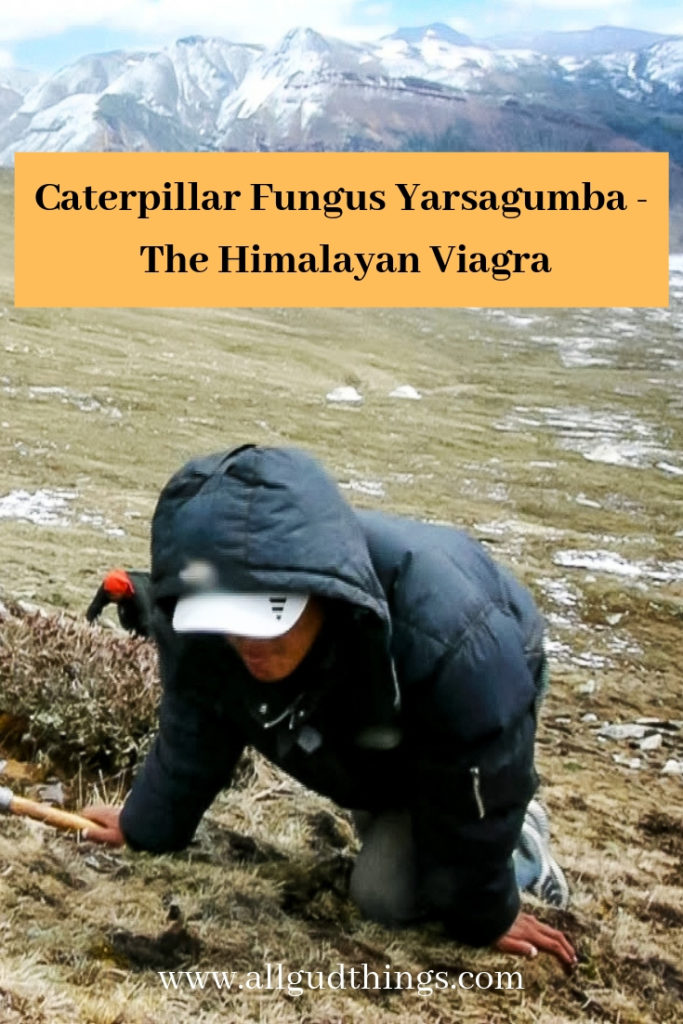 What is Caterpillar Fungus Yarsagumba?
As the name says, the caterpillar fungus Yarsagumba is a combination of Caterpillar and Fungus (mushroom). It is found at an altitude above 3500 meters i.e. above 11,500 feet in the Himalayan regions of Tibet, India, Nepal and Bhutan.
How is it formed?
Just prior to rainy season, the Himalayan Caterpillars which are found deep in moist soil, while feeding on plant roots, gets infected by the cordyceps fungus. During winter and fall, the fungus slowly and steadily buries itself completely in the caterpillar body, making its way out through the insect head. Insect almost dies during this period, as its whole energy gets used by the fungus.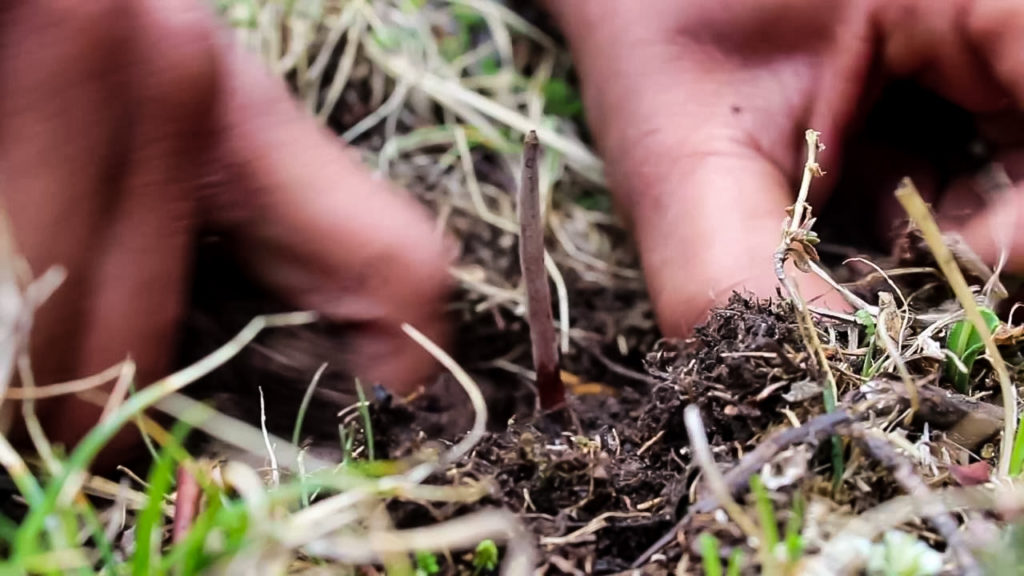 With the arrival of spring, the overlying snow starts melting and the fungus forces its almost dead hosts towards the surface, before sending a dark brown spore filled stalk through their heads. So, the combination Yartsa Gumba is also known as "winter worm summer grass"
Why & How is Yartsa Gumba collected?
The caterpillar fungus Yarsagumba is the world's most expensive fungus and has unbelievable medicinal benefits. Indeed, its price is much more than the precious gold, diamond, platinum and other metals. So, it is collected by locals as a source of income for their living and this helps them to pay for their food, clothes, medical bills, and education. The Himalayan Gold Rush allows them to eke out a living which otherwise they would have just imagined.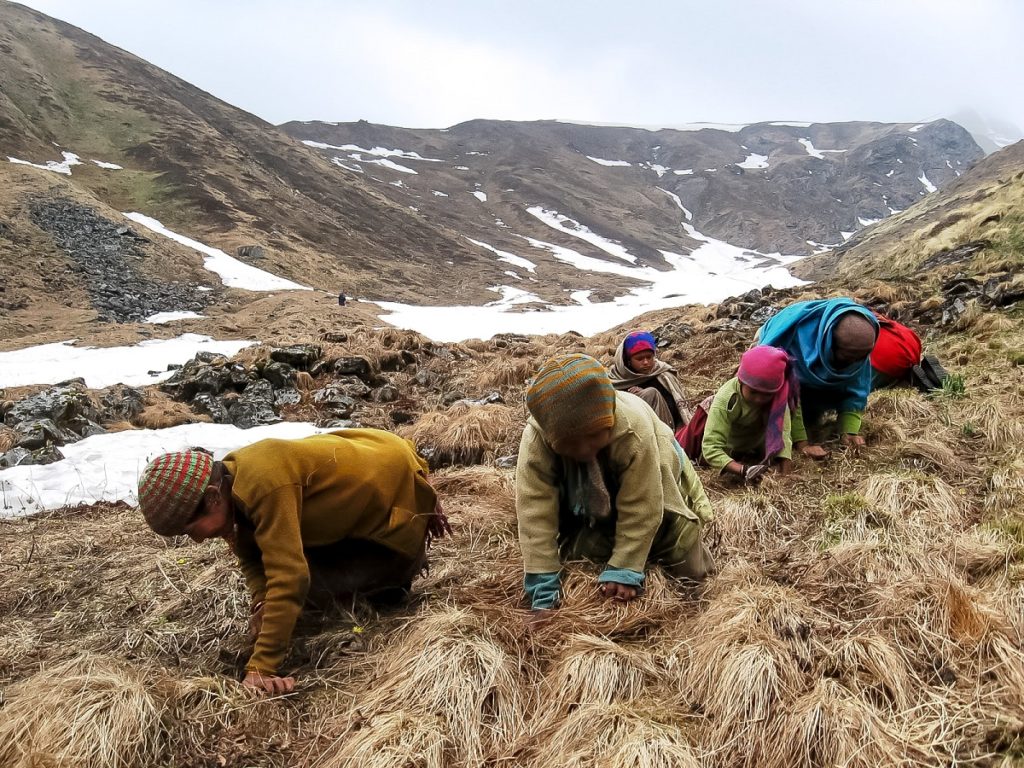 The medicinal herb collectors work in May – June months. Their work looks simple from down but it is quite laborious. They crawl on the steep slopes in cold and sometimes rain, wearing multiple layers, improper shoes, in low oxygen to spot the extruded dark stalks of herb separating it from the sedges. After spotting, digging them out is even trickier as turf in these areas is thick and it's important to keep the two parts i.e. fungus and caterpillar intact as one piece. Even if one breaks off, the herb loses its value.
Apart from income, locals take this work as a social hangout time with their friends and that is what we say is the positive side of life.
History of Caterpillar Fungus
Yarsagumba and its medicinal value is not a new discovery. Tibetans discovered its value 1500 years ago. The Tibetan Sherpa's used to leave animals into jungle for grazing. After somedays, they observed that the animals had gone more active, the ones not reproducing were reproducing and they were not even getting ill. The human curious nature, made them chase animals in the jungle and there they found the miraculous Yarsagumba.
Medicinal value of Caterpillar Fungus Yarsagumba
Yarsagumba, also known as Himalayan Viagra is an aphrodisiac and is used to treat hypo sexuality. Apart this it also acts as antitumor, antioxidant, antidepressant, ant arteriosclerotic, and anti-inflammatory. It can cure night sweats, hyperglycemia, hyperlipidemia, asthenia, arrhythmias, diabetes, Jaundice and other heart, respiratory, renal, and liver diseases.
Boon, Bribe, Curse, Crime or Conflict
By now, we all know a brief about the caterpillar fungus Yarsagumba and the miraculous wonders it can do, but do you know the other effects it has brought with it. Its demand has already overpowered its supply.
Earlier the herb was only available to Elites but the trends started changing in 1993, when the three Chinese runner set a record of 1500 meter in 3 minutes 50 seconds at World Championship athletics and later their coach claimed that the success of her athletes is due to consumption of Yarsagumba and turtle soup. This incident raised the value of commodity and had put it on the world map.
During this time, Hong Kong, Singapore used to be the largest consumers but by 2004 China became the largest markets and its price increased by several folds. Chinese consume it every day in their meals and it also replaced Champagne as a gift. Indeed, people started using it as a bribe too. The larger the piece, the more value it has. Daniel Winkler the Yarsagumba expert says "that a businessman looking to impress in China wouldn't pull out a fine pinot noir to flaunt his wealth; he'd cook up some nice goose or duck and fill it with $1,000 worth of caterpillar fungus".
Note: In 2008, one kilogram of Caterpillar Fungus Yarsagumba was traded for US$3,000 (lowest quality) to over US$18,000 (best quality, largest larvae) whereas in 2013 its price surged to US $ 25000 -$75000.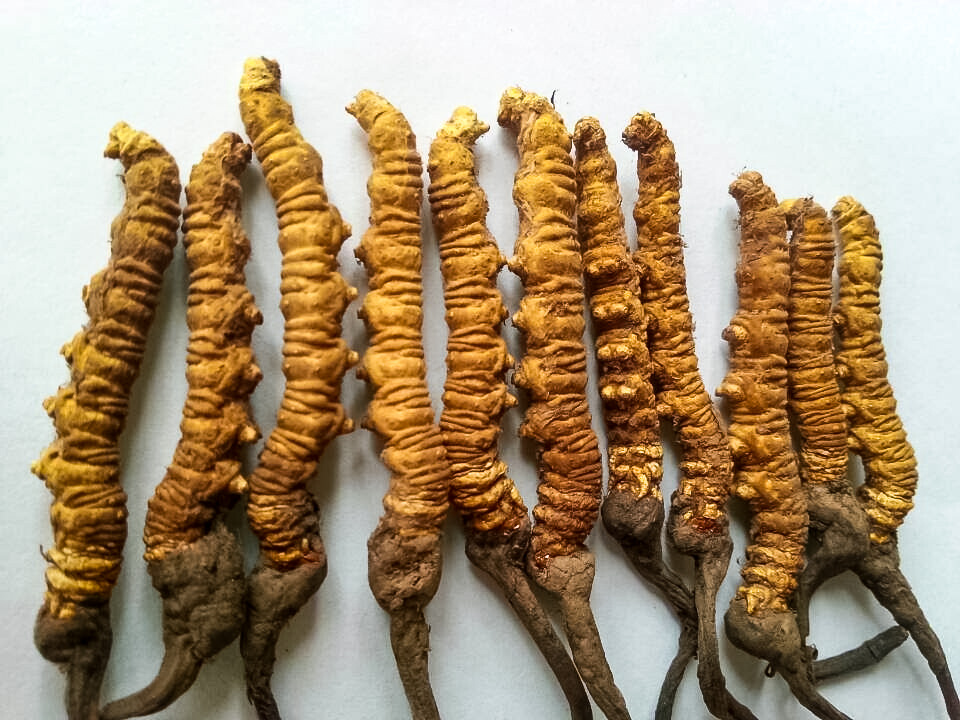 Because of this surging demand and high pricing, the production brought every villager, including women and children for collection, which clearly meant every single piece of Yarsagumba was plucked and not even an inch of fertile land was spared. All this got detriment to the natural reproduction process and hence leading to sharp decrease in production. Apart this, other factors which are considered responsible for decline in production are change in climatic and soil conditions, grazing of cattle and other environmental changes.
The medicinal fusion Yarsagumba too has led to crimes and conflicts among villagers. In 2009, in Manang District, close to the Nepal-Tibet border, a large posse of local men and boys, upon hearing of interlopers picking Yarsagumba in their meadows, had beaten two of the suspected poachers to death, throwing their bodies down a deep crevasse and killed rest with sticks and stones.
Yarsagumba in India
The Caterpillar fungus Yarsagumba also known as Keeda Jadi is found in Uttarakhand (Chamoli, Pithoragarh, Munsiyari, Bhageshwar and Uttarkashi) and northeast India.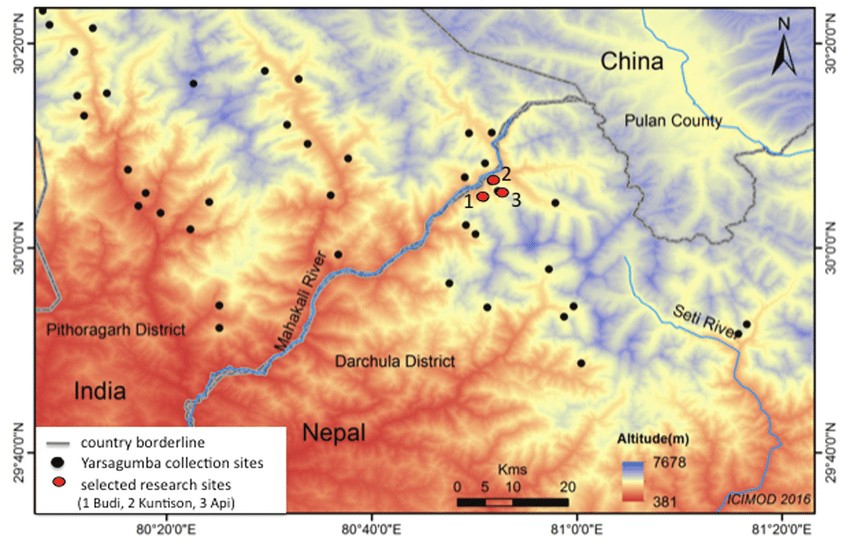 Also Read: Monal Tourist Home in Uttarkashi
Common names of Yarsagumba
There are several name for Caterpillar fungus. In Tibet it is known as Yarza Gunbu, Yarshagumba, Yarchagumba whereas in Bhutan it is called yartsa guenboob. In Nepal and India, it is known as keera jhar, keeda jadi, keeda ghas or ghaas fafoond. And in China, it is called as Summer Grass Winter Bug.
Conclusion
After talking to locals and on research we found that very human in the upper Himalayas during favorable season runs to collects Yarsagumba. Each collected piece is like a fate changer to them. It helps them to travel, buy good food and clothes. But with the recent trends, production is declining at a high grade and it can even extinct if the same trend continues.