The last Indian Village! Isn't that sentence a fascination in itself? It is and I was actually flying with happiness when I saw this board just 3 km ahead of Badrinath Dham. And look at those blue views at the entrance of the charismatic Mana village.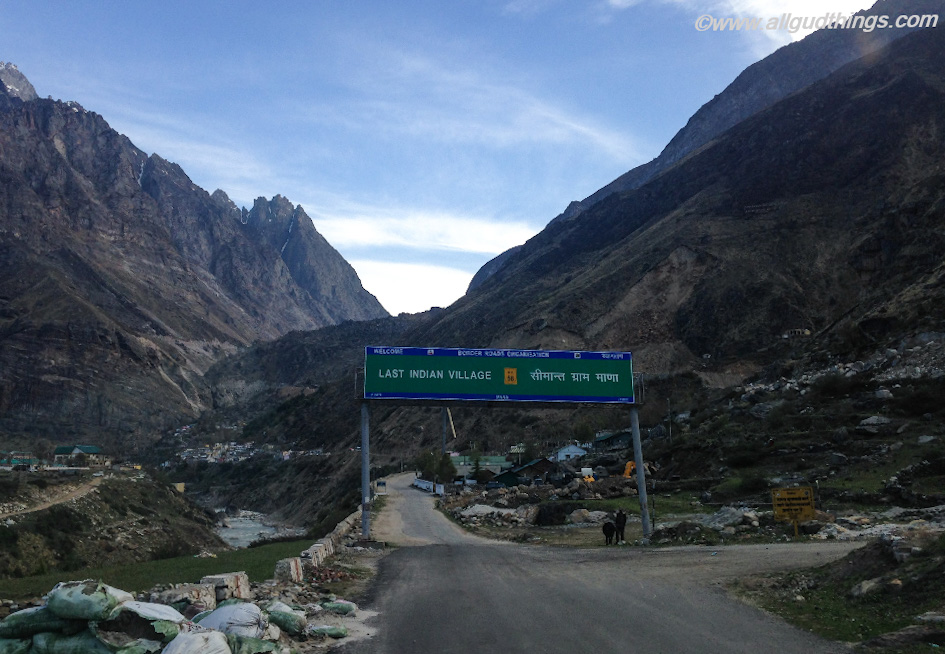 The excitement was not because of the first visit to the last inhabited village. In fact, earlier too; I had visited the last inhabited Village; Chitkul at Indo-China border in Himachal. I was excited there also but the Mana village experience was altogether different. The village has a mythical history along with the natural beauty. In fact, after traveling to so many areas of Uttarakhand now the belief is that whole of Uttarakhand is so so different from Himachal. The whole state is still not that commercial and has retained its natural beauty with the original trails.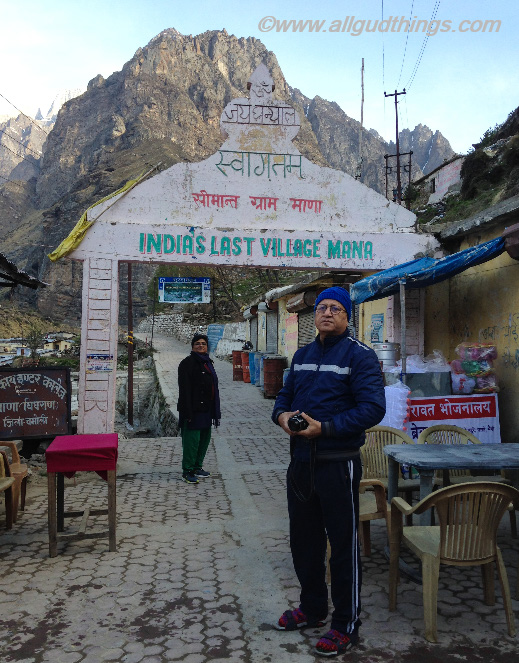 Mana Village
The Mana Village lies at 3118 meters and can be reached either by the smooth motorable road or by a scenic walk along the clean Alaknanda River.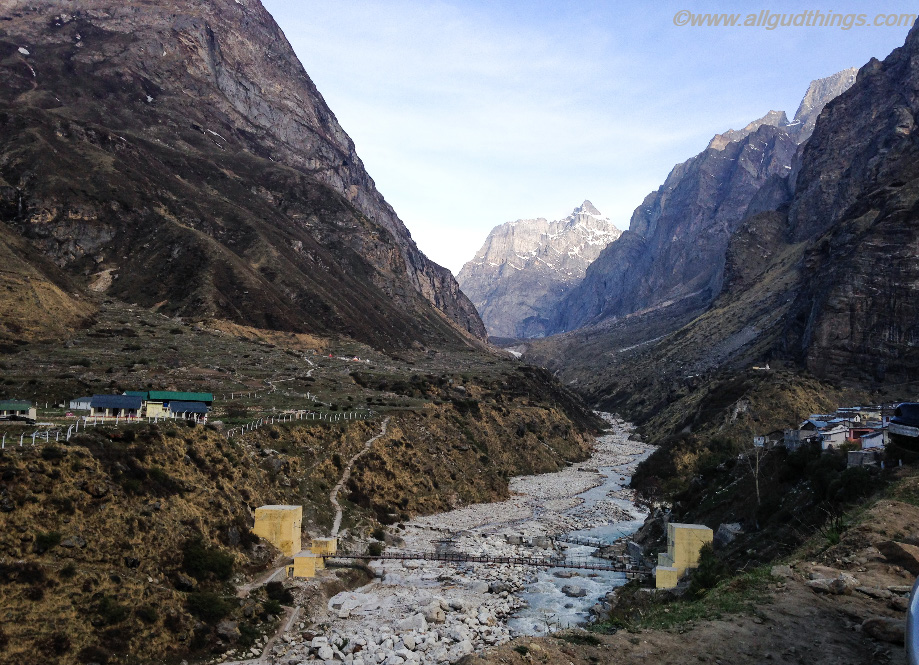 The village is crammed with cobblestone roads. The slanting roofed stone houses with wooden windows bask the village on either side of the road. Some houses too have a small kitchen garden around them.
The origin of habitats can be traced back to Mongolian tribes. Currently, it is occupied by the last generation of Bhotia community. The ladies of this community are masters in knitting and weaving while men run small shops and take tamed goats for grazing. They too are seen playing carom, cards etc.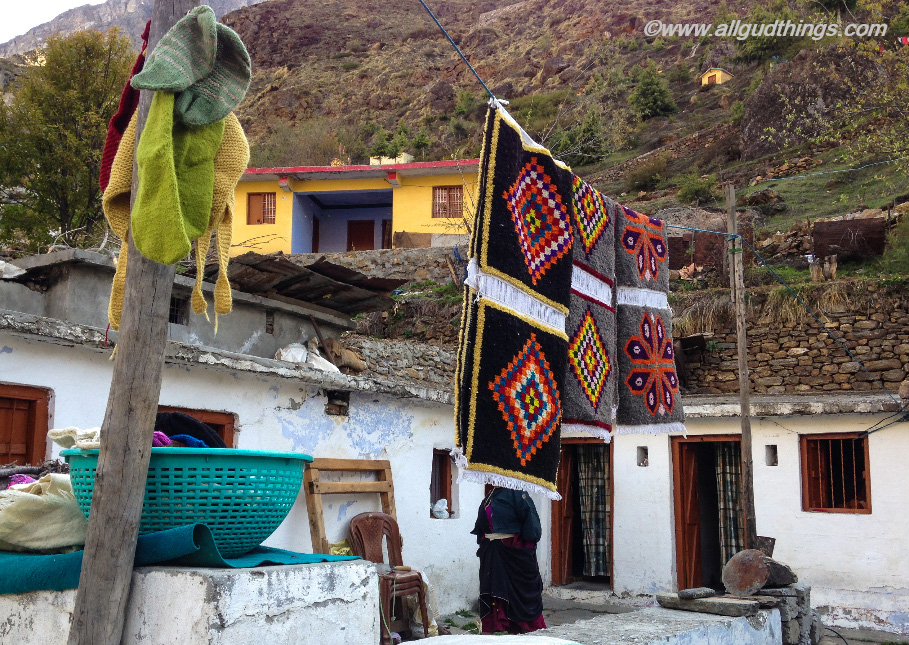 The inhabitants of the Mana village are migratory and they move to nearby places like Joshimath in the months from November – April when the weather gets too hostile.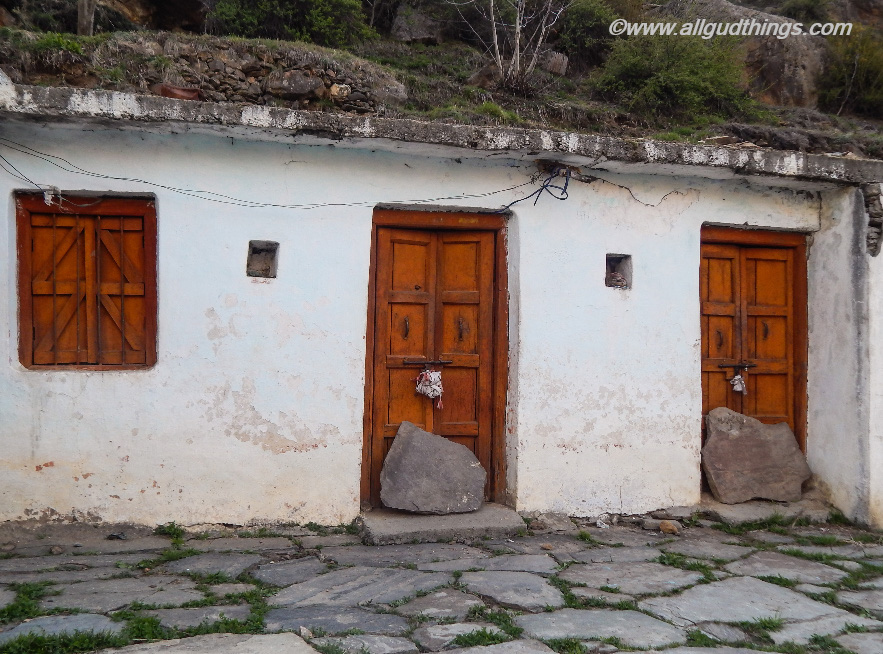 Okay! Here comes the real thing. Mr. Barfani Baba: He stays in this cave throughout the year, even when everyone else from the village migrates during extreme cold. He actually posed for the picture.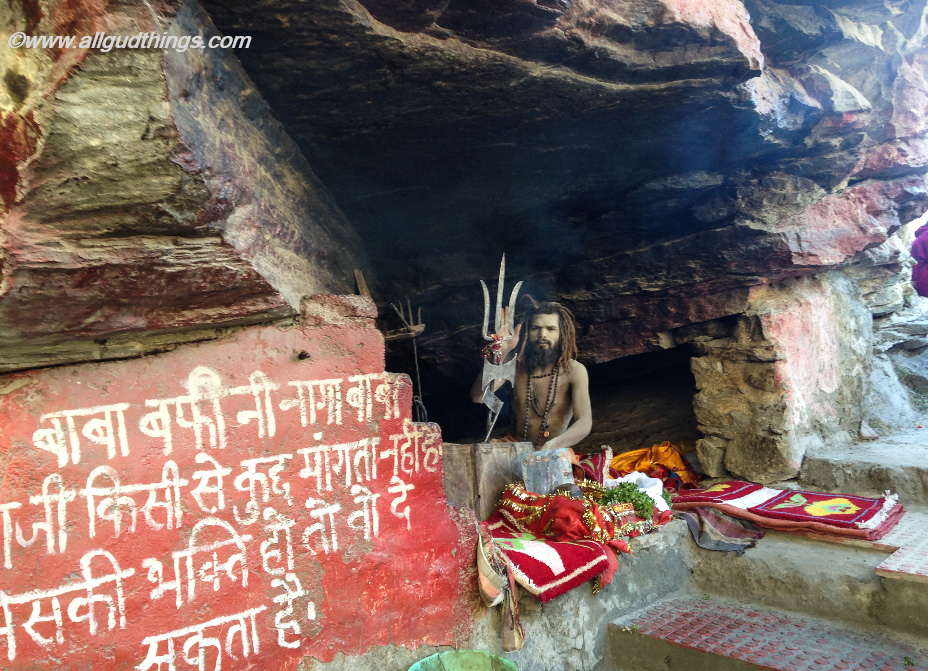 Mythical History of Mana Village
The Mana Village has a Mythical past and its traces can be found in the epic Mahabharata. It is believed that Pandavas crossed this village on their journey to heaven. While crossing the village; Bheem one of the strongest brothers of Pandavas laid a rock bridge; known as Bhim Shila to cross the River Saraswati. This is believed to be the place of origin of River Saraswati and there is a Goddess Saraswati Temple too.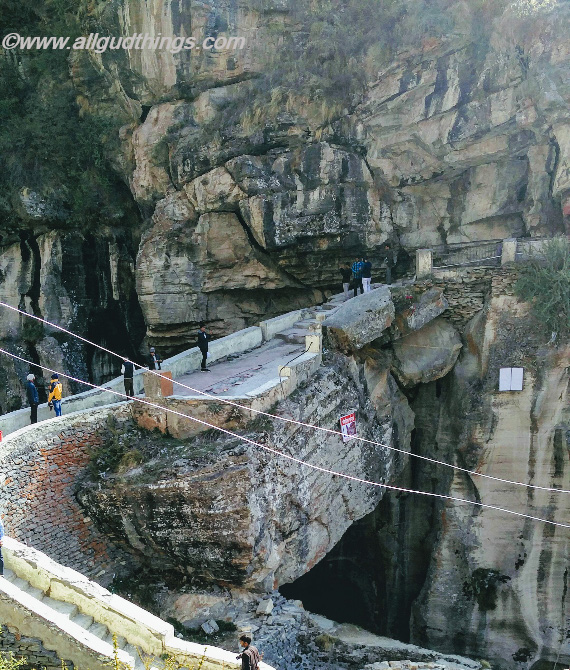 Further, there is a Vyas Gufa (Vyas Cave) at Mana Village, where Saint Veda Vyasa has composed the whole Mahabharata. And Ganesha Gufa, where Lord Ganesha penned down the whole epic dictated by Saint Veda Vyasa.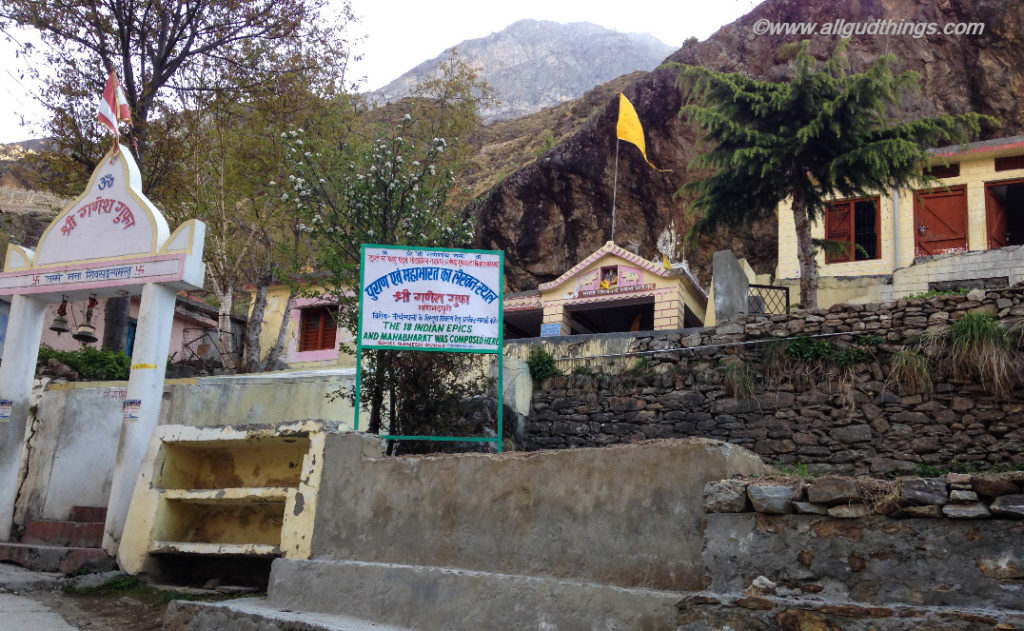 After Crossing Bheem Shila, keep walking on the trail and you will reach the hill top pointing towards the end of the road. I don't know its a myth or truth but there is a saying that Pandavas might have eloped from this path to heaven. (The way to Swarg)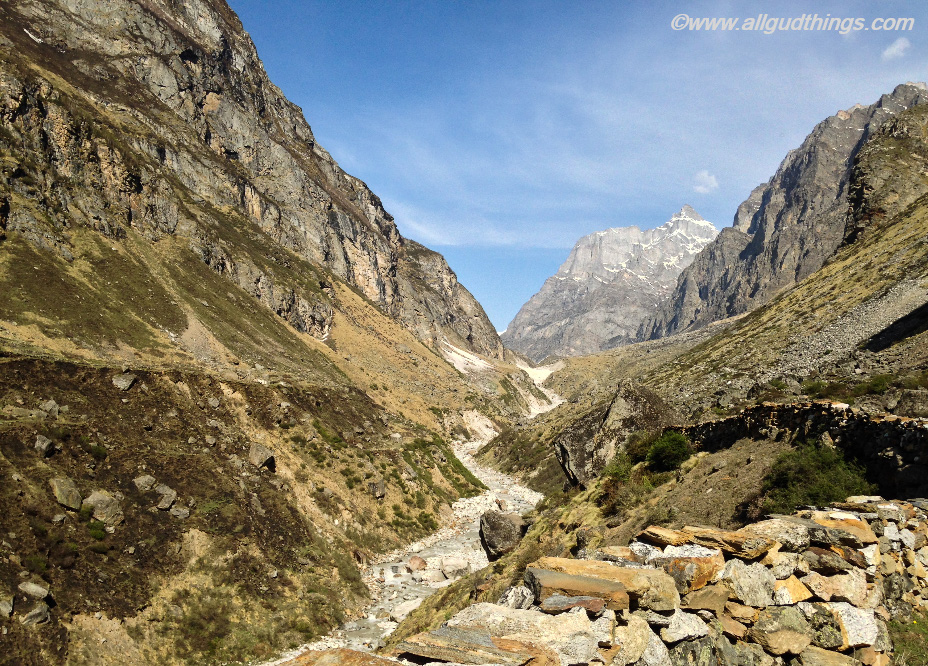 From here ahead the trail becomes stony, steeper and goes 6 Kilometer ahead till Vasudhara Waterfall. The last of this trail take you to Satopanth Tal and Satopanth Glacier, which is in total 22 km trek from Badrinath. This trek is considered to be a tough grade and one need porters and guides for completing it.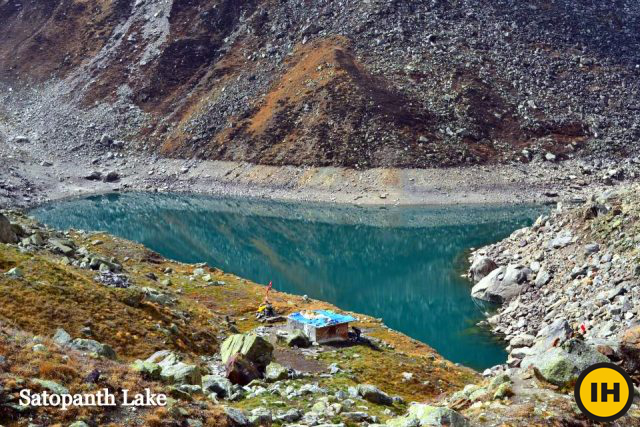 Apart from this, the Last Indian Mana Village too has many shops claiming themselves as last Shops, serving coffee, tea, maggi and some more snacks. There is fun having tea here with those mesmerizing views.
Some Additional Info on Mana Village:
One has to park the vehicle outside the Mana village.
The best time to visit village is during early morning like 6 a.m, as there is no rush and can capture sunrise shots.
Porters carry pilgrims in the baskets/Palkis on their back till Bheem Shila, so give them the way when they whistle.
Buy some locally weaved stuff to help the community grow.
Click pictures after taking permission from the people.
Carry jacket along as it gets windy anytime when you climb up the slope.
Do keep some small denomination currency with you, as the locals are in shortage of change.
Mana Village is also famous for Potatoes and Kidney Beans.
There is an army helipad on the way to Mana Village, worth admiring.
Uttarakhand government has declared this place as a tourist village destination, so be a contributor wherever it is possible for you.
https://www.instagram.com/p/BUR2Pe6hZmc/?taken-by=suruchimittal&hl=en
Have you been to Mana Village and Satopanth? If yes, then let us know what we missed on and should explore next time. If you like it share it and pin it here.