India is a country where each day; one or the other festival can be celebrated, with the equal zeal and enthusiasm. In Part I of Indian festival we discussed the famous festivals for the month of January, February, March, and April. Taking this ahead, here is a guide describing the festivals, their celebration and places to experience for the months of May, June, July, and August.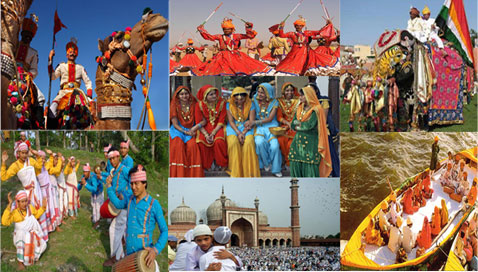 May – Indian Festival
10. Buddha Purnima
Buddha Purnima is a Buddhist festival that marks the Gautam Buddha's birth, enlightenment, and death. It is also known as a Vesak day.
[huge_it_slider id="13″]
Celebrations: The Buddha followers visit Buddhist temples to listen to the hymns and praise and some of them spend their whole day in the temple on this occasion. Temples display Lord Buddha statue as an infant, in the water-filled basin decorated with flowers. Devotees offer fruits, flowers and light candles on the statue. People are seen dressed up in white clothes and they refrain themselves from consuming nonvegetarian food.
Key Attractions –Various cultural and religious events/ fairs are held like Boodhidroom Mela (which takes place in 'Boiddopara' village in Chittagong).  In Gangtok, a special procession by monks is carried out carrying Buddha sculptures.
A place to experience–  Bodh Gaya, Lumbini, Kushinagar, and Sarnath. Bodh Gaya is the place where Gautam Buddha got enlightenment and at Sarnath, he first taught Dharma. Lumbini is his birth place and Kushinagar is a death place. Other places are Ladakh, Arunachal Pradesh, Sikkim.
June – Indian Festival
11. Jagannath Rath Yatra /Puri Rath Yatra
The Chariot festival is one of the oldest Indian festivals happening in India as well as the world. It is associated with lord Jagannath, his elder brother Lord Balabhadra and sister Subhadra. Rath Yatra is symboled as a festival of unity as hundred of devotees from all over the world come together to pull the chariots and celebrate.
[huge_it_slider id="14″]
Celebrations: The Deities of lord Jagannath, his elder brother Lord Balabhadra and sister Subhadra are taken out in procession on huge decorated Chariots (approx 45 feet high) from Puri temple to Gundicha temple which is 2km away. The devotees together pull the chariots. The three deities stay at Gundicha temple for 9 days and return back to the main temple on the 10th day. This return ceremony is known as Bahuda Jatra.
Key Attractions: Three huge decorated chariots and the way they are pulled. Lord Jagannath Chariot height is 45.6 feet high with 18 wheels; Lord Balabhadra chariot is 45 meters with 16 wheels and Subhadra's height is 44.6 meters with 14 wheels.
A place to experience: Puri in Orissa.
12. Eid –ul- Fitr (Ramadan)
Eid is a fast-breaking festival or the end of Ramadan celebrated by millions of Muslims in the country with lots of devotion and energy. It is a festival of brotherhood. The whole month of fast is known as Ramzan/ Ramadan month.
[huge_it_slider id="15″]
Celebrations: Muslims fast from sunset to dawn for 29 to 30 days in this month. They rise before sunrise, take bath and offer prayers. Every evening before sunset there is a feast known as Iftar Parties. The night before Eid is known as Chand Raat. People visit markets, shop and young girls apply Heena on their hands. Everyone greets each other with "Eid Mubarak".
Key Attractions – Iftar parties during Ramzan; decorated markets and prayer offering on Eid day.
A place to experience– The huge celebrations happen at Jama Masjid in Delhi; Mecca Masjid in Hyderabad; Aishbagh Idgah in Lucknow; Red road and Nakhoda Masjid in Kolkata; Taj-ul Majid in Bhopal; Jama Mosque in Mumbai and Hazrat Bal mosque in Kashmir.
July – Indian Festival
13. Hariyali Teej
Teej festival is celebrated by women and young girls of India; with songs, dances and prayers. The festival marks the union of Goddess Parvati with lord Shiva. It too represents the onset of monsoon season.
[huge_it_slider id="16″]
Celebrations: On Teej; fairs are held and swings are put in the courtyard under the trees. Women get dressed and come together to perform Gidda and take swings. Girls also apply Heena and pray to God for their husband longevity. Mothers send Sindhara to their married daughters which include bangles, clothes, mehndi etc.
Key Attractions- Swings, Gidda, Fairs and Gehwar (special sweet)
A place to experience– Punjab, Haryana, Rajasthan
14. Hemis Festival
The Hemis festival is a two-day celebration done to remember the birth of Padmasambhava, the founder of Tibetan Tantric Buddhism.
[huge_it_slider id="17″]
Celebrations: Locals dress up in their traditional attires. Men wear Cummerbund and women wear headbands with lots of jewelry. The monk performs mask dance known as Cham dance to the songs and tunes of cymbals, drums, and trumpets. The Cham dance is a part of tantric traditions.
Key Attractions- Decorated Hemis Monastery, Cham dance and dressed up locals.
A place to experience – Hemis Gompa, the monastery in Ladakh, Jammu & Kashmir.
August – Indian Festival
15. Krishna Janmashtami / Dahi Handi
Janmashtami is another religious festival of India, celebrated to mark the birth of Lord Krishna.
[huge_it_slider id="18″]
Celebrations– On this auspicious occasion, temples are decorated with flowers. The deity of Lord Krishna as an infant is kept in the swing. Devotees visit temples, sing and dance on the hymns during midnight. They fast throughout the day and break their fast with a feast in the late evening. Small children are dressed up as Lord Krishna and processions depicting their life are carried out. At some places, Raas Lila, depicting youthful naughty flirtatious acts Of Lord Krishna is played. In some part of the country, people play Dahi Handi, where young men form human towers to break the high-hanging pot containing curd.
Key Attractions: Decorated temples, deity of Lord Krishna in swing, Raas Lila, and Dahi Handi
A place to experience: Celebrated throughout India but best can be seen at Mathura and Vrindavan in Uttar Pradesh, Maharashtra, and Gujarat for Dahi Handi.
16. Ganesh Chaturthi
Ganesh Chaturthi is a 10 day long colorful festival; celebrated in honor of Lord Ganesha. People pray on this day to complete the newly started work satisfactorily without any obstacles.
[huge_it_slider id="19″]
Celebrations– The clay idol of Lord Ganesha is installed at home, offices, and Pandal. People pray during morning and evening and on 10th Visarjan (immersion of idol into the sea, lake, or river) are performed. Other activities include singing, dancing, and food stalls.
Key Attractions: The Handcrafted colorful idol of Lord Ganesha, Pandal decorations and most important is immersion ceremony.
A place to experience- Maharashtra, Gujarat, Telangana and Andhra Pradesh
This is not the end. Be with us to know and experience some of the more Indian Festival for the month of September, October, November and December.
Click here to read for Indian Festivals Part I (January, February, March, and April)