DLF Mall of India Noida! Who was not waiting for its opening? Definitely I was, eagerly waiting and yesterday got the chance to visit it.
It is one of the largest malls with more than 330 brands, 75 eating joints and 7 multiplexes. Some of the brands have made entrance in India through this store.  Stores are well-lit and spacious. They have categorized mall floors into levels with beautiful colors giving a vibrant and blooming experience.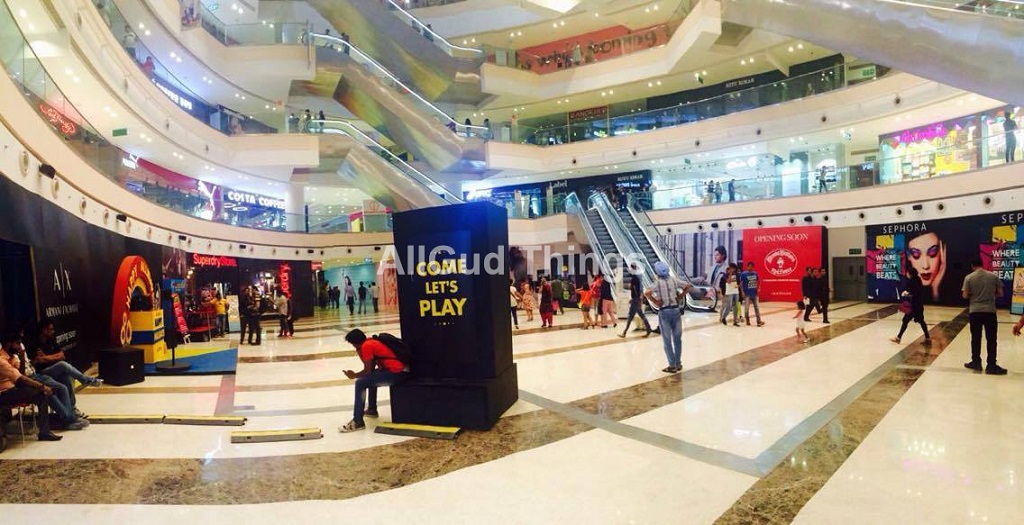 Lower ground floor of DLF Mall of India Noida, known as Market Place has hypermarkets, furnishings, furniture, lifestyle and interior stores. The biggies for this category are Big Bazaar Gen Next, Max, Home center etc. Big Bazaar Gen next is an advanced version of an original Big Bazaar.
International Boulevard at the ground and first-floor offer entrance to premium brands. Zara, H&M, Cavenders, Forever 21, Only, Forrest Essentials, ESKE London, Inglot, Mac etc. Some of the big stores are operational at Twin levels to give customers the better shopping ease and experience. You will also find few international cafeteria's and bakeries in this section, to club shopping with delightful eating.
I was glorified by H&M advertisement so, wished to visit this first. H&M has opened its fifth huge store in Noida DLF Mall of India. After entering the store, main confusion pops up from where to start. Whether denim, skirts, short dresses, maxi dresses, accessories, shoes or lingeries. The stuff is so Hollywood & Bollywood style. You will get the F World dresses and skirts you have dreamt of buying. They have a diversified variety with affordable prices.
Second floor The High Street at DLF Mall of India Noida is dedicated to all styles and occasions Indian wear.  This segment is further divided into designer and must have category. You can find outfits, trousseau, apparel, accessories, and footwear for traditional, ethnic, casual and functional occasions for both men and women. There are exclusive stores for wedding outfits like Meena Bazar, Mohanlal Sons, Perfection House, Ritu wears etc. Certain outlets are also dedicated to wedding planners, wedding card designers and trousseau packaging designers.
Family World lies on the third floor and can be bifurcated into kid's zone and casual dining zone. There is a huge store Hamleys for toys. Other stores on this floor are for books, electronics, and kid's apparels. Options are available for everyone from kids to adults making it a complete family zone. There are awesome dining options like Chillis, Soda bottle openerwala, The Big Chill Cafe etc. Currently, the only missing point is No License, No Drinks at these cafes and restaurants.
The fourth and fifth floor is leisure land. There are seven multiplexes, huge food court, ice skating zone and sports bar. The food court offers you local and global tastes. Few dishes like Keventers shake, Instapizza, and Tikka town are worth trying.
So, what are you waiting for? Just plan and visit DLF Mall of India Noida. Club unlimited fun, shopping and eating in a single day.