Undisturbed green meadows bedded with flowers and medicinal plants, where clouds play hide and seek, where cool breeze makes you hide between the rocks, where crow finds tough to take its flight, where you feel on the top of the world is what describes the not so famous Chanshal Pass.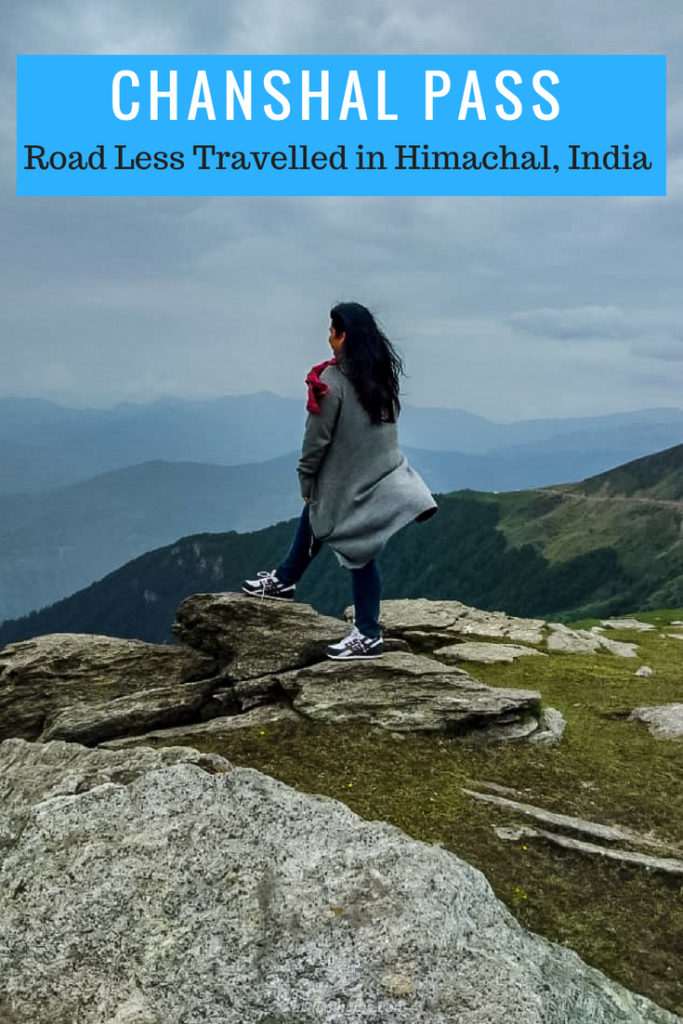 The temperatures had been continuously soaring in Delhi and we wanted to escape the heat for few days. So, we made a plan to take another road trip to the offbeat place in Himachal i.e. Rohru and Chanshal Pass.
About Rohru and Chanshal Pass or Chanshal Valley
Town Rohru lies 115 Kilometers from Shimla, on the banks of River Pabbar at 5,003 feet. The place is considered as a business hub and is well known for apple farming and trout fishing. Indeed, the Rohru – Hatkoti- Jubbal – Kotkhai belt is known as "Apple Valley" or "Golden belt" of Himachal.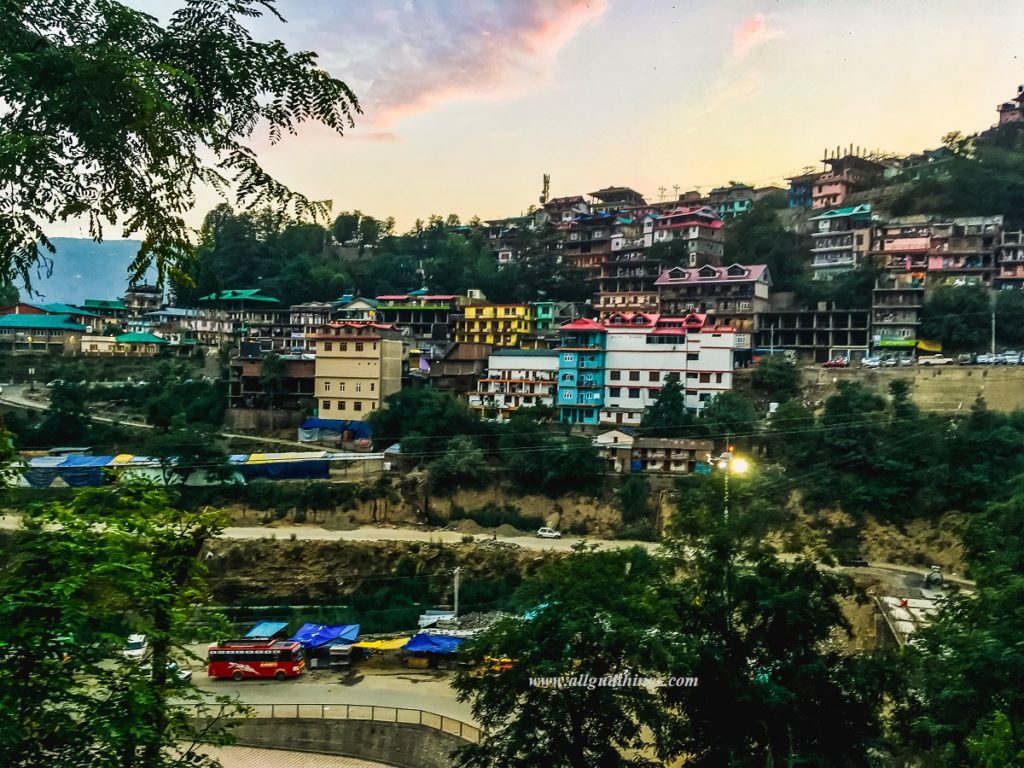 The Chanshal Pass lies 49 kilometers ahead from Rohru at 12,320 feet and is a main connect between town Rohru and twin villages Dodra Kwar in the Shimla district. Whereas the highest Chanshal Peak stands erect at 14,830 feet.
Route from Delhi we took: Delhi – Panipat – Karnal – Zirakpur – Shimla – Theog – Kotkhai –Jubbal – Hatkoti- Rohru
Or
Other Route ahead Shimla: Shimla – Theog – Narkanda- Tikkar – Rohru
So, in total, the scenic Chanshal valley lies 489 kilometers from Delhi, 159 kilometers from Shimla, 49 kilometers from Rohru and 169 kilometers from Chakrata in Uttarakhand.
We (AllGudThings), started from Delhi around 12 pm and retired our first day at Chandigarh. Next day we started our journey from Chandigarh around 11 am, reached Rohru at 7 pm and made our base at Hotel Chanshal, Rohru.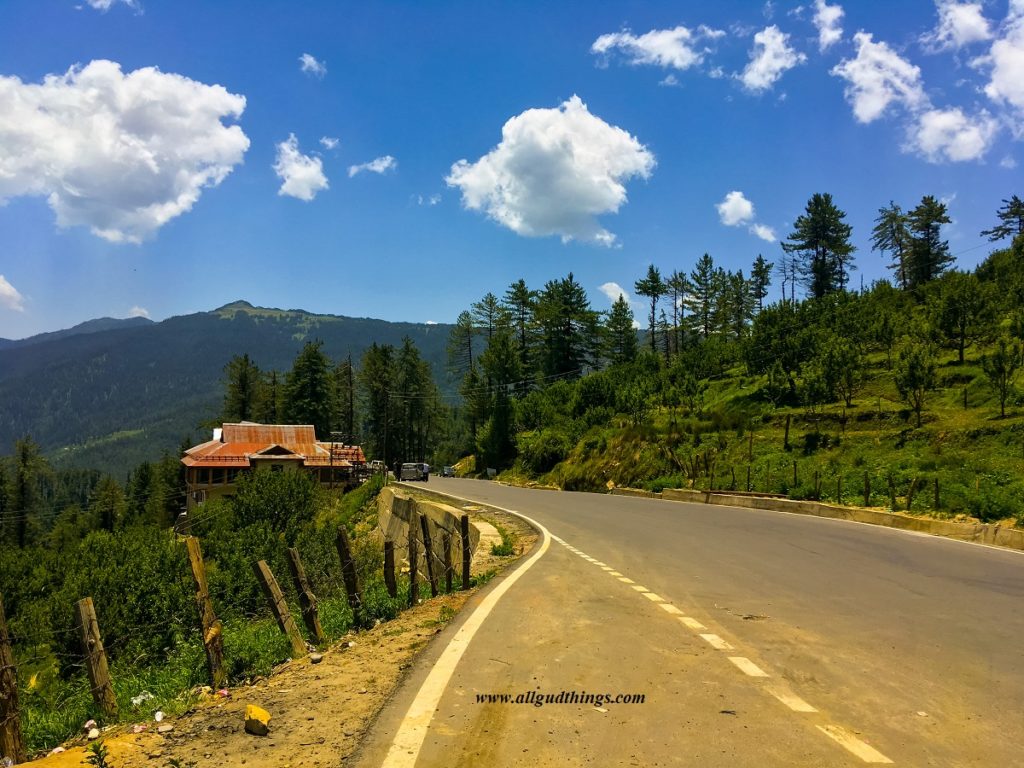 Google Maps were showing the further distance from Rohru to Chanshal Pass 49 kilometers and time 2 hours 30 minutes whereas locals confirmed it will take around 4 hours. Listening this all, we were highly confused but being tired we retired for the day early thinking to explore it tomorrow.
Journey to Chanshal Pass
So, next day after having breakfast at Hotel Chanshal, we started our journey to Chanshal Pass.
Route: Rohru – Samoli – Seema- Magwani – Chirgaon- Sandasu- Tikkri- Larot – Chanshal Paass
From Rohru till Village Chirgaon i.e. for 15 kilometers one drives up and down along the river bed crossing colorful villages. The real journey starts only after Chirgaon.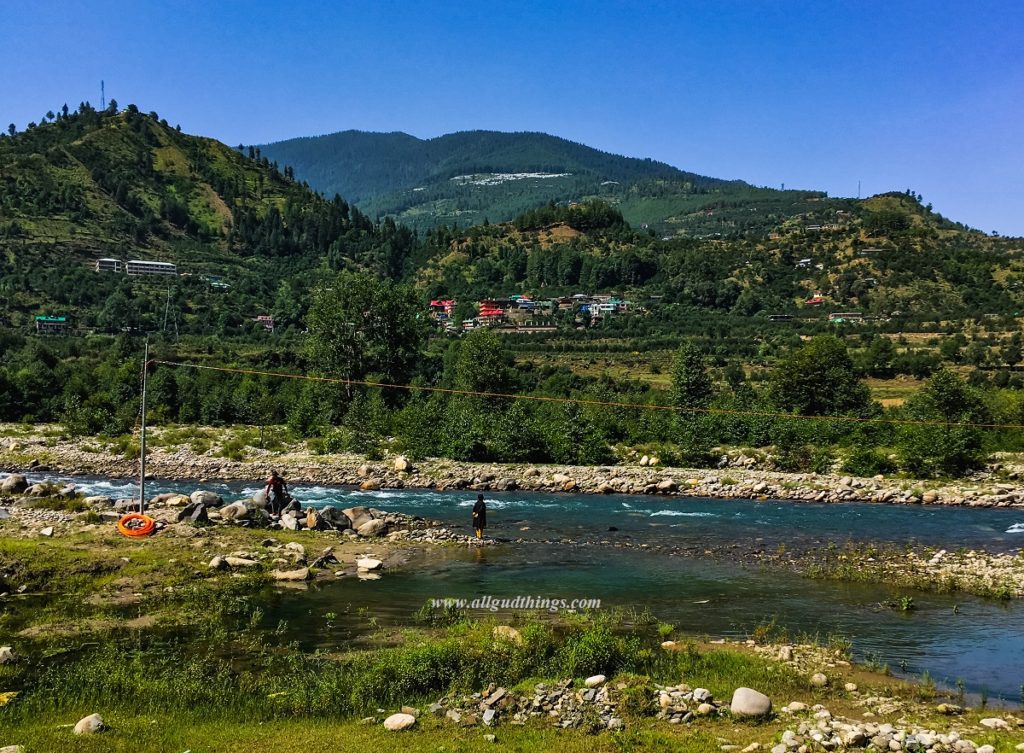 Cross the Chirgaon bridge and the views change drastically. The uphill drive starts with a narrow single lane. Roads are metaled till one point and the maximum speed you can drive is up to 30 kilometers/hour.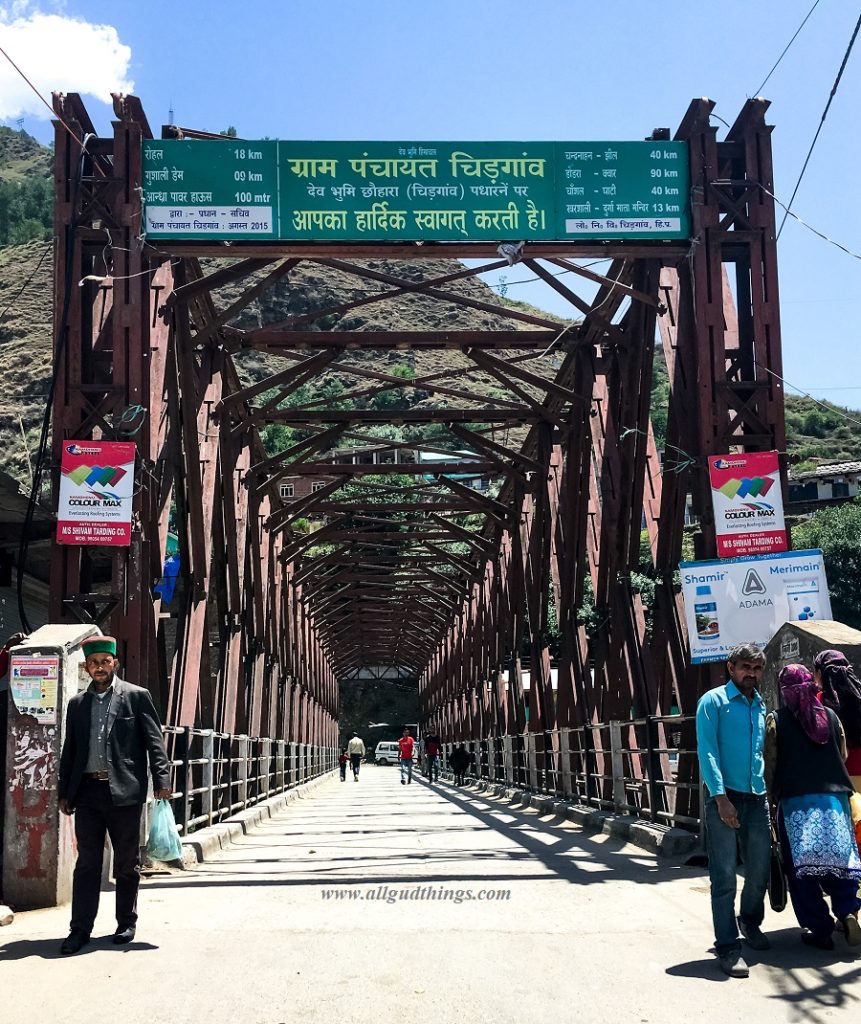 Although the drive through the narrow roads is tough but is equally scenic too. If on one side, there are apple orchards then the another side offers breathtaking views of wide valleys with river flowing in between.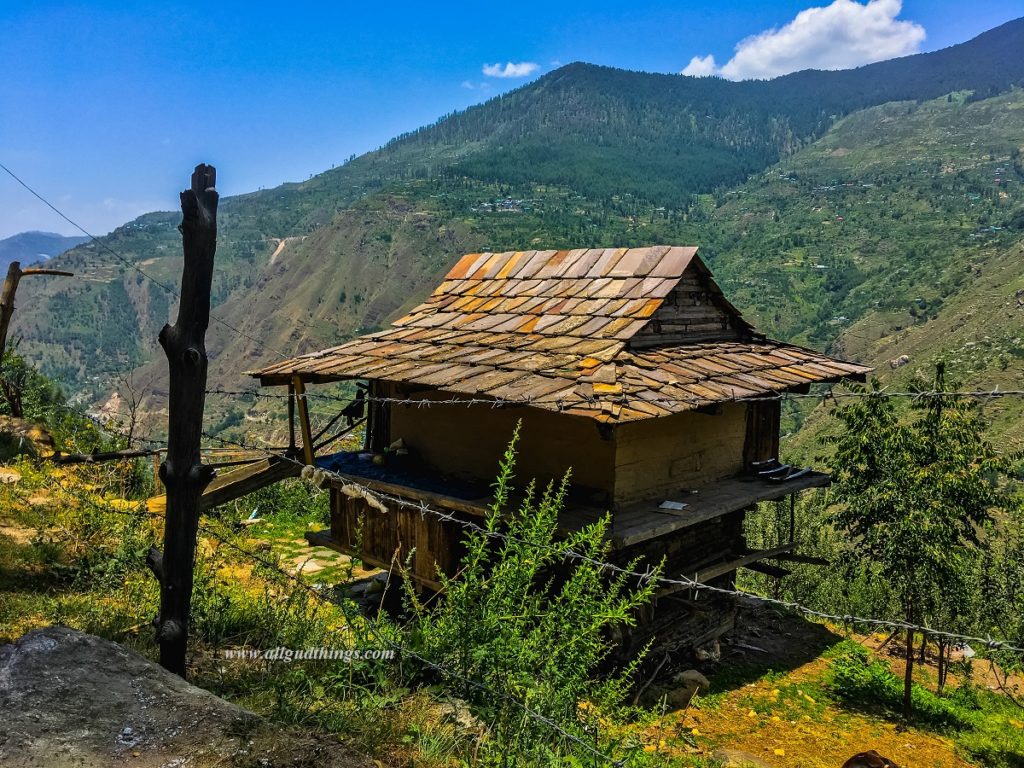 Just a few Kilometers ahead stands Village Sandansu. Here, men were soaking in the sun, whereas women looked busy in their households and cattle work. Children were playing cricket on the flattened surface in this beautiful heaven. Everything looked so pure and we were completely lost in their dwellings.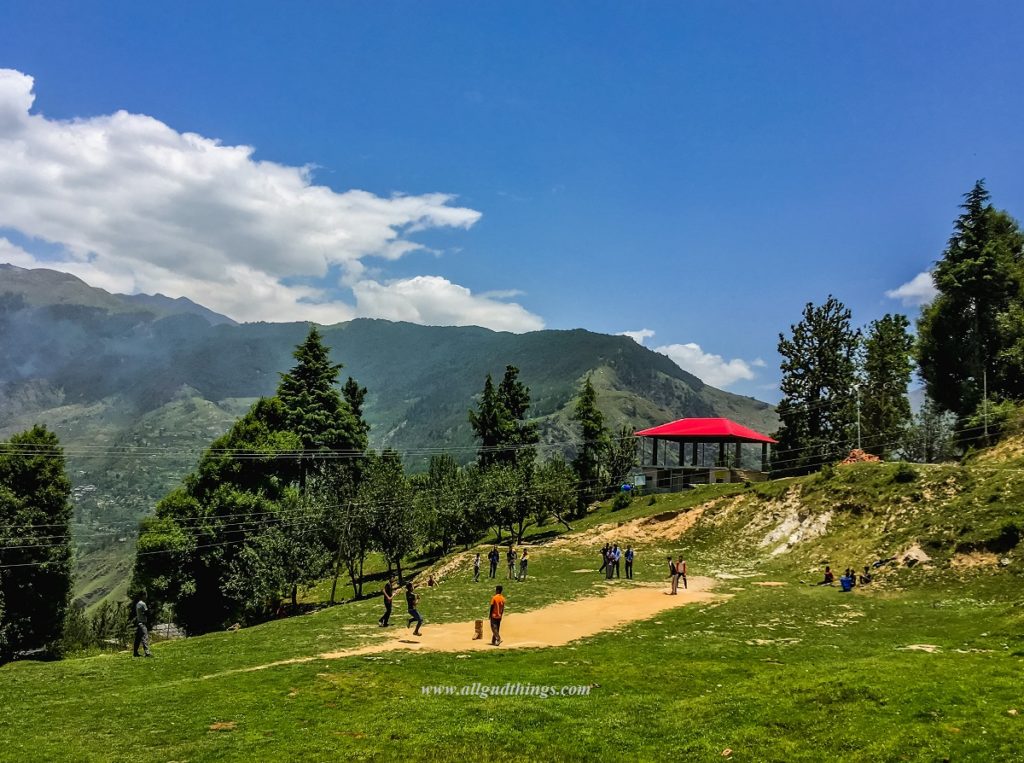 From here ride for some more distance, cross a bridge and the real challenging roads starts for Village Tikkri. The metaled roads become graveled roads and there is a continuous accent with sharp turns. The sky touching deodar trees occupy road on both sides, giving a pleasant woody smell and the variety of flora changes too.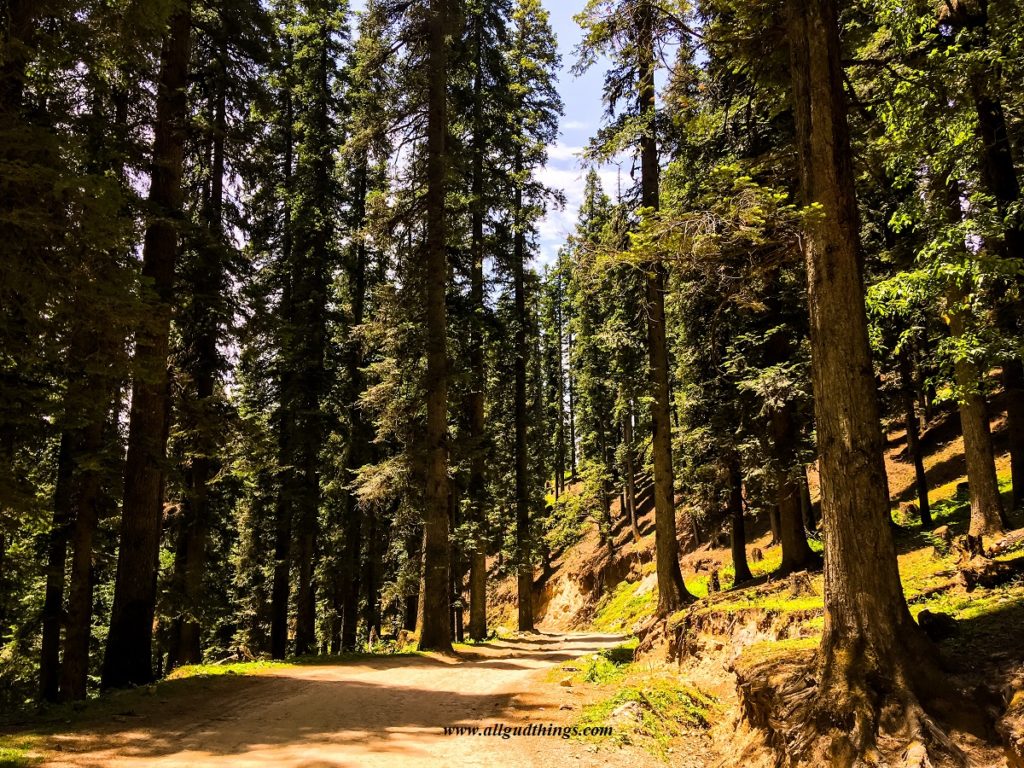 The other last scenic Village on the way is Larot. Its first look made us say- it surely is one of the prettiest Himachal village. The village too has a Himachal Pradesh PWD Guest house which can be booked in advance for accommodation. Till Larot, we covered 18 more kilometers in 2 hours; totaling it to 33 kilometers.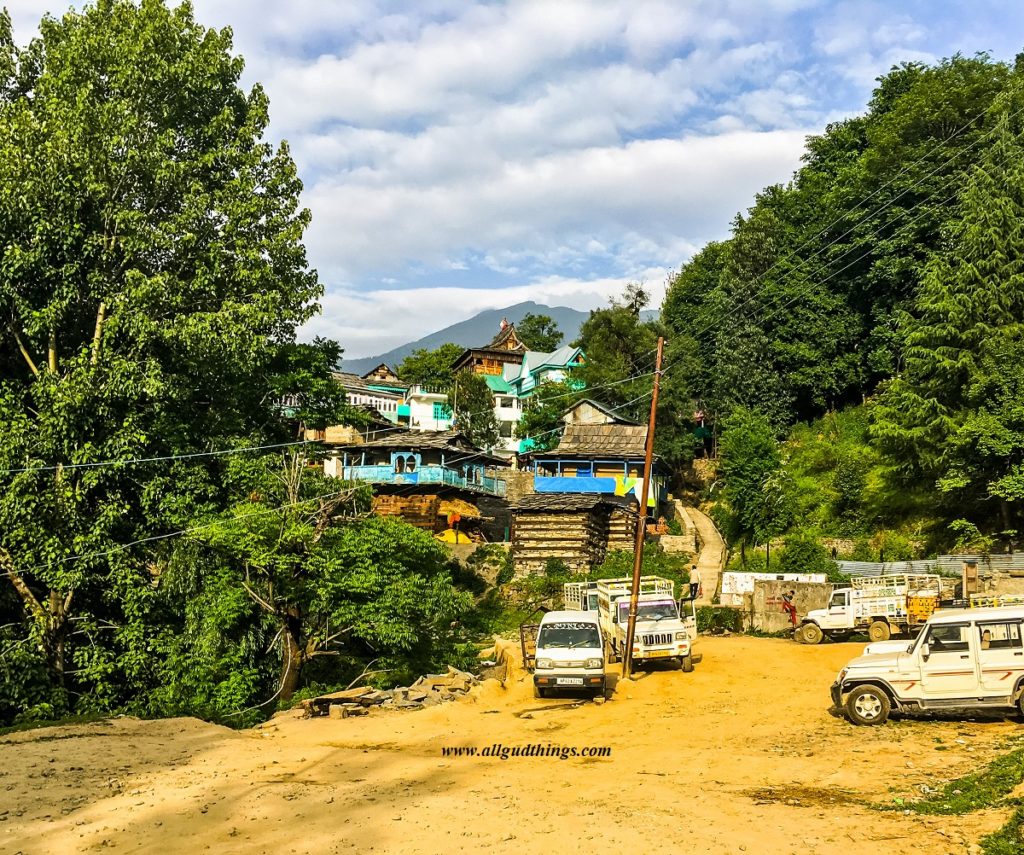 After this starts the last leg of the toughest and most adventurous road trip. The last 16 kilometers here means drive of almost 2 hours. Yes! We are serious not joking. It is a continuous accent and we literally saw Sedan trying to climb but failed. Deodar trees number starts decreasing while climbing and almost became zero at one point. You will be driving continuously along the green mountain reaching almost to its top. If its cloudy on the way, then you will be above the clouds and the views leave you speechless.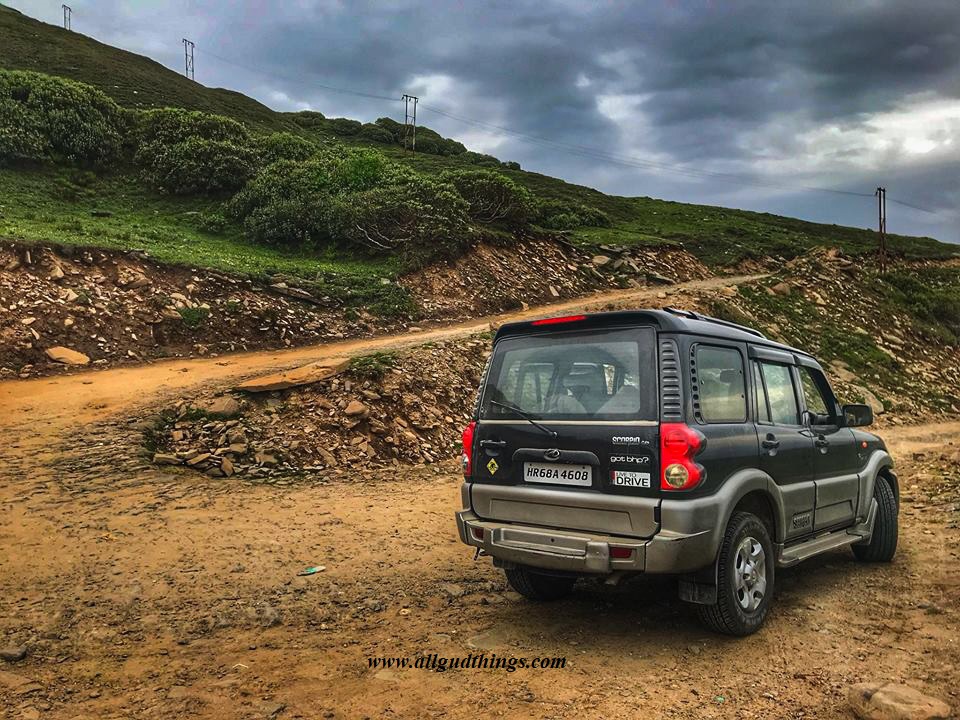 From far, we saw the piled up Mani stones and thought we have reached the pass. But it was a recently setup Hotel White Valley, Chanshal (Almost 2 kilometers before the pass). The hotel had 5-6 tents and a shack in front of it. We felt it is a beautiful place to camp but wonder how they will be tackling the supersonic winds there.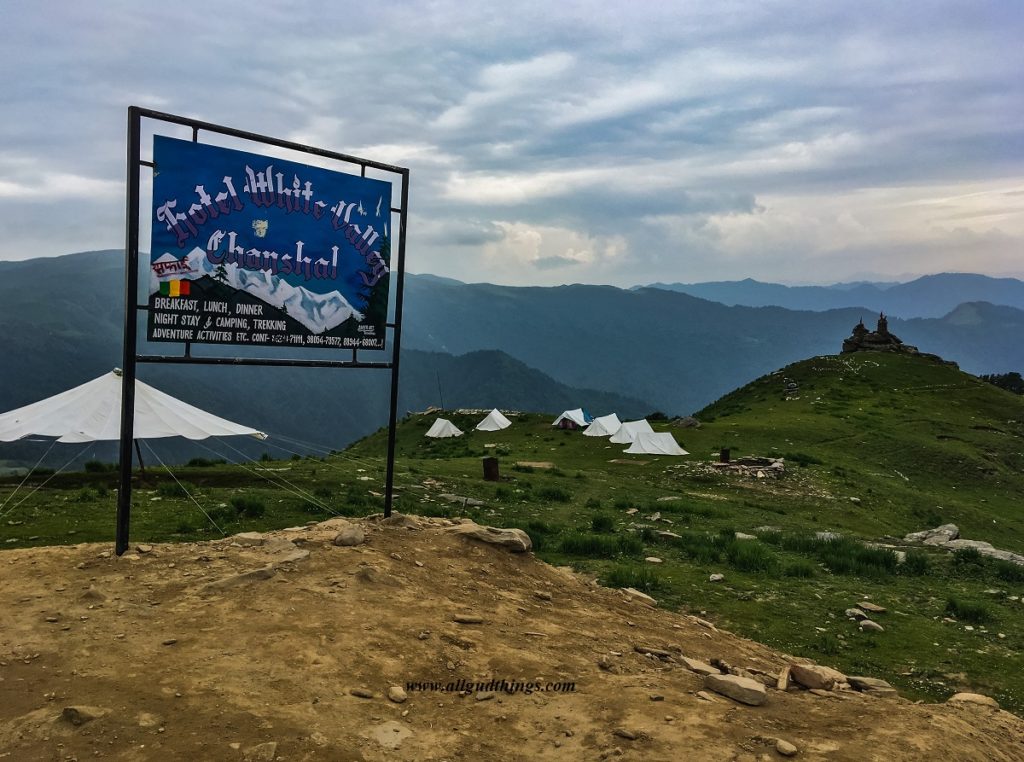 We continued our journey further and finally could see some vehicles standing there. This for sure looked like pass and it was – Chanshal Pass.
At Chanshal Pass
As we stepped out from our cars, the winds were blowing at their maximum speeds. Woolens came out in no time and we were dressed to explore it.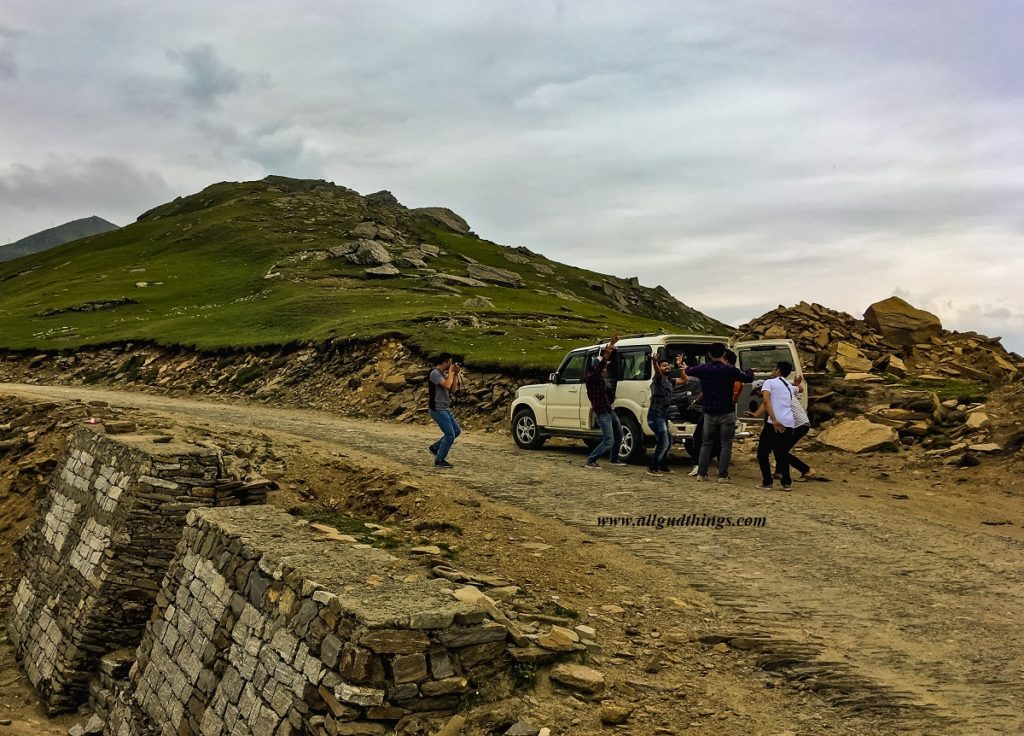 Locals had come for picnic; people were doing Natti (Himachal Local Dance). So overall, it looked like a famous spot among locals. Anyways, we started walking towards the pass. People far away were climbing the hilltop. Seeing this even we were curious to reach faster on the top but the landscapes around us were completely irresistible.
We were almost clicking every minute. The place was no less than a paradise. The mountain slopes were carpeted in green with a topping of pink, blue and yellow flowers. And at some places the figurine rocks appeared most charming.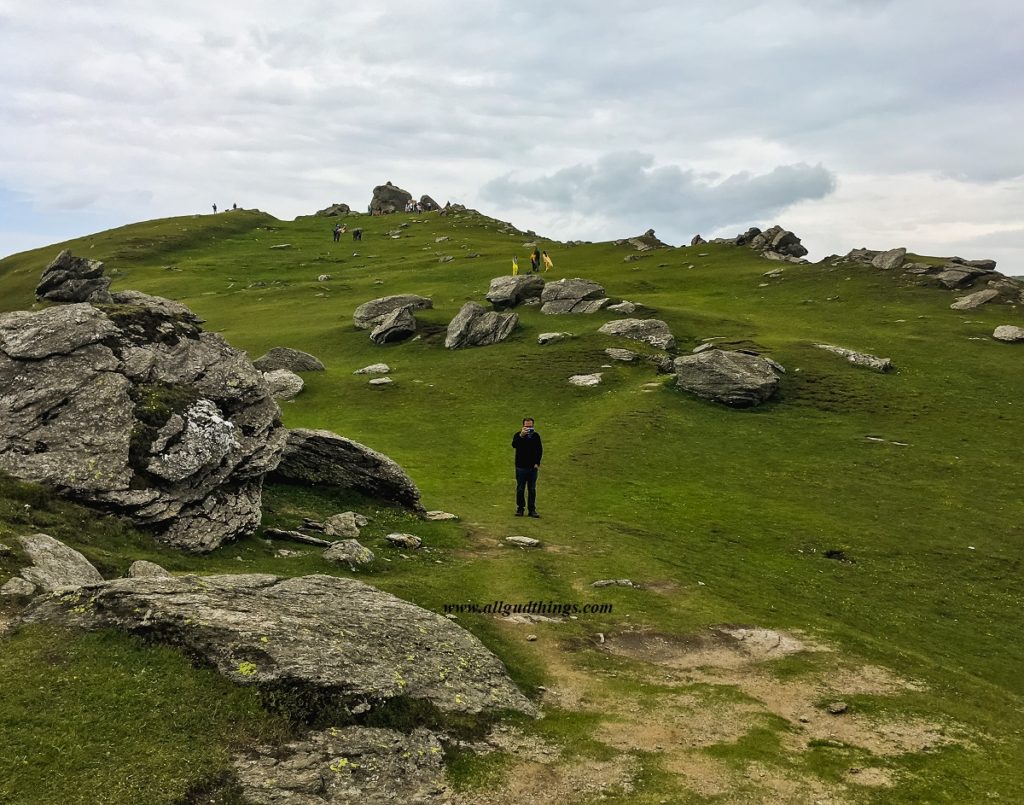 This whole dramatic route tapered to the velvety meadows on the top. From one edge of these open meadows we could see the Pabbar valley and on another side was Dodra Kwar region. What an incredible place it is? We had honestly never seen something as beautiful as this valley.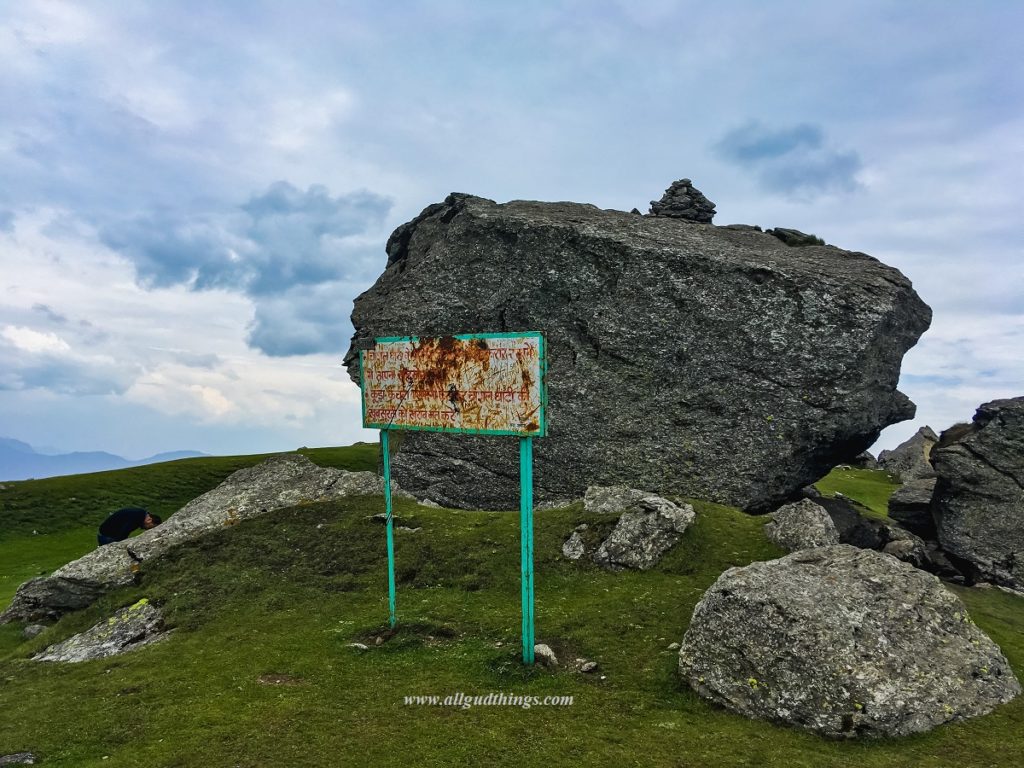 Further a bit more hike and you are almost at the top point. Here, some folks were testing their photography skills whereas others were sitting in a peace admiring the colors of nature. But yes, everybody was happy in their own way including us and our parents.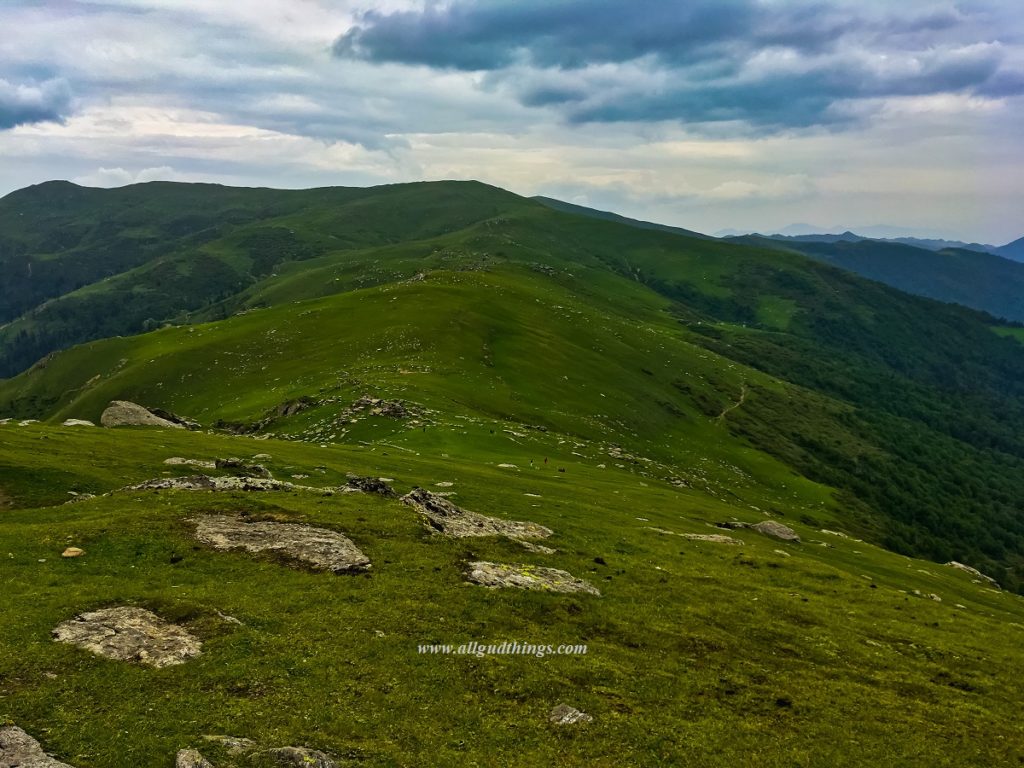 We were there for an hour and in the meantime clouds started roaring and rain drops started pouring. We rushed and headed to the single shack for some maggi and tea. After gulping it, we planned to turn back as it was already 3:00 pm.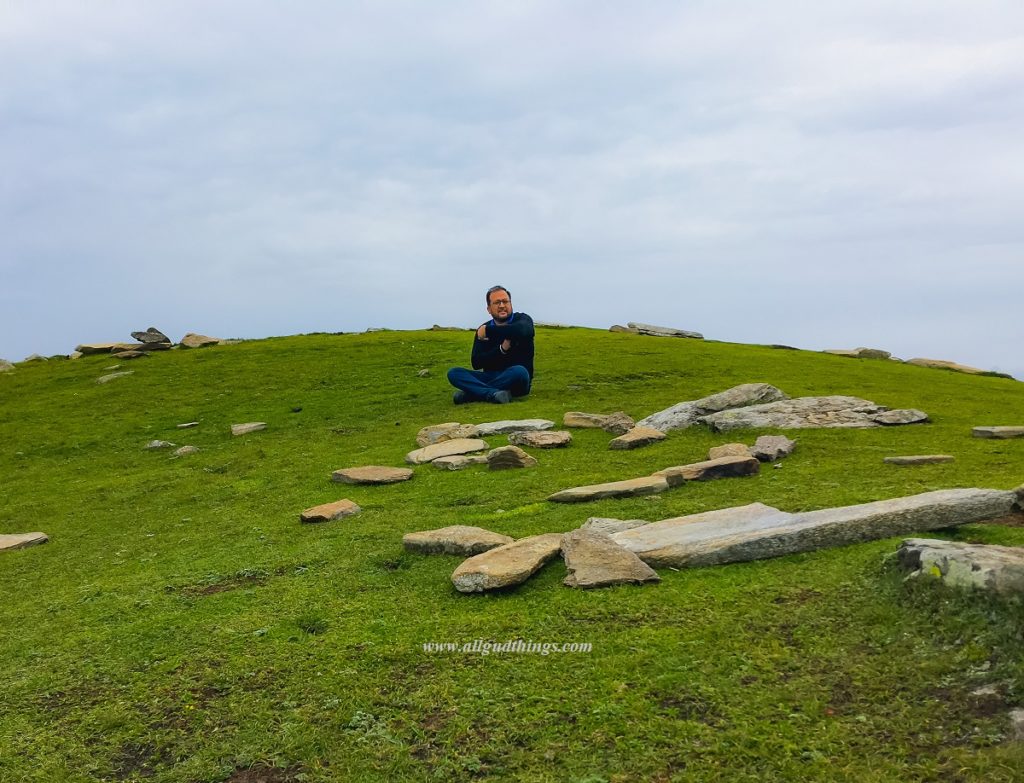 But some people are crazy like me who can climb and open arms anywhere to breathe. While returning back the views were equally thrilling as they were while going up. The only difference was a thick cover of clouds had captured the whole sky.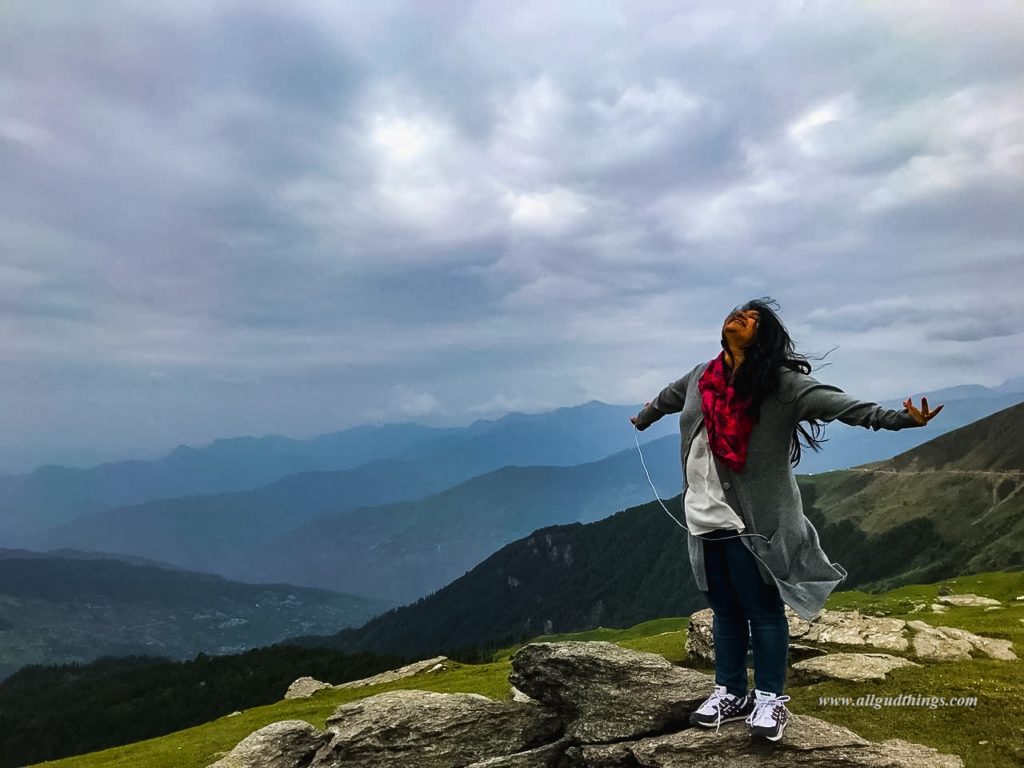 We reached down bit faster and were at Chirgaon by 6:00 pm. For sure, it was the most adventurous journey and a journey to remember forever.
History of Chanshal Pass
The Chanshal Pass and connecting villages Dodra Kwar have real interesting history. Imagine, in the era of road revolution, this area was devoid of a motor able road till 2009. The reason for the same was – Locals' tribes were against constructing road; as their local Deity didn't permit them for road building. The Deity finally agreed to the proposal in 2006 and the 92-kilometer-long road was laid down between Rohru – Chanshal Pass – Dodra-Kwar region in 2009. The road construction took 3 years because of the inhospitable terrain, high amount of rain and snow.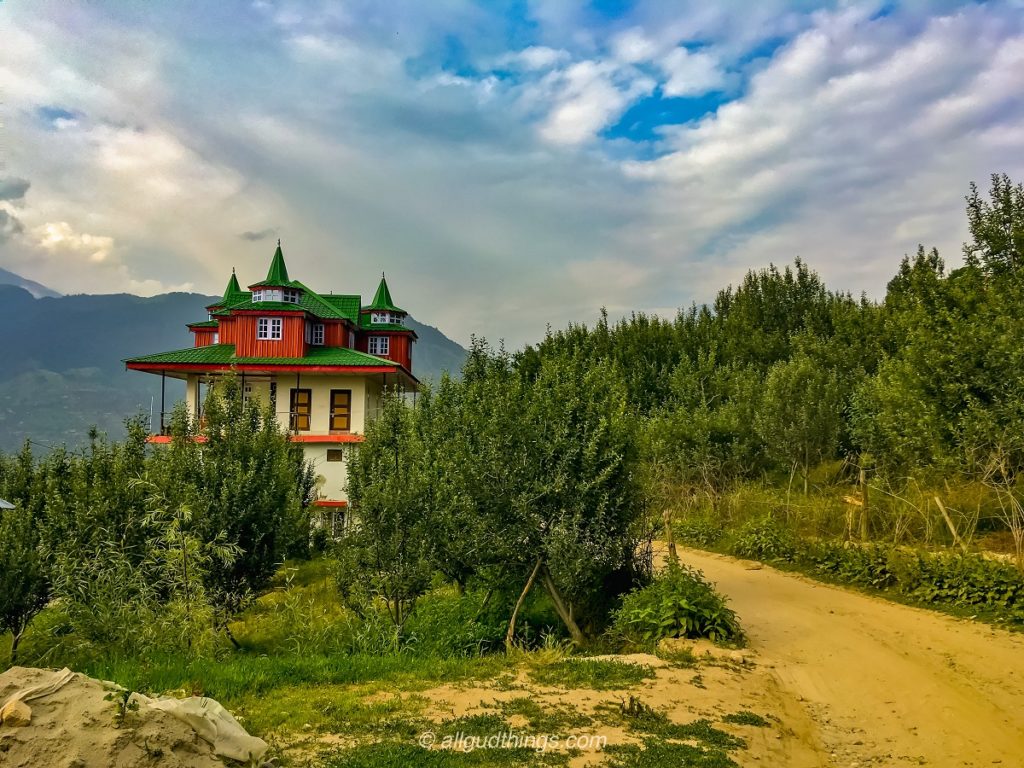 Best Time to Visit Chanshal Pass
Chanshal Valley and Pass is accessible from May to October. For rest months the roads and pass is completely snow covered.
How to Reach Rohru and Chanshal Pass
Rohru and Chanshal Pass can be reached from Himachal or Uttarakhand.
From Himachal – The nearest airport is at Shimla or Kullu whereas the nearest railway station is at Shimla. From there one can hire a cab, travel by bus or drive own vehicle.
Uttarakhand- The nearest airport and railway station is at Dehradun. From there one can there one can hire a cab, travel by bus or drive by his own vehicle. The other considerable option is to do Chakrata– Tuini- Rohru Circuit.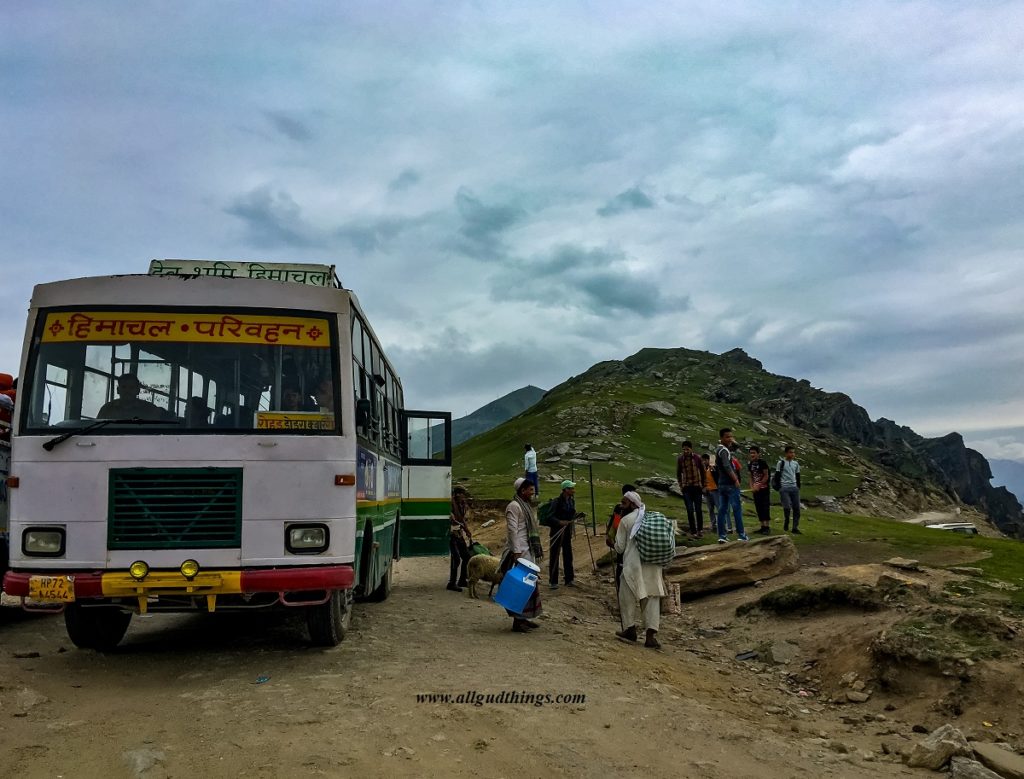 Remember: if you are travelling by bus; there is a fixed schedule for bus service while going up and down. We spotted one from Himachal around 3 pm.
Important Tips for Road Trip to Chanshal Pass
It is one of the steepest and adventurous trail. So, be really slow and patient while driving
Start your day early to spend enough time at the top. Also plan to return timely in the evening
Remember you will be ascending from 5,000 feet to 12,000 feet and vice versa. So, there are high chances of AMS (Altitude Sickness) hitting you. Be really cautious. Advice is keep sipping small amount of water and if you feel any of the symptoms worsening, make a decision to descend down
Slopes of Chanshal Pass has some medicinal plants. Be cautious, if you are allergic. Especially take care of children who are extremely sensitive
Do carry woolens along as the weather changes here abruptly
Be sure about your vehicle before ascending and descending. The last motor workshop is at Chirgaon
Last Petrol station is at Rohru
Airtel, Vodafone, BSNL almost all networks work perfectly till Chirgaon, whereas after that there is continuous up and down or no network
Last ATM's services are available at Rohru
The nearest medical facilities are available at Rohru only
If you are planning to stay at Larot PWD guest house, make your bookings in advance
There is only one shack at the top which serves you maggi, tea, coffee, Rice – Dal etc
Also plan to visit Dodra—Kwar village

Overall Experience at Chanshal Pass
Chanshal Pass looks like a paradise where man is actually a part of nature, where there is a perfect blend of facts and myths, where there are stories of legends and realities, where there is a mix of mountains, orchards and meadows. The roads connecting the hidden villages here is beyond imagination. So, what are you waiting for! Go and explore the Pabbar Valley and Chanshal Pass yourself, before it too becomes touristy.
You can check more picture of Rohru and Chanshal Pass on our Instagram account. And, If you have questions, feel free to type in the comment section. We will be happy to answer them.