India is a largest democratic country with a diversity of religion, culture, and topography. it is divided to 29 states & 7 Union territories and it holds more than 1.252 billion people in 3.2 million Km square. The country may be divided but festivals and traditions unite the whole India to a single bunch.  There are many Indian festivals celebrated on a large scale. Some of them have a religious affair whereas others are for fun and seasonal change. The main motto of each is to bring people of all religions together for bonding and humanity. So, here we are listing the month wise Indian festivals calendar of India.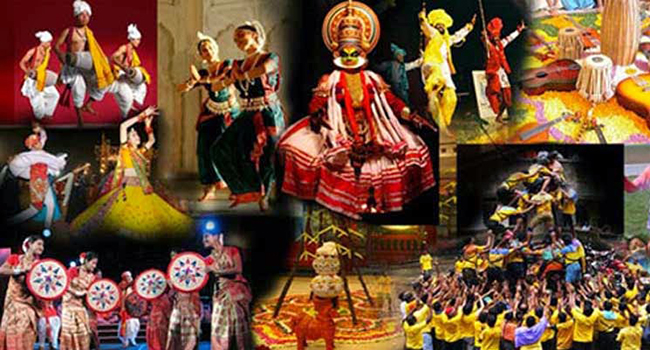 So, here we are listing the month wise Indian festivals calendar of India. This is the first series of the post and it features the famous Indian festivals for the month of January, February, March, and April.
January : Indian Festivals
Lohri & Makar Sakranti
Lohri is celebrated on 13th January and Makar Sakranti on 14th January mostly by Punjabis in Punjab, marking the winter solstice (on the last day of desi calendar POH) and harvesting of Rabi crop. The farmers associate Lohri also with the beginning of the new financial year.
[huge_it_slider id="4″]
Celebrations –It is celebrated by dressing in traditional clothes, lighting bonfire, throwing gur, sesame seeds, moongfali into the fire, singing folks songs and dancing around the fire. During the day, young children also go door to door singing folk song "Sundar Mundaria" and asking Lohri. The children are treated with sweets and savories and occasionally money too.  In some parts of Punjab especially Amritsar Kites flying is done on the terraces with loud music.
Key Attractions – The special food includes Sarson Ka Saag & Makki Di Roti; Jaggery, Gachak, Rewri, Moongfali and Til Laddu or Til Rice.
A Place to Experience – Whole of Punjab
Pongal
Pongal is celebrated from 13th to 16th January in South India to represents the beginning of harvesting and the newly harvested rice is cooked. The festival Pongal is considered equivalent to Makar Sakranti.
[huge_it_slider id="5″]
Celebrations –Houses are cleaned and decorated by rangolis. Bhogi festival is celebrated on the first day where people light the bonfire in the evening. On the second day, worship is done by offering milk to sun God. The third day known as Mettu Pongal where a cattle is worshiped and on the last day, Mukkanuma people visit friends and relatives to enjoy festivities.
Key Attractions – Everyone is beautifully dressed up, Rangolis, Pongal dishes, sweets, and cattle races.
A place to Experience – Tamil Naidu, Karnataka, Andhra Pradesh, Telangana.
Also Read: The best Indian Foods you need to try
February : Indian Festivals
Vasant Panchami
Vasant Panchami initiates the spring festive cycle and people worship Maa Saraswati.
[huge_it_slider id="6″]
Celebrations- People celebrate the day by wearing yellow clothes, eating sweet dishes and displaying yellow flowers. In Punjab, people fly Kites and dance on the music too. In Rajasthan, people mark the day with yellow garlands and in Gujarat women play dandiya dance.
Key Attractions – Yellow clothes, good delicious food, kite flying, and dances
A place to Experience – Punjab for Kite flying and Gujarat for Dandiya.
Maha Shivratri
Maha Shivratri; a Hindu festival is celebrated to honor Lord Shiva.
[huge_it_slider id="7″]
Celebrations- Devotees of Lord Shiva fast during the day and sing praises and hymns during nights. At some places, Jagraans are held throughout the night. Temples are beautifully decorated with flowers and lights, and offerings of sweets, fruits, wood apple leaves and milk are made on Shivling. The aura of the whole environment smells sweet.
Key Attractions– Decoration of Temples and sweets
A Place to Experience –Maha Shivratri is celebrated throughout India.  Major celebrations take place at Ujjain temple and there is a special Shivratri Mandi fair in Himachal.
Losar festival
The Losar festival marks the beginning of Ladakhi or Tibetan New Year.
[huge_it_slider id="8″]
Celebrations- The celebrations take place for 15 days where the first 3 days are considered as the most important days. There are humorous events like deer dance and amusing battles between the king and his minister. Apart these offerings made at the shrines and general dances happen. Images of Deer and other symbols are carved in kitchen and doors to welcome New Year.
Key Attractions – Dances, deer dances, mass prayers and offerings, local beverage (Chhaang) is served.
Place for Experience – Ladakh and Arunachal Pradesh
March : Indian Festivals
Holi
The festival of colors is celebrated throughout India for two days with lots of zeal and enthusiasm. All the friends, families come together to play. It is believed this festival strengthens up bonding and end up any misunderstanding in the relations.
[huge_it_slider id="9″]
Celebrations –Holi is played with colors and water in both dry and wet form. Water balloons and water guns are thrown by children as well as adults to color and wet each other in various shades.  A night before playing, Holika bonfire is lightened and people pray, dance and sing around it. Bhang Thandai, as well as pakodas, are served as prasad in temples on the day of Holi.
Key Attractions – Holika Bonfire, colors, water Balloons, water guns, Bhang
A Place to Experience – Holi is played intensely across the whole country but the vibrant and musical one can be seen in North India. The best one happens in Vrindavan and Barsana. At Kullu in Himachal, there is a 40 day long Holi fest. To know more about it, read here
Also read the Best place to celebrate Holi
April : Indian Festivals
7. Ram Navami
Ram Navami another Hindu Indian festival is celebrated to mark the birth of Lord Rama.
[huge_it_slider id="10″]
Celebrations – The temples are decorated with flowers. A small deity of Lord Rama as the infant are kept in the cradle and devote swing the cradle to shower blessings as a ceremony. Some of them keep fast for the whole day.  In South, India people worship this day as the marriage day of Lord Rama and Sita. The processions are performed on the streets with the deities of Lord Rama and Sita.
Key Attractions – Decorations of statues of Lord Rama, Sita and Laxman, Prasad, chanting of religious hymns and prayers.
A Place to Experience– Ayodhya( Karnataka)& Uttar Pradesh; Sitamarhi (Bihar);  Rameshwaram (Tamil Naidu); Bhadrachalam (Andhra Pradesh); Varanasi (Uttar Pradesh)
8. Baisakhi
Baisakhi, also known as Vaisakhi is a Punjabi festival celebrated on 14th April, the harvest festival of the Punjab region.
[huge_it_slider id="11″]
Celebrations – On Vaisakhi people get up early, take bath and visit Temples and Gurdwaras to express gratitude to gGodfor harvest and good times in future. During day farmers get together to harvest the rabi crop and drums are played around it. Fairs are organized and men and women are very jubilant. They dress up well and perform Bhangra and Gidda, the folk dances of Punjab.
Key Attractions – Vaisakhi fairs, gidda, bhangra, wrestling competitions
A Place to Experience – Punjab, and Haryana
9. Bihu
Bihu is the North-East Indian festival.  There are three Bihu festivals celebrated in Assam– Bohaag (Baisakhi; celebrated in April); Maagh (middle of January); and Kaati (Kartik, celebrated in October) coinciding with the harvest months. But the Bohaag is the main one.
[huge_it_slider id="12″]
Celebrations – The celebrations include famous Bihu dance with the beats of Dhol and Pepe (buffalo hornpipe). The songs are sung with themes around love and they carry erotic tones. Everyone is dressed up in traditional attires like dhoti, Gamocha, and Chadar, Mekhala.
Key Attractions –Traditional attires, Bihu dance and playing instruments, bull fights, bird fights, local cuisine like coconut ladoo, til pitha and fish pitika
A place to Experience – Assam
There are many religions in India, and each community has their own traditions, culture, and festival. This is just the Part 1 of the series of Indian festivals calendar covering the months January, February, March, and April. Stay tuned to read the next posts where you will get the glimpse of the rest of the Indian festivals.
Also Read: What to wear in India