Sometimes, you hear a place and mark it to your wish list. That is how our Spiti saga started in 2013. And we never knew a single visit there will make the place become our second home. Yes, we are absolutely in love with Valley and now want to see it in in every color, in every season. We have traveled to Spiti Valley multiple times in summers and the wish list was to do a Spiti winter trip now.
There is a common thought among people that travelling to Spiti Valley in winters is not possible – as the roads get snow covered and becomes inaccessible, temperature falls extremely low and survival gets tough. But the question was then how do locals survive. We wanted to see the challenges they face during winters and how they tackle them. So, we took a self-drive road trip to Spiti valley in winters (i.e. in January).
Before leaving from Delhi, we checked the MET department forecast, rain and snow both were predicted in the upper hills. There were high chances of getting struck but our spirits were much higher than the thought of getting struck.
Route for Spiti Valley in winters
There are two routes to enter Spiti – one from Shimla and other from Manali. In winters i.e. by October end, Rohtang La and Kunzum La both get covered with heavy snow, so one cannot enter through Manali and complete circuit via exit from Shimla. So the only viable option is to enter and exit through Shimla.
Our route – Delhi – Shimla – Rampur – Rekong Peo – Tabo – Kaza
Beyond Kaza, towards Kunzum La and Chandratal roads gets closed. So, the farthest one can reach is Kaza and the villages around it i.e Kibber, Komic, Langza, Hikkim, Tashigong.

What to expect while doing winter Spiti Trip
By October end or November first week the valley start receiving snow and the temperature dips down to negative around -10 degree Celsius. Public transport service decreases and the only moving vehicles you get to see are of local Spitians, local taxis and of government officials.
1. Snow on the road
Expect fresh or old snow on the roads between November to March in the Spiti Valley. So, roads will be slippery and one needs to drive very carefully. Snow cutters are there but not on the moves always, so there are high chances of getting struck in between too and if weather conditions worsen than there are chances of roads getting closed for several days.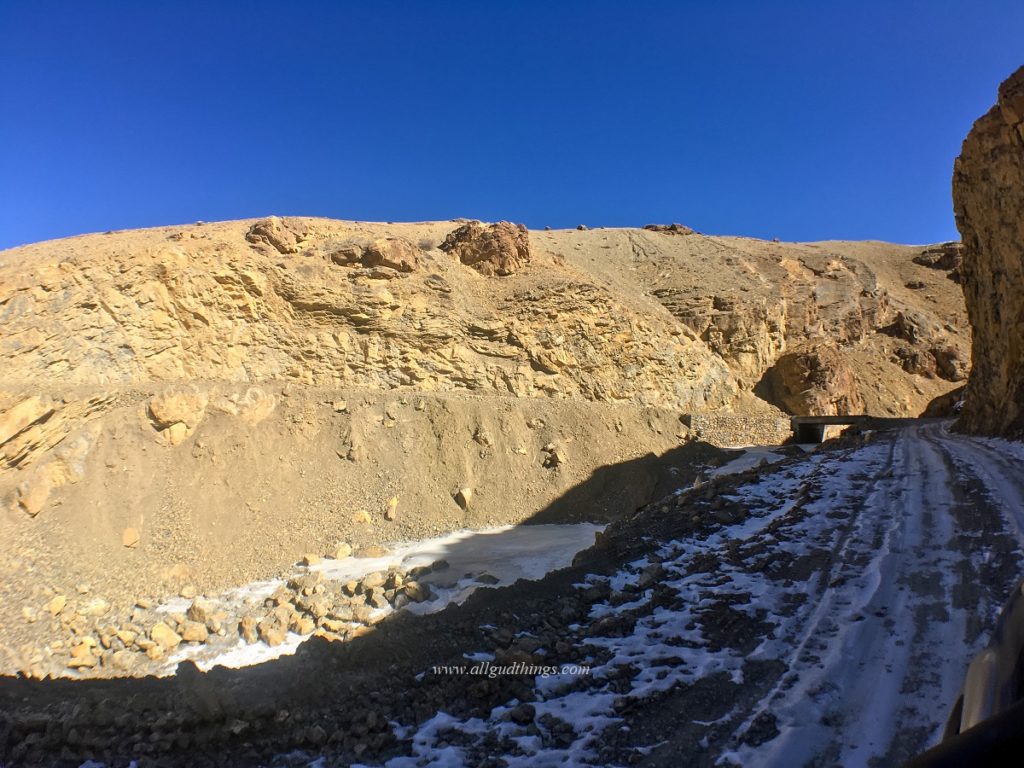 Preparation
Remember our vehicles usually don't have snow tires; so drive with full concentration and as slow as possible; only during the day time
Try travelling by 4*4 only and if you don't own one, do tie snow chains for extra traction
Don't try to apply hard brakes, especially on the black ice as there are high chances of vehicle getting slipped
Reduce Tyre pressure and add more weight in your car by luggage or add stones
In case your car loses control, don't apply brakes. Release the accelerator and let the car go to intended direction
Also keep a towing cable and shovel, in case you need to clear snow on the way
2. Limited food joints on the way 
Finding a food joints while taking the winter Spiti trip is a challenge in itself.
After Rampur the places which serves you food are at Tapri, Spillow and Nako. Between Nako to Kaza, there is no food joint option.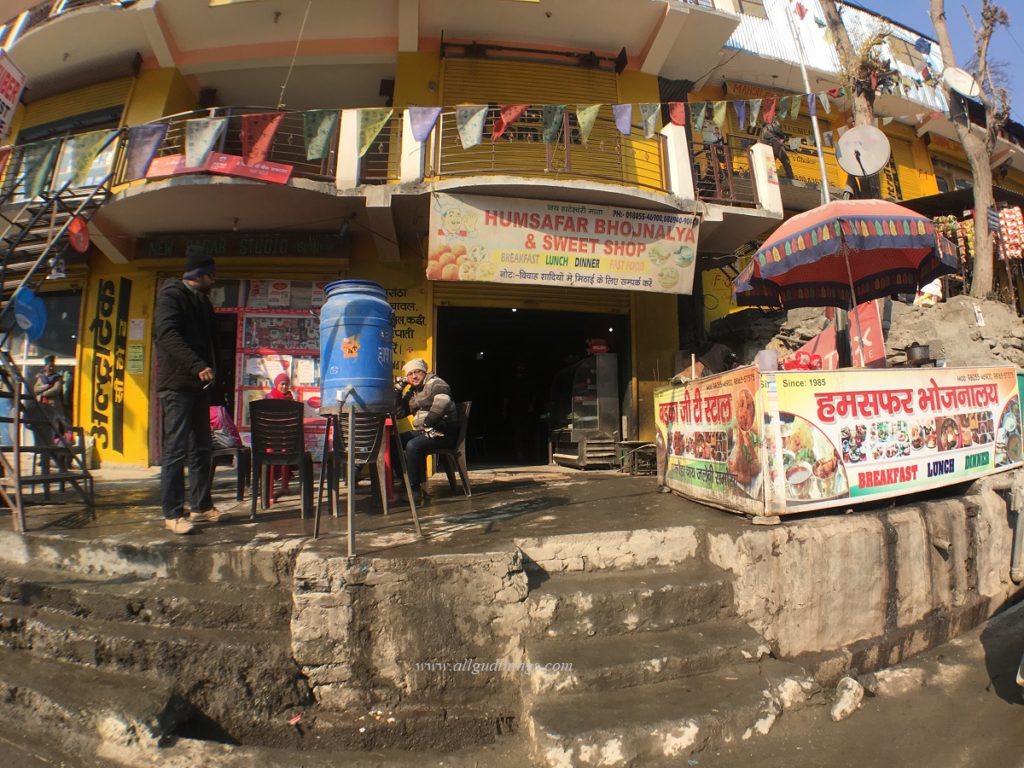 Preparation
Carry along packed food, at least a stock of 1 week. You never when you can get stuck.
Drink lot of water to avoid dehydrtion & AMS and Thupka or soup to keep yourself warm
3. Sub Zero Temperatures
As you cross Rampur and drive towards Kaza, the temperature dips further and goes subzero. The villages above Kaza i.e. Hikkim, Langza, Komic are much colder and here temp even go as low as – 25 degrees. So, the key to live and stay comfortable in this extreme weather is to wear proper layered clothing.
Preparation
Wear clothes in 3- 4 layers, with a warmer / thermal inside to fleece to thick feather jacket to wind cheater outside.
Keep your head, hands and feet covered.
Also keep snow and ice proof, warm boots which have enough traction for walking on slippery surface
Carry a pair of sunglasses to avoid snow glare / blindness
Keep drinking something warm
When inside sit inside the kitchen around Angithis
Never touch metal with bare hands as there are high chances of your skin sticking to the metal. If in any case, that happens, don't pull your hand away. Instead, pour hot water to detach your hand
Keep camphor and cotton handy to light fire, if struck anywhere on the road,
4. Limited Accommodation and Resources
As the winters set its feet in Spiti Valley majority of the hotels, guest houses and home stays close down. Only few home stays are operational and ready to host you. So, it's always advised to go with a pre-booking in winters.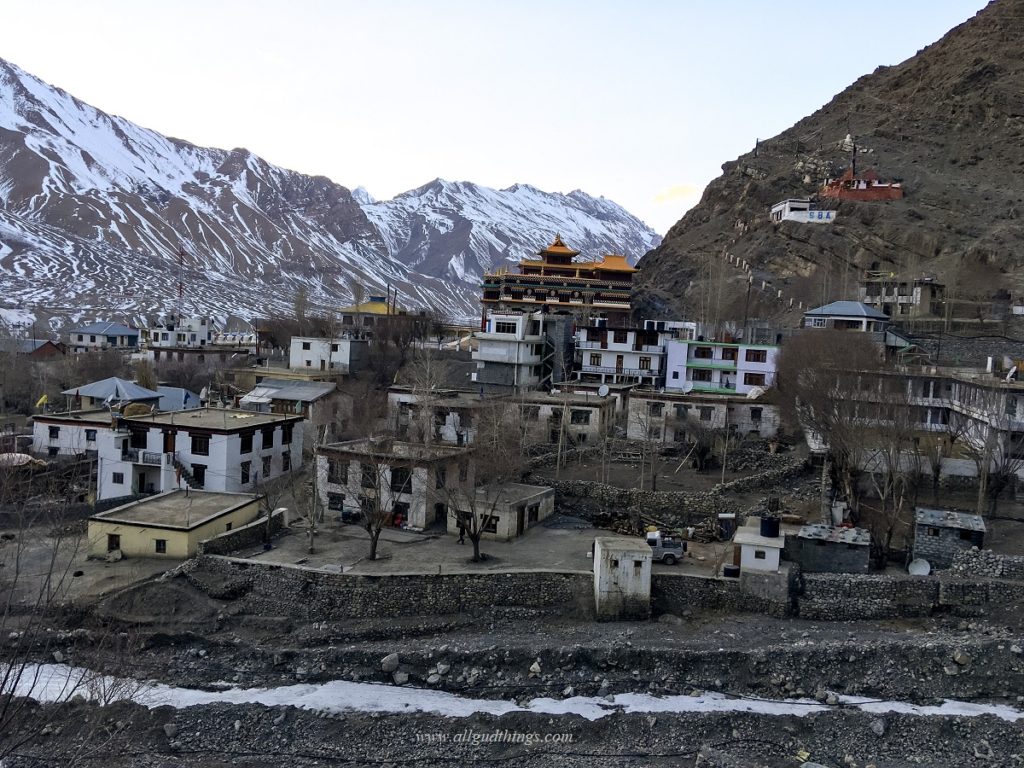 During our Spiti winter trip we met few folks from Chandigarh, who came without booking and it was a big nuisance for them as well home stay owners. First all the running home stays were booked and they didn't get the place to stay. Second, there was a fight for the resources. Still, the big heart Spitians accommodated them.
Preparation
Book your stay in advance
Limit your expectations as the resources are limited and life is really tough in winters. Water freezes down in pipes and for usage it has to be carried from far away hand pumps. Angithis are kept burning throughout for heating water and keeping the room warm. The supplies are stored for coming months
Don't compare winters pricing to the summers pricing. Indeed help locals in whatever way you can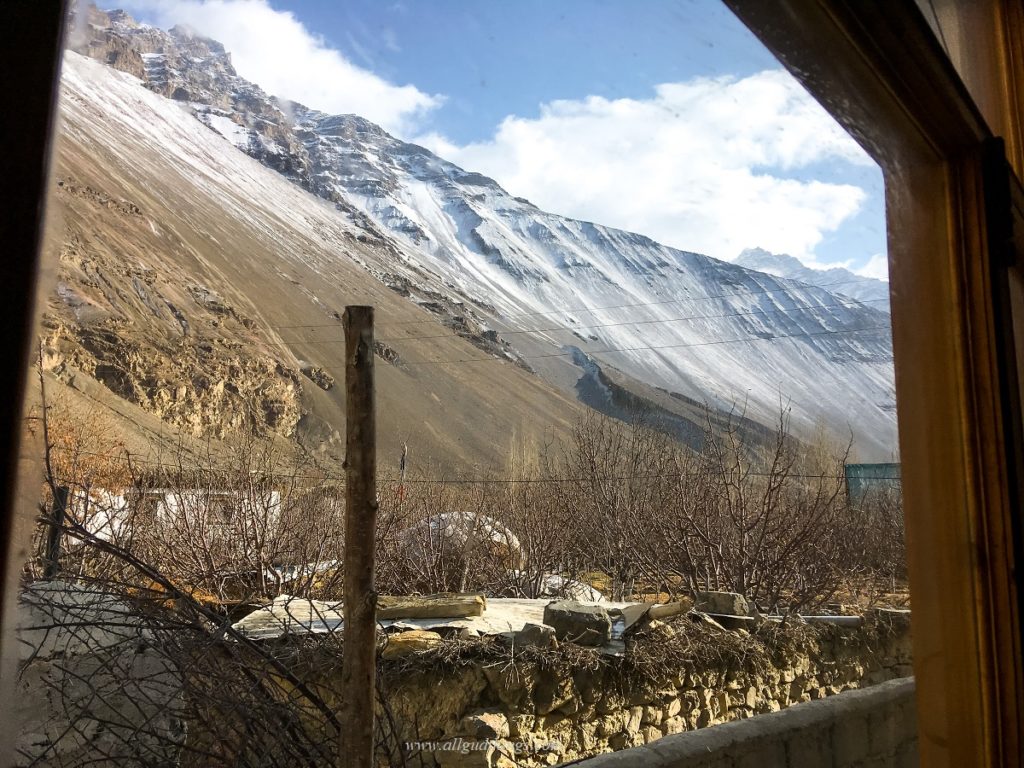 Note: We stayed with Mr & Mrs. Tandup at Pema Homestay in Kaza; a super helpful family who can go beyond limits to give comforts to the guests. You can connect with them at 9459252699, 8988231033 and they charge Rs 1500 per night.
5. No Bathing & use of Dry toilets
Pipes & sewerage system freezes down in Spiti valley in winters. Locals keep 20 litre and 40 litre cans filled for the usage, which they get after walking miles from the hand pumps. And this is a part of their daily chores. So, give up on bathing every day and remember to save water.
Also the only option for pooping is dry toilets. Dry toilets are like pooping through the hole in the ceiling of a room filled with compost.
Preparation
Instead of bathing, ask owners for warm water and do wet towel scrub
Carry enough of tissue paper roll and wipes to clean
Be prepared to use dry toilets. Dry Toilets don't smell if used properly. Make sure to add a shovel of compost after you are done
Avoid taking your cellphones in the dry toilets. If it drops in the hole, you cannot get it back anyway
6. Frozen Diesel in the car
Don't be surprised if your car is not starting in the morning. It's the result of frozen diesel in subzero temperatures and keep in mind that the diesel vehicles are more prone to it than the petrol vehicles.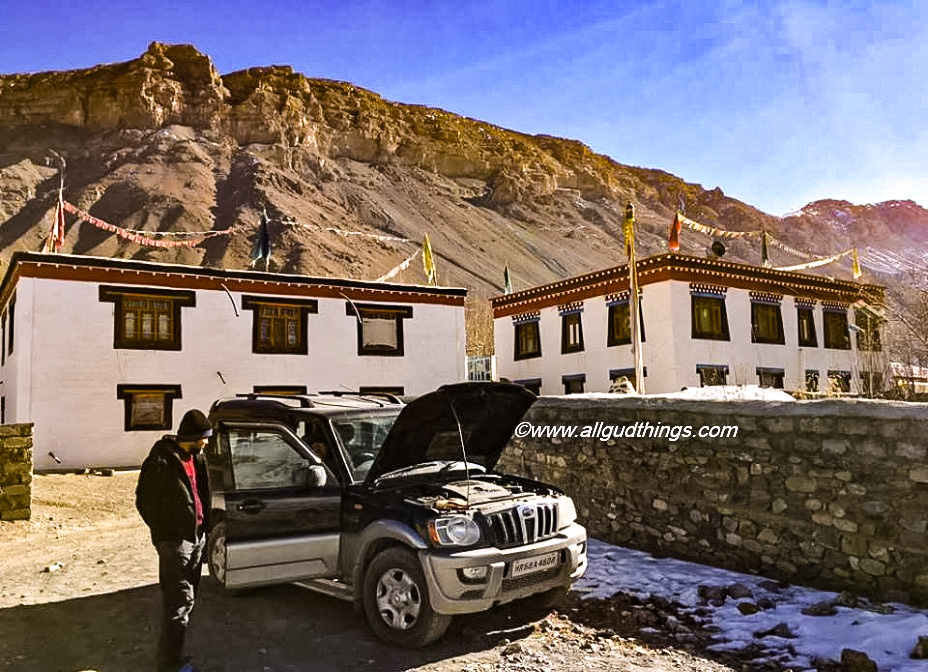 Preparation
Don't park your car in the open. If there is no other option, at least cover the bonnet/ hood of your car
Mix appropriate portion of anti-freeze in the diesel to avoid diesel freezing. And still expect that diesel can freeze and it happened with us during our Spiti winter trip
Wait for the sun rays to melt the frozen diesel or use a cylinder with the local's help. Also you can throw boiling water over the engine
There will be more wear and tear of vehicle in the snow as compared to summer trip
Always keep a towing cable in your car
7. Getting struck anywhere
Spiti is a land full of challenges so be prepared for the undue situations. Landlines or snow can make you struck here for several days. So, only move on the route after local's guidance and stay in touch with them.
Preparation
Always carry the contact details of a local person with you and inform your homestay owner where you will be travelling for the day
If you see the unlikely condition, ask immediately for help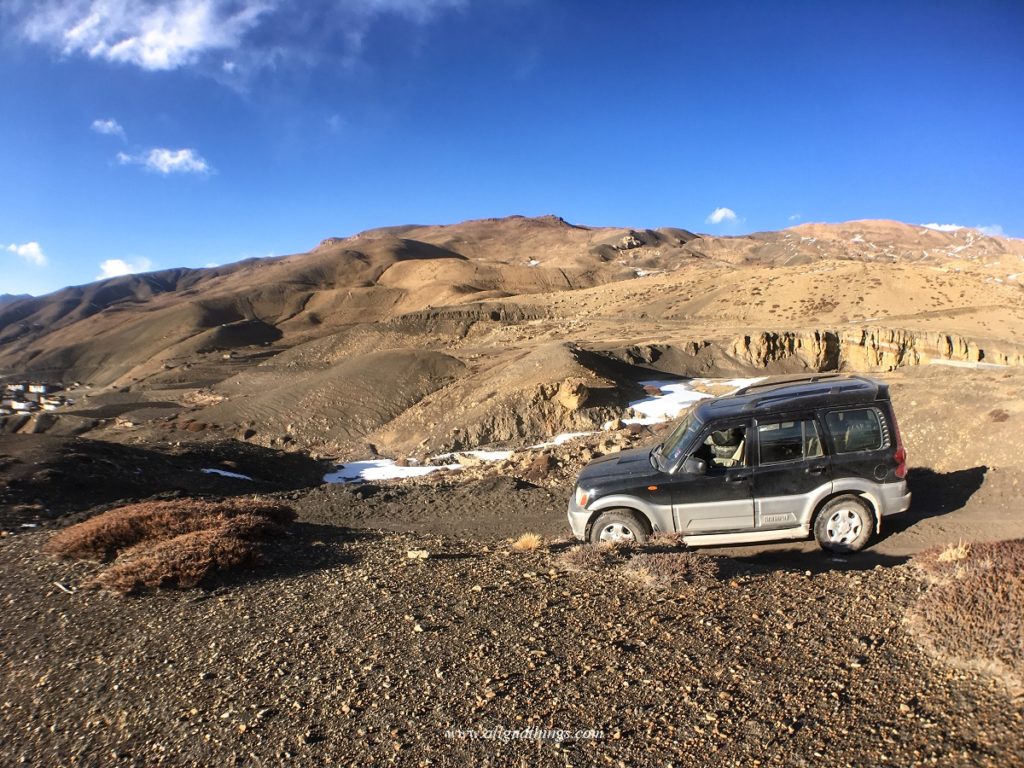 8. Limited Medical Help
There is a hospital in Kaza but you can ger only limited medical help. Many times electricity is not there, although during our last trip electricity was there for majority of time in Kaza. Hospital has ambulance service, but if the roads are closed it is of no use.
Preparation
Carry all the basic medicines (like Disprin, D- cold, Chestron, Noroflox, Betadine etc) and a first aid kit with you
For any major complications, you will be referred to the Rampur Hospital
9. Chances of AMS (Altitude Mountain Sickness)
AMS (Altitude motion/ mountain sickness) can surely hit you at this extreme altitude. So, be prepared and if you see any of such symptoms i.e. a headache, nausea, breathless during Spiti winter trip it is AMS. Seek help immediately.
Preparation
Give yourself some time to get acclimatized
Keep sipping a lot of hot water
You can start a DIAMOX course prior to the trip, only after the doctor's consultation
10. Fuel and Cash Availability
ATM service is available at Kalpa, Tabo as well Kaza but don't expect them to have enough cash as well many of them will not be in working conditions.
There is a Fuel station at Kaza which opens only between 10 am to 5 pm and if it snows then it doesn't open up. Also at times, the fuel tank doesn't reach Kaza on time. So, there won't be fuel for a day or more.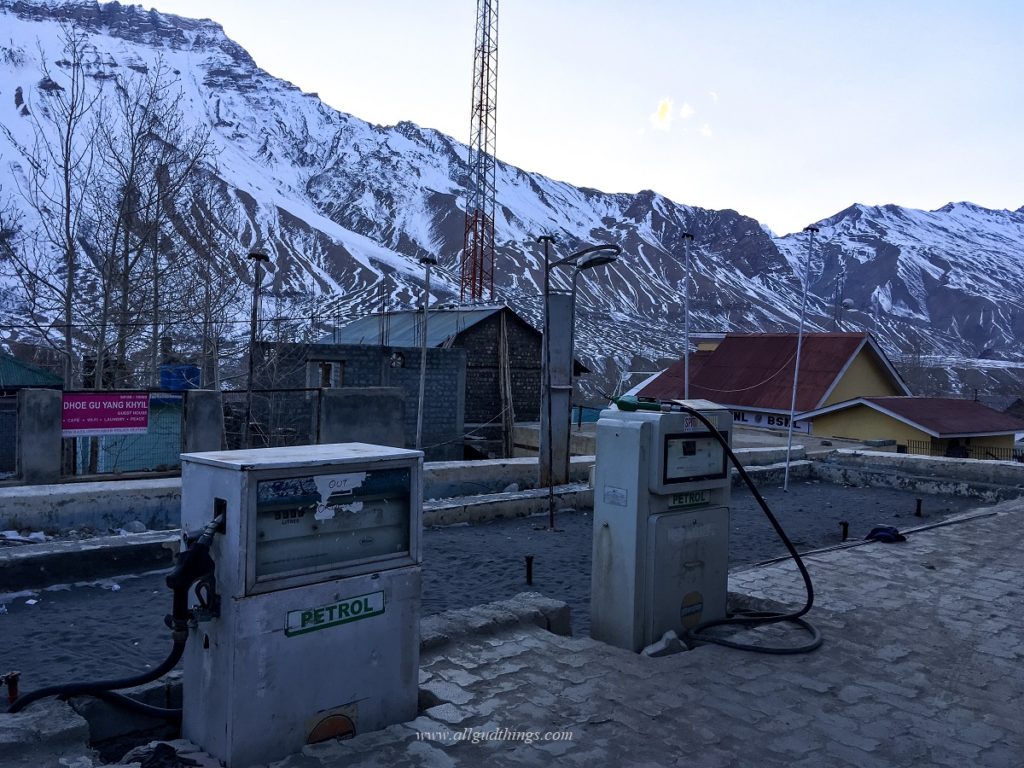 Preparation
Carry enough cash with you
Get your vehicle fueled timely
11. Limited Connectivity
Till day Spiti Valley is a remote land and there is only BSNL connectivity. So, it is a perfect place to digitally detox yourself.
Preparation
Carry a BSNL sim with you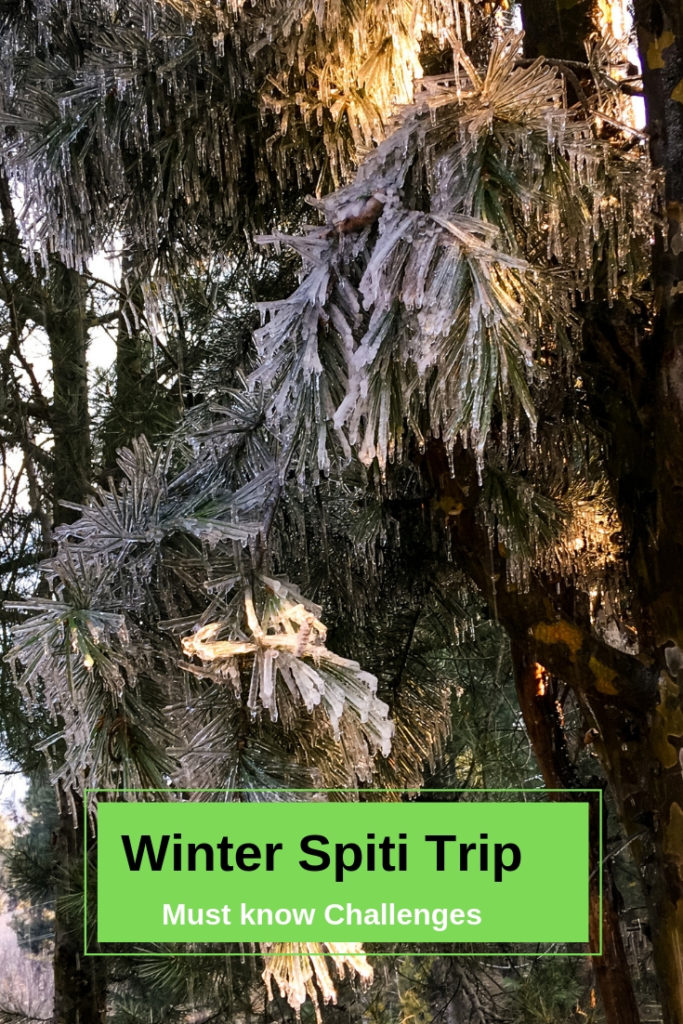 So, these are the challenges which you are most likely going to encounter while taking up a Spiti winter trip. The drive to valley is tough as it checks your patience and endurance but once you pass all this, you will fall in love with it and you will wish to return here every winter.