Since 7:00 am, we both are glued to our chairs in the hotel's room Balcony with tea mugs in our hand. You know why? Because it has been raining since early morning and we can't miss gazing at the formation of the raindrops, swaying trees, moving clouds, dancing flowers and that cool misty breeze on the face. You might think, we are crazy. Yes! We are because we love seeing, getting wet and jumping in rains at different places. So, as soon as monsoon set it foot, we start planning a trip to one of the offbeat monsoon destinations in India. Till now, we have covered many monsoon destinations in India and in this post, we will be covering our favorite ones.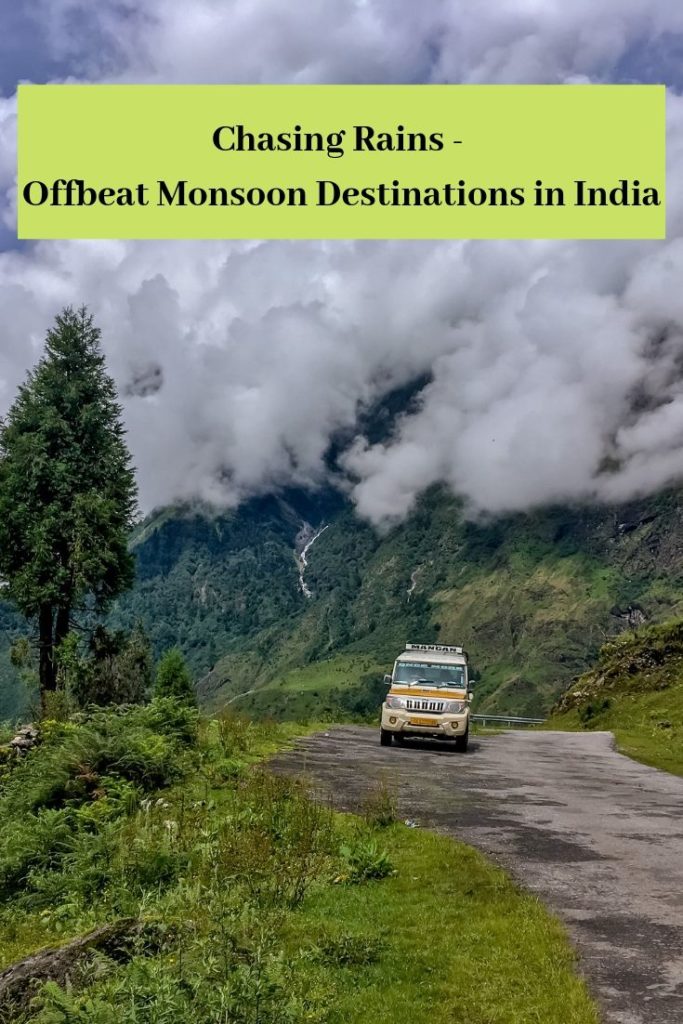 Offbeat Monsoon Destinations in India
With the onset of the rainy season, mother earth wakes up from hibernation and starts rejuvenating. The downpour provides relief to everyone and everything from the scorching heat and the whole nature just turns magical. In hills, the clouds engulf the mountains and landscapes, the dried-up patches turn lush green, waterfalls soar up, and the silent rivers turn ferocious. Not only this the rhythmic rain sound, earthy smell, and misty fragrance further adds fuel to the soul. So, it's our favorite time of year for traveling.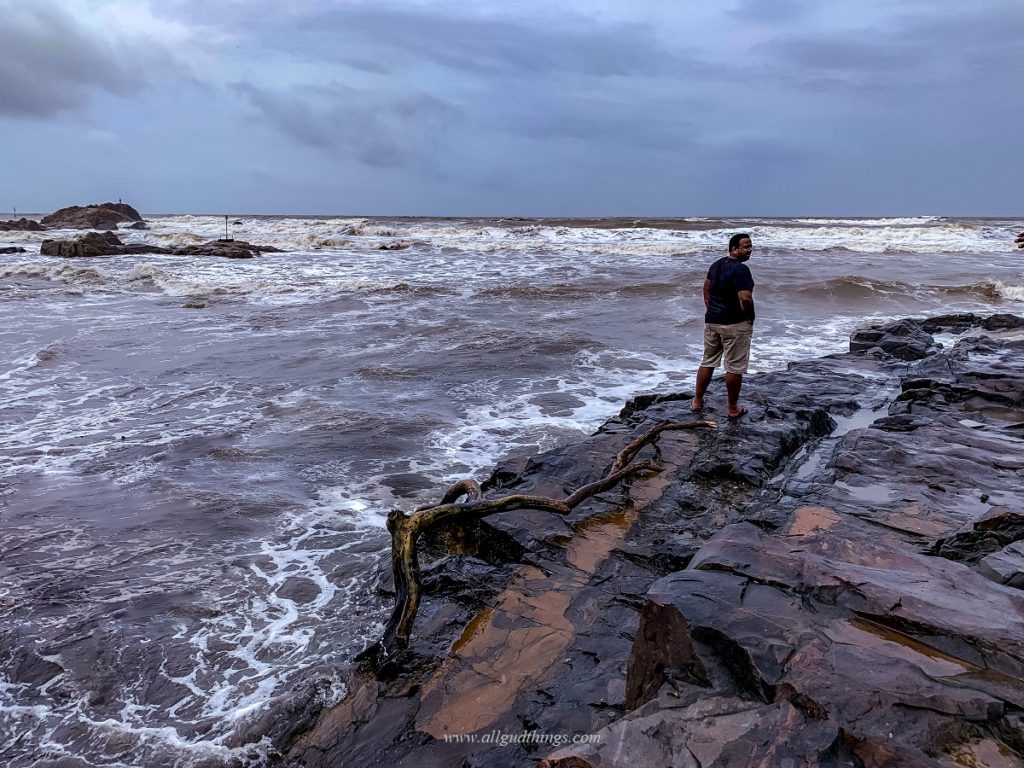 And, if you too are someone like us who wants to enjoy these perils of nature in its purest form, then you must travel in monsoons. So, pack your bag and get ready to explore these offbeat monsoon destinations in India.
Chakrata, Uttarakhand
Chakrata, the cantonment area at an elevation of 7500 feet, in the Garhwal Himalayas in Dehradun district, is a hidden gem of Uttarakhand. The hill station was developed by British rulers as a summer retreat for the high executives, exactly like all other cantonments of India.
In monsoons, Chakrata looks extremely dramatic. The roaring, hanging clouds in seconds descend down on the ground, reducing the visibility to zero. You can't predict when downpour will begin here and if it starts it won't stop that easily. Rains make the landscapes look crystal clear and lush green. Waterfall howl in full volume during monsoon season and there is a fragrance of fresh air throughout.
Must Visit – Tiger Fall, Deoban, Chilmiri Point, Kanasar and Budher Caves
How to reach Chakrata
Chakrata lies 89 kilometers from Dehradun city and 323 kilometers from Delhi. From Delhi it can be reached by car, bus, train or cab. The nearest airport and railway station is at Dehradun. From there one can hire cab or take a bus to reach Chakrata.
According. to AllGudThings, the best way is to take a self-drive road trip. There are two routes and we opted for route 1 because it is a highway and to avoid heavy traffic at Meerut and Saharanpur.
Route 1: Delhi – Panipat –Karnal – Yamunagar – Ponta Sahib – Chakrata
Route 2: Delhi – Ghaziabad – Meerut – Saharanpur –Dakpathar – Chakrata
Condition of Roads: Excellent, fully graveled highway roads. The steep roads start only after Ponta Sahib
Binsar, Uttarakhand
Binsar, located at 7913 feet is a hidden sleepy place in the Kumaon Himalayas of Uttarakhand. Indeed, it is a less traveled forest, encircled by a vast wildlife sanctuary spreading up to 46km2. And today it is home to many rare animals, birds, and wildflowers.
As soon one enters the Binsar wildlife sanctuary the blanket of green hangs all around. The rocks are covered with unusual moss and ferns, and flowers and shrubs foliage is seen sprouting out of every conceivable nook and corner of the hillside. The entire place looks from a different era. It seems time never touched this place and it has been similar since years. In monsoons, Binsar becomes too exiting. If one moment, there is a heavy rainfall followed by pitter – patter of raindrops than other moment it will be misty with floating clouds in the valley. Overall the place is adorable throughout and looks super green, fresh, foggy and smells earthy.
Must Visit – Zero Point, Bineshwar Mahadev Temple, Kasar Devi Temple,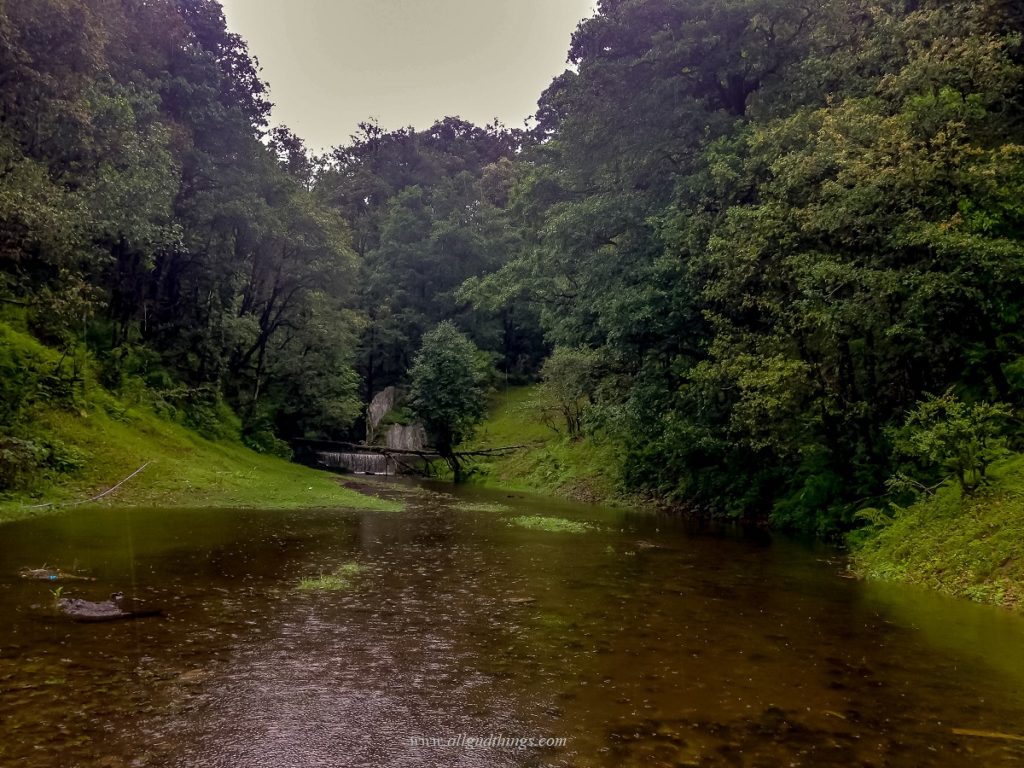 How to reach Binsar
Binsar lies 95 Kilometers from Nainital, 35 kilometers form Almora, and 423 kilometers from Delhi. It can be reached via air, road or rail. The nearest airport is Pantnagar airport and the nearest railway station is at Kathgodam. Further from both the stations, distance to Binsar can be covered by taxis or buses.
Route to Binsar from Delhi – Delhi- Ghaziabad- Hapur- Moradabad- Kaladungi- Nainital- Almora – Binsar
Condition of Roads- Gaveled single lane tortuous roads and at places expect detours due to landslides
Registration Fee for Binsar Wildlife Sanctuary– Rs 150 per person and Rs 250 for vehicle
Thanedar, Himachal Pradesh – Offbeat Monsoon Destination in India
Thanedar, a small offbeat town in Himachal Pradesh is located at 7700 feet, near Narkanda. It is well known as the home to the first apple plantations of the country. Along with apple, the fertile land and good climate conditions too helps in cultivation of plums and apricots and today this belt is referred as a Food Bowl of Himachal.
In monsoons, Thanedar and its surroundings look completely heavenly. The whole of the valley is lush green and submerged in clouds. There is pin-drop silence except the chirping of birds and roaring clouds. And when the clouds clear or valley lifts up its veil, one can see the apple trees in full bloom, laden with clusters of pink-tinged white flowers. So, overall this place is enough for a sensory explosion and we time.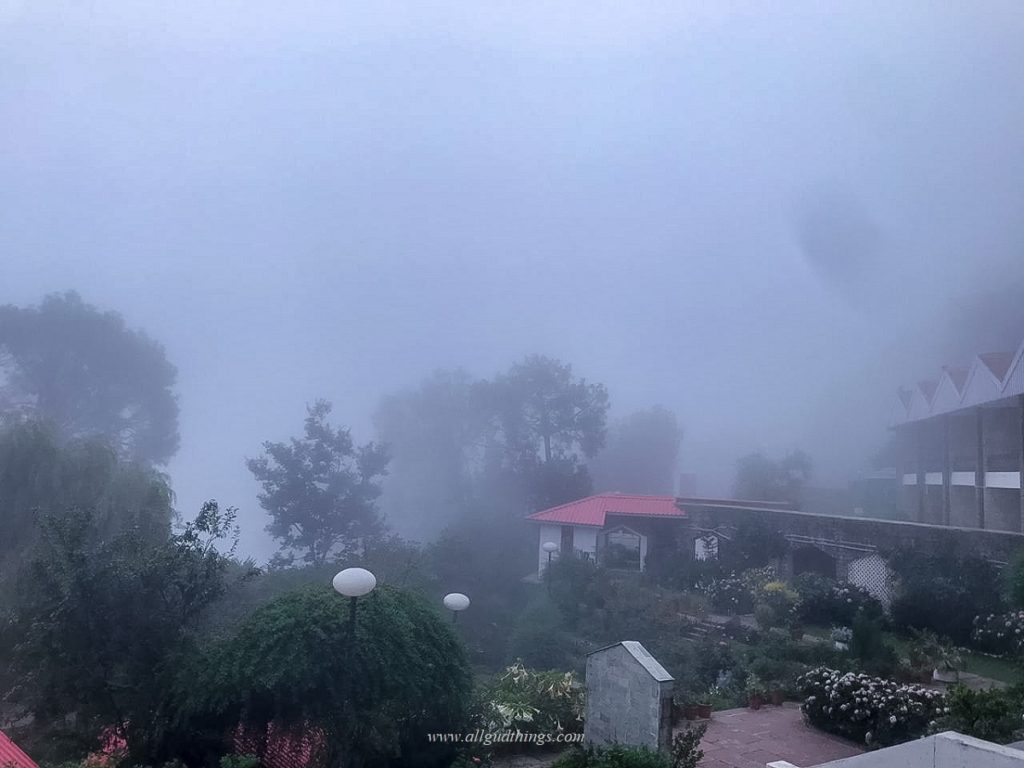 Must Visit – Tani Jubber Lake, St. Mary's Church, Apple Orchards, Sutlej River, Harmony Hall also known as The Samuel Stokes stone house, dedicated to the man who started apple cultivation in this belt and later who changed his name to Satyanand, Stokes Farm and Narkanda
How to reach Thanedar
Thanedar lies at a distance of 445 kilometers from Delhi, 80 kilometers from Shimla and about 15 kilometers from Narkanda. It can be reached via air, road or rail. The nearest airport is the Shimla airport located in Jubbarhatti and the nearest railway station is at Shimla. Further from both the stations, distance to Thanedar can be covered by taxis or buses.
Route to Thanedar from Delhi – Delhi – Karnal- Kurukshetra- Zirakpur- Shimla- Narkanda- Thanedar
Condition of Roads- Highway with fully gavelled roads except few bad places. Also expect jams due to work in progress
Sikkim
Sikkim, is the least populous and second smallest mountainous state in North East India. The state is further divided into North, South, East and West Sikkim. The state has around 28 mountain peaks and also host the highest peak of India i.e. Kanchenjunga. Around 35% part of the entire state is covered by Kanchenjunga National Park & its capital is Gangtok.
Sikkim in Monsoons won't be on anyone's radar because of the incessant rains area receives. But believe us, if you want to see the beauty of the real nature, then this is the best time. Paths get lined up with ginormous ferns and wildflowers, forests turn green & dense and fog in between make it look mysterious. The river starts flowing in full swing, the waterfalls become exuberant, the blanket of clouds continuously hover over the landscapes and the whole nature smells earthy. Everything looks extremely dreamy and just imagine having that lone house standing grand in the middle of the glistening field, swathed with the layers of mist. Isnt that the best feeling. Also, the place turns to a chirpy heaven and one can even spot the rarest species of the birds at this time.
Must Visit – Gangtok, North Sikkim (Gurudongmar Lake, Lachen, Lachung, Katao), Rumtek Monastery, Zuluk, Pelling, Yuksom, Ravangla, Rabdentse Palace Ruins, Kanchenjunga National Park and waterfall, Khecheopalri Lake
How to reach Sikkim
Sikkim (Gangtok) lies at a distance of 1601 kilometers from Delhi, 671 kilometers from Kolkata, 123 Kilometers from Bagdogra and 30 kilometers from Pakyong. It can be reached via air, road or rail. The nearest airport till 2018 was Bagdogra Airport but now the nearest is Pakyong Airport. The nearest railway station is at Siliguri. Further from here, the distance to Gangtok can be covered by shared or private cabs or buses.
Condition of Roads from Bagdogra Airport- Highway with fully gaveled roads except for a few bad patches.
Goa
Goa, the smallest state of India is well known nationally and Internationally for its beaches, parties, sunsets and liberal culture. Just like Old Manali it too is listed under the Banana Pancake trail and is famous not only among the hippies and backpackers but also among the honeymoon couple.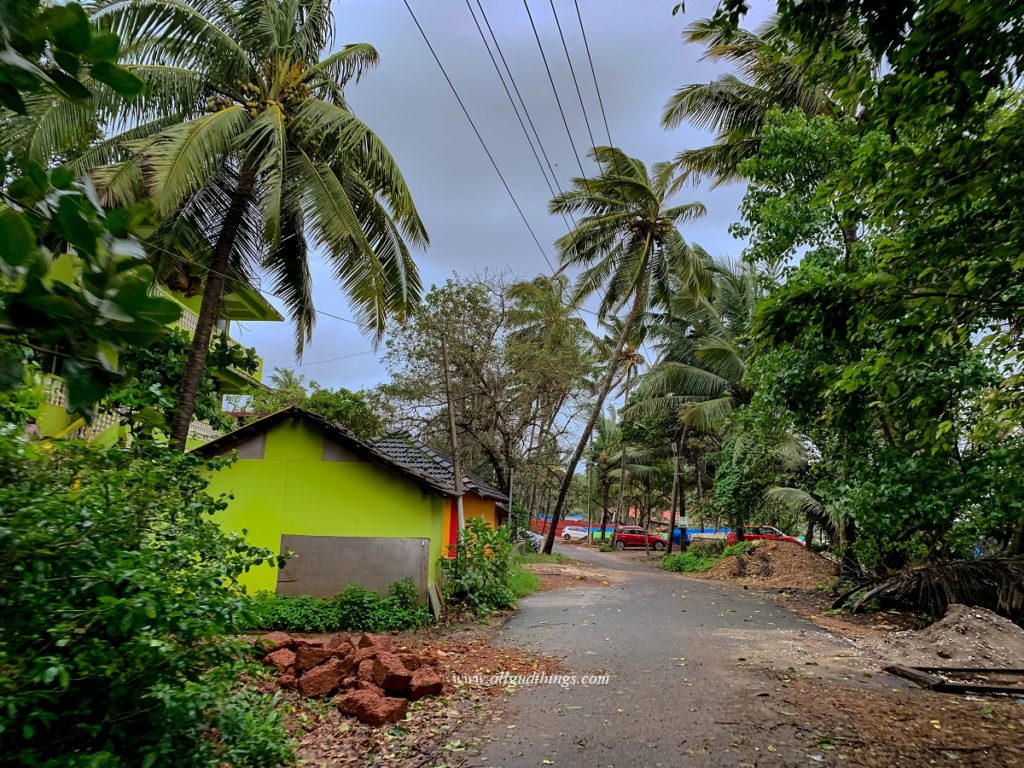 During Monsoons, Goa looks extremely different and special. There is a feeling of romance, refreshment and magic. The whole place turns lush green, Palm trees dance and sway to the tune of the winds, the quaint lanes get clean and cleared by the continuous rains, thick grey clouds rule the sky, colorful houses shine bright among the landscapes and waves swirl and bash hard at the shore of the beaches.
Most of the Shacks in Goa gets packed up during Monsoons. Only the permanent structures survive the harsh downpour. So, to enjoy the action and party scenes during monsoons, prefer staying in North Goa over South Goa as most of the Shacks are operational here.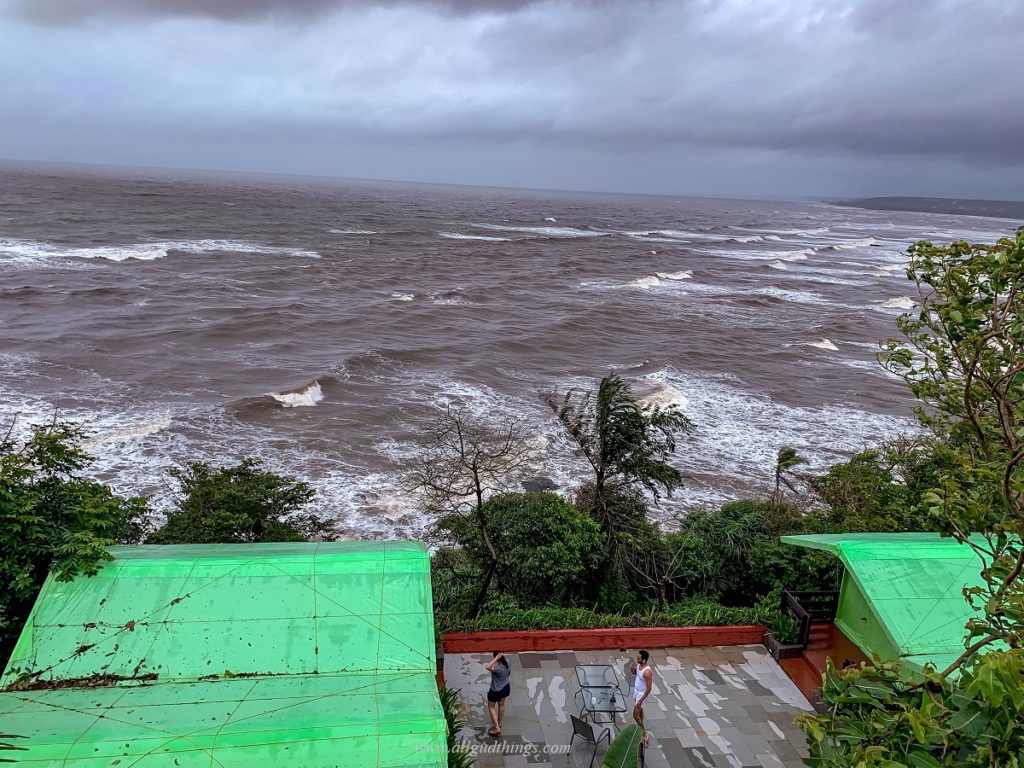 Must Visit – Dudhsagar waterfall, North Goa Beaches (Candolim, Calangute, Vagator, Baga. Anjuna, Morjim), Chapora Fort, Old Goa Tour, Divar Island, Spice Plantations around Ponda, Bhagwan Mahavir Sanctuary, Mollem National Park, Netravali Wildlife Sanctuary, Bondla Wildlife Sanctuary, Dr. Salim Ali Bird Sanctuary, Panjim and Casinos. Also, check for the local Monsoon festivals like Soao Jao (celebrated in June) and Bonderam flag festival (celebrated in August).
How to reach Goa
Goa lie at a distance of 1902 kilometers from Delhi, 603 kilometers from Mumbai, 572Kilometers from Bangalore and 44 kilometers from Dabolim. It can be reached via air, road or rail. The nearest airport is Dabolim Airport whereas the nearest railway station is at Madgaon and Vasco – Da- Gama. Further from here, the distance to Panjim can be covered by shared or private cabs or local buses.
Condition of Roads from Dabolim Airport- Fully gaveled roads with potholes. Also, expect slow traffic due to work in progress.
Tips for Traveling in Monsoons
Remember the itinerary you planned cannot be completely followed during monsoons. Half of the time you will be just sitting in your room balcony, sipping tea, enjoying the rain or you might get stuck at a place for hours. So, keep a buffer day or two in your itinerary. Also, remember to be slow and go with the flow during the rainy season.
Rain-proof your entire luggage and your electronic devices
Carry an umbrella, raincoat, first aid box, extra pair of clothes, non-slippery floaters and slippers with you
Do keep windcheater, light jacket and a pair of socks as the weather gets cool after rains at all these places except Goa
Carry torch, mosquito repellants and some packaged food
Keep your ID proofs and photographs with you for the permits and a visit to North and East Sikkim
Make sure to keep your power banks charged as there are high chances of power failure or cut in monsoons
Travel safely as there are chances of landslides in hilly areas
Don't go out if there is an alert by Metrological Department
Avoid going to the waterlogged areas
Stop if there are a heavy downpour and thunderstorm
Keep yourself hydrated and avoid exposing yourself to direct winds
In Goa, don't go into the beach, as the high tides are really dangerous and can push you down hard
Don't run in the hills as monsoons make the trails highly slippery and there are high chances of getting slipped and injured
Don't opt for water activities, although you will see companies advertising and selling them in Goa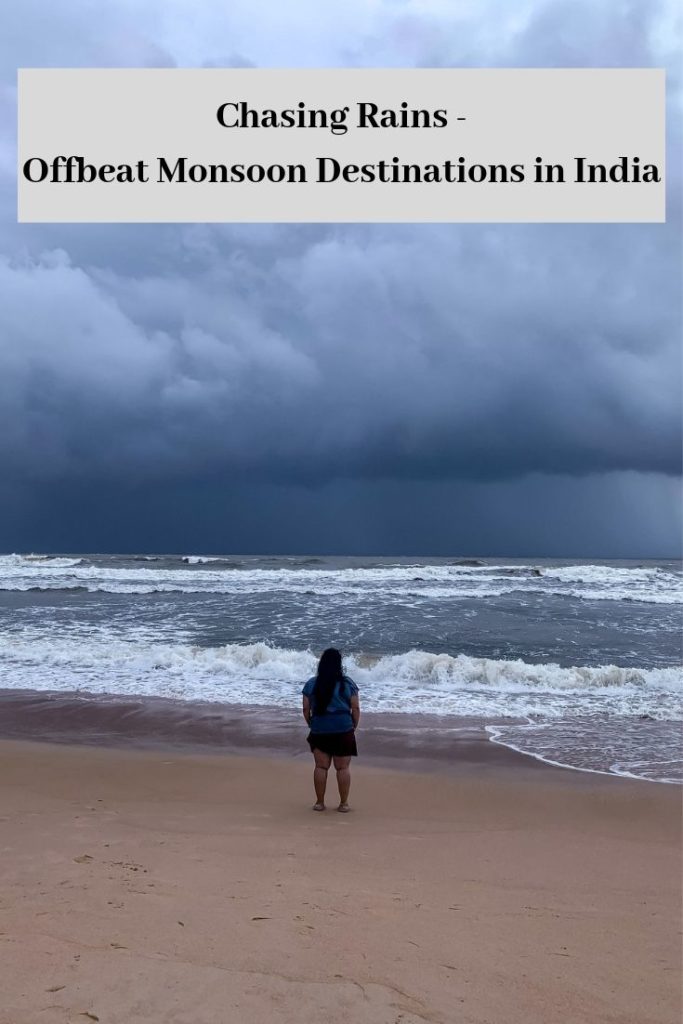 Tips for Road Trips to Offbeat Monsoon Destinations in India
Get your car wipers, headlights, brakes and tires inspected before you leave. Prefer having the anti-skid suspension tires
Avoid taking unknown routes and prefer the highways. Also be prepared for the detours because of the landslides
Start early and take the break when showers are over powering and visibility is highly reduced
Watch your speed and be really gentle on the curves