Birds chirping made us open our eyes and the orange light peeping from our room window cajoled us out of our bed. It was just 6:00 am and we were up & awake. Meanwhile, the prancing footsteps knocked on the door to make sure we were up to admire the sunrise, the first sun rays lighting the Himalayan Peaks. He handed over a freshly brewed cup of tea on the terrace to us, while the dusk gave way to dawn and lifted the veil from the peaks. In continuation, a narration by the fellow server on how the day goes by in Binsar starting with heartwarming breakfast, sun-soaking and peaceful jungle walk followed by seeing the orange ball diving behind the mountains, and ending the day with stargazing in the deafening quiet nights. Overall it looked like a promising relaxed idyllic holiday & that is what we were here for.
So, to experience such days, rush to the hidden unadulterated hamlet of Uttarakhand i.e. Binsar also known as Binsar wildlife Sanctuary.
Brief about Binsar Valley
Binsar, a small secluded scenic valley, sits on the top of Jhandi Dhar Hills, at an altitude 2412 meters in the Kumaon region of the Himalayas. It lies 23 kilometers from Almora, 75 kilometers from the Mukteshwar town and 88 kilometers from Nainital in Uttarakhand.
Initially, the valley was just popular as Binar or Binsar Valley but in 1988 it became a Binsar wildlife sanctuary, to conserve and preserve the shrinking broad oak leaf oak forests of the Himalayan region. Today, the Binsar wildlife sanctuary spreads over 46km2 and is highly rich in flora and fauna. It is home to many wildlife animals (like leopards, barking deer, mountain goats, wild boars, porcupine, foxes, langurs, chital, red flying squirrel, etc.), mammals, birds, and butterflies. The sanctuary too has about 200 species of birds like magpies, parakeets, blackbirds, fork tails, pheasants, woodpeckers, etc. In flora, the forest hosts about 25 different types of trees, 24 types of bushes, and 7 types of grass.
Apart from all this, the main attraction of Binsar is the majestic view of the Himalayas one gets from here. The complete 300 km stretch of famous peaks like Kedarnath, Chaukhamba, Trishul, Nanda Devi, Nanda Kot, and Panchchuli are visible on clear days and on cloudy days there is a complete hide and seek game between moving clouds & glorious Himalayas.
Entry to Binsar Wildlife Sanctuary
Binsar lies 23 kilometers from Almora. And then there is an entry gate with toll barrier at Ayarpani to the Binsar wildlife sanctuary. To enter one needs to pay Rs. 150 per head for Indians, Rs. 600 per head for foreign nationals, Rs. 75 for Indian students, Rs. 250 for foreign students and add to it the vehicle charges i.e. Rs. 250 for small vehicles, Rs. 500 for medium-sized and Rs 800 for heavy vehicles.
Note: The issued pass is valid for just 24 hours and once you enter, forget going out
Timings to Enter & Leave Binsar Sanctuary
Being a restricted area, there are fixed timings to enter and leave i.e. in between 6:00 am to 6:00 pm
Days in Binsar / Places to visit in Binsar
Days in Binsar are quite blissful, slow & long. There is nothing much to do except relaxing, sipping tea and coffee, or reading books while gazing at the mountains, admiring the beautiful countryside, taking adventurous treks to the small villages and enjoying Kumaoni cuisines with the villagers. So, it is an ideal destination for a perfect long weekend getaway from Delhi to rejuvenate your soul & senses.
Anyways, in Binsar our days started quite early with sunrise and ended early too. For the best sunrise views, Zero point Binsar which lies 2 kilometers from the KMVN guest house is considered as the best location. But the KMVN hotel staff suggested to us, that the hotel terrace itself is the best location. Honestly, we were hesitant to listen to them but somehow agreed, and after experiencing can say, it surely is.
Here, the first sunray lights the snowclad Himalayan peak on one point and then widens its horizon and light up the several kilometers stretch. The whole scene is extremely mesmerizing and a treat to sore eyes. But simultaneously while watching, it makes me wonder – Are locals lucky? Do they appreciate getting up to this view every day or they just think it normal?
After sunrise, the day continued for us with a quick bath (Remember there is a limited hot water supply -like 1 bucket per head in mountains) and a delicious breakfast. A quick lazy nap after that and we were up for the jungle walk. Few meters from the KMVN gate, the road diverges into two- the one descending downwards goes to the Binsar Dak Bungalow, whereas the other one takes you to the zero points. We first took the road towards Dak Bungalow.
The Binsar Dak Bungalow (Sunset Point)– is where Swami Vivekananda had stayed and meditated for two days when he had visited Almora in 1897. The current colonial designed forest rest-house was built in 1902. It has limited rooms with beautiful views. From the grounds of this Dak bungalow, one gets the sunset view and is famous as a set point to the tourists. We went there at noon so just soaked our lazy bodies in the sun and came back for lunch.
Simple delicious lunch and we again dozed off. After some time we left to explore the Bineshwar Mahadev Temple, situated within the Binsar wildlife sanctuary. It is a 16th-century ancient temple, from which Binsar has derived its name. The Temple lies 6 kilometers from the Ayarpani i.e. main gate and houses Lord Shiva deity. The temple was built during the prosperous reign of King Kalyan Chand. Unfortunately, the temple was closed so we couldn't enter inside.
Just opposite to this Temple is a café & scenic waterfall, which looks grand and magnificent in monsoons and completely dried up in summers and winters. By this time, it was already 5:00 pm and it was time to head back. You might be wondering why because the hotel premises works on power backup and electricity is available only from 6:00 pm to 9:00 pm. So, this is the only time to charge up your phones and batteries.
Note: Electricity is available only from 6:00 pm to 9:00 pm.
After evening tea, we were back for a stroll on the KMVN terrace to watch the sun descending behind the mountains and sky lit in the shades of orange purple hues, followed by moonrise and stars slowly filling up the whole of the sky. The whole evening screenplay put by nature is impossible to be described in the words and can just say in a word- wow! By 8:00 pm there was a dinner call and by 9:00 pm majority of the lights were off. So, the time to retire to the bed or either night photography at the terrace. We would have chosen the other one but somehow missed carrying our tripod.
Our Experience
We recommend spending at least spend 2 days in the Binsar wildlife sanctuary to breathe and feel the place. Binsar valley is a big natural swath of forestland painted with Deodar, Pine, and Rhododendron trees. Indeed, it is one of the thickest forests of Uttarakhand, where sunlight hardly gets a chance to kiss the land. The moss on the trees and rocks looks like a forever unit and the peace and silence are the only elements apart flora fauna here. Time clock seems to have frozen centuries back here and nothing looks changed forever except the constructed gravel road and milestones.
The place is all about relaxing, gazing at the scenic mountains, and dwelling in the charms of the countryside. Overall, Binsar is the epitome of serenity and tranquility, perched on top of a hill with a spectacular view of the snowcapped peaks and the Almora valley.
History of Binsar
Binsar has a richly diverse history tracing back to ancient times. It was the summer capital of the Chand Dynasty who ruled the region between the 7th to 18th centuries. The Chand Raj kings used to visit the Binsar valley in summer to enjoy the pleasant weather and tranquil scenery among the mountains.
Mythological History
Acc. to mythology, Binsar witnessed a warfare between the Binsar King & Golu Devta/ God (who is believed to be the incarnation of Lord Shiva, mythological & historical God of the Kumaon region of Uttarakhand). In the battle, Golu Devta's was beheaded and his trunk fell at Gairad Dana Golu and head at Kaparkhan near Binsar. Today, both these locations hold the ancient temples of Golu Devta.
How to reach Binsar from Delhi
Binsar lies 394 kilometers from Delhi and is well connected by road, rail or by air. The nearest airport to Binsar is at Pantnagar (140 Kms from Binsar) whereas the nearest railway station is at Kathgodam (105 Kms from Binsar). Further journey from both Pantnagar and Kathgodam stations can be covered by bus or cabs.
Route from Delhi to Binsar for Road trip
Delhi – Ghaziabad- Hapur- Garh Mukteshwar- Gajraula – Moradabad- Kaldungi – Nainital – Almora – Binsar Wildlife Sanctuary
Time taken for Road Trip to Binsar
Approx. 10 hours, for a direct journey but we advise you to take a halt in between
Road Conditions
Roads are well graveled throughout. Beyond Kaladungi, expect a narrow ascending road while crossing a few Tals (Lakes) like Khurpatal, Nalital, Malital, etc. Ahead Almora towards Binsar, the route gets highly scenic. The trees look dotted on both sides of ascending roads and in between you will be crossing small picturesque villages, and the highlighted one is Kasar Devi known for a Kasar Devi temple.
Suggested Spots for Halt in Between Road Trip to Binsar from Delhi
The ideal halt town is the famous hill station Nainital from where the further journey to Binsar is just 89 kilometers and can be completed in approx. 3-4 hours. Another option is to stop somewhere near Kaladhungi and experience the greens forests of Jim Corbett or stay at Sattal and enjoy bird watching in Sattal.
Binsar Weather & Best Time to Visit
Binsar enjoys the benefit of excellent weather throughout the year. In Summers, the average temperature ranges between 15 to 30 degree Celsius, in monsoon it lies between 20 to 28 degree Celsius whereas in winter it lies between 5 to 15 degree Celsius.
Summer is an ideal time to enjoy pleasant weather and trekking, winter is best time to enjoy snowfall, autumn and spring is for seeing the plush colors of rhododendrons and flowers blooming and monsoon is ideal for enjoying the lush green, fresh hazy look of the Binsar Valley. Also during this time, the Himalayas play hide and seek between the clouds during this time.
We have seen Binsar in months of February, August and November and honestly it looks entirely different in all months and seasons. Our favorite from all, is a monsoon trip to Binsar valley, when the whole area looks dreamy and magical.
Accommodation/ Hotels in Binsar
There are plenty of resorts, hotels, and guest houses in Almora, Kasar Devi and outside the Binsar wildlife sanctuary. But within the sanctuary, there are limited options, which varies from heritage luxury homestays to resorts to Government guest house i.e. KMVN (Kumaon Mandal Vikas Nigam).
Resorts/ Hotels within Binsar Wildlife Sanctuary
The Marry Budden Estate 18th century estate is a family run heritage homestay. The Grand Oak Manor built in 19th century by Sir Henry Ramsay as his summer home, is now run by Almora's family of Lal Sah Gangola. The Khali estate too built by Sir Henry offers an excellent panoramic view of Himalayan ranges. The Binsar Forest retreat is an eco-friendly homestay which was once owned by Major Edin and locally known as Edinpur. The Binsar Forest Dak Bungalow also known as Forest Rest house, where Swami Vivekananda stayed for 2-3 days in 1897.
KMVN Guest House
The Kumaon Mandal Vikas Nigam (KMVN) Guesthouse located within the Binsar wildlife sanctuary is where we always stay because of its apt location (just 2 kilometers before the zero point), wooden cozy rooms, delicious Kumaoni delicacies and huge terrace and garden which directly offers you an excellent panoramic view of the Himalayan ranges.
Cafes/ Restaurants in Binsar
There are multiple cafes in Kasar Devi but within Binsar wildlife sanctuary, we could spot only 1 café i.e. Simba cafe opposite the Bineshwar Mahadev Temple. But our advice is to forget cafes and enjoy the local fresh farm food served in your hotels or the traditional Kumauni food served by villagers. Also, the must-try is Bal Mithai & Singori from Almora, Uttarakhand.
Important Points to Remember
Electricity is available in the hotel from 6:00 pm- 9:00 pm. So, charge your phones and batteries
Wi-fi and phone signals are hardly present in the hotel. So, use this time to detox and rejuvenate among nature
Use minimum hot water for bathing as the resources are limited
Do not leave your children alone & move around in the jungle after dusk
If you are planning to explore jungle trails go with a local guide only as you are in the jungle and in reality it is the natural habitat of wildlife, not ours.
Do not light fire or throw lit cigarettes buds as it can lead to a jungle fire
Carry a sturdy pair of shoes for exploring the Binsar sanctuary on foot
Respect local culture, the sanctity of villages and local customs
Manage your waste responsibly. Don't throw wrappers and non-biodegradable waste here and there. Instead, carry them back and dispose of them in proper bins
Carry a refillable water bottle
Help locals by making small purchases of hand-knitted woolens, caps, gloves, etc.
Carry power bank, tripod and charged batteries for photography
Things you need to Carry
Binsar enjoys the benefit of having a moderate climate throughout the year but still, one needs to pack correctly for making the trip comfortable and enjoyable.
In winters days are warm but nights are extremely cold. So, carry clothes to layer up. Do keep your caps, gloves and stoles handy for covering up your head and neck.
In summers, mornings and evenings are pleasant whereas the days get hot. So, carry light clothes along with a windcheater.
In monsoons, it rains like cats and dogs here. So, you must carry your raincoats and umbrella. Also, after heavy rainfall, there is a chill, so carry a light jacket or windcheater.
Apart from all these, do carry your sunscreens, sunglasses, hats, and medicines for all the seasons.
Other Nearby Attractions to Binsar Wildlife Sanctuary
The Binsar sanctuary museum lies inside the sanctuary and it has all the important information regarding flora and fauna of the region.
Historians believe that the Binsar hills are rich in ancient relics too. Near Dinapani on the Almora-Binsar road, there is a point called Pariyadeva-Pashan where there is a long stone with cup-marks and according to them these belong to Megalithic Age.
The Kasar Devi Temple located at Kasar Devi, on Almora Binsar road (almost 9 kilometers before Binsar) is a 2nd-century old temple. The place is also known for Crank's ridge just outside the village, which was famous during the Hippie movement and is still quite popular among both national & international tourists or travelers.
Golu Devta Temple / Bell Temple
The Golu Devta Temple lies 4 Kilometers from the main Temple and is dedicated to the local deity Golu Devta of the Kumaon region. The temple is also known as a Bell Temple as the local belief is that tie a bell with your wish written on white paper in the temple, to make it come true, and surprisingly there are 1000's of bells tied there, which definitely looks beautiful.
Gannath Temple is an another Shiva temple, located near village Satrali almost 47 kilometers from Almora. The temple is famous for water percolating into the shiv lingam from the aerial roots (jata in Hindi) of a tree.
Patal Bhuvaneshwar lies 109 kilometers from Binsar and is famous for the majestic limestone cave temple which is about 160 meters long and 90 feet deep from the point of entrance. The Limestone rock formations have created various spectacular stalactite and stalagmite figures of various hues and forms.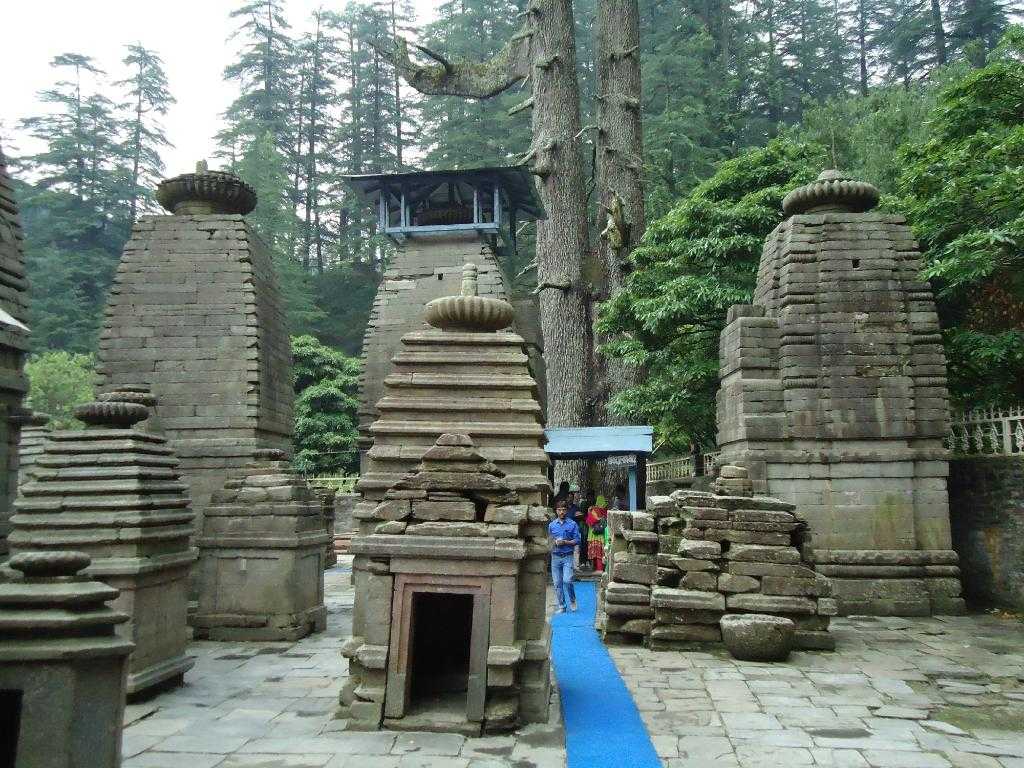 Jageshwar / Jageswar Temple
The Jageshwar temple lies 36 kilometres from Almora & is considered as one of the 12 Jyotirlingas. The complex houses almost 100 temples, dated between the 7th -12th centuries. The site is maintained by ASI (Archaeological Survey of India) and they are putting efforts to get it added to UNESCO Heritage site list.