The year 2018 has already begun and our travel tales and road trips too. But we can't start the new tales without reviewing the tales of the year 2017.  So, this post is all about the 2017 travel stories, just as we have the travel book for the year 2016.
We started our travel and lifestyle blog AllGudThings in September 2016 without thinking how the things will move for us and will we actually survive in this blogging race. And look today we are surviving and have come this far, writing 2017 travel stories, and are much positive for the year 2018.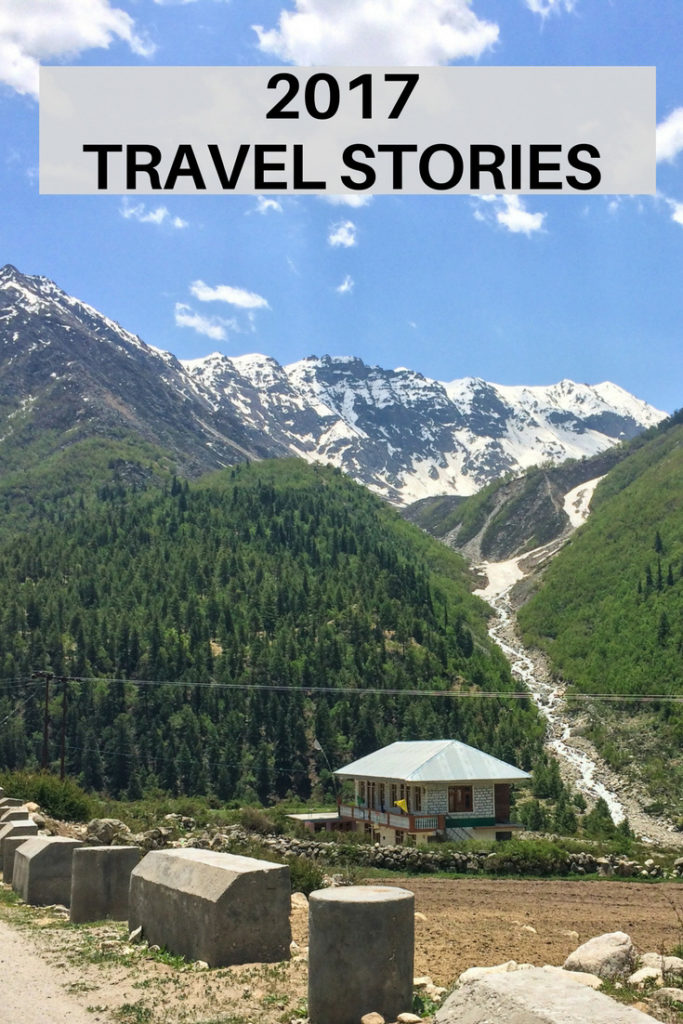 The year 2017 was like a roller coaster for us. We bought our house, reached our dream destinations, did several trips both personal and professional, learned so much new in blogging and on the other side fought with medical issues and lost our dear ones in between. So, it was a year where we saw both highs and lows. But as Lord Buddha quotes "Without rain, nothing grows, learn to embrace the storms of your life"; so we accepted every up and down graciously and kept on moving.
In the year 2017, we never targeted where we wanted to see ALLGUDTHINGS but now we are clearer. We have set up our targets for 2018 to write more strategically, be more social and learn to monetize the blog in a better way. And the travel stories of 2017 are epic, so let's have a look at them.
January 2017
Snow Trip with Parents to Shimla
Just after welcoming 2017 and shifting to our own place, we took a break and did a personal road trip to beautiful Shimla. The colonial town was painted in white by nature and we saw our parents living their childhood. The rich heritage & culture of Shimla introduced us to a Himachali scarf known as Dhatu or Rahide. Check about Dhatu here: Shimla Trip in style with Dhatu as a fashion accessory.
https://www.instagram.com/p/BcxJOyYHqi2/?taken-by=suruchimittal
February – March 2017
Visit to the Highest Dam in India – Tehri Dam
In the last week of February, we visited Koteshwar and Tehri Dam for professional work. The holiday started after work and it continued until the first week of March. From Tehri, we took a detour to visit Uttarkashi in Uttarakhand, which proved to be a lot more than the entrance to the Char Dhams of India. Further, the trip continued to Harsil, Gangotri and ending at Mussorie.
https://www.instagram.com/p/BRVj-zchAbP/?taken-by=suruchimittal
The whole trip was an experience in itself as we visited one of the Char Dhams, saw second time snowfall in a row, learned about Mani stones and for the first time stayed in the hostel. You must check the Backpackers must carry essentials for a Hostel stay here.
https://www.instagram.com/p/BRK5cweBQmB/?taken-by=suruchimittal
April 2017
An hour of Patriotism at Hussainiwala Border
In April 2017 we visited our home in Punjab and for the first time we, saw the flag retreat ceremony at Hussainiwala Border, Firozpur. It was an hour of Patriotism, filled with deep emotions where just a white line and gate demarcated our country India from Pakistan.
https://www.instagram.com/p/BTb5W6NBESa/?taken-by=suruchimittal
May 2017
Road Trip to Badrinath Dhams and the Last Indian Mana Village
In May 2017, our parents were with us, so we planned another personal road trip to the sacred temple Badrinath Dham. From here itself we further visited the last village near Indo China border Mana Village and checked out the lush green skiing slopes of Auli in summers.
https://www.instagram.com/p/BUCQqw3BI9j/?taken-by=suruchimittal
This was another remarkable and memorable trip of the year.
June 2017
June was the one month when we were actually at home and were fiddling with the ups and downs around.
July – August 2017
Dream Trip to Leh Ladakh
After a lot of stress, we really needed a long break. So, we did a 13 day long Leh Ladakh road trip from Delhi. Ladakh is also known as the land of high Passes. We took the circuit road trip at our own pace without rushing to the destinations. We checked the attractions on Srinagar Leh highway, explored hidden Leh Ladakh palaces, walked and talked with the soldier at Kargil War Memorial, got lost in the Leh Palace and tranquilized in the serenity of Hemis Monastery.
https://www.instagram.com/p/Bc70bdCnxsO/?taken-by=suruchimittal
We saw Bactrian Camels and reflection of the Himalayas in the Nubra valley, did off-roading and slept in tents near high altitude lakes like Tso Kar, Pangong Tso, and Tso Moriri.
https://www.instagram.com/p/BX7k9z5hQ-W/?taken-by=suruchimittal
Do remember, you need Inner Line Permit for entering the sensitive zones in Leh Ladakh.
September 2017
Heritage Walk in the Historical Town, Mahabalipuram
After a year of blogging, we did our first FAM trip to Chariot Beach resort and explored Mahabalipuram, in Tamil Nadu to its best. The UNESCO monuments, monolithic structures, and caves, shore temple left us completely stunned with its beauty.
https://www.instagram.com/p/BaeEyaOnSV1/?taken-by=suruchimittal
October 2017
October the month of festivals in India, we decided to take a break from travels and celebrate each one of them at our new place, with our parents.
November 2017
Road trip to the colonial town: Mukteshwar, Uttarakhand
In November 2017, we did another FAM trip with Club Ten Pine Lodge to the colonial Mukteshwar town in Uttarakhand. We got lost in the beauty of Himalayan peaks during sunrise and sunsets; & trekked to explore the hidden gem – Bhalu Gaad waterfall.
https://www.instagram.com/p/BcsB5xYHHKO/?taken-by=suruchimittal
December 2017
Road Trip to Kasauli & Rajasthan
The last month of the year is always special as it is Tashi's birthday and we celebrated it in the hills of Kasauli. The last month also put us into the thoughts of our activities and achievements for the previous year. But simultaneously we also start deciding the place to celebrate the coming New Year. And, this year we decided to end 2017 and welcome 2018, in Rajasthan exploring the Sariska Tiger Reserve and one of the most haunted places in India – Bhangarh Fort. The stories are yet to come, so tuned.
https://www.instagram.com/p/BdiJiEEnz3f/?taken-by=suruchimittal
Conclusion: 2017 Travel Stories
That was our 2017 travel stories. It seems like a year was dedicated to the road trips especially to the hills traversing Himachal, Uttarakhand and Leh Ladakh. Overall, we did 9 trips, including personal, professional and FAM trips extending from 4 days to 15 days covering multiple destinations. We are really grateful as we got good health & the opportunity to make these trips and write 2017 travel stories. We wish to travel more and continue the travel stories in 2018.
Thanks for taking out the time to read our travel stories. Have the wonderful year 2018 ahead…